In response to the new Omicron variant, Canada announced new entry requirements just over a week ago, and they are now in effect. It's a sad setback after months and months of good news for travelers… but it's really not too restrictive at all honestly (and there are even 2 potential positives to come out of this).
The government did not give any specific advance notice (they never specified a date for this to start… and now it's started) and without any formal announcement it seems.
And it turns out… it doesn't apply to everyone yet, contrary to what the government had initially announced.
We'll also update our ultimate guide to Canada's entry rules with all these changes very soon, subscribe to our free newsletter to receive it in your inbox.
Entry rule changes for VACCINATED travelers
We are looking at the CHANGES only and only for fully vaccinated travelers first.
Here is an infographic version.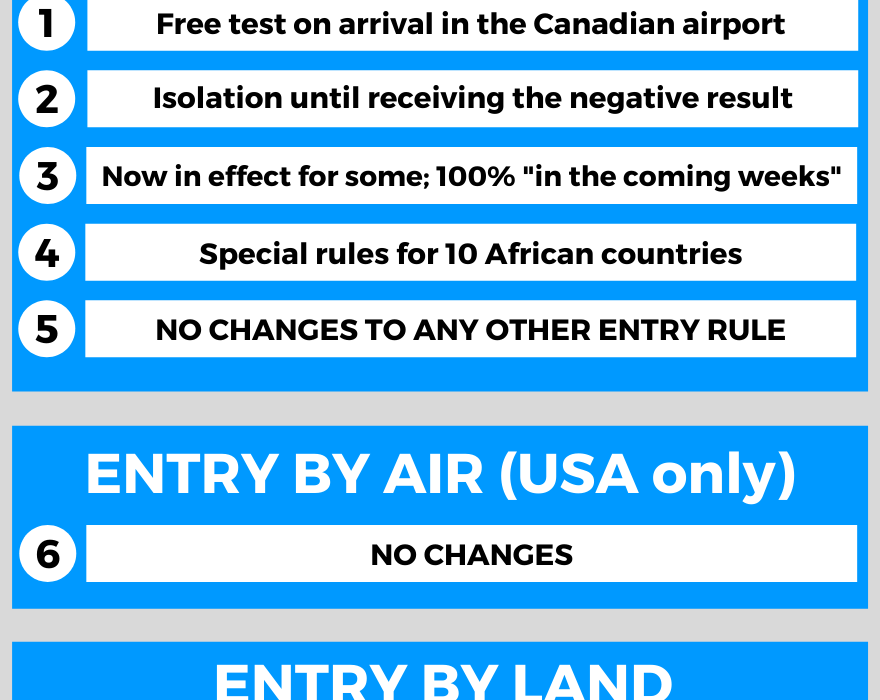 Here is the text version, depending on the type of trip.
Entry by air after having been in any country other than the United States in the previous 14 days:
Free test on arrival (in the Canadian airport of arrival)
Isolation at home until receiving the negative result
Now in effect for travelers selected randomly
In effect for 100% of travelers "in the coming weeks"
Special rules for those arriving from 10 African countries
NO CHANGES TO ANY OTHER ENTRY RULE
Entry by air after having been only in the United States:
NO CHANGES (random tests continue as before, with no isolation required as before)
Entry by land/sea:
So it's simple: The requirements are changing only for those who arrive by plane and who have been in a country other than the USA. So arriving from another country via a transit in the United States does not count as an exemption to these new requirements.
Of course, more new requirements could be added… just like these could be removed very quickly. It's too soon to tell.
It's probably safe to say that there could be chaos in our airports though, considering the government's constant ineptitude with the management of literally every other travel-related program since the beginning.
And also considering that 91,940 passengers took a flight in Canada just yesterday (though obviously not all of them are international travelers).
So we'll have more about our great tip for that soon if you're like us and you are traveling soon, stay tuned.
Kevin is coming back from Asia for the holidays soon, so he'll be able to test out this new process and write up his experience… assuming he is randomly selected.
So here are the details we know about each of the 7 elements.
1. Free test on arrival (in the Canadian airport of arrival)
To be clear, #5 says NO OTHER ENTRY RULES CHANGE so obviously the pre-departure test requirement to enter Canada remains in effect. Nothing other than what is listed from #1 to #4 changes among all of Canada's entry rules.
It's a test on arrival that is being added.
Yes, a test just before and a test upon arrival. Just like it was from January to July and it never seemed to be enough for the population who always wanted more and more and more restrictions on evil travelers, even though travelers never represented more than 2% of the cases in any given month based on government data.
Now with the panic surrounding the new variant… the government is adding requirements, not removing any of course!
After the initial announcement, many people really thought that the government was removing the pre-departure test (as its expert committee has been recommending for the past 6 months, by the way), which is fascinating to me as someone who has followed the travel rules.
Welcome, I present to you the government of Canada which has taken one of the most extreme approaches to demonizing travel since the beginning. If you'd seen everything they've done since the beginning, you'd never have thought for a second that a requirement would be removed as part of announcements to tackle a new variant.
Anyway, the test on arrival is free (or rather taxpayer-funded, just like every COVID-19 test in Canada that isn't for travelers).
The test will be performed in the airport where you enter Canada, as it has been since the beginning. These are entry rules, so they are applied when and where you enter.
The government doesn't care if you have a connection after or not (exactly like in the math for your deadline to do the pre-departure test required to enter Canada).
There will probably be a sizeable portion of travelers who will be given a kit to do a self-test at home instead of at the airport (like I showed you in my video about one of my 5 self-tests when entering Canada), especially those travelers with connections to catch.
In terms of travel rules for children, those under 5 years of age do not need to do Canada's pre-departure test so they do not need to do this new one either.
Speaking of exemptions, those who have tested positive within the last 14 to 180 days and don't have to do the pre-departure test but will have to test upon arrival.
I don't know what the science behind giving them an exemption for one but not the other is, but the science of travel rules is not like real science anyway, it cannot be questioned.
2. Isolation at home until receiving the negative result
You can isolate at home for free.
Waiting for results took around 24 hours on average earlier this year, but maybe it's going to be a bit more since so many more people are traveling now.
We have asked Health Canada media relations whether they can provide an estimate or say if the subcontractors must provide results by a certain deadline, and they said it should be 24 to 48 hours.
You are allowed to catch a connecting flight to go quarantine at home if you don't live in the city where you enter Canada too.
You are allowed to take mass transit to go quarantine at home, or have people pick you up. In short, the same quarantine rules Canada had before remain.
After months and months of good news and restrictions being loosened in almost all countries, it's obviously very sad to see a setback in terms of how easy it is to travel.
On the other hand, it could have been much worse too.
A 14-day quarantine would have been a lot more inconvenient than just ≈ 1 day while waiting for results.
The test on arrival is free, you can isolate at home for free while waiting for the results. It's really not the end of the world at all.
3. Now in effect for some; for 100% of non-US travelers "in the coming weeks"
It is now in effect, but only for certain travelers selected randomly. The government says it will be in effect for 100% of non-USA travelers "in the coming weeks".
A lot more realistic. When they said at first that everyone would be tested "in the next few days", everyone who knows anything about how everything was done haphazardly and chaotically by this government in terms of travel rules (AKA literally anyone who has followed this) was very skeptical of their ability to do that…
Speaking of good predictions, here is my quote from the article on the initial announcement:
My guess is in one week (≈ December 8), but who knows.
We have been telling you all along, it's hard to make predictions when travel rule decisions are not based on logic or facts… but at least this time that was spot on 😉
Follow Flytrippers on Facebook to be the first to know about future updates.
We have asked Health Canada media relations whether they can provide an estimate on which percentage of travelers are selected for the arrival test, we are waiting for a response.
4. Special rules for those who have been in 10 African countries
There are additional special rules for some countries. We did a detailed article on the special rules that apply to those arriving from 10 African countries.
If you are arriving from one of the ≈ 180 countries not on that list, the additional special rules do not apply to you. The changes in this article here are the only one that apply.
Of course, that list went from 7 to 10 countries in a day, so it could grow larger… but since then, no other countries have been added.
5. NO CHANGES TO ANY OTHER ENTRY RULE
I've said what I had to say about this one above.
But to be clear, since many people seem to have a hard time understanding that EACH RULE IS SEPARATE, I want to remind you that each rule is separate.
Simple principle. When something changes, it obviously doesn't mean that anything else changes. If anything else changes, we obviously tell you.
The pre-departure test requirement doesn't change, the requirement to fill out Canada's ArriveCAN app doesn't change (although since then, they apparently loosened the mandatory nature of this), the lesser-known requirements for the first 14 days don't change.
So for example, the new exemption that has eliminated the pre-departure test requirement to enter Canada after certain short trips is completely separate.
That came into effect on November 30. These new changes have nothing to do with that. If the Omicron variant ends up getting the better of that new exemption for short trips, we'll tell you.
And of course, the new vaccination requirement to fly from an airport in Canada has even less to do with anything. It's a rule just for flights departing from an airport in Canada and the changes announced are about the ENTRY RULES.
But that vaccination requirement changes absolutely nothing since you are vaccinated anyway.
6. NO CHANGES (entry by air if you have only been to the USA)
Those arriving from the USA, where a grand total of only 58% of the population is fully vaccinated and where masks and public health measures have been non-existent for literally over a year (in many states), are exempt from these new requirements.
I'm not at all sure of the science behind this… but I certainly won't complain about it, as I am in Miami right now and going back for $88 during the holidays.
Random tests for those who have only been to the USA will continue as before, but the percentage of travelers tested is a lot lower than for non-USA travelers. Also, there is NO need to isolate while awaiting results since the US is excluded from the new requirement. Completely separate program, which creates a lot of confusion.
7. NO CHANGES (entry by land/sea)
As mentioned, these new requirements also don't change anything for those who want to go on a short trip to the USA without any test required at all, now that Canada has eliminated its test requirement for certain short trips.
That said, I would like to take this opportunity to remind you that there is absolutely no difference between Canada's entry rules by air and Canada's entry rules by land (all short trips are exempt, not just land trips… and now all US trips are exempt from this, not just land trips).
And by the way, the USA has never had a test requirement by land, as explained in our guide on how Canadians can travel to the United States.
It's another country, so obviously those rules are completely separate too. But we're following that closely too for you, since it's the #1 destination for Canadian travelers (by far).
Entry rule changes for UNVACCINATED travelers
Now let's look at the situation for unvaccinated travelers.
Existing entry rules and the vaccination rule
Of course, unvaccinated Canadians are still allowed to enter Canada. That has never changed (and probably won't either… although with this government, you never know).
Many people get all the rules mixed up and don't understand that the new mandatory vaccination requirement for flights is just for flights departing from a Canadian airport.
That came into effect on November 30, but it didn't change anything at all about Canada's entry rules. Completely separate.
It's impossible to enter Canada from a Canadian airport: You've already entered if you're in a Canadian airport. So the requirement doesn't apply if you're somewhere else. It is simple.
However, I want to point out that you cannot take a connecting flight after entering Canada, because that would be a flight departing from a Canadian airport. Those require you to be vaccinated.
For example, if you enter Canada at the Toronto airport and you live in Timmins, you will have to go home by other means than by plane or train. The virus cannot be transmitted by bus thankfully, so bus travel is allowed🤡.
All the details will be in our guide to the new mandatory flight vaccination requirement that's going to be updated very soon, with 5 ways to keep traveling including by plane (yes, it's still possible… just not practical or affordable — basically the new requirement is not for rich unvaccinated Canadians).
So in short, nothing is changing for unvaccinated travelers unless you have been to the 10 African countries with special rules.
2 positive things to come of these new requirements
Let's try to see the positive too.
In case you did not know, the panel of scientific experts assembled by the government has been recommending for OVER 6 MONTHS that the pre-departure testing requirement be eliminated.
But the government doesn't like having to put in that much effort. Inaction and being passive is their specialty.
The government didn't want to have to put in the effort of setting up and managing an arrival test program to replace the pre-departure test…
So the first positive thing is that now that an arrival testing program is going to be in place in airports at a large scale, when the situation calms down, maybe the pre-departure test will finally be eliminated and replaced by an arrival test!
Also, the government did not seem to want to have a logical and scientific approach of basing the requirements on the country from which travelers arrive. It would be logical: The requirements would depend on the situation of the country. That is science.
But the government seems to think that its citizens are too stupid to understand different rules and wanted to keep it simple and uniform instead of logical and scientific.
So the second positive thing is that now that they have finally had to resign themselves to adapting the rules according to the country of arrival, people should be used to it.
And unless the government believes that Canadians are stupider than the British, the French, and indeed the citizens of almost every country in the world who tailor their requirements to the country of arrival as they should…
The government may be able to eliminate the tests altogether for travelers who choose safer countries (and keep them for those who arrive from riskier places in a more targeted fact-based way).
It may be too optimistic to expect that much rational logic though…
Want to get all coronavirus updates for Canadian travelers?
Summary
Canada has imposed new entry requirements for travelers arriving by air, except those who have only been in the United States. It's not too bad: Just a free arrival test and a day or so in isolation at home to await the results.
What would you like to know about these new entry requirements? Tell us in the comments below.
See the deals we spot: Cheap flights
Explore awesome destinations: Travel inspiration
Learn pro tricks: Travel tips
Discover free travel: Travel rewards
Featured image: Colombia (photo credit: Niels van Altena)
Advertiser Disclosure: In the interest of transparency, Flytrippers may receive a commission on links featured in this post, at no cost to you. Thank you for using our links to support us for free, we appreciate it! You allow us to keep finding the best travel deals for free and to keep offering interesting content for free. Since we care deeply about our mission to help travelers and our reputation and credibility prevail over everything, we will NEVER recommend a product or service that we do not believe in or that we do not use ourselves, and we will never give any third-party any control whatsoever on our content. For more information on our advertiser disclosure, click here.
Share this post to help us help more people travel more for less: