The ability to transfer points is one of the reasons the American Express Membership Rewards program is among the best ones for Canadians, but remember that there are two separate types of Amex points. Transferring the Cobalt Card's points to Marriott Bonvoy is a great deal, but the same isn't necessarily true with other Amex cards.
So if you have Amex points from a card other than the American Express Cobalt Card, you probably shouldn't transfer your points to Marriott: transfer them to airline partners instead to maximize value. You can read our brief introduction to Amex points to understand why.
But if you earn a lot of points with your Cobalt Card like I do and you like free hotel nights, transferring to Marriott is by far the best use. But just do your research, because transfers are permanent.
Here's exactly how to proceed to transfer Amex Membership Rewards points to Marriott Bonvoy points, step by step.
Step 1: Have your Marriott Bonvoy membership number ready
There are 2 scenarios:
If you already have your Marriott Bonvoy number
If you don't have a Marriott Bonvoy number
1.1 If you already have your Marriott Bonvoy number
Skip to Step 2.
1.2 If you don't have a Marriott Bonvoy number
This means you don't have a Marriott Bonvoy American Express Card (you really should, it is one of the best cards in Canada, and the only one every Canadian traveler should have).
In the meantime, create a free Marriott Bonvoy account, then come back here for Step 2. For account security and password management, we recommend the LastPass tool. We use it ourselves and it has changed our life. You'll protect your identity and never have to remember a username or password again.
Step 2: Link your Amex and Marriott accounts
Log in to your American Express online account. The blue login button can always be found in the top right corner.


On your account summary page, first choose the correct card in the top right corner (if you have multiple Amex cards as many savvy travel rewards enthusiasts usually have).

Once on the Cobalt Card, click on the green "View and Redeem Points" button in the 3rd column.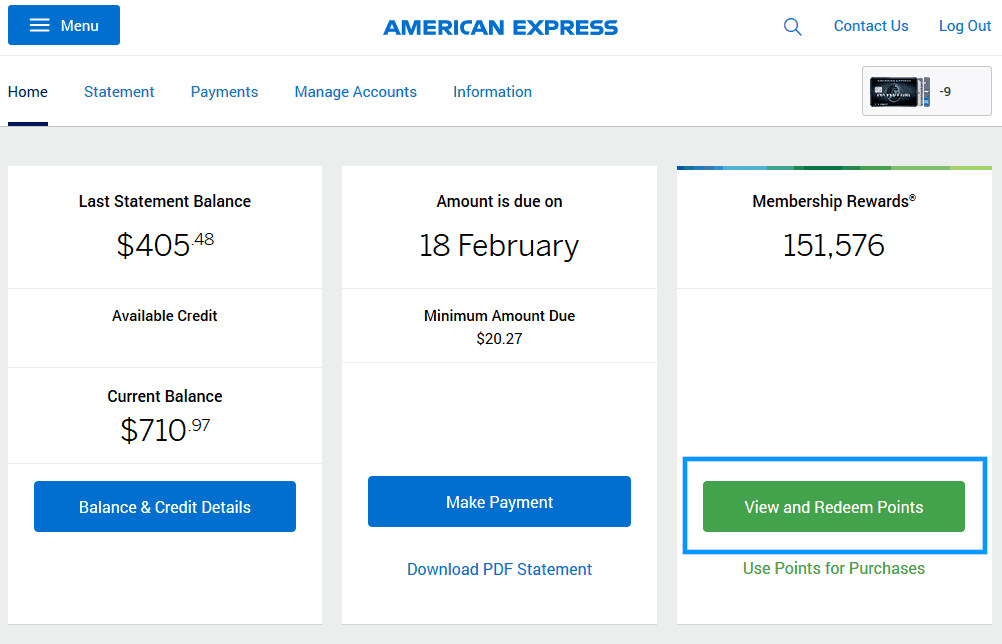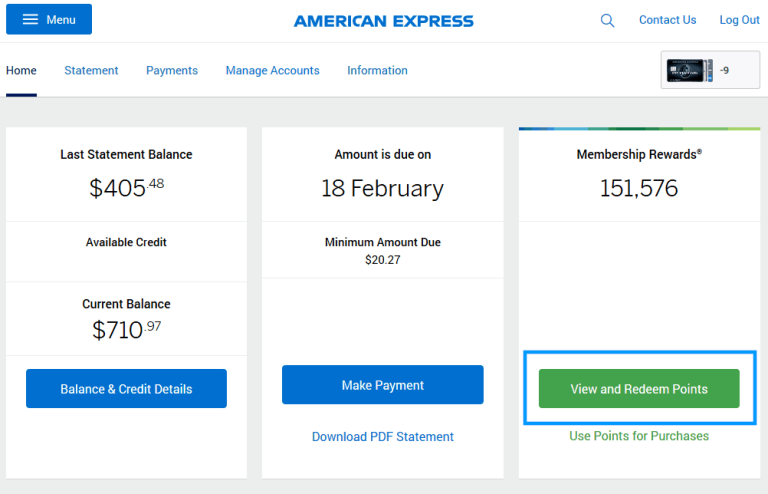 You land on the Membership Rewards points main page, and this is a great time for a friendly reminder to never use your hard-earned and valuable points on anything other than travel.
There's a reason every rewards program always aggressively promotes and "recommends" using points for merchandise: using your points that way gives you a fraction of the value, so it's a fraction of the cost for them. It's just a horrible value, please don't do it.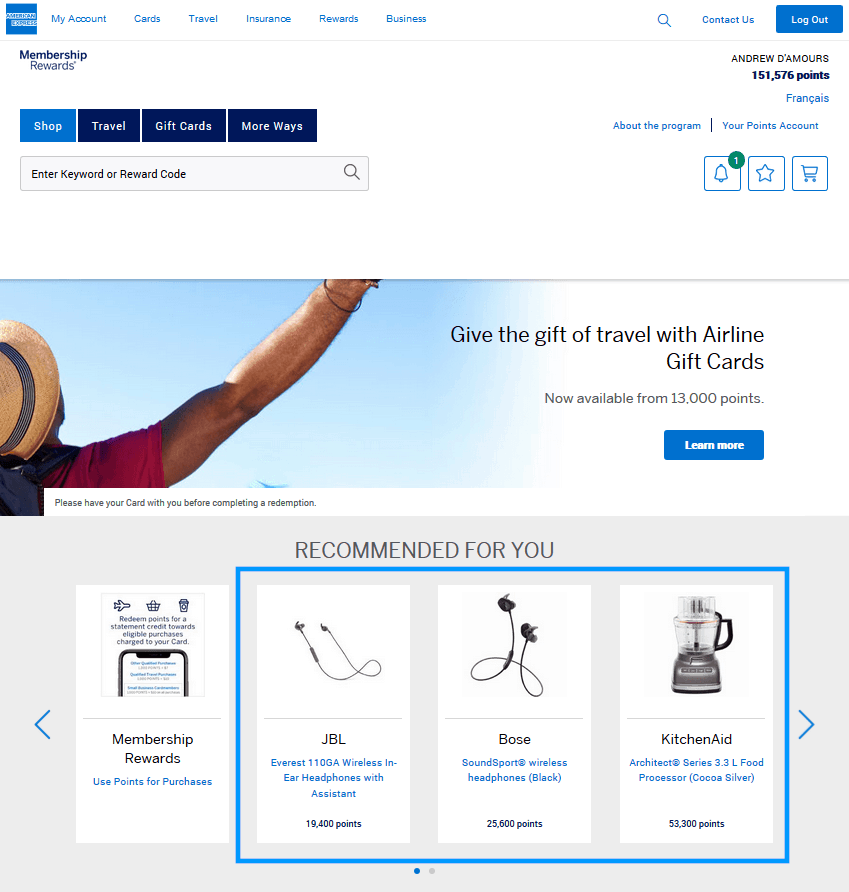 Now, at the top left, hover over the blue "Travel" tab (do not click, just hover) and then select the "Frequent Traveler Participants" option that will appear.


Sometimes, even if you first selected your Cobalt Card as I showed you, it will default back to other cards, so be careful to make sure you don't transfer the wrong points.
If you see this screen with airline transfers, it means you are not on the right card account. The Cobalt Card's Amex points can not be transferred to airlines; just to hotels.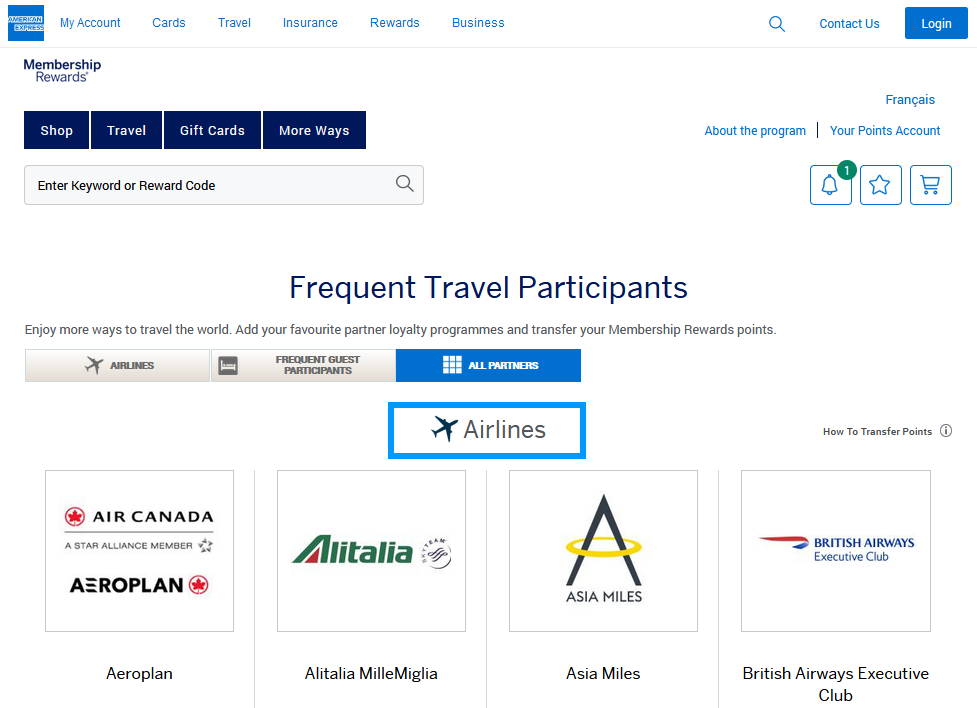 If that happens, click "Switch account" and select the 2nd "Membership Rewards" from the dropdown (the layout was buggy the day I took the screenshots a long time ago, but it will look something like this).


So what you are supposed to see is this, just hotel transfers. Click on Marriott Bonvoy.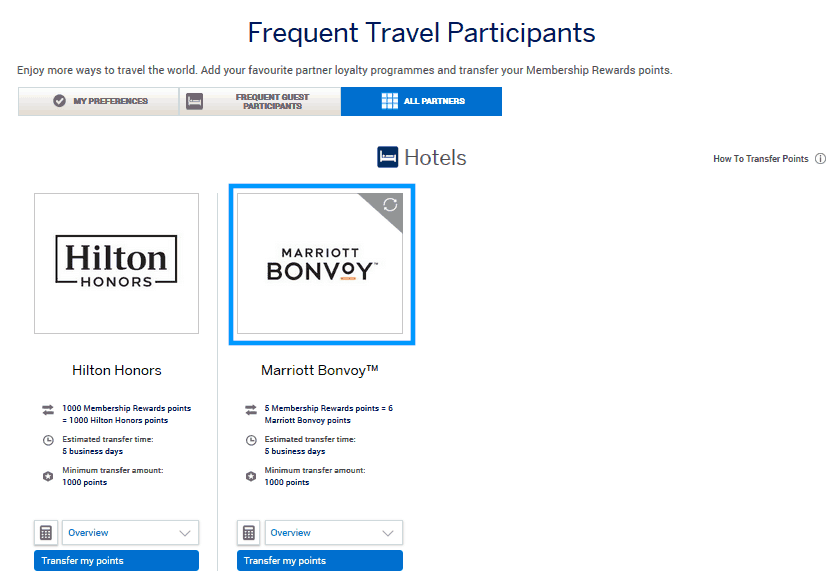 Enter your Marriott number and postal code, and click "Add account".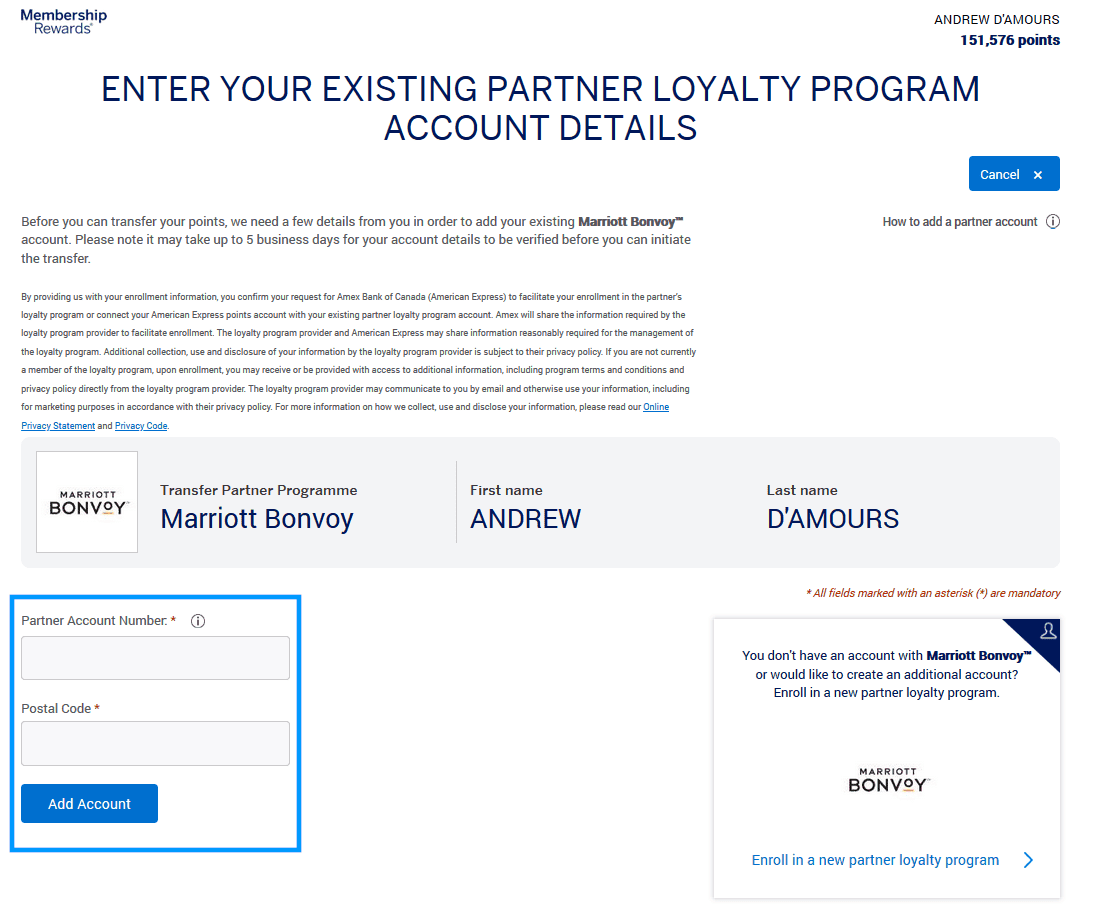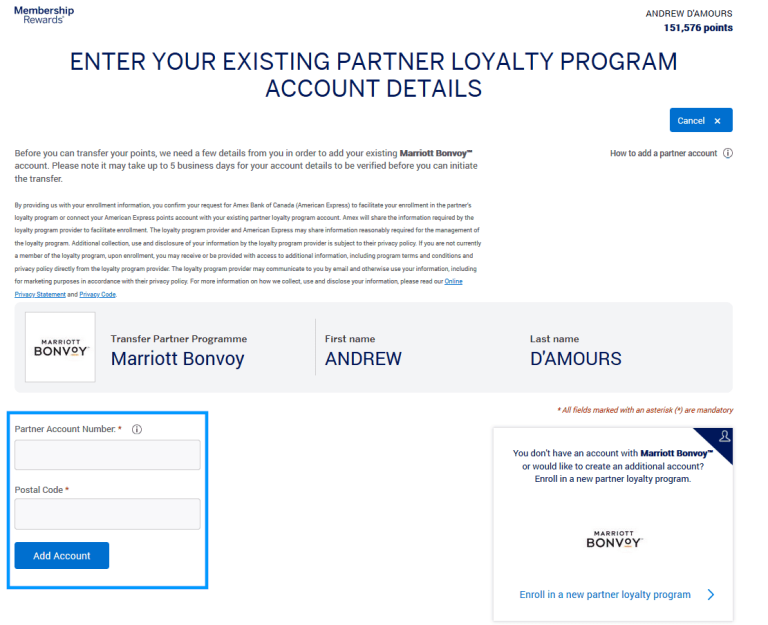 You will get this message to confirm the link request. This can take a few days, so don't wait at the last minute.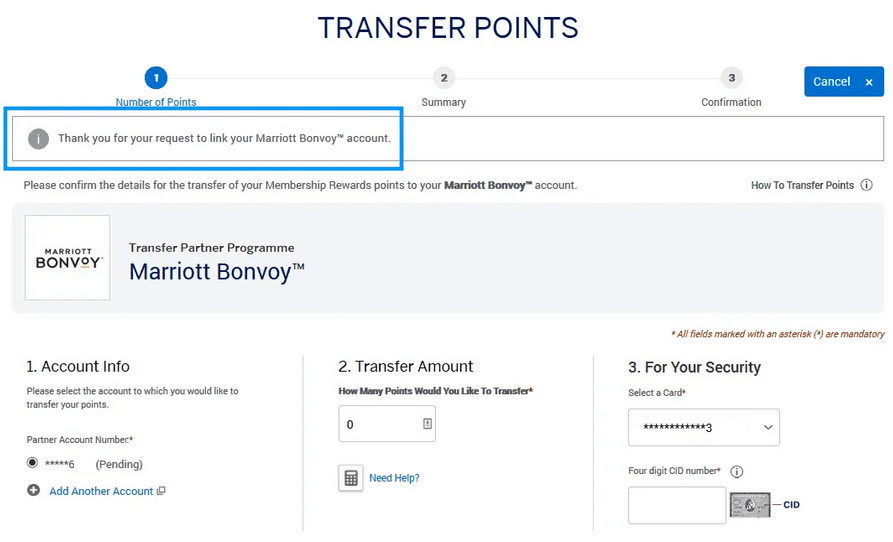 Step 3: Transfer Amex Membership Rewards points to Marriott Bonvoy Points
Once your accounts are officially linked, follow the same steps as above to reach the transfer page and select Marriott Bonvoy, once again making sure it is from your Cobalt Card account if you have others.
Your linked Marriott Bonvoy account will be selected by default, just enter the number of points you want to transfer.
Important: enter the amount of AMEX MR points you want to transfer, not the amount of Marriott Bonvoy Points you need. There is a useful calculator provided. You need to transfer a minimum of 1,000 points, and as mentioned that will give you 1,200 Marriott Bonvoy Points.
During transfer bonuses, the regular rate might still be the one shown. Just double-check you are still within the bonus period and if so, you'll still get the bonus automatically without a problem.
Fill out the desired amount of points to be transferred and then your card info and click "Confirm Transfer".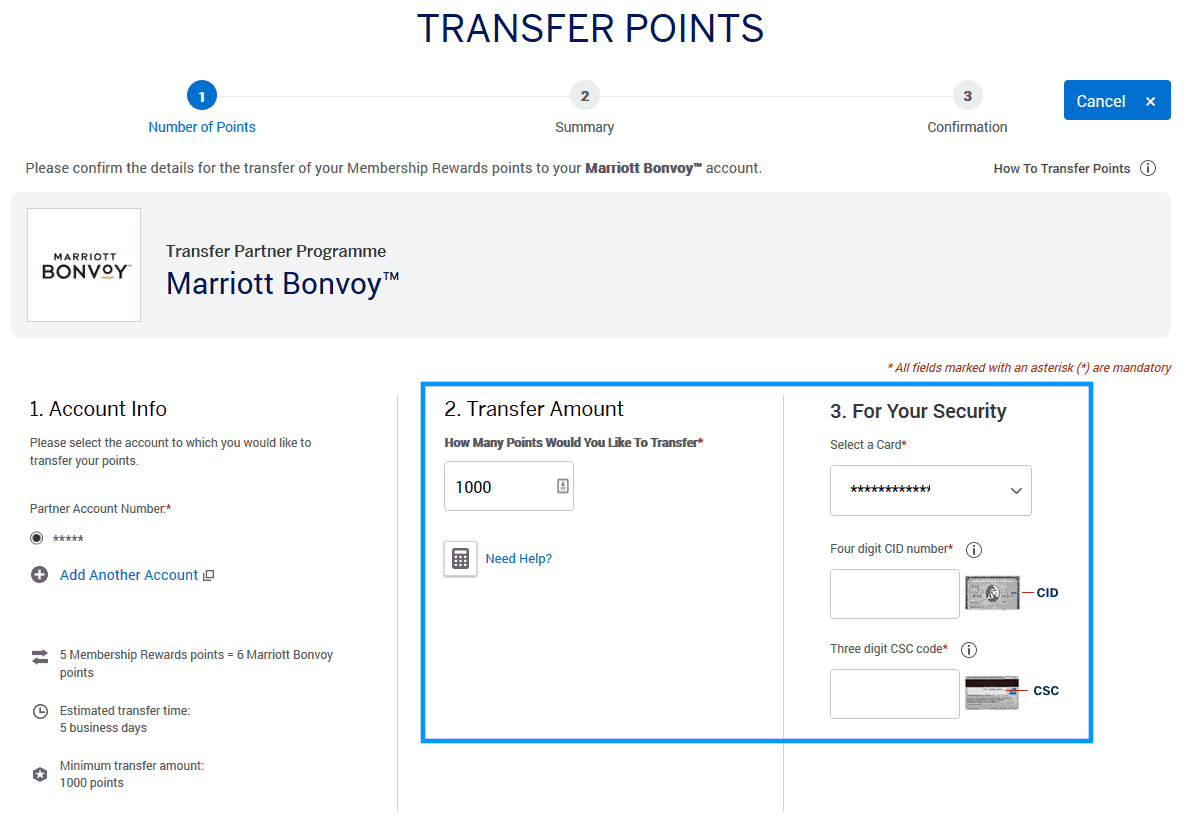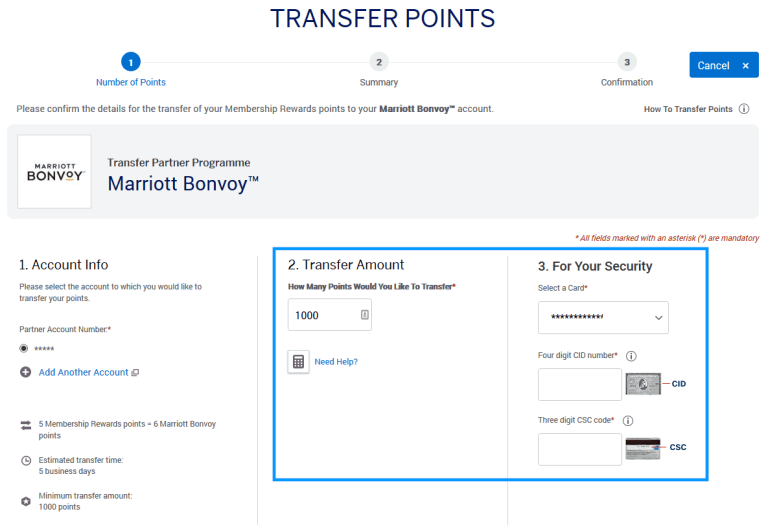 Voila! The points transfer is submitted.
In theory, you will need to wait 5 business days, but usually, it is quicker. The points will appear in your Marriott Bonvoy account directly, and show as a "Points Transfer" in your account activity log.
You can soon read our step-by-step of how to use your Marriott Bonvoy points, and more importantly our introduction to the Marriott Bonvoy program.
Want to become a smarter traveler with our pro tips on travel rewards?
Summary
You can easily transfer the Cobalt Card's American Express Membership Rewards points to Marriott Bonvoy points to maximize their value and get many free hotel nights.
Have any questions about the Cobalt Card or Marriott points? Tell us in the comments below.
Explore awesome destinations: travel inspiration
Learn pro tricks: travel tips
Discover free travel: travel rewards
Featured image: Renaissance Aktau Marriott category 1 hotel (photo credit: Marriott)
Advertiser Disclosure: In the interest of transparency, Flytrippers may receive a commission on links featured in this post, at no cost to you. Thank you for using our links to support us for free, we appreciate it! You allow us to keep finding the best travel deals for free and to keep offering interesting content for free. Since we care deeply about our mission to help travelers and our reputation and credibility prevail over everything, we will NEVER recommend a product or service that we do not believe in or that we do not use ourselves, and we will never give any third-party any control whatsoever on our content. For more information on our advertiser disclosure, click here.
Share this post to help us help more people travel more for less: