As I continue my own 14 days of self-quarantine (which isn't much different from the usual routine of running a travel website from home, to be honest), I figured I would share my personal experience entering Canada on Monday, with (some) new screening measures finally put into place. I am not sure the word "screening" is the right one, but in all cases, at least it's a start since apparently not much was being done before.
I spent 10 days in the US for a travel reward points conference and an entrepreneurship event I was facilitating (that got canceled since things escalated so quickly).
So I landed in Quebec City (YQB) on Monday afternoon, just as the announcement of borders closing to non-Canadians was made and just a few days after the government issued a coronavirus travel advisory against all non-essential international travel.
Screening on arrival (or rather, lack thereof—whether real or perceived) has been heavily criticized in the past week, as many media reports seemed to show a lax policy.
Especially since, up until Wednesday, there was absolutely no entry restriction, or mandatory quarantine imposed, not even for those arriving from the hardest-hit countries. There is surprisingly still no mandatory quarantine, by the way.
But new international screening measures have thankfully been implemented Wednesday, except for flights arriving from the US in airports other than Toronto, Vancouver, Montreal, and Calgary (tell us in the comments if you've landed since and would like to share).
Screening timeline recap:
From the beginning of the crisis up until recent days, not much screening was being done
In recent days, the basic measures below were implemented
Since Wednesday, international flights can only land in 4 airports with new measures (except US flights)
So here is my own experience entering Canada and the measures I was subjected to at the airport on Monday.
Entering Canada From The US During Coronavirus
You probably know this, since we told you in our first post about the coronavirus crisis, but it's certainly bittersweet to stop traveling, as avid travelers and travel experts whose livelihood depends on the travel industry.
It's hitting us very badly, but this has been a terrible crisis already for many, many people around the world. Not much good has come of it.
So this is of little consolation to me, but, hey, like everyone, I try to appreciate every little bit of positive in the situation.
With the current events, I got to experience my very first lie-flat business seat, as I was upgraded for free from economy, thanks to elite status achieved by my dedication to travel reward points.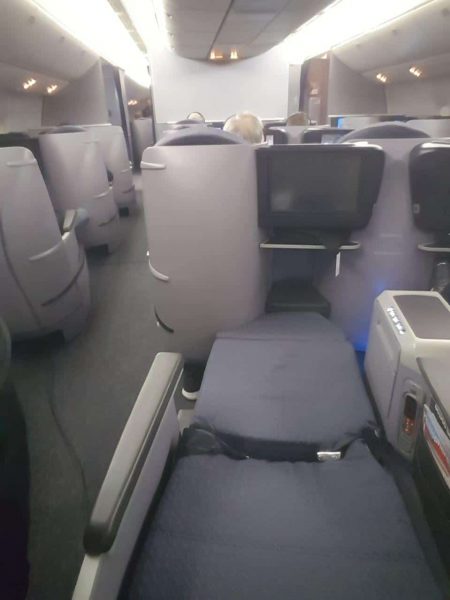 It was just a short 4-hour flight from Houston to Newark, but for a cheap budget traveler like me, flying United Polaris class was still unique. I'll share the details about the experience in a separate post.
I was supposed to return Sunday, but a flight delay forced an overnight layover in Newark.
In these times, when thousands are stuck abroad and could have easily gotten a $1,500 refund to buy a one-way ticket home thanks to their credit card's free trip interruption insurance, it's worth reminding you that every flight should always be charged to a good travel credit card!!!
In my case, my card's free flight delay insurance allowed me to book a nice room, completely free, with a stunning view of Manhattan.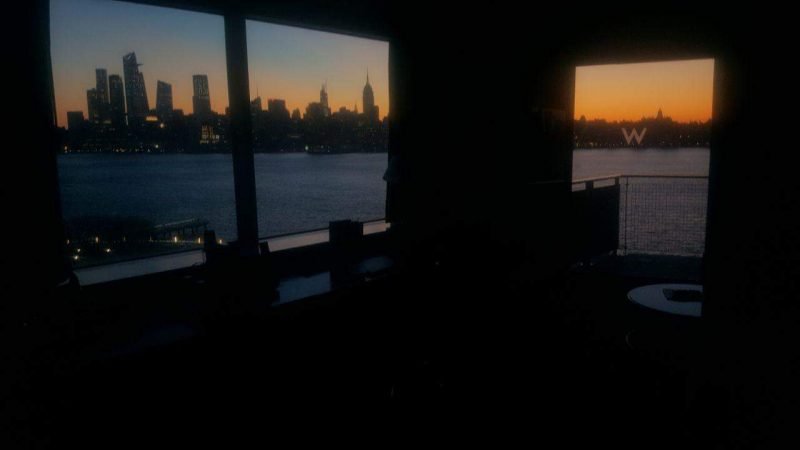 I tried to appreciate the amazing view in my suite (I get free upgrades as Marriott Titanium Elite member) even more, not knowing if it would be just a few weeks or rather months before I could travel again. The hotel concierge told me that it was a weird time since the entire city is basically on lockdown. And very few people are staying in hotels, obviously.
Then I headed to Newark Airport for my flight home.
I'll share my experience in the airports below, but I should talk about the arrival process now since that's what this post is supposed to be about.
Once I landed in Quebec City, I was the first to disembark being in the first row, so I headed down the jetbridge.
As soon as I entered the terminal, two agents with masks had set up a table and were waiting for us.
I didn't take a picture. I am too used to traveling to less touristy countries where taking pictures of authorities is usually frowned upon and not recommended.
The agent asked me if I had any symptoms.
I said no.
She said, "okay then, here's what to do if you do" and handed me this sheet with information about the coronavirus.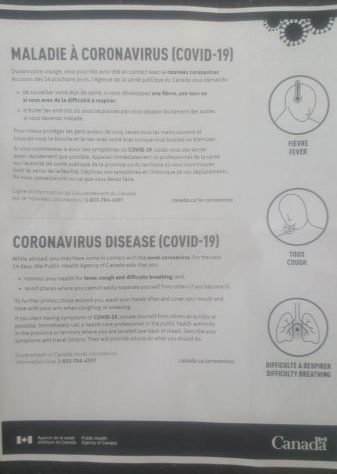 No verbal or written mention of a self-quarantine.
I headed down to customs. Next to hand sanitizer dispensers, the same info from the sheet was on a large sign, although since there is no wait, I don't know if many people stop to read it.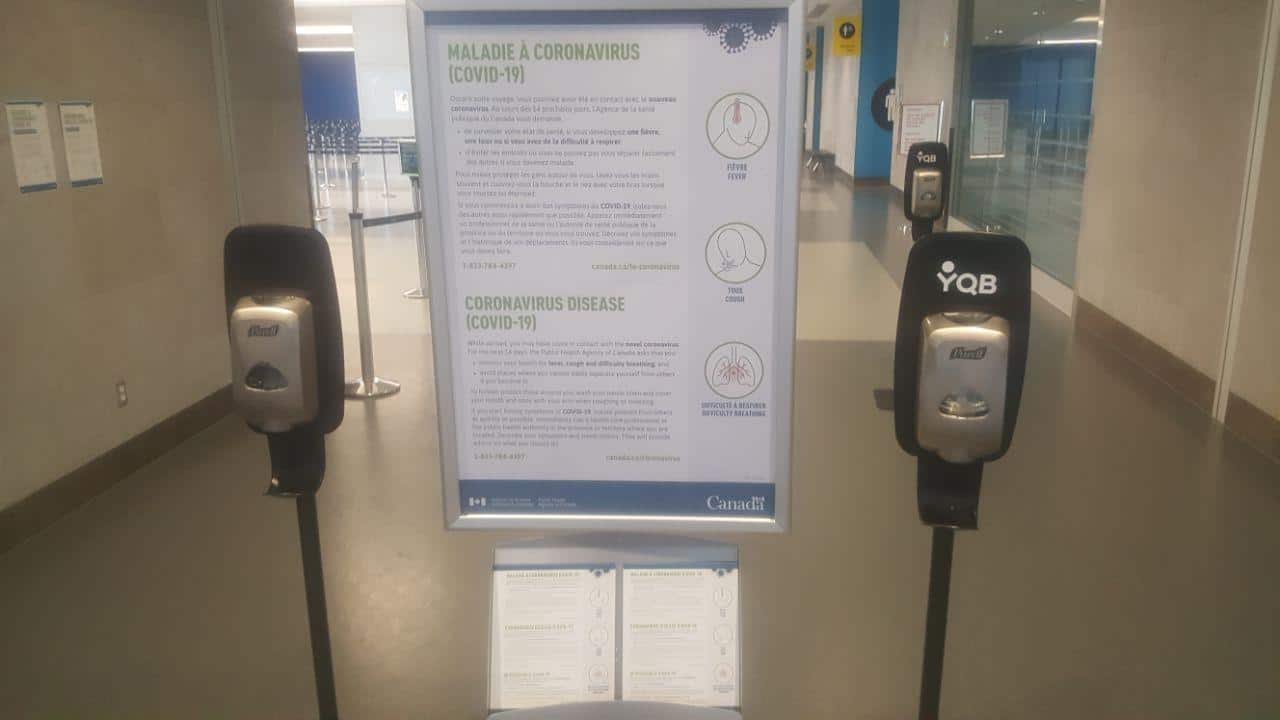 The entire customs hall was empty; I was alone. But just to be clear, that's almost always the case in Quebec City—it's not coronavirus related, haha!
At least in my experience, as in the many times I have landed in Quebec City Airport, I have never had to wait anywhere. And it's not because I have NEXUS, it's just that the entire airport seems almost always empty when I'm there.
I proceeded to the automated kiosks because there isn't even a special NEXUS section.
I was looking forward to the new part of the questionnaire. It had been announced that the arrival declaration questionnaire had finally been updated, and the day I landed happened to be the first day it was rolled out.
Again, I didn't want to get flagged (and potentially slowed down) by anyone because I was taking pictures, sorry.
It basically asked me to self-monitor and recommended a voluntary 14-day quarantine somewhere in there, among all the text on that screen.
The machine printed my declaration. I walked over to hand it to the officer who, like his colleague, was wearing a mask.
He waved me through without asking me a single question, as usual.
Finally, upon exit, the final agent, also wearing a mask, took my copy and said thanks.
And that was it.
So one thing is for sure: I'll hope most travelers follow our own recommendation (and the health agencies' recommendation) of doing a self-quarantine upon arrival. Because I certainly can't say that I personally found that they put a strong enough emphasis on letting travelers know how important it is at the airport.
Ironically, I had been subjected to my first-ever airport health screening just a few months ago, when landing in Mozambique. This was in September: they were doing this way before the novel coronavirus was even a thing.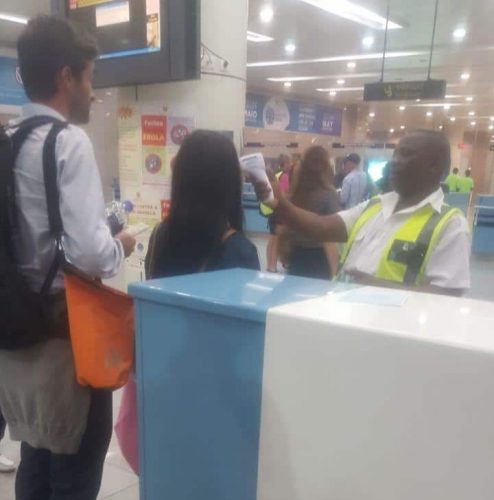 In Airports, Planes, And Lounges During Coronavirus
When I arrived in Quebec City, I went to the restroom to wash my hands once I was landside, and I noticed this sign on the hand driers.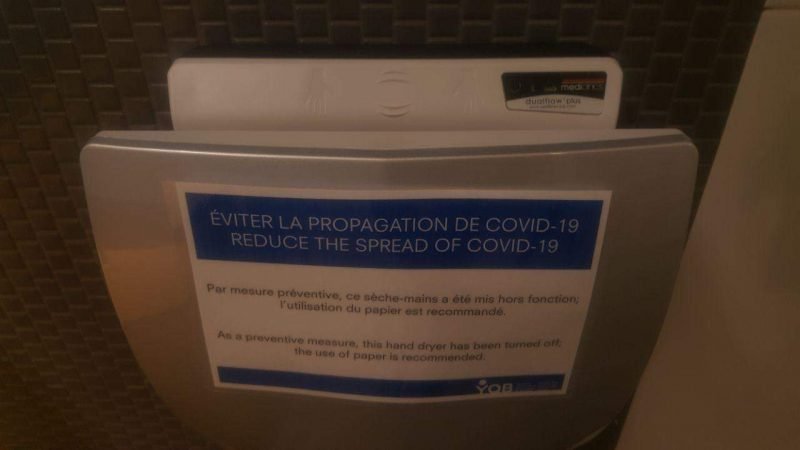 I've always preferred paper towels (sorry, environment), and it seems that it's a lie to say that those machines are really as clean and hygienic as paper since now that there is a pandemic, they shut them off and say to use paper.
I'll certainly remember that once this is all over, because I don't know about you, but I want my hands clean all the time, not just during a pandemic. Especially in restrooms.
And speaking of, as someone who is appalled that cash still exists (it could not be more archaic and useless in 2020), I also find it ironic that now that there's a pandemic, cash is being banned in some stores for health and hygiene reasons.
Health and hygiene aren't as important the rest of the time, I guess. It's not like there were other very easy and convenient ways to pay nowadays, right?
Anyway, so airport-wise, in Quebec City Airport, the scene was pretty calm, as I said.
Quiet, although I can't say that it was quieter than usual. All I noticed was that on the flight arriving from Cancún, many were complaining that their "all-inclusive" vacations were shortened.
And there were many French residents seemingly scrambling to get home, from what I heard. Check-in had started for YQB's only transatlantic flight, Air Transat's flight to Paris.
It was likely one of that very old Airbus A310's last flights. Air Transat is among the last 6 airlines still operating that model, and the only one outside of the Middle East. Others are Ariana Airlines in Afghanistan, Yemenia in Yemen, and finally Mahan Air, Iran Air, and Taban Air in Iran.
Transat already planned on retiring them very soon, and with airlines on the brink of seeing zero demand, it will probably be even sooner. I wish I could have experienced flying on that model before it's gone forever. Oh well.
Sorry for that aviation geek side note, back to the airport experience.
In the US, I first took off from Baton Rouge (BTR), which is even smaller and quieter than Quebec City. It also seemed the same as the last time I was there.
I went through two major United hubs on my itinerary, and in both Houston (IAH) and Newark (EWR), things seemed honestly pretty normal, at least compared to the few times I have been to both airports in the past.
No panic or any unusual scenes whatsoever. Maybe not as crowded as usual, but definitely not deserted either.
Although, of course, the recent airport chaos we've all heard about was mostly on arrival. And I didn't get to see that having arrived in the US 10 days earlier, which seems a lifetime ago based on how quickly this whole coronavirus crisis has escalated.
At the security checkpoints, though, everything was pretty normal. But one thing was different, and it's related to the TSA PreCheck I get thanks to NEXUS.
Sunday was the first time I didn't get the dreaded SSSS mark on my boarding pass after 5 times getting it since my trip to a, let's say "unique," country in December. SSSS is bad news (it stands for Secondary Security Screening Selectee), and it means you get a very thorough search by the TSA. I was glad to be spared this time.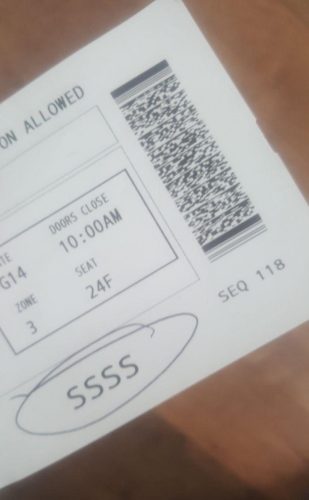 Was it because with all that's going on, they decided I wasn't a priority anymore, or is it just a coincidence? Is 5 the magic number in terms of experiences going through security with the SSSS you need before they automatically remove it? Time will tell. More info on NEXUS, PreCheck, the SSSS experience, and the cool trip that gave me the SSSS in future posts.
The planes were emptier than usual without a doubt, as was to be expected. This was the case on all 3 flights.
As you can see from the empty premium economy section behind my business class section on that particular IAH–EWR flight, the load factor (the aviation term for the percentage of seats available that are filled) was already low, and is about to go much lower.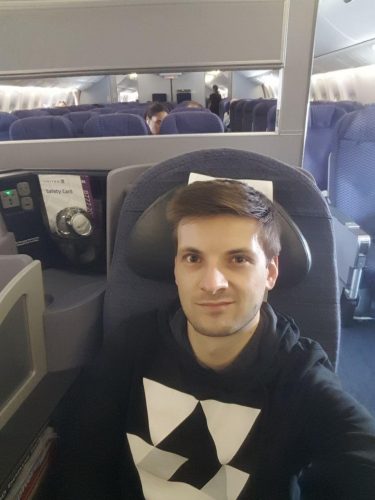 For those of you who, like us, have free airport lounge access thanks to credit cards, the experience was a bit different than usual on Sunday.
When entering the AMEX Centurion Lounge in Houston, the check-in agent asked me to hold up my boarding pass so she could scan it without touching it, and I had to hold up my AMEX Platinum Card for her to type in the numbers manually since their new policy was not to touch anything.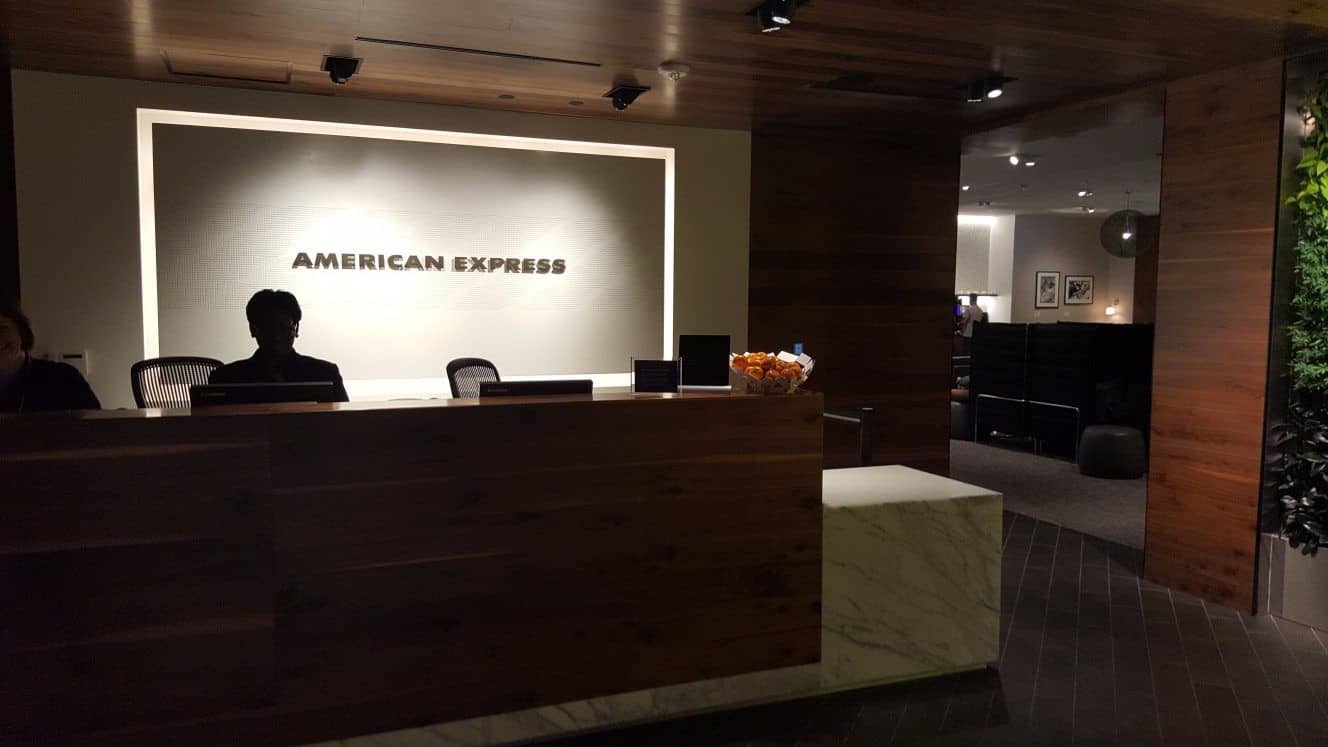 I headed to the buffet right away (Centurion Lounges are really the best with their hot food menu designed by a local chef in each of their locations).
Instead of being self-serve as usual, there was a barrier installed, and an employee was there to prepare our plates.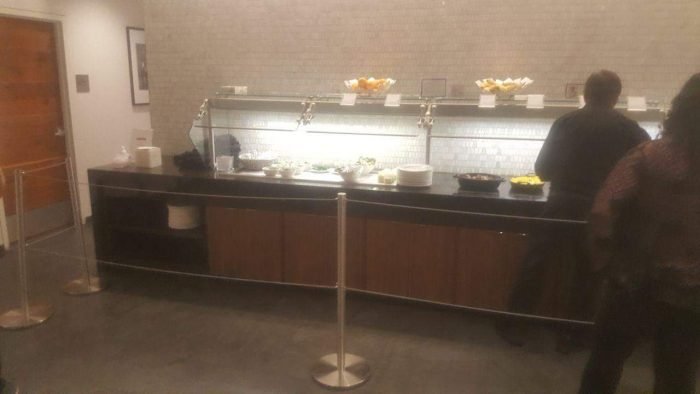 As you can see, the personnel was still upbeat and offering the same great service they always do, even though they knew they were likely going to be laid off soon, like tens (hundreds?) of thousands in the travel industry.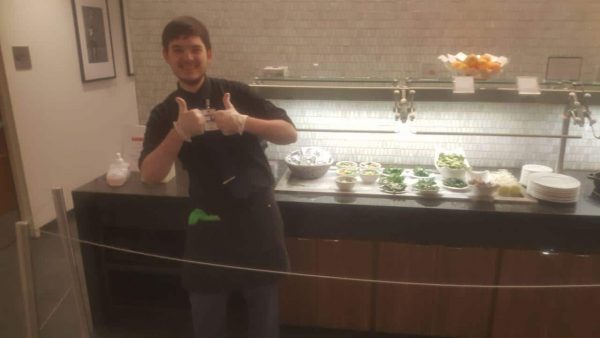 The usual jar of chocolate chip cookies had been replaced with the individually-wrapped edition, which actually made it easier to grab a few to-go for the flight. #budgettravelerforever
And the apples were also individually-wrapped in the fruit baskets, although to be honest, I didn't have any of those the previous week when I went to the same lounge and do not remember 100%: maybe the fruits were already like that, contrary to the cookies.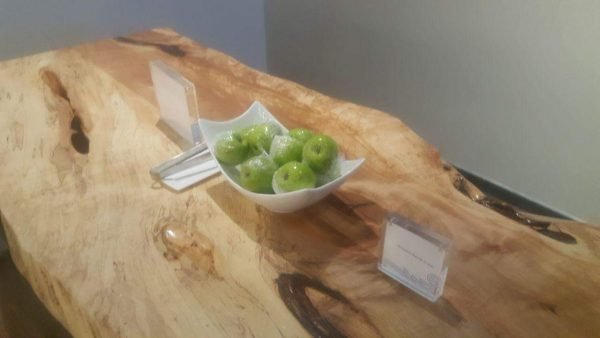 I did find that the lounge was slightly less crowded than usual, though, as there were many, many empty spots in all the sections with different types of seating in the lounge.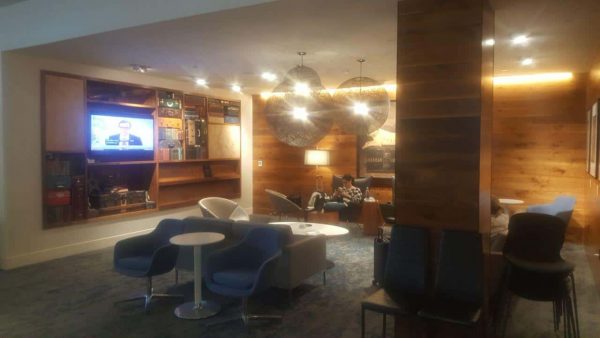 I didn't bother to visit the Priority Pass lounge in Newark, since it's not that great, and I was allowed to get a refund for my meals thanks to my flight delay insurance anyway.
Since the beginning of the week, most lounges have simply decided to close their doors entirely, since air travel is down drastically, and will almost come to a complete standstill in the coming weeks.
Tough times ahead for everyone who cares about travel, but it's a small sacrifice considering it is saving lives.
We'll be here during your social distancing to help you learn with our best travel tips, so you can be ready to travel more after the crisis.
And to help you travel through your screen with our content about destinations that are worth the wait!
By the way, if you want to do your part, why not volunteer to share your passion for travel with our readers and write a guest post about your favorite destination, so we can all make this forced travel break suck a little less?
Remember, we're all in this together!
Summary
I didn't really get the impression that the emphasis on the need to self-quarantine was strong enough at the airport, but with travel stopping almost entirely, it's not like it's going to be a real issue anymore; it's too late. And let's hope none of us has to experience the hotels, planes, airports, and lounges being so empty and weird like this in the future.
Want to be the first to get our content about the coronavirus impact on Canadian travelers?
Share this post to help us help more people travel more for less: