UPDATE: Canada will require proof of a negative test for all travelers.
The Government of Québec has asked its federal counterparts to require proof of a negative coronavirus test for travelers, as well as a test on arrival. It could apparently be implemented in early January, or even quicker. This is in response to the current wave of travel-shaming caused by reports about a few idiotic vacationers/tourists in all-inclusives who will likely penalize all responsible travelers.
Here are the details… with some first thoughts on the current intense travel-shaming too, the hot topic in the media.
The Government of Québec's announcement
Yesterday, the Health Minister of Québec announced that he had made three requests to the federal government (that is in charge of transport and borders):
requiring proof of a negative test to board a plane to Québec
requiring a rapid test on arrival at the airport in Québec
reinforcing the surveillance of the mandatory quarantine
And just to be very clear: while Alberta has had a testing program that completely eliminates the mandatory quarantine when entering Canada for nearly two months now, if these tests are implemented in Québec, it will be the worst of both worlds: the test requirement without the quarantine elimination that goes with it. Not very surprising.
It's worth mentioning that after over 18,000 participants, the data from Alberta's testing pilot project reveals that only 1.48% of travelers test positive on arrival and only 0.69% test positive in the second test 6 or 7 days after arrival. Another separate pilot project at the Toronto-Pearson Airport tested 8,000 travelers three times each and 0.7% were positive on arrival, 0.3% were positive 7 days later, and less than 0.1% were positive 14 days later.
Those are the facts.
That said, according to the Government of Québec, the feds are open to these demands and are preparing for a launch in early January. This isn't fast enough for Québec, as they would like it to be done quicker. Seems ambitious considering it took the federal government over 6 months into the pandemic to implement something as simple as mandatory temperature checks in airports!
As we've been repeating for months and as we've indicated in our important checklist for pandemic travel, one of the many current risks related to traveling is that rules and measures related to travel can change at any time. It seems Québec travelers who left during the holidays might experience that firsthand, even if Canada had not changed any rule since March (at least until last week, when the UK flight ban—Canada's very first flight ban of any kind since the beginning of the pandemic—was implemented).
We'll obviously keep you updated about whether this happens in Québec or other provinces, which is quite possible if the federal government agrees.
The 2.4 million travelers who entered Canada by plane since April
Obviously, governments in general aren't particularly known for their capacity to act quickly, but it's still fascinating that even though 2.4 million people entered Canada by plane since April (and let's ignore the 5+ million who entered at land borders), suddenly 9 months later it's urgent to add testing requirements.
And it's not because the science or data suddenly indicates that it's necessary.
Here is an interesting infographic: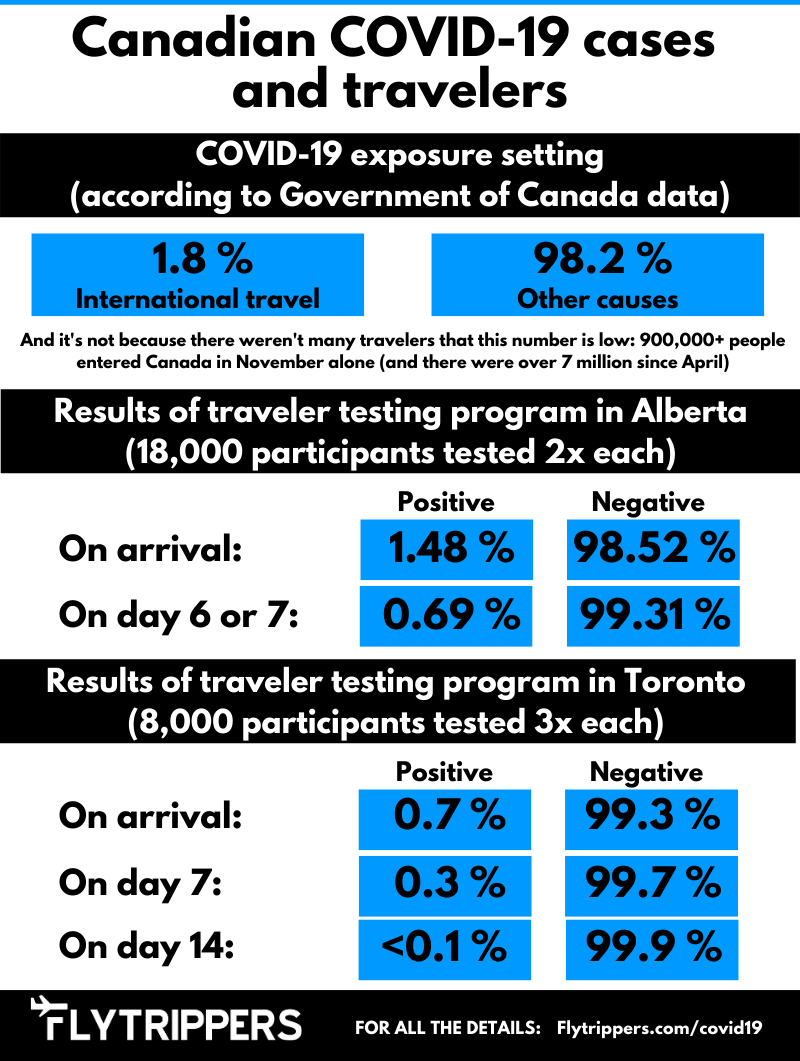 And here are the 3 sources:
Here's what Canada's Public Safety Minister Bill Blair said last week (emphasis is mine):
"COVID-19 cases related to international travel currently account for only 1.8% of all cases. That means 98.2% of COVID transmissions are a result of community transmissions, not international travel."
That's exactly what the official numbers from Canada's Public Health Agency show.
Here is another quote from the Deputy Chief Public Health Officer, Dr. Howard Njoo (emphasis is mine):
"What we're seeing now is that the biggest problem in Canada is community transmission inside Canada, it's not really the importation of cases."
Some will certainly say that it is that number is low just because no one was traveling, but again, nothing could be further from the truth. In November, over 900,000 people entered Canada. The reason travelers aren't an important transmission factor now cannot be that there are no travelers because there are many travelers; it's more likely that the reason is simply that travelers aren't an important transmission factor. That's consistent with the data from the pilot projects.
Some will say that more people will travel during the holidays and yes that's true. But the increase in passengers since the holidays started is not that high. According to the Canadian Air Transport Security Authority, there were 30,000 passengers per day on average in the last 10 days compared to 24,000 per day the 10 previous days. And it's still a 84% drop compared to last year too. And those numbers include domestic trips.
(Obviously, just because travel-related cases are low now doesn't mean anyone should travel irresponsibly… but the fact remains that most travelers surely aren't doing it irresponsibly based on the data.)
So no, there is no evidence or data motivating these new measures. In fact, according to the Premier of Québec himself, it's the current wave of travel-shaming currently surging in the media that is behind this action.
The current travel-shaming
We honestly didn't even want to talk about this, first because we just didn't want to have any part in this wave and second because the shaming that is going on in some provinces seems to be mostly directed towards vacationers/tourists in all-inclusives more than towards travelers and so we didn't feel targeted, like most travelers who follow us probably.
But there seems to be a really stunning number of people who are making gross generalizations, who are putting everyone in the same basket, and who seem incapable of expressing any nuance whatsoever… so we believe it's important to publish a more detailed post about this hot topic in the coming days.
In the meantime, let's just say that obviously, some irresponsible people are traveling. Just like some irresponsible people are not traveling (and in their case, they clearly don't represent just 1.8% of cases, sadly).
Yes, those who are irresponsible deserve blame and shame, whether they are here or elsewhere. The irresponsible ones who are elsewhere are certainly giving all travelers a bad reputation.
But it's absurd to assume that all travelers pose a high risk.
The blown-out-of-proportion travel-shaming
Of course, traveling irresponsibly is bad (we've been repeating it since the beginning, by the way). But it's frankly completely dispiriting that there is absolutely no middle ground and either you're a covidiot who thinks the pandemic is a hoax and who takes absolutely no precautions, or you call others covidiots as soon as they do one thing differently than you.
The decision to travel or not is very personal and everyone will feel differently about it, that's fine. We'd just hope there would be a bit more common sense, on both extremes.
Now, with Canada's health system being overwhelmed, even the very lowest risk by being careful and quarantining is too high according to many, as if you do increase your risk by traveling you increase your odds of needing hospitalization when returning. Depending on your age, that can be a very low risk, but still…
I am not traveling now, but I've been to Europe twice since August and can definitely say that it can be done safely. I was extremely careful. And our healthcare system wasn't overwhelmed at those times; we weren't in a lockdown. And I've barely seen anyone since March and I am sure I have limited my contacts more than almost everyone reading this. But traveling, even done responsibly and with a 14-day quarantine before and after, would automatically mean I am more of a risk? That's nonsense.
This point is not even about whether to travel or not anyway. But some people currently traveling are surely not as much of a risk as those partying with no distancing (we're not defending those, don't worry!).
And it's downright astounding that so many people can believe that those who:
are being very careful and taking all precautions
are in a country with an infection rate 10 times lower than here
are following the 14-day quarantine rule to a T
… are more of a risk than the (exponentially more numerous) people who:
had big parties for Christmas without being careful
did so here, in a place where community transmission is very high
obviously did not quarantine and will be behind you in the grocery queue
Downright astounding that all travelers are automatically a huge risk. And downright astounding that so much attention is given to them.
It's not just that only 1.8% of cases are linked to travel. It's that even in the last 10 days, it's a grand total of 0.008% of Canadians who took a plane (and that includes domestic flights; we'll have the international breakdown only when they return but mathematically, that will certainly be less than 0.008%).
By comparison, a survey in Québec showed that 10% would not follow recommendations to avoid holiday gatherings. That's 1242% higher. And that 10% is probably higher contrary to the 0.008% because some people are probably embarrassed to say they aren't following rules (since gatherings are illegal, which isn't the case for international travel by the way).
And most importantly, the consequences are infinitely greater, since nobody in that 10% will quarantine, while the vast majority of those returning from abroad will.
Yet, travelers and vacationers will get all the blame no matter how careful they were or where they were.
But again, that's not really the point of why travel-shaming can actually be harmful anyway.
Why travel-shaming can actually be harmful
The point is that we very clearly have limited resources, sadly. Of course, it would be great to focus on everything everywhere all the time (every case is one too many, of course). But that's not realistic. Very limited resources (for example, after nearly 300 days and over 2 million international passengers who've arrived by plane, our airports still don't have testing set up…)
There's a popular saying in management: when everything is a priority, nothing is a priority. Prioritizing lowering the 98.2% of cases instead of lowering the 1.8% might very well be the smart thing to do to have the greatest impact and save the most lives.
Blaming travelers could also lead some who aren't traveling (the near-totality of Canadians) to believe they bear no responsibility because they'll believe that travelers are the big problem. They're not traveling, so they think they're not the problem. But the data shows that it's overwhelmingly us, who are not traveling now, who have the biggest impact, with 98.2% of cases.
Many other statements we often hear and read these days don't make a lot of sense and seem a lot more based on emotion and an impulsive response than anything rational.
Anyway, we'll cover that in greater detail for those who are interested in an outlook that is a bit more reasoned.
Want to get all the important updates for Canadian travelers?
Summary
The Québec Government has asked the feds to implement a mandatory test requirement for travelers in response to the current wave of travel-shaming.
What do you think of mandatory tests? Tell us in the comments below.
Explore awesome destinations: travel inspiration
Learn pro tricks: travel tips
Discover free travel: travel rewards
Featured image: COVID-19 test (photo credit: StockSnap)
Advertiser Disclosure: In the interest of transparency, Flytrippers may receive a commission on links featured in this post, at no cost to you. Thank you for using our links to support us for free, we appreciate it! You allow us to keep finding the best travel deals for free and to keep offering interesting content for free. Since we care deeply about our mission to help travelers and our reputation and credibility prevail over everything, we will NEVER recommend a product or service that we do not believe in or that we do not use ourselves, and we will never give any third-party any control whatsoever on our content. For more information on our advertiser disclosure, click here.
Share this post to help us help more people travel more for less: