This weekend, my Saturday night activity was to drive to the US for a quick and useless roundtrip to test out what the entry process looks like now from both sides of the border for you. In this post, I share my experience entering Canada now that the test is no longer required for most Canadian travelers since April 1st.

With this major change, traveling is almost back to normal, especially if you choose one of the 106 countries that don't require a test to enter (they're listed in our guide on entry rules for all countries, updated yesterday).
So here's what it was like to enter Canada by land (I'll also soon cover entering Canada by air, as I'm leaving for a long weekend next week).

Entry rules for Canada and the USA
This post is really more about telling you how it went for me, not just to reiterate the simple rules that were very clearly announced weeks ago and that we've been telling you for weeks.
But I'll still summarize them for you, a short version.

If you just want to know Canada's entry rules since April 1st, it's pretty straightforward: you simply have to fill in the form in the ArriveCAN app, and nothing else.
That's it. Easy peasy.
(Unless you're not fully vaccinated, but even then it's still pretty simple: nothing changed on April 1st. You still need to provide a pre-entry test, fill out ArriveCAN, quarantine for 14 days, and get tested upon arrival for free. And that's only for entering the country; it's completely separate from the vaccination requirement to board a plane in a Canadian airport, which didn't change on April 1st either — the thing is, everyone is still mixing all the different rules together unfortunately).
If you just want to know the entry rules for the US (especially for unvaccinated travelers wondering if this is a way to get around the fact that they're pretty much the only citizens in the world to be trapped in their own country because of a medical decision), read the separate post about my experience entering the USA by land.

Today, I'm only telling you about my experience entering Canada since people often prefer shorter posts.
Entering Canada by land yesterday
After 10 pandemic trips, as you can imagine this wasn't my first time entering by land. I'll share all that at the end.

But I was a speaker at a travel rewards event in Montréal yesterday, so while in the area (during the pandemic I moved back to my hometown of Trois-Rivières about an hour from there), I figured I'd make a quick trip to test how things are going at the land border and tell you about it.
I went through the Lacolle border crossing (on Highway 15 or Highway 87 from New York State). I arrived at the border at about 9:30 PM yesterday (Saturday) to enter Canada.
I obviously wanted to take advantage of the express lane reserved for those who have the NEXUS card to go through customs instantly, as I always do (both at the border and in Canadian and U.S. airports — and even at security checkpoints in both countries' airports).
But because of the pandemic the Canadian government's response to the pandemic, it was closed!
Seriously, it's not well-known but it just doesn't make sense not to have a NEXUS card if you're a savvy traveler who wants to save time. Not only is it already cheap, but there are even 2 credit cards that reimburse you for its cost AND give you an additional ≈$668 and ≈$941 in free travel as a welcome bonus!
I'll talk more about the program soon, since new NEXUS card applications will finally resume soon after being "temporarily" on hold (for the past 2 years) due to the pandemic the Canadian government's response to the pandemic.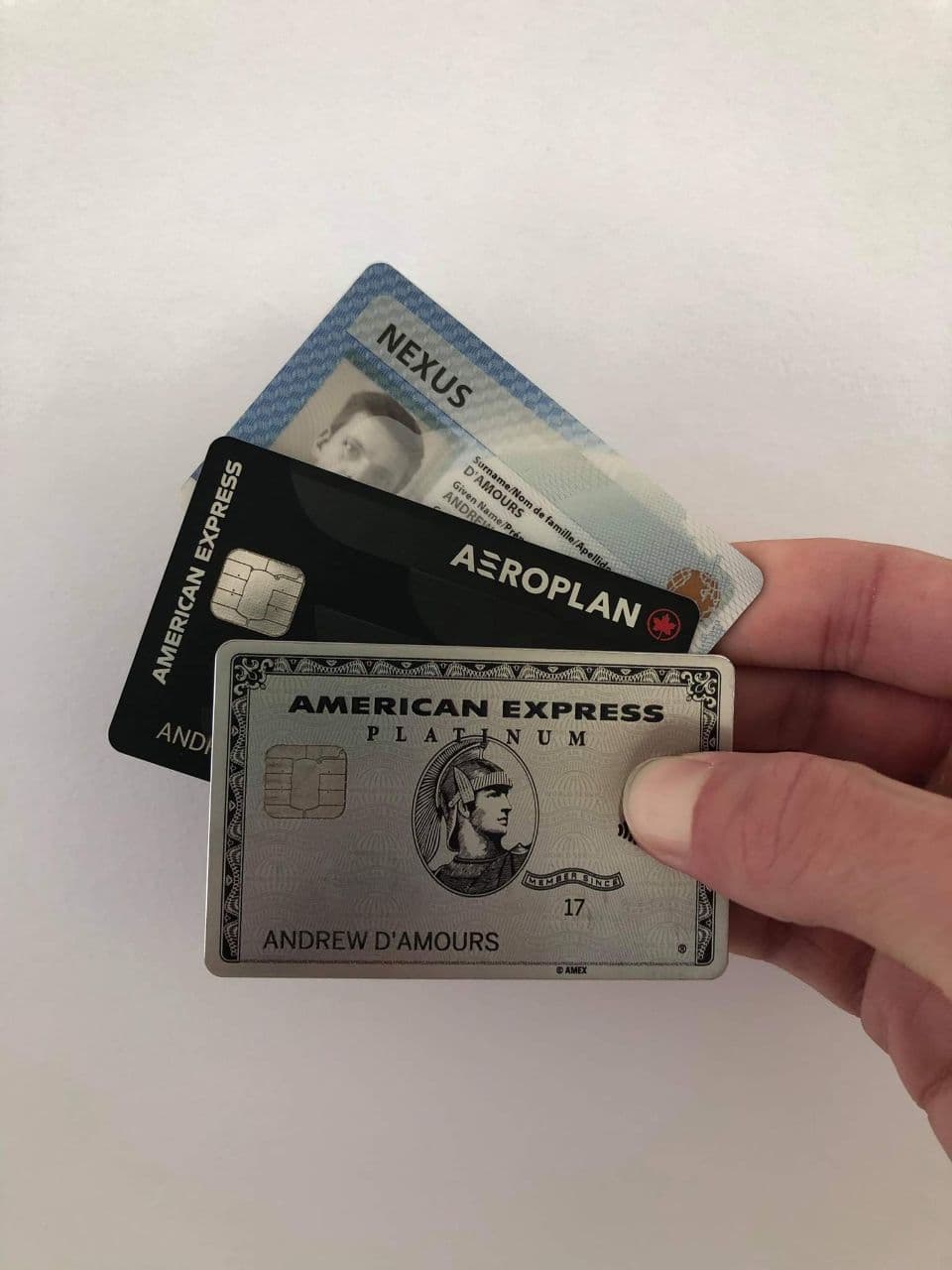 Okay, so before I got to the border, I had obviously filled out the form in the ArriveCAN app like I've done 6 times before, and it's still fast and straightforward: you just have to answer the questions in the form. It's literally the only thing you have to do!
Is it boring and useless? Pretty much, yes.
But those are the rules, and honestly, of all the restrictions that have suppressed our freedoms and lives in the last couple of years (and of all the many travel requirements there have been), I hope we can agree that filling out a 2-minute form is not even remotely close to being the worst.
So, take a few minutes to fill it out. The end.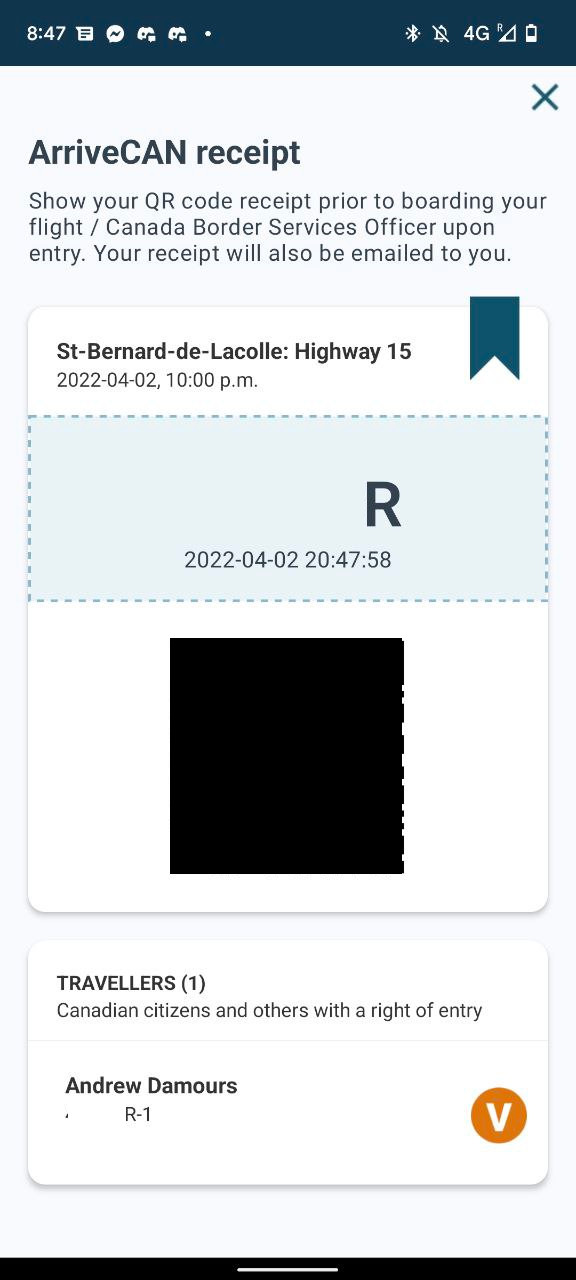 So all in all, the entry process took literally less than 1 minute.
I gave my NEXUS card to the friendly customs agent and he asked me how long I had been gone and where I lived, as usual. And that was it.
As quick and easy as before the pandemic. As I said: it's almost back to normal now, so there aren't many good reasons left not to travel, honestly!
The only risk left
The only risk left is to be among the minority of travelers randomly selected for a test upon arrival. Yes, it can happen by land, too (I repeat: the same rules apply whether you enter by land or by air), but it seems much less likely by land.
(Flytrippers will reach out to Health Canada to get estimates of the percentage of travelers selected, but hopes are slim: the government that says it values transparency doesn't actually seem to value transparency all that much based on our many interactions with them since the start.)

I was willing to take that risk. I've been tested 25 times during the pandemic, so obviously, the test itself doesn't bother me. But since it's been several weeks since my last test and I have to fly into the US on Thursday, I was hoping I wouldn't be selected in case my test turned out positive for the first time.
(In a way, even if I had been selected and tested positive, it wouldn't have been so bad because I could have gotten the recovery letter required by the United States and flown in with my positive test instead of a negative one).
But hey, I wasn't selected (just like the last time I entered in January, after returning from Central America, when almost all travelers were supposed to get tested upon arrival).
Also, theoretically, according to the official rules, you have to wear a mask everywhere in public for 14 days after your entry into Canada (indoors and outdoors). This rule has always existed and is probably not followed very closely.

But hey, it exists. It doesn't change much for me since Québec is about the only place in Canada and the US with a mask requirement 2 years into this (and since I'm going to the US on Thursday anyway, where masks are not required at all).
ArriveCAN proof and other basic rules
The border services officer didn't ask me for my receipt from the ArriveCAN app, just like every other recent time.
When you give them your NEXUS card (or your passport if you don't have one), border services officers see your ArriveCAN declaration in their computer system, so that's why they don't ask you for it! It's automatically linked to your ID!

Many people spread misinformation, saying there's no point in filling it out because they don't check it at customs. But like almost everything else that the average Joe or Jane says about the pandemic travel rules, they don't know what they're talking about, unfortunately (even if their intentions aren't bad).
So I'll repeat it, don't trust what you read or hear because it's much more likely to be nonsense than it is likely to be the truth.
And by the way, at the risk of digressing a little bit: just because YOU weren't asked to show any proof doesn't mean the rule doesn't require proof.
It seems simple to me, but with the 1,000+ comments/questions we get every week, I realize that many things that seem obvious to me actually aren't understood by many, so we want to help all travelers with the pandemic travel rules.
So I'll say it again very clearly: even if you don't have to show proof of vaccination to enter the US (to give a related example), it does NOT mean that you don't need to be vaccinated. It means that verification is random.
That's not the same thing at all. So don't just trust what others say; always make sure to look at the official rules.
More details on that specific example are in the post about my experience entering the USA that same day.
Entering by land vs. by air during the pandemic
I've been on 10 trips during the pandemic (and Kevin, Flytrippers' other co-founder, has also been traveling full time since April 2021), so we'll use all of our experience to help you with an awesome pandemic travel resource page very soon.
But I want to take this opportunity to remind you of one of the most important things about pandemic travel rules that so many people have trouble understanding: every country's rules are always separate; it's really a very simple concept.
The US is one country, and Canada is another country. So they each have their own entry rules. The rules are separate; they have nothing to do with each other.
Yesterday, I obviously also entered the US by land the same day; it was my first time since the pandemic started.
But it was the 3rd time I entered Canada by land though since I had come back that way after the first of my 6 trips to the US and after my trip to Asia.
(I had done this to avoid the factually stupid and ineffective quarantine hotels. "The Science™" said that only those entering by air were too dangerous and had to go to a hotel… for a day. Then, as soon as their arrival test results were in, whether positive or negative, everyone could go home. But those entering by land could take a 16-hour train ride with the general population to get home right away and quarantine there, as I did…)
Anyway, contrary to what everyone seems to think, since that measure ended, the Canadian entry rules are identical whether you arrive by land or by air.
It bears repeating: if you enter Canada, the rules are always the same. It's very simple! No matter how you enter, no matter where you enter, no matter where you've been, no matter how long you've been gone… the rules are always the same.
How it works couldn't be any simpler: it's always the same.
And let's just say that yesterday, the border process was a lot easier to enter Canada by land than the other 2 times I did it back when I needed a pre-entry test and border services officers had to evaluate my quarantine plan.
But it certainly was still more complicated than entering Canada after our 2 international trips in 2020 when there were no requirements except a quarantine (no test and no form).
It's crazy that test requirements were almost non-existent in 2020 when no one was vaccinated (I did zero tests in 2020 even though I went to 8 countries)… but 2 years later, with the most vulnerable people having been vaccinated for a long time, tests were still required to enter Canada until Thursday and are still needed in many countries!
Want to get all the coronavirus updates for travelers?
Summary
Now that Canada's test requirement is no longer in effect (as of April 1st), it's much easier for fully vaccinated travelers to enter the country. Whether you enter by land or by air, the rules are the same: you fill out the form in the ArriveCAN app, and that's it!
What would you like to know about entering Canada? Tell us in the comments below.
See the deals we spot: Cheap flights
Explore awesome destinations: Travel inspiration
Learn pro tricks: Travel tips
Discover free travel: Travel rewards
Featured image: Canadian customs in Lacolle (photo credit: Andrew D'Amours/Flytrippers)
Advertiser Disclosure: In the interest of transparency, Flytrippers may receive a commission on links featured in this post, at no cost to you. Thank you for using our links to support us for free, we appreciate it! You allow us to keep finding the best travel deals for free and to keep offering interesting content for free. Since we care deeply about our mission to help travelers and our reputation and credibility prevail over everything, we will NEVER recommend a product or service that we do not believe in or that we do not use ourselves, and we will never give any third-party any control whatsoever on our content. For more information on our advertiser disclosure, click here.
Share this post to help us help more people travel more for less: