Our southern neighbor is statistically the most popular destination for Canadians (by far), pandemic or not. And many are asking us many questions about how Canadians can travel to the United States, especially with their different approach to managing the 21st month of the pandemic. So we'll help you out—especially since it's honestly pretty simple.
While you wait for our useful FAQ with answers to 60+ questions, Flytrippers has already shared its ultimate guide to traveling during a pandemic as part of our mission to help you travel more for less.
Rules are sometimes complicated… but NOT for Canada and the USA. They are extremely simple in Canada and the USA… and they really don't change that often either compared to everywhere else.
(By the way, Flytrippers always spots cheap flight deals to the USA on its main page and there are currently record-breaking Aeroplan offers, including one that gives you 7 roundtrip reward flights to the USA as a welcome bonus, the highest ever seen in Canada on a non-premium card.)
So let's get to the point and look specifically at how Canadians can travel to the United States (you can use this table of contents to go the sections you want to read, as always).
Rules to travel to the USA for each type of traveler
First, here is the summary before I give the details.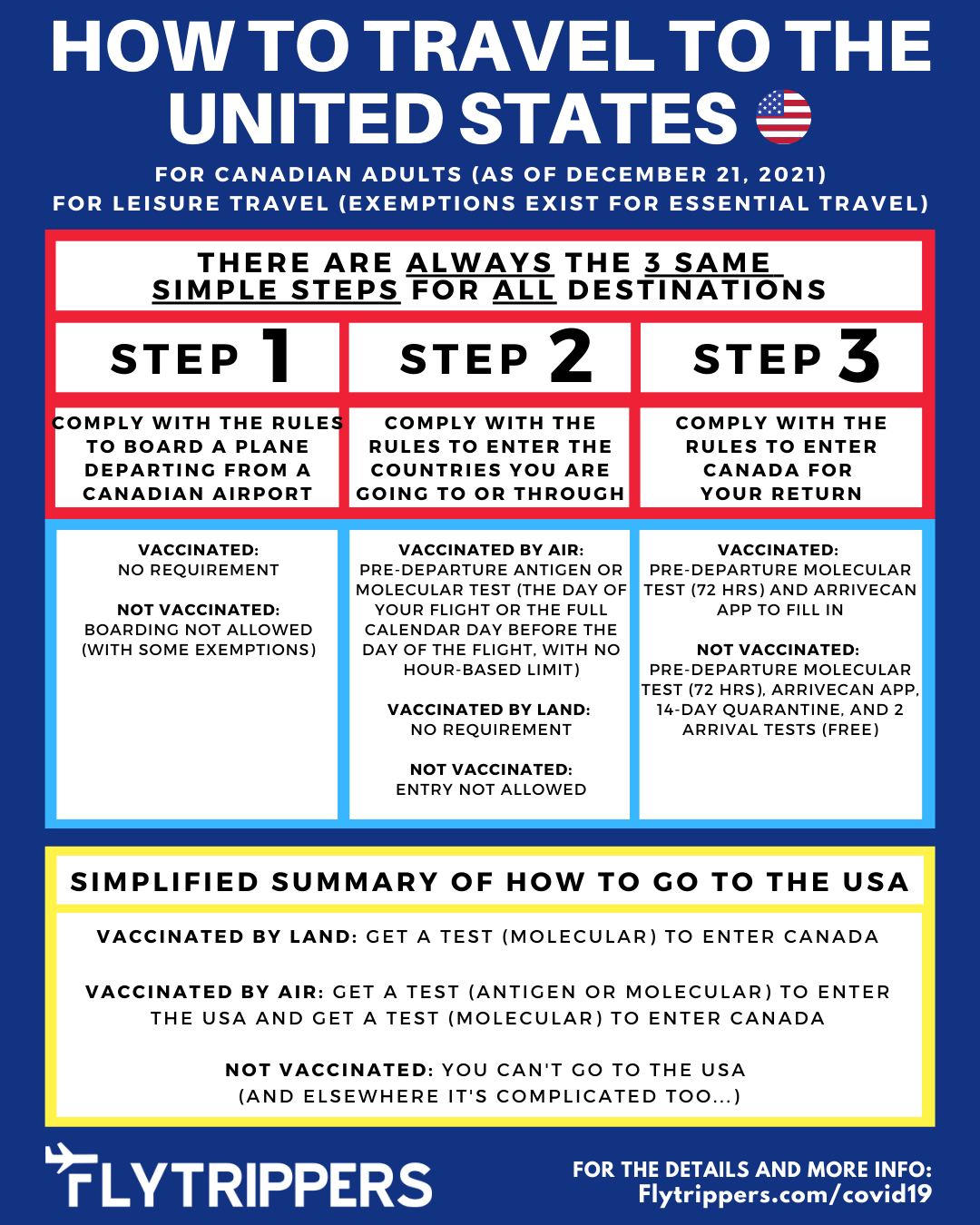 And here's an infographic about tests specifically.
(Including the travel rules for children that many often ask us about.)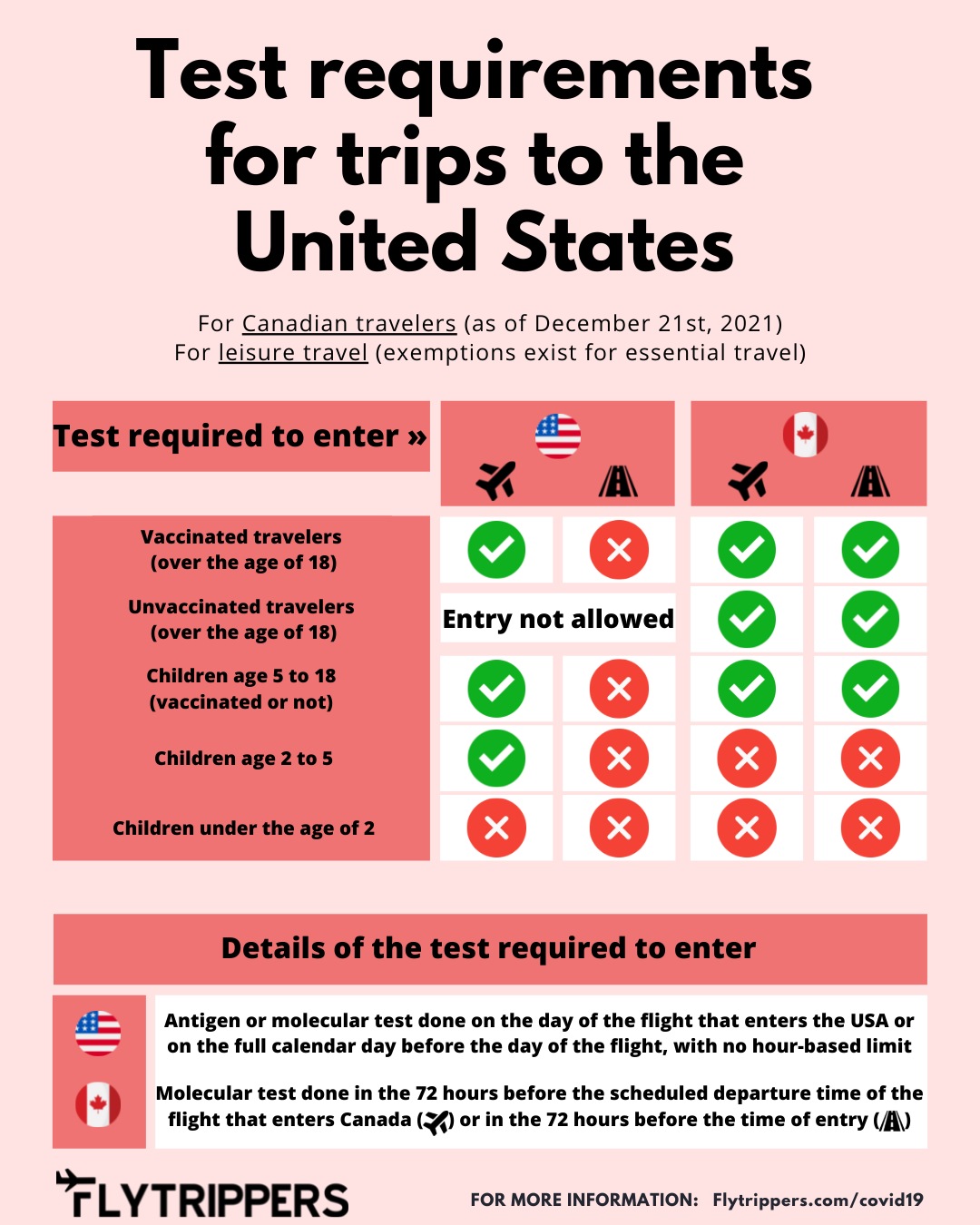 Now here is the more detailed text version.
Fully vaccinated travelers: Rules to travel to the USA
I can personally confirm that it's very simple to travel to the USA as a Canadian: I went myself 5 times (in April, in May, in November, in December, and this week).
There are always the same 3 simple steps for any trip:
Comply with the rules to board a plane in Canada ***NEW***
Comply with the entry rules for where you are going to
Comply with the entry rules for your return to Canada
In short, here is how fully vaccinated Canadians can currently travel to the USA:
Rules to board a plane in Canada

You do not need anything at all to board a plane in Canada

USA entry rules (by air)

You need a pre-departure test
Rapid antigen tests are accepted (as cheap as $17 in some provinces)
You can do it the full calendar day before the day of your flight or the day of your flight (NOT just 24 hours)

USA entry rules (by land)

You do not need anything at all to enter the USA by land

Canada entry rules

You need a pre-departure test to enter Canada
You can easily find free tests in the USA (PCRs or NAATs accepted)
You have 72 hours to do the test

By air: in the 72 hours before the scheduled departure time of your flight that enters Canada
By land: in the 72 hours before the time of entry into Canada

You also always need to fill in the ArriveCAN app (easy and free)
There are also a few things to keep in mind:
Transits do not exist in the USA
There are no requirements for domestic flights in the USA
US territories may have additional rules
The USA has almost the same definition of "fully vaccinated" as Canada's
You can be exempt from the test requirements if you have been infected recently, but…

Each of those elements is detailed below.
But basically: Enter the USA by land with no requirement (or get a rapid test and enter by plane).
Then, get a free test in the USA in most states (please stop paying $200 without checking, like so many people sadly do) and come back.
Easy.
Unvaccinated travelers: Rules to travel to the USA
It's simple: Unvaccinated Canadians are simply not allowed to enter the United States at all since November 8.
There are 120+ countries where unvaccinated Canadians can travel but the USA is not one of them (and since November 30, it's very difficult — but not impossible — to leave with the new mandatory vaccination to fly out of Canada).
There is one exemption to enter the USA without being vaccinated: Minors (under 18).
Children: Rules to travel to the USA
To explain the rules for children, I'll come back to the 3 simple steps to travel:
Rules to board a plane in a Canadian airport

The vaccination requirement does not apply to those under 12 years and 4 months (they don't need a test)
Unvaccinated kids over the age of 12 years and 4 months are banned from leaving Canada by air
Kids under the age of 18 are not banned from leaving Canada by land (vaccinated or not)

USA entry rules

All minors (under 18) are exempt from the vaccination requirement
Nobody needs a test by land so kids don't either
Kids under the age of 2 are exempt from the test requirement by plane
Kids from age 2 to 18 need a test to enter by plane

Canada entry rules

Kids under the age of 5 are exempt from the pre-departure test requirement
Kids under the age of 12 are exempt from the quarantine requirement
However, they cannot go to school or daycare for 14 days
You can read our ultimate guide of travel rules for children.
Other USA travel rules for all travelers
Here are a few other noteworthy rules.
Rules for transits in the United States
The rules are exactly the same if you are just connecting in a US airport on your way to one of the many countries open to Canadian travelers.
The United States is one of the few countries in the world where sterile international transits simply do not exist. You always need to follow all the same rules even if you just have a layover.
You can read the detailed article about the transits in the United States during COVID-19.
Rules for domestic flights in the United States
There are absolutely no requirements for domestic flights in the United States or any flights departing from a US airport per se (it's been this way since the beginning of the pandemic).
This is the case for almost every country in the world too, by the way: Tests are almost always only required as part of a country's ENTRY requirements.
Just yesterday, 2 million passengers were screened by the TSA in the US. Americans wouldn't tolerate any testing or vaccination requirements there (let's call that cultural differences…) so that's not likely to change.
Masks are still mandatory on board though, unlike in some other countries.
So to be very clear, since many ask us if a test is required to fly from Buffalo to Miami:
Do you need a test to enter the USA by land? No!
Do you need a test to fly from a US airport? No!
That means you can fly anywhere in the USA without having to do a test by simply leaving via an airport on the other side of the border.
They often have lower airfares too, since taxes are much lower there, there's more airline competition, and more ultra low-cost carriers specifically.
Rules for Hawaii (and the territories)
Hawaii is a destination that should be avoided at this time if you care even slightly about traveling for less.
If not, Hawaii was the only one of the 50 States that had its own entry rules that were stricter than in the rest of the US up until very recently, but now that is over.
However, if your flight stops elsewhere in the USA, you need to simply fill out the Hawaii Safe Travels form. To be clear, if you are flying directly from Canada to Hawaii, you do not need to do this.
The above US entry rules obviously always apply. Hawaii's special rules, when they were in effect, were in addition to the US rules.
US territories can also have their own additional rules (for example, Puerto Rico or the US Virgin Islands). Double-check.
More details about each element of the USA entry rules
Here is more information about the rules.
Who is considered fully vaccinated
You can see who is considered fully vaccinated by Canada.
The US has basically the same definition, except that they require the proof of vaccination to be in English (while Canada also accepts French or a certified translation). Your "Canadian" vaccine passport for travel works fine.
How the pre-departure test required by the USA works
Because it causes a lot of confusion, I'm going to explain the pre-departure test that is required by the USA for entry by air only.
It is different from most countries' requirements, including Canada's (the most important thing to understand about the travel rules is that you have to look at them carefully, they are all different from country to country even when they seem similar).
The US gives you the full calendar day before the day of the flight and the day of your flight to take your test, not just 24 hours.
In other words, if you had a flight from Toronto to Miami that was scheduled to depart at 11:59 pm on Friday night, you could take the test any time on Thursday (or Friday of course).
The precise time of day is NOT relevant.
There is no 24-hour time limit, unlike what the media says. Just like there wasn't a 72-hour limit with the previous US rules.
I repeat: If you fly on Friday, regardless of the time of day…. you can get tested on Thursday, regardless of the time of day. Pretty simple, isn't it?
It gives you almost twice as long to get tested compared to the "24-hour" rule everyone believes exist, especially if you leave in the evening as we did Tuesday.
Here's an infographic if you want to see it visually.
And for those who always blindly trust the media and still believe there is a 24-hour limit just because the media said so…
Here is the official proof that it's false.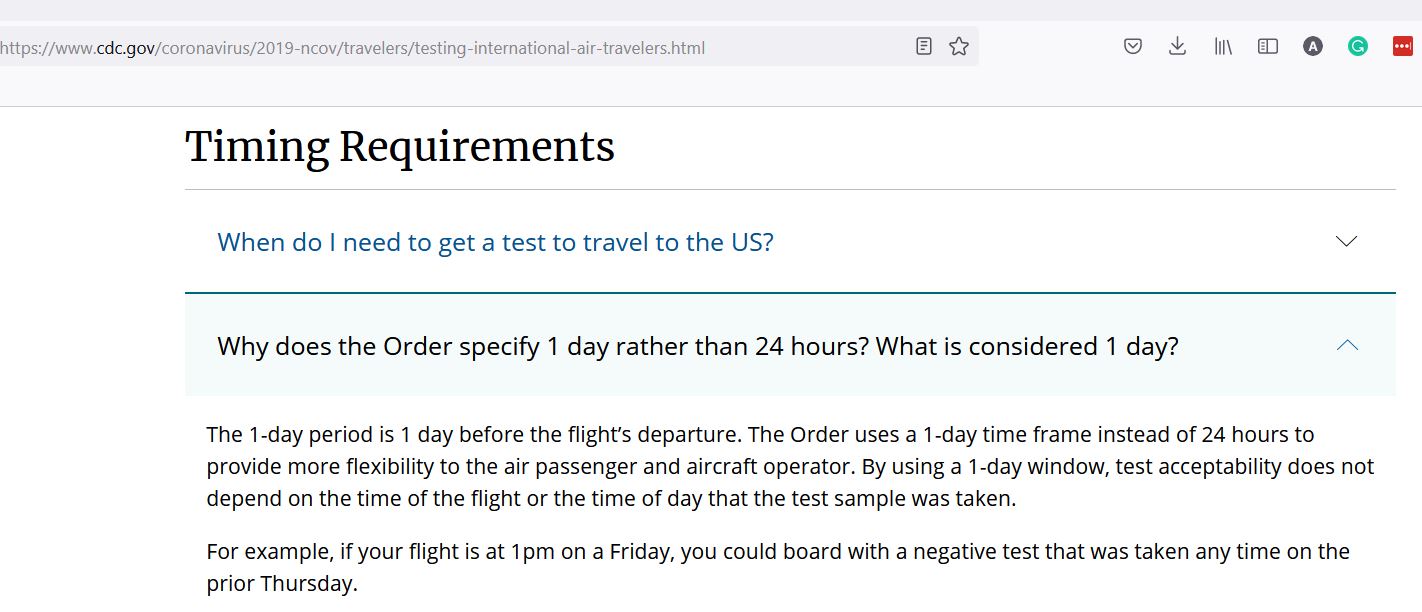 And just like with Canada's entry rules, the direct flight that ENTERS the USA is the only one that matters: They don't care about your connections before or after.
For example, if you are flying a Timmins-Toronto-Miami itinerary, it's the date of the Toronto-Miami flight that matters (there likely won't be a difference in dates because of how the US calculates the allowed time for your test, but it's always good to understand the very basics).
Finally, the USA accepts rapid antigen tests (unlike Canada).
Those are available for as low as $17 in some parts of Canada, sign up for our free newsletter to be the first to get a more thorough list of all test providers in every province (and many other tips).
Doing the pre-departure test required by Canada while in the USA
I'll say it once more: It's very easy to get a COVID-19 test for free in the US.
I did it 4 times myself, as recently as December 8, 2021 (and back in April 2021 too; this is not new). As a Canadian. Without a residence in the United States. Without insurance. Without paying. Easily.
Dozens of our readers have too (or probably hundreds at this point, since I appeared on CBC and many other outlets to share this easy tip).
We have a detailed article on free COVID-19 tests in the USA. You can also read our ultimate guide to Canada's entry test requirement.
Exemption for recent infections
You do not need a pre-departure test to enter the USA by air if you were infected within 90 days of entry. But in addition to the proof of a positive test, you also need a doctor's note proving that you have recovered… that's not easy to get in Canada.
The US describes this as a "signed letter from a licensed healthcare provider or a public health official that states you have been cleared for travel".
They also mention this:
A letter from your healthcare provider or a public health official that clears you to end isolation, e.g., to return to work or school, can be used to show you are cleared to travel, even if travel isn't specifically mentioned in the letter. The letter must have information that identifies you personally (e.g., name and date of birth) that matches the personal identifiers on your passport or other travel documents. The letter must be signed and dated on official letterhead that contains the name, address, and phone number of the healthcare provider or public health official who signed the letter.
So we haven't received even one testimonial of someone who was able to get that in a place with such a terrible healthcare system like Canada.
Thankfully, rapid antigen tests are not as sensitive and it seems you aren't as likely to test positive weeks after your infection as with a molecular test.
As for your entry into Canada, there is a similar exemption, but you do not need a letter, just a valid positive test.
So you do not need a a pre-departure test to enter Canada if you have a valid positive test taken within 14 to 180 days prior to entry (the rule is changing to 10 to 180 days as of January 15, 2022).
You need proof of a positive test that includes all the required information, specifically the name and address of the lab or clinic that did the test. Not easy if your test was done publicly here in Canada.
We'll have a detailed post about that Saturday, you can also read the intro about the exemption to Canada's entry test requirement.
What it's like to travel in the USA during the pandemic
In many states, the reality is that the pandemic has been over for a while (it varies greatly from state to state though).
If you're not comfortable with that (and with the complete absence of masks inside hotels or businesses for example), carefully check the situation in your desired destination before booking a trip.
I just got back from Miami and it was like being on a completely different planet compared to Canada. I did not wear a mask once outside of the airport and buses (2 federally-regulated places where masks are mandatory).
Not in restaurants, not in grocery stores, not at indoor art shows, not in hotels, not in hostels… not anywhere.
Some states, like Louisiana where I was in November, have a vaccination rate under 50% (Florida is at 63%). And everyone is allowed inside restaurants; most states do not have vaccine passports.
Given how many Canadians seem to be so happy that the government is banning the unvaccinated from airplanes (where the air quality is factually better than in any building on the ground thanks to the HEPA filters), some might not be happy to learn that in the USA you can be seated next to unvaccinated people in many places with worse air quality than planes.
So take that into account when choosing a destination. Whether you are not comfortable with this… or whether you want somewhere where life is almost back to normal.
Every traveler is different.
You can check out our guide to deciding whether or not you should travel.
And in all cases, if you have specific questions about traveling to the USA, ask them in the comments below.
Want to get all the coronavirus updates for Canadian travelers?
Summary
It's really quite simple to understand the rules that determine how Canadians can travel to the United States.
What do you want to know about traveling to the United States? Tell us in the comments below.
See the deals we spot: Cheap flights
Explore awesome destinations: Travel inspiration
Learn pro tricks: Travel tips
Discover free travel: Travel rewards
Featured image: Sedona, Arizona (photo credit: Edmundo Mendez, Jr.)
Advertiser Disclosure: In the interest of transparency, Flytrippers may receive a commission on links featured in this post, at no cost to you. Thank you for using our links to support us for free, we appreciate it! You allow us to keep finding the best travel deals for free and to keep offering interesting content for free. Since we care deeply about our mission to help travelers and our reputation and credibility prevail over everything, we will NEVER recommend a product or service that we do not believe in or that we do not use ourselves, and we will never give any third-party any control whatsoever on our content. For more information on our advertiser disclosure, click here.
Share this post to help us help more people travel more for less: