Our southern neighbor is a very popular destination for Canadians, pandemic or not. And many are asking us numerous questions about how Canadians can travel to the United States. And many are a little confused about the rules. So we'll help you out—especially since it's pretty simple, honestly.
While you wait for our useful FAQ with answers to 60+ questions, Flytrippers has already shared its ultimate guide to traveling during a pandemic as part of our mission to help you travel more for less.
But let's go to the point and look specifically at how Canadians can travel to the United States (by the way, Flytrippers always spots cheap flight deals to the USA on its main page).
Basics of how Canadians can travel to the United States
Let's start with the basics:
You don't need an essential reason to travel to the United States
You don't need to be fully vaccinated to travel to the United States
However, there are some important details regarding these 2 elements:
I can personally confirm that it's very simple to travel to the USA as a Canadian: I went myself in early April and again in late May.
Here is an infographic to summarize before I get into the details: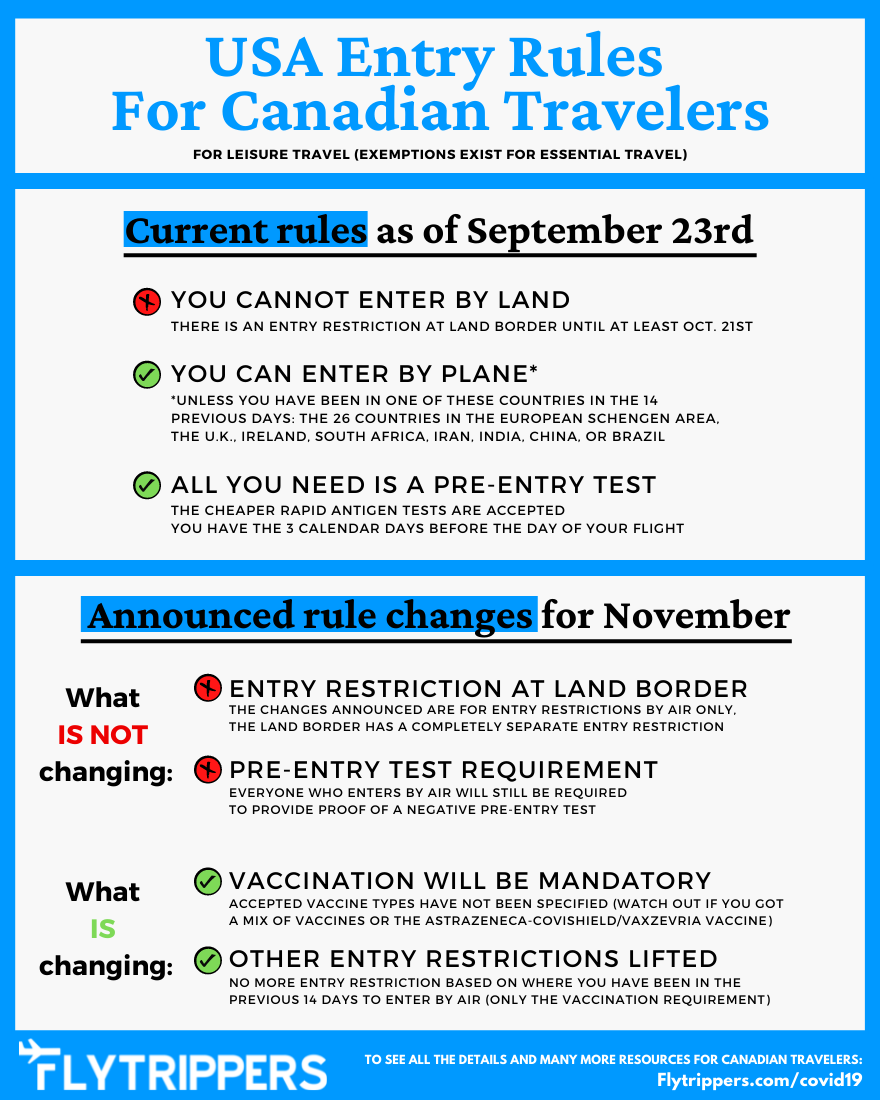 Note that there is one exception: You cannot enter the USA at all if you have been to a few specific countries during the last 14 days (the 26 countries in the European Schengen Area, the United Kingdom, Ireland, India, China, Iran, South Africa, or Brazil). This entry restriction will be abolished in November once they make vaccination mandatory to enter the USA.
And still no word at all on when the USA might reopen their land border. The closure theoretically expires on October 21st but Flytrippers will be following that closely for you (sign up for our free newsletter to get all the important coronavirus updates).
Finally, the rules are exactly the same if you are just connecting in an American airport on your way to one of the many countries open to Canadian travelers: The United States is one of the few countries in the world where sterile international transits simply do not exist. In other words, there is no such thing as "transiting" in the US: You always "enter" the country, even if you exit the very next minute to go back into the international zone of the airport terminal.
Concrete steps for Canadians to travel to the United States
We've said it many times, but understanding how to travel right now is just 2 simple steps (no matter the destination, even within Canada).
Check the entry rules for where you are going to and comply
Check the entry rules for your return to Canada and comply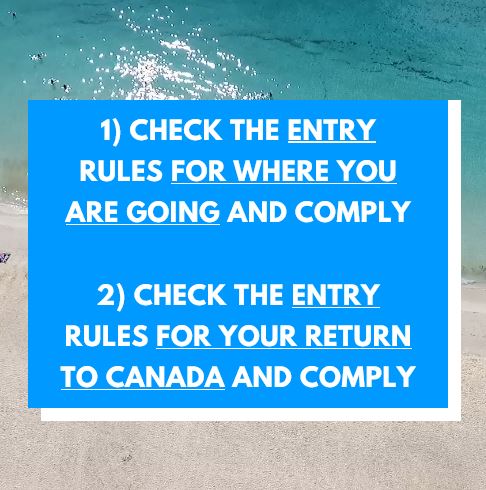 That's simple.
The rules themselves are sometimes complicated… but NOT for Canada and the US.
They are extremely simple in Canada and the US… and they really don't change that often either compared to everywhere else.
Here's how it works depending on your vaccination status.
How fully vaccinated Canadians can travel to the US
It is very simple and easy if you are fully vaccinated (see who Canada considers fully vaccinated):
To enter the USA: Take a pre-entry test before your flight
To enter Canada: Take a pre-entry test before entering by air or land

Molecular tests (PCR or NAAT) accepted (free almost everywhere in the US)
You have 72 hours before your flight or 72 hours before you arrive at the land border
Fill out the ArriveCAN app (free and easy)
That's it.
No quarantine at all in either country (note that Hawaii has its own rules that are stricter than in the rest of the US—it's a destination that should be avoided at this time anyway if you care even slightly about traveling for less).
If you are traveling with children under 12 who cannot be vaccinated, see Canada's detailed entry requirements.
How non-vaccinated Canadians can travel to the United States
These same requirements obviously apply if you are not vaccinated.
Canada, however, is much stricter and also requires you to quarantine at home for 14 days if you are not fully vaccinated. You will also have to do 2 more tests after your arrival in Canada (they are free though, or rather taxpayer-funded).
That's it. The US has no specific requirements for non-vaccinated travelers (for now, but as mentioned, entering the USA will simply no longer be possible for unvaccinated Canadians once their mandatory vaccination rule takes effect in November).
Want to get all the coronavirus updates for Canadian travelers?
Summary
It's really quite simple to understand the rules that determine how Canadians can travel to the United States.
What do you want to know about traveling to the United States? Tell us in the comments below.
See the deals we spot: Cheap flights
Explore awesome destinations: Travel inspiration
Learn pro tricks: Travel tips
Discover free travel: Travel rewards
Featured image: Sedona, Arizona (photo credit: Edmundo Mendez, Jr.)
Advertiser Disclosure: In the interest of transparency, Flytrippers may receive a commission on links featured in this post, at no cost to you. Thank you for using our links to support us for free, we appreciate it! You allow us to keep finding the best travel deals for free and to keep offering interesting content for free. Since we care deeply about our mission to help travelers and our reputation and credibility prevail over everything, we will NEVER recommend a product or service that we do not believe in or that we do not use ourselves, and we will never give any third-party any control whatsoever on our content. For more information on our advertiser disclosure, click here.
Share this post to help us help more people travel more for less: