OFFICIALLY CONFIRMED: The United States vaccination requirement is ending on May 11th at the end of the day! Details to come!
Since 2021, the United States has required COVID-19 vaccination for foreigners seeking entry, both by air and by land (although this is not always enforced, especially at the land border). But finally, even I was surprised to learn that this is not entirely true… it is not be required at all borders.
It's really an exception that is inconvenient (many prefer to try it at the land border where customs officials almost never check for proof of vaccination, as thousands of unvaccinated Canadians have done).
But it just goes to show how absurd the rule is (in case you didn't know it yet).
Here are all the details.
Overview of the USA rules
The current USA vaccination requirement has been extended until May 11.
But last time, the extension was announced on the 4th of the month before expiring on the 10th. So it's not guaranteed to end. There's an excellent chance it will end on May 11 this time, along with the remaining USA state of emergency (the other state of emergency will end sooner). We're watching this for you; sign up for our free newsletter for travelers to get all the updates.
Anyway, since the beginning, the USA has had 2 separate vaccination requirements:
For entry by air (TSA is in charge)
For entry by land/sea (U.S. CBP is in charge)
The actual land/sea rule
One of our Flytrippers readers pointed out something absolutely absurd about the land/sea rule.
Surprisingly, it actually applies only:
At the USA-Canada border
At the USA-Mexico border
The official website of the Department of Homeland Security specifically mentions these 2 borders only.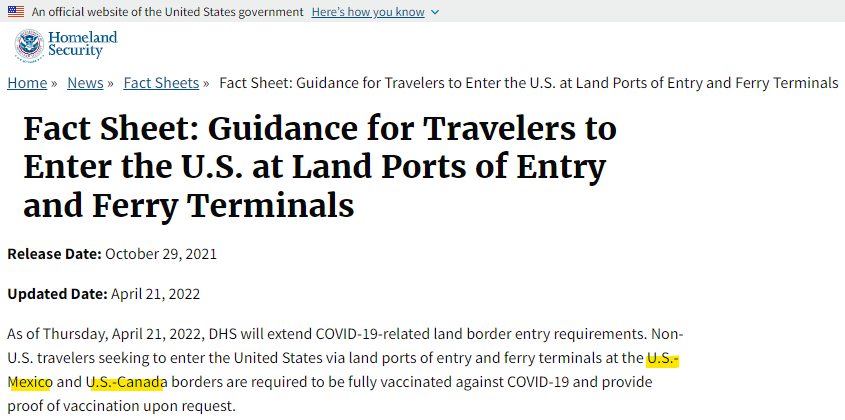 The official website of the U.S. CBP (their customs agency) also explicitly specifies just these 2 borders.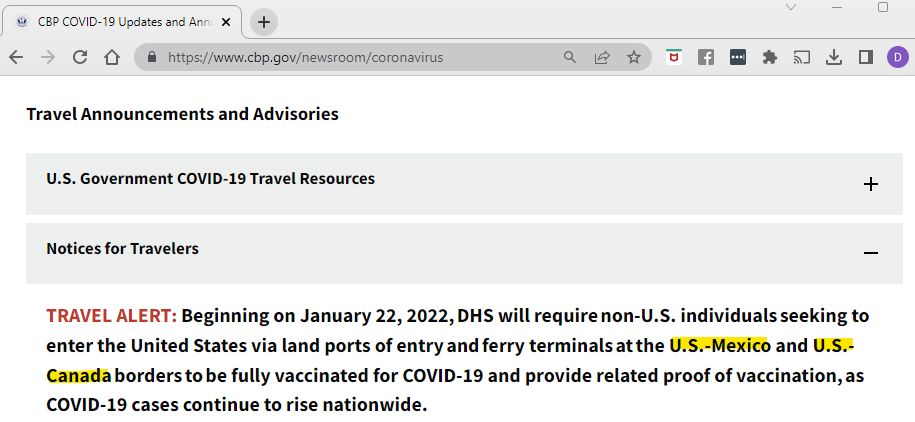 You may think that this covers all the borders of the United States anyway… but no!
There are ferries that allow you to easily enter the United States by sea, for example:
Ferry between the Dominican Republic and Puerto Rico
Ferry between the Bahamas and Florida
Ferry between Samoa and American Samoa
And "The Science™" strikes again: at those borders there, you don't need to be vaccinated to enter the USA!
At least apparently not, according to all the information available and testimonials received: the U.S. CBP media relations department did not respond to our request to confirm (either they've been too busy every day for the past several weeks, or they're too embarrassed to confirm this since it's so stupid)!
For example, in the USA's official national archives, the Federal Register, these 2 borders are the only ones for which rules have been published on the day of renewal.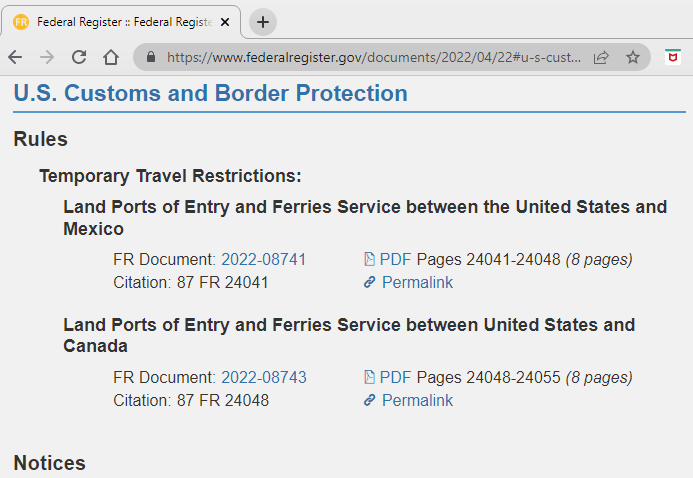 Vaccination requirement based on the country
Just to be clear: if you enter the USA by air, the requirement applies regardless of which country you are coming from.
(But it's just the airlines that are in charge of enforcing it and we have seen ourselves recently that the airlines don't always check anymore — but it's still quite a bit more risky to try it there than at the Canada—USA border!)
But for entry by land or by sea, it really depends on the country.
Quite unbelievable. If you fly from Canada to Puerto Rico (an American territory) or from Canada to Florida, you are dangerous. If you fly from Canada to the Dominican Republic or to the Bahamas and you then take the ferry to enter the United States, you are no longer dangerous! It's magical!
And it's not even the marine transportation mode that kills the virus, because the vaccination requirement applies to those arriving by boat from Canada and Mexico… just not to those arriving by boat from the Dominican Republic and the Bahamas.
The "logic" of this rule
The worst part is not the absurdity of this rule, or the fact that politicians make stupid rules. They're politicians, they just do things they think will help them get re-elected; it's what they do, what they've always done, and what they'll always do.
The worst part is really that there are still people who think that governments follow science!
A mandatory vaccination (with an outdated definition of "vaccinated" that was never updated and is scientifically useless according to all epidemiologists, because you can have received your last dose 2 years ago and you're still considered vaccinated), but moreover, one that does not apply if you arrive by boat from certain countries…
And it's those who criticize that who are wrong, according to some "experts" who suffer from covidanxiety and won't get over this before 2025, if ever.
Seriously, if this absurdity doesn't get people to realize that this rule is just nonsense (as most rules have been for quite a while by the way), there's really nothing to be done.
Imagine being someone who blindly believes everything governments say. Imagine thinking that automatically, since the rule exists, you have to defend it. Imagine the mental arithmetic required to try to justify that it's really science that dictates these government rules…
"Yes yes, science says that if you come from the Dominican Republic and the Bahamas, then it's okay! Of course governments follow science! Trust the experts and shut up!"
Why we are still talking about this rule
We have always had the philosophy that you should have all the factual information and make up your own mind based on all that information.
It's a basic rule of thumb if you want to be a good traveler: don't blindly rely on governments (or anyone else) and decide for yourself. And this goes back to way before the pandemic, for example with the alarmist travel advisories that the government publishes for each country.
We insist on pointing out how ridiculous this rule is, because it's part of our mission: if you're a traveler, exploring the world to open your mind and see for yourself how things really are, it's unthinkable to just blindly follow what the governments say without any critical thinking! As unfortunately too many people did during the whole pandemic, sadly.
It's also very important to realize that when you were wrong, as so many people were wrong during the pandemic; learning from our mistakes is the only way to become better humans. And travel is precisely about becoming better humans too.
Why we didn't realize this rule before
Speaking of mistakes, I'm very disappointed that I didn't notice this detail in the rules all this time.
Especially since it's a bit like the loophole we mentioned months ago for flying from Canada when vaccination was required by Canada to take almost any flight.
(Taking the ferry from Newfoundland to Saint-Pierre-and-Miquelon and then flying from Saint-Pierre to Montreal and Montreal to international, destiantions… that was fine. But not Montreal to international directly. Because "The Science™!")
It's another exception related to a border country that not many people think about, accessible by boat.
I've been to Miami 30 times, I should have thought about that ferry. But honestly, I never would have thought that the vaccination requirement (which the government says is SO vital to protect Americans) might not apply everywhere… it's so ridiculous it never even crossed my mind.
So as a learning experience from all this, I'm also going to remember that I should never underestimate how stupid and illogical government rules can be. I've known for a long time that they can be, as an amateur and a connoisseur of history, but now… I have to remember that if I think politicians have hit rock bottom in terms of illogical rules, they can always go lower.
Confirmations from ferry operators
The Flytrippers reader who pointed out this detail of the vaccination requirement tested it himself and got in without a problem via the Bahamas. Others have told us they tested it via the Dominican Republic.
But Flytrippers contacted 2 of the operators of the magical ferries that purify your body of COVID-19 (we haven't reached out to the one in Samoa).
First there is Ferries del Caribe, which offers a ferry between Santo Domingo (Dominican Republic) and San Juan (Puerto Rico). They have confirmed that no vaccination requirements apply.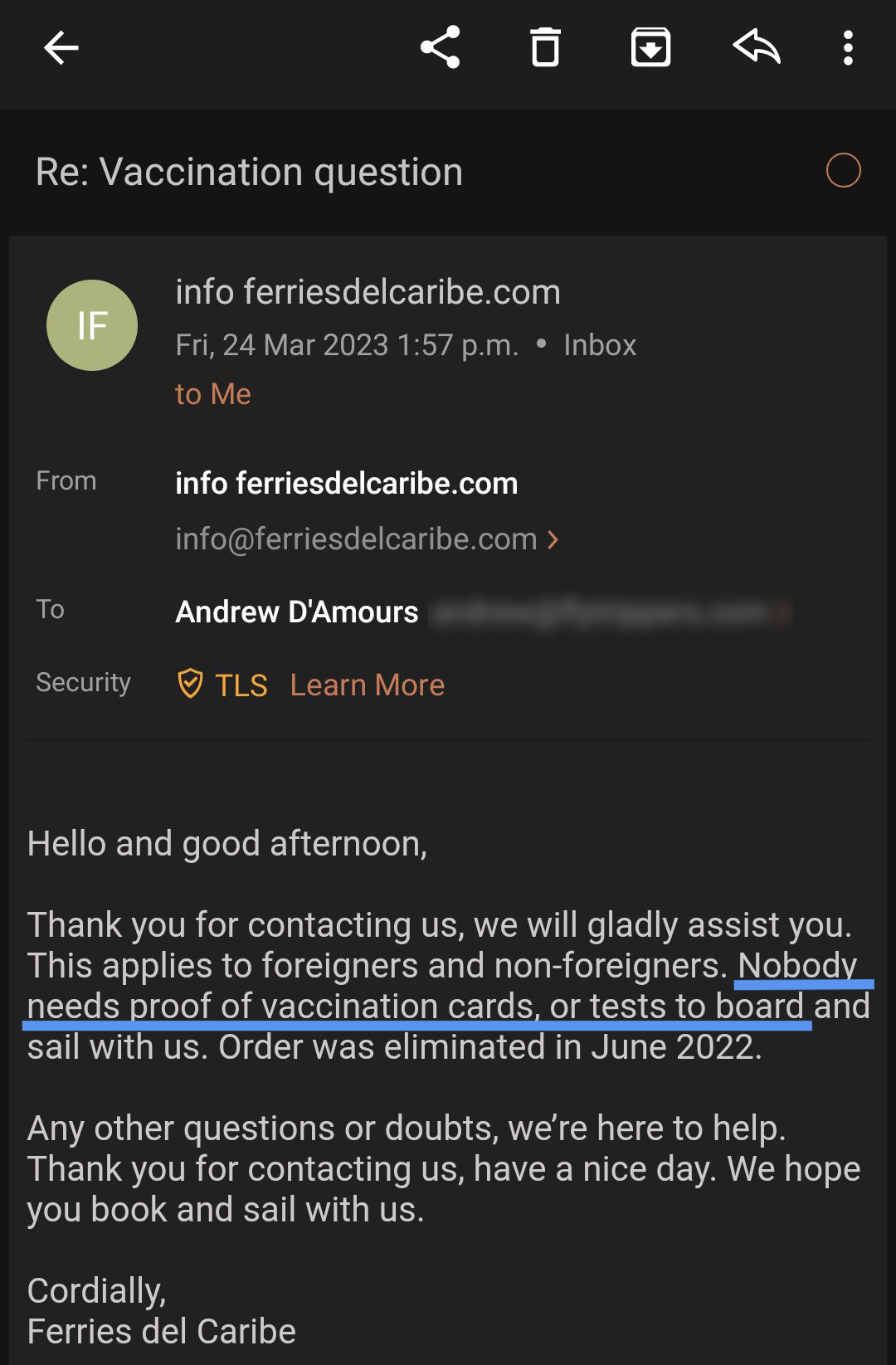 Finally, there is Balearia Caribbean, which offers 2 ferries from the Bahamas to Fort Lauderdale, Florida, departing from Grand Bahama and from Bimini. They did not respond as directly, only saying that no vaccinations were required for their ferry, but to check the USA rules (and they shared a link that does not mention any vaccination requirement by sea).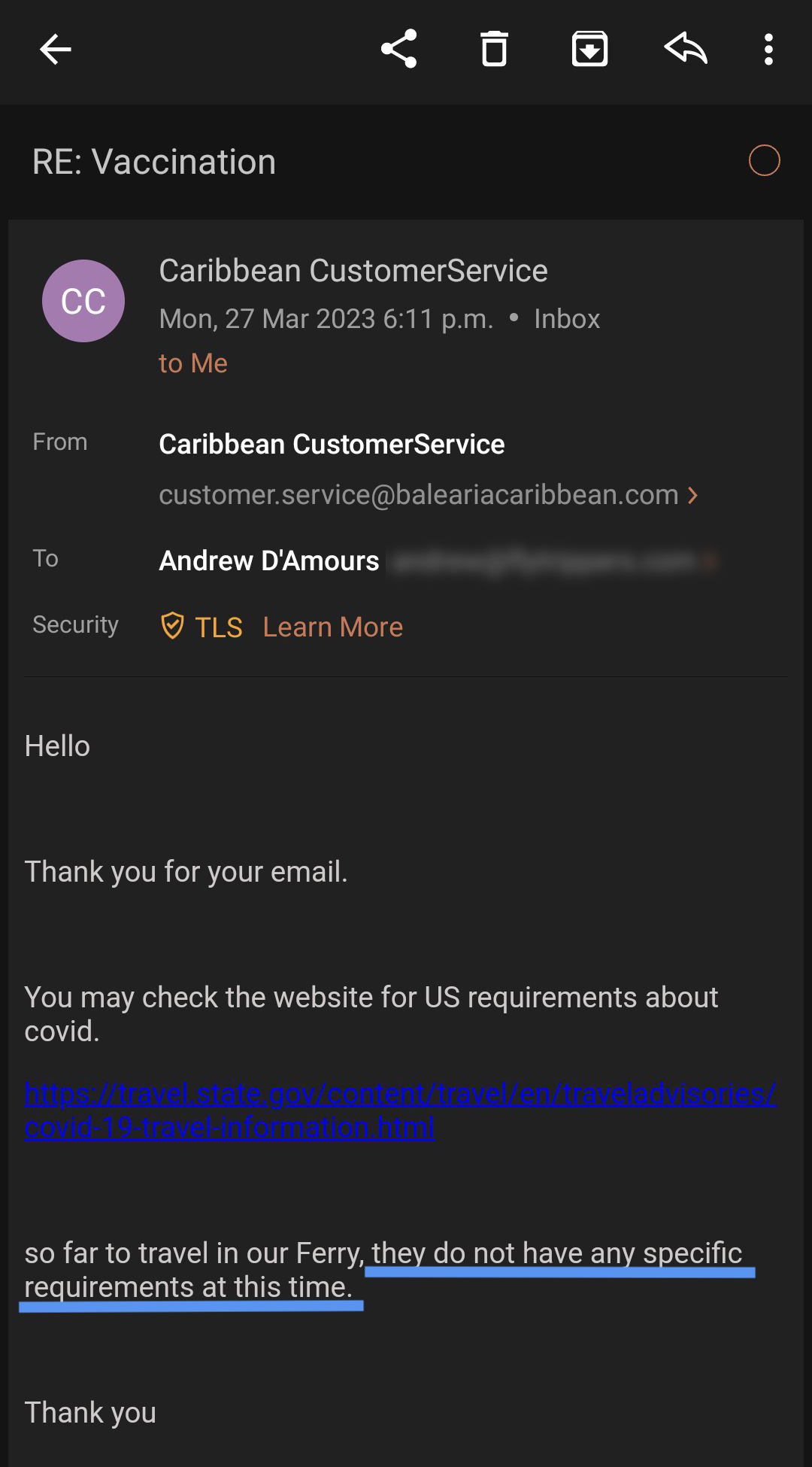 I think it's just that they don't want to get involved, just as so many airlines didn't want to give a clear answer about country rules throughout the pandemic.
By comparison, I was at Toronto's Union Station this week. And Amtrak, the train operator that offers trains to the USA, has a sign that makes it clear that you have to be vaccinated to board and enter the USA (although it's an old sign because it says you need to be vaccinated to enter Canada, which isn't true).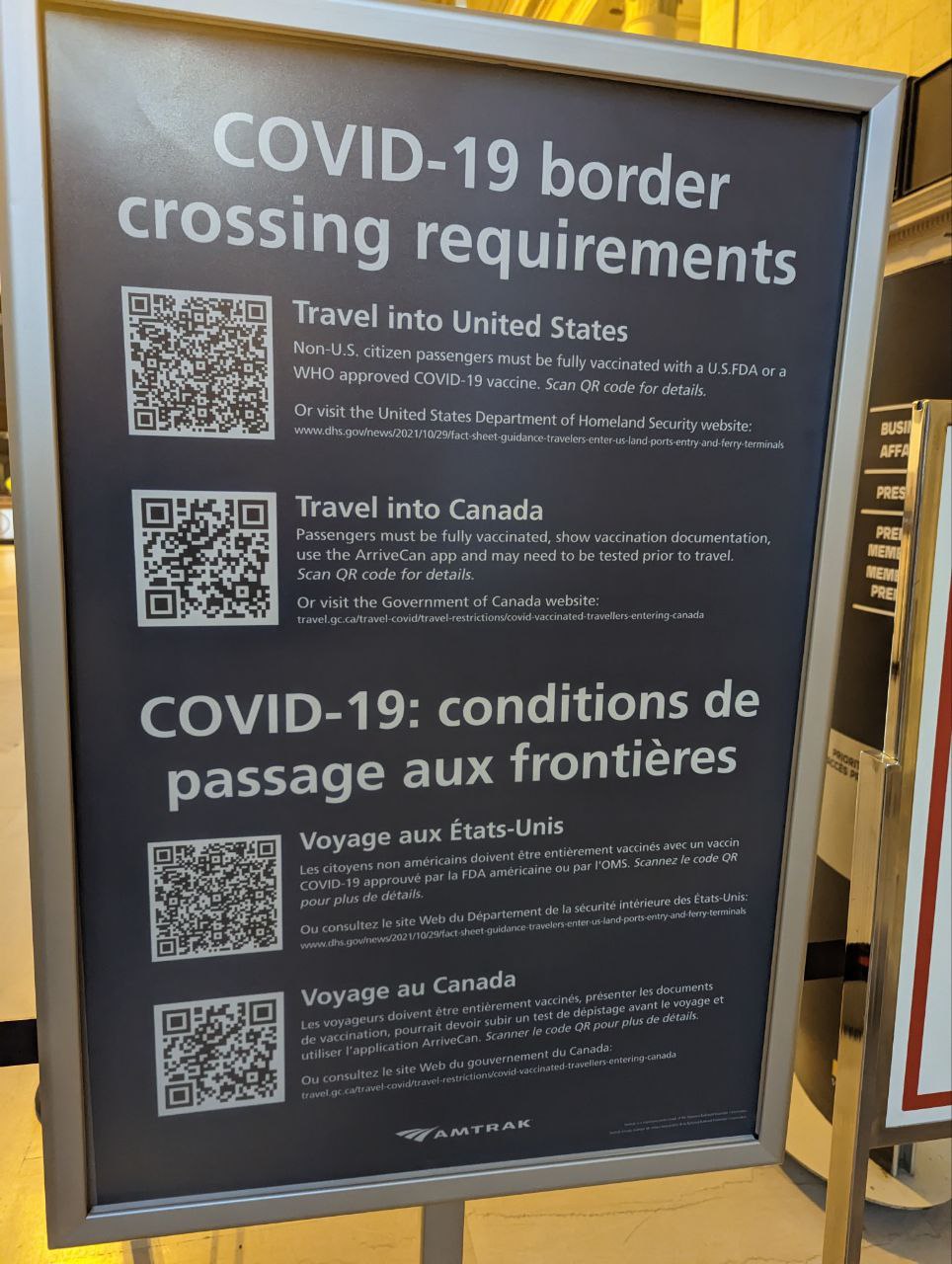 Anyway, if the ferry ended up with a lot of people turned away upon arrival in the USA (which they would then be forced to take back to the port of origin), I can only assume that they would make it clear that you need to be vaccinated to board a ship to the USA.
As mentioned, U.S. CBP media relations simply did not respond.
The logistics of traveling to the United States without being vaccinated
If you ever want to take advantage of this to enter the United States without being vaccinated (while respecting their rules), you should know that the Bahamas and the Dominican Republic have both eliminated all their entry requirements, as so many countries have done for so long.
(The WHO — the World Health Organization — recommended doing this in January 2022, further proof that governments, including Canada's, were not following the science and the experts!)
Of course, once in the United States, you can then take a domestic flight to anywhere in the United States without any requirements (as has been the case all along; they would never tolerate restrictions on domestic travel like Canadians did).
And then you can fly directly to Canada (or any other country without restrictions) without any requirements either, without having to go through the boat trip again.
In other words, you'd be buying:
One-way ticket between Canada and 1 of the 2 countries (the Dominican Republic or the Bahamas)
One-way ferry ticket to the United States
One-way ticket between your point of entry and your desired destination in the United States
One-way ticket between your destination and Canada
(By the way, for many flights, especially short-distance flights, buying 2 one-way flights can be cheaper than buying a roundtrip, but many pay more because they are so used to always just buying roundtrips: this is one of the tips in our free ebook with 100+ travel tips that you should definitely download and read!)
Want to receive updates about the USA travel rules?
Summary
The USA vaccination requirement, which logically should end soon, was already not very logical. But knowing now that it just applies to certain maritime borders, there's really no way to pretend it's not completely absurd.
What would you like to know about the vaccination requirement to enter the USA? Tell us in the comments below.
See the deals we spot: Cheap flights
Explore awesome destinations: Travel inspiration
Learn pro tricks: Travel tips
Discover free travel: Travel rewards
Featured image: San Juan (photo credit: Wei Zeng)
Share this post to help us help more people travel more for less: