In October, Canada finally got over all this, 8+ months after World Health Organization experts recommended removing all travel restrictions for all travelers. But that doesn't mean every country is over this! Let's quickly recap how to travel during the pandemic. It's really not as complicated as it seems if you take a few minutes to read.
You can sign up for our free newsletter to receive all travel rules updates (they often change), and you'll also get first access to a ton of pro tips to travel for less (well, at the same time as the 90,000+ savvy Canadian travelers already signed up).
It's more than time to jump onboard the revenge travel craze (better late than never)!

Here's how, a simplified version.
Visual summary of how to travel
Here's an infographic summarizing the rules.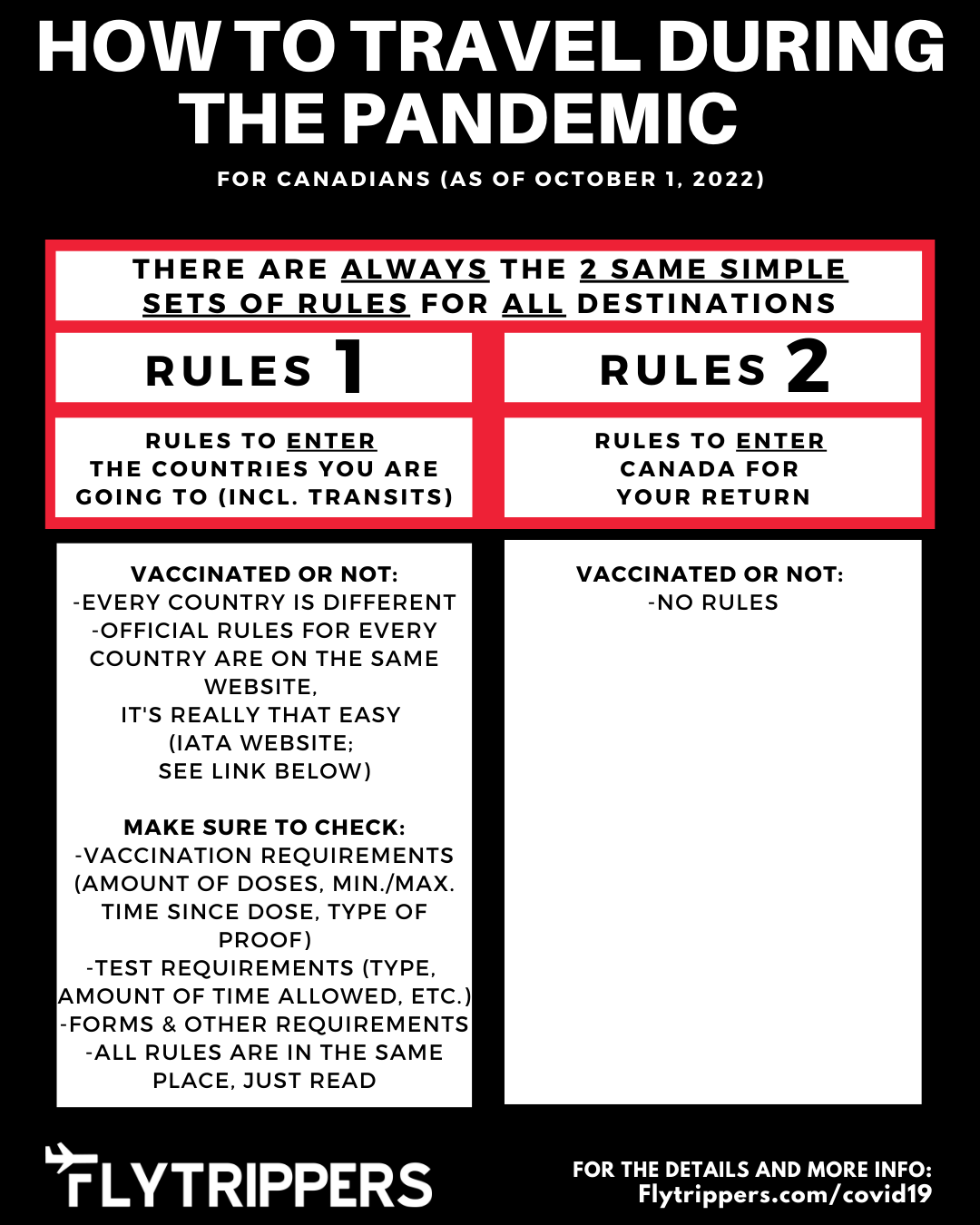 Let's take a brief look at each element.
2 sets of rules
You always need to look out for the same 2 sets of rules for any destination and type of trip. The process is quite simple, really; just these 2 sets of rules to follow, and that's it!
There are NO other rules. None. Just entry rules.
It's that simple.
And rules might stick around for a while in some countries, so unless you really don't like to travel, you have to get used to them and take a few minutes to become independent and be well prepared! I'll say it again, it's really not that complicated, and Flytrippers will help you get it all figured out!


1st set of rules: Entering your destination
Here are the rules to enter other countries:
Each country obviously has its own rules
To check the entry rules for every country:
There's only one official source for all entry rules: the IATA website
There's our research of the rules for Canadians specifically: the Flytrippers guide
If you want travel to be as easy as possible, go to one of the:
Simple!
Yes, it's the same source for every country in the world, so it's easy to know where to look! Every country! Once again: very simple!
However, that is written by bureaucrats and for all nationalities in the world, so it's not always easy to understand the rules even if it's easy to find where all the rules are.
That's why to help you, we list the rules in simpler terms for Canadians specifically in our guide to entry rules for each country (we spend many hours updating it regularly, and we can send you the next version directly by email).
We link to the IATA website in every country's rules in our guide so it's easy to double-check the most recent rules for almost every trip (because they can change the very next day after our guide update, so you always have to validate).
In the rare cases when the IATA website is not clear, the country's official website is what you need to look for. But keep in mind that airlines almost always apply what the IATA website says, and airlines are obviously the ones who enforce the rules.
For tips on edge cases like transits, exceptions, etc. stay tuned for more tips.
Again, it's very important to ignore everything you read from random people on the Internet. They might know the rules from when they went to a country, but rules can change every single day (also, the person might just have no clue what they're talking about too; very likely).
2nd set of rules: Entering Canada
Here are the rules to enter Canada:
It's over!
Concrete example of travel rules from A to Z
You can read our complete guide on how to travel to the United States to see one very concrete example from A to Z.
And for any other country in the world, follow the same guide by replacing the USA entry rules with the other country's entry rules (refer to our guide to every country's entry rules). Simple!
Want to receive all coronavirus updates for travelers?
Summary
Traveling doesn't need to be complicated. Plenty of countries have no rules and even more of them have no test requirements for most Canadians. Canada's rules are all gone now. That's it. Pretty simple, right?
What would you like to know about pandemic travel? Tell us in the comments below.
See the deals we spot: Cheap flights
Explore awesome destinations: Travel inspiration
Learn pro tricks: Travel tips
Discover free travel: Travel rewards
Featured image: San Blas Islands, Panama (photo credit: Angel Silva)
Share this post to help us help more people travel more for less: