While we finish preparing our new upcoming pandemic travel resources page (including much more video content), here's a quick recap of how to travel with the new rules. It's really not as complicated as it seems if you take a few minutes to read.
You can subscribe to our free newsletter to receive all travel rules updates (they often change), and you'll also get first access to the new COVID-19 resource page (well, at the same time as the 85,000+ Canadian travelers already subscribed).
So far, both of us Flytrippers co-founders have taken nearly 100 different flights and been to 18 countries since July 2020, so it's definitely possible to travel at this stage of the pandemic if you want to travel and join the revenge travel craze (better late than never)!

Here's how, a simplified version.
Visual summary of how to travel
Here's an infographic summarizing the rules since April 1st.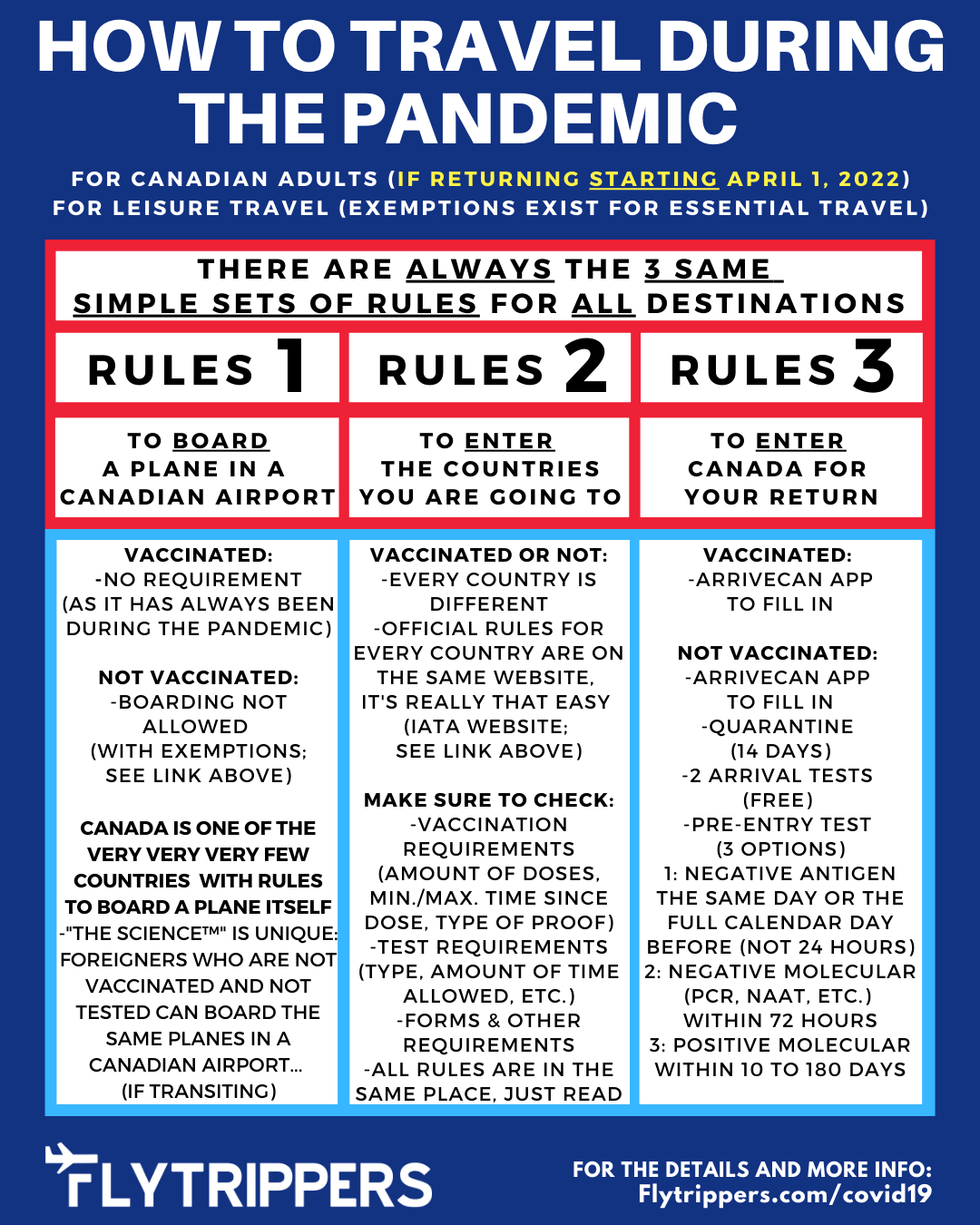 Let's take a brief look at each element.
3 sets of rules
You always need to look out for the same 3 sets of rules for any destination and type of trip. The process is quite simple, really; just these 3 sets of rules to follow, and that's it!
And rules might stick around for a while, so unless you really don't like to travel, you have to get used to them and take a few minutes to become independent and be well prepared! I'll say it again, it's really not that complicated, and Flytrippers will help you get it all figured out!

1st set of rules: Boarding a plane in a Canadian airport
To board a commercial aircraft from a Canadian airport (NOT when you're in another country; when you're in CANADA):
You must be fully vaccinated (children under the age of 12 years and 4 months are exempt)

No test is required, same as it's been since the start of the pandemic
It's a very simple rule. Canada's definition of "fully vaccinated" is 2 doses (or 1 dose of Johnson & Johnson).
There are very few exemptions to this extreme requirement that almost no other country in the world has (or even no other country at all maybe) and that is most certainly not based on science.

But don't forget: this applies only when boarding a plane here in Canada. It's an entirely separate rule from those that apply to enter Canada (Canadians don't need to be vaccinated to enter Canada, contrary to popular belief).
Unfortunately, people often confuse these rules with other rules, so beware of what you read or hear. Most people have no clue what they're talking about regarding travel rules and they could mislead you, even if it's unintentional.
2nd set of rules: Entering your destination
To enter other countries:
Each country has its own rules
If you want travel to be as easy as possible, go to one of the 120+ countries that don't even require a test for entry! Simple!
You can find the rules in our guide to entry rules for each country (we spend many hours updating it regularly, and we can send you the next version directly by email).
There is only one official source for entry rules (the IATA website) and it's the same for every country in the world, so it's simple to know where to look.
We link to it in every country's rules in our guide so it's easy to find out the rules for almost every trip (for tips on edge cases like transits, exceptions, etc. stay tuned for our new resource page).
Again, ignore everything you read from random people on the Internet. They might know the rules from when they went to a country, but rules can change every single day (also, the person might simply have no clue what they're talking about too).
3rd set of rules: Entering Canada
To enter Canada (a few changes took effect on April 25):
Declaration to fill in the ArriveCAN app or website

It's easy and will take you no more than 5 minutes
Pro tip: a NEXUS card will speed up the arrival process

Randomized arrival testing

Tests are free taxpayer-funded (over $1 billion)
No requirement to isolate while waiting for results
Few travelers are selected
Travelers with proof of a positive test are exempt

No mandatory vaccination, same as it's always been since the start of the pandemic (for Canadians)
Pre-entry test required only for unvaccinated travelers

3 options: negative antigen test, negative molecular test, positive molecular test

Negative antigen test: the day of your flight or the full day before (NOT "24 hours")
Negative molecular test: within the last 72 hours
Positive molecular test: within the last 10 to 180 days

Children under 5 years old are exempt
Children from 5 to under 12 are exempt if they travel with a vaccinated parent
Travelers only transiting through Canada are exempt
Entry by land without a valid test is "allowed," but you risk getting fined
Virtual self-tests with supervision are accepted

Additional rules for unvaccinated travelers

14-day quarantine (some kids are exempt)
Mandatory testing upon arrival (on days 1 and 8)
That's it!
While you await our new resources page with a detailed FAQ section, you can read our complete guide on how to travel to the United States to see one very concrete example from A to Z.
And for any other country in the world, follow the same guide by replacing the USA entry rules with the other country's entry rules (refer to our guide to every country's entry rules). Simple!
Want to receive all coronavirus updates for travelers?
Summary
Traveling doesn't need to be complicated. Plenty of countries have no test requirements. Canada's rules are fairly easy to understand. Basically, if you're vaccinated, you have to fill out a form in the ArriveCAN app. That's it. Pretty simple, right?
What would you like to know about pandemic travel? Tell us in the comments below.
See the deals we spot: Cheap flights
Explore awesome destinations: Travel inspiration
Learn pro tricks: Travel tips
Discover free travel: Travel rewards
Featured image: San Blas Islands, Panama (photo credit: Angel Silva)
Advertiser Disclosure: In the interest of transparency, Flytrippers may receive a commission on links featured in this post, at no cost to you. Thank you for using our links to support us for free, we appreciate it! You allow us to keep finding the best travel deals for free and to keep offering interesting content for free. Since we care deeply about our mission to help travelers and our reputation and credibility prevail over everything, we will NEVER recommend a product or service that we do not believe in or that we do not use ourselves, and we will never give any third-party any control whatsoever on our content. For more information on our advertiser disclosure, click here.
Share this post to help us help more people travel more for less: