When you are traveling, it's obviously very useful to be able to have access to maps even when you don't have an Internet connection. And it's much easier than you might think thanks to the best in the business: Google Maps (who else?).
The best way to not worry about going offline is to buy a local SIM card, it's usually very cheap. But sometimes, it's not worth getting one for whatever reason (and it's almost always a bad idea to use your Canadian provider's travel data packages, it's so much more expensive than local SIM cards).
In all cases, wherever you are traveling thanks to a great price found on our cheap flight deals page, you can easily use Google Maps offline, which not everyone seems to be aware of.
When we published our article about the 25 best apps for travelers, a lot of people mentioned Maps.me being one of their favorites, and honestly I don't really get it. Yes, it can be used offline, but so can Google Maps… am I missing something? Maybe you can enlighten me, are there any other features that Maps.me has that Google Maps doesn't?
Please let us know in the comments. Because it just seems to me that the only reason to use the other one would be not knowing that Google Maps is also available offline.
It's just a personal preference though: I find the maps on Maps.me very cartoonish and I am way too used to the nice sleek Google Maps look to change.
So anyway, here's how to use Google Maps offline in case you don't want to add yet another app to your phone.
How To Use Google Maps Without Wi-Fi
It's quite easy, but you just need to think ahead and do this while you have a Wi-Fi connection (same as Maps.me). The only difference being that with Maps.Me you can save a larger region in one click, while you'll have to do it in a few clicks for multiple cities in Google Maps.
It only takes a few seconds and I always do this in my pre-trip routine, which for me usually means in the airport lounge just before my flight.
So, first open the Google Maps app.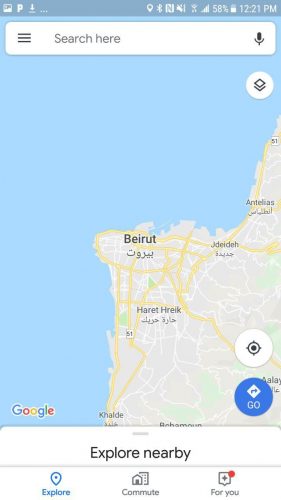 Click the menu button on the left.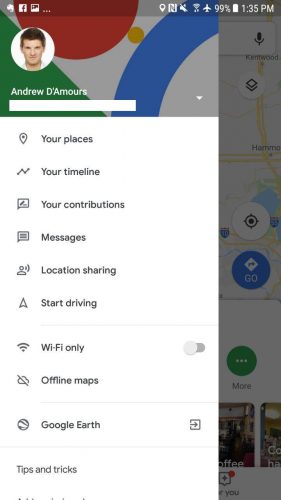 Then select "Offline Maps".
You'll then see this screen.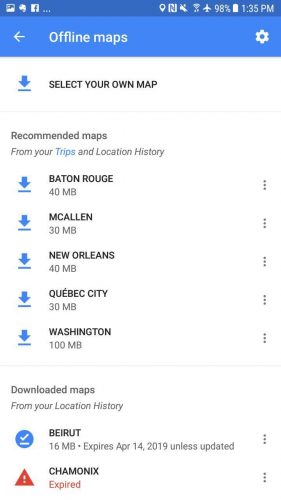 Google being Google, your upcoming trips are even listed there already without you needing to do anything: it is automatic if your flight confirmations go to your Gmail address or if you use the Google Trips app, so you can easily click to download those maps right there.
When I took the screenshots for this article, I had upcoming flights to Louisiana, Texas, Washington and Quebec City (among others, but the app prioritizes the ones coming up)… as you can see, Google lists them for easy offline downloads.
So if I select Baton Rouge, I get to this screen where Google suggests a range to download offline.
You can make it bigger (or smaller) and click "Download".
It will download there you have it: you're done.
If you were to select your own area, the process is exactly the same.
You'd simply click on the "Select your own map" option (as shown below) and go select any city in the world.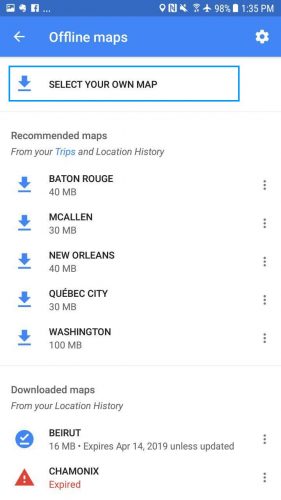 It's as easy as that.
You can now use your Maps (and get directions as well), even when you're offline.
You might also have noticed the "Downloaded Maps" at the bottom too and don't worry, Google will automatically delete them after a certain timeframe so as to not clutter your phone's storage.
If you want restaurant and activity recommendations, you can also get the Google Trips app. It will also keep all your travel documents in one place, all available offline as well (as long as you download the data beforehand once again of course).
It gives you many options and it's a great addition to Google Maps.

That might be the only advantage of Maps.me, as you have those in the app in one place, but in my experience (I tried Maps.me for this blog post during my Cyprus roadtrip in March), the quality of the information wasn't that great anyway.
I also don't really want to rely on other people so I always research my itinerary on my own before any trip, so I personally don't need that Maps.Me feature.
And I really hate the look of their maps, which is kind of important for a maps app.
Summary
It's quite simple to use Google Maps without Wi-Fi if you prefer more professional-looking maps or just want to keep using the interface you know and love.
Do you plan on using Google Maps without Wi-Fi? Let us know in the comments!
Help us spread the word about our flight deals and travel tips by sharing this article and most importantly bookmark Flytrippers so we can help you navigate the world of low-cost travel!
Cover photo: cellphone with Google Maps (photo credit: Praveesh Palakeel)
Advertiser Disclosure: Flytrippers receives a commission on links featured in this blog post. We appreciate if you use them, especially given it never costs you anything more to do so, and we thank you for supporting the site and making it possible for us to keep finding the best travel deals and content for you. In the interest of transparency, know that we will NEVER recommend a product or service we do not believe in or that we do not use ourselves, as our reputation and credibility is worth far more than any commission. This principle is an essential and non-negotiable part of all our partnerships: we will never give any third-party any control whatsoever on our content. For more information on our advertiser disclosure, click here.
Share this post to help us help more people travel more for less: