As we told you in August, vaccination will be mandatory to board ANY flight from a Canadian airport (not just domestic flights). It's a major change, since there was NEVER any requirement whatsoever to board a plane in Canada (or to leave Canada). But with the narrow Liberal electoral victory in September (even if they didn't win the most votes), the new measure is now confirmed and we now know many more details.
So here's everything we know about Canada's upcoming mandatory vaccination for travel (making unvaccinated Canadians prisoners of their own country… or not).
Key facts about Canada's mandatory vaccination rule
Here are the highlights in an infographic.
And here's the text version:
Takes effect October 30
Mandatory to be fully vaccinated to travel
Includes all commercial flights, trains, or large marine vessels
Exemption option with a 72-hour PCR test until November 29
End of the grace period on November 30 (no longer possible to test instead)
"Very limited" exemptions will remain (not wanting a vaccine will not be one)
Details of those exemptions (or any other details) have not been announced
Kids cannot be vaccinated so obviously they are exempt
This obviously changes absolutely nothing about Canada's entry rules
Here's another way to look at it, to help you understand.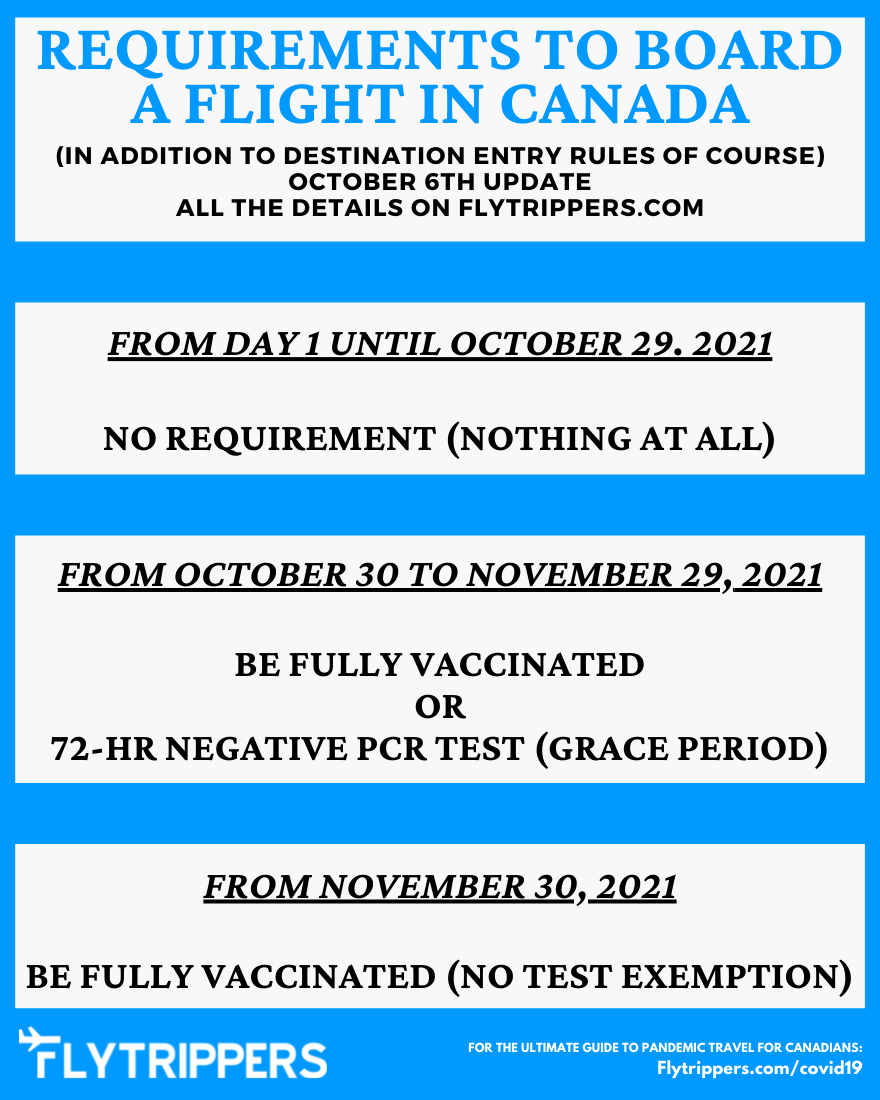 To be very clear, it's the same thing they've been saying since the beginning: It will apply to take ANY flight departing from a Canadian airport. NOT just domestic flights.
Flytrippers has been telling you since literally day 1 in August that this new rule will apply to all flights departing from a Canadian airport. There was NEVER any mention of it applying to just domestic flights by the way, I really don't know where everyone got that idea.
(Well, even several major media outlets wrote articles in a way that seems to have been confusing from the beginning…)
Hence the importance of following Flytrippers as travel experts who are 100% focused on travel rules and therefore understand them better than almost everyone, clearly.
We had watched the government press conference in mid-August and they said it would be for all flights. For once (which is rare with this government), it was very clear.
Will it still be that way when the rule comes into effect on October 30? That's another topic (I'll come back to that in a second, it's worth it).
But the announcement was very clear. From the beginning.

At Flytrippers, we are working full time to inform you of the facts and rules since the beginning of the pandemic and it's important to beware of all the misinformation about travel rules, it's terrible how much of it is out there (remember that everything you read on the internet is likely to be wrong, no one really understands the rules and a lot of people are saying stuff that is just 100% false…)
So anyway, Canada is going to imprison the non-vaccinated in their own country, except maybe not…
Details of Canada's mandatory vaccination rule
First, here are a few more details.
You only had 2 steps to travel since the beginning of the pandemic, as explained in the ultimate guide to pandemic travel:
Check the entry rules for the places you are going to and follow them
Check the entry rules for your return to Canada and follow them
It was simple. There were only the destination's entry rules and no other requirements, contrary to what many people seemed to think. It will continue to be that way until October 29.
Now, from October 30th, it's just one more step, it's not that complicated to understand either (and even if it was complicated to understand or plan a trip, it would still be worth it compared to not traveling if you're really a traveler who likes to travel, or even compared to traveling within your province in my humble opinion…) and it's this in bold:
Check the rules to board a plane in a Canadian airport and follow them
Check the entry rules for the places you are going to and follow them
Check the entry rules for your return to Canada and follow them
So, now you'll need to be vaccinated to fly.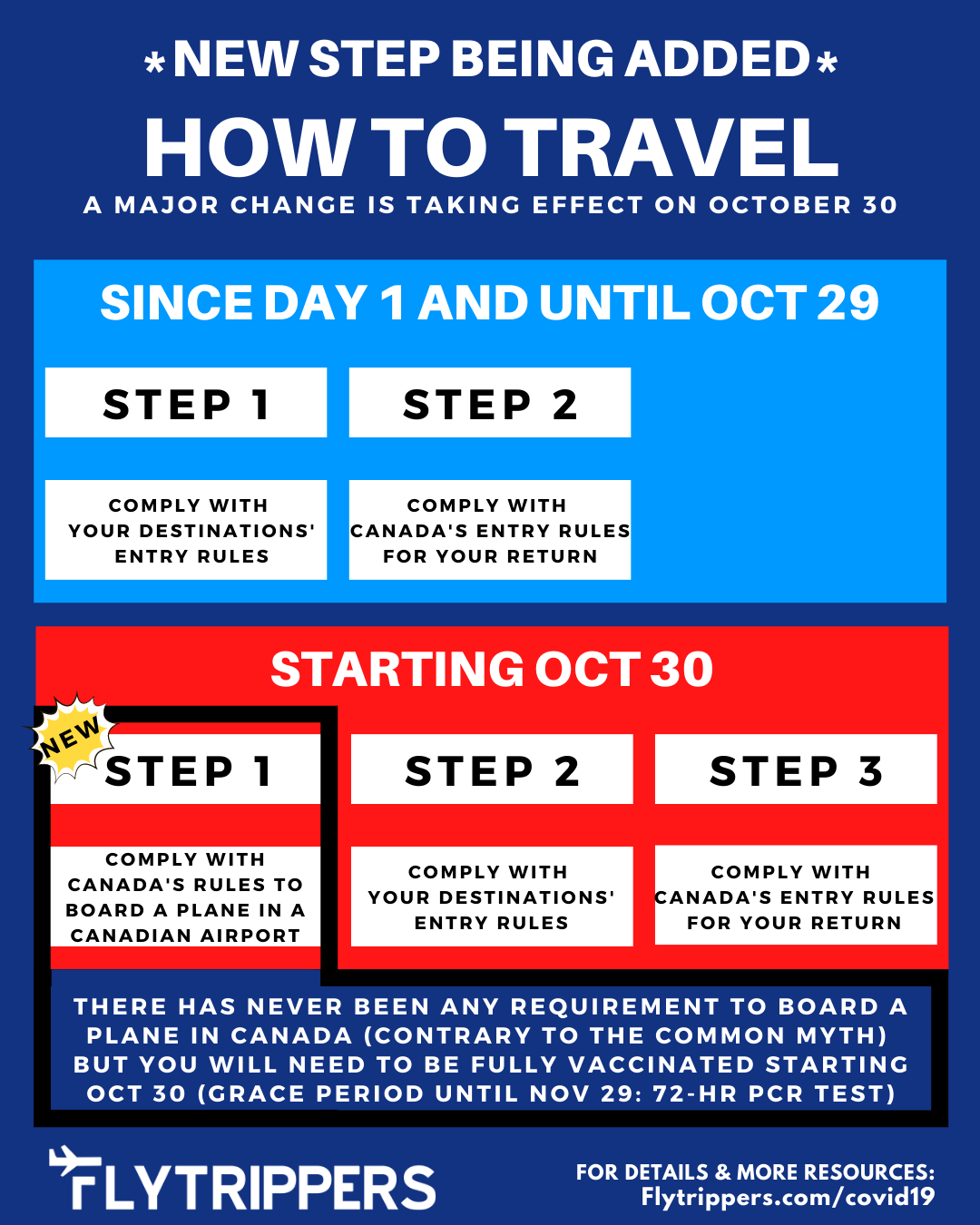 Just to be clear again, this does not change Canada's entry rules at all, there has never been any mention of changing the entry rules by the government since this new measure was announced, so it has absolutely nothing to do with the entry rules. They are not changing at all at this time.
We are talking about a new rule for flying from a Canadian airport, so it has nothing to do with the entry rules. Many people seem to be confused about this too.
So if you are considered fully vaccinated by Canada (be careful because Canada's definition is not the same as Quebec's for example), absolutely nothing changes for you.
Simple.
Children can't be vaccinated, so of course, they are exempt. There was never any question of changing any rules for children either. On the other hand, when Health Canada will determine that children are eligible for a vaccine (the United States may start very soon), it may become a requirement for them too very quickly, but nothing has been announced on the subject.
For the non-vaccinated, during the one-month grace period, you will be able to travel as long as you present a negative PCR test done within 72 hours before the flight. But starting November 30, it will no longer be possible to fly (and therefore leave Canada), according to what the government has announced.
So to be clear, even if 142 countries are open to non-vaccinated Canadians, if you are not vaccinated, you will not even be able to go to those countries since you will not be allowed to fly.
The website specifies the exemption is for "those in the process of being vaccinated" but they did not ever specify that you would have to show proof of anything in order to take advantage of the temporary exemption.
So we interpret the website's wording more as yet another form of political marketing to appear to be giving an exemption to the "good guys" who are in the process of getting vaccinated and not to the "bad guys" who are not the process of getting vaccinated. There should be no verification, but it remains to be confirmed; Flytrippers reached out to the Government to check, we are awaiting a response.
Another thing that remains to be confirmed is whether private flights will be exempted from the measure. That is not clear. If so, there may be a new offer of private flights for the non-vaccinated. If there is demand, the market always provides as they say (unless of course government regulation disrupts market forces).
However, what seems certain is that Canadians could continue to have the right to enter Canada without being vaccinated. Of course, you'll have to leave before this comes into effect.
And let's say you come back unvaccinated and you have a Mexico-Toronto-Timmins flight because you live outside the major hubs, there is a very good chance that you will have to make your way home with another means of transportation, since on the domestic flight there they might apply the new rule to everyone.
Unless they add an exemption for those arriving from abroad, which will allow them to take a domestic flight while unvaccinated, but which will put everyone on those flights at risk according to their "logic".
Exemptions from Canada's mandatory vaccination rule
Let's talk about exemptions.
Very few details have been given at this point. We know that just not wanting to be vaccinated will not be considered a valid exemption.
They have talked about exemptions for:
"Limited" medical reasons
Religious reasons (The Science™)
Remote communities
"Emergency" travel
This last point is the one that could perhaps allow the government to say they are not curtailing freedom and allow them to give some exemptions, since the word "emergency" is very subjective and broad.
Because otherwise, it means that a non-vaccinated foreigner (who entered Canada with an exemption, since foreigners who come for tourism are not allowed to enter without being vaccinated) would be imprisoned in Canada.
Because otherwise, it means that a Canadian with dual citizenship who wants to go to his second country would be imprisoned in Canada.
This seems unlikely.
Maybe an exemption for them? On the other hand, that would give more rights to foreigners and Canadians with dual citizenship, compared to ordinary non-religious non-dual citizen Canadians who do not live in a remote community. A bit strange.
So, it may very well be that leaving Canada will become an exemption…
Why the mandatory vaccination rule could end up not being so strict after all
Many seem to believe that the government will not limit the constitutional right to leave the country. Let's just say that, to date, it seems they are on track to do just that.
Objectively, it's not like it would be the first exception to our freedoms in response to the pandemic. Whether you're for it or against it, that's an undeniable fact.
But what we also know is that this government has a history of announcing rules that are stricter than the ones it ends up implementing.
Here are 2 examples.
First, when the hotel quarantine was announced, the government repeatedly talked about a cost of $2,000 per person. In reality, when the measure went into effect, there were hotels for as "little" as ≈ $600 in some cities. You will tell me that a 70% difference is not much for a government that has never really given the impression of knowing how to do the math and I would say "touché"…
But still, there is a pattern.
Because secondly, this summer they did the same thing again: They announced a stricter rule to scare people away from booking travel, and then they relaxed it when it was time to implement it.
When they announced the end of the 14-day quarantine, they said it was going to be mandatory to go into quarantine at home for 24 to 48 hours while you got the results from the test that was done upon arrival at the time. They never publicly talked about changing that and yet when the rule came into effect… there was absolutely no quarantine at all.
It was much less stringent than originally announced.
Anyway… are they again making it seem worse than it really is by telling the non-vaccinated that they will be stuck in Canada (which is indeed a very scary thing, especially for travelers) just to encourage vaccination? And then on October 30th, they will announce surprise exemptions? Or even on November 30th?
Who knows!
We'll continue to follow this closely.
Outlook for future travel rules
Trudeau liked to make political points with this measure during the campaign, saying that it was absolutely vital to implement this.
So vital that he didn't do it before the election (inaction that has put us all at risk by his logic) and so vital they took over a month after the election to implement it… That means that either everyone is at grave risk until then and he won't do anything about it, or that he might have exaggerated a bit…
But that's the legendary slowness of this government, we've seen it from the start (they took 6 months to set up something as simple as temperature checks in airports and over a year to force airlines to refund customers, when the EU and US did that in a month).
We'll have to get used to it, because enough people in precisely the right arbitrary imaginary lines voted for them.
Expect the travel rules decision process not to change too much: It's just not true that science is what guides this government on the travel file. Anyone who knows anything about travel and has been following this closely for the last year knows that's factually wrong.
If they really wanted to protect everyone on board their flights, they would also impose mandatory testing since the science seems to say that even vaccinated people can transmit the virus…
The positive side of this is that maybe with the election out of the way, they'll stop making travel rules based on media headlines and base them on facts instead. Maybe that's too optimistic though.
It took a while, but they finally followed their own committee of scientific experts' recommendation of abolishing the ineffective quarantine hotels. Maybe they'll continue with their announced plan to further loosen travel restrictions. Who knows.
In any case, Flytrippers will continue to keep you informed of all the details as soon as they are announced.
The next logical step would be to eliminate the pre-entry test (since it is the only rule left to enter Canada for those who are vaccinated) or to eliminate the global advisory against non-essential travel (which is only a recommendation and obviously does not prevent travel in any way).
Speaking of science, how to explain that the government encourages foreign travelers to come to Canada for tourism (we have reopened our borders to them since September 7) but recommends that Canadians avoid traveling for tourism to the same countries from which foreign travelers are arriving from?
Do Canadians have less effective vaccines or weaker genetics and more likely to return with COVID-19 than foreigners? Same countries, same entry requirements… one is encouraged, the other is not recommended.
The answer is that it is the same logic as not recommending travel to countries where the epidemiological situation is much better than here (most countries had lower infection rates than Canada throughout the pandemic) but allowing inter-Canada travel where infection rates were worse and where variants already accounted for the majority of cases…
Background of the mandatory vaccination rule
For those who are interested by this rule's history, this new measure had been announced just before a useless election was called in the middle of a pandemic.
(That day we had said it was a useless election, but with the results being almost identical to the previous parliament, our apologies: It was extremely useless is what we should have said instead.)
That's really all the government said on the topic: Mandatory vaccination for all flights before the end of October.
On October 1, Health Minister Patty Hajdu reconfirmed in a press conference that the end of October timeline still stood.
And finally, on October 6, all the details about this measure were officially announced.
Want to get all the coronavirus updates for Canadian travelers?
Summary
The requirement to be vaccinated to fly in Canada will come into effect on October 30, with a one-month grace period.
What would you like to know about this measure? Tell us in the comments below.
See the deals we spot: Cheap flights
Explore awesome destinations: Travel inspiration
Learn pro tricks: Travel tips
Discover free travel: Travel rewards
Featured image: CN Tower (photo credit: Chris DiNoto)

Advertiser Disclosure: In the interest of transparency, Flytrippers may receive a commission on links featured in this post, at no cost to you. Thank you for using our links to support us for free, we appreciate it! You allow us to keep finding the best travel deals for free and to keep offering interesting content for free. Since we care deeply about our mission to help travelers and our reputation and credibility prevail over everything, we will NEVER recommend a product or service that we do not believe in or that we do not use ourselves, and we will never give any third-party any control whatsoever on our content. For more information on our advertiser disclosure, click here.
Share this post to help us help more people travel more for less: