WELCOME TO FLYTRIPPERS TORONTO
Congratulations, you are on your way to learning how to find the cheapest flights possible (and you won't even have to pay us a single dollar)! That's right, while a lot of websites will charge you monthly memberships for providing you the same deals, we do it for free so that you can use that money to travel even more! 
Flytrippers will notify you every time there is a great flight deal, so no need to spend all your time searching to find that cheap fare—our algorithm will do it for you! 
Take a look at some of the deals we have found in the past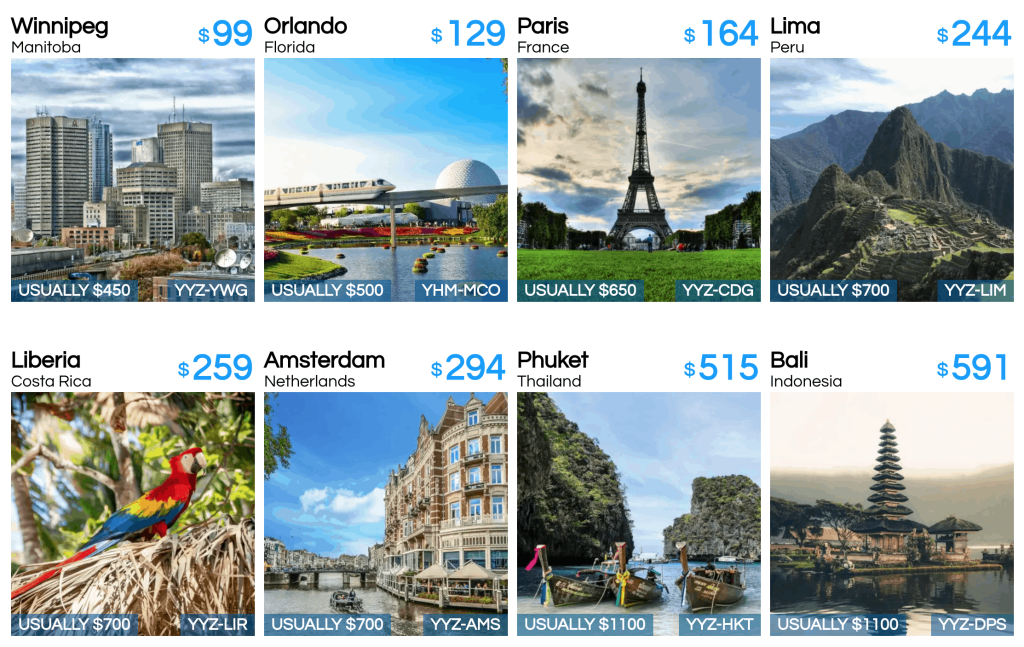 3 things you must understand before getting started
We are finding deals.
Which means you cannot choose your dates. To get a heavily discounted flight (often 50% off), you need to be flexible and fly on dates that are on sale.
Deals change every day.
The dates and destinations that are on sale change every single day, so check back often. Or just subscribe to our free newsletter and never let a deal pass by.
Deals do not last.
These are some of the
lowest fares
out there, and
people book them quickly
! If you find a deal that you like, don't wait. Chances are it
won't
be there tomorrow.
Get our best deals directly in your inbox!
Our newsletter will always be free and we won't send more than 4 per week. To see our deals every day, follow us on
Facebook
!
Filter by dates, destinations, and more
Here's what people think about Flytrippers
I took advantage of your deal to Europe in the $300s roundtrip in April. At this price, I can also afford a vacation down south in February!
Thanks to you, we have enjoyed a great crazy deal... France round trip for $300 (Christmas deal). We just came back. It allowed us to show this beautiful country to our 2 young daughters for 10 days. I read all your articles!! I can't wait to plan our next trip thanks to all your tips... thank you so much!!!
I booked 2 tickets last week for Portugal, thanks to Flytrippers! The prices listed on your site matched the price I paid! All you need is a bit of flexibility with your schedule and to take a regular look at the deals page!