Some encouraging news for travelers! At least for those in Ontario… not so much for those in Québec. The Premier of Canada's most populous province confirmed Wednesday that he is "really pushing" to remove the 14-day quarantine. The Premier of Canada's 2nd-most populous province is singing quite a different tune for the moment.
Alberta is the only province where any traveler can currently avoid the mandatory 14-day quarantine thanks to a pilot project in place for more than a month.
Still, this news sure makes it look like more Canadians who are ready to travel safely and responsibly will be able to do so more easily soon.
Here are the details.
Ontario
Doug Ford, Premier of Ontario, speaking of the 14-day quarantine, said Wednesday that he wants to "knock that down similar to what they're doing out in Alberta" (while responding to a question about the border closure that wasn't even related to the quarantine).
In Alberta, travelers get tested at the airport. They must quarantine for 24-36 hours while awaiting the results, and then the quarantine is over. They get tested again 6-7 days later (both tests are free for travelers by the way, since the opposite would be a bit absurd).
Premier Ford said he was "working with the federal government right now" to put these tests into place. He said:
"If they both come out negative tests, you should be able to go on your way. You shouldn't be having to stay locked down for 7 days."
Now… it's not quite clear if he wants to force travelers to quarantine between the 2 tests, or not quarantine between the 2 tests as is the case in Alberta. I watched the video of his press conference (the question starts at 25m15s), and it's very ambiguous.
That said, even 5-7 days of quarantine instead of 14 would be a huge improvement. It is extremely promising for travelers.
Québec
François Legault, Premier of Québec, said last week that he is uncomfortable with any international travel "until there's a vaccine." It's quite the opposite in terms of point of view.
He wasn't explicitly asked about the testing option like the one in Alberta… but this is still not great news for Québec travelers.
Let's hope the government is at least keeping an open mind to evaluate the results of the Alberta pilot project and is honest when saying that for everything they do, they will follow what the data and the science says.
It would be illogical not to put this into place if the evidence shows there is no additional risk, which is a very likely outcome. It's important to follow the data and science, right? It should apply here too. Especially since the current quarantine rule is far from effective (see below).
Now, and this is pure speculation in the specific case here, but it seems fair to believe that if the results of the 1st month of the Alberta pilot project were disastrous, Canada's most populous province would probably not be pushing to have the same thing implemented there…
Why tests are better than the quarantine
It's not about removing the quarantine for the sake of removing the quarantine. It's that a testing program could actually be safer for Canadians.
There are 3 main reasons:
81% of the 5 million who have entered Canada since March were not even obligated to quarantine
some of the remaining 19% who are obligated to quarantine are surely not quarantining already
recent research showed that testing was twice as effective as the 14-day quarantine
81% aren't even required to quarantine already
First, and most important: we know that over 5 million people have entered Canada since March. And we know that a whopping 81% of those (so over 4 million) were simply exempt from the quarantine (according to the Canada Border Services Agency itself.)
Since we don't have a testing program in airports… those 4 million have no monitoring at all. With testing set up in airports, you could at least test those exempt travelers arriving by air, which would be better than currently letting them in with no tests AND no quarantine.
Again; that's 81% of all those who entered Canada who are already not obligated to quarantine!
Those 4 million are undoubtedly more of a risk than the small percentage that will slip through the testing process with 2 tests (and that can be compensated by testing a portion of the 81%).
Effectiveness is not 100% for the remaining 19%
Second, some of the few that do have to quarantine are simply not doing it, even if it's mandatory. This is not just our opinion. Doug Ford said so himself:
"I am sure there is a lot of people that don't quarantine."
He's the Premier of Ontario; he probably knows more than you and is probably not making that up. With testing, there's no way for irresponsible travelers to circumvent, unlike with the quarantine.
So while the 2 tests won't catch 100% of positive cases, the current quarantine certainly doesn't either.
Testing is twice as safe as the 14-day quarantine
Finally, the UK was one of the other countries with a strict quarantine rule since the start (but at least theirs was science-based and only for countries with higher infection rates or not managing the situation right; not for countries where things were going better than in the UK).
They recently announced that they will be replacing that with a testing program, as many other countries have.
That was after a study was published and showed that their quarantine rule was literally the least effective option to protect the population. Airport testing was twice as effective as the 14-day quarantine, actually!
Not surprising, and probably not very different here, given our own personal experience with Canada's quarantine, with absolutely no monitoring whatsoever.
Why too many people quarantining is actually… harmful
About that monitoring (or rather lack thereof), here is another interesting quote from Ford's press conference (emphasis is mine):
"I say it all the time from the beginning of this pandemic: the feds, they need to step it up. At least take people's temperatures when they come in. Do something. Don't just let them walk off, and you know, hop in a taxi, and away they go."
There are 3 excerpts I want to talk about:
"walk off (…) and away they go"
"at least take people's temperatures"
"do something"
Lack of resources
First, about "don't just let them walk off (…) and away they go."
I'll share a detailed post soon, but when I returned from Europe in August, not a single person verbally told me about the quarantine at the airport. It was pretty much walking off and away I went. In fact, it was even worse, because it really stopped there.
Yes, I was silently given a sheet with the rules at the airport, but I also purposely tried something: not doing anything at all in terms of the voluntary symptoms reporting or check-ins. I obviously did my 14-day quarantine, but I did absolutely nothing else. Didn't download the app; didn't do anything at all.
And I got zero calls, visits, or anything. I got an automated email… 10 days into the quarantine (yes, first email… after 10 days) and then another 2 days later. That's it.
I'm obviously not saying that so that for you to not follow the quarantine: it's not the right thing to do, some people have gotten visits or calls, and the penalties are severe (and for your info, symptom reports are now mandatory since late November—it took them just 8 months for that one, congrats).
I'm saying that if too many people are in quarantine, clearly the authorities don't have to means to monitor efficiently. It's just basic logic: the more you have to do, the less attention you can afford to give to each item.
They didn't even monitor me, who had done no check-ins or reports of any kind and hadn't downloaded the app… and who was entering the country for the first time since March. Behavior that should indicate that I was either not aware of the importance of the quarantine or not taking it seriously. And should deserve some form of monitoring.
So it's not hard at all to imagine that testing and actually focussing on monitoring the riskiest people would be a lot more efficient… than telling everyone to quarantine but not having the resources to monitor.
Temperature checks
Second, about the "at least take people's temperatures when they come in."
Some of you thought I was too harsh for saying how much of an abject failure it is on the part of the federal government to have not imposed temperature checks in all airports until over 6 months (!!!) into the pandemic.
Well, it's ridiculous, and I stand by the claim that it's an absolutely embarrassing failure. Clearly, I'm not the only one who thinks so: the Premier of Ontario probably knows a thing or two after dealing with the pandemic firsthand daily for the past 8 months… and he seems to think it's ridiculous.
Inaction
Finally, about the very telling "do something" quip.
I just wanted to highlight that one, because I've been saying it for months: the common thread in the federal government's approach related to travel has not been to "keep Canadians safe", as they claim. It's been inaction. And being passive. And not doing much of anything. Plain and simple.
That's as widespread of an opinion as you'll ever find among pretty much everyone in the travel industry who has been watching this daily, as we have been.
What the future outlook is
Last week, the mandatory quarantine rule was extended. Not only that: for the first time since June, it was actually extended for more than a month.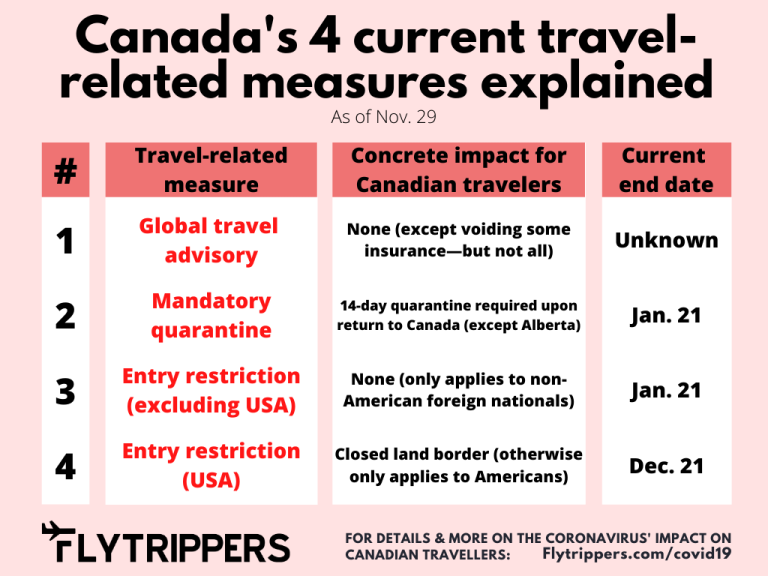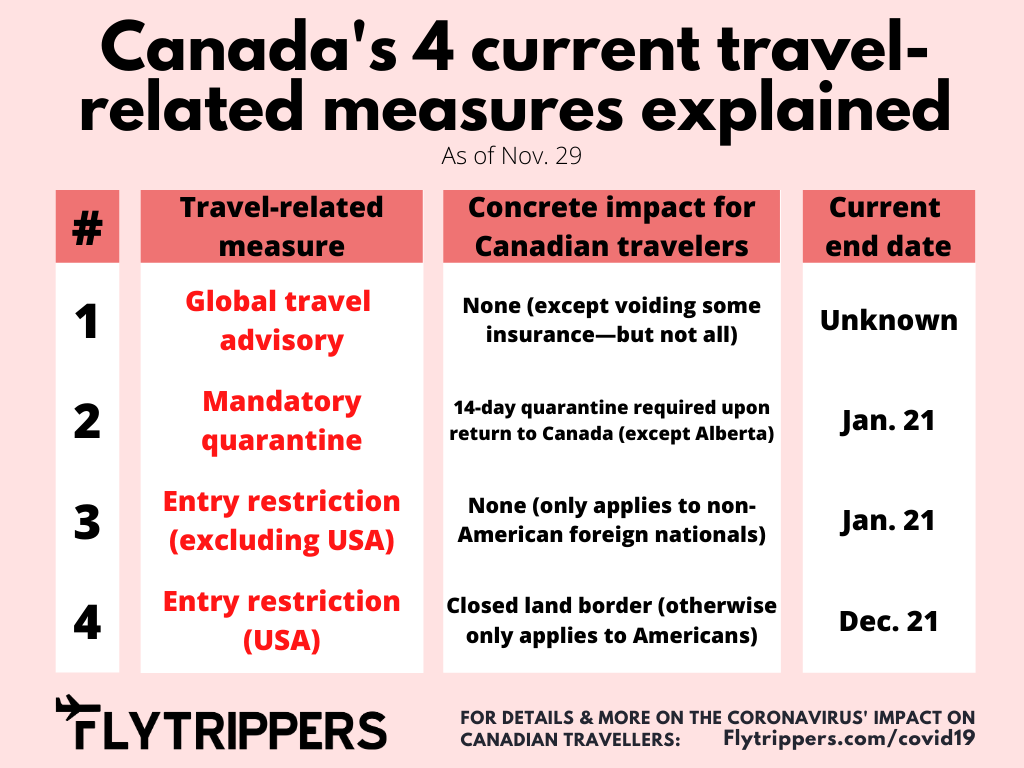 Look, personally, I couldn't care less about the 14-day quarantine. I'm a digital (semi-)nomad. I can quarantine. It's not keeping me from traveling. I even quarantined before my trip in November out of an abundance of caution.
But I know that many are ready to travel safely and responsibly but just can't afford a 14-day quarantine (much less the 7 total weeks I currently "invested" in a trip—2 before, 3 abroad, 2 after).
Well… maybe things will soon get better, at least for those of you in Ontario. We'll update you as soon as something official is announced.
And for everyone outside of Alberta and Ontario, maybe this testing program won't require you to remain in the province for 14 days…
Or maybe your province will be the next to move forward with this if the results are positive.
We'll monitor all developments and let you know.
Want to get more content about how to travel safely, whenever you are ready to do so?
Summary
Doug Ford is "really pushing" for the mandatory 14-day quarantine to be abolished in Ontario and replaces with a testing program similar to what is currently being done in Alberta.
What do you think of this development? Tell us in the comments below.
Explore awesome destinations: travel inspiration
Learn pro tricks: travel tips
Discover free travel: travel rewards
Featured image: a cenote in Mexico (photo credit: Emilian Danaila)
Advertiser Disclosure: In the interest of transparency, Flytrippers may receive a commission on links featured in this post, at no cost to you. Thank you for using our links to support us for free, we appreciate it! You allow us to keep finding the best travel deals for free and to keep offering interesting content for free. Since we care deeply about our mission to help travelers and our reputation and credibility prevail over everything, we will NEVER recommend a product or service that we do not believe in or that we do not use ourselves, and we will never give any third-party any control whatsoever on our content. For more information on our advertiser disclosure, click here.
Share this post to help us help more people travel more for less: