In recent days, there have been a few long-awaited developments, with the effective date for the mandatory hotel quarantine now made public and Air Canada's takeover of Transat now approved by the federal government. Here are those (and a few other) relevant stories for Canadian travelers.
Next up this week will be our travel-rewards-related news roundup, with major stories there too (I've teased some at the end below, including 17 free hotel nights in Bali…)
Quarantine hotel rule in effect February 22nd
We told you a few weeks back that the federal government would be requiring a test on arrival and a mandatory quarantine in a hotel for all travelers arriving in Canada by plane (for approximately 3 days), at the very government-like price of $2,000 (that's just $666 per day).
They didn't give any details since, like many of their actions on the travel file, it was haphazardly decided in a hurry in response to travel-shaming in the media more than in response to any actual facts or evidence (travel-related cases never surpassed 0.6% of all monthly COVID-19 cases in Canada since September; in other words, non-travel-related cases have never represented less than 99.4% of all cases… despite literally millions of travelers entering Canada during this time).
By the way, we'll repeat it, but just because we're criticizing the government's action (or inaction) doesn't mean we believe everyone should travel right now. Not at all. And we've been saying for about 10 months that tests in airports should be implemented… that's completely beside the point.
It's that facts should still matter: many of the current travel-shaming arguments are just ridiculous and absolutely not based on science and data, and the topic has certainly had disproportionate coverage compared to the actual impact of travelers on the COVID-19 pandemic in Canada right now. That's what we're saying.
Since the Holidays, the media has talked infinitely more about that 0.6% of cases than about what experts almost universally call our unmitigated disaster of a vaccine rollout, which will certainly kill a lot more people than international travelers would have even without imposing a hotel quarantine. And we've heard more about travelers than about the 99.4% of cases that are caused by everyone who is not traveling…
But anyway, now we know that the hotel requirement will take effect on February 22nd.
The list of hotels will be published on February 18th, so we'll have a more detailed post at that time (and we'll soon update our ultimate guide to all the travel measures to better inform you about all the facts).
The biggest issue with the hotel quarantine is obviously the price tag of $2,000 for 3 days announced by Prime Minister Trudeau. Of course, his 2019 vacation cost taxpayers $196,000 (which was actually slightly less than his $215,000 vacation in 2017), so this might seem like a normal price to him.
But still.
For that price, you can easily spend 2 full months (all expenses paid) in any one of the cheapest countries to travel to (the 40 countries where C$30/day is enough).
And the food there will probably be much better there, at least based on the cover image above. It is apparently a picture of a lunch provided in a quarantine hotel shared by one traveler who was forced to stay there because his proof of negative test was an antigen test instead of a PCR test.
It kind of reminds me of the Fyre Festival disaster, I don't know if that was the point…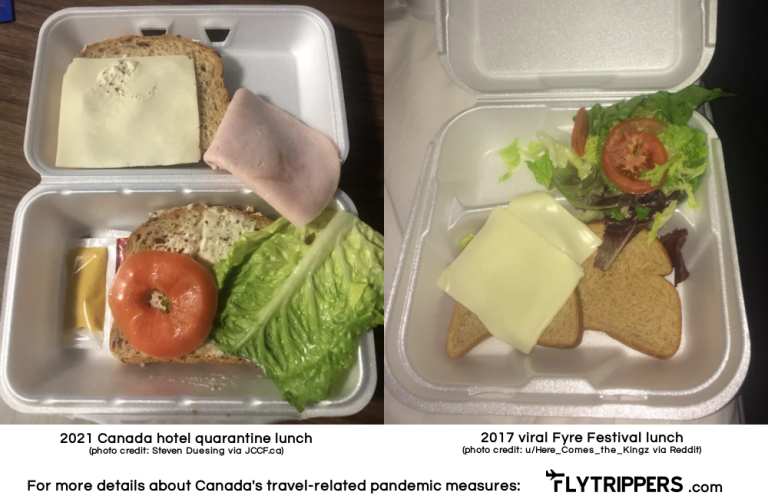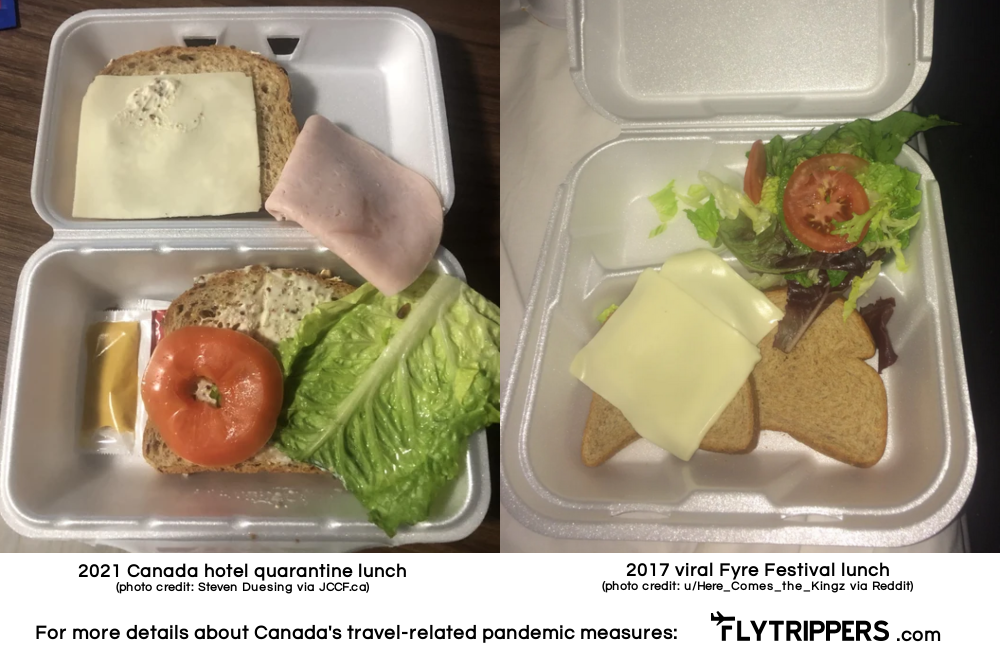 Well, the good news is that it is seeming more and more likely that that $2,000 price was an exaggeration and the real price actually might be a bit less. Prices are apparently going to be set by hotels and travelers will book with them directly, so maybe at least one in each city will differentiate with a somewhat cheaper option.
Some hotels could also offer a refund for a portion of the cost if the traveler's test results come back more quickly. We'll know this week; stay tuned.
Just keep in mind that those who are vaccinated, like the many Canadian snowbirds who got the jab weeks ago already in Florida, will not be allowed to bypass the hotel quarantine.
So as of February 22nd, the only way to bypass the $2,000 hotel quarantine will be to enter Canada at the land border (but like everything else, rules can change very quickly as we've been telling you for months). And entering at the land border won't let you bypass anything else, like the tests.
Even more tests
Another new measure announced that went largely unnoticed is that another negative COVID-19 test will be required on the 10th day after arrival, also starting February 22nd.
So there will be a test before entering Canada, a test when arriving in Canada, 14 days of quarantine… and you'll have to get another one at the end of your quarantine. So instead of just staying home for 14 days, it seems you'll have to go out to get that test even if you've had zero contacts for 10 days.
The cost of this has not yet been specified, but local health authorities are in charge of those tests. So they'll presumably be free.
If not, you'd think it would be included in the $2,000 hotel price… but those entering overland will have to get this additional test too, and those travelers won't have to pay $2,000 so who knows.
We'll let you know when the full official rules are made public and confirmed.
Proof of negative test now required at land border
Speaking of the Canada-USA land border, which is not (and has never been) closed to Canadians entering Canada, there is a new requirement now in effect since February 15th.
Proof of a negative COVID-19 test must now also be provided to enter overland, just like when you enter Canada by plane.
Of course, this doesn't apply to those who are exempt from the quarantine, which is approximately 81% of the hundreds of thousands of people entering Canada every month according to the Canada Border Services Agency.
Air Canada's takeover of Transat approved
After a very long wait, Air Canada's purchase of Transat (the country's 4th-largest airline) has been approved by the federal government.
We told you it was going to happen very soon in our previous travel news roundup post, but we'll repeat that the Competition Bureau of Canada's previous assessment was that the merger "will result in a substantial lessening of competition." That was before the pandemic though, and the situation has changed quite a bit since. So has the price offered by Air Canada (down 74% to just $190 million).
But these facts remain:
there will be less competition in Canada
Canada already had among the highest airfares in the developed world (if not the entire world)
We'll have more content about the impact of this acquisition once the full effects of the pandemic on the aviation industry will be known.
But one thing is for sure: once you're ready to travel again, it'll be even more important than before that you check out the flight deals Flytrippers spots for you so you can save hundreds of dollars on your plane tickets!
And in fact, acting now and getting started with travel rewards (there are currently 7 cards offering over $276 in value with their welcome bonuses alone; there's something for all types of travelers) is also important, so you can have the travel rewards earned by the time you book your next trip and therefore save a lot of money.
Marriott & Sunwing partnership (and more travel rewards news)
We regularly cover news about Marriott, since it is by far the best hotel rewards program for Canadians—it's so easy for travelers to get many free hotel nights.
Just with the welcome bonus on the card every Canadian traveler should have—the Marriott Bonvoy American Express Card—you can get 8 free nights (or 17 if your travel buddy gets one too). And the card I use to get most of my Marriott points (with its phenomenal 6 points per dollar earn rate on groceries) currently has its best welcome bonus offer ever: you can get up to 91,800 Marriott points (another 15 free nights) with the American Express Cobalt Card (but you'll need to spend more to unlock it compared to the Marriott Card).
Anyway, the biggest of the recent Marriott news is that Canada's Sunwing Travel Group had 19 all-inclusive hotels in the Caribbean and Mexico, and they will be joining Marriott's 7,000-strong portfolio by mid-2021.
They will all become part of the chain's Autograph Collection, one of Marriott Bonvoy's 29 hotel brands. Even if we personally prefer more authentic trips, we know a lot of people love resorts so we'll have more on the topic (but since these will be very popular with average vacationers, this really won't be the best use to maximize the value of your points of course).
There are also 4 other recent Marriott-related stories, a lot of changes on popular BMO cards, a potentially great flight deal with rewards… we'll cover these this week in a separate travel rewards-related news roundup post. Make sure to subscribe to our free travel rewards newsletter to get it first.
I'll tease just one amazing development: starting on March 3rd, there will be 2 Marriott hotels in beautiful Bali where you can get 17 free nights (with a travel buddy) with the Marriott Bonvoy American Express Card (in addition to 300+ other options).
And the hotels look stunning! It's such great news. One of the best deals in Canadian travel rewards just got even better, at least for those who would enjoy 17 free nights in Bali…
Want to get our separate travel-rewards-only newsletter?
Summary
The hotel quarantine (and airport testing) will start on February 22nd, there is another new test requirement at the end of the quarantine period, land travelers will be required to show proof of a negative test, Air Canada can finally buy Air Transat, and Marriott is adding 19 Sunwing all-inclusive hotels.
What do you think of these stories? Tell us in the comments below.
Explore awesome destinations: travel inspiration
Learn pro tricks: travel tips
Discover free travel: travel rewards
Featured image: lunch at a quarantine hotel in Toronto (photo credit: Steven Duesing via JCCF.ca)
Advertiser Disclosure: In the interest of transparency, Flytrippers may receive a commission on links featured in this post, at no cost to you. Thank you for using our links to support us for free, we appreciate it! You allow us to keep finding the best travel deals for free and to keep offering interesting content for free. Since we care deeply about our mission to help travelers and our reputation and credibility prevail over everything, we will NEVER recommend a product or service that we do not believe in or that we do not use ourselves, and we will never give any third-party any control whatsoever on our content. For more information on our advertiser disclosure, click here.
Share this post to help us help more people travel more for less: