We know many travelers are concerned about finding a test abroad to come back to Canada. The virtual self-administered test with supervision in telehealth mode has always been an option that is accepted. And now that Canada allows rapid antigen tests, it has become much more interesting for only $45.
Here are all the details about this option, which is undoubtedly among the simplest… and one that's still relatively affordable even if it's certainly not the cheapest.
We'll soon publish an awesome new section with all the resources you need to travel during the pandemic, and we'll be able to help you a lot better, including with explainer videos. Sign up for our free newsletter to get early access when it's ready (along with 80,000+ Canadian travelers already subscribed).
Summit Health Travel Clinics' self-administered test to enter Canada
Let's start with the best use you can make of Summit Health Travel Clinics' self-administered testing service, which is to meet Canada's pre-entry testing requirement.
Here's how it works in a nutshell:
Go to

your province's

COVID-19 test locator

Get a box of

free

taxpayer-funded

rapid tests

Go to

Summit Health Travel Clinics

' website

Book an appointment for test supervision at your selected time

Go on your trip (maybe thanks to one of our

great deals

or your

travel rewards

)

You have to do this on the day of your flight to Canada or the full day before

Get results within 30 minutes, including a complete official report

Use it to enter Canada if it's negative

You can't use it 10 days later if it's positive because it's not a molecular test (see below)
Easy!
The appointment costs $45 per person with our exclusive promo code FLYTRIP5 (the regular price is $50).
Enter the code on the payment screen here (I'll show you the step-by-step process below if you want, including a video of one of my self-administered tests from a while ago).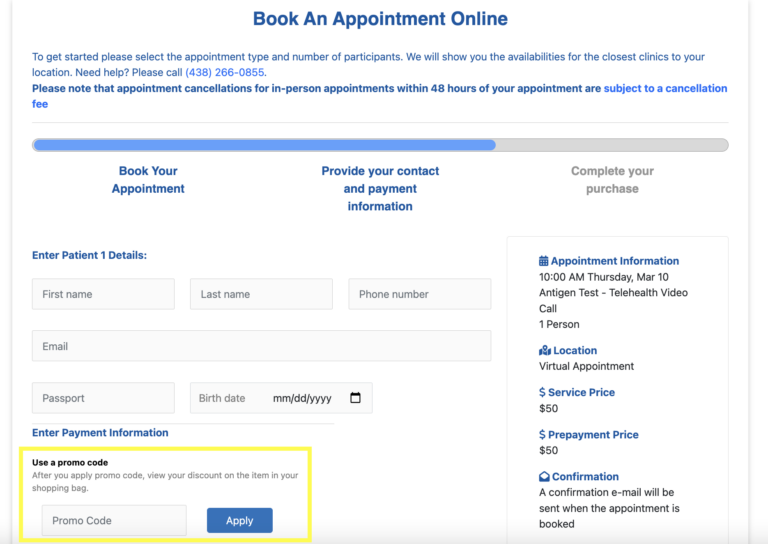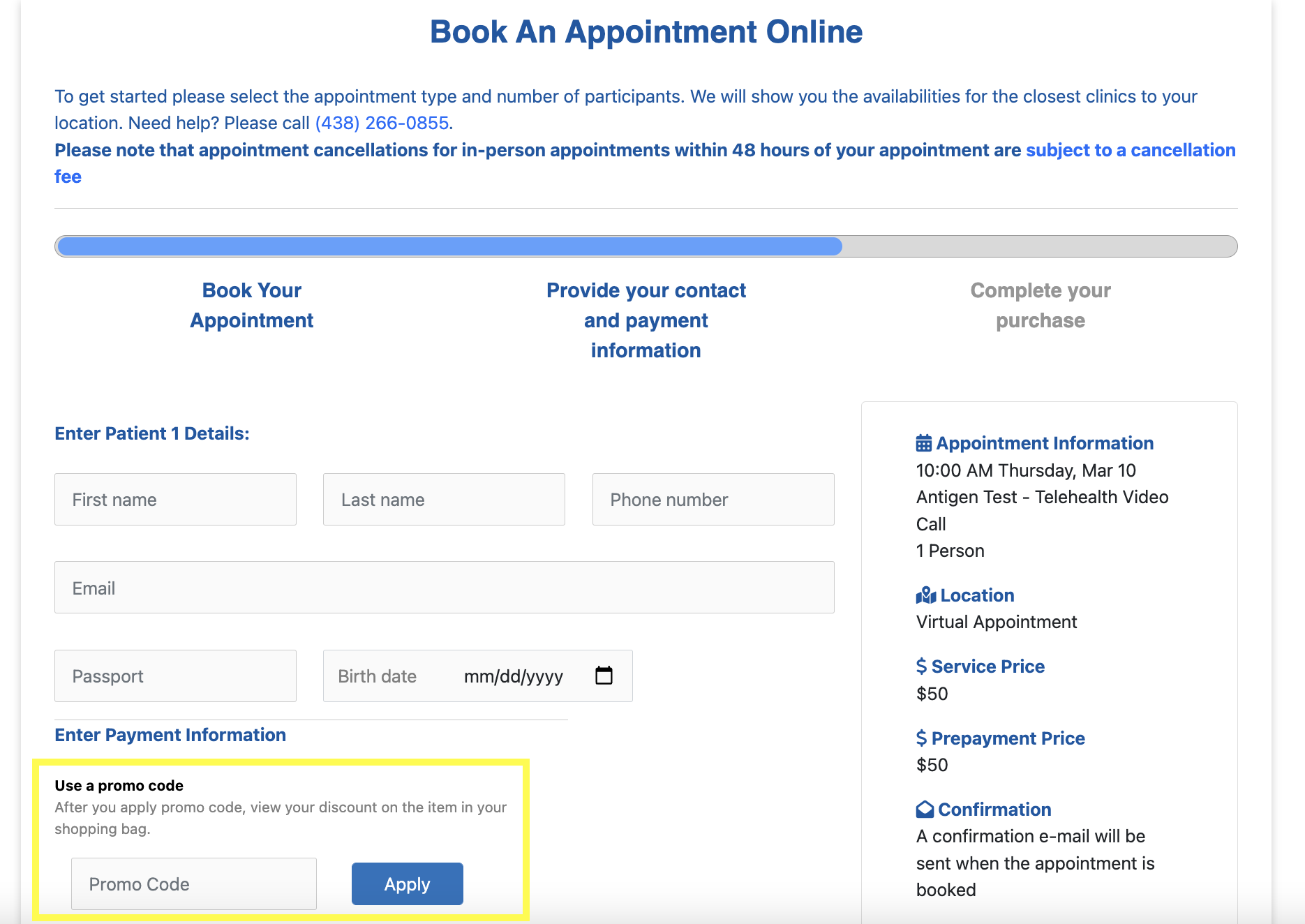 Summit Health Travel Clinics' telehealth test supervision service is available in either official language.
There are obviously other similar services we've talked about before, but this one has great recommendations and is Canadian-based. It seems to have plenty of availability for appointments and doesn't require more than one test for us solo travelers. You don't have to wait for them to ship you a test too.

Also, this option is safer in case there's a problem with your test, since you can bring the entire box of 5 tests on your trip, which is what I would personally recommend. If not, their virtual test service also works with any rapid antigen test that is authorized in Canada or the country you are in.

Summit Health Travel Clinics' self-administered test to enter another country
If the country you're traveling to requires a test, you can also use Summit Health Travel Clinics' virtual self-administered test while here in Canada… as long as your destination accepts rapid antigen tests and also telehealth self-administered tests.
That's the case of the United States, for example.
In addition to the 61 countries that don't require any testing, there are 38 more where cheaper rapid antigen tests are accepted. But even though most accept telehealth tests, it's not necessarily the case everywhere; make sure to always read the entry rules of the country you want to visit. That's not optional anyway. By the way, our next update of that rules guide is coming this weekend.

Maybe some of you haven't read our article on the basics of COVID-19 tests for travel and think that you can just show a self-administered test result — and that countries will magically believe that it was really you who was tested and that everything is in order — but no. Although each country's rules are different, there's one thing that's consistent and universal for all countries: formal proof and documentation are always required for a test to be valid. An unsupervised self-administered test never works.
But with supervision, Canada, the US, and many other countries accept it.
Price and convenience
Here in Canada — or in other places — Summit Health Travel Clinics' virtual self-administered test is not necessarily the cheapest option. I have to mention that because Flytrippers' mission is to help you travel more for less.
It's clearly one of the easiest and most convenient options, though.
We know that MANY people prefer when things are less complicated rather than less expensive (it's always one OR the other for everything in travel, and in life actually).
In Canada, there are rapid antigen tests for $17 at Costco in some provinces or for $40 in others. These are less expensive but involve leaving your home to do the test.
And in just about every country in the world, rapid antigen tests cost less than $45 as well. For example, to fly from El Salvador to Miami in January, I got a rapid antigen test for US$20 (≈ C$26). They had them everywhere in the city.
Molecular tests such as PCR tests are incredibly easy to find everywhere, despite the widespread belief (that comes from who knows where). And rapid antigen tests are even easier to find.
But it involves research, planning, and having to make your way to the lab… and we know some people always prefer paying more to save some effort.
So Summit Health Travel Clinics' virtual self-administered test is highly convenient for that.
However, I'd like to advise you not to do this for a trip to the US at least because it's so easy to get a free COVID-19 test in the US (especially if you get the right test and make your appointment in advance).
And the great thing about Walgreens' ID NOW tests in the US is that they provide speedy results while being molecular tests… which brings me to a flaw of rapid antigen tests.
Flaw of Canada's rapid antigen test option

I'll write a complete post comparing the molecular and rapid antigen test options in greater detail very soon. But I'll tease it by at least briefly explaining one important detail to understand here.
It's not something specific to Summit Health Travel Clinics' virtual self-administered tests, of course, but rather to the entire antigen test option in general as opposed to molecular tests: if you test positive, you'll have no choice but to get tested again.
(Whereas if you get a positive result to a molecular test, after 10 days, you can simply use it to enter Canada as is if you don't want to try getting a negative test result again to shorten the maximum wait period of 10 days imposed by Canada).
With a positive rapid antigen test, you have 2 options:
Do a molecular test right away to start the 10-day countdown if it's positive, or return to Canada right away if it's negative

Do additional antigen tests and hope for the result to be negative one day
For the first option, the delay allowed to get your rapid antigen test is 1 full day before the day of your flight (NOT "24 hours" before) instead of 72 hours for a molecular test. If you're positive, you find yourself starting your 10-day waiting period 2 or 3 days later, so you have to stay where you are 2 or 3 days longer (and pay for 2 tests instead of just 1).

For the second option, there's no guarantee that you'll eventually test negative. So you could be stuck wherever you are indefinitely, without the 10-day maximum.
Let me remind you that in any case, as soon as you test positive while traveling, you must, of course, always comply with the isolation rules of the country you're in, which may be more or less stringent than those for boarding the plane to Canada.
So it's a risk. But molecular tests are almost always a lot more expensive, and a majority of travelers won't test positive while traveling, so…
It's up to you to see what's best for you based on your situation (the article I mentioned at the beginning will help by giving you more details and considerations; sign up for our free newsletter to receive it).
Video of a virtual self-administered test
I don't know yet if I'll be traveling before I go to the US in early April. Either way, I'd definitely like to test out Summit Health Travel Clinics' self-administered test myself soon, since I always love to test everything out for you (the word "test" comes up a lot in this sentence; ah, life during a pandemic).
That being said, the 2 times I entered Canada back when testing on days 1 and 8 of quarantine was mandatory in early 2021, it was done through a telehealth option, and I recorded myself to show you the process.
My tests were molecular, but administering the antigen test is quite similar. And it's not too complicated. Neither is the telehealth aspect of it if you know anything about using a computer.
Here's one of my 5 telehealth tests.
My post on free COVID-19 tests in the USA also has a video of a self-test I did in a car if you want another example (and I'll share 2 different ones soon to talk about other testing providers here in Canada and in Miami).
How to book an appointment for your self-administered test, step by step
On Summit Health Travel Clinics' website, you'll see the option to buy a test on the left (it's not mandatory, it's just in case you don't have one; they sell them for $15), and the option to book an appointment for supervision on the right.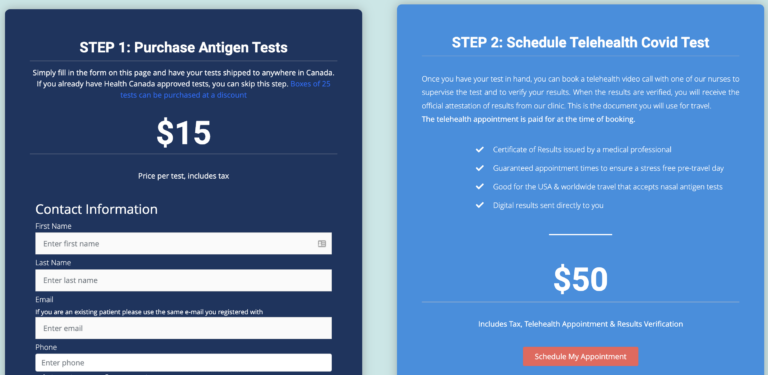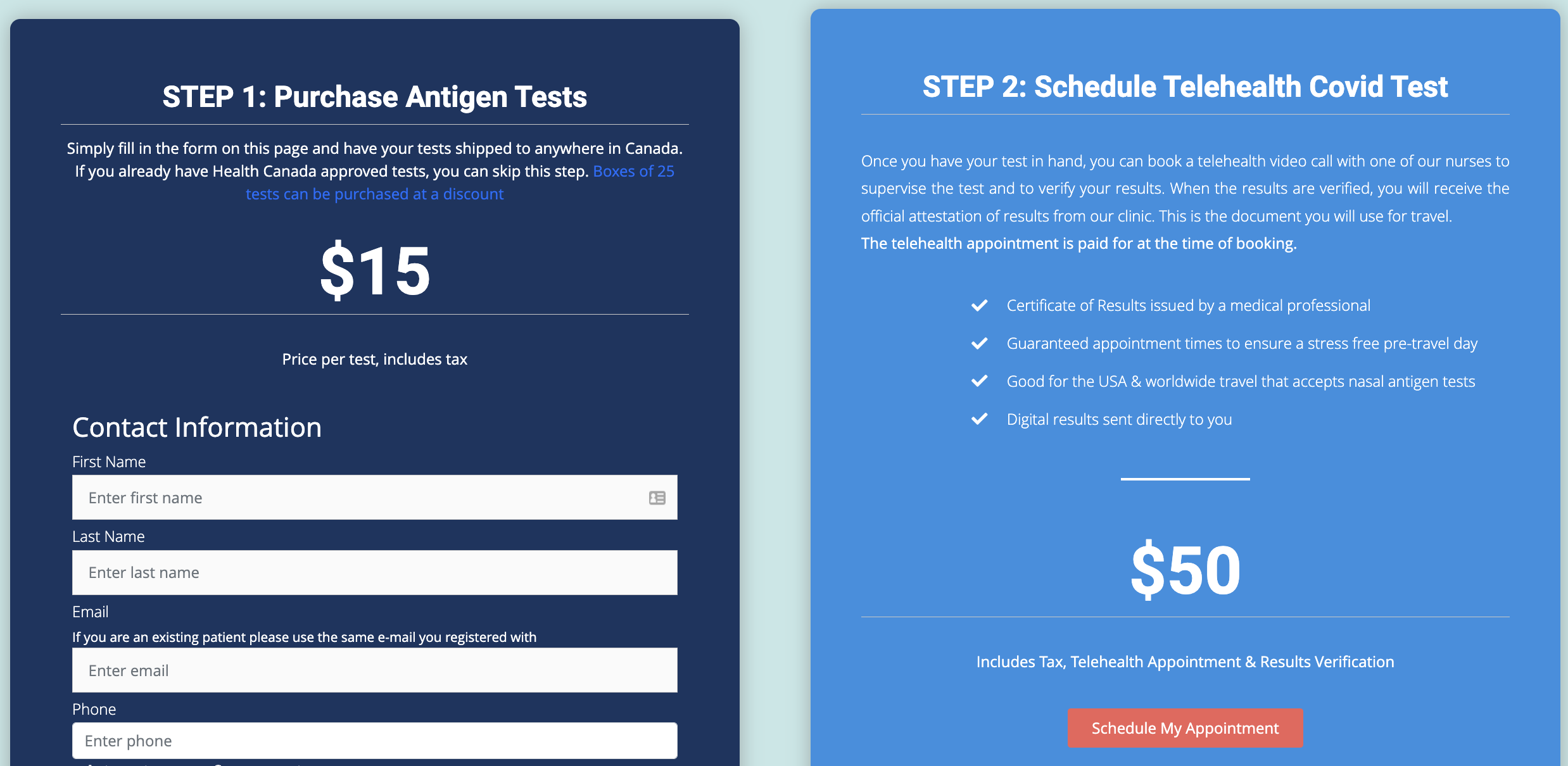 Click on "Schedule My Appointment."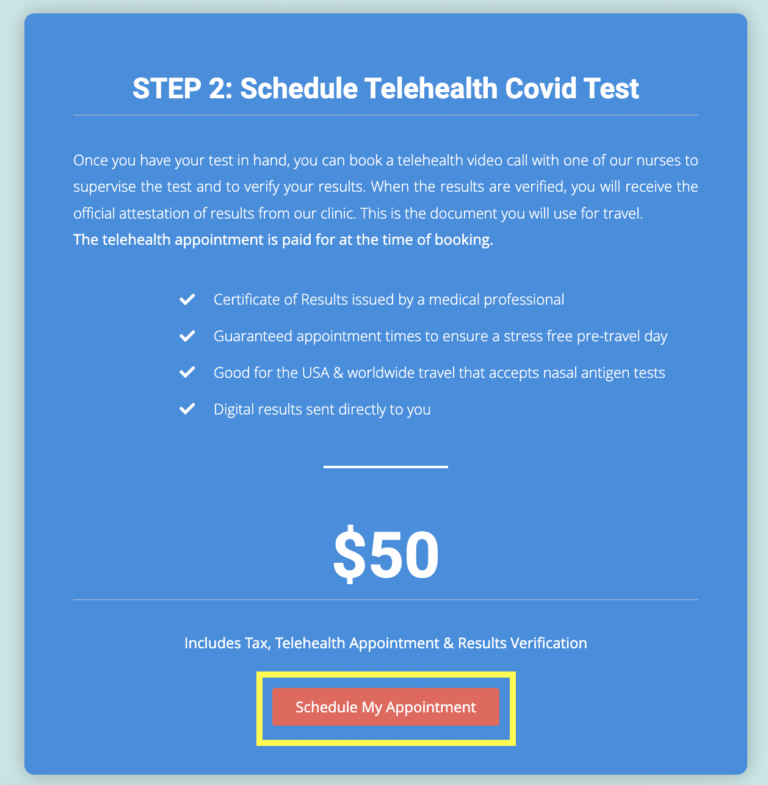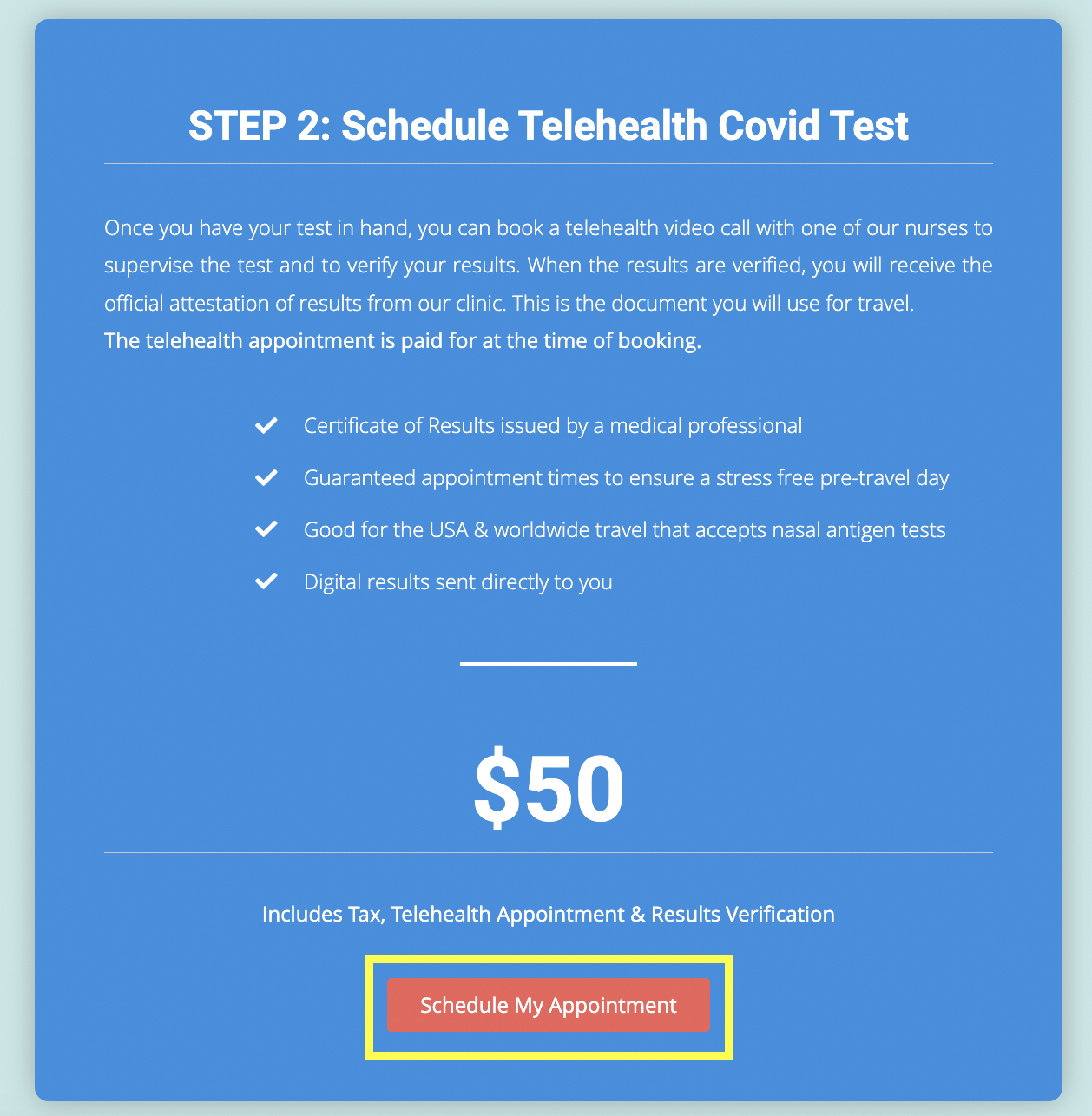 There's only one option as the reason for appointment, so choose "Antigen Test – Telehealth Video Call."


Choose the number of patients (1 to 4) but booking separately will allow you to get our $5 discount for each traveler.



Relevant information appears, and you have to click on the blue "Book Now" button at the bottom right.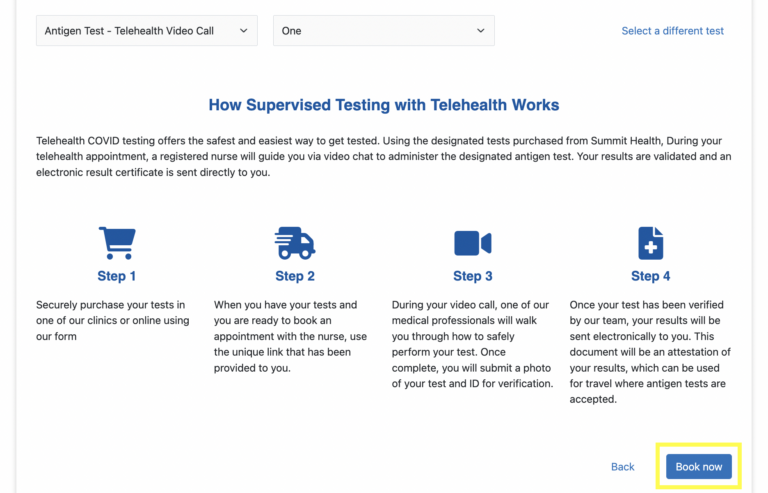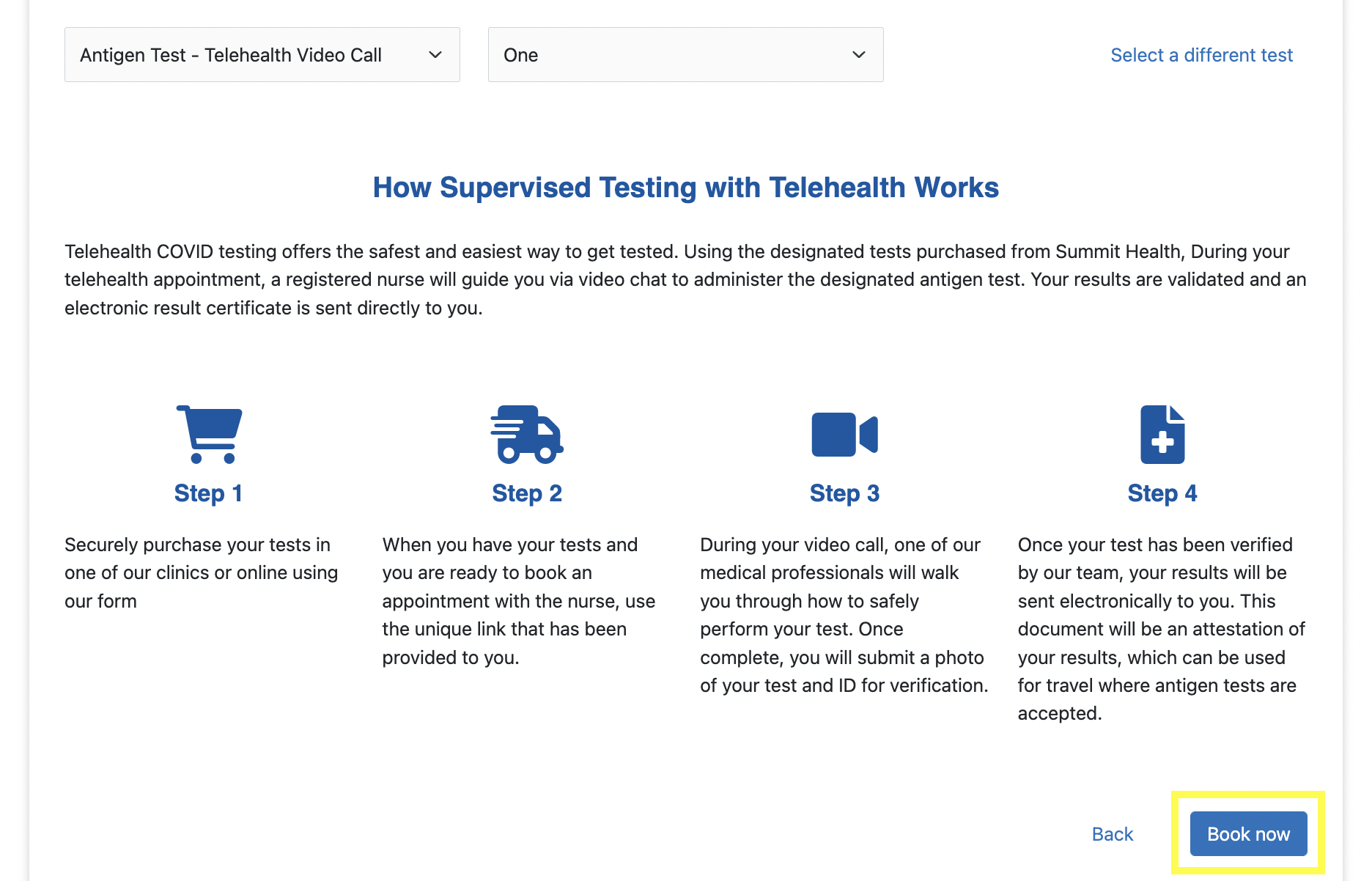 It's now time to book your time slot. Like anything in life, the sooner you book, the less likely you are to be caught unprepared!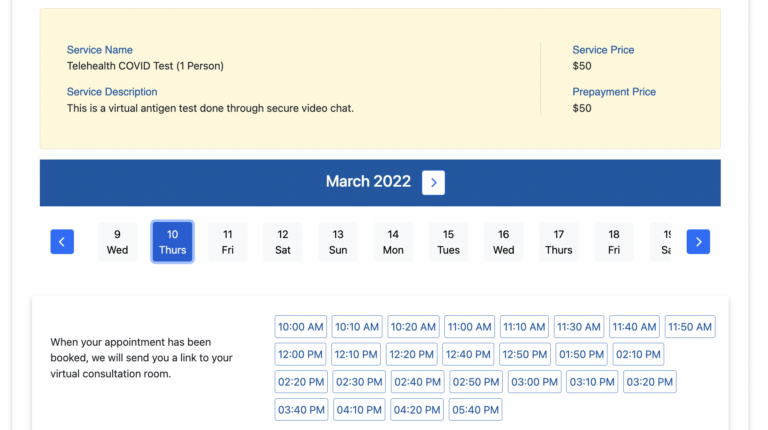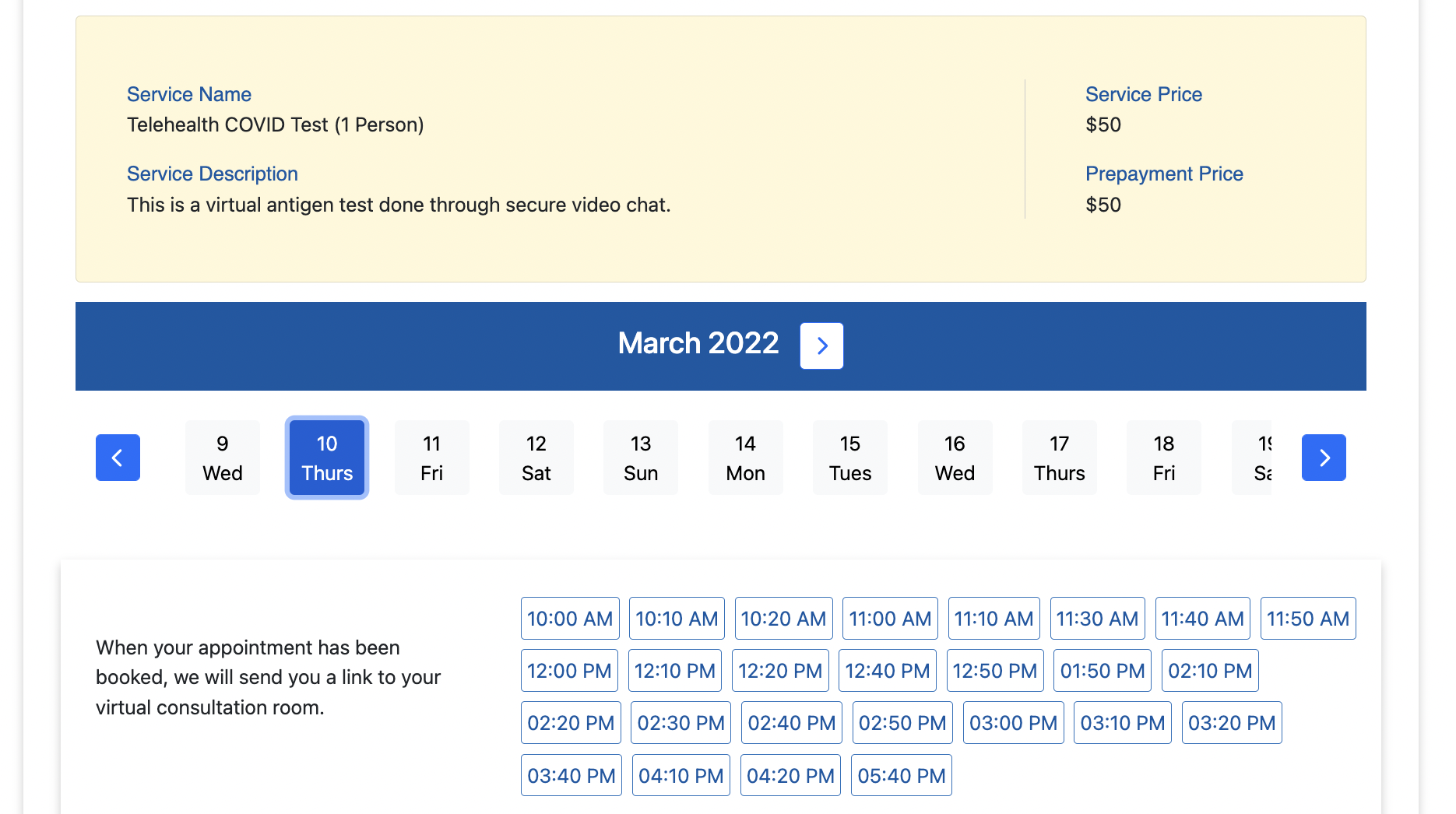 A pop-up appears to confirm your choice.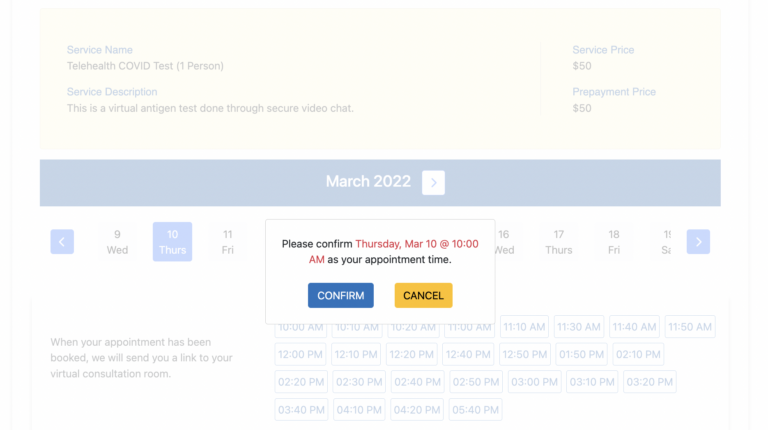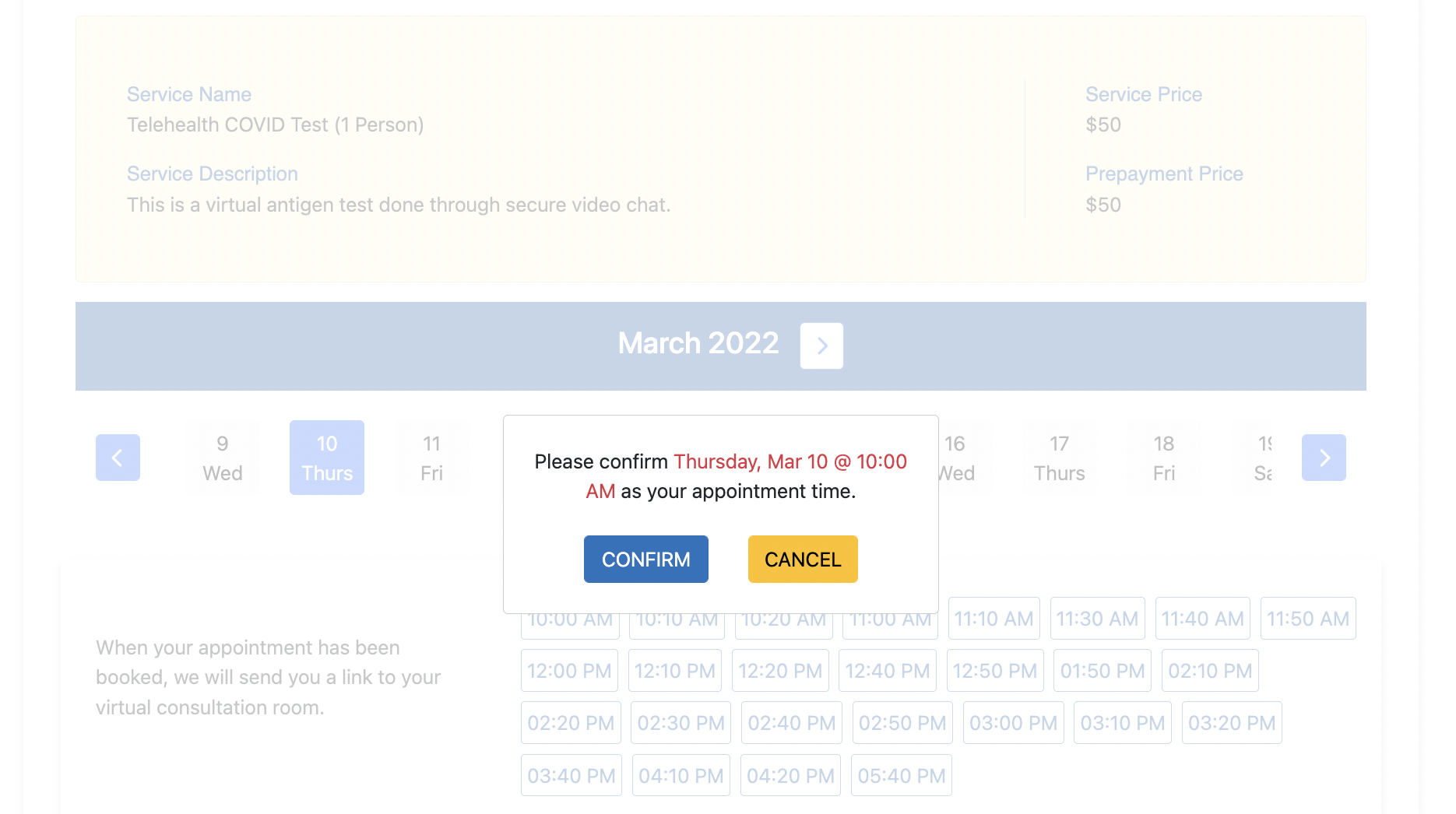 And finally, you get to the payment screen: don't forget to enter promo code FLYTRIP5 for $5 off.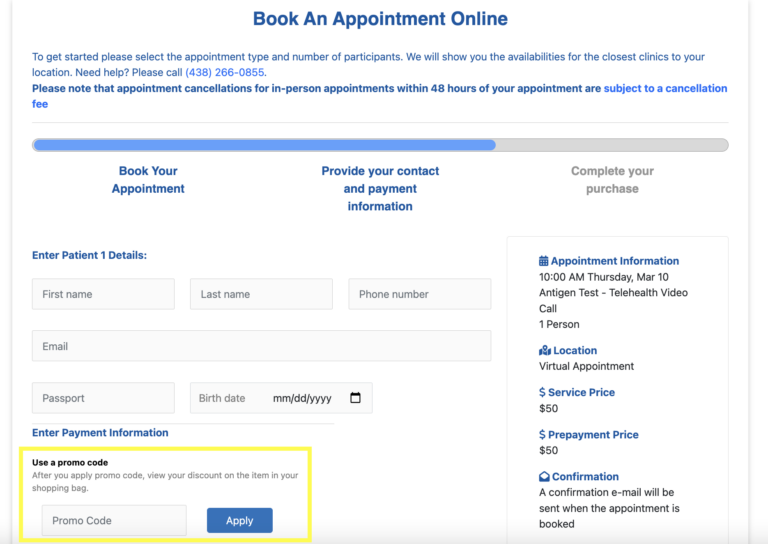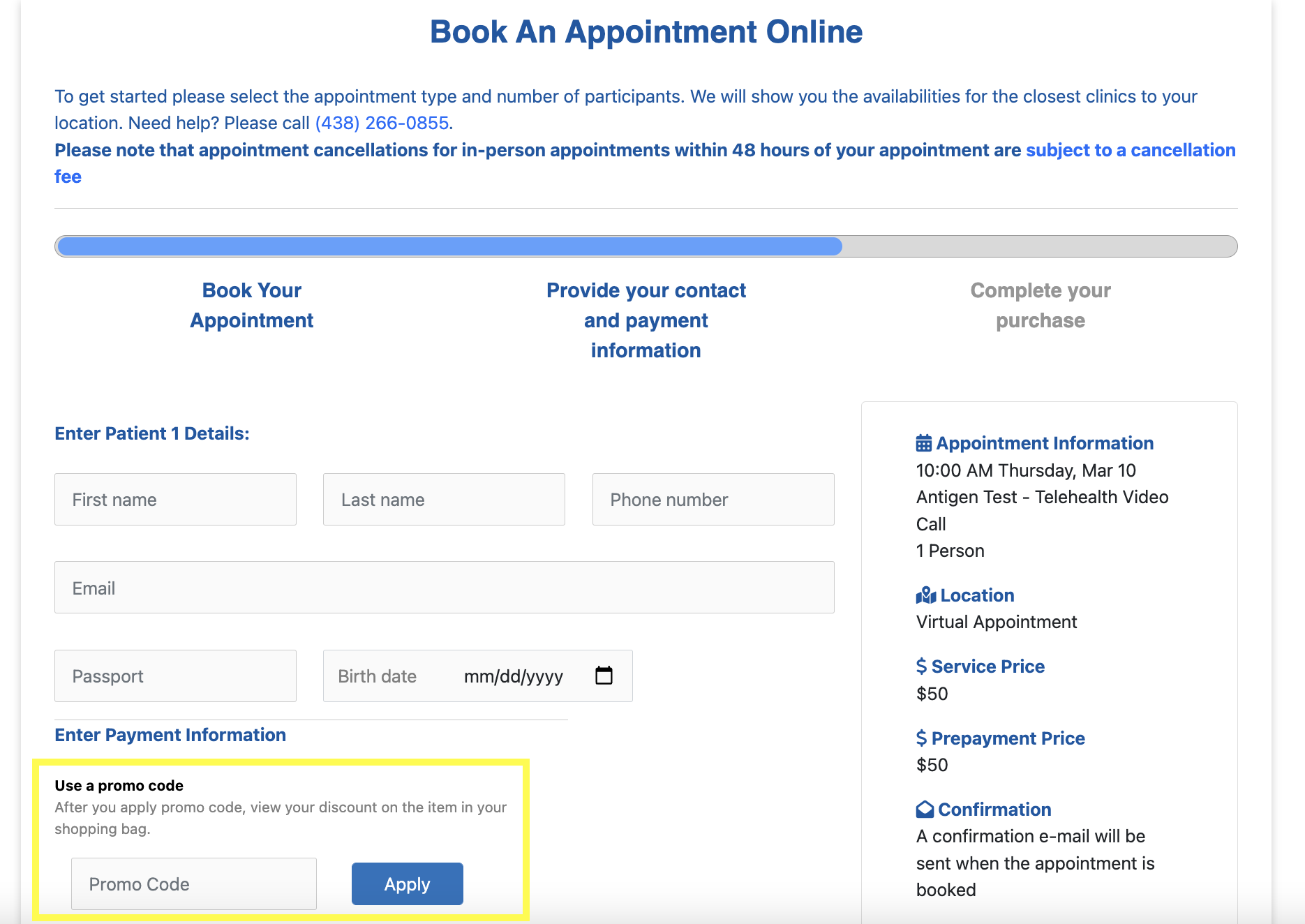 You must pay $45 by credit card. Taxes are included.

The "clinic" category is not included in any credit card multiplier rate, so use the card that has the best base earn rate (such as the Marriott Bonvoy American Express Card, which gives you 2 points per dollar everywhere instead of just 1 — it's the card all Canadian travelers MUST have and an increased welcome bonus was just launched yesterday for a limited time).
Want to get more content to learn how to travel during the pandemic?
Summary
Whether you're returning to Canada or looking to enter another country, Summit Health Travel Clinics' self-administered testing service with telehealth supervision is an easy, fast, and relatively affordable option to get tested for COVID-19 for travel.
What would you like to know about this test? Tell us in the comments below.
See the deals we spot: Cheap flights
Explore awesome destinations: Travel inspiration
Learn pro tricks: Travel tips
Discover free travel: Travel rewards
Featured image: self-test in telehealth mode (photo credit: Andrew D'Amours/Flytrippers)
Advertiser Disclosure: In the interest of transparency, Flytrippers may receive a commission on links featured in this post, at no cost to you. Thank you for using our links to support us for free, we appreciate it! You allow us to keep finding the best travel deals for free and to keep offering interesting content for free. Since we care deeply about our mission to help travelers and our reputation and credibility prevail over everything, we will NEVER recommend a product or service that we do not believe in or that we do not use ourselves, and we will never give any third-party any control whatsoever on our content. For more information on our advertiser disclosure, click here.
Share this post to help us help more people travel more for less: