Remote self-testing is a very convenient option to get a rapid antigen test at a (relatively) low cost without having to leave your house or search for a lab/clinic
—
if a test is required for your trip, that is. I tested it again for you yesterday to show you how simple it is, and this time, I recorded a video for those of you who want to see how it works.
Even though over 100 countries are open without any test requirements, some countries still require them, of course. The US is one of them (for now), but only if you fly there — which is my case since I'm flying there today for a long weekend.
But also, unvaccinated Canadians entering Canada (including children aged 5 and over) still need to take a pre-entry test, and this test option works great for that.
So here's what it's like to do a remote self-test. If you've done home tests before, it's exactly that, but on camera. If you haven't, well it's really easy… even if it's not your 26th test like me.

Self-testing with Summit Health Travel Clinics
With the FLYTRIP5 promo code, you can pay $45 (instead of $50) to have the health care professionals at Summit Health Travel Clinics virtually supervise your at-home rapid test (which you can get for free from the government) and provide you with a valid official lab report for travel.
While it's not as affordable as the cheapest option at $17 for a rapid antigen test, this option is straightforward and doesn't involve you getting out of the house (especially if you already have a box of rapid antigen tests at home).
Plus, it's a company that I love, offering great services for travelers (not just for COVID-19 testing), and offering plenty of appointment availability (in both official languages too).
I give you a lot more details and show you the very simple step-by-step process for booking an appointment below.
But first, here's a video that shows how the actual self-test works.
So I highly recommend Summit Health Travel Clinics. I personally found my experience to be very effective and enjoyable.
It's also very easy for all travelers, regardless of their comfort level with technology. You just have to follow the links provided to log in and the health care professional's instructions for the test itself.
If you've never done a self-test before, don't worry; it's really not that complicated, and the health care professional will walk you through it.
I had done home tests before, but every time, my girlfriend was actually the one who handled the whole thing, so I didn't know how these worked at all (the previous self-tests I did were PCRs, so it's not quite the same process).
But the nurse was great at telling me what to do step by step and really knew what she was doing. She knew every detail of where every instrument was located in my box of rapid tests and explained everything very clearly.
It took me 7 minutes in total for the telehealth appointment. I then waited the required 15 minutes to get an accurate result (I prepared my lunch during this time). And within 10 minutes of uploading the picture of my result, I had a certificate with my results emailed to me.
Time frame for rapid antigen tests
In my case, the test was to enter the US by air. As you know if you have read our ultimate guide on how to travel to the United States, I could take the test the full calendar day before my flight, with no 24-hour limit.
I did it at 11:50 AM yesterday, even though my flight is at 2:30 PM today. Summit Health Travel Clinics had plenty of availability for appointments.
For those who want to get a remote self-test to enter Canada (I repeat: it's only required for non-vaccinated travelers), the rule is the same: you can take the test the day of the flight or the day before. It doesn't matter what time.
For other countries, be sure to read the entry rules to make sure they accept remotely supervised telehealth tests (they pretty much always do, but just be sure to check) and to see what the time frame allowed is, which obviously varies for each country (as with all other rules).
How the remote self-test works
So once you book your test supervision appointment on Summit Health Travel Clinics' website for $45 with the FLYTRIP5 promo code, all you have to do is fill out the medical form they send you in the confirmation email… and get a rapid test handed out by provincial governments, of course.
I recommend having a few on hand in case there are any problems.
Before my appointment, I received an email asking me to click on a button to confirm my appointment.
They ask to be ready 5 minutes before your appointment. Sit down at your computer (it also works by cell phone if you prefer, of course) and log in. You can even test the link before the appointment if you'd like (this link is also in the confirmation email).
To start, the nurse will ask you to confirm your personal information.
Pay attention because most countries require either your passport number or date of birth to be on the lab report (the US requires one OR the other while Canada requires the date of birth).
You then show your box of tests so that she knows which brand it is. Then she simply guides you through each step.
You take out the tray, you insert the small plastic tube, you put the tube's cover next to it, you fill the tube with the liquid provided, and finally, you take out the cotton swab.
You then swab both nostrils by doing 5 circles in each.
You dip the swab in the tube with the liquid and while the nurse starts the 2-minute countdown, she asks you to get the plastic test thingy ready.
You then squeeze the swab completely and pour 3 drops onto the little test thingy.
The nurse sends you an email with the link to upload a picture of the test AND your ID 15 minutes later and that's it for the telehealth portion.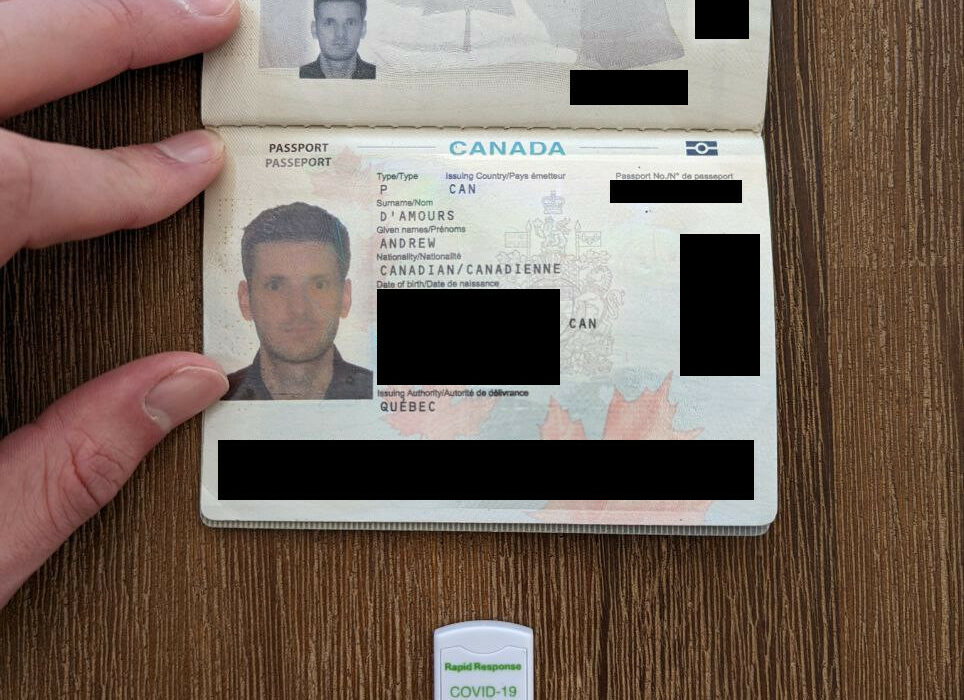 After 15 minutes, you take the picture and upload it in just 3 easy clicks.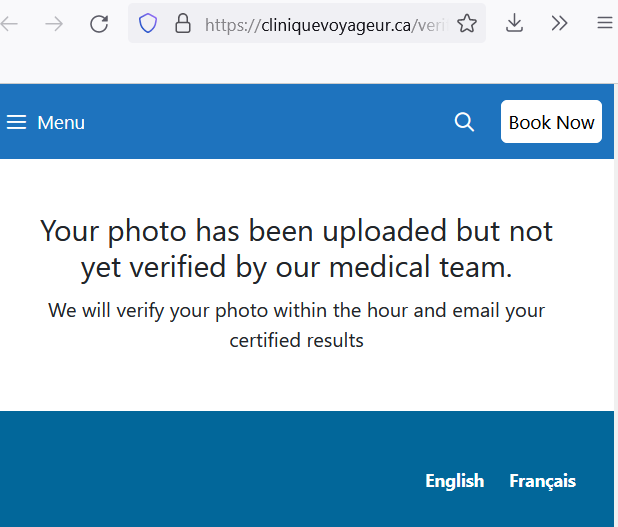 Continuing my perfect streak, I got my 26th negative test in 26 attempts, so it was that easy to go on a trip, even in a country that requires a test!
I got the official lab report by email in 10 minutes.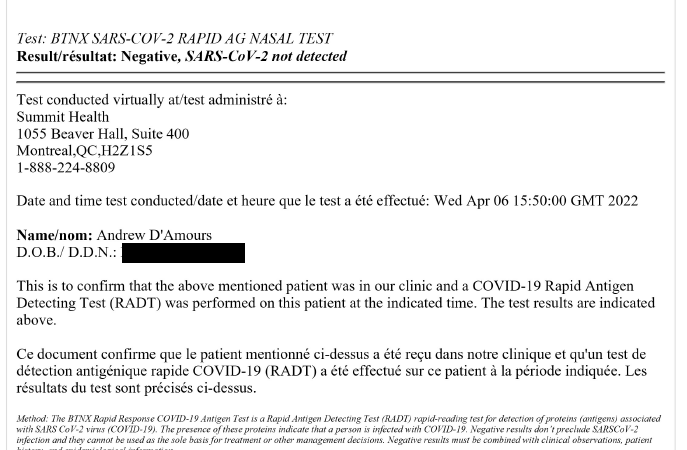 Don't miss an upcoming separate post about how airlines check lab reports, sign up for our free newsletter as 80,000+ savvy Canadian travelers have already done!
How to book your appointment and connect to the platform, step by step
I'll show you the process for booking your appointment and then logging in.
On Summit Health Travel Clinics' website, you'll see the option to purchase a test on the left (not required, it's just in case you don't have one; they sell them for $15) and the option to book an appointment for supervision on the right.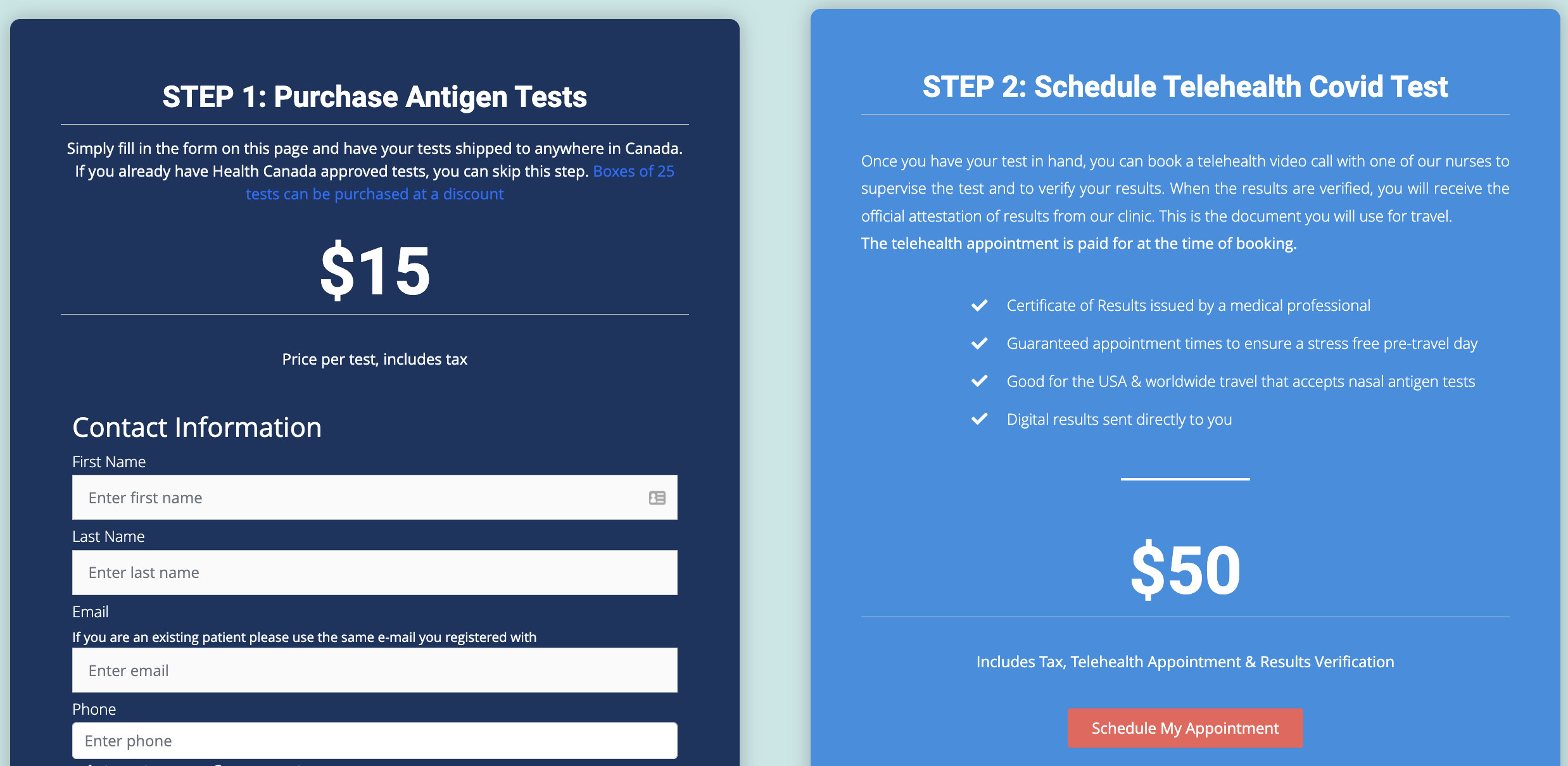 Click on "Schedule my appointment."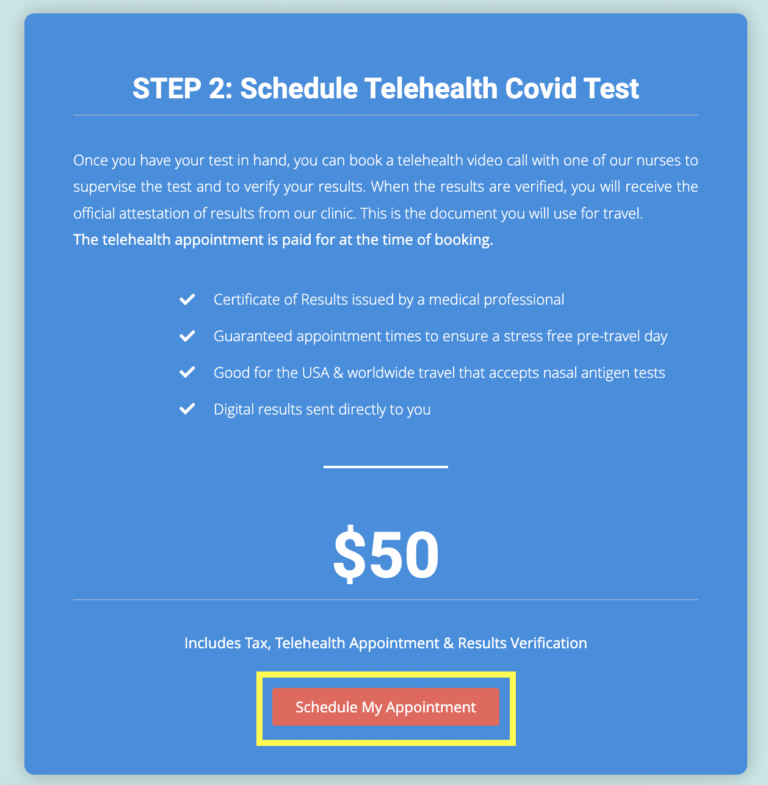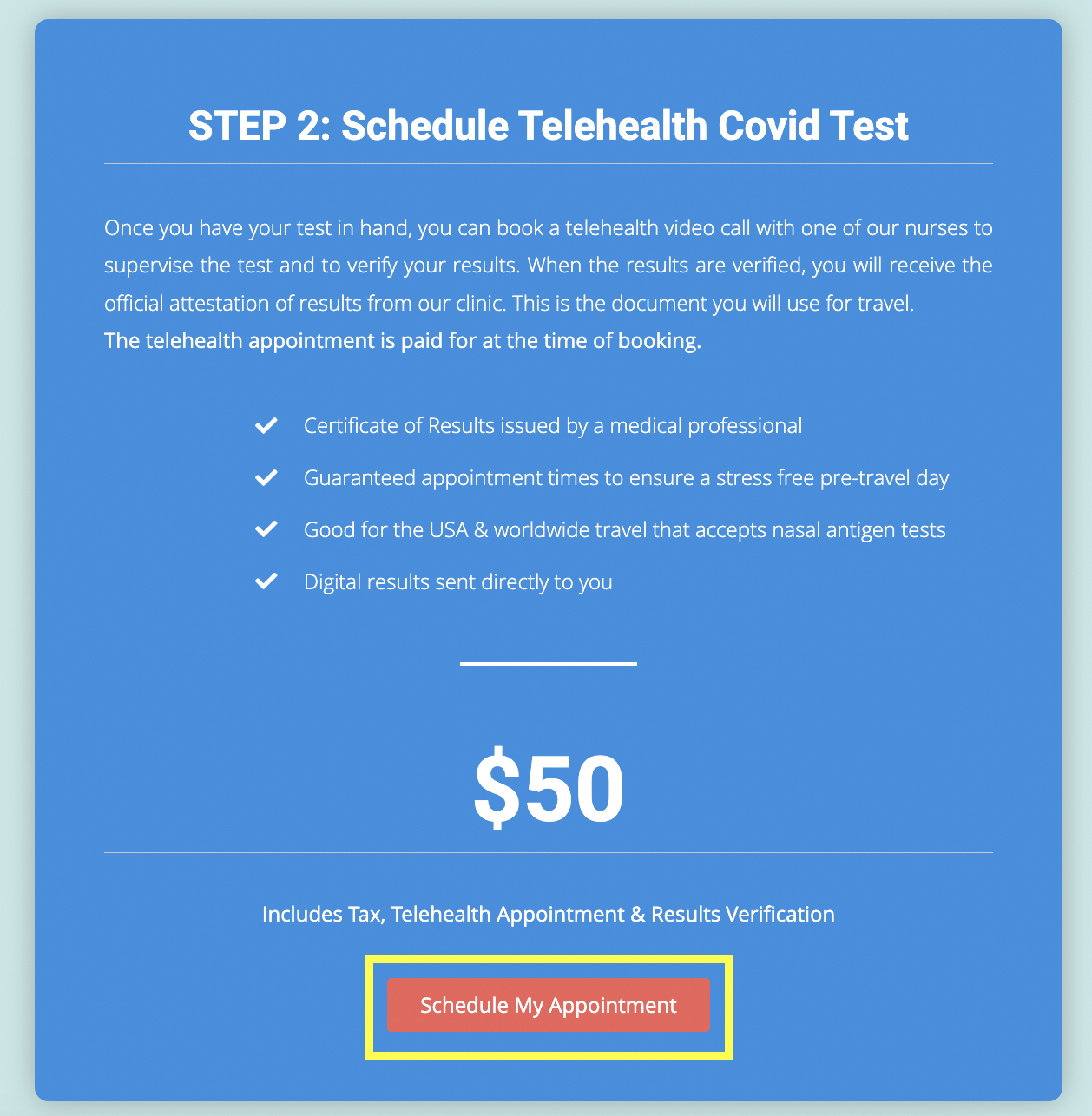 There's only one choice for the reason for appointment, so choose "Antigen Test – Telehealth Video Call."


Choose the number of patients (1 to 4) but booking separately will allow you to get our $5 discount for each traveler. Then, click "Next."


Relevant information appears, and you have to click on the blue "Book Now" button at the bottom right.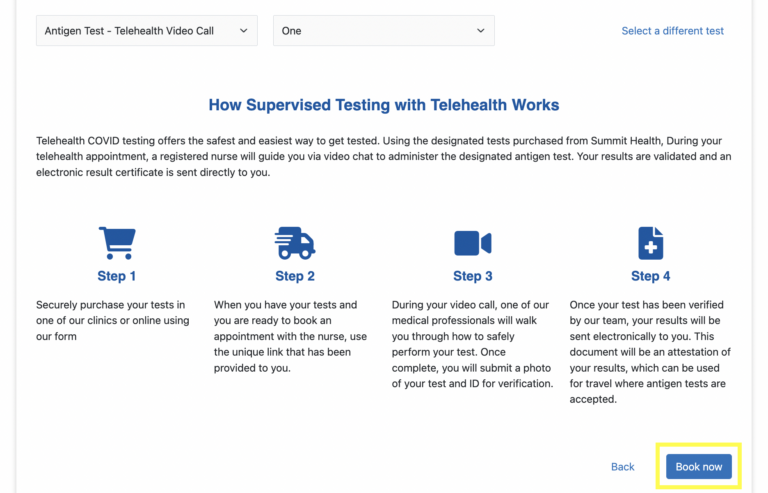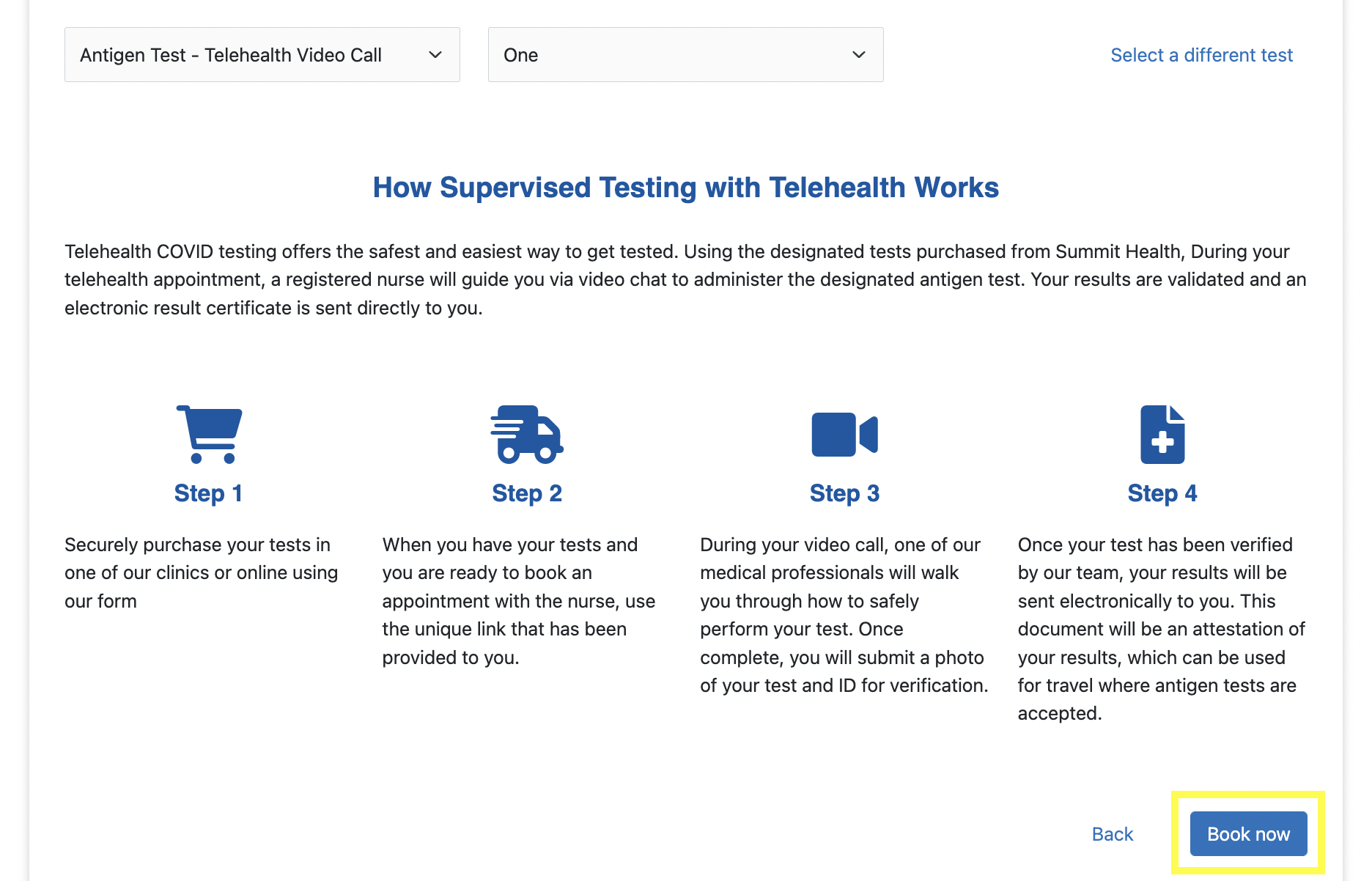 It's now time to book your time slot. Like anything in life, the sooner you book, the less likely you are to be caught unprepared!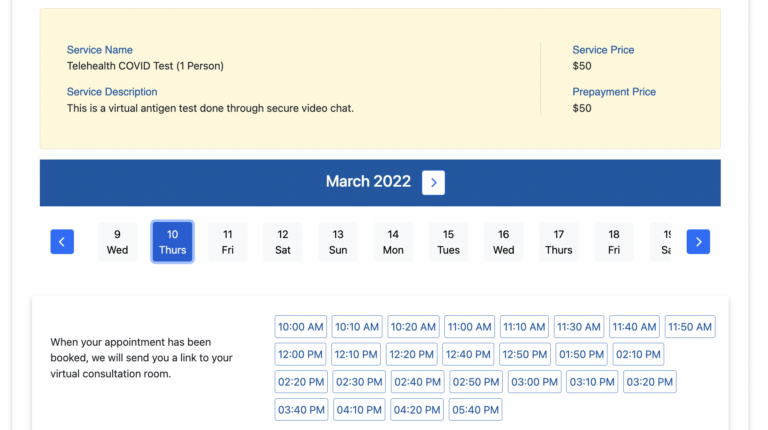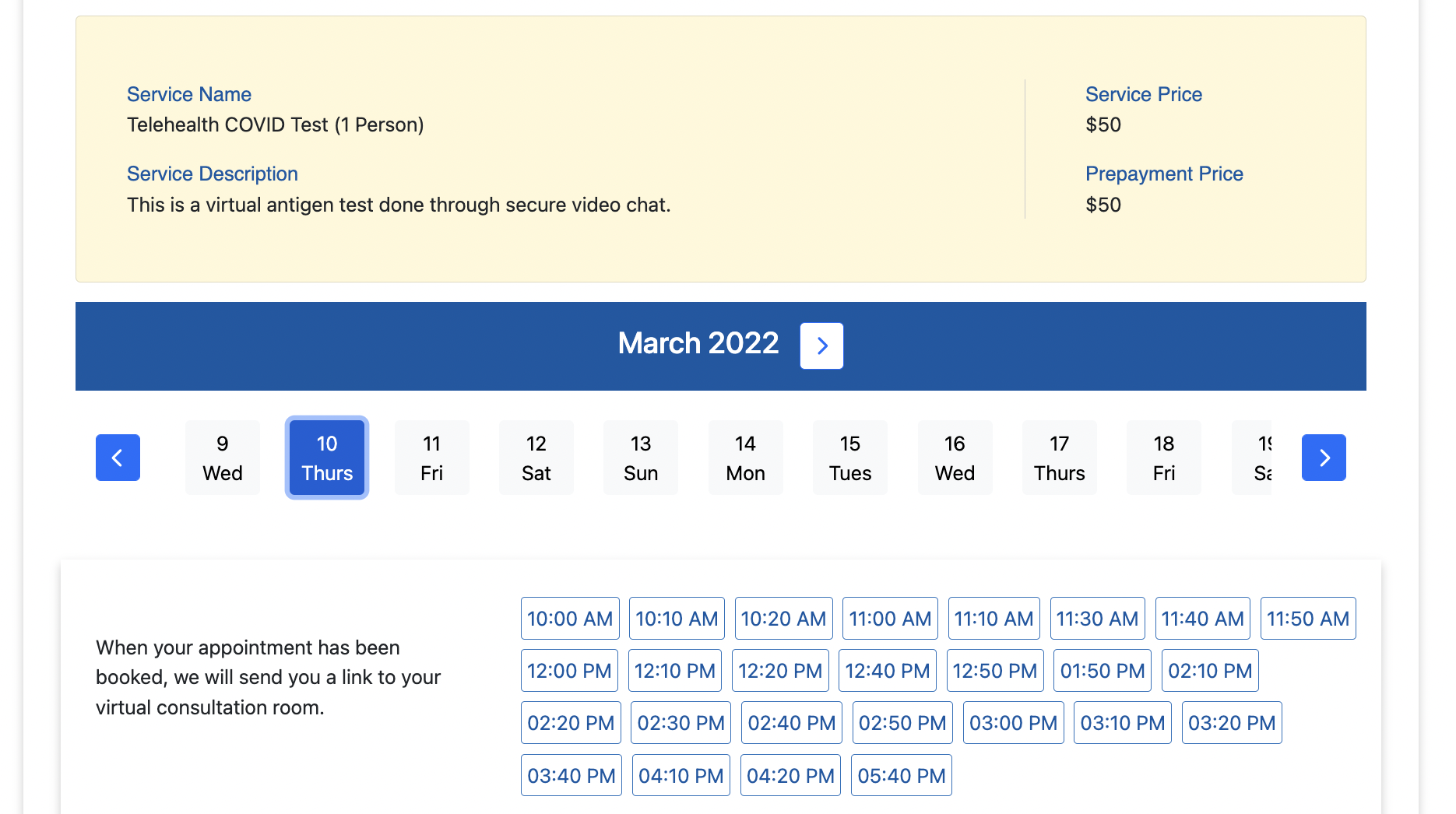 A pop-up appears to confirm your choice.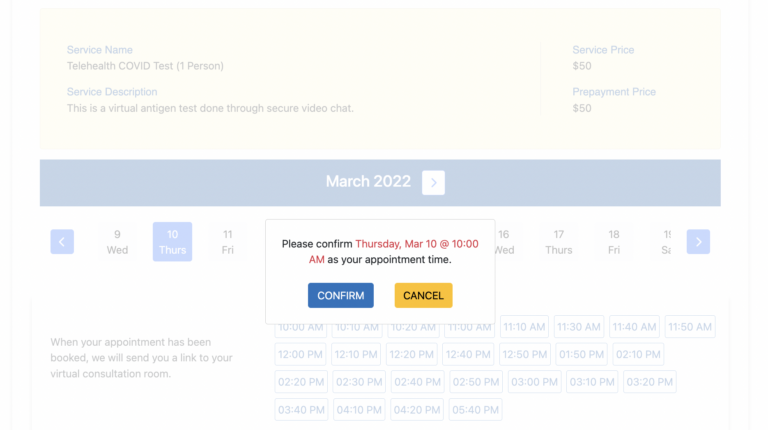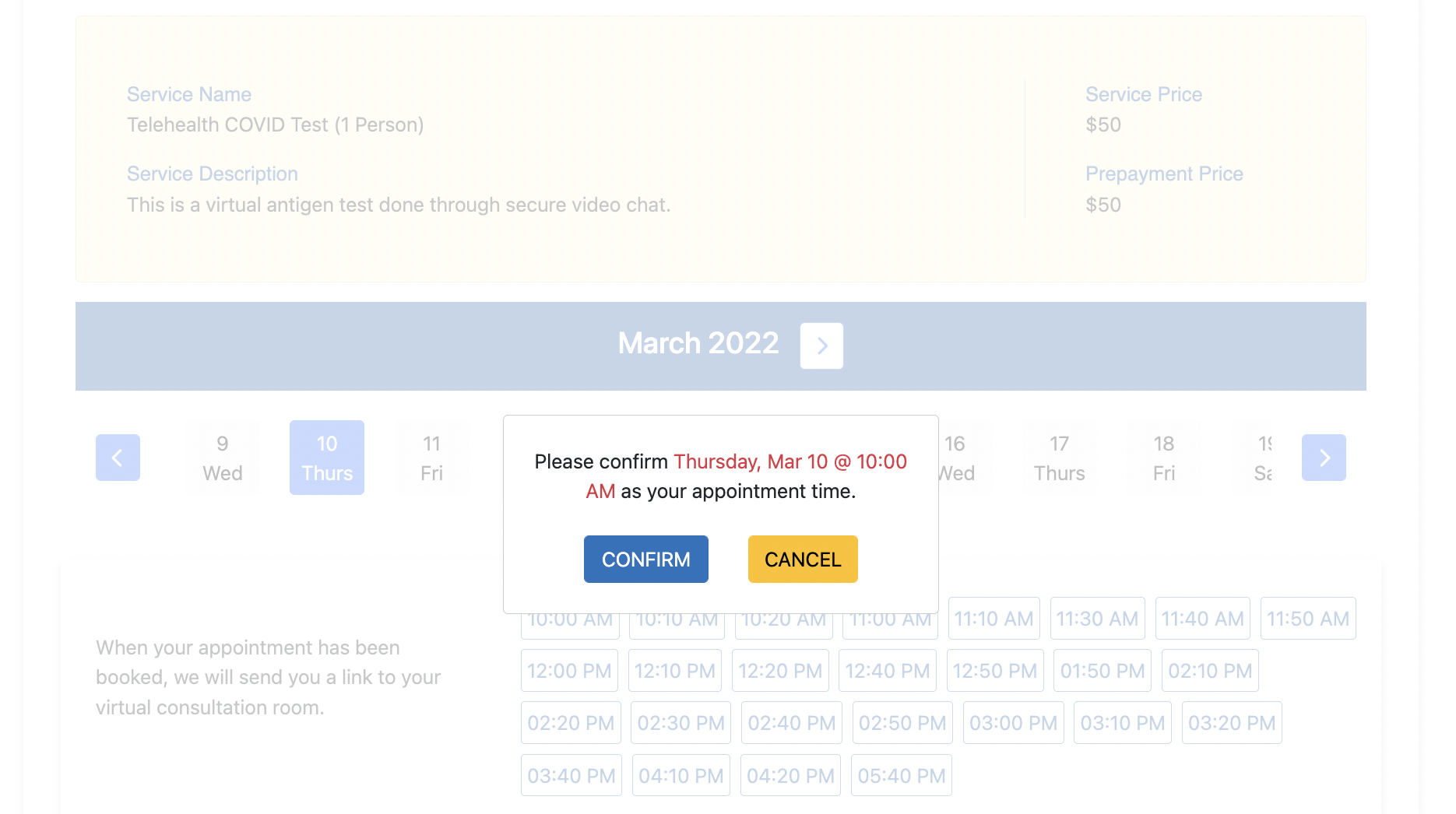 And finally, you get to the payment screen: don't forget to enter promo code FLYTRIP5 for $5 off.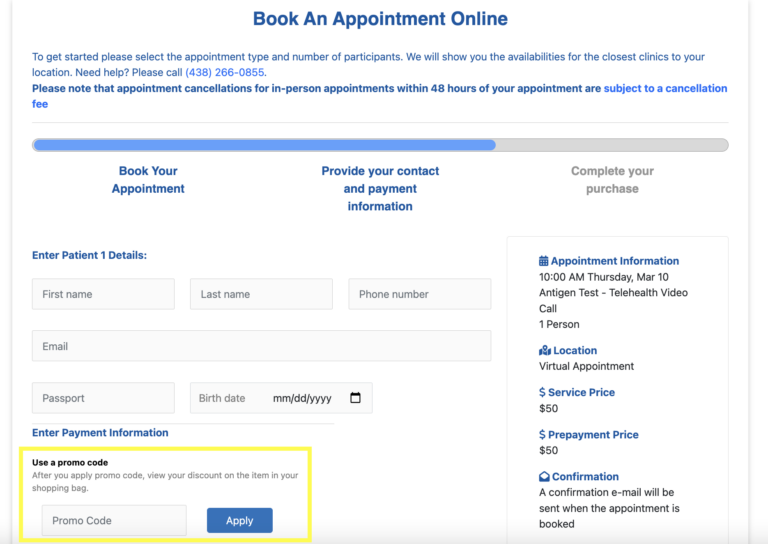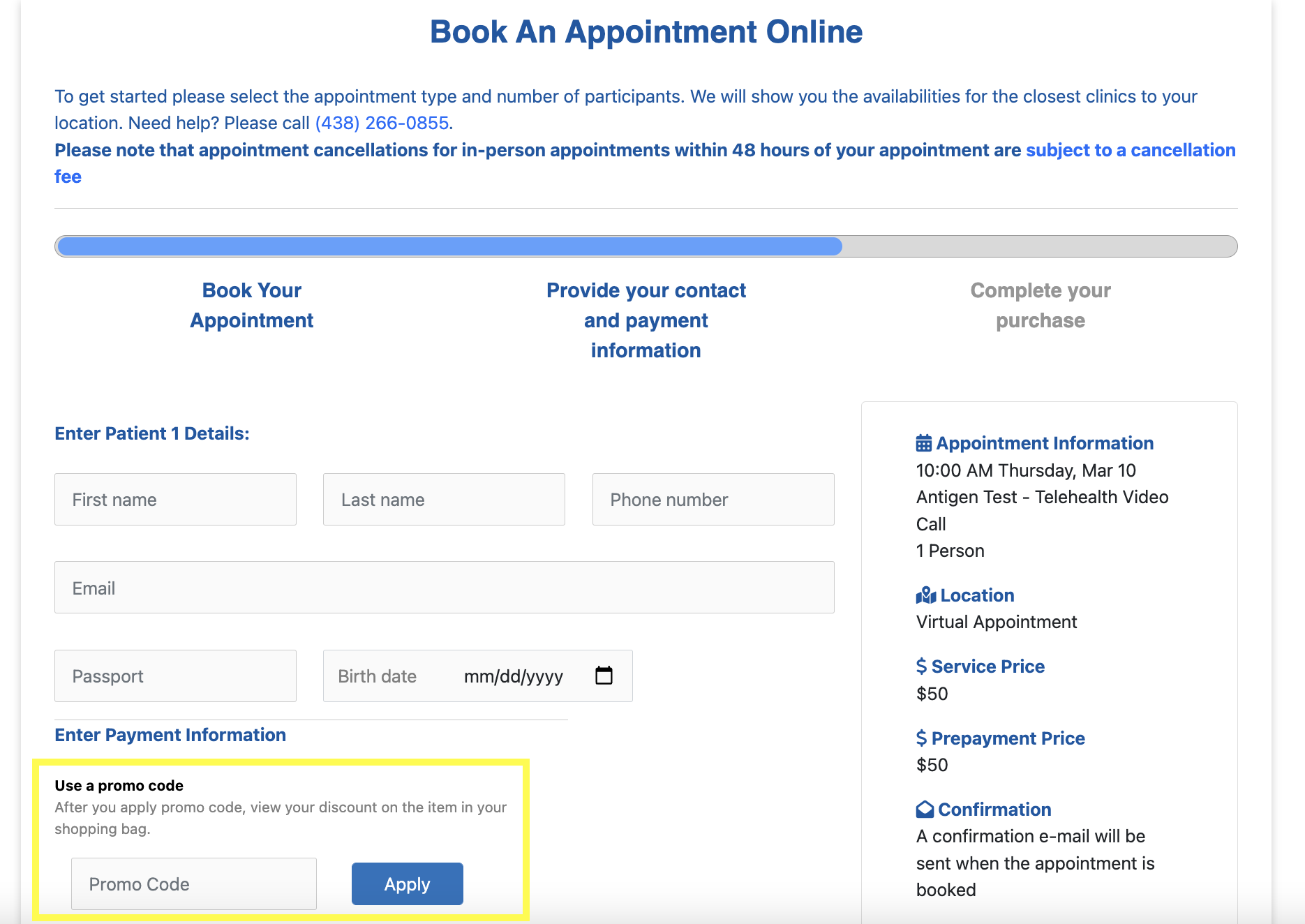 You must pay the $45 by credit card. Taxes are included.
The "clinic" category is not included in any credit card multiplier rate, so use the card that has the best base earn rate (such as the Marriott Bonvoy American Express Card, which gives you 2 points per dollar everywhere instead of just 1 — it's the card all Canadian travelers MUST have and an increased welcome bonus was just launched recently for a limited time, only until May 10th).
You'll receive an email confirming your appointment.
There is a link to complete a mandatory medical questionnaire and another to test the video connection.
The medical questionnaire is a bit long, but it can still be done in a few minutes.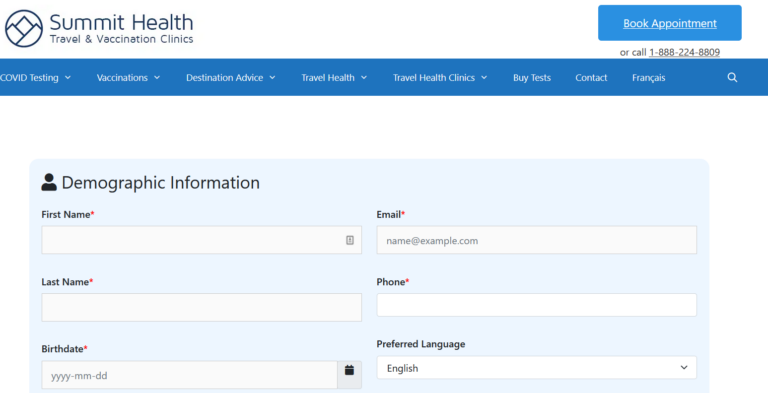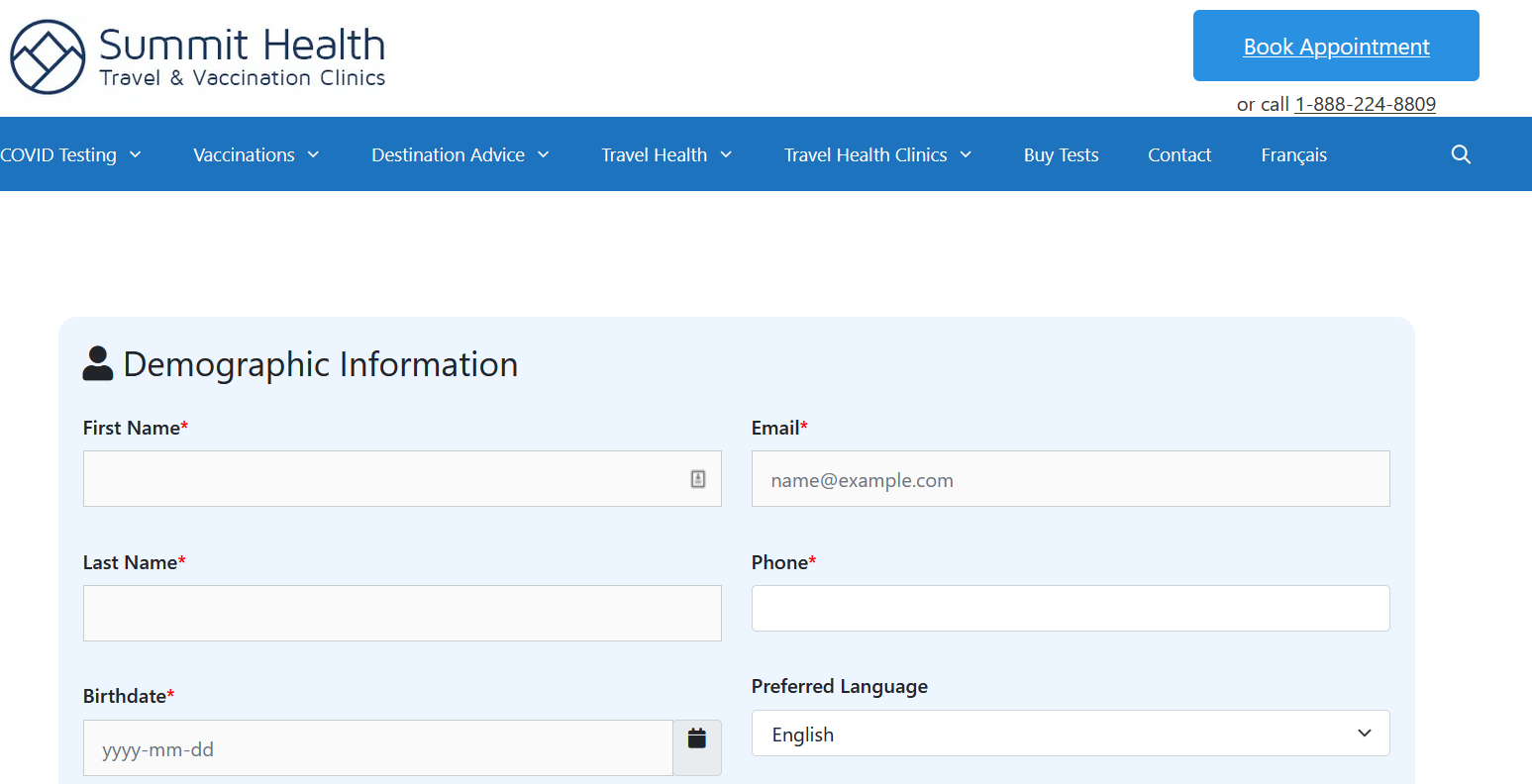 Then, the video test link helps you make sure that everything will work at the appointment time!
For your appointment, this is the exact same link you'll use to connect.
You won't be too lost if you're familiar with any other video calling platform!
Want to get all the coronavirus updates for travelers?
Summary
Summit Health Travel Clinic's remote self-test with telehealth supervision is an easy, fast, and relatively affordable option if you need a rapid antigen test to fly to the United States (or another country that requires testing and allows telehealth testing) or if you need to take Canada's pre-entry test (for non-vaccinated travelers).
What would you like to know about remote self-tests? Tell us in the comments below.
See the deals we spot: Cheap flights
Explore awesome destinations: Travel inspiration
Learn pro tricks: Travel tips
Discover free travel: Travel rewards
Featured image: My remote COVID-19 self-test (photo credit: Andrew D'Amours/Flytrippers)
Advertiser Disclosure: In the interest of transparency, Flytrippers may receive a commission on links featured in this post, at no cost to you. Thank you for using our links to support us for free, we appreciate it! You allow us to keep finding the best travel deals for free and to keep offering interesting content for free. Since we care deeply about our mission to help travelers and our reputation and credibility prevail over everything, we will NEVER recommend a product or service that we do not believe in or that we do not use ourselves, and we will never give any third-party any control whatsoever on our content. For more information on our advertiser disclosure, click here.
Share this post to help us help more people travel more for less: