I found out 2 days ago that I had been infected with the new coronavirus. This situation sometimes doesn't feel real until you know someone that has it and while you may not know me personally, I'll still try to describe my experience the best I can so that everyone takes this virus seriously and understands how easily it can be caught—and how easily it could overwhelm our healthcare system if we aren't careful.
I've been out of the country living the "digital nomad" lifestyle for a year and a half now with my girlfriend and was only supposed to come back to Canada in September 2020. I was in Bangkok, Thailand, when those plans changed in March, because of borders starting to close worldwide and Canada calling back its citizens due to the coronavirus pandemic.
The situation evolved rapidly and, at first, we weren't even sure if we wanted to come back early. Thailand had much fewer cases than Canada, we were already living in near-isolation in an apartment in the city, and we were being careful. In other words, we were doing social distancing, but over there.
As soon as the travel advisory was issued, we here at Flytrippers immediately paused spotting and sharing our flight deals and recommended that no one should leave on a trip. But we couldn't help but wonder how much safer it really was for those abroad to come back hastily, at least for those who, like me, didn't mind staying somewhere for an undetermined amount of time. Would sheltering in place and avoiding all contact be more cautious? Not to mention I did not even have a home to go back to here in Canada.
But there was a serious risk of getting stuck abroad because of entry restrictions and flight cancelations, as we mentioned in our earliest posts about the coronavirus' impact on travel (we have a page with all our coronavirus resources for Canadian travelers, with more to come).
So with everything going on, we decided to come back. We left our safe Airbnb (there were more health screenings every day to enter our residential building in Thailand than there ever was entering Canada by plane…) and had to risk spending about 24 hours in crowded airports and crowded planes to get back to Canada, where we'd have to find a place to go into quarantine since I sold my house before leaving.
And a week after my flights to Canada, while in self-quarantine at my mother's place (she moved in with my brother to leave us here alone), I started developing COVID-19 symptoms.
Here's what this journey was like for me up to now.
The Arrival In Canada
I already shared a detailed account of what it was like to enter Canada last week (from Bangkok to Tokyo to Toronto to Montreal).
My mother and my brother came to pick us up at the airport with two cars so we could isolate right away and drive to her place, where the fridge and cupboards were stocked with food to allow us to stay inside for 14 days. That's not really a problem for us as remote workers, as it's what we do most of the year anyway.
Then, on Wednesday, after a week (I had arrived the previous Tuesday), I started coughing and having a fever during the night. The initial symptoms before I got tested were mild.
I called the health line to inquire about the best course of action, and, since I was coming back from a trip, they recommended I get tested.
The Test
The test itself isn't particularly pleasant as you can imagine from the image below.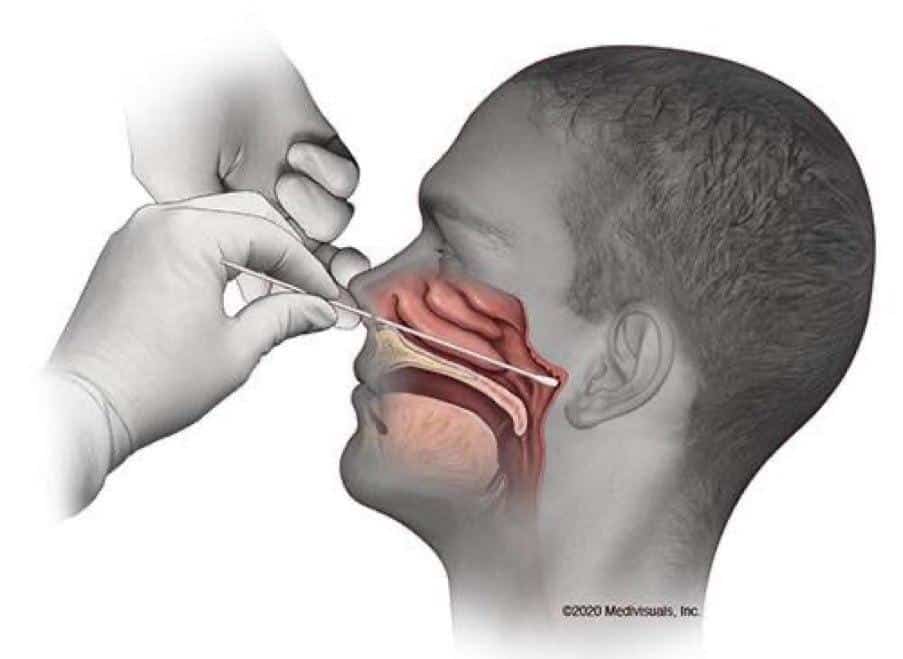 The clinics are very well set up. When you arrive, they give you a mask and make you wash your hands with hand sanitizer countless times throughout the procedure. Then we describe our symptoms to an employee, all the while keeping a safe distance.
Once you get to the actual test, they start by doing the throat swab, then they swab both nostrils for 10 seconds each. The whole thing only takes 30 seconds.
The Results Call
They told us it would take 3 to 4 days to get our results but I got mine 2 days after taking the test. My girlfriend, who passed the test at the same time as I did, still hasn't got her results 3 days later. They'll probably be in today or tomorrow.
If you test positive, the call will take about 30-45 minutes. They do a good job of explaining all the implications, what you need to do to clean the house, what you can and can't do.
They also asked us if we had been in contact with anyone up to 2 days before we became symptomatic, which we hadn't in our case. They asked for the flights' numbers and the rows we were in. They'll probably update the list at some point, but for now, our flights aren't there yet.
So even with all the precautions (wearing masks, keeping our distances, and washing our hands), I still managed to catch it somehow. Would we have caught this by staying in our apartment in Bangkok and not going out? We'll never know, but we still think it's better to be in our own country in times like these. For example, Spain closed all its hotels and Airbnbs, and this could happen anywhere, so we could have been on the street in Bangkok with no means of coming back because flights are now very hard to find.
The Symptoms
As I mentioned earlier, my initial symptoms (day 1) were really mild. A light cough and light fever at night.
The next day (day 2) was another story. Body aches, headaches, fever, light cough, no energy, and I slept most of the day.
Today (day 3) was a bit better. I still woke up with body aches and a headache but then slept the whole morning and woke up feeling better. I lost my sense of smell though.
I usually almost never get sick, but from recent memory, this is far worse than any flu I've had. So even if you're young like me and assume you'll only get mild symptoms, don't. They can also be pretty bad, at least in my case.
It is also very easy to catch the virus, so follow the guidelines so we can all get through this quicker! I hope my case can help you realize why we recommended not to travel (and not to even go anywhere at all, as much as possible) and comply with your local authorities' recommendations on the matter: we need to make sure to flatten the curve so our healthcare system isn't overwhelmed.
Want to get all our upcoming coronavirus resources for Canadian travelers?
Summary
After a year-and-a-half around the world trip, my latest travel experience was being infected by the coronavirus after returning to Canada because of the coronavirus pandemic. This is a virus that can easily be caught, so be careful!
Do you have any questions about what it's like to be infected by the coronavirus? Ask us in the comments below!
Want to see our current discounted plane tickets?
Click here to see our flight deals
Want more travel tips and inspiration?
Click here to see the blog homepage
You'll probably enjoy this article:
Travel Hacking: Free Travel (really)
Help us spread the word about our flight deals and travel tips by sharing this article and, most importantly, bookmark Flytrippers so we can help you navigate the world of low-cost travel!
Advertiser Disclosure: Flytrippers receives a commission on links featured in this blog post. We appreciate it if you use them, especially given it never costs you anything more to do so, and we thank you for supporting the site and making it possible for us to keep finding the best travel deals and content for you. In the interest of transparency, know that we will NEVER recommend a product or service we do not believe in or that we do not use ourselves, as our reputation and credibility is worth far more than any commission. This principle is an essential and non-negotiable part of all our partnerships: we will never give any third-party any control whatsoever on our content. For more information on our advertiser disclosure, click here.
Share this post to help us help more people travel more for less: