As Flytrippers continues to monitor every development in the world of travel that Canadians need to know about, here are a few noteworthy stories from the past week that will help you whenever you are ready to travel.
We've excluded hotel news, since this week we'll have a standalone post about great hotel promos for those of you who will be traveling this fall, even if it just to somewhere nearby.
1. WestJet now refunding for EU flights
After finally giving out refunds for US flights, WestJet is now doing so for EU flights.
This is absolutely not surprising, as we told you since March that there is absolutely no grey area and by law, airlines owe you refunds (not credits or vouchers) for the flights they canceled to the US and EU. Even if they are not a US or EU airline (and even if they are lying to you and saying they don't have to).
Some airlines are still illegally refusing to do so (Air Canada for example, and Air Transat for Europe), but that doesn't change the fact that the regulations are very clear. For other destinations, it's still indefensible, but it's slightly less certainly illegal than 100% illegal with the US and EU (we'll talk more about this again soon).
It's understandable that airlines all tried to get away with it given their situation, but it doesn't make it right. And what is not understandable and not right is the government's inaction.
Anyway, to all those who are now (unwillingly and involuntarily) in the business of providing unsecured loans to multi-billion dollar corporations (aka those who have credits/vouchers), Flytrippers will soon offer a new way to help you.
Our previous attempt was rendered impossible since almost no one wanted to pay for the service of getting refund assistance that required a bigger time investment on our part for each case (it's okay, we get it: we prefer keeping our money too, that's actually why we launched this website to help you travel for less!)
That said, we're working on something a bit different that will still help you get your refund. Stay tuned!
2. More travel insurance options
It's now been nearly 2 months since medical travel insurance has been available for Canadians who are ready to travel (which you should only do if you thoroughly consider the 15 factors in our ultimate guide, which will be updated soon by the way).
To be honest, I'm not sure why so many people keep bringing insurance up as a factor in the decision to travel, specifically the fact that "only a few insurers are available". Who cares if there aren't many, really?
You only need one insurer, so it doesn't seem all that relevant that others don't offer it. It's available; problem solved. It's not free like it is normally for most people thanks to travel credit cards with free insurance, but it's not expensive enough to make you completely reconsider your travel budget, at least in most cases.
READ ALSO: The card with medical travel insurance for those with income under $60,000
Maybe many wanted more options because only the medical portion was covered with some insurers, so this week's news is great on that front (not to mention that obviously having more options is always better, even if the previously-available insurers already made it possible to travel for most Canadians ready to do so).
What is the news?
The largest travel insurance provider in Canada, Manulife, will now be joining the 3 other insurers available for Canadians, and they will not only be offering the medical portion: some trip interruption insurance coverage will be included as well.
It won't be available until October, so we'll cover the details in a detailed post soon. But this is obviously a very positive development for travelers.
3. Airline-provided travel insurance
In addition to the 4 insurance providers, there is actually more good news. Air Canada and WestJet now include complimentary COVID-19 medical travel insurance simply by booking a flight.
To be clear: this covers COVID-19 only. So with most credit card coverage being voided by the travel advisory, you should get coverage from the 4 available insurers to be protected financially for every other medical emergency.
The plans from both of our country's 2 largest carriers have limitations, although, on the whole, Air Canada's plan seems more generous. By the way, this is not the only thing to take into consideration, as you saw in point #1 above, WestJet's refund policy is much more generous (and less illegal) than Air Canada's, so there's a host of factors that come in play now.
As opposed to before, when we would always say only one thing matters if you want to travel more: pick the cheapest airline, always. That's worked very well for me for example, allowing me to go on 12 international trips last year, but as we said in our post about traveling to Greece during the pandemic, the planning/booking part of the trip is really the only part of the whole travel experience that has changed negatively and drastically (the next post about our experience in Turkey will be published next weekend).
Anyway, we'll have a detailed post about everything to know about booking flights during the pandemic: flexible booking (change) options, refund policies, and now free insurance included.
In the meantime, here are the basics of the airline-provided travel insurance (we'll have a post to summarize the comparison between Air Canada and WestJet's plans and look at them in greater detail).
Air Canada:
for all roundtrip flights from Canada to international destinations (USA included)
for trips with lengths up to 21 days
no coverage for one-way bookings
no age limit
for bookings from September 17th to October 31st
for flights from now to April 12th, 2021
includes bookings with Aeroplan Miles
for bookings made directly with Air Canada (including codeshares)
must include at least one Air Canada-operated flight
includes coverage for quarantine expenses
countries with "do not travel" (level 4) advisories are excluded
for Canadian residents with valid provincial health insurance
voided if you have been advised not to travel by a physician
$200,000 maximum coverage
underwritten by Manulife
WestJet:
for all flights from Canada to international destinations (USA excluded)
roundtrips: for trips with lengths up to 21 days
one-ways: 7-day coverage
excludes Saskatchewan residents
no age limit
for bookings from September 18th to (no end date specified)
for flights from now to August 31st, 2021
includes bookings with WestJet Dollars and travel credits/vouchers
for bookings made directly with WestJet (including codeshares)
must include at least one WestJet-operated flight
includes coverage for quarantine expenses
countries with "do not travel" (level 4) advisories are excluded
for Canadian residents with valid provincial health insurance
$100,000 maximum coverage
underwritten by TuGo
4. Air Canada's unlimited Flight pass
The idea is very creative and is definitely cool to see: Air Canada is now selling a monthly pass for unlimited flights within Canada.
What is not as cool is how insanely expensive it is, which was to be expected with Air Canada being a premium airline, of course. You'll need to pay $2,000 plus taxes; these vary depending on your province of residence, but it comes out to $2,260 in Ontario and $2,300 in Quebec. It ends September 23rd.
By now you all know that domestic airfares in Canada are among the highest in the developed world, so again: this high price tag is not really surprising. But for reference, ultra low-cost carrier Flair had launched an unlimited 3-month pass for $699 total before the pandemic. Their network and their brand positioning are obviously very different than Air Canada's, but that's still roughly 10 times less than $2,000 per month. Hence the importance of shopping around for your flights and choosing the cheapest airlines.
To give you one last comparison and just make you appreciate the importance of focussing on finding flight deals if you want to travel for less, keep in mind that for that same $2,260 I personally got 3 roundtrips to Europe, 2 roundtrips to Asia, AND a roundtrip to the Middle East. A lot better, right? ($250, $300, $330, $500, $500, $390; all from Montreal and all on regular airlines, except Europe)
Back to Air Canada's pass. If you were going to fly a lot in that month, it could be a good deal, which again is a terrible indictment of how terribly overpriced our flights are, but I doubt many (actually any) of you will be interested, unless you fly for work (let us know in the comments if I'm wrong though, we'd love to know your plans).
The best use of this unlimited flight pass would obviously be to visit the remote areas that are usually even more expensive to fly to, like for example the Territories.
But those still have entry restrictions even for Canadian travelers, so it's not really a possibility. At least not with this deal… but you should definitely keep the next point in mind if you are tempted to visit remote areas of our country like I am.
5. Canadian North flights now bookable online
Flights to remote parts of Northern Canada have long been an amazing "sweet spot" of the Aeroplan program, thanks to the partnership with Canadian North, the dominant carrier in the region.
The downside was that you'd have to call Aeroplan to book over the phone as if it were 1999, since the award space would not show up online.
That is now a thing of the past and Canadian North flights are now bookable online like the vast majority of the 30+ other Aeroplan partners that are currently almost always a better value for your Aeroplan miles than Air Canada (which, by the way, won't really change in many cases once the new Aeroplan program launches in November).
And this can easily save you over $2,000 per flight!
So while this is great news, it's important to mention that you are still probably better off waiting for November to book these flights specifically. We'll soon have a detailed guide with what you need to do before the program relaunch if you're already an Aeroplan member (with which flights to book before the changes) and you can join our live video Q&A on travel rewards points next week, exclusively for those who sign up for our free travel rewards-specific newsletter.
But as a teaser, here's why Canadian North flights are a great use of Aeroplan miles, and incidentally, why variable-value points are far superior to fixed-value points for those who want outsized value and who want to maximize the money they save.
As a Quebecker, the best-known place in the remote northern area of my province is arguably Kuujjuaq, but this works with almost any Northern destination (see below).
Flying to Kuujjuaq (YVP) from Montreal (YUL) is prohibitively expensive. Most dates bought in advance seem to be selling for an exorbitant $2,796 roundtrip.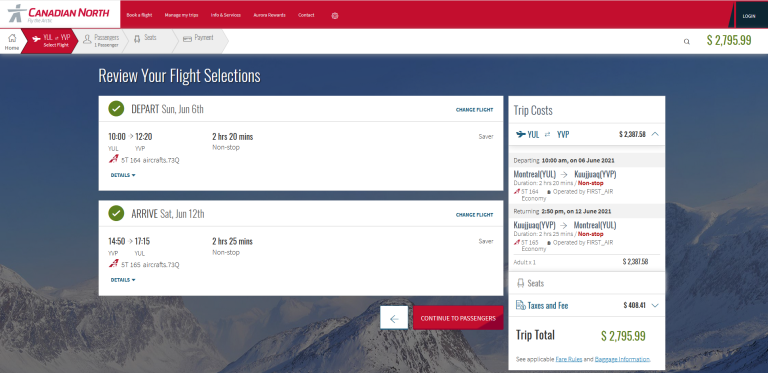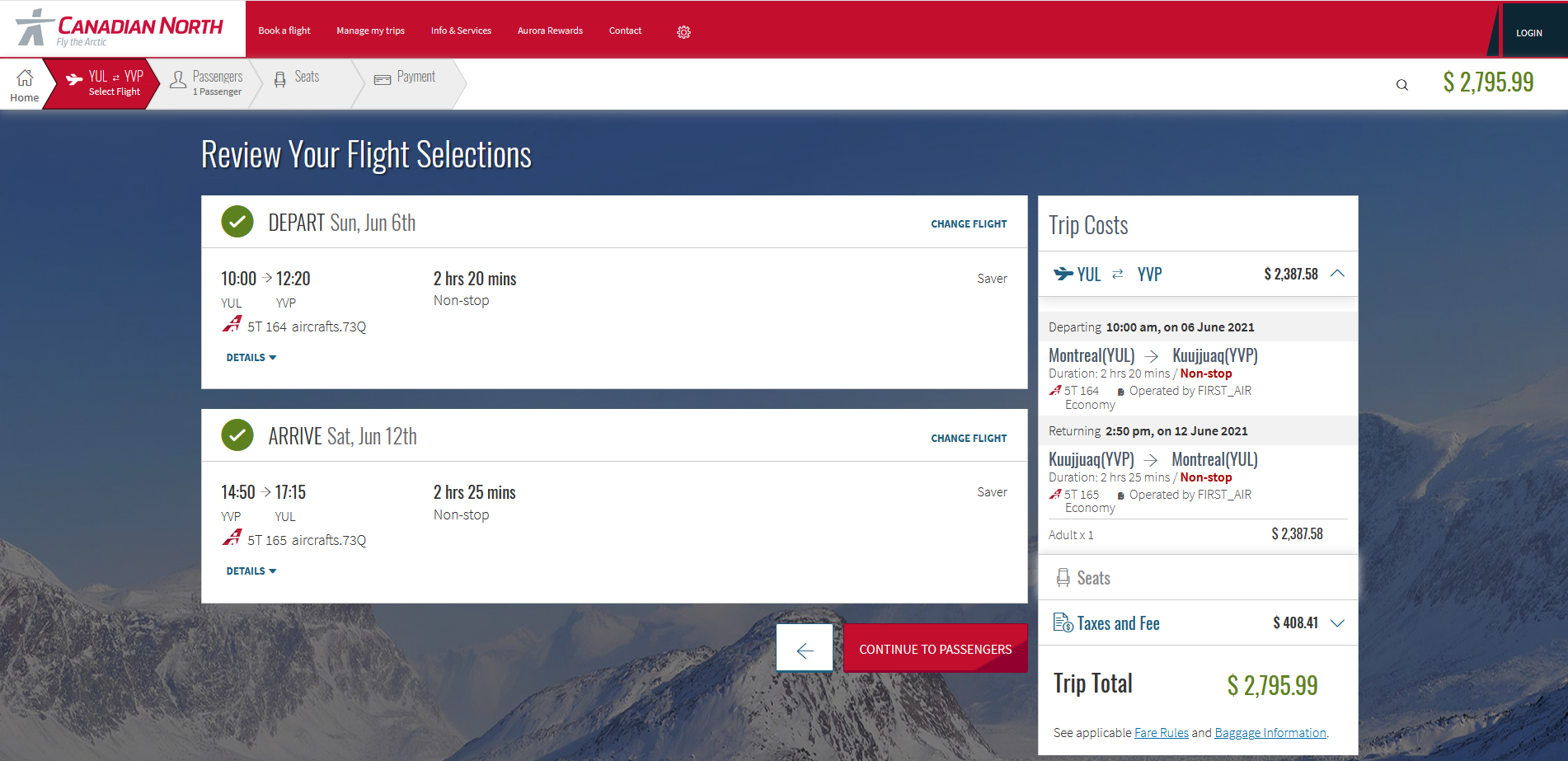 Or you can simply use 15,000 Aeroplan Miles and pay $201 in taxes/surcharges, for an incredible value of 17¢ per point!!!
Yes, you read that correctly. Saving $2,595 with 15,000 miles is 17¢ per point!!! Most bank points are worth 1¢ and our Flytrippers valuation of Aeroplan is 1.5¢ per point, which is already 50% more. But with this particular use, you get 17 times more value than with bank points!

This is why we keep repeating that variable-value points are amazing—and why using your points correctly is very important. Many people use those same 15,000 Aeroplan miles to save ≈$150 for short-haul Air Canada flights that aren't that expensive in cash and should have been purchased in cash (you know that if you've read our 25 myths travel rewards introduction).
Of course, this one is a very niche redemption, but there are plenty that give great value. And this one once again shows you the potential. The other extreme example we gave is for business class seats, that always give you a better value (although they don't help you to travel more, which is our mission here at Flytrippers).
Anyway, if you had cashback points or fixed-value bank points, they are always worth a fixed amount… so to pay for this $2,796 flight, you'd need 279,600 points. You only need 15,000 with Aeroplan thanks to their variable value.
This is what we mean by outsized value. Variable-value points will "save" you so much more, even if you would "saved" the $2,796 in cash anyway with the fixed-value points. With Aeroplan, you are using points worth $225 to save over $2,500. Cashback or fixed-value points can never make you save "more" than their value. That's why if you love good deals, variable-value points are the best.
In short, only variable-value points can give you outsized value, whether it's for this Northern Canada sweet spot or for any other extremely expensive cash flight (for whichever one of these 10 reasons) that will be a great use of points.
That's also another example of how it makes no sense to want to prioritize paying zero dollars instead of prioritizing getting the most value. Would it be better to pay 279,600 points and $0 (because bank points can often cover taxes) or pay 15,000 points and pay $201? Of course not. Again, it's vital to do the math in the world of travel rewards (this particular point is myth #23).
Back to Canadian North, I've always had it on my bucket-list to take advantage of this sweet spot and visit Nothern Canada, and honestly, one of the main reasons I didn't go yet, apart from the fact it's super expensive once you're there, is that the idea of having to book over the phone repulsed me. So I'll probably now be going up North finally!
That said, I will wait after November to book. While that same flight will cost a bit more points due to the new region-distance hybrid pricing model (20,000 points instead of 15,000), there will no longer be any surcharges on any Aeroplan booking. Those are what made most redemptions bad, as most people did not know they could avoid these by choosing the airline partners with no surcharges (which Canadian North is not part of).
So instead of paying $201, you'll save much more than what the 5,000 extra miles are worth by avoiding the $150 surcharge.
In this case, more points is good. What matters is the overall value, that's it.
Kuujjuaq is the only destination in Quebec, but there are many others across the 3 territories.
For other routes, the distance pricing mechanism will change the price even more. You'll even be able to combine an Air Canada positioning flight (at an added cost) if you don't live in Montreal, Ottawa, or Edmonton.
We'll have a lot more about the new Aeroplan program very soon, including some exclusives for those who sign up for our free travel rewards-specific newsletter.
In the meantime, here is Canadian North's full route map if you want to start dreaming of a very-physically-distanced trip in the vast wilderness of Northern Canada as well as the new Aeroplan award chart for North America.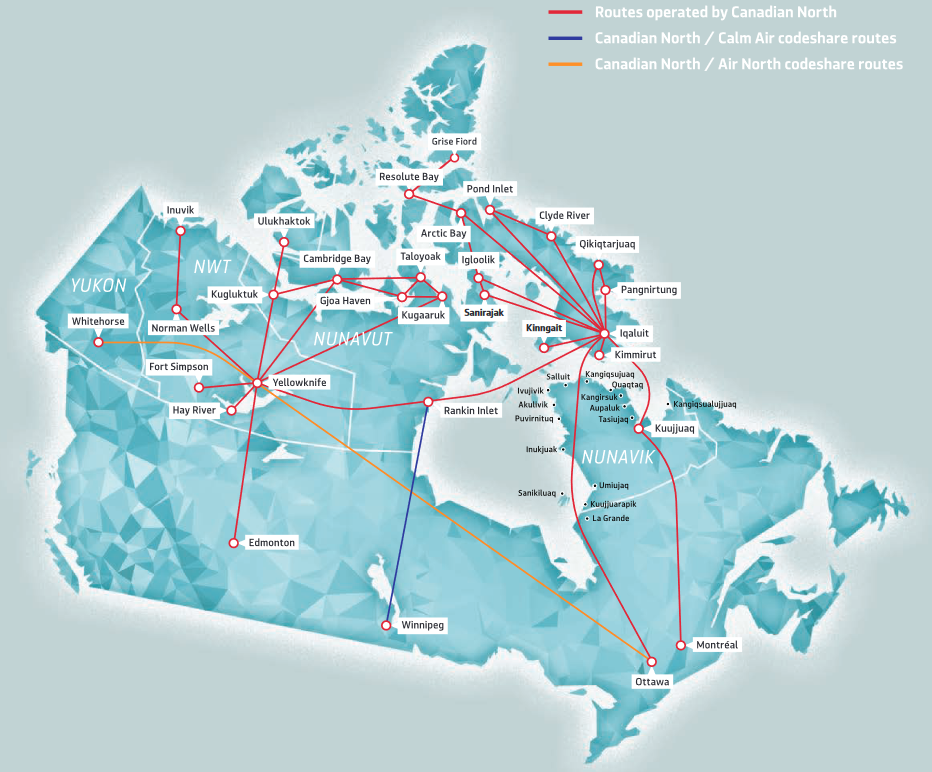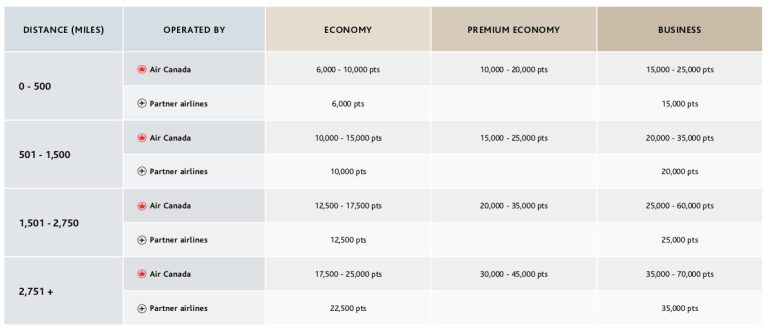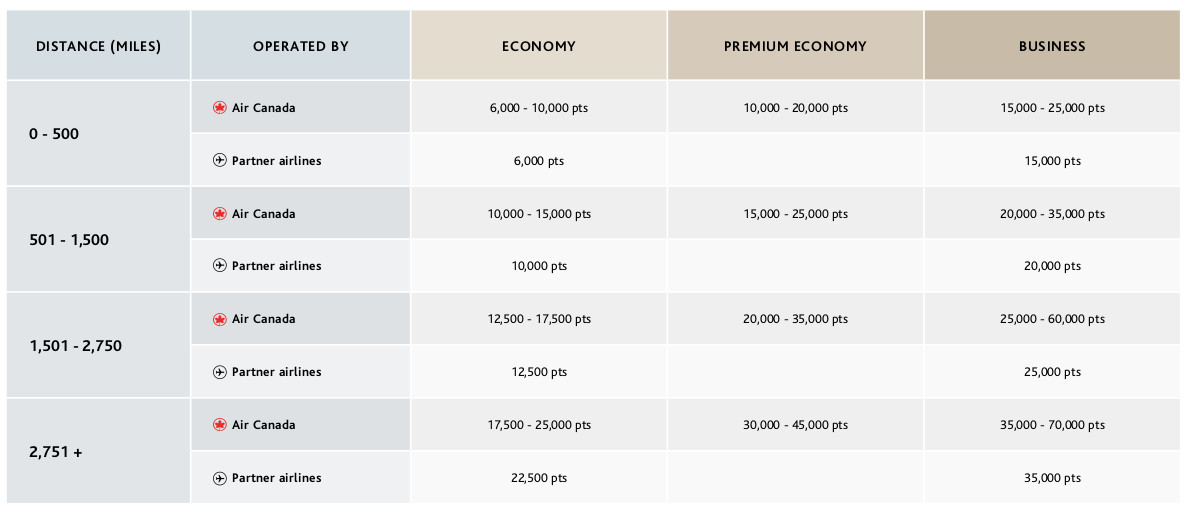 6. Special 10x category bonus on Air Canada
This is a very niche promo, but it is very interesting for those who already have an Aeroplan co-branded credit card (either with AMEX, TD, or CIBC) and fly Air Canada relatively often on tickets paid with cash.
By the way, if you already have Aeroplan credit cards like we do, there will be something very important to consider before the launch of the new offers in November. Subscribe to our free travel rewards-specific newsletter to get our detailed action plan soon.
If you don't have a card, you should definitely wait for November. This is very important.
Anyway, for current card holders, until September 30th, you'll earn a whopping 10 miles per dollar on your Air Canada spending on Aeroplan co-branded cards and you'll get a 15% discount on some fares.
With our Flytrippers valuation of Aeroplan being 1.5¢ per point (although possibly a bit less come November; to be continued), that is like getting a 15% return in terms of points. Add in the 15% discount on base fares, and that is a pretty significant discount, if you were going to buy those tickets anyway. In some cases, that's an earn rate 10 times better than usual.
And with Air Canada currently offering a flexible booking policy, it might even be worth pre-booking future flights speculatively if you don't mind having an Air Canada travel credit if things don't work out… that way, you'll have locked in a 10 miles per dollar earn rate.
You can see the offer for AMEX, TD, or CIBC depending on which product (or products) you have.
7. Air Transat's dire situation
Air Transat is a leisure airline, but it is one of the country's largest airlines nonetheless. While the pandemic has obviously hit every airline in the country pretty hard, Transat is arguably in the worst position.
Not necessarily because their revenue was down 99% for the 2nd quarter, as they entirely shut down for nearly 4 months (as opposed to Air Canada and WestJet who kept operating some flights since they have more business demand for example).
But rather because their pre-pandemic agreement to be purchased by Air Canada limits their ability to solicit outside financing.
Part of the agreement restricts Transat ability to borrow money. We've covered this before, but the market has absolutely no confidence that the deal will go through, at least not at this price: Air Canada has committed to pay $18 per share… but those shares are currently trading for under $5.
Transat executives confirmed this week that the transaction is now uncertain, while announcing a 40% reduction in personnel (2,000 layoffs).
That (and the millions of people worldwide whose livelihoods depend on travel—especially in developing countries) is exsactly why safe and responsible travel needs to resume. Starting with the end of the illogical quarantine rule, as we explained this week.
As we mentioned in our post about a potential airline bailout many months ago, whether you agree with the premise of giving airlines taxpayer money (which should obviously at least be conditional to returning the illegally-confiscated money from canceled flights), the fact remains that Canada is pretty much the only country in the world not to have helped airlines directly.
Combined with some of the strictest travel restriction measures in the developed world… objectively, that's not a great recipe for the Canadian airline industry.
Want to get a monthly email with exclusive content to learn about travel rewards?
Share this post to help us help more people travel more for less: