Finally, the absurd travel shaming is over for good. This week, Flytrippers had just explained why the Canadian government should remove its advisory against all non-essential travel. That's exactly what it did yesterday.
Here are the details.
The advisory to avoid non-essential travel
Since March 2020, the Canadian government recommended avoiding all non-essential travel.
To be clear, that's all it was: A recommendation.
It didn't stop anyone from traveling; traveling was never illegal or even against any rule whatsoever. The advisory did not affect the right to travel at all. The advisory is completely separate from travel requirements.
The travel advisory made sense in March 2020… but it had long since stopped making sense.
The only thing it did now was to show how absurd the decisions related to travel rules are: Canada had reopened its borders to foreigners from any country in the world for non-essential travel for over a month…
… but told Canadians not to go to exactly the same countries from which thousands of non-essential foreign travelers are arriving from.
There was certainly no science in this, it was obvious to those who know the travel business (and have kept some critical thinking skills). Of course, Flytrippers could have done the same as everyone else and lied to you, telling you that everything is logical and that you shouldn't question it.
But we'd rather you know that we're always going to be honest, even if it means upsetting some people who really think that magically, today travel is suddenly less risky or less wrong than it was yesterday just because the government says so.
Advisory removal
Anyway, now it's over.
The government didn't even announce it at all, they just removed the advisory from their website subtly.
The advisory against all non-essential travel no longer exists.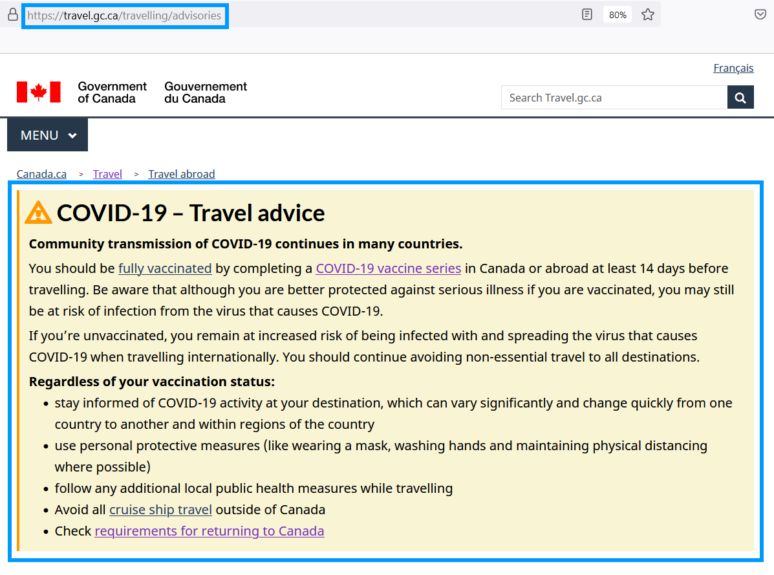 Gone.
But typical of the contradictions, lack of consistency, and mixed messaging… even in his press conference on the same day, where the Prime Minister introduced the travel vaccine passport (article to come, by the way), he didn't even mention the travel advisory.
In fact, worse than that: The page that went live yesterday for the vaccine passport announcement said (and still says) to avoid non-essential travel.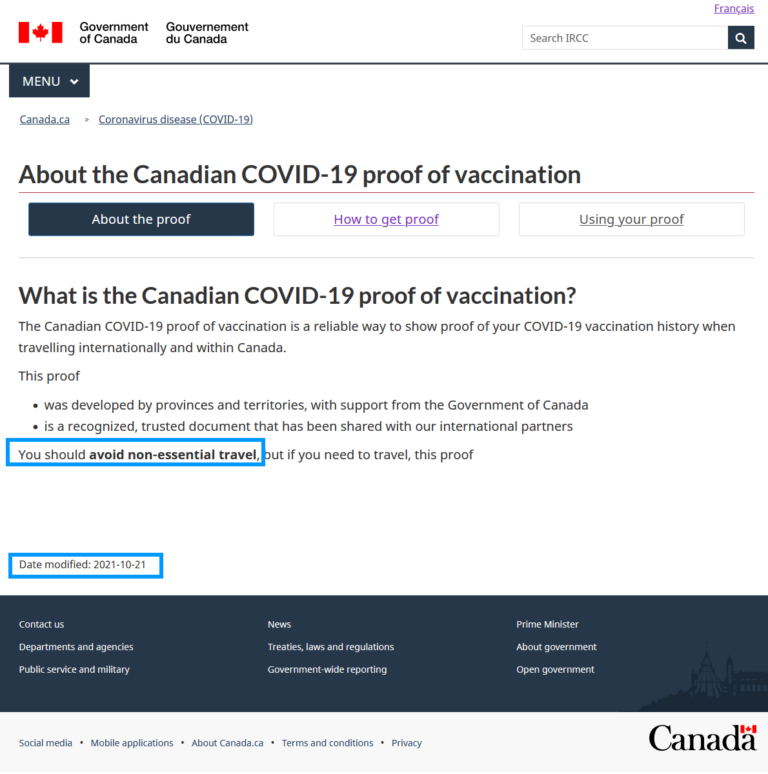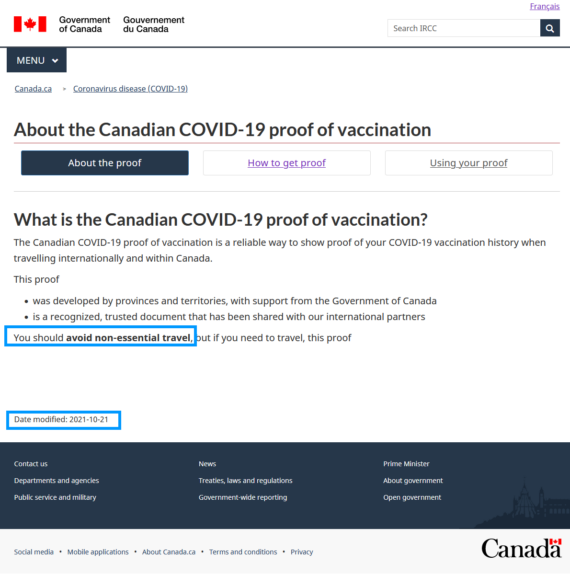 That was in the afternoon; in the evening it's okay to take non-essential trips.
What this means for travelers
In any case, credit where credit is due, especially since it is a rare occurrence: The important thing is that the government has at least finally done the logical thing and removed its advisory against non-essential travel.
Kudos. And thank you.
In any case, Canadians were already well aware of the absurdity.
Recently, we hit the milestone of 100,000 air passengers in a single day in Canada. It was the first time since March 2020 that CATSA had counted that many people at airport security checkpoints.
The "revenge travel" phenomenon, to make up for all the lost travel experiences and memories, can really start in earnest in Canada. It has been going on for a very long time in Europe and even longer in the United States.
If you are ready to travel, Flytrippers will continue to be your resource for all things travel-related.
You can start by reading our ultimate guide to pandemic travel; we can humbly say that we are by far the most knowledgeable experts on what it's like to travel right now. Factually.
Anne-Marie agrees.

We'll keep sharing tips to help you.
Like saving $500 on tests like many of our readers did thanks to us when they came back from the US.
Like earning literally a million dollars like our readers have with the welcome bonuses we recommend; the sooner you start, the sooner you can get your free travel.
In short, there are already 167 countries open to Canadian travelers, including 55 that don't even require a test to enter.
It's definitely time to start planning your next getaway.
Flytrippers is here to make it cheaper for you.
Want to get all our tips about pandemic travel?
Summary
The advisory against non-essential travel that Canada had in place since March 2020 is now a thing of the past, finally.
What would you like to know about pandemic travel? Tell us in the comments below.
See the deals we spot: Cheap flights
Explore awesome destinations: Travel inspiration
Learn pro tricks: Travel tips
Discover free travel: Travel rewards
Featured image: Traveler (photo credit: JacksonDavid)

Advertiser Disclosure: In the interest of transparency, Flytrippers may receive a commission on links featured in this post, at no cost to you. Thank you for using our links to support us for free, we appreciate it! You allow us to keep finding the best travel deals for free and to keep offering interesting content for free. Since we care deeply about our mission to help travelers and our reputation and credibility prevail over everything, we will NEVER recommend a product or service that we do not believe in or that we do not use ourselves, and we will never give any third-party any control whatsoever on our content. For more information on our advertiser disclosure, click here.
Share this post to help us help more people travel more for less: