The card is currently unavailable and will be relaunched February 13th. Come back tomorrow for more information or subscribe to our free newsletter.
Being passionate about low-cost flights and paying as little as possible for airfare, the idea of paying a $699 fee to get a credit card seemed contradictory at first. But what if I told you that you actually make a profit by paying for this card?
Yes, actually I'm not crazy and I'd actually be crazy NOT to have gotten this card, the American Express Platinum card, given the fact I travel quite a bit. I do want to share with you the reason behind this deal because I sincerely believe if you too plan to travel a few times, it's definitely worth considering.
You just have to get over the psychological barrier of forking out $699 for a credit card, because once you look at it objectively, it's very profitable (for those who travel a bit).
Why is it logical to pay as much for a credit card? Essentially because the card automatically gives you more than $699 in rewards in the first year. I don't really care about the prestige factor, the fact it is the most expensive credit card in Canada or most of the numerous perks, although some surely care about those.
My reasoning is much more elementary: the card is a profitable investment. You turn a profit by getting this card. And the most important perk that comes with the card is unlimited access to over 1,000 VIP airport lounges for free, making every travel experience so much better.
Be sure to read our Intro to Travel Hacking and our 10 Rules About Travel Hacking Credit Cards before starting this very interesting hobby that gives you great travel perks.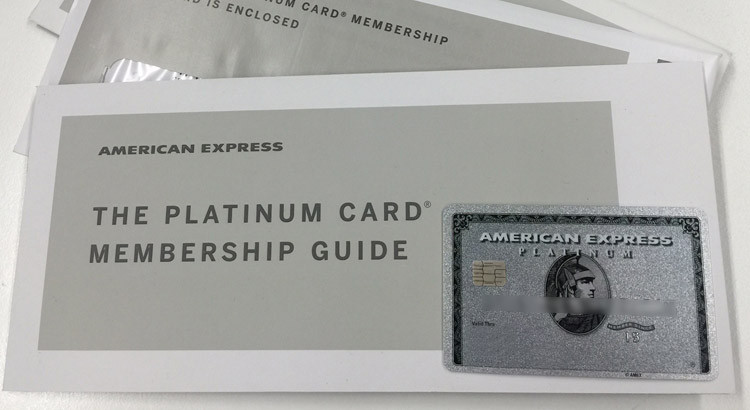 So, here's why you should pay $699 for a credit card…
1. You make at least a $200 profit in year one
The welcome bonus of 50,000 points is exchangeable for at least $500 worth of travel. I say at least, because with tips and a bit of effort, you could actually get as much as $900 of value out of those points, but we'll be really conservative and count those points at its minimum guaranteed face value of $500.
On top of that, as an American Express Platinum member, you also get an annual travel credit of $200. The beautiful thing about that is that you get one of those every calendar year. So if you order the card today, you get $200 to use before the end of 2018, and for the same one single annual fee payment, you'll get another $200 credit at the beginning of 2019 for a total of $400 in travel credits before the renewal of the card.
So, bottom line, you pay $699 but get $500 + $200 + $200, for a total of $900 at the very least. In my book, that is a smart investment, since $900 is more than $699.
2. Your airport visits will be infinitely more enjoyable
Free access to over 1,000 airport lounges is an incredible perk. These VIP lounges are normally reserved for First Class and Business Class passengers only, on select airlines only. With the AMEX card, you get access to a lounge in almost every airport in the world, regardless of who you are flying with and what type of ticket you have. This is a great (free) way to "compensate" for using Ultra Low-Cost Carriers and making the entire air travel experience as good, no actually even better, than if you would use regular airlines, thanks to the perks of lounge access.
What are those perks? Well for starters, lounges offer free food, free drinks, free snacks, comfortable seating, premium wifi, workstations, a selection of papers and magazines and in some cases, there are even showers. But most importantly, lounges are a quiet restful spaces way more pleasant than the sometimes chaotic and always noisy gate areas or common public spaces in airports.
3. Elite Status at Hotels
I must admit, when I first got the card myself, I didn't think much of the Elite Status perk. That's because I had never had Elite Status anywhere. Now, I can honestly say this is pretty amazing.
So just by getting this card, you automatically become Gold Elite at all Hilton, Marriott, Starwood and Carlson hotels. That's dozens of banners, from very luxurious hotels to very budget-friendly options.
Another card to consider, if you prefer not having to pay a steep annual fee, is the American Express Gold. For only $150 it gives you 30,000 miles at signup.
4. Great perks
There are a ton of other perks… most importantly, you get great free insurance coverage with this card.
If your flight is delayed, you get a whopping $1,000 to spend on hotels and meals completely free when you pay for your ticket with the Platinum card.
You also are covered with a medical travel insurance plan for free for the first 15 days of all your trips. You get free car rental insurance so you can decline that option in Canada and the US.
You get exclusive invites to pre-sales of the best music concerts and other events. You gain access to the Platinum dining program. You get a free emergency medical assistance phone line for Platinum members.
You gain access to a free Platinum concierge line to help you with basically anything. You get free valet parking at Toronto Pearson.
And sooooooo much more.
(Back Feb. 13th) Click here to get the card! (our referral link gives you 50,000 Points and supports Flytrippers, thanks!)
What do you think of this offer? Tell us in the comments below!
Help us spread the word about our flight deals and travel tips by sharing this article and most importantly bookmark Flytrippers so we can help you navigate the world of low-cost travel!
Advertiser Disclosure: Flytrippers receives a commission on links featured in this blog post. We appreciate if you use them, especially given it never costs you anything more to do so, and we thank you for supporting the site and making it possible for us to keep finding the best travel deals and content for you. In the interest of transparency, know that we will NEVER recommend a product or service we do not believe in or that we do not use ourselves, as our reputation and credibility is worth far more than any commission. This principle is an essential and non-negotiable part of all our partnerships: we will never give any third party any control whatsoever on our content. For more information on our advertiser disclosure, click here.
Travel Hacking Disclaimer: Flytrippers does not give financial advice. You should ensure travel hacking fits your personal situation and obtain professional advice if you so desire. Flytrippers may receive a commission for referrals, however our policy is to only recommend products or services we really believe in (and have ourselves). To read more on our disclaimer, click here.