Yes: in addition to giving you unlimited free access to 1400+ airport lounges (for you and 1 guest), you even get ≈ $1211 in
net value

with the welcome bonus rewards alone. Phenomenal! It's by far the highest offer among the many incredible offers out there right now. And it's the best card for frequent travelers — it's a card I have myself of course and one I absolutely recommend, especially since this is the best time to get it with its awesome increased offer expiring very soon.

But even though it's one of the best deals ever seen in Canada (all cards considered), it's not for everyone.

In addition to this one, there are plenty of crazy deals that are for all travelers and you should absolutely take advantage of one of those before they expire next week… and almost all of them aren't deals on ultra-premium cards (unlike the one I'm presenting here).

But if you want the best card for airport lounge access, the Platinum Card from American Express is definitely the one you need.

And before you overreact to the card's fee, keep an open mind and at least check out the infographic I show you in the 1st section below so you don't miss out on one of the greatest opportunities to catch up faster to our Flytrippers readers who have now earned over 1 million dollars in travel rewards just with our welcome bonus recommendations!

Here's the video version of the Amex Platinum Card deal summary if you prefer that format.

I'm trying a more simplified article to explain this deal to you this time.
Why it's NOT wanting to pay the fee that is the absurd position
Here's a more logical way to put the offer in perspective.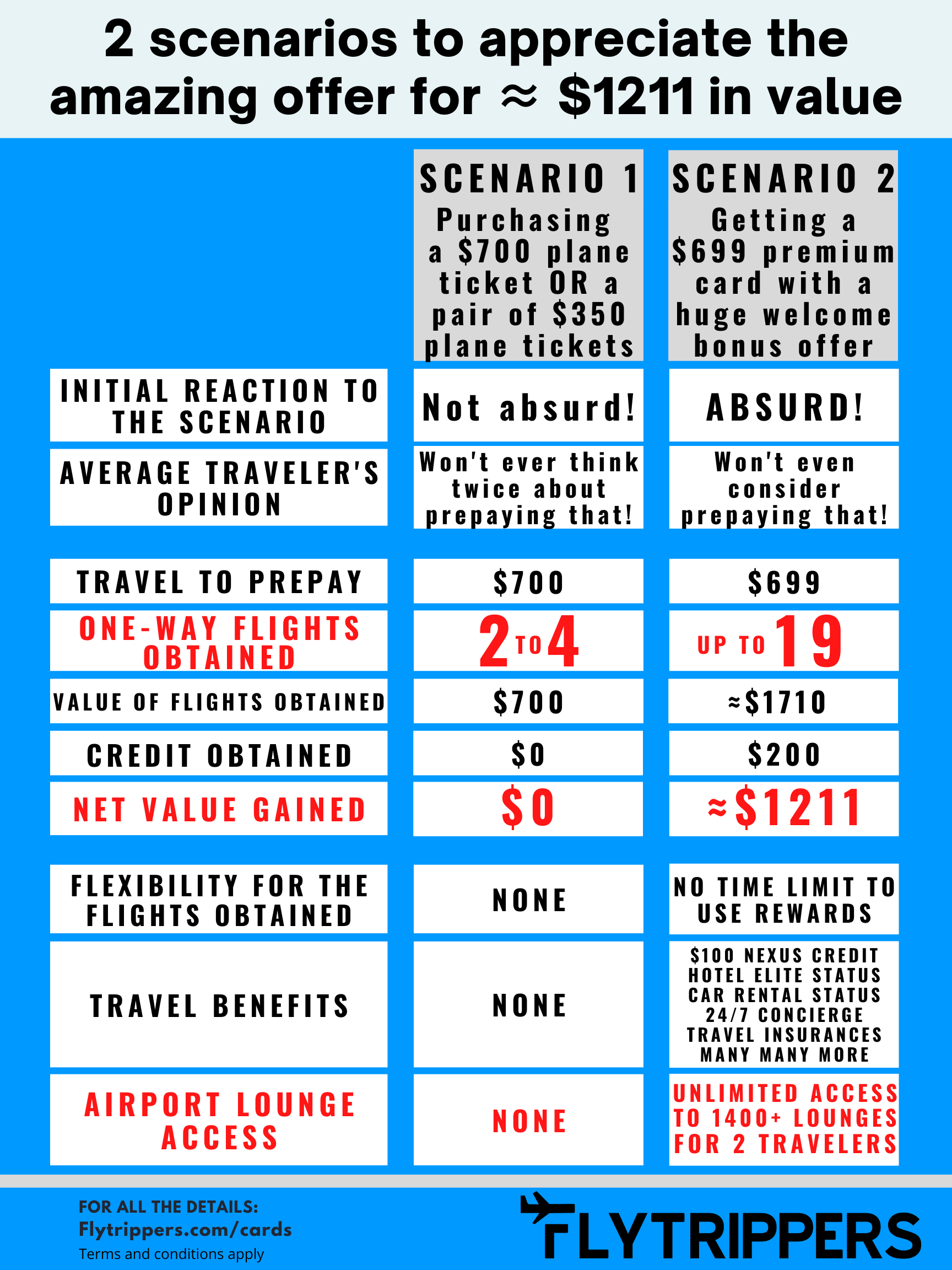 It makes no sense to not want to do scenario 2 when you've almost certainly already done scenario 1.
Yes, the Amex Platinum Card is an ultra-premium card that costs $699… but just with the welcome bonus, it gives you ≈ $1910 in rewards!!! That gives you a Flytrippers Valuation of ≈ $1211 (our Valuation is always the net value)!
Paying $699 is exactly the same as prepaying $699 in plane tickets like you've done plenty of times before: you're also prepaying for future travel.
But instead of getting just 2 or 4 one-way tickets for your $699 (and absolutely nothing else), with this deal you get:
Up to 19 one-way reward flights

≈ $1710 off flights
or even more; the points' value is literally unlimited

$200 to reduce the fee to a net of $499 instead of $699

"travel" credit offered to offset the fee
it can be cashed out as early as day 1 with our tip

unlimited airport lounge access for you and 1 guest

for your entire year
starts on day 1 (it's unrelated to the welcome bonus)
the most generous lounge access available

many other luxury benefits

Gold Elite status at Marriott and Hilton
$100 for a free NEXUS card to avoid many lines (and a 2nd discounted one)
exceptional travel insurance
metal card that is a status symbol
24/7 concierge
and a lot more

the flexibility to choose your flights later

no time limit to use points
it's the bonus deal that expires on September 20th
Honestly, it's normal that your initial reflex is to think that paying $699 for a card is absurd. Very, very normal.
But it's just not a rational reaction when you take the time to properly analyze the Amex Platinum Card and its fabulous offer.
It's NOT wanting to prepay $699 that's absurd when you look at how much more it gives you than the $699 tickets you've already prepaid before without ever hesitating for even a second.
We keep telling you: travel rewards are extremely counter-intuitive!
By the way, if you want to learn the basics of the best way to use this card's points, our last free webinar before the record offers expire is live this Monday night. We'll also answer all the questions at the end if you want to learn more about the Amex Platinum Card deal or anything else.
You can also email me directly with your question if you prefer (we have a backlog due to the excitement around these great offers, but we're on track to get everyone an answer before the record offers' deadline)!
Why many travelers can't take advantage of it
So if you know how to do math, the fee alone is not a good reason not to get the Amex Platinum Card. And like all cards issued by American Express, there's no minimum income requirement.
But there's another major detail with this deal.
All good card deals come with a welcome bonus (that's the key to travel rewards). It's "spend $1500 in the first 3 months, get a welcome bonus worth hundreds of dollars" or something similar.
Because the Amex Platinum Card's welcome bonus is so high, the minimum spend required to unlock is higher than usual too: $6000 in 3 months.
This can be an obstacle for many, despite our 5 tips to reach the minimum amounts.
If it's too high for you, there are 5 other cards that give big welcome bonuses that require less spending:
The Amex Gold Card is the only one of these with access to airport lounges — and it's very limited. Other cards have more lounge passes, but with much lower welcome bonuses: it's makes every lounge pass expensive if you lose hundreds of dollars in rewards to get them.
You're better off taking advantage of one of these 5 record-high offers now and getting one with lounge access for your next one!
(Oh yes, having more cards is better for your credit score contrary to the very common and very wrong myth — as long as you also follow basics #2 and #4 obviously!)
Anyway, we did a detailed head-to-head comparison between the top 2 non-premium cards if you're more interested in those than in the Amex Platinum Card.
By the way, we're going to have more content on all of these offers throughout this last blitz before the record deals end: getting you to take advantage of these huge bonuses is really vital to our mission of helping you travel more for less!
How the deal works
To get all the details on the deal, we have 2 ways,
Our resource page for the Amex Platinum Card has a bunch of tabs you can open based on the info you want.
It explains the somewhat special structure of the welcome bonus (it's actually 2 separate bonuses) and everything else too, like the details on how to use the points and all the many benefits of the card!
In addition to that page, if you are new to this world, it's very, very important to avoid common mistakes.
And even if you're not new, for anyone who wants to maximize their Amex Platinum Card, you must download our free 30-page how-to guide on the card! Everything is in there!
How to maximize your Amex points will be the next guide for all of the thousands of you who've already taken advantage of these amazing deals, even though you already have an intro in the resource page.
How the airport lounge access works
Really all the details are in those 2 resources, but since unlimited airport lounge access is by far the best benefit of the Amex Platinum Card, I'm going to highlight just that one here.
This access is really wonderful, which is what makes it my favorite one of my many many cards.
In fact, instead of repeating everything about how this benefit works, I invite you to read our introductory article on free airport lounge access which explains how the Amex Platinum Card's access works.
You'll also be able to compare it to the very different access that comes with the other ultra-premium card also offering ≈ $1000+ right now. That card is less appealing for the vast majority of travelers (but can be better if you often travel in Canada and the US only and on Air Canada or United only).
We did a detailed head-to-head comparison between the 2 best ultra-premium cards as well, just for those who travel a lot in North America.
Want to get more content to learn how to earn free travel?
Summary
The Amex Platinum Card is the best card for frequent travelers, because it's the best card for free airport lounge access. It has the best offer in Canada right now and it's even one of the best ever seen in Canada. So it's the best time to get it with this increased welcome bonus that ends on September 20.
What would you like to know about the Amex Platinum Card? Tell us in the comments below.
See the deals we spot: Cheap flights
Explore awesome destinations: Travel inspiration
Learn pro tricks: Travel tips
Discover free travel: Travel rewards
Featured image: Air France Lounge in Montreal (photo credit: Andrew D'Amours/Flytrippers)
Share this post to help us help more people travel more for less: