The Canada-USA border closure has another loophole, and some Americans have taken advantage of it to do some sightseeing in Banff, even though they are definitely not allowed to.
As we've said before, it's not time to travel yet, even within Canada… but it sure looks like it will be very soon. At least we hope.
For us Canadians that is. Not for Americans. This week, PM Trudeau indicated that Canada's borders might not be reopening to international travelers soon. And even the European Union, which is supposed to reopen in July, is strongly considering excluding Americans (but it's still looking good for us, and the situation is a lot better in Europe).
Anyway, here's how Americans are circumventing our current Canadian entry restrictions… and a teaser about our update on future travel.
Canada-USA border closure reminder
We've covered the Canada-USA border closure in great detail, and it has been extended to July 21st at least. Keep in mind that Canada's border closure only applies to non-Canadians and doesn't affect us Canadians (just like Americans are always allowed to enter the US too).
But last week, we told you that even though you probably shouldn't, the fact is there is a "loophole" for us Canadians to enter the USA: there is no entry restriction whatsoever if you fly into the country.
We also told you that that didn't apply the other way around and that Americans aren't allowed to enter Canada, no matter whether it is by plane or overland.
The "Alaska loophole" for Americans
It turns out there is an exception for them too: Americans are allowed to drive through Canada to make their way to Alaska, since the State is obviously not connected by road directly to the rest of the USA.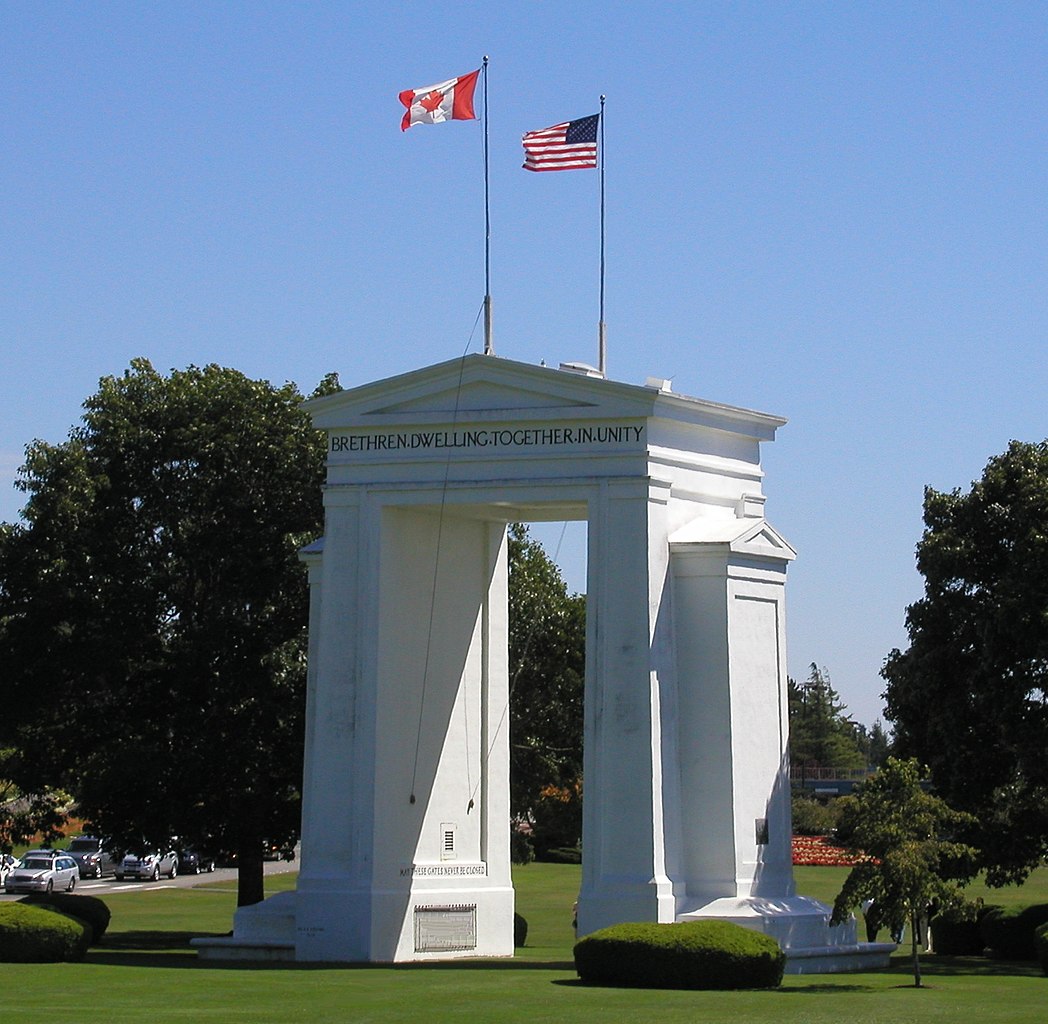 CBC is reporting that many Banff residents have complained to the RCMP after seeing Americans who took a detour to sightsee in the beautiful Canadian Rockies and were therefore not abiding by the 14-day mandatory quarantine for anyone entering the country (or by the conditions of their entry, that allows them only to drive straight to Alaska).
Thankfully, the RCMP has at least been giving out substantial fines, to the tune of $1,200 for those unallowed travelers who've been caught. But since they only issued 7 tickets in total, it's safe to say that many are probably escaping these controls.
It's not clear whether this is very widespread, but the federal government does not plan to put some type of other measures in place to keep other Americans from doing the same thing by using the "Alaska loophole". Transport Minister Marc Garneau said: "We're largely satisfied that most people follow the requirements that are put in place".
The Maritimes example
One similar situation is in the Maritimes. New Brunswick and Prince Edward Island have closed their borders, but both are allowing Quebeckers to drive through their province to reach the ferry that will carry them to the Magdalen Islands, which are part of Quebec but not reachable by any other roads/ferries (and are a popular summer destination).
However, Quebeckers are required to show proof of a ferry reservation to be allowed through and aren't allowed to stop other than for gas and food (no overnight stays).
And even that is worrying many residents, considering the coronavirus numbers in Quebec, by far the worst in Canada (despite the tallies being done differently, as that isn't enough to explain having 64% of all deaths for only 23% of the population… or having 54% of cases, which are counted the same).
That said, it's not like the same could be asked of Americans driving to Alaska, since it's a 34-hour drive across Canada at the very least.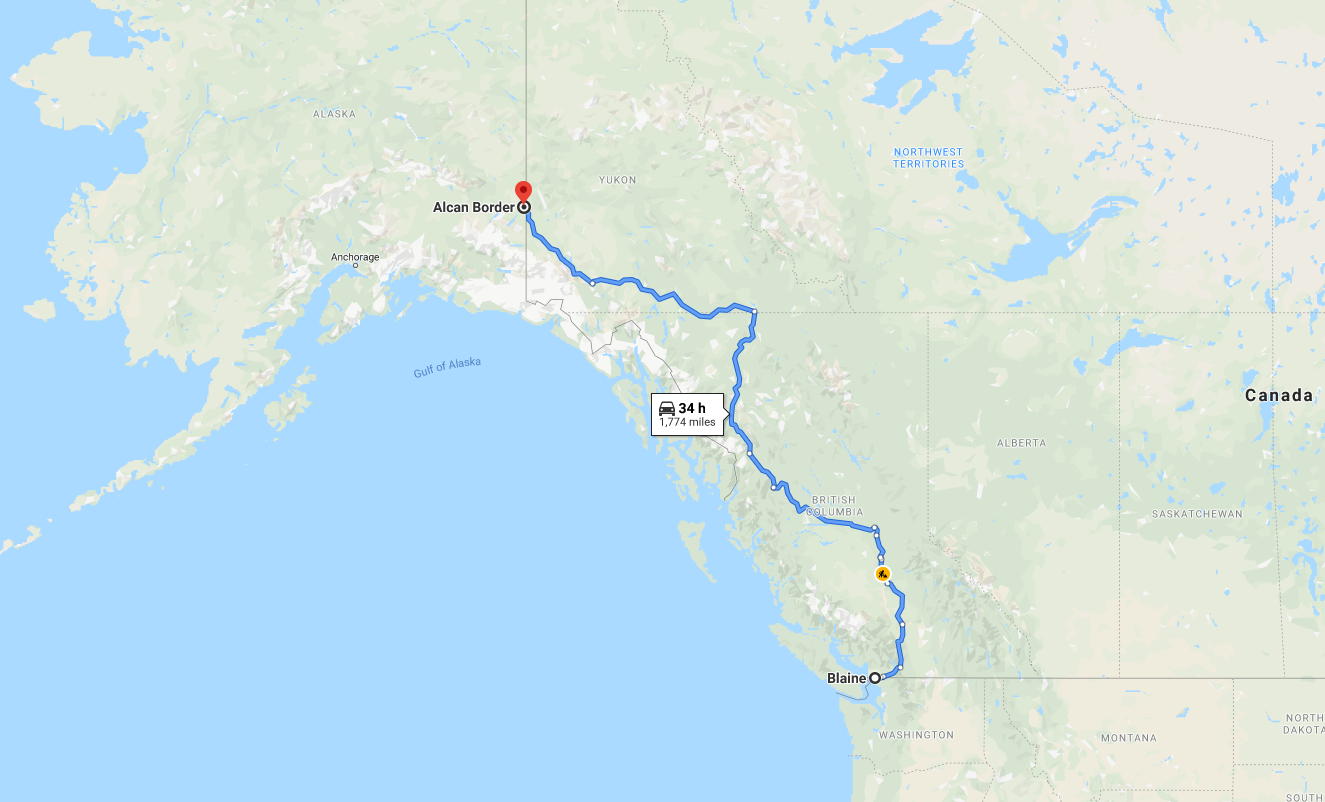 And Americans driving through Canada on their way to Alaska are supposed to be doing so for essential reasons, so they might not have a hotel booking in Alaska or any other type of proof to show.
Our own upcoming trip to Alaska… and to Banff? (our future travel outlook)
As I mentioned in our recent article about the bus from the "Into The Wild" bus being removed from its remote location in Alaska by a helicopter, Flytrippers' other cofounder Kevin and I have plane tickets to Alaska for November (we are scheduled to fly from Vanuatu in the South Pacific to Alaska… as one does).
This was booked pre-pandemic, and it is separate from the other trip we'll almost certainly book speculatively to the Canadian Territories in October to take advantage of Aeroplan's amazing 50% off promo… we'll hope travel restrictions are lifted in the Yukon and NWT.
But that's very far away and there's no point in speculating this early… I'd rather talk about the most pressing issue for many travelers: summer travel.
Summer travel
For those who do want to travel, there have been recent developments, with PM Trudeau's June 22nd press conference somewhat crushing the travel industry's hopes of travel restrictions being eased sooner rather than later (while many countries are reopening to travelers).
For us travelers though, the fact of the matter is that we don't need Canada to reopen to be able to travel, even internationally. We obviously just need other countries to reopen to us to determine if we can travel. Then, all that's left is deciding if we should travel—but whether Canada's borders are open or not isn't one of the factors that matter.
Given that there are plenty of indications of countries reopening to Canadians in July (and some countries have even already reopened to Canadians), we remain optimistic that Flytrippers will be able to recommend traveling at some point in July. But only if it is responsible to do so at that time, of course. For those who do want to travel.
We need to wait and see the facts, whether it is to say that we should or should not travel—and the facts change quickly.
One thing that sure helps, is that most Canadians are insured for all hospitalizations by default all across Canada. That gives you many potential travel options in our vast and beautiful country. For those who aren't interested in visiting places nearby, at least not for a full week, when time off from work is so rare and the world is so big.
And for those who want to travel internationally, we've found an insurer that will cover all non-coronavirus travel medical issues and accidents, so that is a great relief, at least for those who aren't at risk for complications if infected. More on that soon.
The trip we are considering now
As we've said from the start, deciding to travel will be a very personal decision that depends on everyone's own situation.
But we certainly shouldn't shame those who decide to travel (and follow the guidelines that make it safe) just as we shouldn't shame those who prefer to wait (as that is perfectly understandable too).
We'll have a very thorough guide with all the factors you should consider. In the meantime, even if it's not quite yet time to travel, we'll soon share:
a teaser about why you should want to travel soon (it has been surprising to us that some travelers don't even want to, regardless of how the situation evolves)
an update on our outlook on summer travel with the most recent facts
our summer travel survey results that will tell you what your fellow travelers think about traveling soon
the details about the first trip we're finally considering
Yes, for the first time since the pandemic started, we're at least considering traveling. As travelers, we honestly are extremely looking forward to traveling again ourselves. We've never been this long without traveling since we started Flytrippers (I just hit 100 days since my last flight yesterday).
We are looking into going on a trip from Quebec to Banff in July, to go see for ourselves and share with you how the entire travel experience (airports/airplanes/car rentals/hotels/attractions/etc.) is right now, since that is kind of why Flytrippers exists: to inform you and help you travel.
This is important now more than ever.
This trip is obviously dependent on how the situation evolves (recommending travel from outside the province is the next step in Alberta's reopening), it's like everything else: no matter what, we'll only recommend traveling once we believe it's the right thing to do.
But it's VERY important to be ready and start planning, because if you don't and travel is recommended soon, you won't be ready… and you'll sadly be stuck going somewhere nearby.
Want to learn more about how to travel again, whenever that is for you?
Summary
Americans driving through Canada to get to Alaska have been caught sightseeing, which they are not allowed to do. It's not clear whether many have been doing this, but only 7 tickets have been issued by the RCMP.
What do you think of this loophole, border restrictions, or future travel? Tell us in the comments below.
Explore awesome destinations: travel inspiration
Learn pro tricks: travel tips
Discover free travel: travel rewards
Featured image: Banff, Alberta (photo credit: Andy Holmes)

Advertiser Disclosure: In the interest of transparency, Flytrippers may receive a commission on links featured in this post, at no cost to you. Thank you for using our links to support us for free, we appreciate it! You allow us to keep finding the best travel deals for free and to keep offering interesting content for free. Since we care deeply about our mission to help travelers and our reputation and credibility prevail over everything, we will NEVER recommend a product or service that we do not believe in or that we do not use ourselves, and we will never give any third-party any control whatsoever on our content. For more information on our advertiser disclosure, click here.
Share this post to help us help more people travel more for less: