Update: more insurers now offer COVID-19 medical travel insurance, we'll update this post shortly.
Two insurers have announced that their medical travel insurance plans will now cover COVID-19, despite Canada's travel advisory (and we've added a third one). This is amazing news for those who prefer international travel—and something we told you would happen more quickly than what many pessimists wanted you to believe (we've seen so many people say that insurance wouldn't be available for months, based on nothing factual at all).
Last week, after 4 months of advising everyone not to travel, Flytrippers gave an update and recommended safe and responsible travel within Canada, if it makes sense in your situation.
For international travel… one of the biggest hurdles is now a thing of the past: COVID-19 medical travel insurance is finally available.
COVID-19 medical travel insurance basics
This is very recent news so we'll go over it very quickly and we'll then give you a lot more info soon when we publish our upcoming ultimate guide to travel insurance (sign up for our free newsletter to never miss a thing).
There are a few conditions of course, which I'll detail below… but the most important thing is that you'll be covered if you get sick from COVID-19 on a trip. This is great news as it at least gives you options, as Canadians were among the only ones who couldn't get COVID-19 insurance.
As of now, two insurers have announced that COVID-19 is included in medical travel insurance coverage:
There is also one international insurer available for Canadians that covers COVID-19:
Let's first focus on Blue Cross, since they graciously provided many details on this exciting development when Flytrippers reached out.
Blue Cross COVID-19 Coverage
This is for Quebec and Ontario residents, but Blue Cross might still be an option if you live elsewhere (see section below).
There are 4 important notes about the Blue Cross COVID-19 coverage:
you must not have COVID-19 symptoms before leaving
all trips are covered (essential and non-essential)
COVID-19 is only covered for the medical portion (not trip cancelation/interruption insurance)
prices have not increased
1. Pre-existing symptoms
That first one is pretty straightforward. If you did not show signs or symptoms of COVID-19 before you left on your trip, you are covered during your trip. If you have symptoms, please self-isolate and don't travel.
So you are covered, but they do add a warning. As insurers, they are mentioning it in the spirit of making sure you consider all the risks. They specify that given the pandemic and uncertainty "their assistance service may be limited in the means to help people in emergency situations abroad" and also want you to understand that there is a "possibility of limited medical resources at your destination".
Which makes sense and is very reasonable, this is an unpredictable and unusual situation. With this coverage, we would personally absolutely be comfortable traveling to safer countries insurance-wise, but just like the decision to travel, it is your own responsibility to consider all aspects.
In our personal opinion, that warning would especially be for extremely hard-hit or remote areas, or in the case where the situation was to degenerate badly. That is certainly a possibility, so it's good to keep in mind when you make your personal decision. There will always be some level of risk, but the risk surely isn't the same for a well-developed accessible destination like Europe compared to on a random island in the Caribbean.
2. All trips are covered
Blue Cross wants it to be clear that they strongly recommend avoiding non-essential travel. They do not want to encourage any decisions that would put clients or communities at risk and they recommand taking precautions and following the authorities' recommendations.
That said, they confirmed that even non-essential trips are covered, and they trust their clients to make their decision to travel or not.
This is similar to our federal government's current policy of not recommending travel (via its travel advisory) while not forbidding it. Just to be very clear, the advisory is not binding and is not a restriction, as Flytrippers as explained many many times before.
And we think it's sure getting more and more reasonable to consider safe and responsible international travel (we'll have more on that very soon, including how it's actually less of a risk to others than domestic trips).
In short, Flytrippers' belief is that every traveler should make their own decision about whether or not to travel by thoroughly analyzing every one of the factors to consider (our detailed guide has 15 of them). This insurance coverage is there for you if you decide to leave.
3. Medical portion only
As a reminder, there are two separate types of travel insurance (which are very different from one another):
medical travel insurance
all other coverage (trip cancelation, trip interruption, trip delay, etc.)
We'll tell you more in the ultimate guide, but for now know that COVID-19 coverage only applies to the medical portion, which in this case is arguably the most important. You won't be able to invoke COVID-19 for trip cancelation coverage, since it is now considered a known issue.
That makes a lot of sense, and is why you should make sure to read our upcoming tips on booking trips during the pandemic.
If you are not comfortable with buying flights and planning trips last minute (which should be avoided normally, but is preferable in the short-term to decrease the odds of anything changing), many airlines are offering flexible bookings and that is something to take into account.
4. Prices have not increased
Blue Cross mentioned that prices for coverage have not even increased despite the COVID-19 coverage, which I thought was very nice and definitely noteworthy.
I'll show you an example of a price in a second, it seems pretty reasonable.
Why keeping an open mind is the right strategy
But first… look, many pessimists really wanted you to think insurance wouldn't be an option for months, but we've been telling you all along that that was definitely not guaranteed.
There is no point in assuming the worst-case scenario, no one can predict the future. This pandemic is unchartered territory for everyone.
But as we told you in a message in June, it's better to keep an open mind about future travel. That's what I did and thanks to that, there is now a non-zero chance that I will be in Turkey or Greece 10 days from now (instead of having to invest my precious weeks of travel in a nearby destination — which can be very nice, but is definitely less attractive than an international trip to me personally).
You should keep an open mind, at least if you do want to travel (many of the pessimists probably don't want to, which is fine… but we just recommend not letting their negativity influence you).
Especially since we've seen during this pandemic that many unfortunately believe many myths that are completely false (which is normal, it's a very complex world).
For example, many people think:
Anyway, the fact is international travel is certainly possible. And while the mandatory 14-day quarantine remains (until at least August 31st, which could be extended), the option of being insured for COVID-19 is a game changer!
International travel still comes with more complications than domestic travel, but it's also so much more interesting (for many travelers at least).
Price example
You can head to the Blue Cross Quebec website or the Blue Cross Ontario website to get a quick quote, as these obviously vary depending on a number of factors (your age, your destination, the length of your trip).
But to give you a quick example, I'll use that potential trip to Turkey and Greece that I can now at least consider for August.
I usually never pay for travel insurance since I'm covered for free by many of my plethora of travel rewards credit cards, so I don't have many comparison points… but the price of my Blue Cross quote was only barely higher than the one I got recently from TuGo (which covers everything even during the advisory, except COVID-19).
I entered the info for a 27-day trip and my age, and I got a quote for $92 (which can be lowered by adding a deductible). That seems very reasonable.


It's obviously $92 more than I'd like to pay as a budget-traveler, but we always say it makes no sense to travel without medical insurance.
It makes no sense mostly because everyone can be covered for free (there is a card that offers medical travel coverage even if you don't have the higher income required for the best cards).
Especially during a pandemic. I was hesitant to leave without insurance myself even if I'm among the most risk-tolerant out there in general (and even if I'm statistically at a very low risk for hospitalization if I was infected by COVID-19, which is a low risk itself too).
Finally, there is even an option for an annual plan for only about 50% more.


That would certainly make sense if the travel advisory stays for a while, but I am not that confident that it will so… we'll analyze that for you more thoroughly in the ultimate guide to travel insurance.
For non-Quebec/Ontario residents
Blue Cross Insurance is actually an association of 7 separate regional insurers, each with their own rules:
Blue Cross Quebec
Blue Cross Ontario
Blue Cross Manitoba
Blue Cross Saskatchewan
Blue Cross Alberta
Pacific Blue Cross (BC)
Medavie Blue Cross (NB, NS, PE, NL)
We have only been able to confirm that Blue Cross Quebec and Blue Cross Ontario now cover COVID-19. On the other hand, Pacific Blue Cross has confirmed that they do not (only "essential" trips are covered with them) and it's a "no" for Blue Cross Alberta and Blue Cross Manitoba too. At the time of publication, we didn't get a response from the others yet.
That said, from the dropdown menu on the Quebec and Ontario quote form, these are the provinces that are included: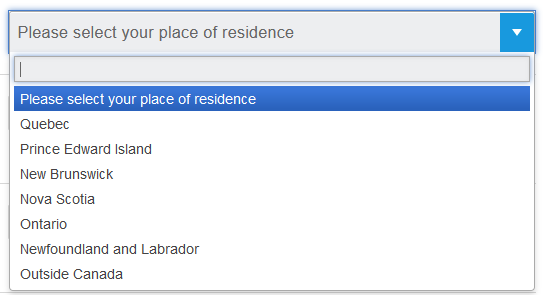 Based on that, residents of the 4 Atlantic provinces seem to be able to buy directly on the Quebec or Ontario websites, so we would assume that this insurance is available for them as well, but we want to make sure with an official confirmation. We'll let you know as soon as we hear back from the others (you still potentially have Medipac as an option if you are leaving very soon).
Medipac COVID-19 Coverage
First, Medipac hasn't replied to our request for details, so we'll update this page when they do. That said, while they aren't as well-known as Blue Cross, this is an insurer that is endorsed by the Canadian Snowbird Association and the Royal Canadian Legion.
One could assume that the conditions for the Medipac COVID-19 insurance coverage are the same or at least pretty similar, we hope to confirm soon. At least their website does clearly state that COVID-19 is covered.
For what it's worth, in the meantime, I completed a quote for that same trip with Medipac to compare.
I got the exact same price, but with a $99 deductible to pay in case of a claim. That is a very small one datapoint sample size, so like everything else in the world of travel, comparing prices is still worth it if you want to increase your chances of saving money.
More details to come.
SafetyWing COVID-19 Coverage
We'll have more details about SafetyWing in a separate post very soon.
In short, the difference is that since they are an international insurer, you must buy your plane after leaving Canada (with regular travel insurance it's the complete opposite).
For example, here's what Flytrippers' other co-founder Kevin did for our trip to Greece and Turkey: as soon as we landed in Athens, he bought his SafetyWing coverage.
The coverage amount is also a lot lower than others ($250,000 instead of multiple millions). Up to you to decide if that's enough based on your situation.
Finally, on the bright side, SafetyWing is a lot cheaper.
They also offer some non-medical travel insurance coverage unlike the two others: trip interruption coverage, delay coverage, lost baggage coverage, etc. However, the "political evacuation" portion doesn't apply due to COVID-19, just like with the others (they won't cover your flight if you are stuck due to borders closing).
Many more details to come.
Want to get more content to decide when to start traveling again?
Summary
Canadians now have options to get medical travel insurance that covers COVID-19, which is an amazing development for those who love to travel internationally.
What do you think of this insurance coverage? Tell us in the comments below.
Explore awesome destinations: travel inspiration
Learn pro tricks: travel tips
Discover free travel: travel rewards
Featured image: traveler in Malta (photo credit: Florian Weichelt)
Advertiser Disclosure: In the interest of transparency, Flytrippers may receive a commission on links featured in this post, at no cost to you. Thank you for using our links to support us for free, we appreciate it! You allow us to keep finding the best travel deals for free and to keep offering interesting content for free. Since we care deeply about our mission to help travelers and our reputation and credibility prevail over everything, we will NEVER recommend a product or service that we do not believe in or that we do not use ourselves, and we will never give any third-party any control whatsoever on our content. For more information on our advertiser disclosure, click here.
Share this post to help us help more people travel more for less: