Heads up: this is a very thorough guide, so you can go to just my own experience directly if you prefer—or you can skip to any other specific section by using the convenient links in the table of contents below (now in all of our guides to facilitate navigation).
So here is everything you need to know about the Canada land border crossing, including 2 important sections I really have to include first.
Canada land border crossing – why we're sharing this guide

Our ultimate guide about Canada's hotel quarantine is still extremely popular, so clearly, this information is useful to many.
So now:
We decided to share this often-requested ultimate guide about the Canada land border crossing.
Why?
To inform travelers about the rules and facts, since Flytrippers aims to be the resource for Canadian travelers. Especially travelers who want to save money. We will keep sharing the objective rules so you can be as informed as possible.
The reality is that many travelers:
Rightfully and logically know that if they stay at home, they are not endangering anyone any more than in a hotel
Have questions about the Canada land border crossing, as the rules are not always clear or easy to understand
Simply don't even know that the rules are different by land (or that using mass transit to get home is allowed)
Know that the hotel is pretty ineffective since nearly 200,000 travelers every week are exempt from all quarantines (81%)
Don't have the level of privilege to spend ≈ $1,000 on a 1-3 day hotel stay (or just don't want to…)
Remember that saving $1,000 is enough for over a month of travel—all expenses paid—in over 40 affordable countries!!! It's always worth saving on everything if you really want to travel more to discover new cultures and broaden your horizons.
Especially when there is a free alternative offered by the government itself…
(By the way, the next ultimate guides will be about understanding travel restrictions, and about getting vaccinated in the US, since many have asked for that one too and it could be helpful for some travelers given the convenience of returning by land, Canada's slower vaccine rollout, and the fact many countries are reopening to fully vaccinated travelers. Subscribe to our free newsletter.)
Canada land border crossing

– very

important clarification
Of course, just because you can return overland instead of by plane without having to participate in Canada's hotel quarantine doesn't mean everyone should travel…
That's beside the point. The post is about sharing accurate information about the land border crossing.
And whatever your opinion is, the fact is that:
Returning via the land border is 100% allowed by government rules

Returning via the land border does not require a hotel stay
It's certainly not "circumventing" the rules, finding a loophole, or anything sketchy… the rules are clear:
Arrive by plane = mandatory hotel quarantine
Arrive by land = no mandatory hotel quarantine
We don't make the rules. These are the rules. Decided by the government.
We have always said everyone should follow all the rules. We're saying it again. Recommendations are different (that's why they are only recommendations and not rules)—but always follow the rules. Always. We sure do.
If you arrive by land, you are not circumventing the rules: you are following the rules that apply to the land border.
Which are that you can just stay at home for 14 days and put absolutely no one at risk…
Just like the 99.6% of Canadians who test positive for COVID-19 are allowed to do because they aren't travelers (0.4% of cases were related to travel in March 2021). And with no surveillance whatsoever even if they are factually infected, including with variants… while virtually all travelers are not infected (0.25% of the tens of thousands of travelers at the land border got a positive result).
Those are the facts, and facts matter.
(The sources are in my post where I explained why Canada's hotel quarantine program is a failure and is not making Canadians safer, by debunking 12 bad arguments we often hear: it's a must-read.)
We just learned something even more ridiculous about the hotel quarantine; we are awaiting confirmation from the government first… but if it's true, we'll talk about it next week and you'll understand without a doubt that this hotel quarantine is absurd.
In short, if the government doesn't want travelers to return by land to avoid their ineffective hotel quarantine rule, they should either:
Remove their ineffective hotel quarantine rule
Apply their ineffective hotel quarantine rule at the land border
Simple.
In the meantime:
All international travel is allowed
Flying to the US is allowed
Returning by land is allowed
Quarantining at home when arriving by land is allowed
You definitely can, that is objective. Whether you should is subjective and depends on everyone's personal situation and opinion.
But in all cases, if you are considering traveling, make sure to download our free checklist for pandemic travel, to thoroughly assess all the many types of risks involved.
Canada land border crossing

– possible rule changes
Yesterday, the government explicitly said they won't change the rule that allows those arriving by land to quarantine at home…
But they had also said for months that no new measures were required and that travelers were not a major source of COVID-19 transmission—which all of their own data has always shown (and still shows)… and then they still put in place this hotel quarantine rule.
The reality is that they implement travel measures more based on travel-shaming in the media than based on facts or evidence (instead of focussing resources on the 99.5% of cases not related to travel, on the 81% of the hundreds of thousands who enter each week who are exempt from all quarantine rules, or on getting vaccines quicker… but anyway.)
So who knows if this rule will still be in effect in a few weeks like they said it would be.
Even if the quarantine hotels are ineffective, it is very good politically.
In recent days, there have been more calls for even stricter travel measures… even this week, there have been explicit requests from provincial Premiers to change this specific rule and force land travelers to go into hotels too.
So, as we've been saying since our first pandemic trip last summer: rules change very quickly.
If this rule changes, we'll let you know.
Canada land border crossing

–

how it works
We shared a detailed post with an overview of all 12 of Canada's COVID-19 international travel rules and told you that only 7 of them applied to Canadians.
There are just 4 things that change if you return to Canada by land compared to by plane:
You aren't subject to the hotel quarantine
Your negative pre-entry test needs to have been performed in the USA
You can use mass transit as soon as you enter Canada
You can enter at any border crossing
(By the way… that PCR rule is a very fact-based, evidence-based, and data-based rule, of course. PCR tests from other countries are trustworthy when arriving by plane with a US layover, but aren't trustworthy when arriving by land via the US. Science!)
So even if you enter at the land border, you still need to:
Fill out the ArriveCAN app
Provide proof of negative pre-entry COVID-19 PCR test
Take a COVID-19 test on arrival (free)
Quarantine for 14 days at home (free)
Take a final COVID-19 test at home (free)
Canada land border crossing

–

comparison with air arrival
What is the best option?
First, in terms of convenience…
It really depends on where you are traveling, where your home is, and what your preferences are. Everyone's situation is different. Below, the detailed steps, the concrete pricing examples, and my experience might help you decide.
But in terms of costs…
If you are traveling in the US, there is absolutely no question that it is cheaper to enter by land.
If you are traveling in another country, it can also often be… but the amount of money you'll save by entering Canada by land won't be as high as the amount those traveling in the US will save.
Why? Because of Canada's requirement to get a PCR test in the US. Many states offer free PCR tests as I'll show you below, but the time spent in the US waiting for the result does incur some extra costs (although it may not be that much more expensive than where you were staying; so by simply leaving earlier it can be a wash overall).
Anyway, you should always do the math for your own situation.
(By the way, yesterday the Prime Minister said that those who enter by land have been in the US for weeks because of the US quarantine rules, but that is just completely false. The US quarantine is simply a recommendation and not a rule, unlike here. And I can assure not many people are doing that. Some rare states do have a quarantine, but the vast majority don't.)
Canada land border crossing

–

detailed steps
See below for cost comparisons for these scenarios, but first, let's look at the logistics step by step.
There are 2 scenarios:
If you are traveling in the US
If you are traveling elsewhere
Traveling in the US
As I said, you would have needed proof of a negative test to return to Canada by plane too, so there's no extra cost in terms of testing. Entering by land is definitely a less-costly option.
Your only extra cost is the transportation on each side of the border, but since flights to Canada are sometimes way more expensive than in the US, overall it might not even be that much more expensive than flying to Canada. And you'll save the ≈ $1,000 hotel quarantine.
In short, the steps are:
Taking a COVID-19 PCR test
Getting to the border

Fly to a border airport + rent a car one-way to Canada
Fly to a border airport + take a Uber/taxi to your home
Fly to a border airport + take a Uber/taxi to the border
Fly to a border airport + take mass transit to the border
Use other means or any combination of means

Getting home from the border

Stay in your rental car or Uber/taxi
Get someone to drop off a car for you at the border
Get someone to pick you up at the border
Use mass transit
Use other means or any combination of means
Taking a COVID-19 PCR test
The test is simple, it's the same one that you need if you fly to Canada.
The details are in the PCR section of my experience below.
Getting to the border
You can fly to one of the airports close to the Canada-USA border. These are some of the same ones that you should consider departing from (in normal times) to fly to Florida for US$40 roundtrip as I've often done myself (these airports are cheaper due to regulations and taxes making Canadian airports uncompetitive price-wise).
You have fewer options than for that regular strategy, because ideally to return to Canada you need one that is closer to the border since you'll need to make your way to the border after your flight without having your car this time.
Here are a few airports to consider based on your place of residence:
Niagara Falls (IAG) – Toronto
Buffalo (BUF) – Toronto
Detroit (DTW) – Toronto
Plattsburgh (PBG) – Montreal (closed until June)
Burlington (BTV) – Montreal
Ogdensburg (OGS) – Ottawa
Bellingham (BLI) – Vancouver
Everett (PAE) – Vancouver
Seattle (SEA) – Vancouver
Great Falls (GTF) – Calgary
The best option for budget travelers and solo travelers is definitely Buffalo or Niagara Falls, where the whole itinerary can be done for just a few dollars with mass transit and by just walking across the border. This is what I did last week.
Alternatively, you can simply grab a taxi, a private car service, an Uber, or a Lyft all the way to the border, which might not be too expensive depending on the airport (especially if splitting the cost between multiple travelers).
A few services even have a special package for Canadians that will take you straight to your home in Canada if you don't want to deal with the steps on the other side of the border, but it's super expensive (like everything that is convenient and all arranged for you effortlessly—that's always true in the world of travel):
| Service | Location | Website |
| --- | --- | --- |
| Buffalo Limousine | Niagara Falls/Buffalo | website |
| Buffalo Express Taxi | Niagara Falls/Buffalo | website |
| Buffalo airport Shuttle | Niagara Falls/Buffalo | website |
| A touch of Class | Niagara Falls/Buffalo | website |
| Southampton Limousine | Niagara Falls/Buffalo | website |
| Regional Limousine | Niagara Falls/Buffalo | website |
| VIP Chauffered Service | Windsor/Detroit | website |
| Courtesy Transportation | Windsor/Detroit | website |
| New England Taxi | Montreal/Burlington | website |
| Vermont Shuttle | Montreal/Burlington | website |
| GZH Limousine | Montreal/Burlington | website |
| Evergreen Town Car | Vancouver/Bellingham | website |
| At The Border Storage | Coutts/Great Falls | website |
| Northern Rural Transit | Coutts/Great Falls | website |
Or you can either get a one-way rental car to also solve your transportation need on the other side, but this is usually quite expensive even in normal times. One-way rentals are sooooo much more expensive than regular rentals even within the same country—but even more so with a border crossing. Or they're just not available at all (very common).
Finally, in some cities, you can even get close enough to the border without even flying. For example, Amtrak's Maple Leaf line is currently running all the way to the Buffalo and Niagara Falls station. Same for Detroit. Buses run to Bellingham and Burlington, where you wouldn't be quite as close to the border… anyway, the point is that there are many options.
Getting home from the border
Once you're across the border, let's be very clear: you must make your way to your place of quarantine directly. That is the law.
But does that mean you cannot use mass transit, a taxi, or a shared vehicle?
No. You are most definitely allowed. You certainly should try to travel by private vehicle if you can, but no, it is not mandatory. As long as you use mass transit to go directly home, without stopping anywhere else.
I wanted to test it and I didn't have the slightest issue getting to my place of quarantine via 16 hours of mass transit within Canada.
The rules allow you to make your way to your place of quarantine by:
Bus
Train
Subway
Taxi
Shared vehicle
Private vehicle
As long as you:
Go directly
Wear a mask
Practice physical distancing
Sanitize your hands
Planes are not listed specifically though, so Flytrippers reached out to the Public Health Agency of Canada and they confirmed that flying is not allowed, despite the air quality onboard being much better than all other transport modes thanks to HEPA filters—but all the other methods are allowed.
However, you can take a domestic flight (or mass transit) after your hotel quarantine if you arrive in Canada by plane (but not to get to the hotel).
I've added an extra section below with the excerpts from the government website because like with so many other things, I know some of you just won't believe it.
The optimal way would be to have 2 people drive to the border and drop off a car for you, but that is obviously not possible for everyone. Alternatively, someone can come to pick you up. If not, you can also grab a taxi/Uber to your home (a lot more expensive) or to a nearby car rental agency (not available everywhere obviously).
Traveling elsewhere
Just keep in mind that you cannot use this trick if you are in Europe (EU + UK), India, China, Brazil, Iran, or South Africa (the USA's only travel restriction is for those who have been to those countries in the 14 previous days).
Basically, it's very similar to the steps if you are traveling in the US… once you've made your way to the US first.
In short, the steps are (bolded is what is different from the above):
Taking a COVID-19 PCR or antigen test
Flying to the US
Taking a COVID-19 PCR test (in the US)
Waiting for test results
Getting to the border

Fly to a border airport + rent a car one-way to Canada
Fly to a border airport + take a cab to the border
Fly to a border airport + take mass transit to the border
Get there by other means or any combination

Getting home from the border

Get someone to drop off a car for you at the border
Get someone to pick you up at the border
Get there by mass transit
Get there by other means or any combination
So I won't go through each again.
But let's compare this to flying to Canada directly.
You're saving:
The ≈ $1,000 hotel quarantine
Possibly a bit on your first test, since the US accepts cheaper antigen tests
But you are adding the cost of:
Flying to the US (which may not really be more expensive than flying to Canada)
Another test in the US (many states offer it for free as I explain below, but if not it's ≈ US$125 to US$200 by most accounts)
Lodging while you wait for the test results (1 to 3 nights, so ≈ US$70 to US$210)
Transportation on each side of the border (although you would have eventually paid for transport to get home even by plane)
Canada land border crossing

–

ports of entry with testing stations
You can enter at any of the 117 land border crossings, and you will have to be tested no matter where you arrive.
The test is either:
Performed directly at the land border
Performed with a self-administered home testing kit once you get home
Testing stations are found at 16 ports of entry, but they either aren't operating 24/7 or are not for pedestrians (because I entered at one of these and there was no testing station).
Here is the list of Canada's land border crossings with testing stations:
Niagara Falls (Rainbow Bridge), ON
Fort Erie (Peace Bridge), ON
Lansdowne (Thousand Islands Bridge), ON
Windsor (Ambassador Bridge), ON
Windsor (Windsor-Detroit Tunnel), ON
Sarnia (Blue Water Bridge), ON
Queenston (Lewiston-Queenston Bridge), ON
St-Bernard-de-Lacolle, QC
Stanstead, QC
St-Armand/Philipsburg, QC
St. Stephen, NB
Surrey (Pacific Highway/Peace Arch), BC
Huntingdon, BC
Douglas, BC
Coutts, AB
Emerson, MB
Detailed post about the testing process coming soon.
Canada land border crossing

–

mass transit rules
You can skip directly to the next section with the examples if you are among the hundreds of thousands who trust Flytrippers' accuracy on all things travel-related.
If not, here are the official rules that show that you are allowed to use mass transit to get to your home quarantine.
On its page titled "For travellers without symptoms of COVID-19 returning to Canada by land or water" the government says:
"If you need to take public transportation (e.g. bus, train, subway, taxi or ride-sharing service), wear a mask at all times and sanitize your hands frequently"
Further down, there is a section titled "Public health measures to follow while in transit" where the government says:
wear a well-constructed, well-fitting, non-medical mask while in transit, unless you are alone in a private vehicle or travelling only with the same people you entered Canada with
practice physical distancing of 2m whenever possible
sanitize your hands often
avoid touching surfaces frequently touched by others

If driving:

remain in the vehicle as much as possible: pay at the pump for gas and use drive through if you need to stop for food
avoid stops and contact with others
avoid using the recirculated air option for the car's ventilation during passenger transport; use the car's vents to bring in fresh outside air and/or open the vehicle windows
On the page titled "Driving to Canada checklist" when you click on "Follow the instructions for driving to your place of quarantine" the government says:
"Avoid stops and contact with others while in transit to quarantine: use a private vehicle if possible"
In short, it's allowed.
As I explain in my own experience below, it is not a hassle at all at the border. They must know the rules.
Canada land border crossing

–

examples of cost comparisons
Again… if you're in the US, it's most definitely worth it financially; elsewhere too often, but not always (for example, if you are a solo traveler).
The cost obviously depends on your own personal situation:
Where you are traveling
Where you live
Whether you have someone to pick you up
Whether you are traveling solo
Etc.
Here are just 4 examples I had prepared in March for the US and elsewhere. The initial pre-departure COVID-19 test is excluded since you always need it regardless of whether you enter by air or by land.
Cost comparison if traveling in the US
Example 1
A snowbird couple who avoided our horrible Canadian winter, got vaccinated more quickly in the US, and stayed just as safe as if they had stayed home:
Entering Canada by plane:
Miami-Montreal (MIA-YUL) on April 3rd: $504 ($252 per person)
Hotel quarantine: $1,250
Someone picks you up to go home: $0
Total cost: $1,754
Entering Canada by land:
Miami-Burlington (MIA-BTV) on April 3rd: $304 ($152 per person)
Taxi to border: ≈ $150
Someone picks you up to go home: $0
Total cost: $454
It's just one example, but it's $1,300 in savings. Or savings of 74% if you prefer. A no-brainer if someone can pick you up at the border.
Example 2
A solo traveler who explored the vast National Parks of the Southwestern US and stayed more physically distanced than in Canada:
Entering Canada by plane:
Phoenix-Vancouver (PHX-YVR) on April 3rd: $216
Hotel quarantine: $800
Someone picks you up to go home: $0
Total cost: $1,016
Entering Canada by land:
Phoenix-Bellingham (AZA-BLI) on April 3rd: $73
Taxi to border: ≈ $100
Someone picks you up to go home: $0
Total cost: $173
Again, even when traveling solo with no one to split the costs, it is still extremely cheaper to enter by land.
Cost comparison if traveling elsewhere
Example 3
A couple who went to Mexico to work remotely from a hotel completely safely in the warm weather instead of working from home on lockdown:
Entering Canada by plane:
Cancún

-Panama City-Montreal (CUN-PTY-YUL) on April 3rd: $432 ($216 per person)
Hotel quarantine: $1,250
Someone picks you up to go home: $0
Total cost: $1,682
Entering Canada by land:
Cancún-Miami (CUN-MIA)

on March 31st: $354 ($127 per person)
Free COVID-19 test in Miami: $0
Lodging and transport in Miami: $300
Miami-Burlington (MIA-BTV) on April 3rd: $304 ($152 per person)
Taxi to border: ≈ $150
Someone picks you up to go home: $0
Total cost: $1,108
So it's still cheaper, and you get to spend a few days in Miami (which is something I always enjoy—it's been years since I spent this long of a time without going there), you avoid the bad hotel experience in Canadian airports, and you can quarantine in your own home… but the savings aren't as high as in the above examples.
Example 4
Solo traveler who traveled to Dubai for essential reasons (or just went to explore safely):
Entering Canada by plane:
Dubai-Doha-Montreal (DXB-DOH-YUL)

on April 3rd: $1,060
Hotel quarantine: $800
Someone picks you up to go home: $0
Total cost: $1,860
Entering Canada by land:
Dubai-Doha-Miami (DXB-DOH-MIA)

on March 30th: $743
Free COVID-19 test in Miami: $0
Lodging and transport in Miami: $300
Miami-Burlington (MIA-BTV) on April 3rd: $304 ($152 per person)
Taxi to border: ≈ $150
Someone picks you up to go home: $0
Total cost: $1,345
If you're alone and far away, it's much lower in terms of savings.
Canada land border crossing – my own experience last week
I am a budget traveler. I Iiterally changed careers to launch Flytrippers and help others travel for less. Traveling is awesome, and traveling for less means you can do more of it. Simple.
And the short version is that I saved at least $600 this way:
I got a free PCR test in Texas
I flew to Buffalo (BUF)
I took Amtrak to Niagara Falls, NY
I walked across to Niagara Falls, ON
It took less than 10 minutes at the border
I took GO Transit to Toronto
I took VIA Rail to Quebec City
And it's so much easier and faster if you can land closer to your home if you:
Want to spend money on some Ubers/taxis
Have someone who can come pick you up at the border
But I absolutely despise:
Bothering (and depending on) others
And most importantly, I personally wanted to:
Test this out for myself
Show how absurd the rules are
That's what we mean when we say that the quarantine hotel program is absurd.
Travelers are so dangerous that they have to go to a hotel… but they can even take mass transit for 16 hours to get home if they arrive by land (among many other irrational elements, including a major new one we'll share next week once we get government confirmation).
Many of you messaged me to ask me whether I had any issues at the border and seemed sooo surprised that I didn't, but there was never any doubt: this is all 100% allowed as we've been saying.
Now, here is a step-by-step walkthrough of my experience entering Canada.
Safety sidenote
Before I share all the details many of you have asked for, some have also asked me about the safety of using mass transit while on my way to my place of quarantine.
Of course, I didn't feel as safe. Of course, I would have preferred flying directly home and avoiding all contacts that put me at risk, like before.
But I just could not in good conscience partake in the hotel quarantine scam, not when the rules clearly allow for a much cheaper alternative.
So…
No, it was not ideal to put myself at risk by transiting for hours:
In Ontario, one of the worst places in North America in terms of infection rates based on the data (and factually 150% higher than where I was arriving from)
With other passengers who have likely not been tested for COVID-19 recently (while I was at least factually tested negative before entering, which is better than not tested at all—I also eventually got a negative result for my arrival test, like 99.75% of land travelers tested)
With other passengers who might have a more risky behavior, as maybe they were in trains and buses because they have jobs that require them to have more contacts (and workplaces are factually one of the worst places for outbreaks, while I stayed outdoors fully-distanced at all times)
In trains and buses that do not have great air quality because they don't have HEPA filters that capture 99.97% of particles (while factually airplanes do and therefore have better air than in all buildings on the ground)
But I was willing to take those risks for the savings, and for the principle.
Because me going in a hotel for 1 to 3 days instead of spending those days at home factually and verifiably does not make anyone safer at all.
I am obviously abiding by the mandatory 14-day quarantine as I have 3 times before (and as 95% to 99% of travelers do based on the government's sample). Keep in mind that after their 1-3 days of hotel quarantine, those arriving by plane can also use mass transit (and even fly) to get to their place of quarantine.
And also, I fully expected all those buses and trains to be empty, and I was right.
Getting a PCR test
In addition to being very easy to get vaccinated for free as a Canadian, it was also very easy to get a free PCR test in Texas.
The only caveat is that all those I found required a car, as they were all drive-thru-only tests. I didn't spend a lot of time looking though, as we simply scheduled our roadtrip (to visit my 47th state) during our last days in the US so I could get tested while we had our rental car.
The most convenient testing location on our way was at the University of North Texas in Denton, where there was no one else in line and it took all of 5 minutes to get the test on the ground level of a parking garage.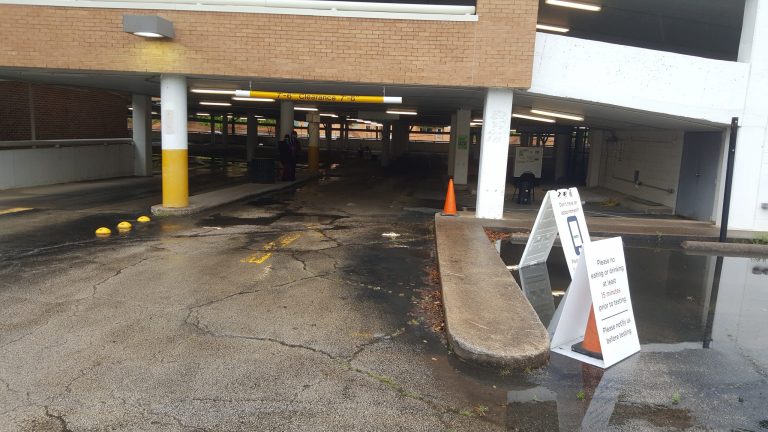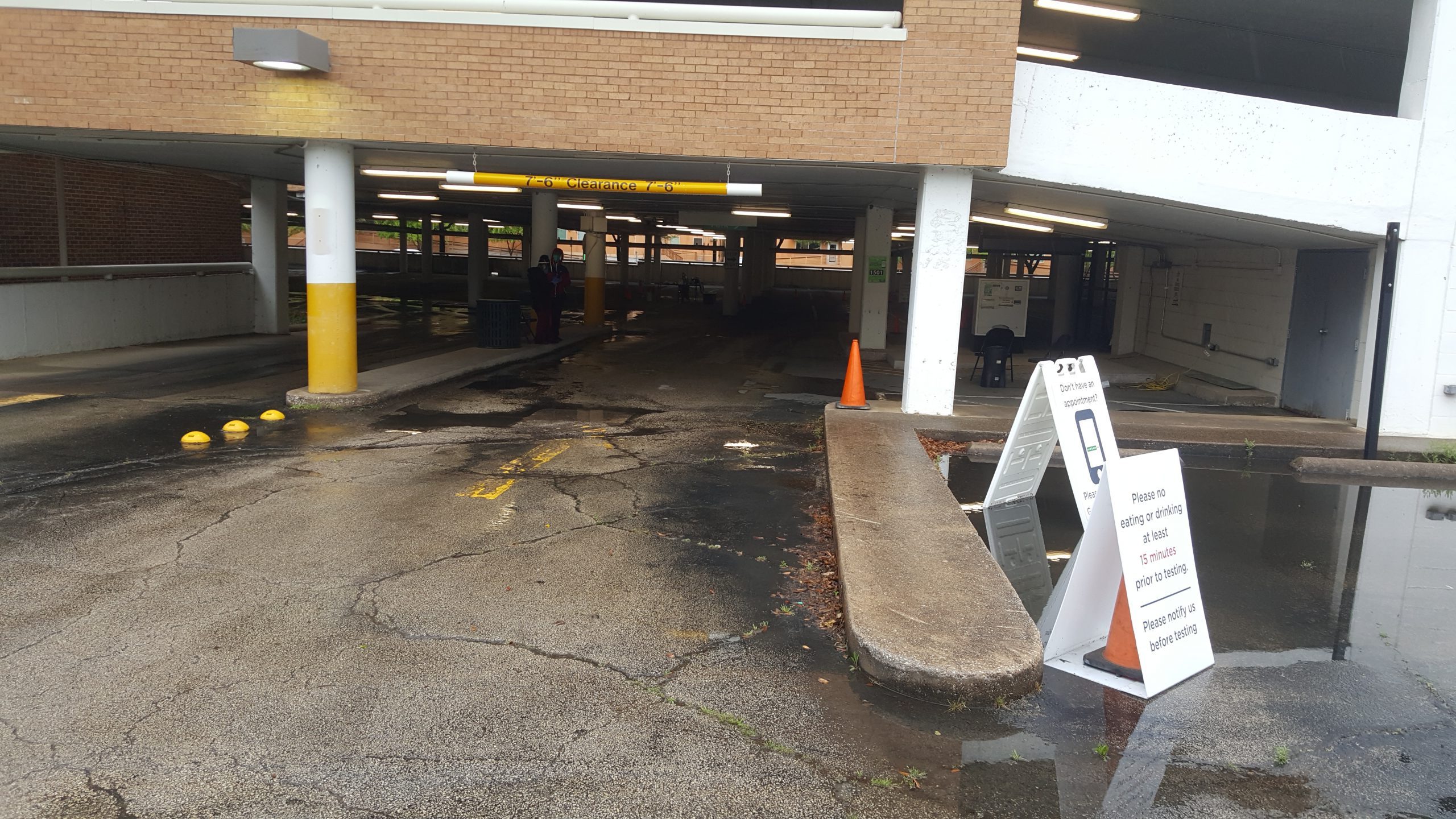 Booking an appointment online beforehand is required, but there is tons of availability (as the nice lady who tested me said: people are getting vaccinated more than tested). She was saying that to tell me that the result shouldn't take long to come in, and indeed I got it in about 24 hours by email.
I was only required to show ID for identification purposes. As for vaccination, there was no residency or other requirement. But as for vaccination, that certainly depends on the state: by popular request, we will share a detailed guide about getting vaccinated in the US for those who want to speed things up, since it's pretty easy and convenient (and having just one dose of the Pfizer/Moderna/AstraZeneca vaccine will probably not be enough to travel in many countries).
It was a saliva PCR test, so my nostrils still haven't ever been violated like with the most intense PCR test (you can choose your type of PCR test online, just like we could choose the one-dose vaccine).
I found the testing locations very easily on Go Get Tested but every state has its own tool. You should check the local state health agency website. National pharmacies like Walgreens, Rite Aid, and CVS seem to be offering free tests in many states (although the CVS website asked for a state ID, for example).
Keep in mind that if you are flying from another country to the US to enter by land, you will need a PCR test performed in the US. So you need to plan to spend at least one night there. And remember that entering the US is not allowed if you have been to certain countries in the previous 14 days (might be lifted mid-May).
I'll soon have a more detailed post about COVID-19 testing, as these were my very first experiences (none of the 7 countries we visited or transited through in the summer and fall required any testing—but now almost every country does).
Flying to Buffalo
Cost of flight #1: 7,500 Avios points + $7 in taxes
Cost of flight #2: $162
For many, flying to Buffalo Airport (BUF) is probably even cheaper than flying to Canada (Canada has some of the highest airfares in the developed world).
It was in my case. So those savings even cover some of the costs below, even though the costs are already pretty minimal.
I booked last-minute so actually paid a lot more than I could have on most other dates, but I paid 7,500 Avios points + $7 in taxes for a positioning flight from Dallas (DFW) to Denver (DEN) on American Airlines, and then $162 for a flight from Denver to Buffalo on Frontier Airlines.
(By the way, Avios is listed in our free cheat sheet of the 5 essential reward programs for Canadian travelers; you should really download it.)
I could have also decided to fly to Niagara Falls Airport (IAG) directly, but it's a tiny low-cost airport so there are fewer options (all in Florida). And as a budget traveler, I found it was actually much cheaper overall to get to downtown Niagara Falls from Buffalo Airport.
Always compare based on your own situation, as you should always do for all things travel.
I also was also happy to transit in Denver to get great free food and visit one of the newest locations (opened in February 2021) of the best airport lounge network, the Centurion Lounges (only accessible with The Platinum Card from American Express, but there are plenty of other Canadian credit cards with free access to other airport lounges for those who don't travel enough to justify unlimited access).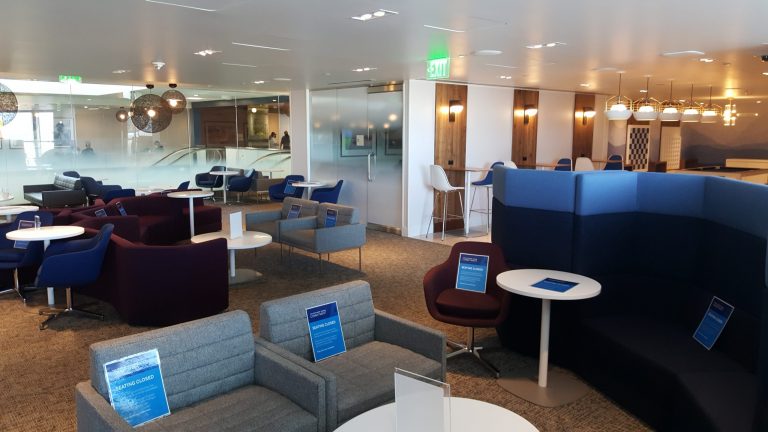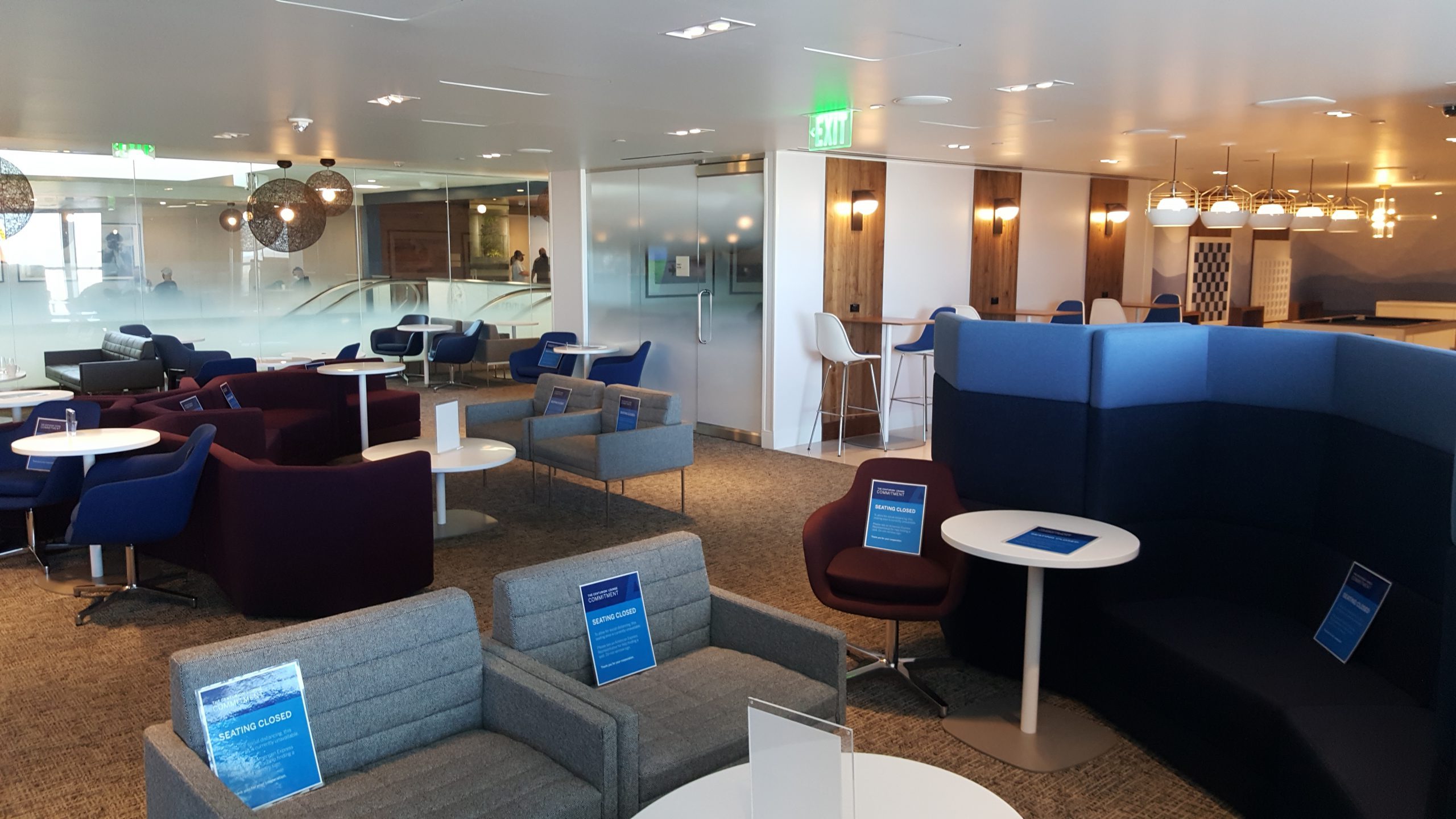 Like in Canada, other than wearing a mask, there are absolutely no requirements to fly within the US. Very few US states still have quarantines or other requirements, and New York is not one of them.
As has been the case for a while now, airports and airplanes in the US were completely full (which is fine because of the HEPA filters I mentioned above).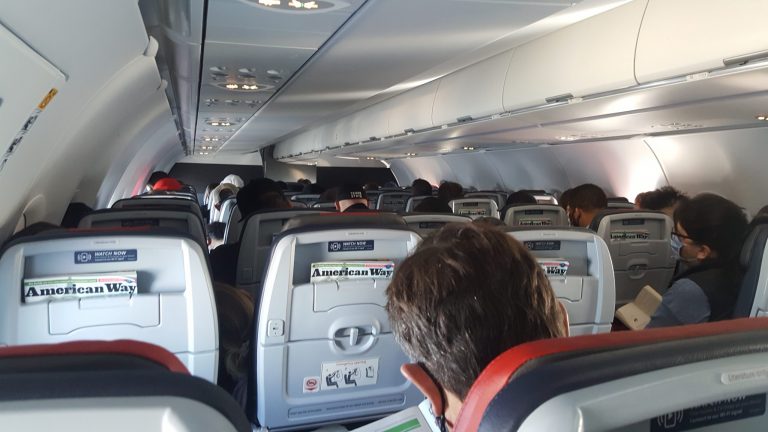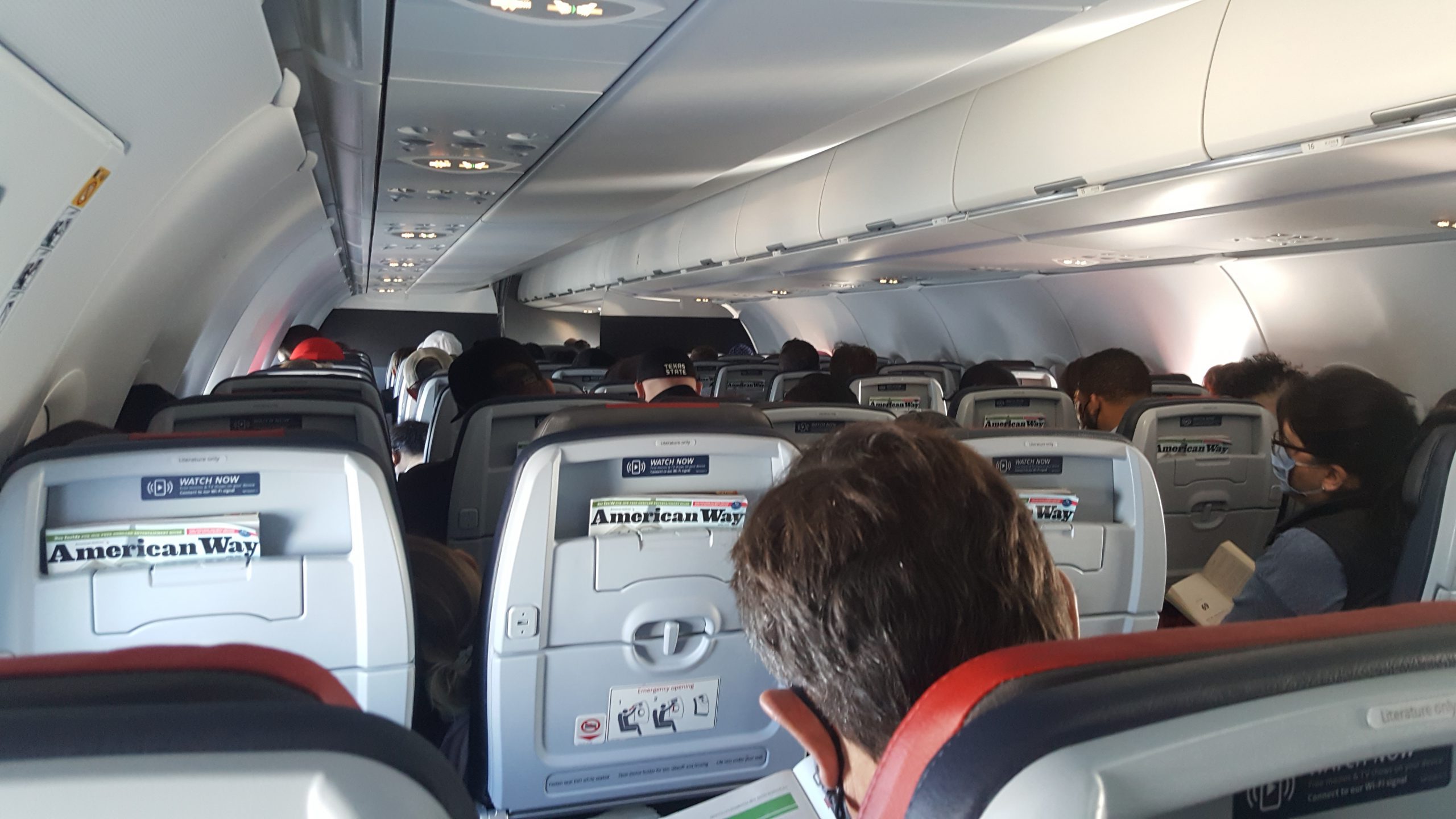 I'll soon have an updated post about what it's like to fly during the pandemic, as I've now taken 27 flights. But honestly, not that much has really changed since I shared our transatlantic flight experience to Greece with Air Canada last summer.
Getting to Niagara Falls
I walked from the airport to the Buffalo-Depew Amtrak station to take in some fresh air and stop for food (about 1 hour), but otherwise, it is also just a ≈ US$10 Uber ride.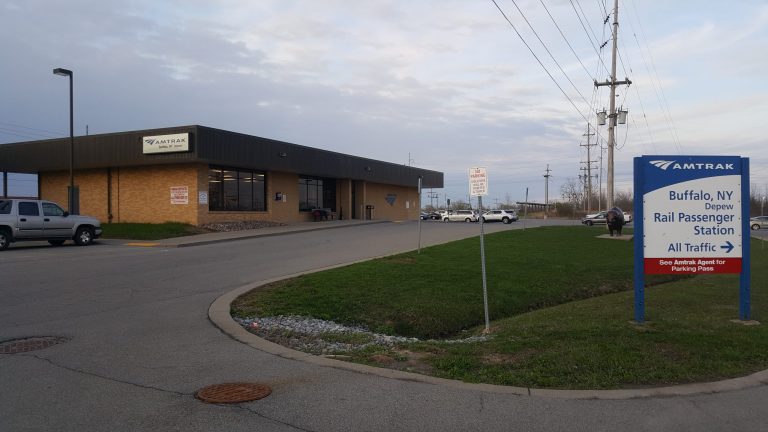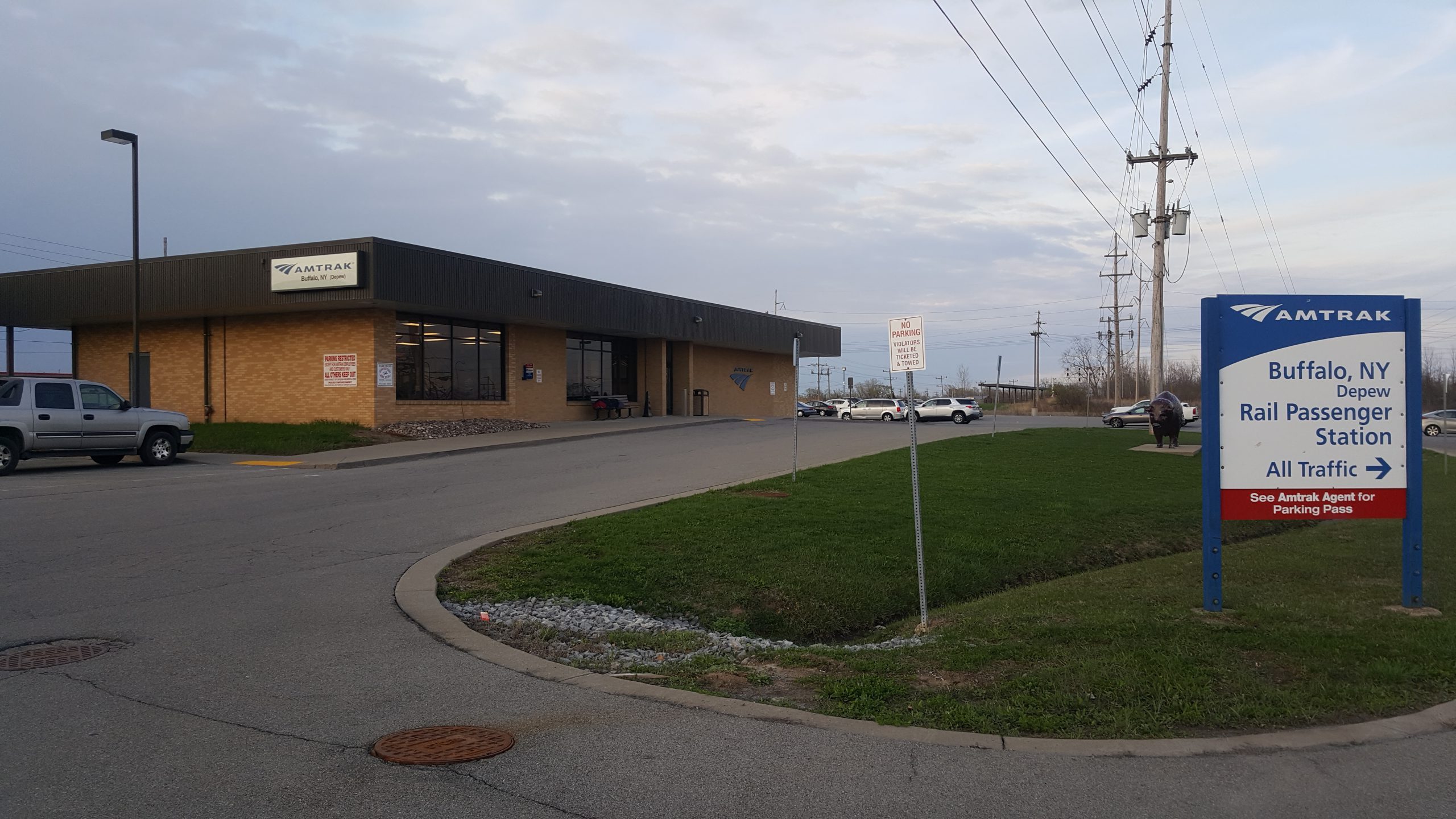 The train tickets were very cheap at just US$14 ($18) for the ride from there to Niagara Falls (New York) station. The line currently stops there due to the border restrictions; it usually continues across into Canada.
It took about 1 hour. I was nearly alone on that short segment of the line.
If you are traveling to Ontario or even just Montreal, you can even time this well to do it all on the same day (it was just not possible for Quebec City using mass transit).
So I then walked to the Sheraton Niagara Falls (about 30 minutes), but otherwise, it is also just a ≈ US$10 Uber ride.
I don't count the cost of the hotel because I would've paid for a hotel in Texas anyway; it's what we call a sunk cost. If you don't want to pay for an extra night, just leave one day earlier from wherever you are. Easy.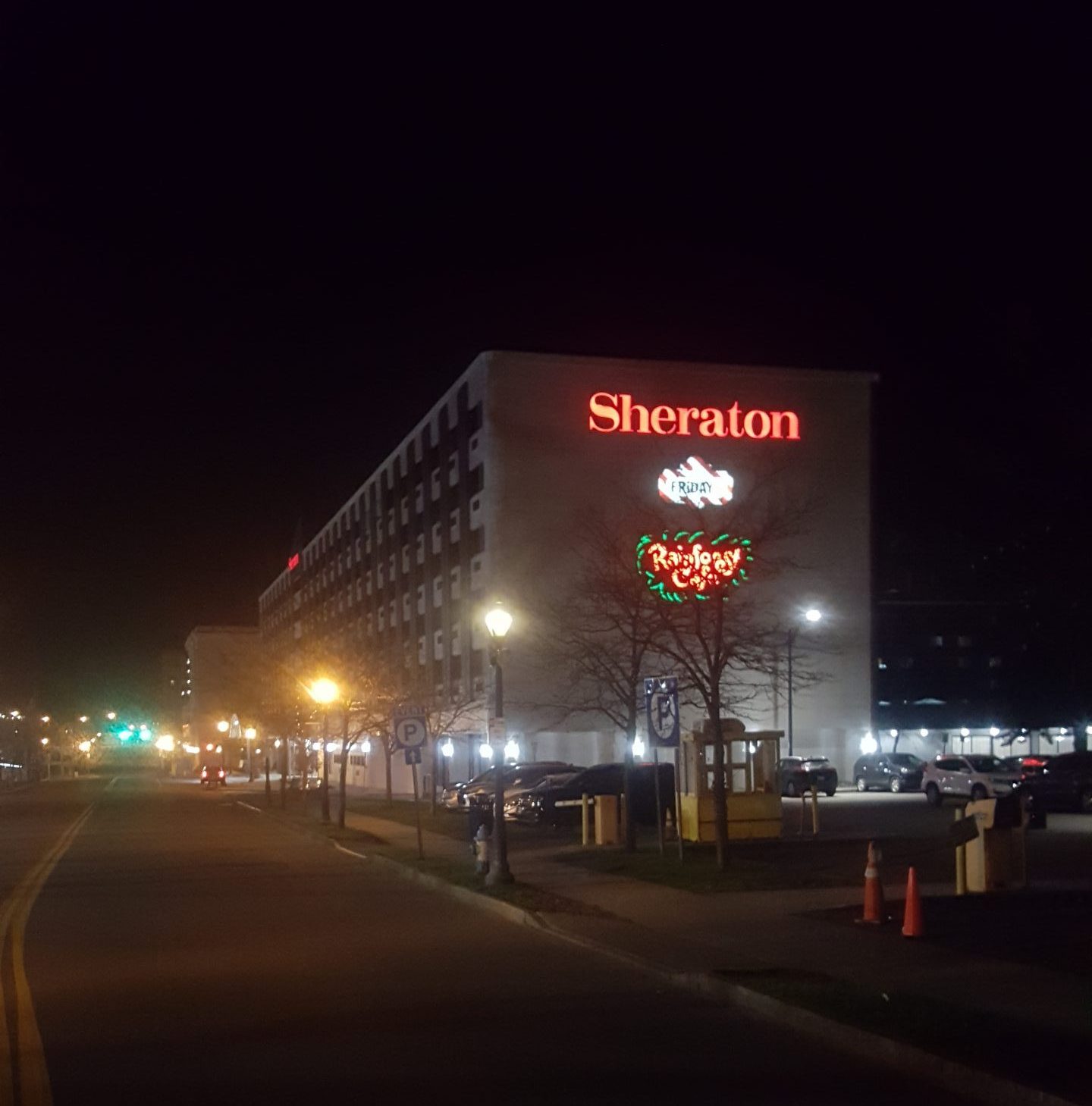 By the way, the hotel cost me just $99 including taxes (US$79) but because they don't understand the most basic thing about maximizing variable-value rewards—like Marriott points—many people would have paid a completely insane 50,000 points instead of just paying with cash… our Flytrippers Valuation of 50,000 Marriott points is ≈ $450 and can get you 8 free nights in amazing places like Bali.
So please always do the math to not waste your precious points on bad redemptions. Not all uses are good: especially when cash prices are low, obviously, and especially in expensive and popular countries.
(Welcome bonuses can give you tens of thousands of Marriott points: they are easier than ever to get with the current highest-ever offers on both the Marriott Bonvoy American Express Card and the American Express Cobalt Card which we've compared head-to-head for you this week.)
There were even cheaper hotel options of course, but I earn a lot of Marriott points with my paid stays as a Marriott Elite member and I also need to reach 22 nights to requalify for Titanium Elite for 2022.
Crossing into Canada
Walking across the border on the Rainbow Bridge (2 minutes from my hotel) was a simple as can be.
The sidewalk is very well marked once you're at the bridge entrance (at the corner of Niagara Street & Prospect Street).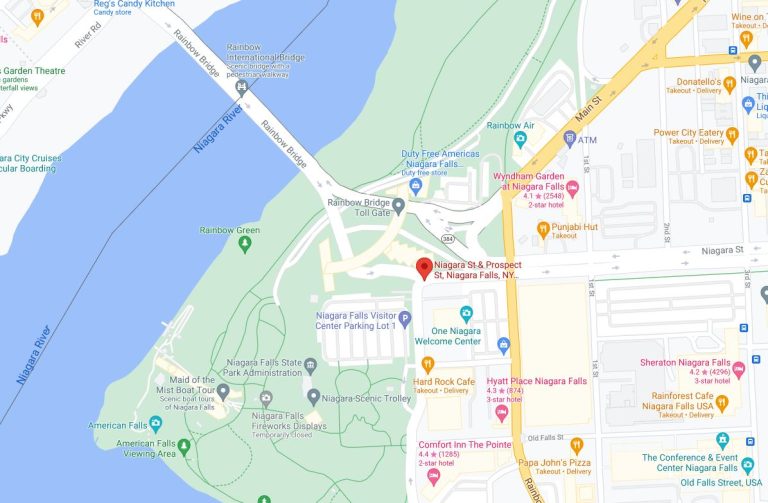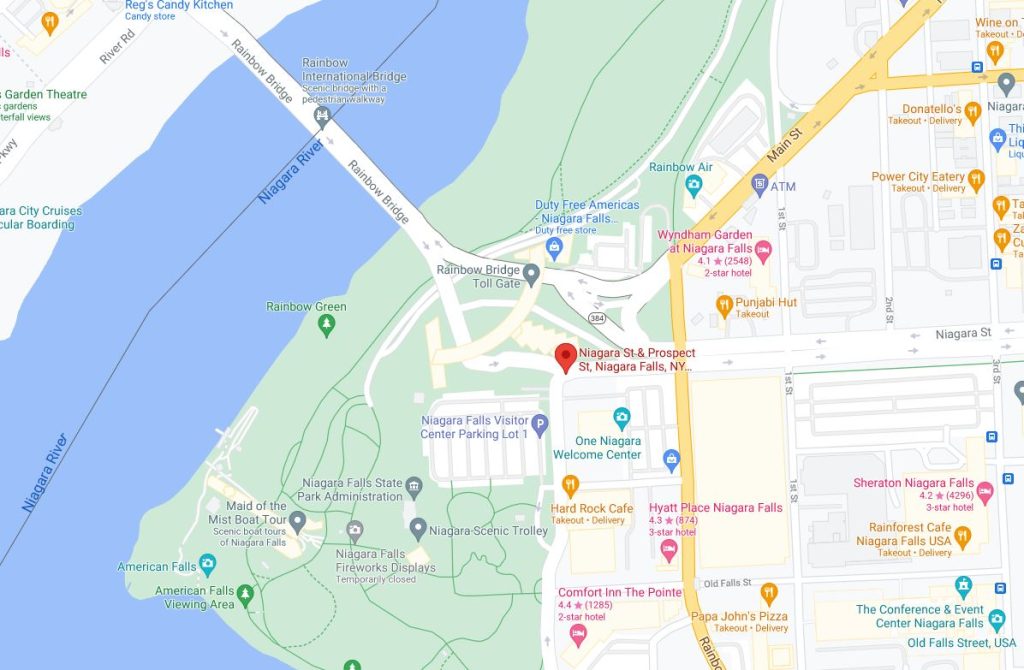 The sidewalk is on the left side of the bridge (you have to first walk in the park towards the waterfront to reach the pedestrian entrance, but again, there is clear signage as you saw on this post's cover image).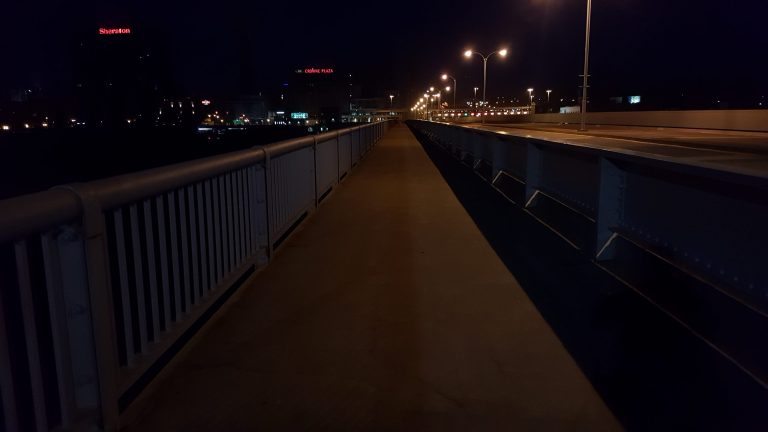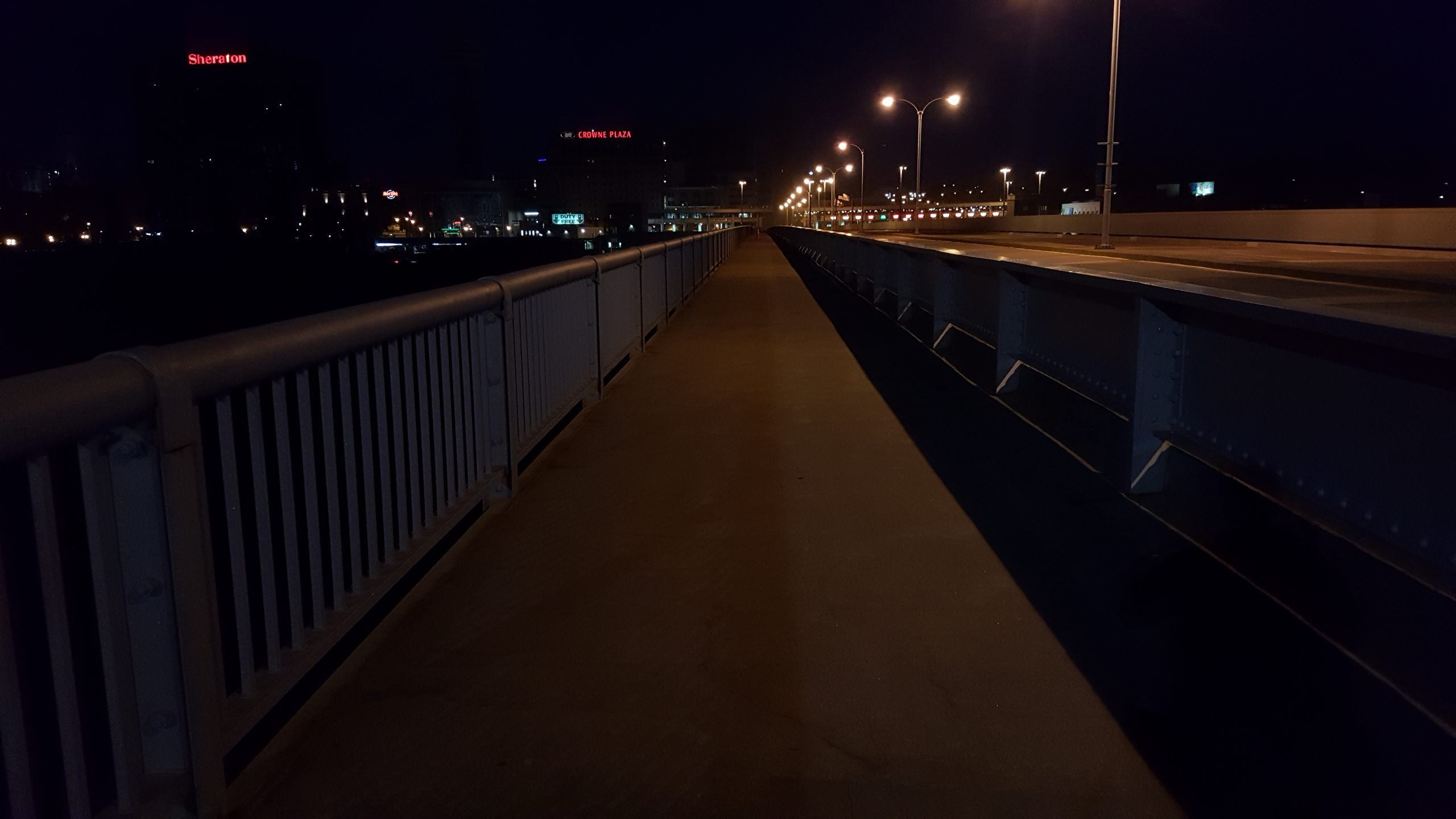 It took me less than 10 minutes to enter Canada.
The nice agent asked me the usual questions: where I had been, where I would be doing my quarantine, and how I would get there.
I told him I was in Texas and that I would be taking the bus and train all the way to my condo in Quebec City.
He didn't ask any follow-up questions or anything else at all about the use of mass transit (which is not surprising since it's 100% allowed). However, I did preemptively tell him that I would be following all the rules while in transit: mask, distancing, hand sanitizing, and no stops. And I told him I had already bought my VIA Rail ticket.
I showed him my receipt from the ArriveCAN app (on my phone) and my negative PCR test result (I had the hotel print out a paper version for me, just to be safe) and he gave me the 2 self-administered test kits and wished me a good day.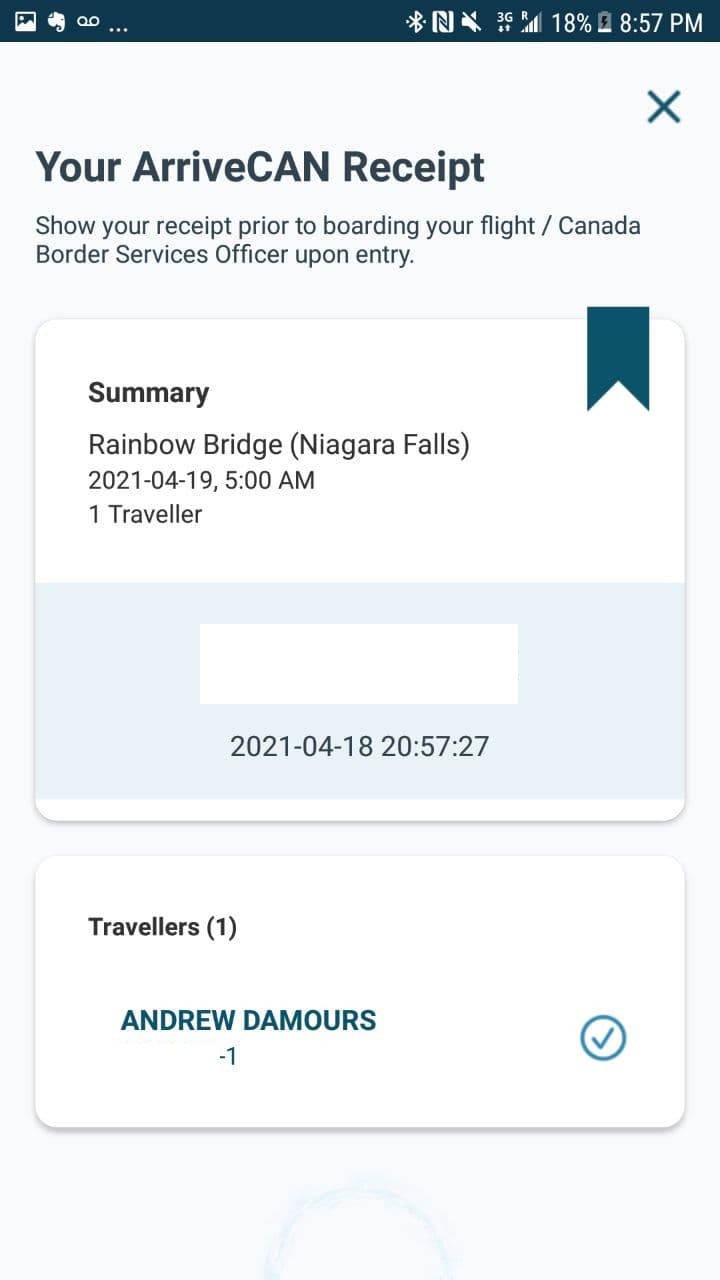 It was really that quick.
I entered Canada very early in the morning (6 AM) since I had a long way to go, which might explain why I wasn't tested on the spot.
(The Rainbow Bridge is on the list of 16 land border crossings where you theoretically get tested on arrival instead of doing the test yourself at home—either that or the testing station there is only for cars and not for pedestrians.)
By the way, the Rainbow Bridge is one of the only ones in the area where pedestrians can cross. There is also the Peace Bridge closer to Buffalo, but that journey is not doable with mass transit, unlike this one.
I'll soon have a more detailed post about the new quarantine process since it has changed a bit, including a video of me taking the self-administered test and a mistake I made with the first test (so you can avoid it). But in the meantime, I did give you a teaser in my post about the latest government fail, the change of the final test from Day-10 to Day-8.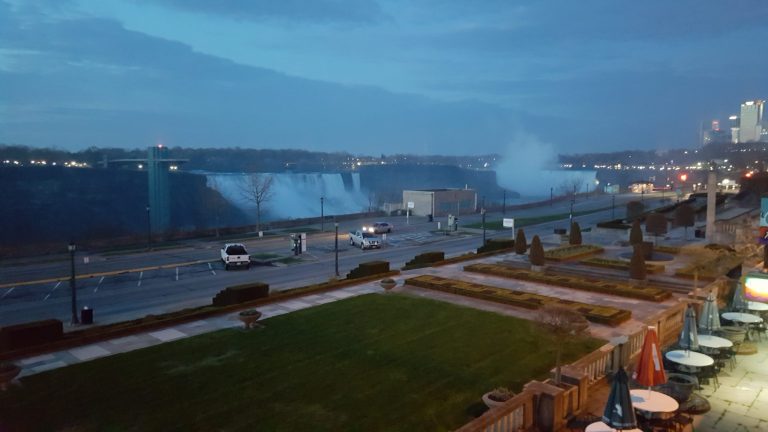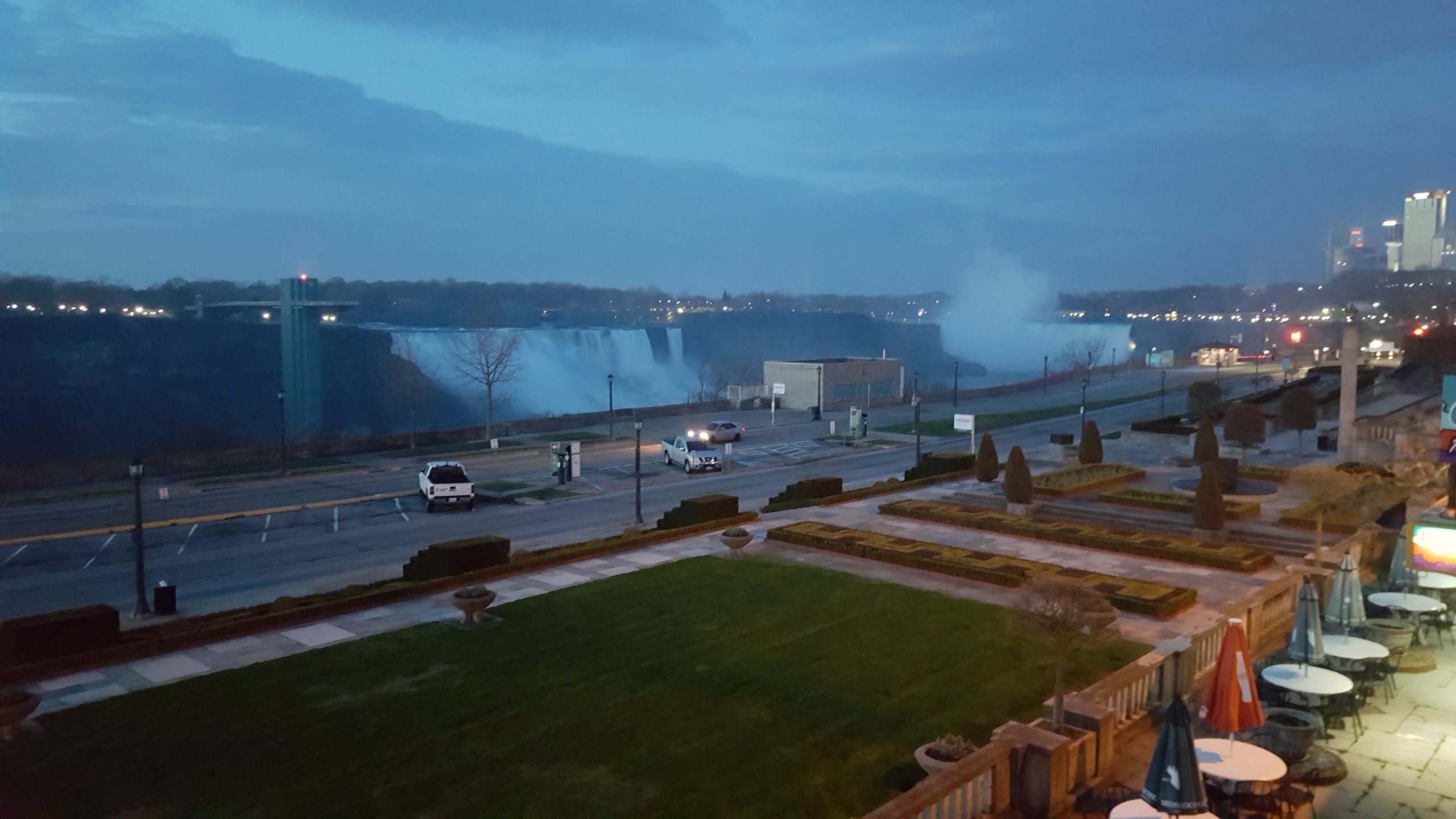 Getting to Toronto
I walked from the border to the Niagara Falls (Ontario) bus station (about 30 minutes), but otherwise, it is also just a ≈ $15 Uber ride.
I chose the nice Olympic Torch Run Legacy Trail where you can hear the birds chirping on your fully-distanced walk (it is accessible via Bender Street and then Palmer Avenue) but maybe River Road along the waterfront is even better.
The GO Transit website allows you to book tickets online, which is what I did outside of the empty station (in case you don't know, most prices for local transit are fixed, unlike for most long-distance transportation… so there's often no need to book ahead).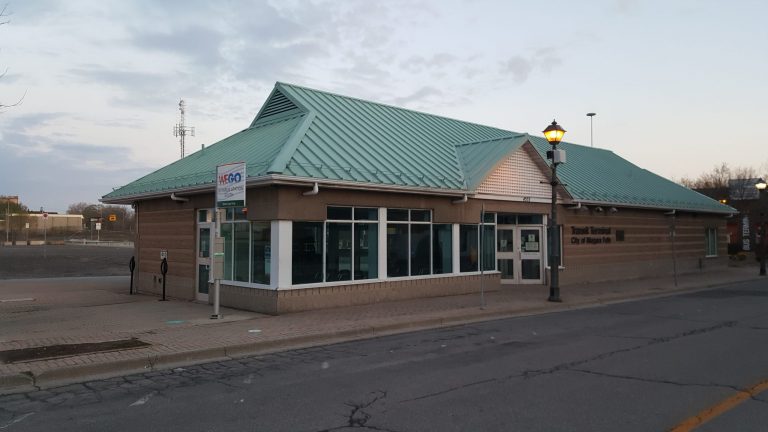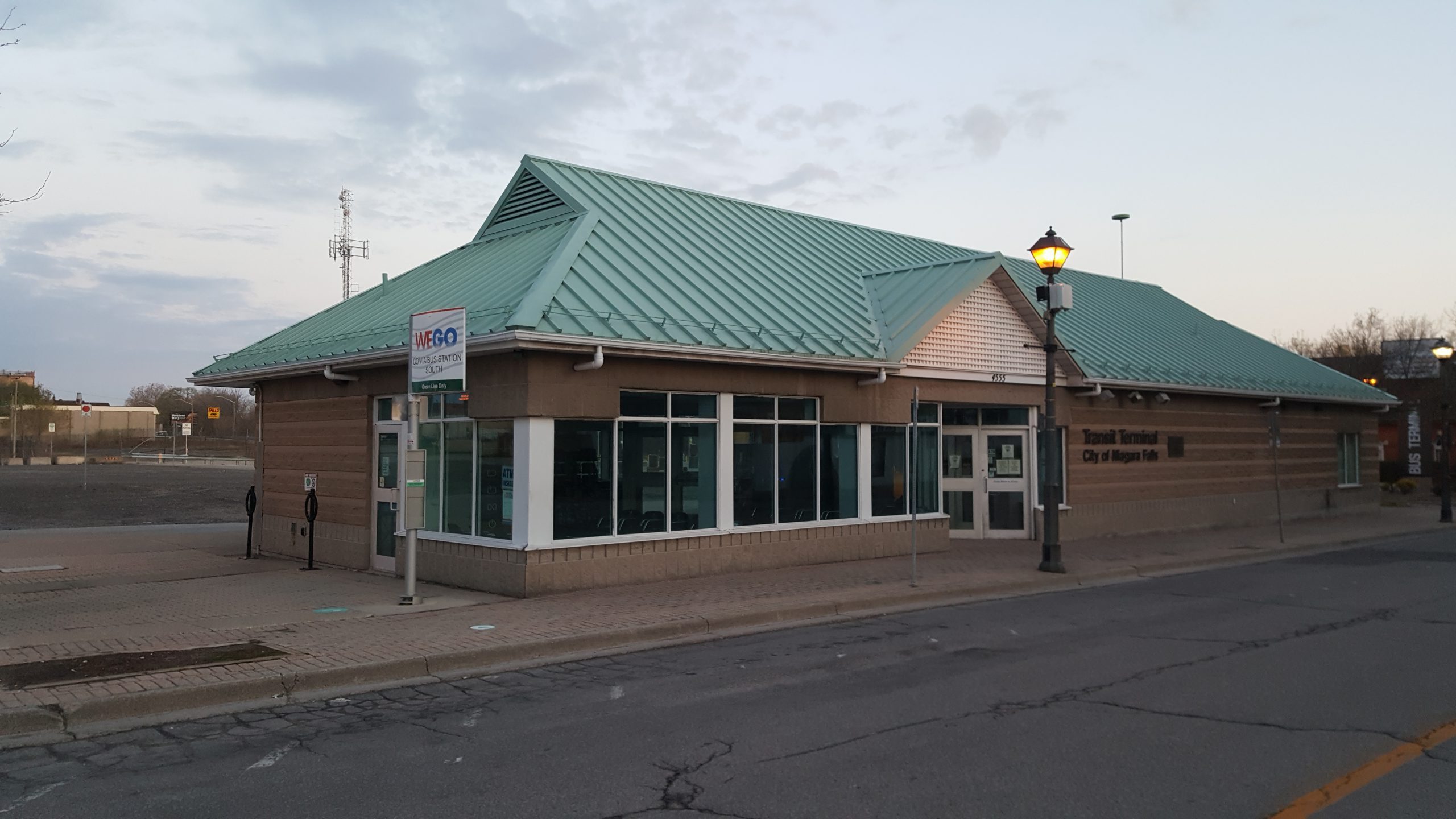 I had plenty of free time with the customs process being so much faster than I expected.
But there are benches outside the station at least.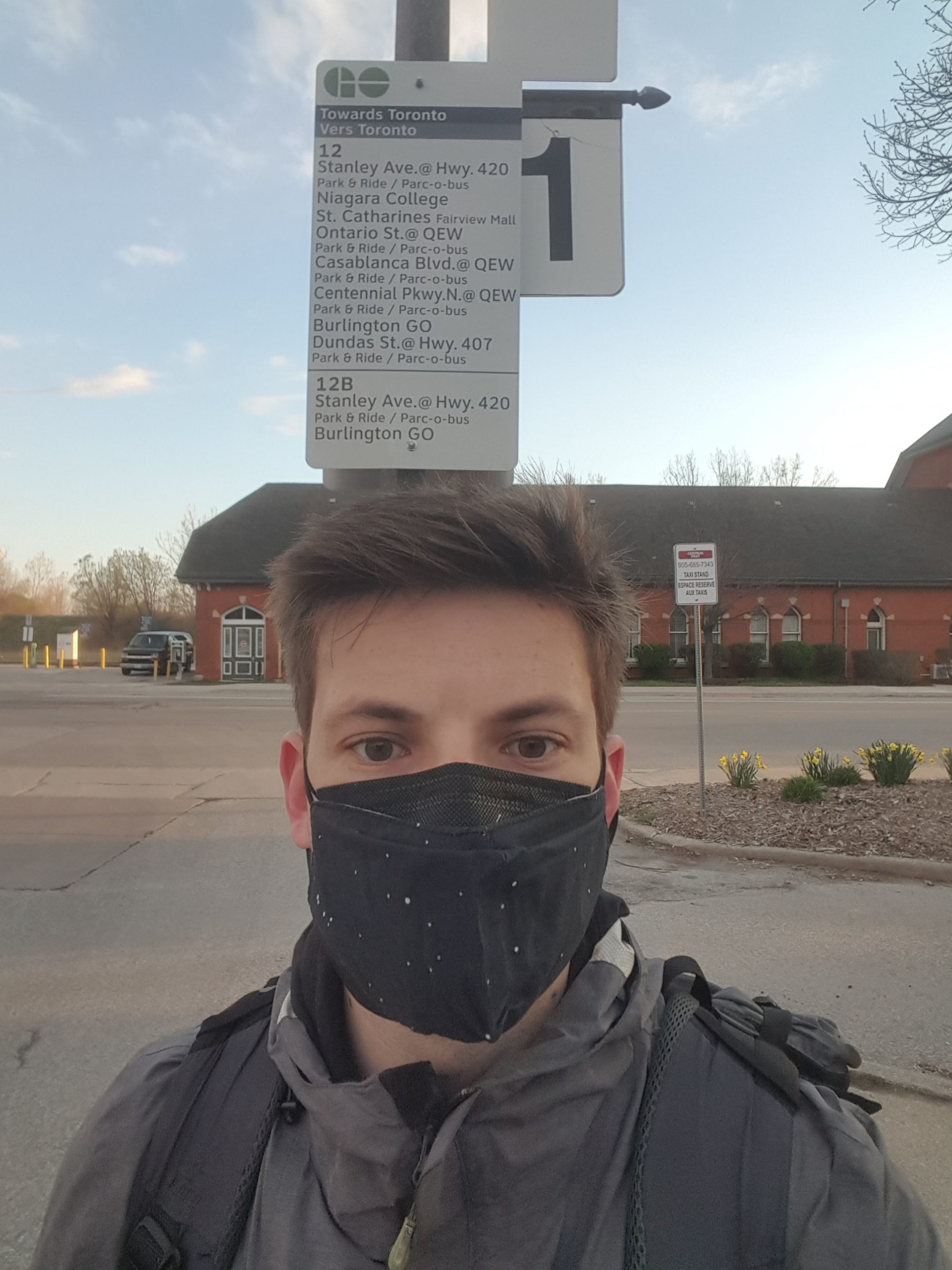 The routing is a bus to the Burlington GO station, and then a train from there to Union Station in downtown Toronto.
It took about 3 hours in total and cost just $21. Buses seem to leave about every hour or so, even during a pandemic.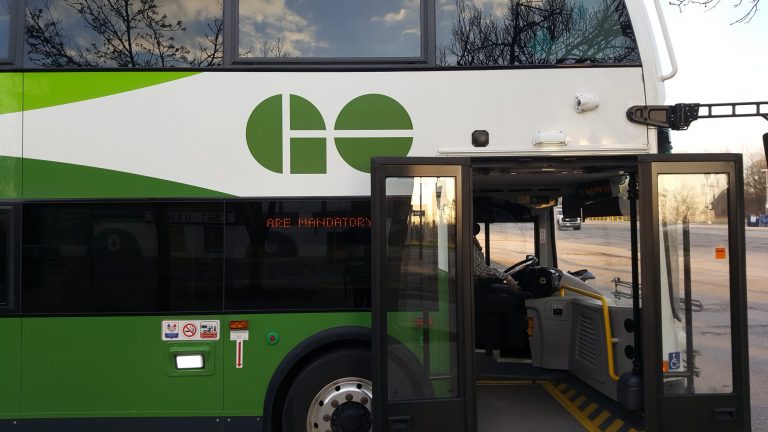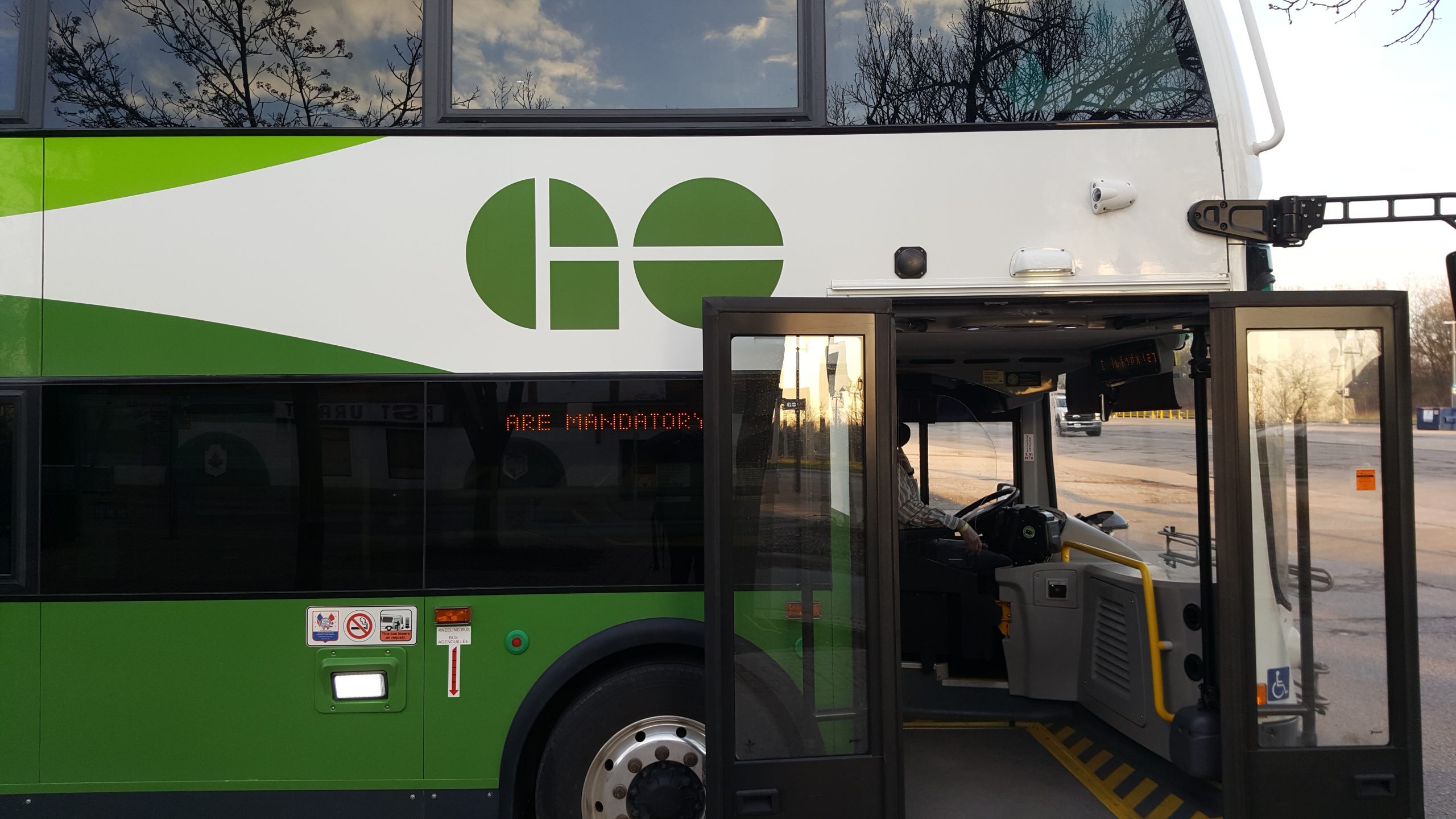 I had the whole top level of the bus to myself all along.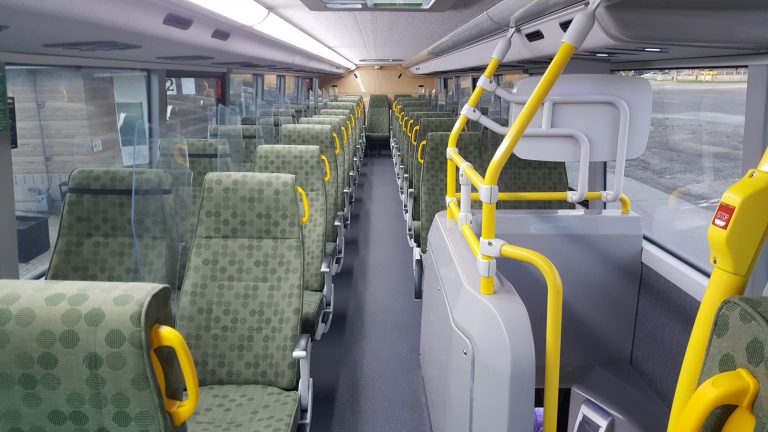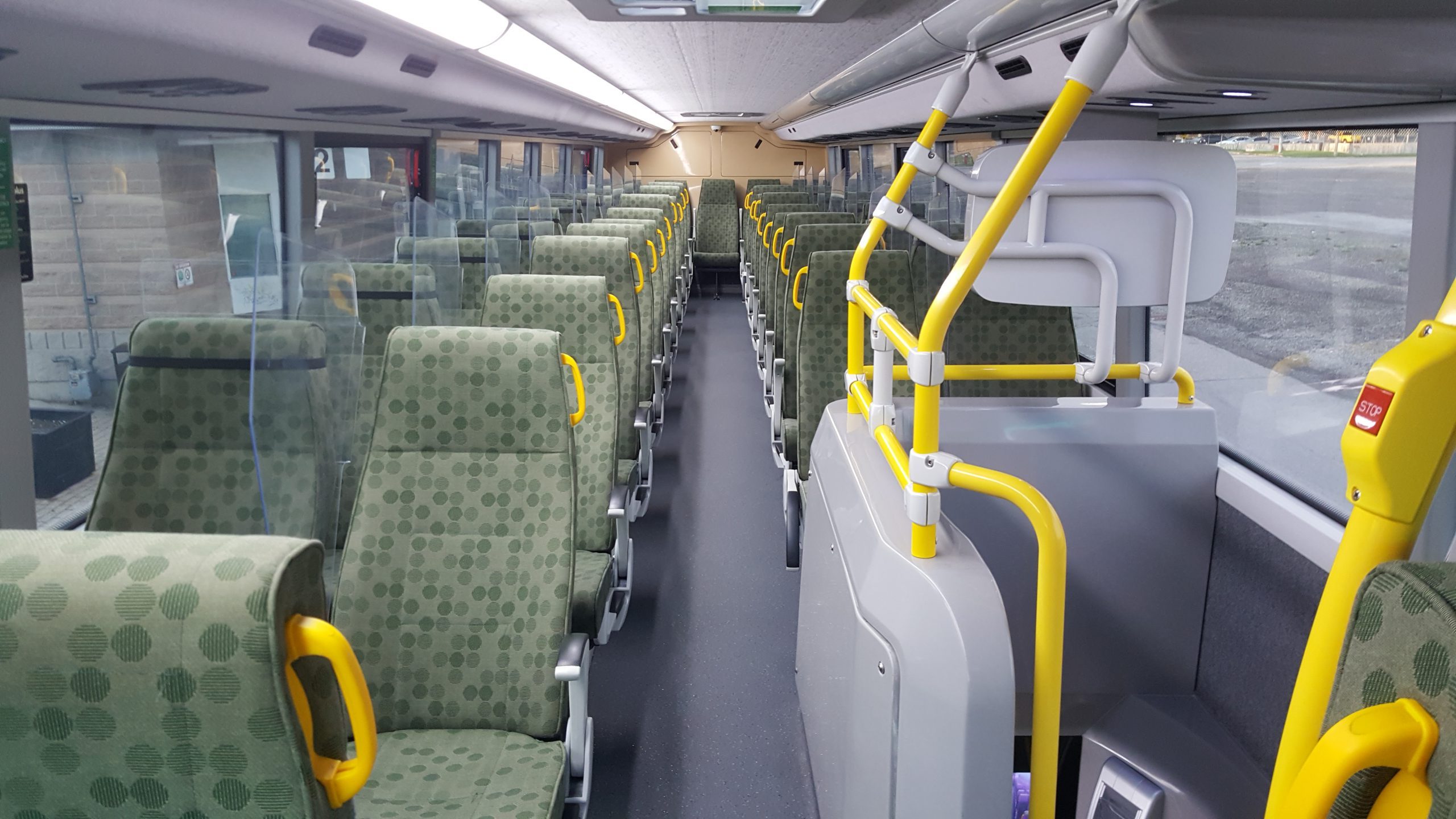 Empty buses/trains are not surprising since Ontario is under pretty strict lockdown. But of course, you are allowed to transit in the province to make your way home or to another province/country. My detailed post about the new interprovincial border restrictions will be published Tuesday morning.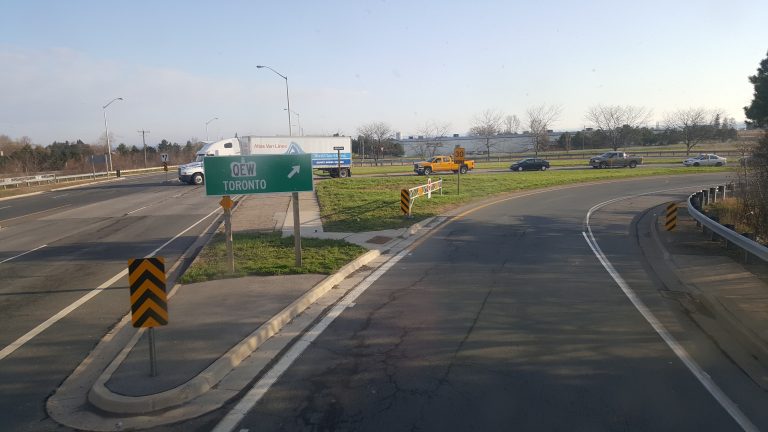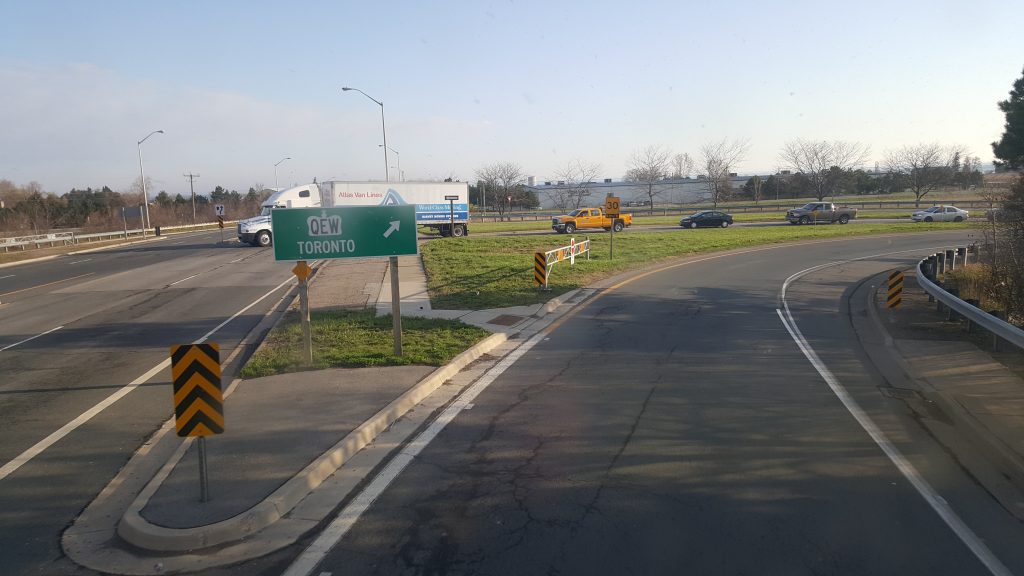 The Burlington GO station was also pretty empty. And there weren't many more passengers on the train either.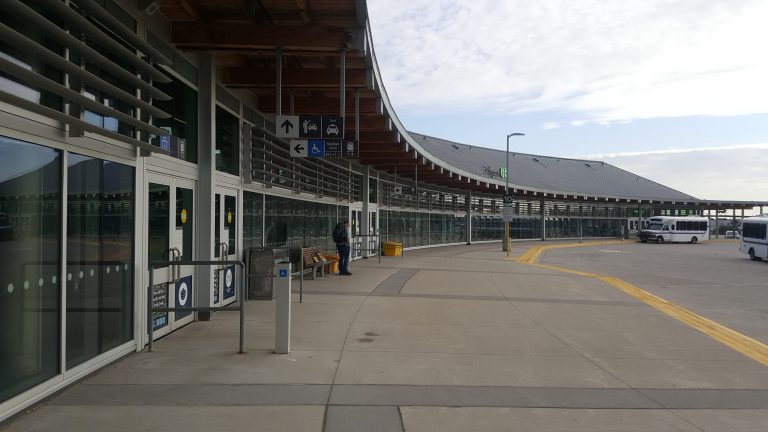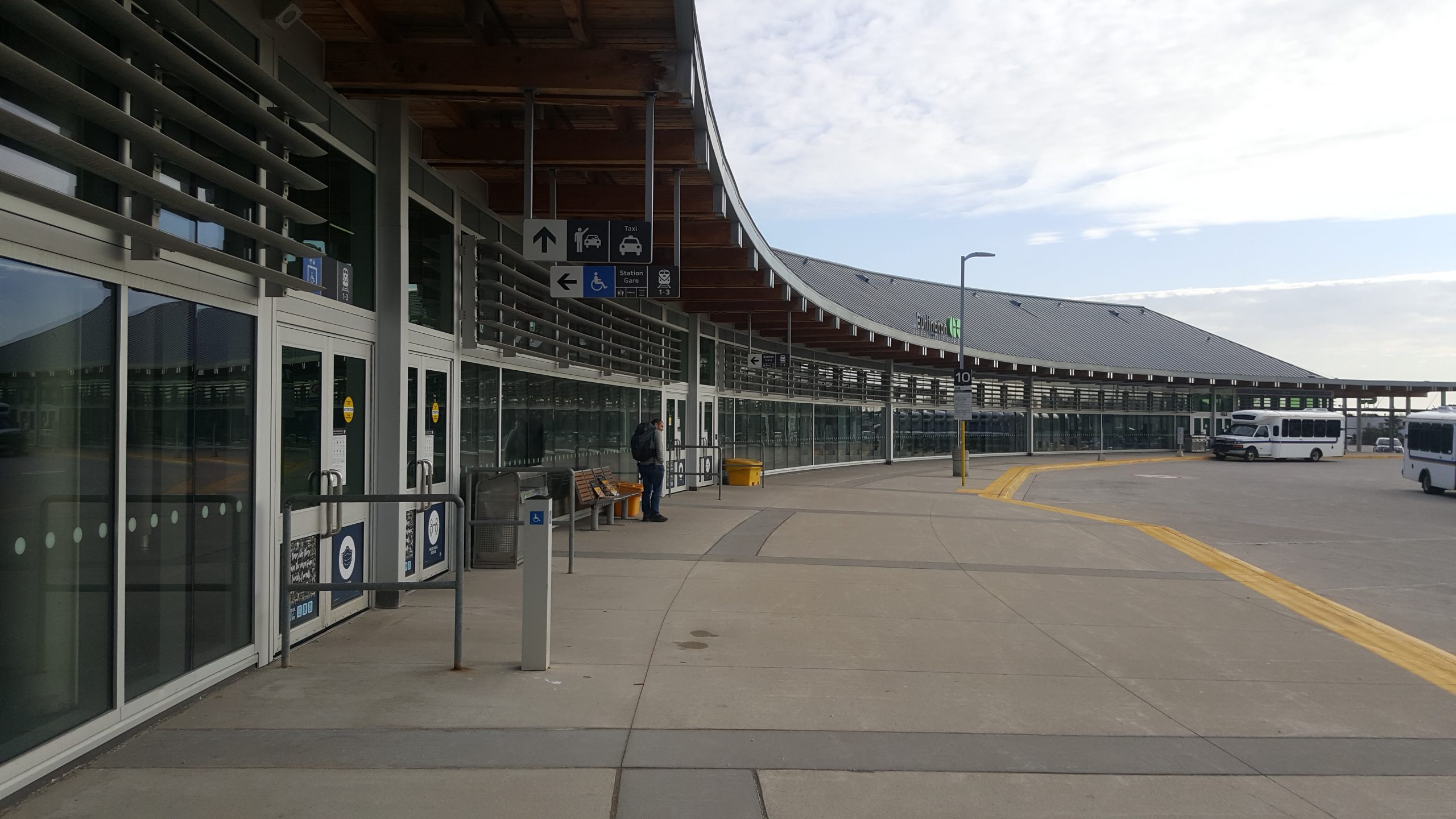 Getting to Quebec City
I arrived at Toronto's Union Station just in time to board the VIA Rail train to Ottawa. My itinerary had a connection there on the $98 ticket from Toronto all the way to Quebec City.
I still have a few VIA Preference points leftover from my days as a management consultant (unlike the other points, those are hard to come by because there are no credit cards to help) but the cash price was so low it would not have been a good redemption at all (VIA points are also variable-value rewards).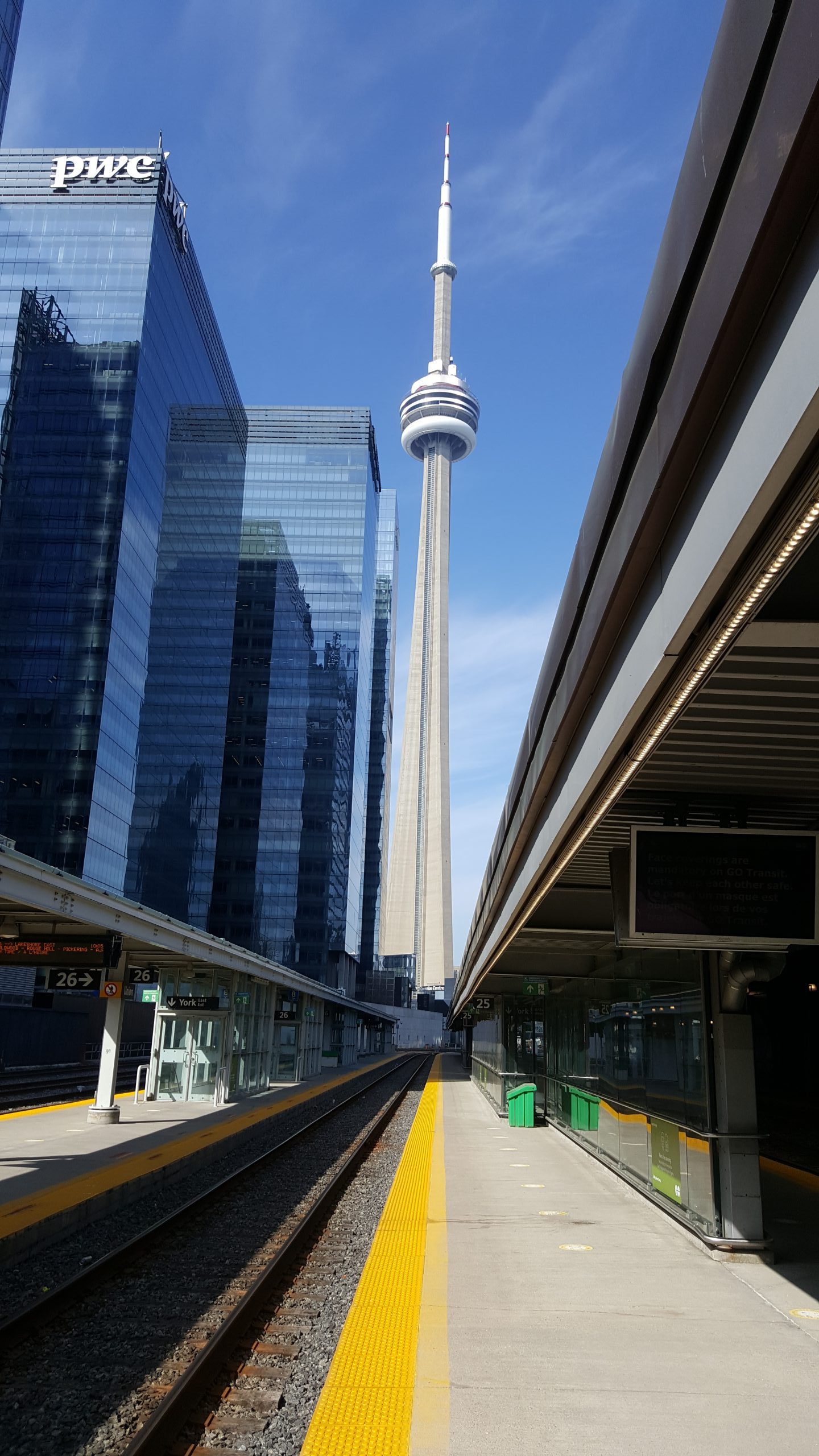 This was my first VIA Rail trip since the pandemic started (although I had taken many trains in Greece, Turkey, England, and Texas).
Everyone was distancing, as has been the case in pretty much all those places.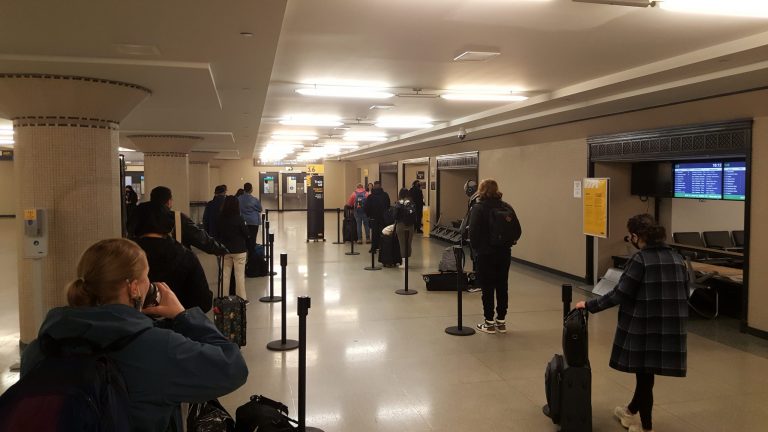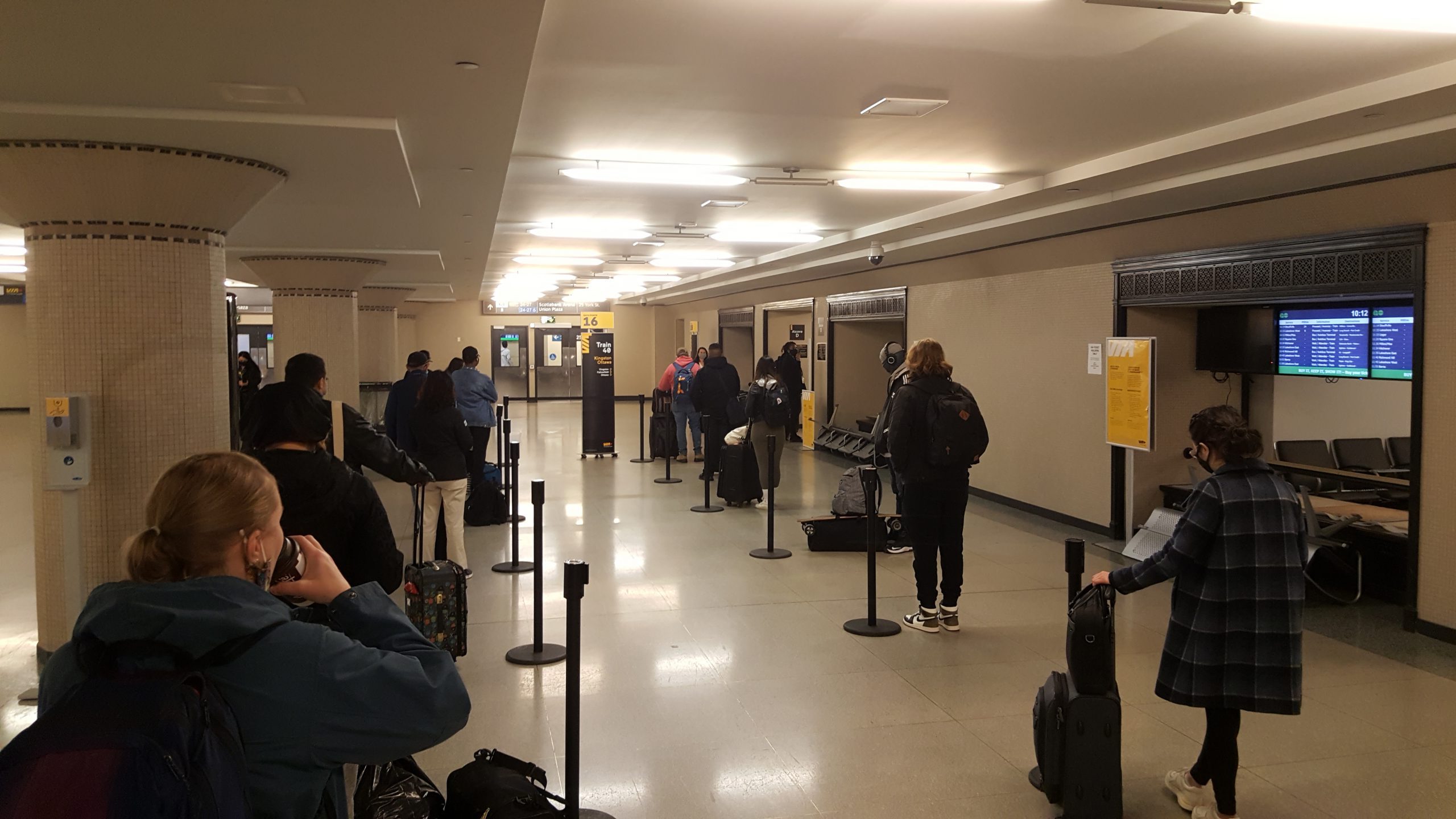 The train was very empty, and I had a few rows to myself.
VIA Rail blocks off seats for distancing, which does compensate for the ventilation systems that are not as great as on planes.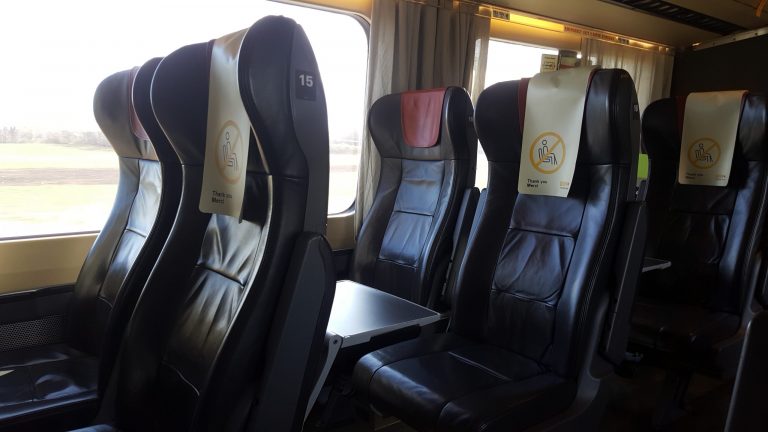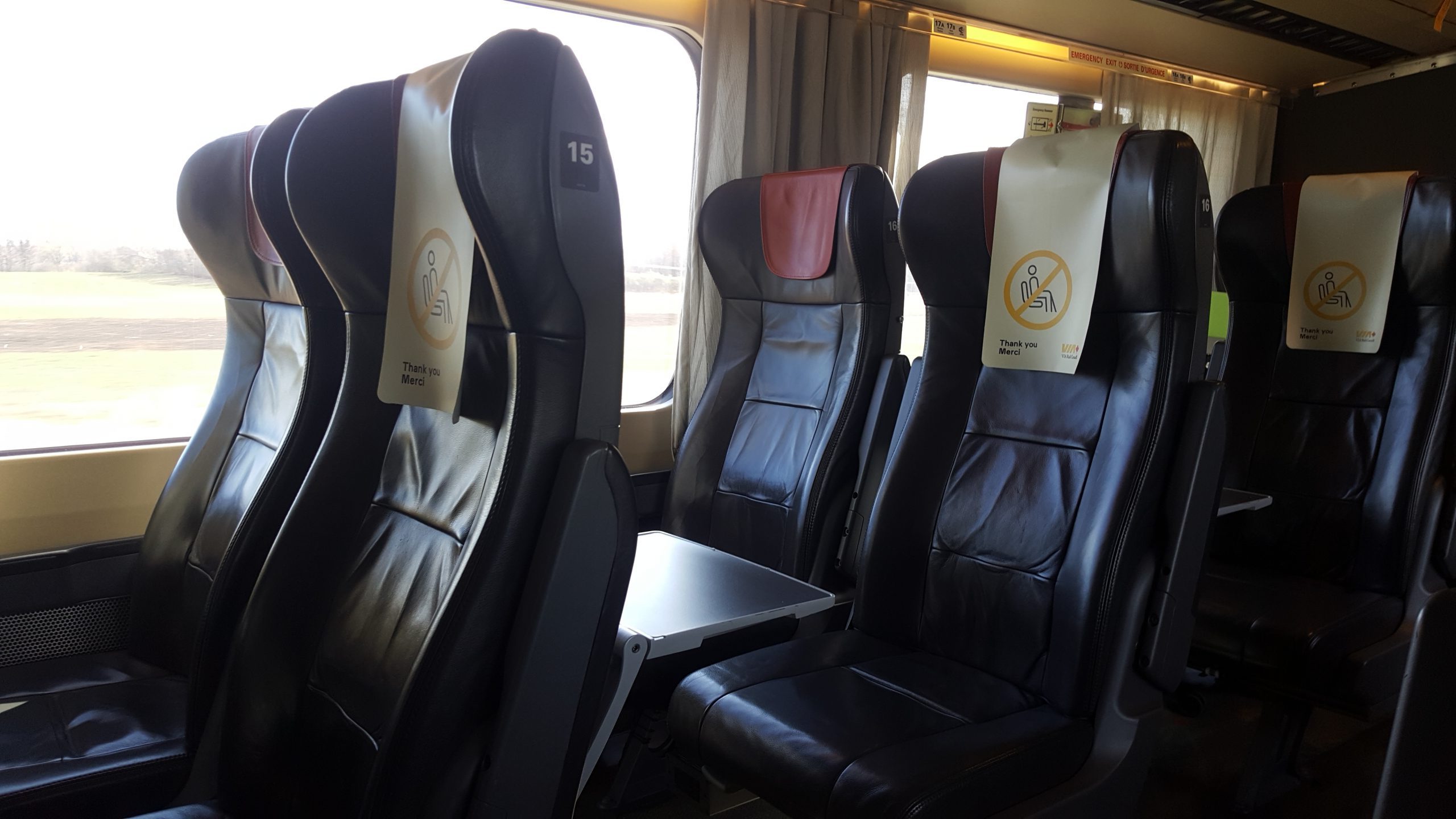 The journey to Ottawa was about 4.5 hours.
And after 27 flights and countless other transport journeys since the beginning of the pandemic, this was the first time someone has been ejected for non-compliance with the mask requirement.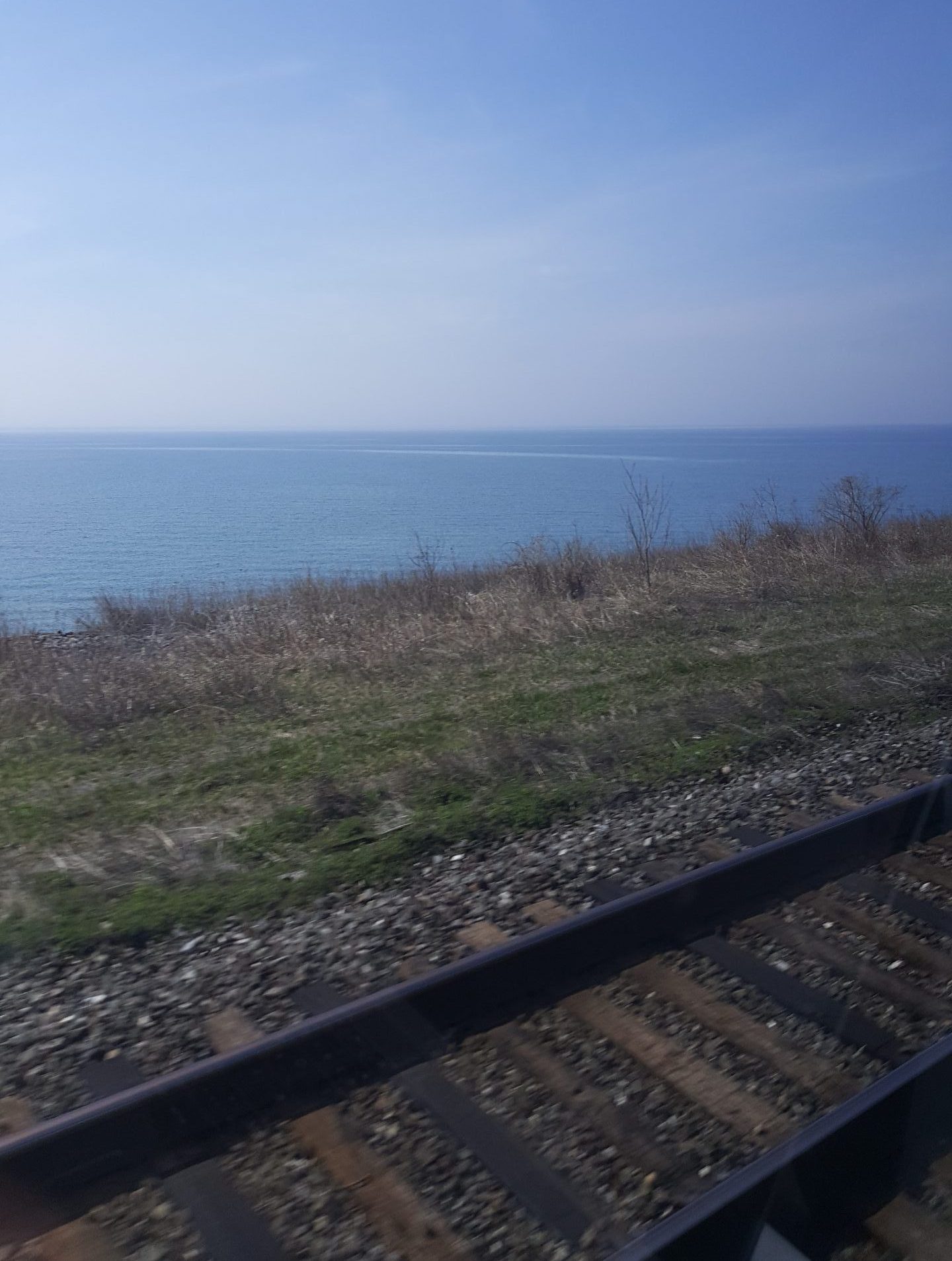 I had just over an hour in Ottawa, so I went to sit alone on a bench outside in front of the station. It was very quiet; the station was a ghost town.
The rules don't allow passengers headed to their place of quarantine to go into restaurants (or anywhere else), so I had to choose a contactless meal option.
I often use food delivery services to travel via my taste buds: I ordered some Thai through Uber Eats (ordered via the Aeroplan eStore online shopping portal to earn Aeroplan points in addition to getting 6 Marriott points per dollar by paying with my American Express Cobalt Card).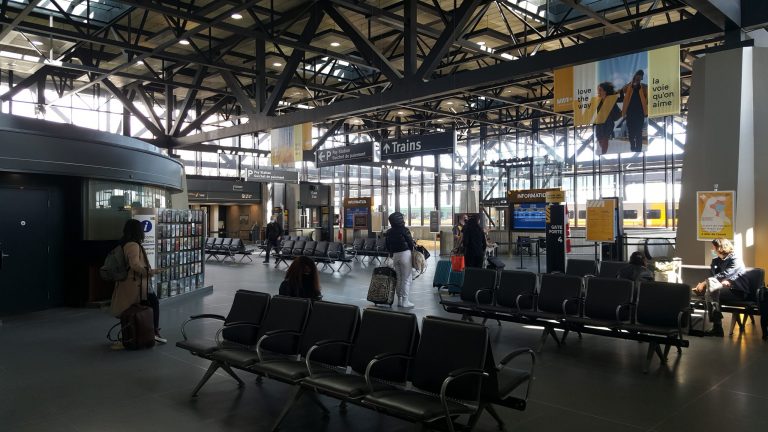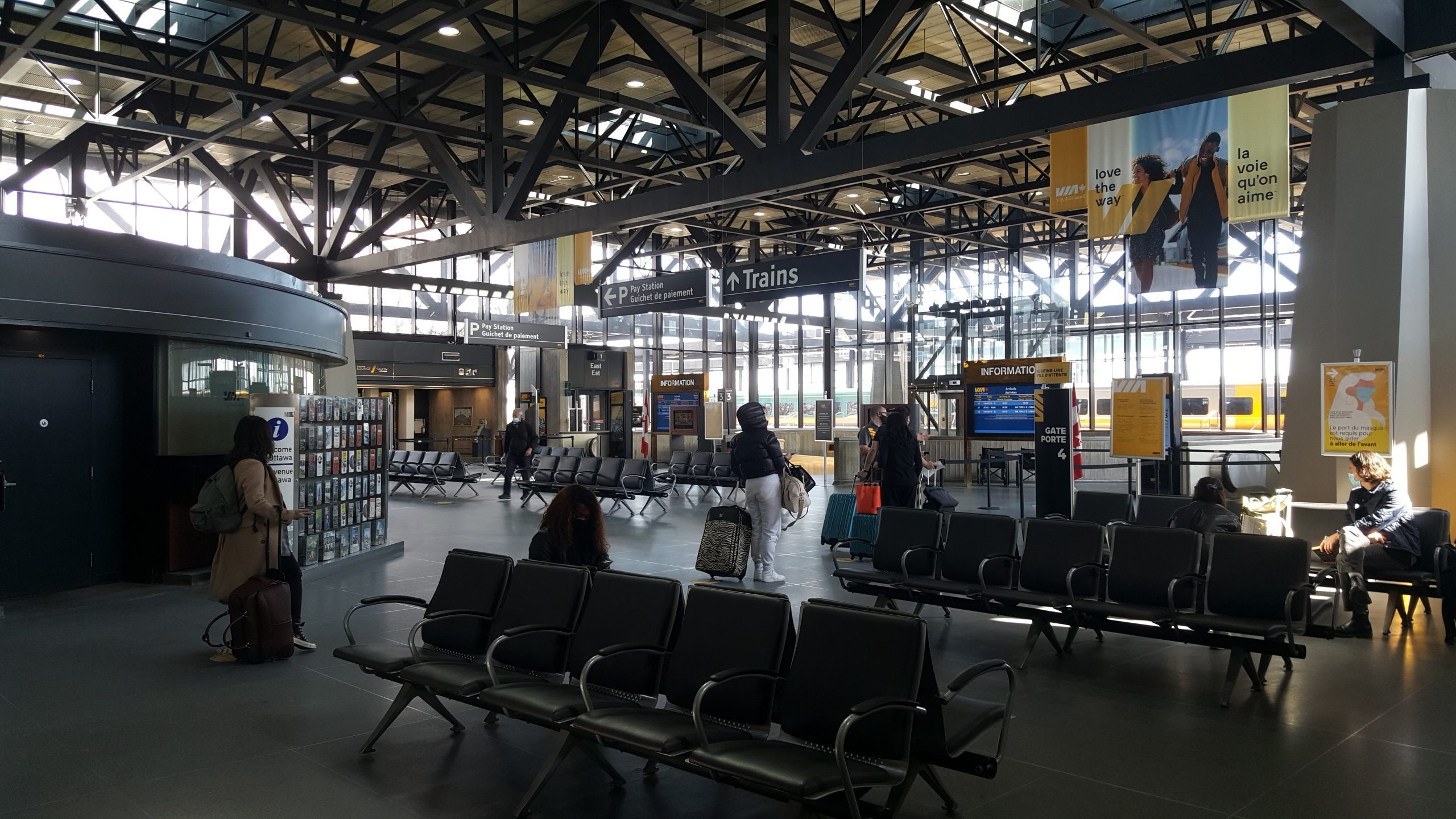 Then, the train to Quebec City was even emptier.
There were just a few other passengers (and most got off in Montreal).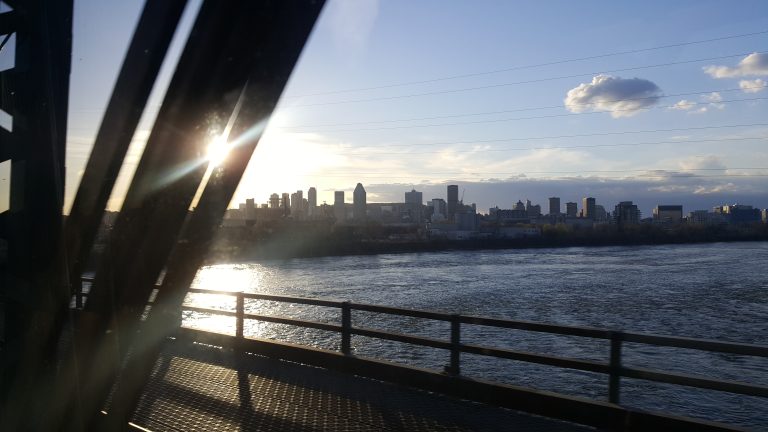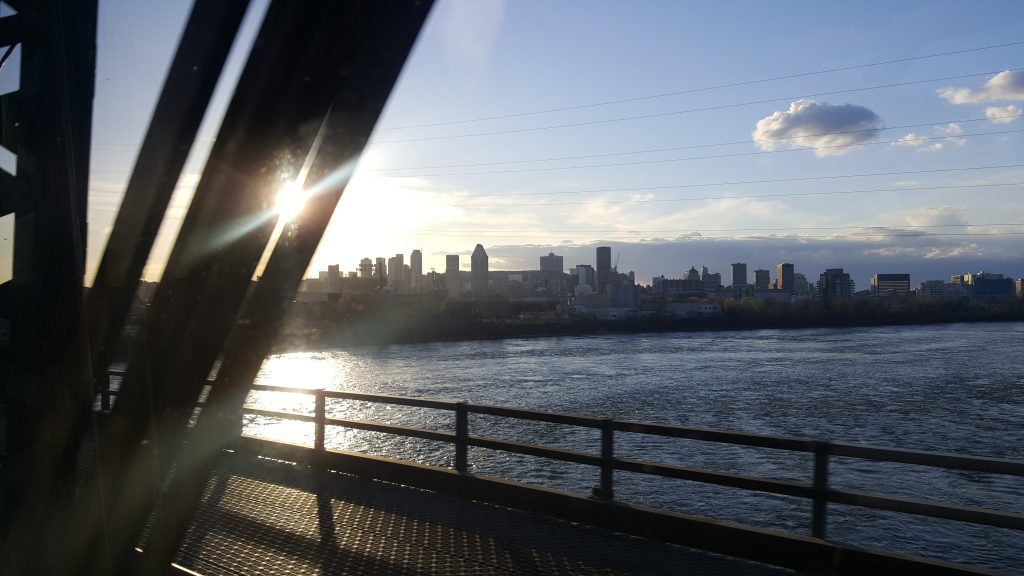 That whole journey took about 5.5 hours.
VIA Rail is ideal to work on the go, with Wi-Fi and power outlets.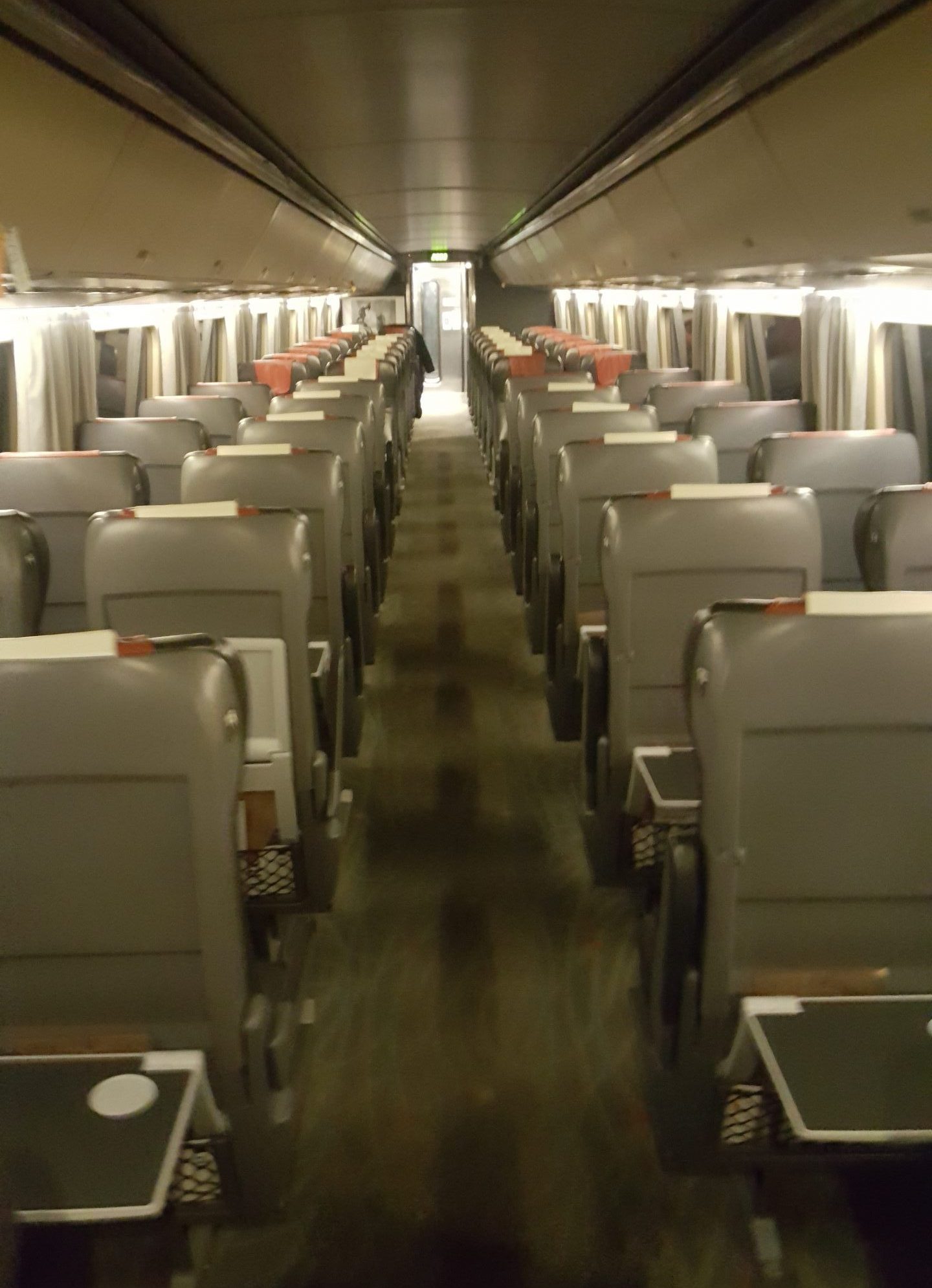 I arrived well after North America's only blanket curfew had started.
Traveling is an explicit exemption in Quebec's curfew, and the city bus from the train station to my condo was operating as normal. Neither the driver nor anyone else asked me anything about why I was out past curfew. It sure felt weird to walk in completely empty streets.
It was easy to keep distancing in that short bus ride too, as only one other passenger boarded.
So I finally got home late in the evening, about 16 hours after leaving the United States, by a combination of many buses and trains.
That's when I started my 13-day home quarantine (the day you enter Canada counts as Day 1 no matter the time, so that one was already over with—someone who would enter just before midnight would save almost a full day of quarantine based on the government rules).
My total savings
This whole process saved me at least $600 compared to the hotel quarantine.
That is enough to pay for literally all of my expenses on my planned 3-week May trip. That's how much money I saved!!!
I am planning to safely and responsibly traveling to a fascinating (and affordable) country that I have been dreaming of visiting for a long time, one that is on the list of 40 countries where you can travel for just C$30 per day.
I can't wait to tell you more about that trip and help you travel with me by sharing the whole experience here and on my Instagram account, as I know many of you aren't in a position to travel yet and miss traveling as much as I do.
If you like off-the-beaten-path destinations as much as I do, you'll be intrigued by this country that looks very tantalizing (and you might even be tempted to eventually plan a trip there before it becomes a trendy destination soon).
My return flight will also be my very first long-distance business class experience (for free with a very cool Aeroplan trick that is sadly no longer available, well at least not for such a low amount of points) so I'll also share that experience with you—including how you can also travel in business class for free thanks to travel rewards and credit cards if you prefer quality over quantity in terms of free trips.
In the meantime, you can also follow Flytrippers' other cofounder Kevin, who has finally become a full-time digital nomad once again: he flew from Texas to Mexico to explore the country for a few weeks before possibly joining me in Asia…
Summary
Canada's land border crossing rules are clear: travelers can quarantine at home instead of in a hotel. In my own experience, it is pretty convenient. It can save travelers a lot of money too.
What would you like to know about Canada's land border crossing rules? Tell us in the comments below.
Explore awesome destinations: travel inspiration
Learn pro tricks: travel tips
Discover free travel: travel rewards
Featured image: sign at the Rainbow Bridge in Niagara Falls (photo credit: Andrew, Flytrippers co-founder)
Advertiser Disclosure: In the interest of transparency, Flytrippers may receive a commission on links featured in this post, at no cost to you. Thank you for using our links to support us for free, we appreciate it! You allow us to keep finding the best travel deals for free and to keep offering interesting content for free. Since we care deeply about our mission to help travelers and our reputation and credibility prevail over everything, we will NEVER recommend a product or service that we do not believe in or that we do not use ourselves, and we will never give any third-party any control whatsoever on our content. For more information on our advertiser disclosure, click here.
Share this post to help us help more people travel more for less: