Since the beginning of the pandemic, Canada has fared a lot better than the US, at least in terms of infection rates. That is no longer the case, with Canada having now surpassed our southern neighbors in terms of new COVID-19 infections per capita.
Will that have consequences for Canadians who are hoping to travel internationally later this spring or this summer?
New COVID-19 cases
The metric used by authorities is always the 7-day moving average of new COVID-19 cases per capita.
If you don't love data tables as much as I do, you can easily see where all countries rank directly on the Google Maps app by selecting the COVID-19 layer option (and you see the state/province-level data by zooming in).
As you can see, Canada is now faring worse than the USA.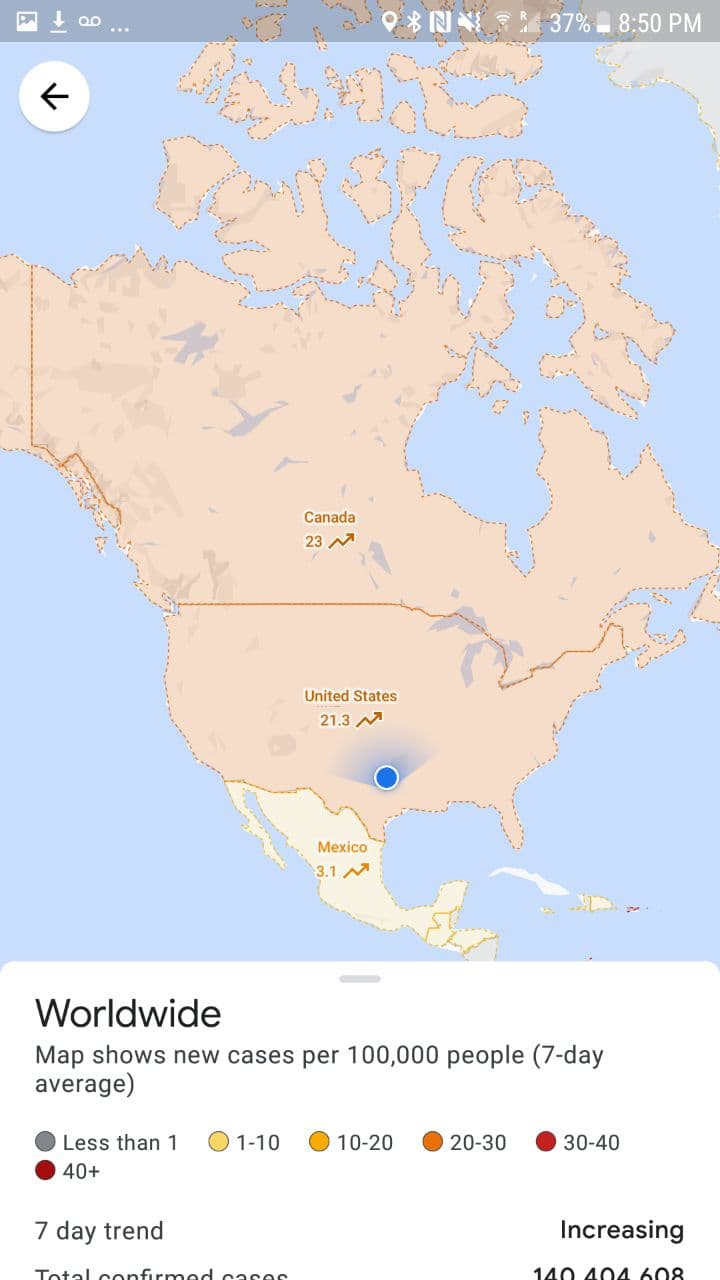 It was bound to happen, since the US focused its efforts and resources on getting vaccines instead of on implementing stupid & ineffective hotel quarantine programs.
Canada might get things together and return to lower levels than the US, but one thing is for sure: Canadians will not be vaccinated nearly as fast as Americans will be.
All Americans are still expected to be fully vaccinated by May. And as we've experienced even as visiting Canadians, it's very efficient. It might be all over in the US before all Canadians even get their first dose.
Maybe US President Joe Biden, who wants to reopen the US land border to Canadians in mid-May, will change his mind considering that it would now be factually more dangerous for Americans than for Canadians, based on the data.
Despite this, some people have such a hard time accepting that facts change and a hard time processing new information that they will continue to believe that the US is the most dangerous place on Earth until the very end of the pandemic, no matter what the numbers say.
(Okay… it certainly wouldn't be the first impulsive emotional irrational reaction during the pandemic; see the whole travel-shaming story.)
Many countries are opening up to travelers
Many countries have already reopened to international travelers, but more and more are announcing plans to do so as well.
For example, we recently told you about Greece's plan to reopen to all travelers without quarantine on May 14th, regardless of vaccination status.
Greece is a very popular summer destination, and having been there last August, we can vouch for it being a very good choice for a pandemic trip.
(I'm sure the Canadian Rockies are beautiful, but it's just not quite like the Greek islands in terms of culture shock!)
Now, Greece has apparently decided to open even earlier. Next week, in fact. But for now, they're only reopening to certain nationalities, including Americans… but not Canadians.
This is obviously a complete 180 compared to what the situation has been since the beginning of the pandemic, with Canadians being much more widely accepted in various countries than Americans have been. In fact, just last summer, Greece was off-limits to Americans while we were obviously allowed in.
So I am still pretty confident Canadians will eventually be allowed into the beautiful Aegean nation, but we'll have to see for how long the current surge in cases gives them pause about welcoming Canadians.
I honestly don't think that our current situation should be too much of an issue for this summer (and not just for Greece): by summer, the situation will certainly have gotten good enough in Canada for many other countries to let us in.
Would you be interested in a detailed guide about which countries are open to Canadians? About how travel restrictions work? Please let us know if that would be useful in the comments below or by emailing us.
Canada and the US are 2 completely different planets right now
Without even getting into our personal experience being here in the US for the past week (we'll save that for a later post), it's just fascinating to see how the 2 countries are like 2 completely different planets right now.
I'll stick to the travel element, and ignore the obvious differences (like the fact that in my hometown I can't legally go outside after 8 pm and that a mere 4-hour flight away, there was a volleyball tournament with 500+ teams taking place).
Not saying it's better or not better (I love debates but that's one I really don't want to get into). We are a travel website and we talk about travel…
And since many seem to believe that no one nowhere is traveling, it's worth sharing how the situation is just across from the world's longest international imaginary line.
In terms of data, air passenger numbers in the USA are already up to over 50% of pre-pandemic numbers. In Canada, it's less than 10%.
Again, nothing surprising, considering the US CDC has updated its recommendation for travel to resume for those who are vaccinated (not that Americans were even waiting for that) and considering that in Canada all travel is seen as literal terrorism😐.
Last Friday, I got a message from a friend of mine who is (or rather was) an Air Canada flight attendant who saw that I was traveling and found it sad to see my photo of the empty screens at YUL airport. She says she has very little hope of returning to work before 2022, at the very earliest…
The very same day, I got a message from another friend who is an American Airlines flight attendant who saw my post and was just happy that I chose to fly AA and didn't bat an eye at the fact someone is traveling.
He is obviously back to work and says that basically everyone has been rehired and literally all their planes are full all the time…
The screens at Dallas' airport sure were full too.
In fact, as I mentioned in previous posts, United Airlines' CEO even said that "domestic leisure demand has almost entirely recovered". A few airlines have already said that they expect to fly a nearly normal summer schedule. Many airlines are even about to have 100% of their fleets back in the air.
In Canada? I'll let this screenshot of the planes flying in the North American airspace taken at 5 pm Thursday speak for itself.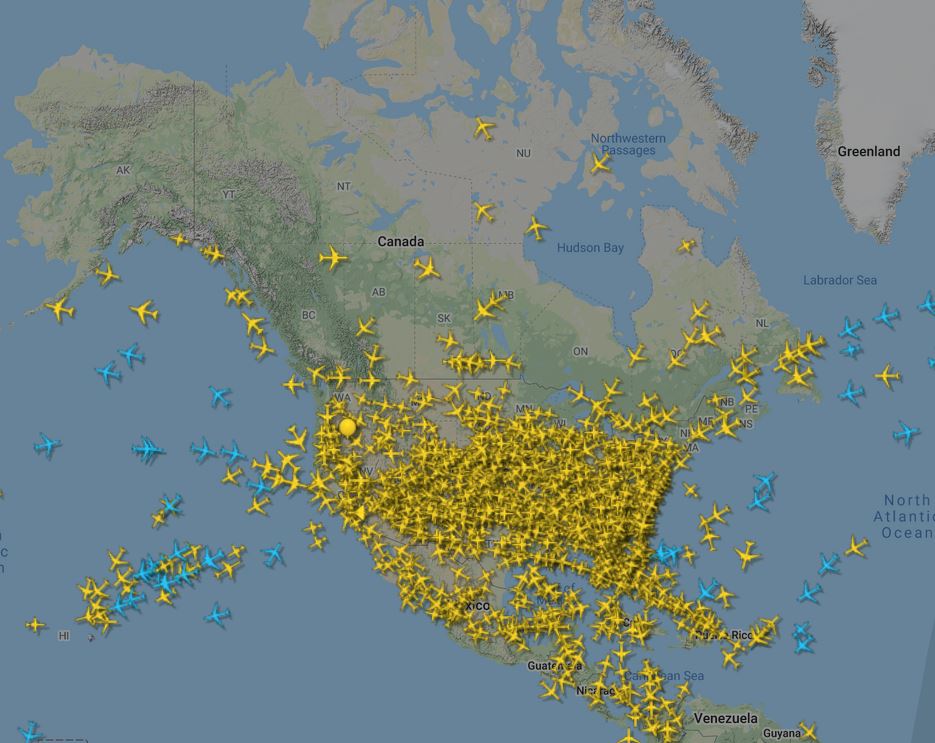 In short… it just couldn't be any more different. For better or for worse; that is just the reality.
Anyway, Americans will have a normal summer with a lot of travel thanks to their vaccination efforts.
Let's hope Canada ramps up its vaccine acquisitions so that Canadians can have the option to travel somewhere other than Canada if they wish to travel soon.
If that's your case, make sure to at least avoid the mistake we mentioned in our post attempting to answer the most frequent question we receive, which is "when can I travel internationally?".
Want to get all coronavirus updates for Canadian travelers?
Summary
Canada has now surpassed the US in COVID-19 cases. And with vaccination efforts going so much faster in the US, soon both countries might be even more like 2 completely different planets than they already are.
What do you think of this reversal of fortune? Tell us in the comments below.
Explore awesome destinations: travel inspiration
Learn pro tricks: travel tips
Discover free travel: travel rewards
Featured image: Arches National Park (photo credit: NOAA)
Advertiser Disclosure: In the interest of transparency, Flytrippers may receive a commission on links featured in this post, at no cost to you. Thank you for using our links to support us for free, we appreciate it! You allow us to keep finding the best travel deals for free and to keep offering interesting content for free. Since we care deeply about our mission to help travelers and our reputation and credibility prevail over everything, we will NEVER recommend a product or service that we do not believe in or that we do not use ourselves, and we will never give any third-party any control whatsoever on our content. For more information on our advertiser disclosure, click here.
Share this post to help us help more people travel more for less: