The mandatory 14-day quarantine requirement for travelers re-entering Canada (except in Alberta) and the entry restriction for foreign travelers (except for Americans) were both due to expire tomorrow, November 30th. It was very likely to be extended, and that's what happened today officially. But the bad news is that for the first time since June, the measures were extended by more than just one month, until January 21, 2021.
Here is why that is disappointing and also why that date was chosen.
Disappointing, but not surprising
This extension doesn't mean the current pilot project that replaces the 14-day quarantine with testing won't be extended to other provinces before that (it was implemented even with the current rule active, so it's not an obstacle)… But it's still disappointing, although really not surprising (we'll soon share how Premiers of certain major provinces have reacted and details of another separate pilot project that is encouraging).
It would have been surprising for the government to loosen the restrictions in time for holiday travel, whether or not it's logical to impose a blanket quarantine requirement regardless of the country you're arriving from (spoiler alert: it's not).
Even the UK, one of the other countries with a strict quarantine rule since the start (and at least theirs was science-based and only for countries with higher infection rates, not for countries where things were going better than in the UK) has announced recently that they will be replacing that with a testing program, like many other countries have.
That was after a study was published and showed that their quarantine rule was literally the least effective option to protect the population. Not surprising, and probably not very different here, given our own personal experience with Canada's quarantine, with absolutely no monitoring whatsoever (but that's a topic for another post to come).
(Not to mention that 81% of the 5 million travelers who entered Canada since March were exempt from the quarantine, and since we don't have testing, well…)
In Quebec, 7 days of quarantine is good enough to be able to have holiday gatherings with vulnerable elderly people, even if you take no precautions and take part in plenty of activities before that.
7 days of quarantine is also enough after those multiple family gatherings with 10 people (where many will likely not adhere to distancing and masks of course), before going back to work or being in crowds in large stores.
Oh, and those 7 days are enough in a province where the government itself says virus transmission is very high.
But those 7 days aren't enough if you take all precautions when traveling responsibly and safely and return from an area with fewer active cases than in Quebec.
For that, it's 14 days…
(Oh, and going to bars will be okay when the lockdown will be over, but traveling safely will not… that shouldn't be done until there's a vaccine…)
Anyway, our federal government has been either passive or just terribly slow since the start (it took over 6 months to have a rule that all airports had to screen temperatures after all…) so putting in place better testing in less than 10 months is clearly just too much to ask.
Here is the updated infographic with the current expiry dates for each measure.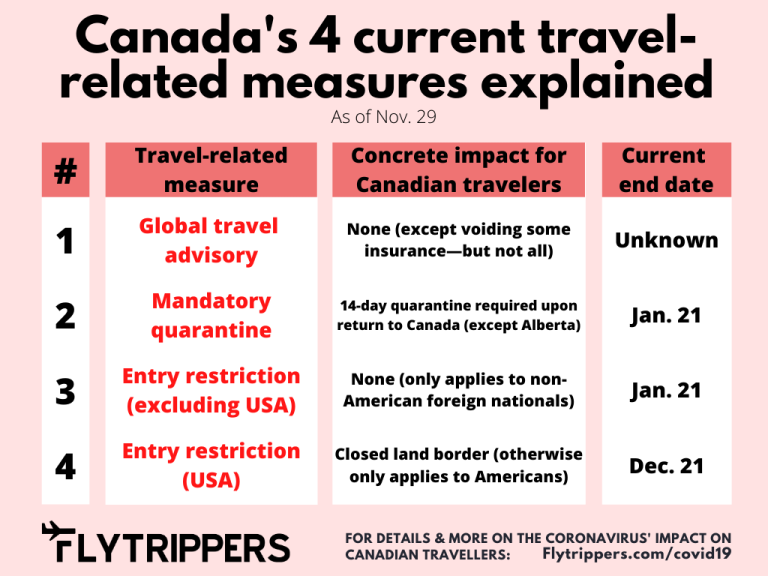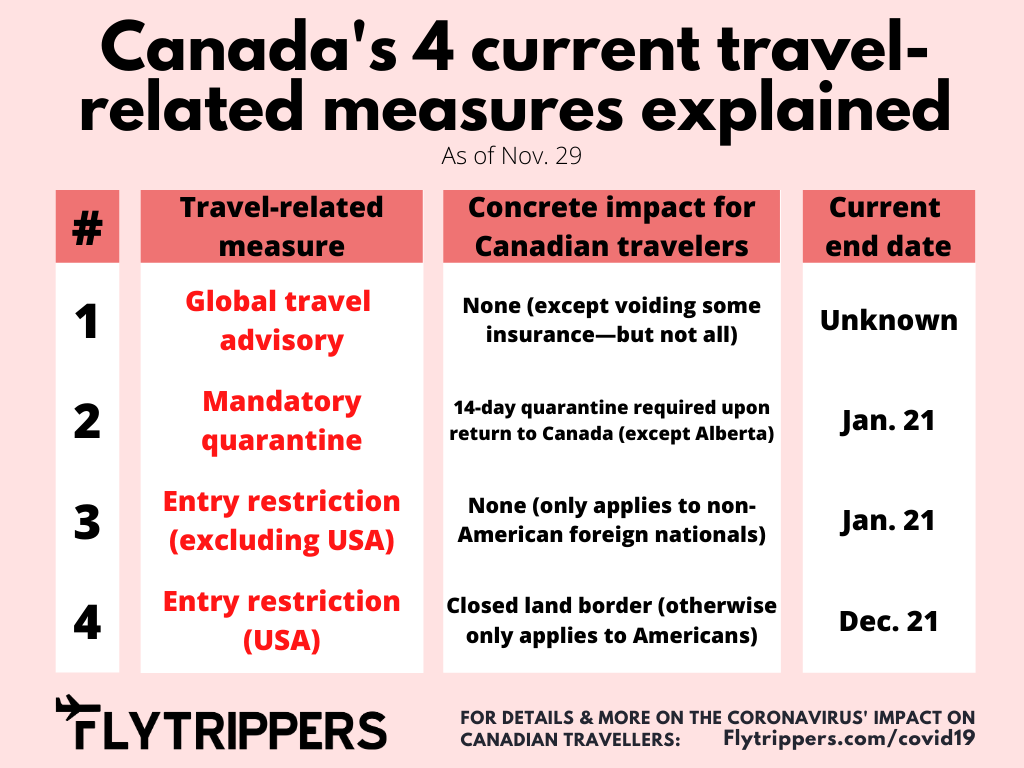 As you can notice, that means that there will likely no longer be different expiry dates for the entry restrictions for Americans and all other foreign travelers.
That is almost certainly why January 21st was chosen, to match the separate US rule (why else would it be a random Thursday in January).
That also means that as we pretty much all expected, the chances of the Canada-USA border closure ending on December 21st, when the current rule will theoretically expire, are almost nonexistent.
January 21st will be 10 months after the initial closure, but also, that will coincidentally be the day after President Trump's term ends and Joe Biden takes office (barring any funky Electoral College surprises).
So in all likelihood, all travel-related measures will be in place into the new year and will then all be re-evaluated at the same time on January 21st, which will make it a lot easier for the vast majority of people who did not understand that there were even 2 separate measures in the first place.
Like many who don't understand that traveling is not forbidden, just not recommended. Or that the US border is only closed overland, not by plane. Or that international flights were never banned and in fact continued all along.
Anyway, you can read more details about every one of the 4 travel-related measures in Canada.
Are you surprised by this longer-than-expected extension? Let us know in the comments.
Want to get more coronavirus updates for Canadian travelers?
Summary
The mandatory 14-day quarantine when re-entering Canada and the entry restriction for non-American foreigners have been extended for more than one month for the first time since June.
What do you think of these extensions? Tell us in the comments below.
Explore awesome destinations: travel inspiration
Learn pro tricks: travel tips
Discover free travel: travel rewards
Featured image: traveler in BC (photo credit: Viviana Rishe)
Advertiser Disclosure: In the interest of transparency, Flytrippers may receive a commission on links featured in this post, at no cost to you. Thank you for using our links to support us for free, we appreciate it! You allow us to keep finding the best travel deals for free and to keep offering interesting content for free. Since we care deeply about our mission to help travelers and our reputation and credibility prevail over everything, we will NEVER recommend a product or service that we do not believe in or that we do not use ourselves, and we will never give any third-party any control whatsoever on our content. For more information on our advertiser disclosure, click here.
Share this post to help us help more people travel more for less: