BREAKING: The border will be reopening on November 8, click here for details (this post will be updated soon).
The Canada-USA border closure (for the land border) has been extended once again, until October 21st, just for Canadians who want to go to the USA. Canadians can only enter the USA by plane (whether they are vaccinated or not) but Americans are allowed to enter Canada by land or by plane (if they are fully vaccinated).
Here's everything you need to know about the coronavirus-related Canada-USA border closure.
Canada-USA border closure (September 20th update)
The Canada-USA land border closed on March 21st, 2020 for one month, and the measure had already been extended 17 times, all the way to September 21st (usually 1 month at a time). I will let you read the details below in case you hadn't already.
Now the US government confirmed that their side of the Canada-USA border closure will once again be extended to October 21st, the 18th extension—and the 3rd unilateral one.
Yes, the US—where there was a completely full 40,000-seat stadium and a 500-team volleyball tournament in April when we visited—is keeping the border closed, while Canada has reopened to fully vaccinated Americans on August 9th.
You would think the US would have opened too since they've never restricted Canadians from entering by plane. And since everything else has been 100% reopened for a while there.
Major changes were announced to the US entry rules for November, but the land border reopening was not mentioned. Let's hope it does finally reopen in November.
I had actually recently booked non-refundable festival tickets for Labor Day weekend in Boston, that's how 100% sure I was that the border would be open by then. Oh well…
With the requirement to be vaccinated to board a plane in Canada announced by Trudeau (which will come into effect before the end of October, unless Canadians kick him out of office during his pandemic election), those who are not vaccinated are going to be caught with no way to get out of the country.
You can read our post about all of Canada's COVID-19 international travel rules, but we'll explain the rules for leisure travel between Canada and the USA below.
Canada-USA land border rules vs. rules for air travel
As a reminder, for us Canadians, the Canada-USA border closure applies only to the land border.
There is absolutely no restriction on entering the US by plane, and there never was (there is an entry requirement, not an entry restriction: showing proof of a negative antigen test since January—that's the cheaper and faster version).
Here's another infographic that should make it easier to understand the facts about the situation at the Canada-USA border.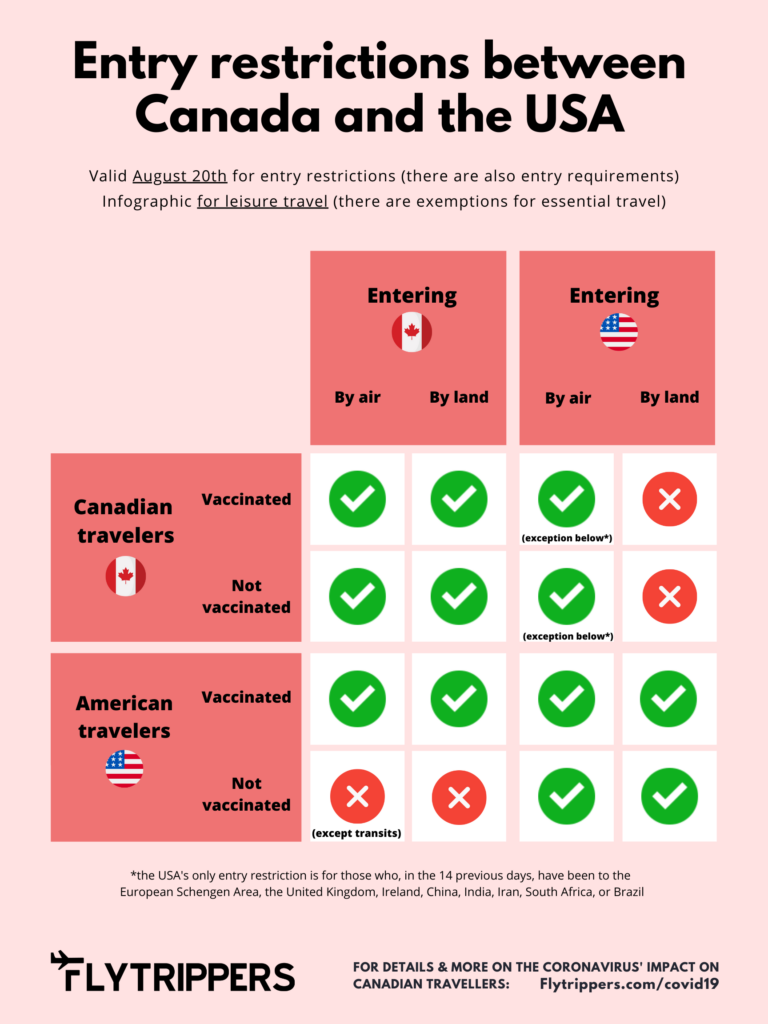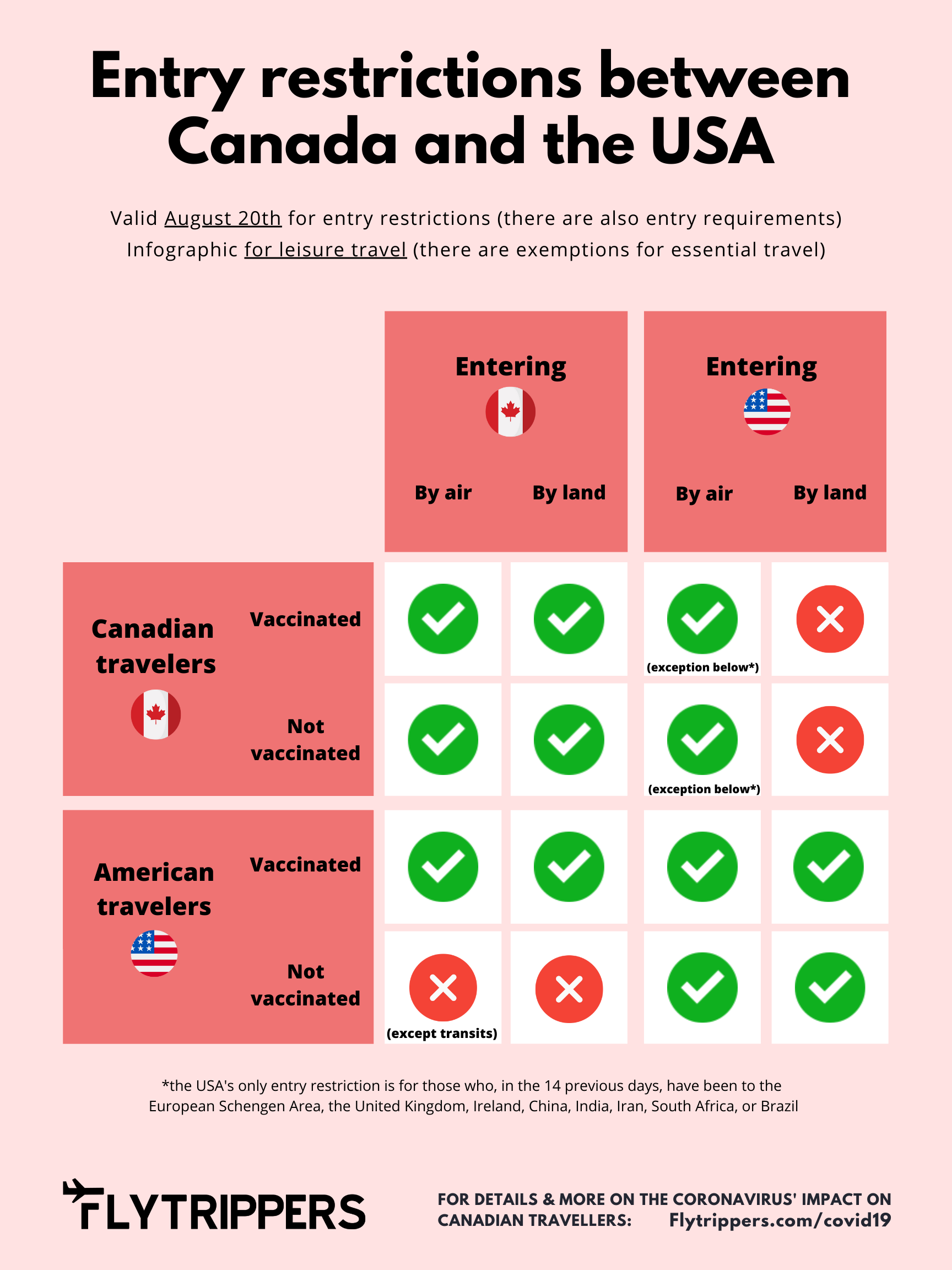 That just means you can travel by air to the US; doesn't mean you should.
Two completely separate things. Everyone's situation is different.
For some people, there are plenty of good reasons not to go to the US, so no need to resort to falsehoods like saying it's not allowed or banned.
It definitely isn't; that's objective. Whether you should; that's subjective. You can read our detailed post about how Canadians can travel to the United States.
Exceptions to the Canada-USA border restrictions
Of course, there are the standard exceptions for essential travel.
But in June 2020, Canada changed its entry restrictions (not just with the US—all border restrictions) to let some non-Canadians in, specifically those who are immediate family members of Canadian citizens and permanent residents.

Some media outlets have stated this was an exception "for Canadians" but that is false.
At the risk of repeating myself, it's important to understand how border restrictions work if you want to be better equipped to travel when it's the time to do so: Canadians have never been banned from entering Canada. It's not possible for "Canadians to get exempted" since Canadians are already exempted from Canadian entry restrictions (and always have been).
This exception is for foreign nationals to enter to reunite with their family, as long as they don't have COVID-19 symptoms. They still are required to go into quarantine for 14 days no matter what.
You can read who is eligible for this exception here.
What the Canada-USA land border closure extension means for travelers (section to be updated soon)
Obviously, this doesn't mean you can't enter Canada if you're Canadian (Canadian border restrictions don't apply to Canadians). Also, this means you can't enter the USA by car, but it does not mean you can't enter the US at all.
In short, this measure restricts us Canadians from entering the USA overland and restricts Americans from entering Canada by any means. That's it.
This is just one of Canada's COVID-19 international travel rules.
Travel restrictions that keep you from traveling
Of course, you are definitely allowed to travel internationally even today (plenty of flights are available and many countries have reopened to Canadians). Travel restrictions and the travel advisory are completely separate things, as we explained in greater detail in our post on the 3 myths about border restrictions.
Just to be clear, many countries are open and they are the only ones that determine if you CAN travel or not, Canada has nothing to do with that. Those are the facts, and they're important to understand since all of these concepts will likely remain a consideration for some time, even when some measures will have been lifted.
So understanding how the measures all work will help you, no matter when it is you'll be ready to travel.
If you do want to think about traveling, at least do it safely and responsibly—we'll be here to help you do so. You should thoroughly consider the 15 important factors in our ultimate guide to make sure you are comfortable with all the current risks in your personal situation.
Factors to consider that don't formally keep you from traveling
There are 2 main factors that our Canadian government controls that impact if you SHOULD travel or not, namely the quarantine upon return and the travel advisory that voids some travel insurance policies (but now some Canadian insurers include COVID-19 in their medical travel insurance coverage).
There are many other elements to consider that are in our guide, but I'll just highlight two.
First, the mandatory quarantine. It's not impossible that the quarantine requirement would be lifted for safe countries in May, to make international travel more accessible this spring, but our optimism has sure been dampened significantly for those who don't want to go into a 14-day quarantine upon return.
As for Canada's travel advisory (that does not prohibit you from traveling contrary to the widespread myth), it could be lifted before that quarantine requirement ends or before our own borders reopen to international travelers, which would help Canadians choose the safest destinations among the countries that have reopened to Canadians. The advisory currently has no known end date.
You can read more analysis in our post about Canada's COVID-19 international travel rules.
But it's just too soon to know when things will change. That's what we keep telling you: we can only wait and hope. International travel will require being more flexible and easygoing for a while, as we explained at the end of our post about Canadians being on the list of 15 nationalities allowed to enter the European Union.
Canada's entry restrictions
Canada has also extended its entry restrictions (border closure) for non-American international travelers until May 21st.
That is irrelevant to Canadians of course, but… when Canada's government will let in international travelers, logically it will also stop recommending that we don't travel (at least for some low-risk destinations instead of the current blanket advisory).
The opposite would make absolutely no sense.
It's not impossible for our travel restrictions to be lifted for countries less affected by the coronavirus than the US before they are lifted for Americans. When Canada closed its borders in March, at first Americans were exempted (for just one day, but still) so maybe we'll see the opposite this time.
Previous Canada-USA border closure extensions
Here is the history of the Canada-USA border closure due to the coronavirus:
On September 20th, the border closure was extended to October 21st (unilaterally by the USA)
On August 20th, the border closure was extended to September 21st (unilaterally by the USA)
On July 21st, the border closure was extended to August 21st (unilaterally by the USA)
On June 18th, the border closure was extended to July 21st
On May 19th, the border closure was extended to June 21st
On April 20th, the border closure was extended to May 21st
On March 18th, the border closure was extended to April 21st
On February 19th, the border closure was extended to March 21st
On January 12th, the border closure was extended to February 21st
On December 11th, the border closure was extended to January 21st
On November 18th, the border closure was extended to December 21st
On October 18th, the border closure was extended to November 21st
On September 15th, the border closure was extended to October 21st
On August 14th, the border closure was extended to September 21st
In July, the border closure was extended to August 21st
In June, the border closure was extended to July 21st
In May, the border closure was extended to June 21st
In April, the border closure was extended to May 21st
In March, the border closure was announced from March 21st to April 21st
Initial Canada-USA border closure news on March 18th, 2020
In another incredible (and rapid) development, the Canada–USA border is expected to be closed soon. We here at Flytrippers had learned this from a source last night before major outlets published it, but since it was unconfirmed, we did not want to share information that wasn't official either.
Our source
It still isn't 100% official as of 12:30 AM Wednesday, but credible media outlets have now published this, so let's say it's almost sure to happen.
How did we know 2 hours before CNN posted this late tonight? Well, someone who is currently stuck abroad, an acquaintance of Flytrippers' other cofounder Kevin, shared with us what the Canadian embassy had told him. They said finding a return flight that stopped in the US was not an option to return to Canada.
This was odd since, as we speak, there is no restriction on Canadians entering the US (as long as you haven't been to Europe, like our source who is in a completely different region).
This led us to believe the Canadian embassy knew something was happening about the Canada–USA entry restrictions, although we were a bit skeptical that the embassy would be at liberty to share that with random travelers before it is made official.
But sure enough, they did, because this is happening. Air restrictions ended up not being a thing, so they didn't have all the information, but they definitely had some. That is why it is very important to contact the emergency consular services if you're stuck abroad, as we mentioned in our general tips on getting home).
Border closure basics
So to summarize:
From the very beginning of this crisis up until this Monday (March 16th), there was absolutely no restriction on entering Canada.
Monday, the Canadian government announced that the border would be closed to foreigners, except Americans.
And then the very next day, the embassy was telling Canadians not to return via the US, and a Trump administration official has told CNN that the Canada–USA border will be closed after all.
Wow, this situation is really evolving more quickly than anything we've ever seen.
Now, what does this mean? Well, apparently, the border will be closed to non-essential travel, meaning there would be some exceptions (as of yet undefined). So it's a little less restrictive than Canada's previous restriction on all other nationalities announced Monday. And this one is different since it is bilateral and not unilateral; in other words, it's a mutual agreement.
Many have wondered what took Canada so long to close its border. Some say that managing the vital relationship with the US played a part, while others definitely think otherwise since Americans were first excluded anyway. Whatever the case, soon it'll be closing to Americans too.
Of course, this does not mean that the Canadian border is closed for Canadians who want to return home. We explained that in our article about the facts related to the Canadian government's travel advisory issued before the border closing announcement: you live here; they can't decide not to let you in. The exception is if you have symptoms, and if you're interested, even that is apparently unconstitutional, according to some experts. Some are already mounting a legal challenge to remove that condition.
But as we also said, when the border is closed, there is no demand for flights, and those will eventually almost all be canceled, so you won't be able to return that way. That's the issue most people stuck abroad are facing as we speak, since airlines are cutting flights left and right for many reasons. One of the main ones is to try and preserve cash flow to mitigate what will likely turn out to be the worst crisis the aviation sector has faced in, well, maybe forever.
The Canada–USA border closing is not just problematic for those stuck in the USA, but rather for all those stuck everywhere. The US, being the biggest aviation market in the world, was the best place to fly to in order to get out of all the other countries (except Europe) and then get to Canada, with a lot more flight options that go to Canada directly.
At least, if you're in the US, as a last resort, you might be able to return home overland, but at the rate things are going, who knows if domestic travel restrictions could be put in place in the US. This is not impossible at this stage; the US President alluded to it himself. If movement between states is restricted, even returning overland would be complicated. The many Canadian snowbirds still in the US should take that into account.
Having spent 10 days in the US as the pandemic started, my perception is that things will get a whole lot worse there before they get any better. In that article, I shared my experience entering Canada by plane on Monday, and the measures I was subjected to. These have been strongly criticized in the past week.
Finally, yesterday my uncle and aunt asked me for help finding them a way back from Saint-Martin in the Caribbean, where they spend a few winter months. Flights being canceled are one thing, but the entry restrictions by other countries are also making it very complex to find a place to transit to. They definitely aren't the only ones who want to come back from various parts of the globe.
Want to get more content to stay up-to-date with travel restrictions?
Summary
The Canada-USA border closure has been officially extended unilaterally until October 21st by the USA.
What do you think of the Canada-USA border closure? Tell us in the comments below.
Explore awesome destinations: travel inspiration
Learn pro tricks: travel tips
Discover free travel: travel rewards
Featured image: Canada-USA border (photo credit: unknown)
Advertiser Disclosure: In the interest of transparency, Flytrippers may receive a commission on links featured in this post, at no cost to you. Thank you for using our links to support us for free, we appreciate it! You allow us to keep finding the best travel deals for free and to keep offering interesting content for free. Since we care deeply about our mission to help travelers and our reputation and credibility prevail over everything, we will NEVER recommend a product or service that we do not believe in or that we do not use ourselves, and we will never give any third-party any control whatsoever on our content. For more information on our advertiser disclosure, click here.
Share this post to help us help more people travel more for less: