Canadians have never had so many options to travel test-free. So Flytrippers is sharing the updated list of 211 countries and territories Canadians are allowed to travel to. For "fully vaccinated" Canadians, 201 countries are open with NO entry test requirement. For unvaccinated Canadians, 141 countries are open with NO entry test requirement and traveling is now much easier since Canada's vaccine requirement to board a plane has been lifted on June 20th.
We'll soon have a very useful resource page to answer all of your questions about pandemic travel.
SIGN UP for our free newsletter to get it first (well, with the 90,000+ savvy Canadian travelers already subscribed) and to also get the updates to this guide of each country's rules… and plenty of pro tricks to travel more!
⚠️ And as much as I'd love to just give you the list of countries right away…
First, there are VERY IMPORTANT disclaimers to keep in mind, because Flytrippers takes its responsibility as the resource for Canadian travelers very seriously.
Please read them.
Important warnings to read
Here are the 16 major ones:
To be considered fully vaccinated, some countries now require a booster shot (or a recent dose)
Every country's rules can change at any time (always double-check and be flexible & easygoing)
Only one official source exists (IATA) and it's the same for every country (the link is at the end for each country)
Many countries also require filling out some type of form (it's not very restrictive… but it's mandatory)
We split the countries based on the main rules (antigen tests, PCR tests, quarantines, and complete closures)
The map of countries is simplified for more clarity (always read the details for the country below)
The finer details about each rule are completely different from one country to another (read)
There are 2 separate lists (one for fully vaccinated Canadians and one for unvaccinated Canadians)
Restrictions are being eliminated at crazy speed so more should keep being lifted (we'll update regularly)
These are the rules to enter by air (land border rules can be more strict… or less strict)
Check rules for transit countries too (and some may allow transits even if entry is not allowed)
Rules can be different if you've been in countries other than Canada (more strict… or less strict)
We focus only on the rules for leisure travel (there are often exemptions for other specific cases)
We had to exclude edge cases like rules for those who were recently infected (check individually)
This guide only covers entry rules for your destination (check Canada's entry rules as well; they're simple)
There are still a few restrictions and requirements for travel to some Canadian territories (see the separate guide soon)
I've added more details about each one of those points below the list of countries if you want to learn more.
By the way, absolutely everything you need to know will be in our upcoming ultimate guide to pandemic travel, with tens of tips (like how to get tested, travel insurance, and more) from our own many pandemic travel experiences these past years. Because Flytrippers' mission is to help you travel more for less.
But now… let's look at the list of countries Canadians can travel to!
Here is the summary in an infographic first.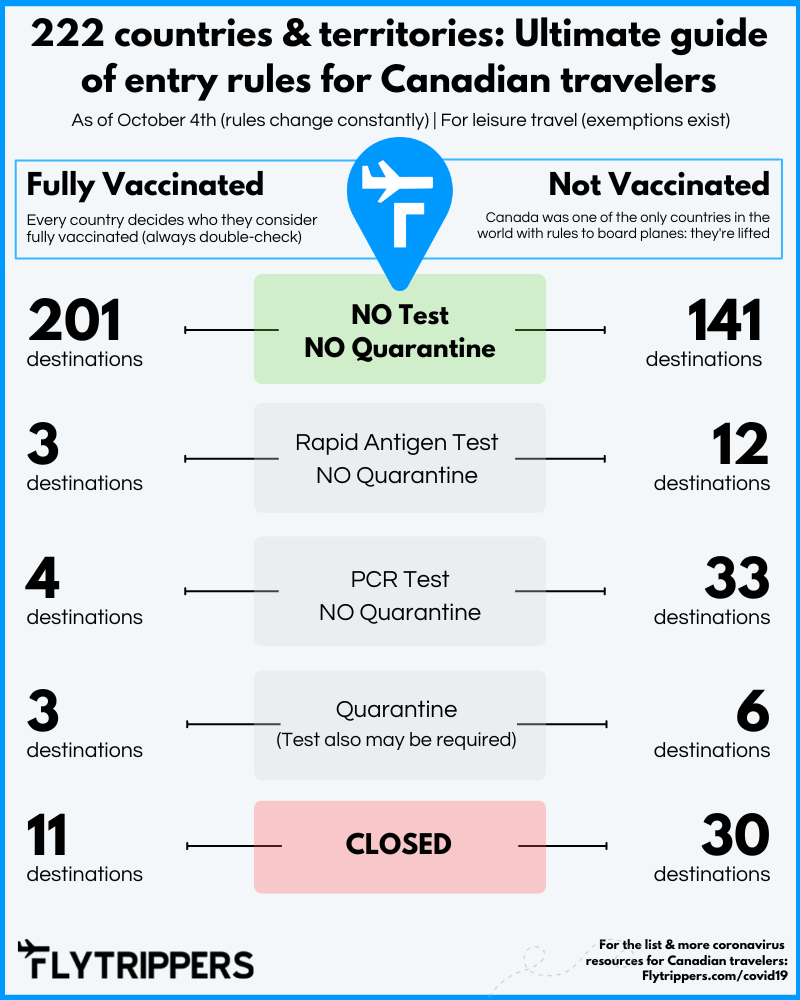 And here is a useful map to highlight the 201 that don't require a test to enter, the least restrictive countries in the world.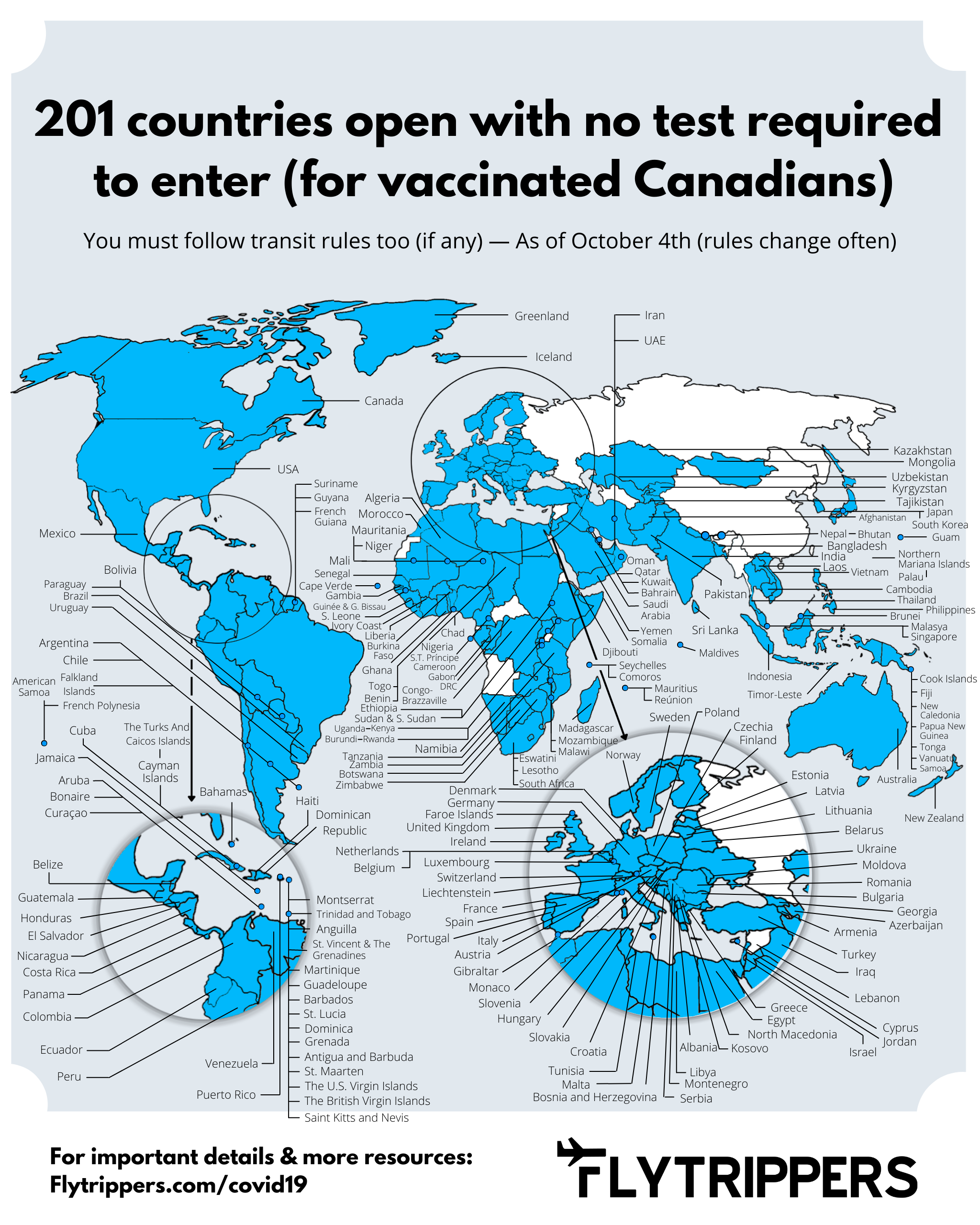 Keep reading for all the details — and also the 3 other countries that require only a rapid antigen test available for as low as $17 in some provinces and at most $25 anywhere in Canada (virtually) for countries that accept tests performed in telehealth mode. That's also not very restrictive and gives you even more destination options.
Choosing the right list based on your situation
Choose the right list for you:
List of countries fully vaccinated Canadians can visit
You can see the full-sized map.
List of countries Canadians can visit without being fully vaccinated
You can see the full-sized map.
Warning: Keep in mind that Canada still has entry rules even though it has stopped being one of the only countries in the world to ban unvaccinated travelers from boarding flights departing from Canadian airports.
More details about each warning
Here is everything you need to know to be a pro about which countries Canadians can travel to.
Rules change all the time
We cannot stress this enough: rules change all the time. Constantly. So many people keep asking us what rules would be for their trips in the summer… No one can know what the rules will be next week, much less next month (and beyond).
What is true today might not be tomorrow, but thankfully now most countries are loosening restrictions, not the other way around. But that doesn't mean they can't add restrictions, and some could still be doing that.
So double-check the rules with the link provided and do as much research as you can about the country's situation and its history of changing travel rules.
It's always been savvy to be easygoing to make travel more enjoyable, but now it's even more important. And it's always been important to be flexible to make travel more affordable, but now it's even more important.
Reopenings are just getting started
While many countries have been open for months, more and more are announcing reopening plans and plans to remove ALL restrictions. So even if there is a lot of red on that map today, don't worry: Every week that goes by will offer more and more options for Canadian travelers.
Again, it won't take months for the map to change significantly: It's happening now. We will update the map as frequently as we can, but it's a costly endeavor given the time investment required, so please feel free to click on the link to let us know if you see that a country's rules have changed.
Simplified map
Don't just look at the color on the map, you absolutely have to read the details. Some countries require a test done in the 1 full calendar day before, others only give you 24 hours (not the same thing), and others only give you 48 or 72 hours…
We didn't want 12 different colors that would have made the map unreadable, so it's simplified. It makes it easier to see the important rules at a glance, but always check the finer details.
Read the list below the map (as mentioned, if you are not on a mobile device, you can also hover your mouse over a country on the map for some details to appear).
Finer details
There are ≈ 200 countries and territories, and there are probably ≈ 100 different combinations of restrictions and rules. As I just said in the previous point, just the testing requirements can vary wildly, never assume anything about the rules unless you really checked it.
So it's worth repeating this, as many are still have trouble with this complex subject even after nearly 2 years: Each country has its own rules. There is absolutely nothing standardized. Nothing. And it's going to stay that way too!
You need to read the details carefully, there's just no way around it.
Entry by air
These are the rules to enter a country by air. Land border rules are often completely different, so if you want to know these, you'll have to use your Googling skills (which are always handy for a traveler anyway).
The rules can be less strict for land borders… but they can also be more strict. Again, it really depends. The most well-known example is obviously the USA, which requires no test by land… but requires a test by air.
In the European Schengen area, there are countries where you can't enter by plane… but by first flying to a country where you are allowed to enter, you can then make your way overland to the theoretically closed country (or even by air on a separate ticket).
Even worse: I was in Kyrgyzstan in May and the country was opened to Canadians by air, but while one of its land border crossings with Uzbekistan was open, only certain nationalities were allowed to enter there—and Canadians were not on that list…
It depends! Like everything else! You have to read.
Transit rules
Even if the country you are going to is open, you also have to check the rules in the country where you would transit in, if any. Some allow transits completely (even if you are not allowed to enter)… others don't even let you transit.
Some only allow airside sterile transits (no leaving the international area of the airport) while others allow all transits. Some require the booking to be on the same ticket…
Others have the same requirements for transits as they do for entry (testing for example) and others will not require testing for those who are just transiting… Again, every country is different.
And just to be very clear, just because flights are operating between countries does not mean you are allowed to transit (or enter) either. Flights from Montréal-Paris never stopped during the entire pandemic… yet from March 2020 to September 2021, French citizens couldn't enter Canada and for most of that time, Canadian citizens couldn't enter France either.
Available flights and entry restrictions are completely unrelated.
Where you have been
While a majority of countries don't have complex origin-based rules, some do: the rules can be different based on where you have been in recent weeks.
We've marked the main ones, namely when you are barred from entering if you've been in certain countries in the 14 previous days.
The most common issue is if you've been in the few countries that are considered the top coronavirus hotspots, but some countries have much broader restrictions.
But others are also less strict instead of more strict based on where you have been. For example, some European countries don't allow you to fly in directly from Canada… but will let you if you fly in from another country, even after just a layover.
Leisure travel
Obviously, almost every single country has exemptions for essential travel and the definition of essential varies with every single country. Work, family, studies… those are cases where you might be allowed in even if Canadians cannot enter for leisure.
These rules are for leisure travel only, since we are the reference for Canadian travelers and those traveling for leisure outnumber others on our site by a huge margin.
It would also be simply unfeasible to include all exemptions for all countries, so check them out yourself: if you're traveling for essential reasons, you almost certainly only have one country on your list so it is pretty simple to check with the link we provide.
Edge cases
For simplicity, we just could not include edge cases like for those who were infected recently; our apologies. Some countries may allow special exemptions regarding testing and quarantine for those with recent infections, please check individually.
Every country's rule for unvaccinated children will also vary, like every country's definition of what is considered fully vaccinated can also vary (combination with proven infection, timing after dose, timing between dose, type of vaccine).
Deciding to travel or not
Finally, we've said this countless times since the summer of 2020 but it's worth repeating. There are still some risks involved with pandemic travel, even if statistically you might be very unlikely to be hit hard by the coronavirus, not to mention that factually most countries have always had lower infection rates than Canada so you're odds of being infected are likely lower elsewhere (especially if you take all the same precautions as here).
Financial risks, logistical risks… every traveler should consider all factors carefully based on their own personal situation.
As mentioned, you can download our free checklist for pandemic travel to do so. And you'll automatically be the first to get the updated version, along with our upcoming ultimate guide to pandemic travel and so much more content to help Canadians travel for less.
Want to get all coronavirus updates for Canadian travelers?
Summary
This is the current list of countries and territories Canadians can travel to, one that will obviously grow longer with every week that goes by.
What else would you like to know about pandemic travel? Tell us in the comments below.
See the deals we spot: Cheap flights
Explore awesome destinations: Travel inspiration
Learn pro tricks: Travel tips
Discover free travel: Travel rewards
Featured image: Map of every country's entry rules (photo credit: Flytrippers)

Advertiser Disclosure: In the interest of transparency, Flytrippers may receive a commission on links featured in this post, at no cost to you. Thank you for using our links to support us for free, we appreciate it! You allow us to keep finding the best travel deals for free and to keep offering interesting content for free. Since we care deeply about our mission to help travelers and our reputation and credibility prevail over everything, we will NEVER recommend a product or service that we do not believe in or that we do not use ourselves, and we will never give any third-party any control whatsoever on our content. For more information on our advertiser disclosure, click here.
Share this post to help us help more people travel more for less: