It's now confirmed: Canada will FINALLY drop its stupid and useless vaccination requirement for boarding planes departing from a Canadian airport (and for some trains as well). But unfortunately, despite the recommendations of the World Health Organization (WHO), there's no change at all to the entry rules (nor to the illogical mask requirement on planes).
Here are the details that were just announced and the 2 simple steps to know the travel rules.
(And along the way, I'm also reminding you why the requirement was absurd in the first place and not based on science, for those who don't really know the facts on that topic).
Overview of the announced changes
The federal government has just confirmed this:
The vaccination requirement to board planes and trains will be eliminated

The vaccination requirement for transportation employees also

It takes effect on June 20, 2022, at 12:01 AM (Eastern time)

The measures could be reinstated "if necessary"

NOTHING else changes
That's all that changes. So, before I get asked 25 times, "But is X changing?" I'll say it again: what's written here is changing and everything that's not written here isn't changing.
We'd love to see ALL travel restrictions eliminated, of course, as recommended by WHO experts for several months. But we're talking about the Canadian government, so it's not surprising that it isn't the case.
Here's the visual version.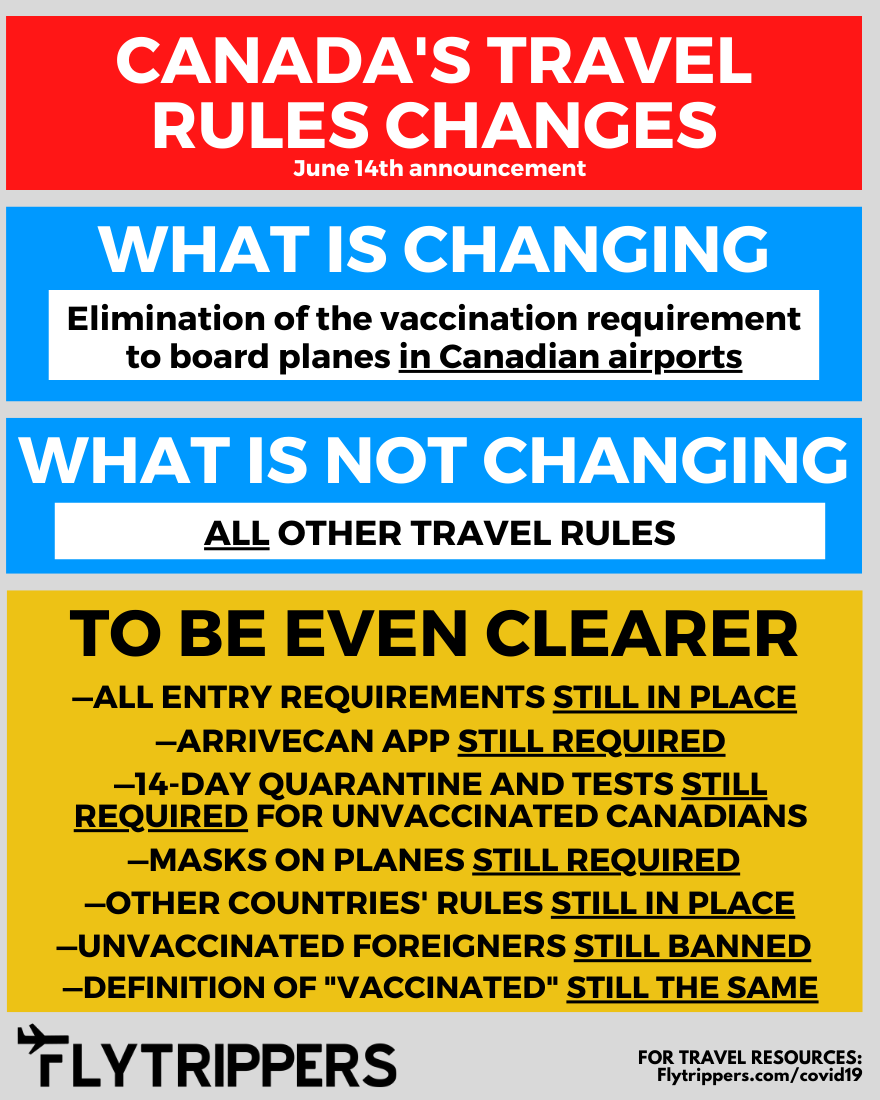 All Canadians have always had the right to enter Canada and obviously, they still do (if you knew how many people think it's now allowed; everyone still mixes up all the rules even after 2 years, unfortunately).
So, to be very clear, I'll summarize:
Canada's entry rules are not changing at all

The only remaining entry requirement is to complete a form in the

ArriveCAN app

if you're fully vaccinated

The Canadian definition of "fully vaccinated" isn't changing (2 doses or 1 dose of Johnson & Johnson)

The entry requirements for unvaccinated travelers all remain in place

Mandatory

pre-entry test

14-day quarantine at home

Free testing upon arrival (on days 1 and 8)

Some

unvaccinated children are exempt

, no change there either

Foreign travelers (non-Canadians) must still be vaccinated to enter Canada

The mask requirement on planes (

which makes no sense

when there's no such requirement anywhere else in the country) remains in place unlike in most European countries

These changes have nothing to do with other countries' entry rules
It's as simple as that.
Vaccination (by the current definition) is not all that effective at preventing transmission at this point, as per all the health experts. It just made no sense to ban unvaccinated travelers. At least that is ending and everyone will be able to travel.
Now, I'll summarize the 2 extremely simple steps to know the travel rules for ANY destination.
The 2 steps to know travel rules
With the vaccination requirement for flights and trains departing from Canada being lifted, we're back to just 2 steps like almost every country in the world has always had (requiring vaccination for all flights and imprisoning citizens in their own country is something no one but Trudeau did — but unvaccinated foreign travelers, on the other hand, have always been allowed to sit on the same flights, that was "The Science™").
Here are the 2 steps:
Step 1:

Check the entry rules of the country you're going to

Step 2: Check the entry rules for Canada
It's not a complicated process, it could hardly be easier to understand.
Step 1: Check the entry rules of the country you're going to
All the rules of all the countries are in the same place! This too could hardly be any simpler!
It's always on the IATA website. It's sometimes a little harder to read there since it's written by bureaucrats, so we've created a simpler guide with every country's entry rules (which will be updated this Thursday to reflect the most recent changes).
There are 52 countries that have eliminated all restrictions for everyone and there are 150 countries that have eliminated test requirements for vaccinated travelers.
Step 2: Check the entry rules for Canada
I already explained Canada's entry rules above but for simplicity I'll relist them:
Declaration to fill in the ArriveCAN app or website

It's easy and will take you no more than 5 minutes
Pro tip: a NEXUS card will speed up the arrival process

Random arrival testing (SUSPENDED UNTIL JUNE 30TH AT LEAST)

Tests are free taxpayer-funded (over $1 billion)
No requirement to isolate while waiting for results
Few travelers are selected
Travelers with proof of a positive test are exempt

No mandatory vaccination, same as it's always been since the start of the pandemic (for Canadians)
Pre-entry test required only for unvaccinated travelers

3 options: negative antigen test, negative molecular test, positive molecular test

Negative antigen test: the day of your flight or the full day before (NOT "24 hours")
Negative molecular test: within the last 72 hours
Positive molecular test: within the last 10 to 180 days

Children under 5 years old are exempt
Children from 5 to under 12 are exempt if they travel with a vaccinated parent
Travelers only transiting through Canada are exempt
Entry by land without a valid test is "allowed," but you risk getting fined
Virtual self-tests with supervision are accepted

Additional rules for unvaccinated travelers

14-day quarantine (some kids are exempt)
Mandatory testing upon arrival (on days 1 and 8)
That's it!
While you await our new resources page with a detailed FAQ section, you can read our complete guide on how to travel to the United States to see one very concrete example from A to Z.
And for any other country in the world, follow the same guide by replacing the USA entry rules with the other country's entry rules (refer to our guide to every country's entry rules). Simple!
Want to receive all coronavirus updates for travelers?
Summary
It's finally official: Canada is dropping its vaccination requirement to board a plane in a Canadian airport (it also currently applies to some train travel). That's really all that's changing. This leaves just 2 easy steps to travel: check the rules of the country you're going to, and check Canada's rules for your return. It could hardly be an easier process.
What would you like to know about traveling during the pandemic? Tell us in the comments below.
See the deals we spot: Cheap flights
Explore awesome destinations: Travel inspiration
Learn pro tricks: Travel tips
Discover free travel: Travel rewards
Featured image: Coast of Vancouver Island, British Columbia (photo credit: Armon Arani)
Advertiser Disclosure: In the interest of transparency, Flytrippers may receive a commission on links featured in this post, at no cost to you. Thank you for using our links to support us for free, we appreciate it! You allow us to keep finding the best travel deals for free and to keep offering interesting content for free. Since we care deeply about our mission to help travelers and our reputation and credibility prevail over everything, we will NEVER recommend a product or service that we do not believe in or that we do not use ourselves, and we will never give any third-party any control whatsoever on our content. For more information on our advertiser disclosure, click here.
Share this post to help us help more people travel more for less: