Earlier this month, it was my 10th entry into Canada during the pandemic, but my 1st entry by plane since the test requirement was lifted on April 1st. It was of course very obvious that it would be excessively simple, but many people seem to like it when we share our detailed personal experiences.
I had tested entering Canada by land on April 2nd, so now here's a recap of my equally simple entry by air on April 11th, after going to spend a long weekend in the US by plane.
Spoiler alert: it's exactly the same, because for a while now, Canada's entry rules have been exactly the same whether you enter by land or by air. It's just how the entry rules are enforced that's a bit different.
Canada's entry rules
It's extremely simple to enter Canada if you're fully vaccinated (2 doses of vaccine or 1 dose of Johnson & Johnson): just fill out the form in the ArriveCAN app.
That's it.
I made a video to explain this when I entered Canada.
So that's the only requirement left in Canada's entry rules, which are one component of the 3 simple sets of rules for any trip that we've been telling you about for months.
This post is not to repeat that, but just to tell you about my own detailed experience of flying back to Canada, step by step.

I'll also tell you about my experience entering the US in another post this week for those who want to travel to the United States specifically (both my entry on April 7th and my entry this coming Wednesday, since I'm going back).

Entering Canada in Toronto on April 11th
Here's how it went for me.
Fill out ArriveCAN before departure
I was invited to facilitate an entrepreneurship event in Ohio, so it was a very short stay just for a long weekend.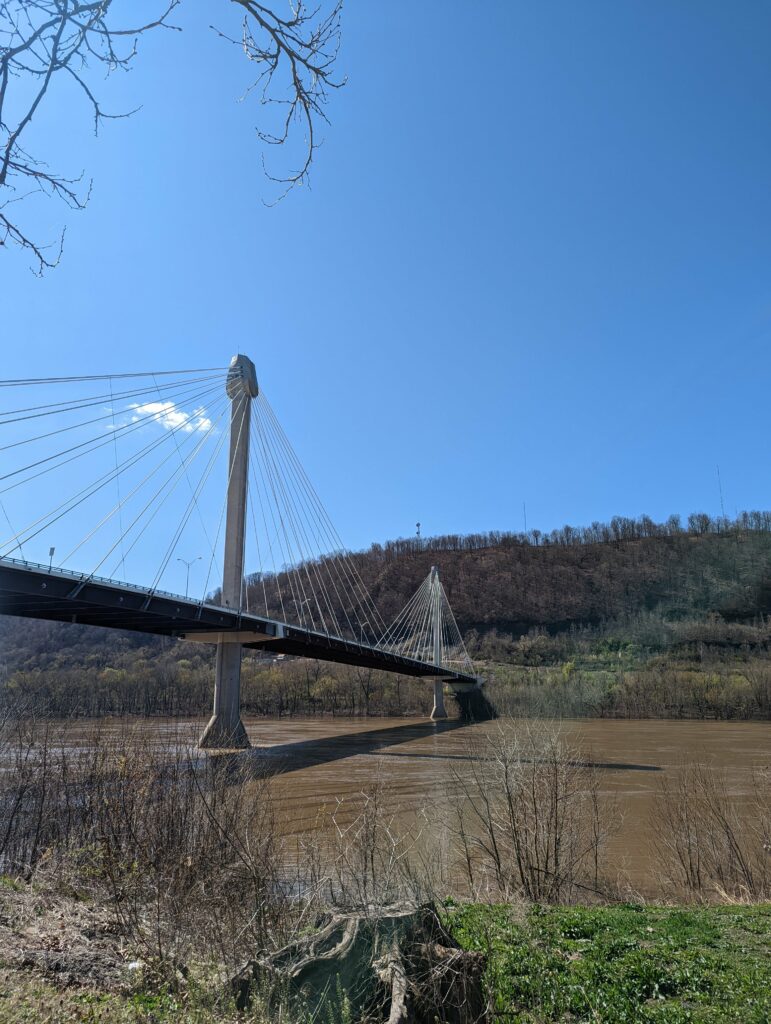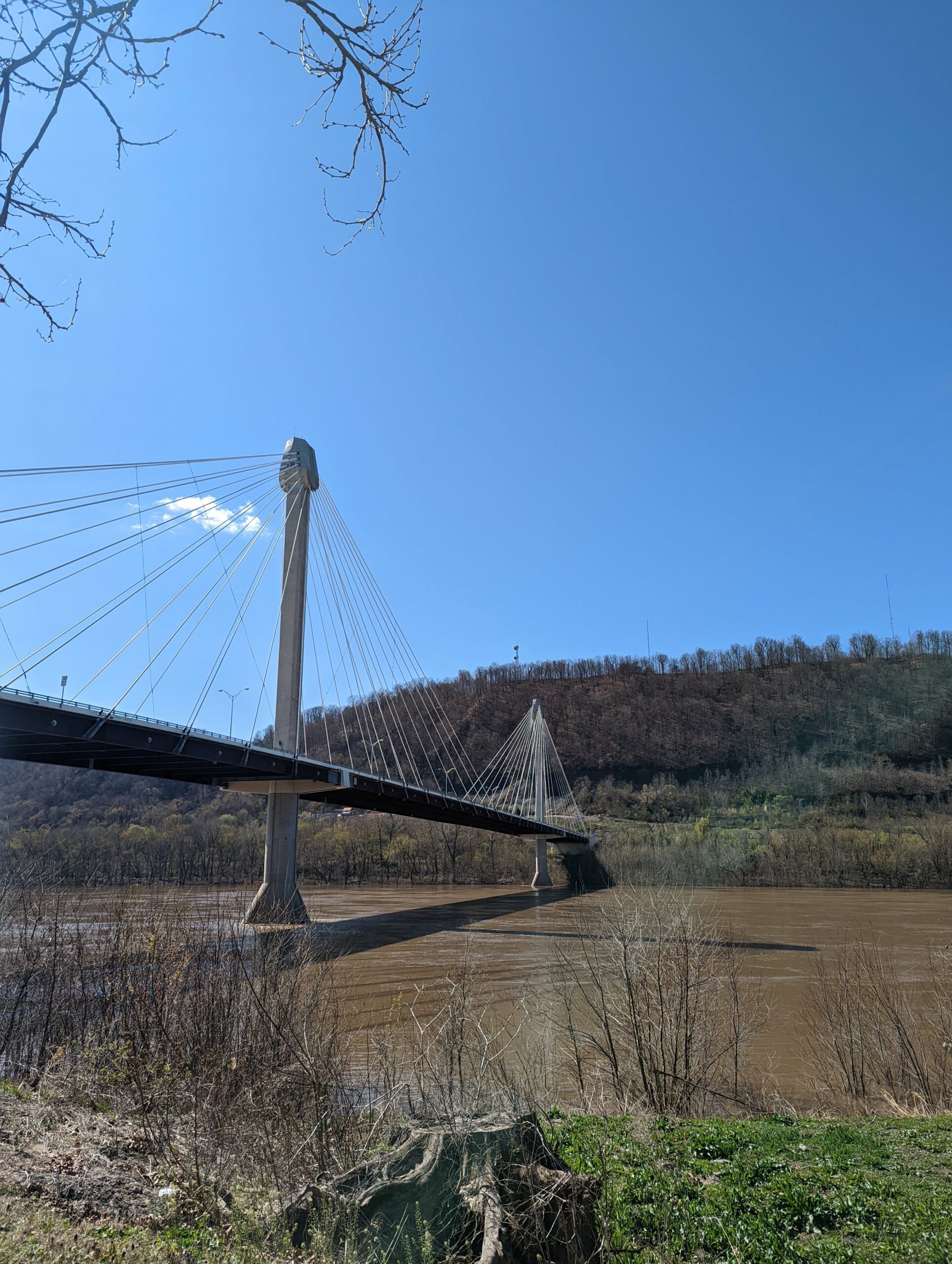 So all I had to do was fill out the form in the ArriveCAN app. Simple!
My return flights were early Monday, April 11 so that I would get to Toronto in time to be on the inaugural flight of Canada's newest ultra low-cost carrier (I shared my review of Lynx Air and its $39 flights).
For my other 6 trips to the US during the pandemic, I had to take the pre-entry test required by Canada.
Fortunately, it was easy and free to get a COVID-19 test in the United States (still very convenient for unvaccinated Canadians coming back to Canada, either because they lied to US border patrol agents to get there or because they are children over 5 years old, for example).
This time, it was just even simpler, logistically speaking. No tests to schedule and plan ahead.
Tests never stressed me out personally because I'm not someone who finds stressing about anything to be worth it, but at least I didn't have to think about it. Just like the good old days. Back to normal.
Well, almost normal. I had to take a good 3 minutes of my life to fill out the form in the ArriveCAN app on Sunday (I could have done it before too obviously, you have 72 hours before entry to do it).
Of all the many restrictions on travel (and on freedoms in general) since the pandemic began, let's just say that answering a few simple questions isn't very high on the list of things I personally lament.
Here's a video detailing the simple process for ArriveCAN, and you can read every imaginable detail about the ArriveCAN app in this ultimate guide.
Check-in for the flight
My flights were on American Airlines, the largest airline in the world and a member of the oneworld airline alliance.
The university that invited me paid for my flights, so I didn't have a choice of airlines (these days, I often fly Air Canada and United to the US because my tickets are free with my Aeroplan points, and there are so many free points offers that are easy to get — I could easily fly for free on American Airlines with my Avios points, but the program is not as valuable for most destinations).
Honestly, the American Airlines online check-in process works great.
I uploaded my proof of vaccination and receipt from the ArriveCAN app the day before in the VeriFLY app that American Airlines uses, and within hours, everything was approved.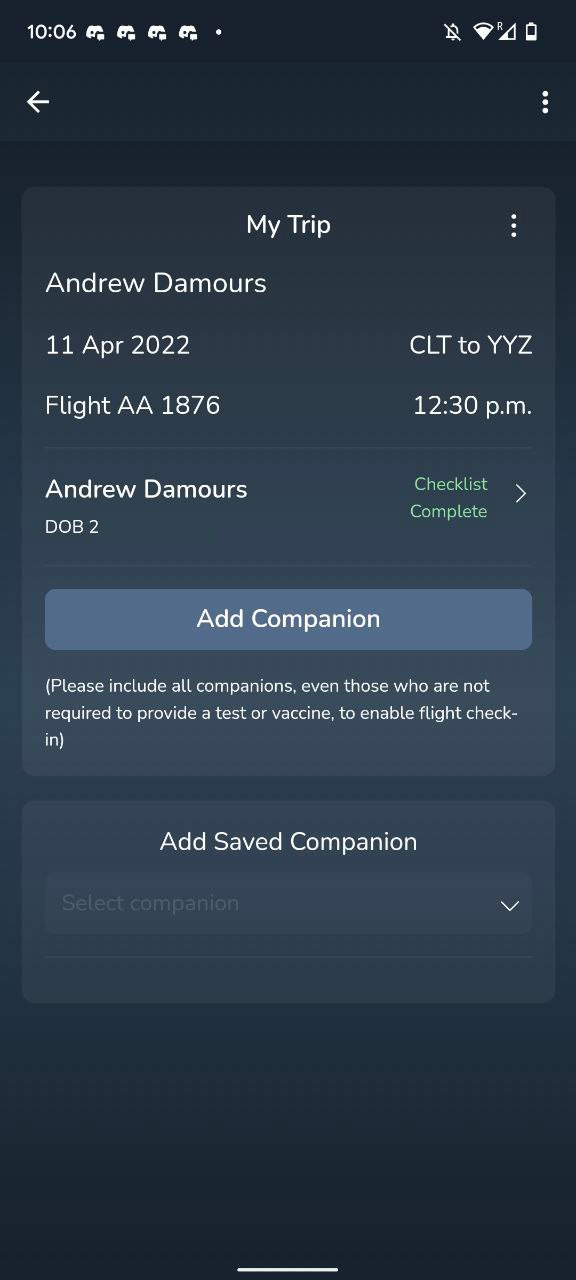 And so I was able to complete my check-in 100% online on the American Airlines app, as all travelers should always do to save time.
At the departure airport
So I was able to get up a little later and arrive at the Columbus airport (CMH) exactly 30 minutes before my flight boarded, or 1 hour before departure, to give myself a bit of a buffer.
That's the fantastic benefit of having the TSA PreCheck membership that comes with the NEXUS card, which is a must-have for travelers.
I timed it, and it only took me 3 minutes from the moment I entered the airport to the moment I got airside (post-security).
And within that time, I lost a few seconds putting my mask on since I had forgotten before getting inside, after another weekend in a place where it obviously isn't a thing anymore — like everywhere else in the US where I've been since November.
(And now, masks are no longer required on planes and in airports in the US, so that won't happen to me anymore, at least! Can't wait to try it out this Wednesday, even though I don't mind if others prefer keeping their masks!)
In short, no waiting at the airport.
As is pretty much always the case. No need to take off my shoes or coat, or to take out my liquids and computer. Long live the NEXUS card, I can't say it enough!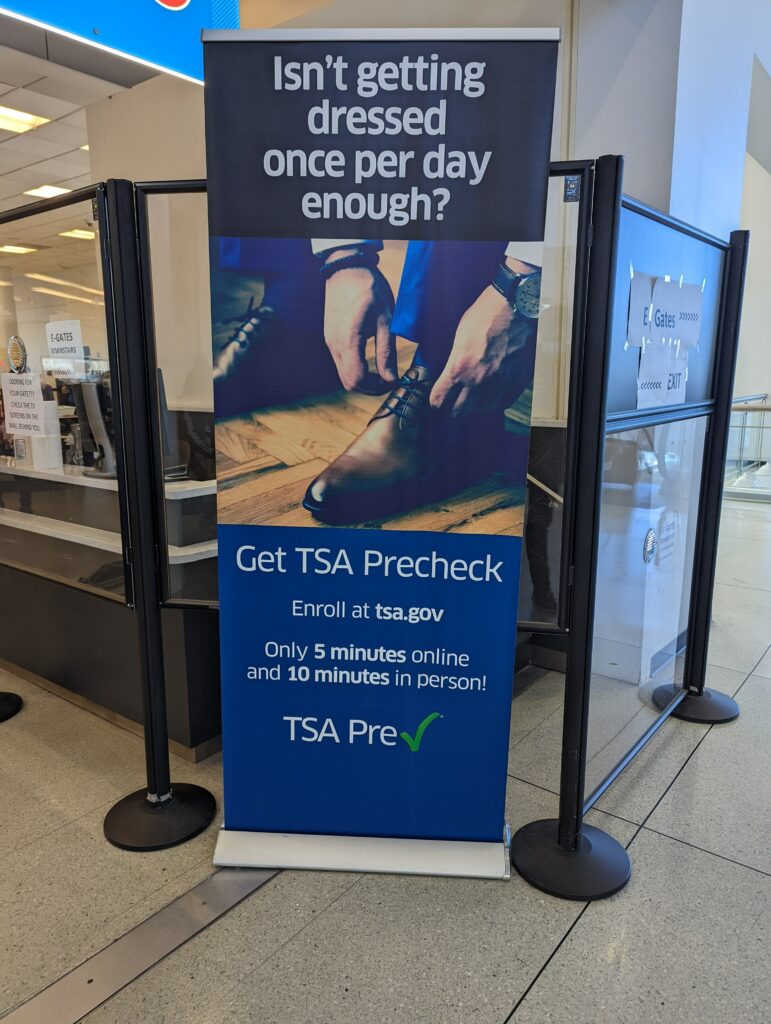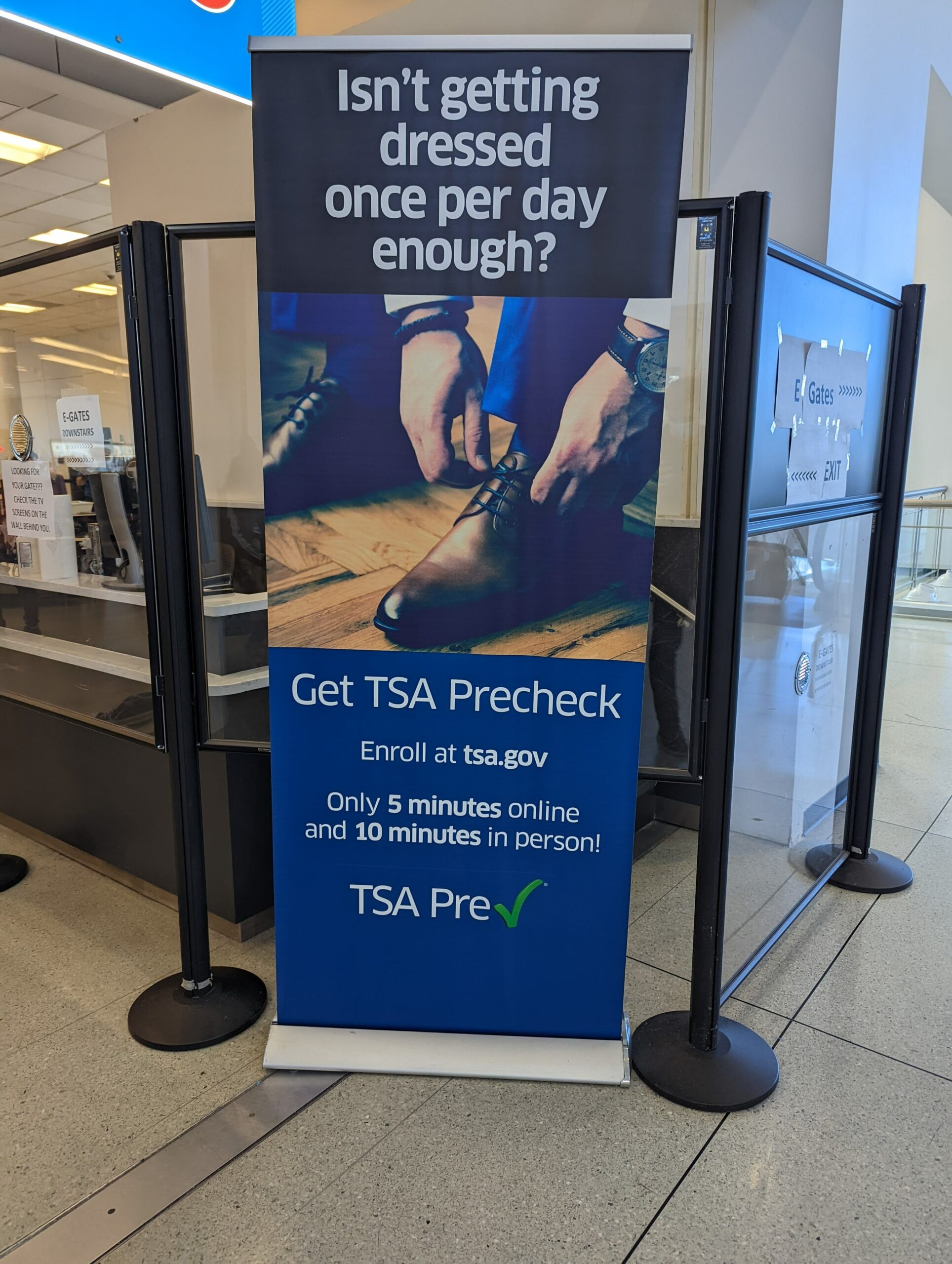 That said, once I got to my gate, the agent called me via loudspeaker to double-check my documents anyway (they hadn't done that on the way in, which makes sense I guess, considering that they take checking requirements a lot more seriously to enter Canada than to enter the US).
It took 10 seconds and that was it. I wasn't asked for anything ever again, even in Canada.
It's really not that complicated to travel.
At the stopover airport
As is almost always the case, since I was traveling on the same ticket on the same airline, no one double-checked anything during my layover in Charlotte (CLT) for the flight that actually entered Canada.
I'll take this opportunity to talk about airport lounges since it's so sad to see people not taking advantage of them when they can so easily get paid to access them.
The American Express Centurion Lounge is only available to those who have the Platinum Card by American Express, a very premium card that's really meant for frequent travelers.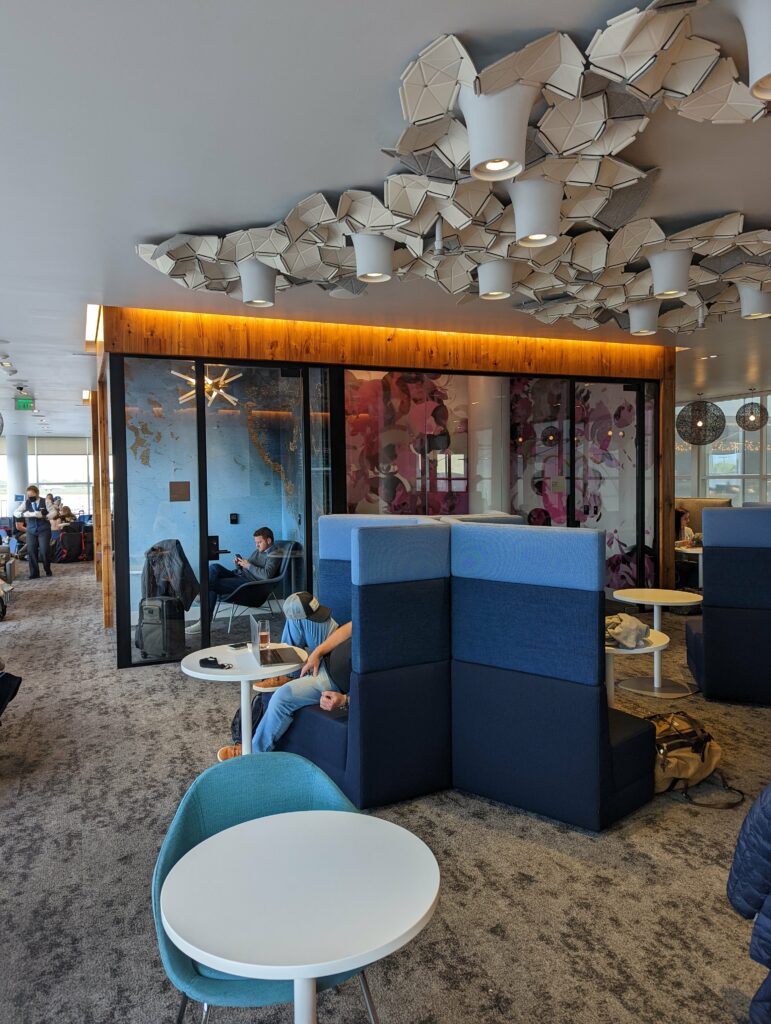 However, I was also able to take a nap in my private room at Minute Suites, which is part of the Priority Pass network of airport lounges and therefore easily accessible to all, simply by having one of the many cards that give free access to airport lounges and give welcome bonuses worth hundreds of dollars, too.
(We'll have an article comparing them in detail soon).
There's also the excellent The Club CLT which is accessible via Priority Pass, for those who prefer a traditional airport lounge with complimentary food and beverages instead of a unique spot to take a nap or work quietly.
One last side note since it was so striking. Charlotte is very close to Augusta, where the famous Masters Tournament was held the day before. So the airport was absolutely packed with golf fans coming from there with all the tournament paraphernalia (polo shirts, jackets, hats, etc.) They sell ≈ $60 million worth of merchandise, and it's only sold there, not anywhere else, all in the space of a week. I at least hope that these people who love to spend money on stuff like that aren't among those who say they don't have enough money to travel more. 😂
At the arrival airport
Landing at the airport in Toronto (YYZ), I once again cleared customs in 3 minutes with my NEXUS card.
Look at the line of travelers who don't know that the NEXUS card exists… And look at the line for those who have the NEXUS card, or the lack of one, I should say.

Anyway, I was instantly in front of the agent, and she didn't ask me about the form I had to fill out in the ArriveCAN app or anything, as usual. Everything is automatically linked with the ID you used for your declaration in the ArriveCAN app, so no need to show the ArriveCAN receipt either.
So, as I said in the intro (and as I've been telling you since the Canadian government announced the end of the pre-entry test requirement): it's extremely simple to enter Canada if you're fully vaccinated.
And since there are 120+ open countries with no test requirement of their own, there really aren't many good reasons left not to travel.
Want to get all the coronavirus updates for travelers?
Summary
My flight back to Canada on April 11 couldn't have been simpler: I filled out the form in the ArriveCAN app in less than 5 minutes and was through customs in no time with my NEXUS card. Traveling really is almost as easy as it was before the pandemic!
What would you like to know about entering Canada? Tell us in the comments below.
See the deals we spot: Cheap flights
Explore awesome destinations: Travel inspiration
Learn pro tricks: Travel tips
Discover free travel: Travel rewards
Featured image: Toronto customs line for those who don't have the NEXUS card (photo credit: Andrew D'Amours/Flytrippers)
Advertiser Disclosure: In the interest of transparency, Flytrippers may receive a commission on links featured in this post, at no cost to you. Thank you for using our links to support us for free, we appreciate it! You allow us to keep finding the best travel deals for free and to keep offering interesting content for free. Since we care deeply about our mission to help travelers and our reputation and credibility prevail over everything, we will NEVER recommend a product or service that we do not believe in or that we do not use ourselves, and we will never give any third-party any control whatsoever on our content. For more information on our advertiser disclosure, click here.
Share this post to help us help more people travel more for less: