We'll soon have a much more detailed guide about COVID-19 testing for travel (and plenty of other pandemic travel resources), but here's just a quick post to remind you NOT to pay $200 per test (like so many people keep telling us they did) to return to Canada from the USA… it's so easy to get free tests in the USA.
Here are the details, including a bonus pro tip about a test that is even better than a PCR test (and also completely free in the USA).
Share this with everyone you know who is in the USA because it genuinely pains me to see so many people waste money (after all, our mission here at Flytrippers is to help you travel more for less).
Traveling to the USA
As a reminder:
Given all those facts, many of you have restarted traveling to the USA—or are planning to do so soon.
Because even if it's normally a terrible place to travel to if you want to keep costs down (especially compared to the 40 countries where C$30 per day total is enough), some prefer the convenience of visiting our closest neighbor. And of course, there are many appealing destinations in the vast country (they have more land area than in Canada).
But in terms of the cost of the required tests to return to Canada, the USA is actually the cheapest destination in the world: tests are completely free. And it's so easy…
So please stop paying $200 for tests in the US in order to return to Canada!
Getting tested for free in the USA
Walgreens is a chain of pharmacies with free COVID-19 testing in most states (that's the one I used in New Jersey), and other chains like CVS and Rite Aid seem to offer the same free COVID-19 PCR tests.
Websites like GoGetTested (that's the one I used in Texas) and Curative also work in certain specific states.
And if not, you can do what you should for literally anything you need to find, which is use Google. Just type "free PCR tests (city name)" and you'll probably find even more options, in the USA at least.
(That same pro trick works to find tests in any country, but without the "free" part. Many of you seem very stressed out about finding tests abroad, but it's really not one of the things to worry about at all, seriously. It's extremely easy. I found a test in Bishkek, Kyrgyzstan—hardly a popular tourist destination—in 10 seconds on Google, so you can most definitely find one almost anywhere you want to go.)
Back in the USA, I can personally vouch for how easy it was with Walgreens. There are no residency, citizenship, or insurance requirements. It's free for everyone. Walgreens alone has locations in almost every state.
Most locations seem to be drive-through tests only, so if you don't have a rental car, you can grab a taxi from the parking lot to the drive-through lane for a pretty low cost since the test took me less than 5 minutes both times I did it in the USA.
Of course, just like the free vaccines, you need to make an appointment online in advance. And yes, the online booking process might ask for a US address: I just put in my Marriott hotel's address.
Marriott Bonvoy™ American Express® Card

Flytrippers Valuation
of Welcome Bonus alone

≈ $

minimum income requirement: $0

spend $3,000
in 6 months

Terms and conditions apply. Flytrippers editorial opinion only. Amex is not responsible for maintaining the content on this site. Please click "Apply Now" to see most up-to-date information.
Marriott Bonvoy™ American Express® Card

Flytrippers Valuation
of Welcome Bonus alone

≈ $

minimum income
requirement: $0

spend $3,000
in 6 months

Terms and conditions apply. Flytrippers editorial opinion only. Amex is not responsible for maintaining the content on this site. Please click "Apply Now" to see most up-to-date information.
Both times they didn't check anything once I arrived for the test (and they clearly said that it was 100% allowed for Canadians—honestly, it really seems like they couldn't care less about where you are from). All those who I shared this tip with have confirmed this too.
At least for the non-PCR test…
Another pro tip to simplify your testing
Researching your travel plans and being prepared and well-informed has always been the best way to travel for less, but it's even more true with the pandemic…
Not many people know that free PCR tests are easy to find in most US states, but even fewer know that there is an even better option than PCRs: NAATs. That's another type of test that is much more convenient.
These are accepted to enter Canada, and the results come in so much faster! I booked mine at a Walgreens in Newark when returning from Uzbekistan in late May via the USA to enter via the land border and avoid the hotel quarantine.
I got my results just 67 minutes after my appointment ended! And these tests are free too of course! The official timespan Walgreens gives for results is within 24 hours (compared to at least twice as long for PCRs).
But in practice, everyone I recommended the NAAT to got the results in just a few hours. My appointment was at 9:30 AM and I was there at that time precisely.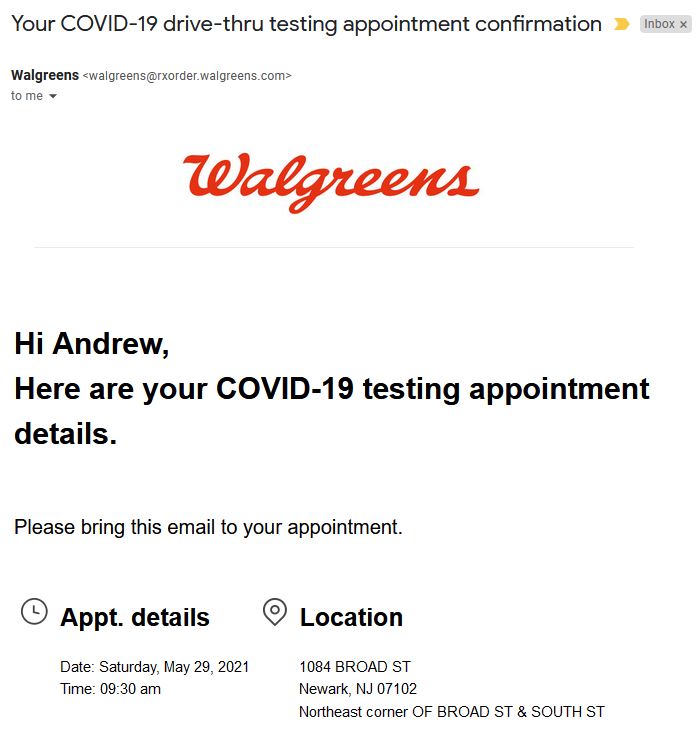 And my results came in at 10:37 AM.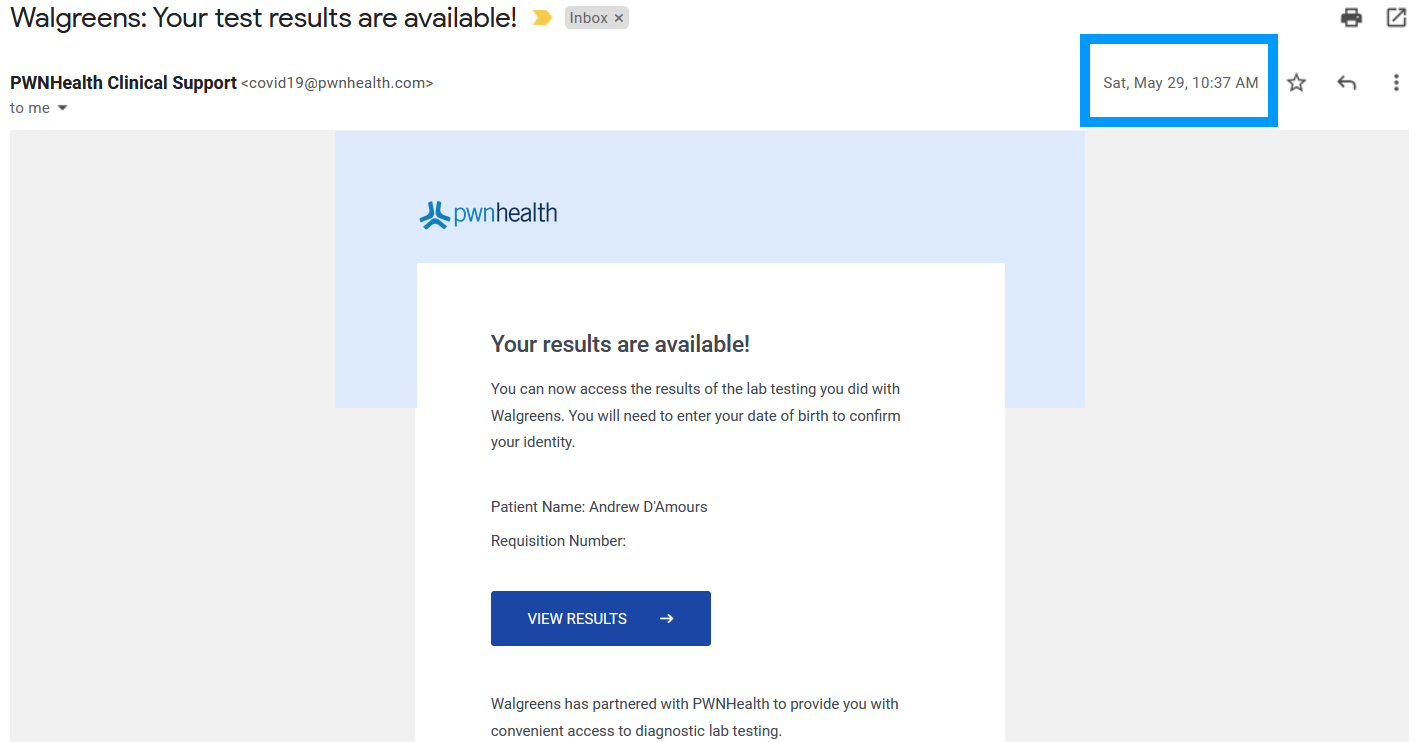 That's a lot quicker than the experience I shared getting a free PCR test in Texas.
NAATs are rapid tests, but not the same as rapid antigen tests (those are accepted for entry in many countries, but they are NOT accepted to enter Canada).
Walgreens calls NAATs "Rapid ID NOW" tests (not to be confused with "Rapid ANTIGEN"; I cannot stress this enough). NAATs don't seem to be readily available as easily in countries other than the USA, for those who are wondering.
But almost everywhere in the US, you can find them easily as I did near Newark Airport (EWR). The red dots on the map are where you can get the NAAT.
Again, so many people just don't even know this type of test exists… it's a great microcosm of travel tips in general, as the more you learn, the more you'll save. And most people unfortunately just don't take the time at all to learn about the best travel tips.
Like for example, the incredible welcome bonus offers we told you about last week, that give you ≈ $735 to ≈ $1,666 in value depending on the one you choose…
Most travelers will ignore these record-high offers (the best-ever in Canada) and will prefer putting in no effort and instead settle for earning a measly 1% on their purchases (or worse, use a debit card)…
Don't make the mistake of not taking advantage of it (instead join the Flytrippers readers who have accumulated over half a million dollars in welcome bonuses) and don't make the mistake of paying $200 for a COVID-19 test in the US either 😉
Want to get all coronavirus updates for Canadian travelers?
Summary
Getting a free COVID-19 test is very easy in the USA.
What would you like to know about COVID-19 testing for travel? Tell us in the comments below.
Explore awesome destinations: travel inspiration
Learn pro tricks: travel tips
Discover free travel: travel rewards
Featured image: Horseshoe Bend (photo credit: Gert Boers)
Advertiser Disclosure: In the interest of transparency, Flytrippers may receive a commission on links featured in this post, at no cost to you. Thank you for using our links to support us for free, we appreciate it! You allow us to keep finding the best travel deals for free and to keep offering interesting content for free. Since we care deeply about our mission to help travelers and our reputation and credibility prevail over everything, we will NEVER recommend a product or service that we do not believe in or that we do not use ourselves, and we will never give any third-party any control whatsoever on our content. For more information on our advertiser disclosure, click here.
Share this post to help us help more people travel more for less: