We landed in the USA Friday night, and Saturday morning we were fully vaccinated against COVID-19. We are feeling pretty good about our decision given how we probably would have had to wait until September for that back home (that's about half a pandemic timespan longer!!!) because of Canada's embarrassing vaccine procurement failure.
You can read our ultimate guide to getting vaccinated for free in the USA for many more details (and sign up for our free newsletter to get all our coronavirus updates for Canadian travelers)…
But I wanted to share an overview of how it went for us specifically, since many of you asked for it.
Reminder of the basic premise
You can skip to the overview if you read our recent post about considering this trip.
That post (and my Instagram posts) have generated a lot of interest, so it seems we are not the only ones who are very frustrated by the fact that we could have had a very normal summer as Americans will surely have (including lots of travel).
(They will all be fully vaccinated by May, but because our federal government focussed its time, efforts, and resources on travel-shaming instead of getting vaccines quicker—literally the most important thing to save lives and return to normal—Canadians will almost surely have a harder time traveling internationally this summer than our southern neighbors.)
That was unacceptable to us, as passionate travelers who want to explore every part of our beautiful planet.
So since:
COVID-19 vaccines are free in the US
Many US states are vaccinating all adults
Some US states are vaccinating non-residents
Most states let you choose your vaccine online
And logistically:
Returning to Canada overland does not require a hotel quarantine
Flying to the US has always been allowed (with proof of a negative antigen test since January)
Short-distance one-way flights are just half the price of a roundtrip (as always)
It's factually low-risk by quarantining at home for 14 days (no one will be put in danger back home)
… We decided to go, for all the reasons I detailed in the first post:
We want this nightmare to end
We want to protect others
We want to travel
We want to simplify our 2021 international trips
We want to spend some time where the situation is better
And I also won't repeat:
So here's how it went.
Booking our trip
On Thursday, we first booked a vaccine appointment online to make sure we wouldn't go all the way there for nothing.
It was very easy with their online scheduling tool (a VPN is required to spoof a US location). There were many options in Walmarts, pharmacies, clinics, and other places. You can see them all on the map, with useful filters.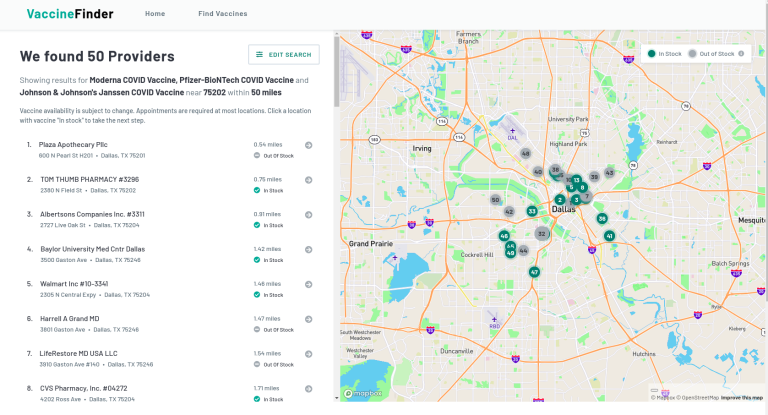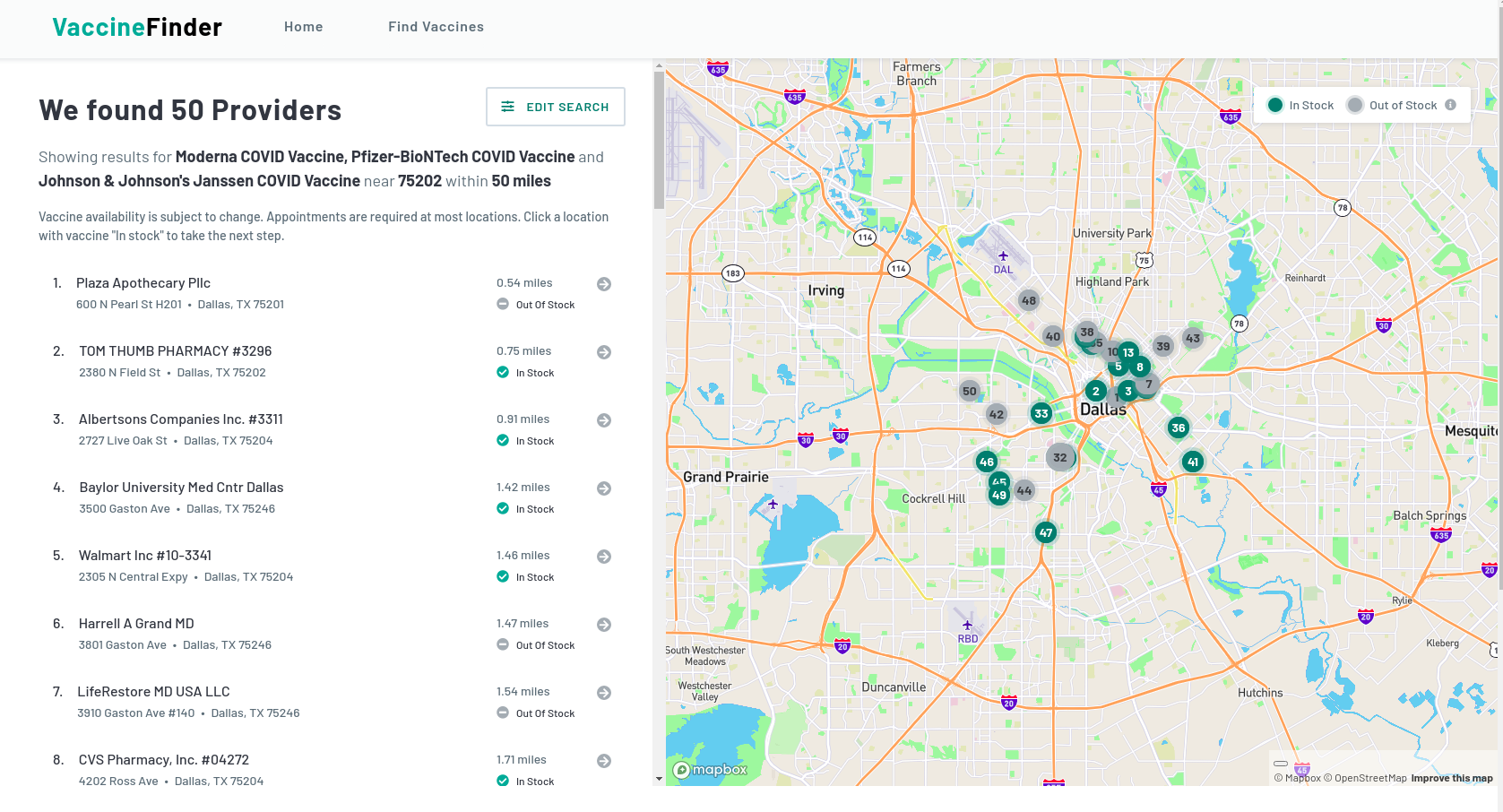 The tool also allows us to specifically select the Johnson & Johnson (Janssen) vaccine. That's the one that requires only one jab instead of two—way more practical for Canadians going there for less than a month.
Once that was confirmed, we booked a Montreal (YUL) – Dallas (DFW) flight for the next day: just 11,000 Avios points and $68 in taxes. That's a great value considering the cash price was expensive at the last minute.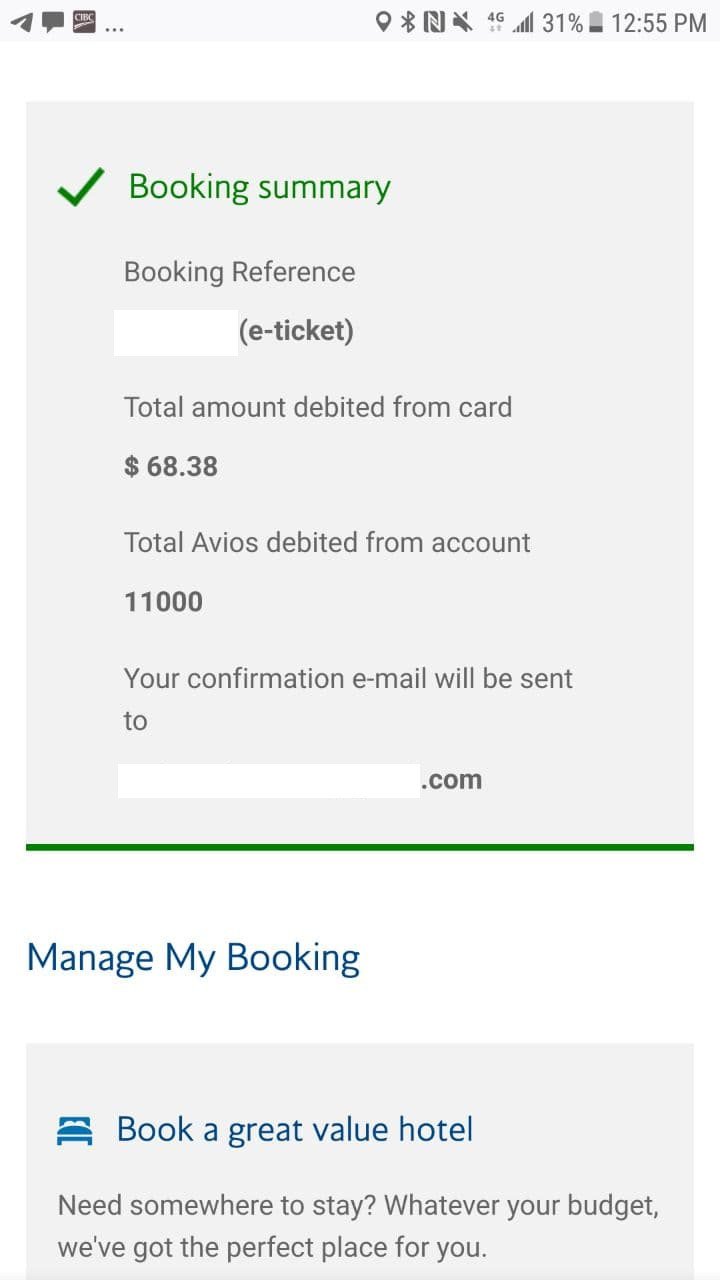 We also booked one stay at a Marriott category 1 hotel: just 25,000 points for 5 nights (5,000 points per night) at the Fairfield Inn Dallas Park Central. That's not as great as 5 nights in beautiful hotels in Bali for the same price, but we have a lot of Marriott points.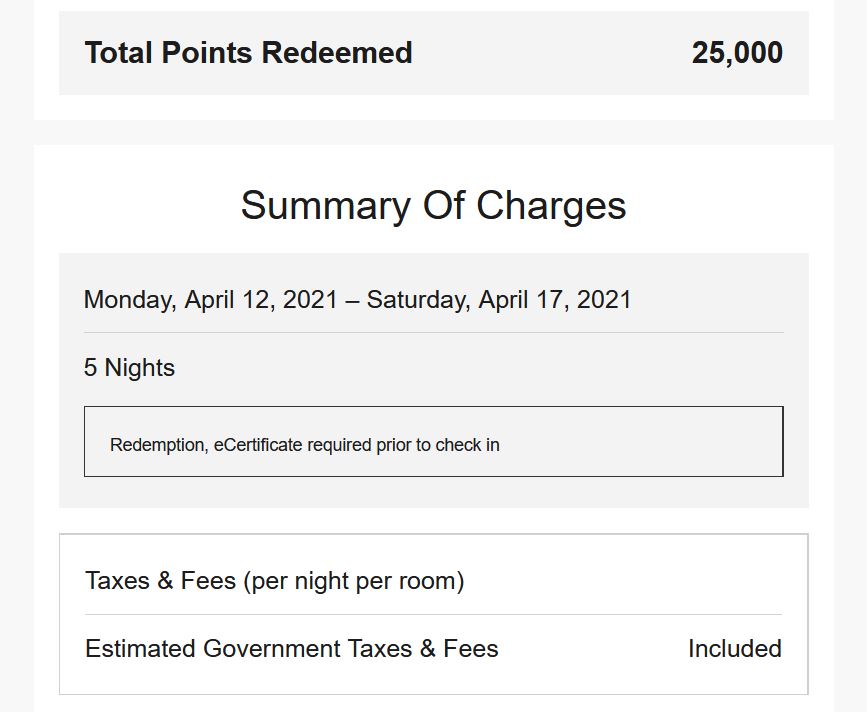 Strangely, the hotel wasn't available for the weekend we got there though, but we realized that the world's largest volleyball tournament is taking place in Dallas right now. Let's just say it's a completely different planet here right now, with 500 teams competing in the event.
It forced us to spend more points for the first night downtown, but at least we had a great view.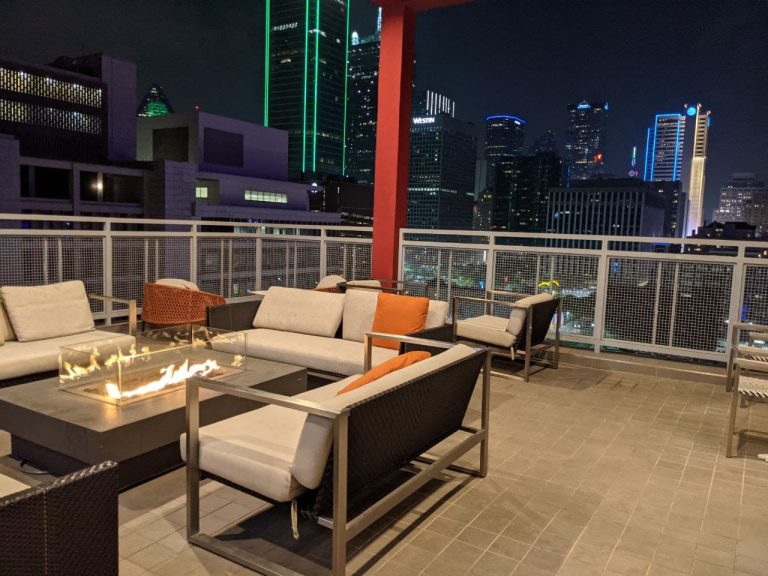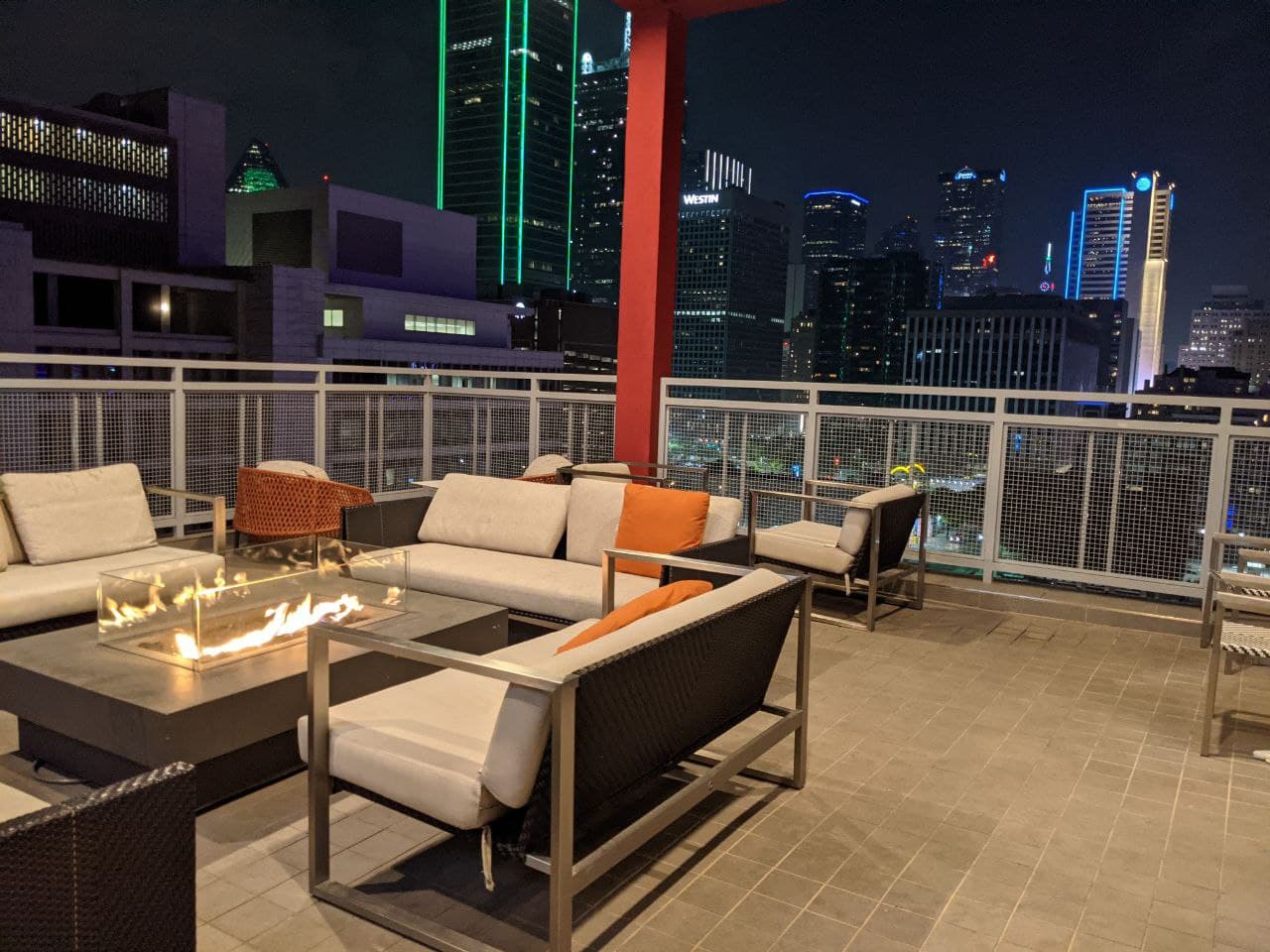 By the way, both of those reward currencies (Avios and Marriott points) are listed in our free cheat sheet of the essential reward programs for Canadian travelers; you should really download it.
(Welcome bonuses can give you tens of thousands of these points: Avios points can be obtained by transferring points from the HSBC World Elite Mastercard, the Platinum Card from American Express, or the American Express Gold Rewards Card for example — and Marriott points are easier than ever to get with the current highest-ever offers on both the Marriott Bonvoy American Express Card and the American Express Cobalt Card.)
Getting to Texas
In short… in Montreal, things were even worse than this summer and this fall. With the hotel quarantine required (for those arriving by plane), the airport was simply completely empty, with a ridiculously low amount of flights on the information screens.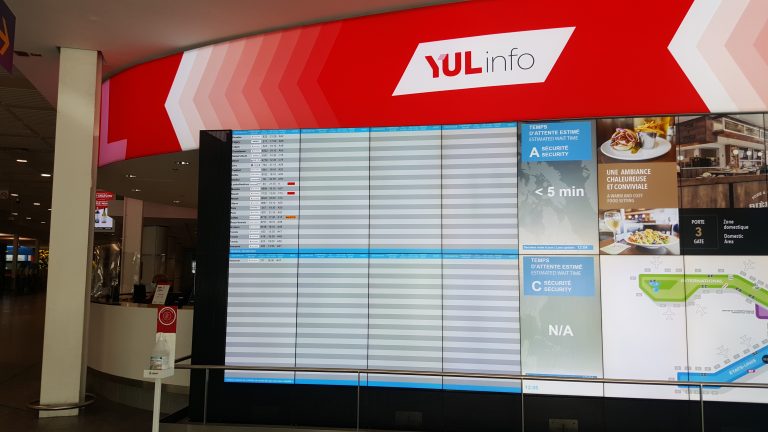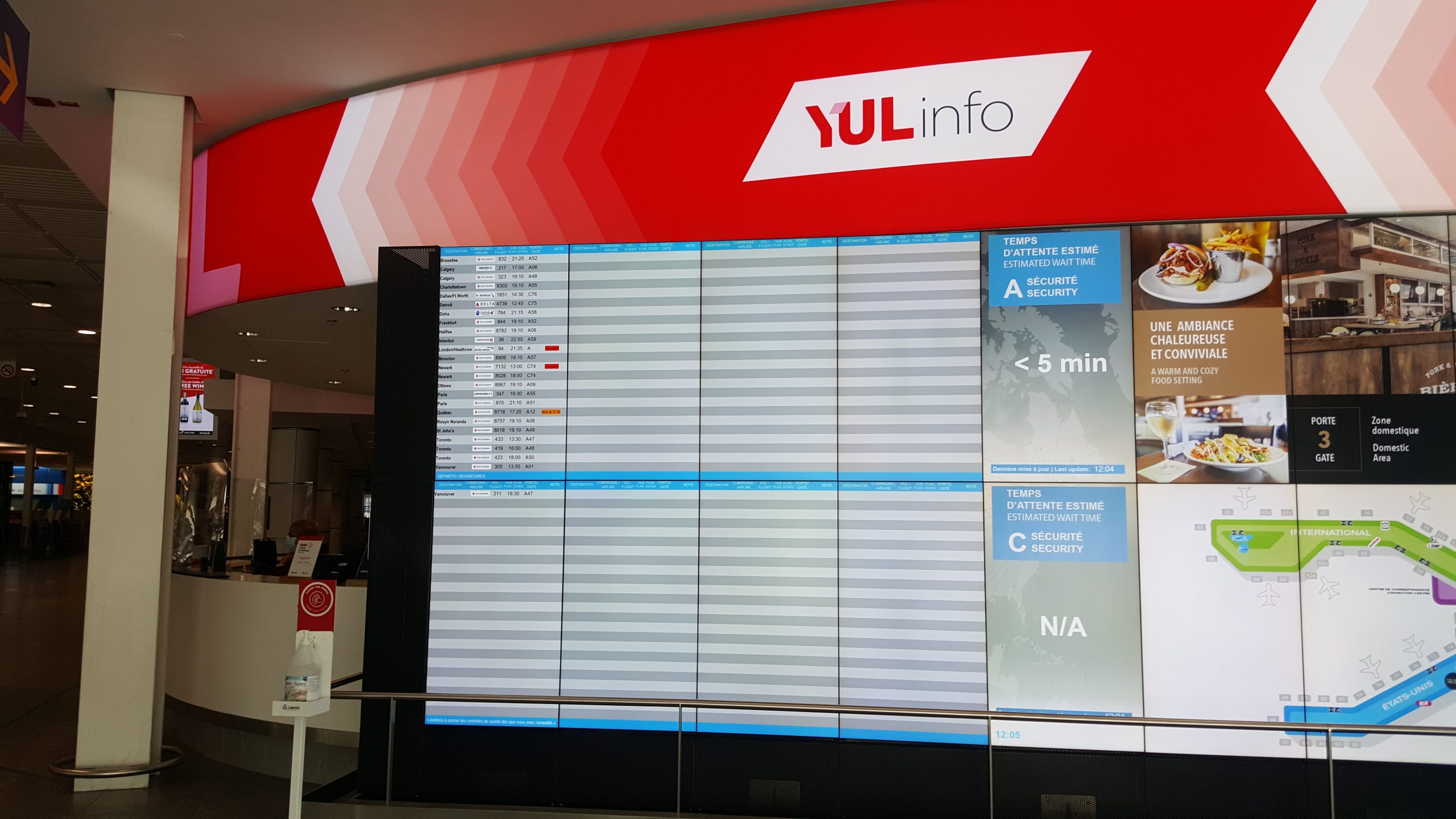 It was actually quite sad to see.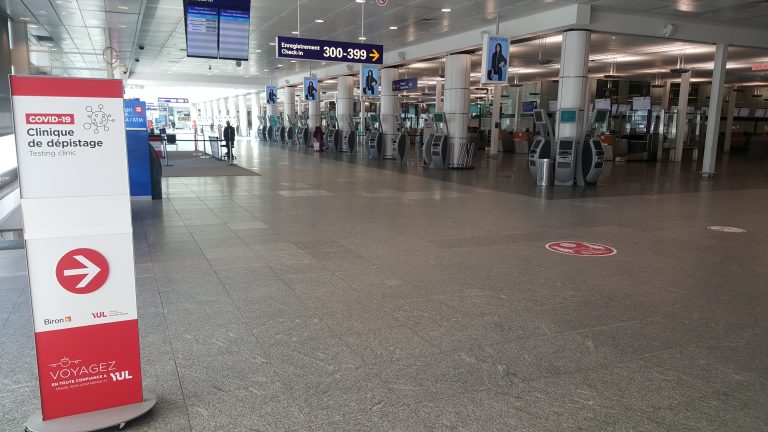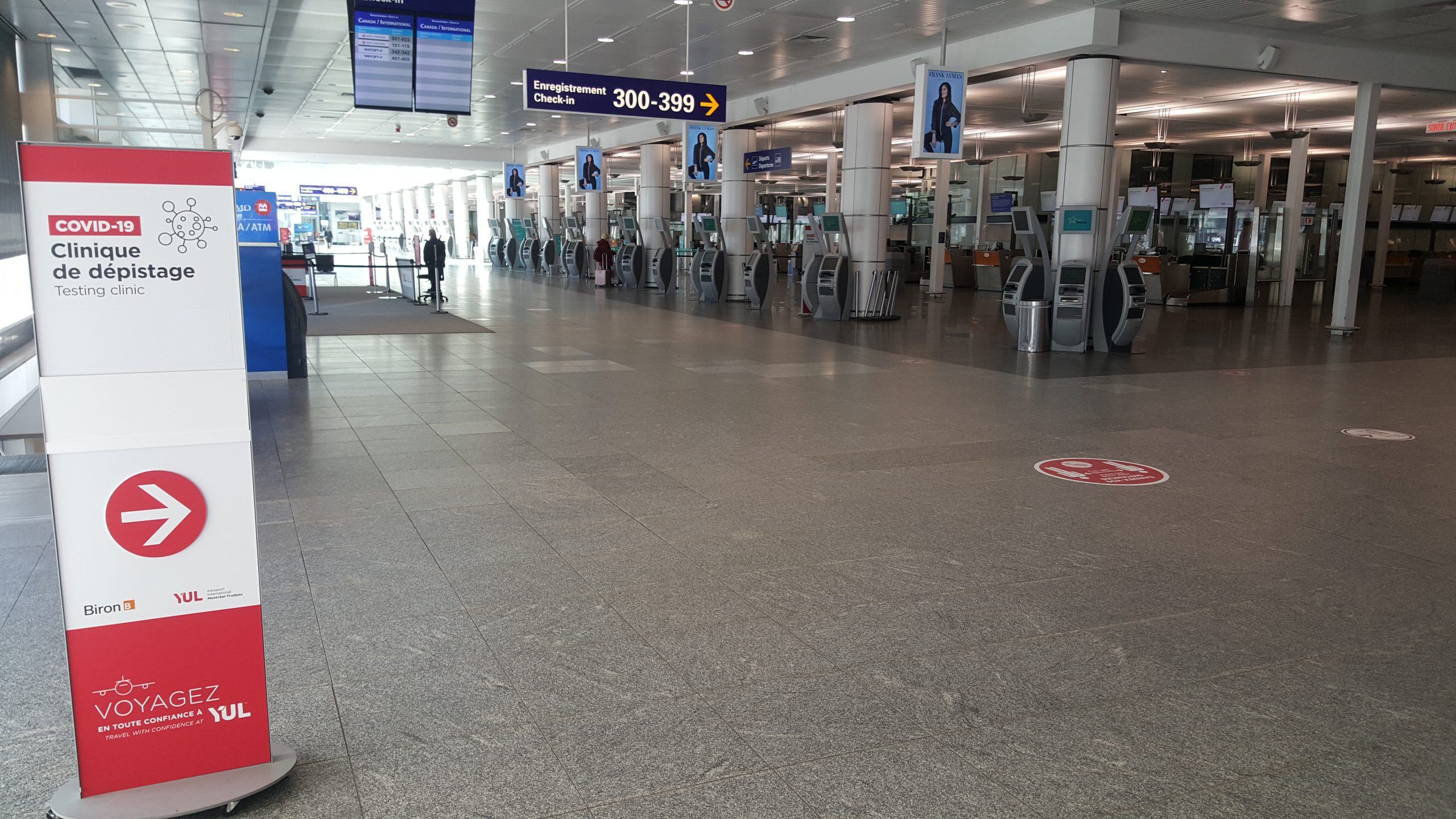 We already shared posts about our experiences in airports and in airplanes, so I'll soon update those with our more thorough impressions now that I've done a lot more.
Since July, as I've taken 25 flights and visited 20 airports in 11 countries to inform you about how it is like to travel during the pandemic. But we hadn't been to the USA yet.
Boy… talk about a whole different planet.
After a very pleasant flight on an almost entirely empty American Airlines Airbus A319, we arrived in Dallas at a very full airport. Not surprising, since passenger numbers in the US are back to 60% of pre-pandemic numbers (in Canada it's under 10%).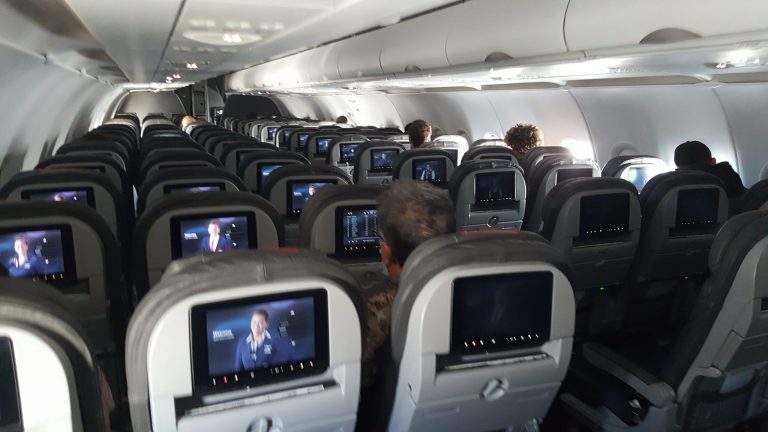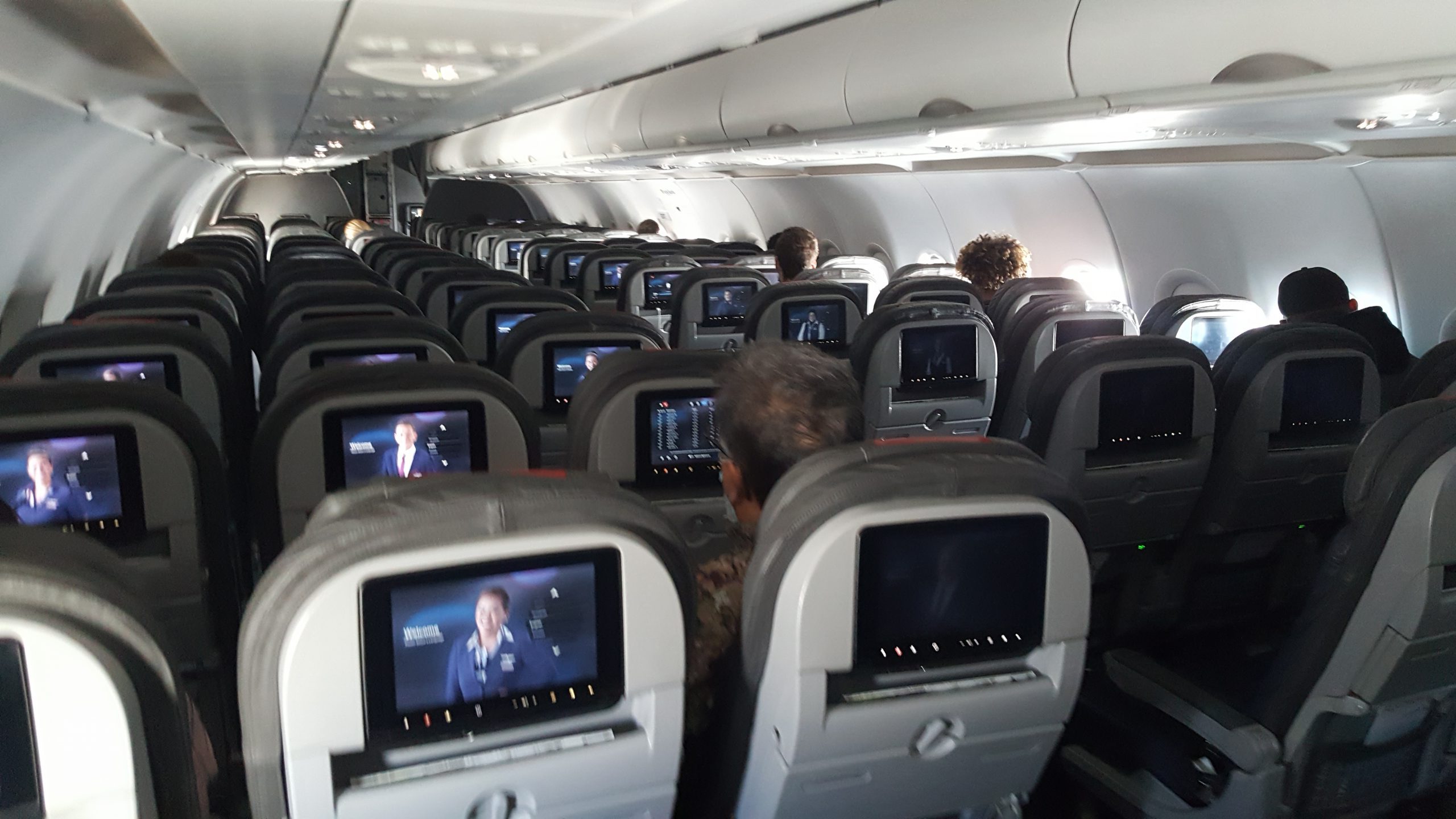 Flight information screens there were very different…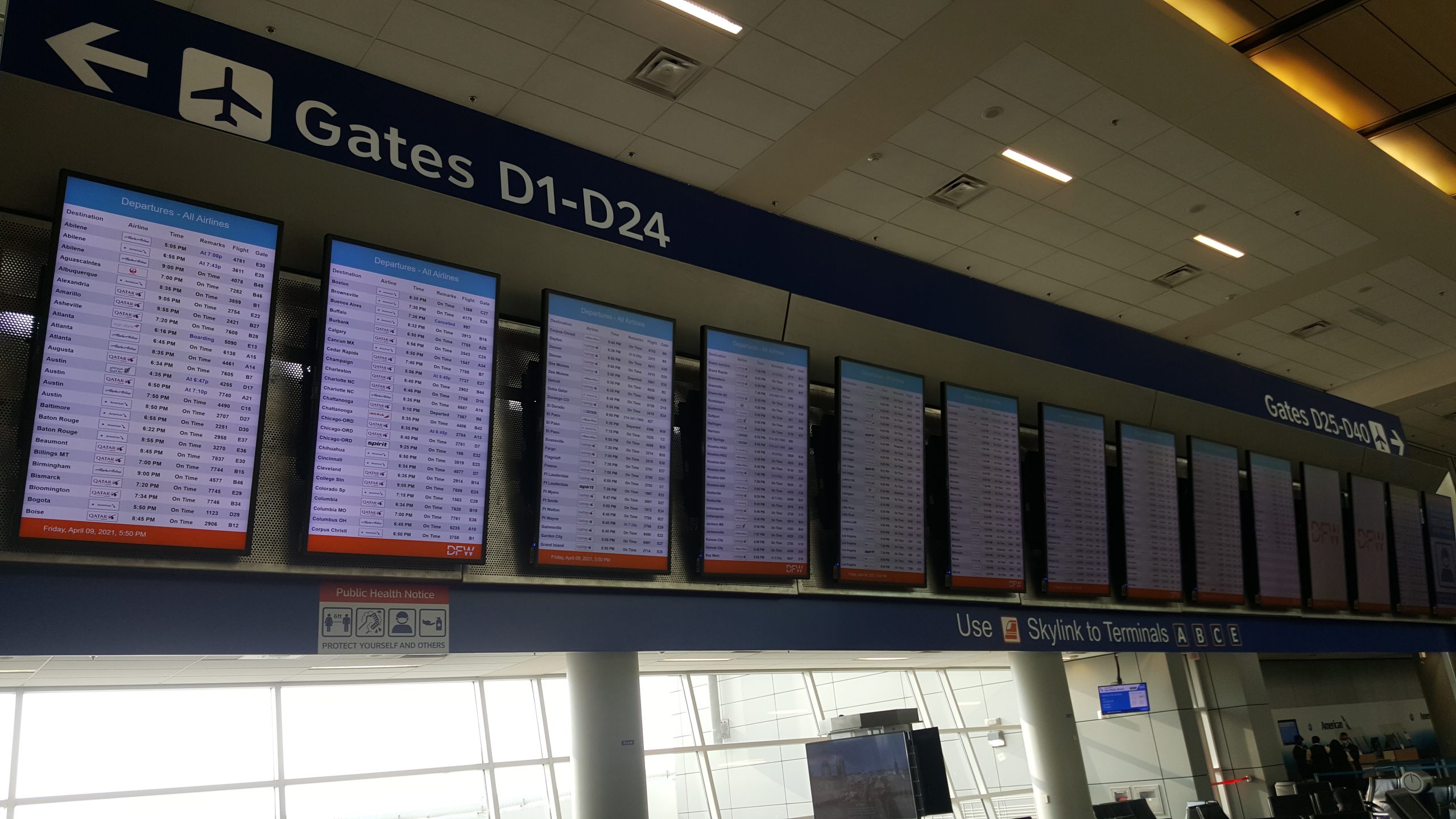 Unlike in Canada, airport lounges have all been open for a while in the US (as they were in Europe last summer too actually).
So before making our way downtown by train, we got free dinner and drinks at The Club DFW.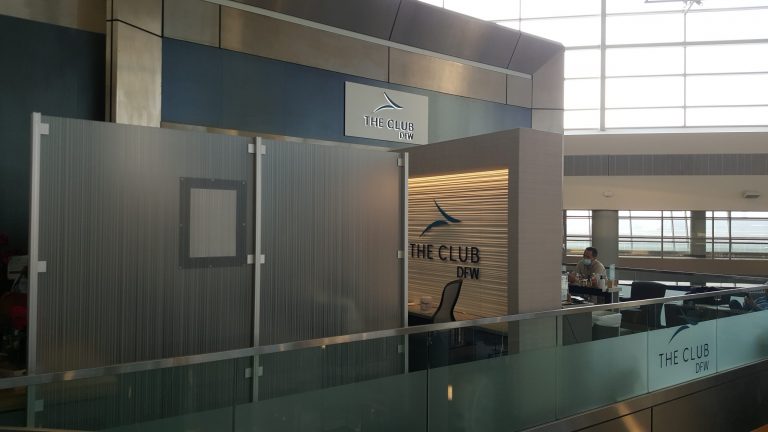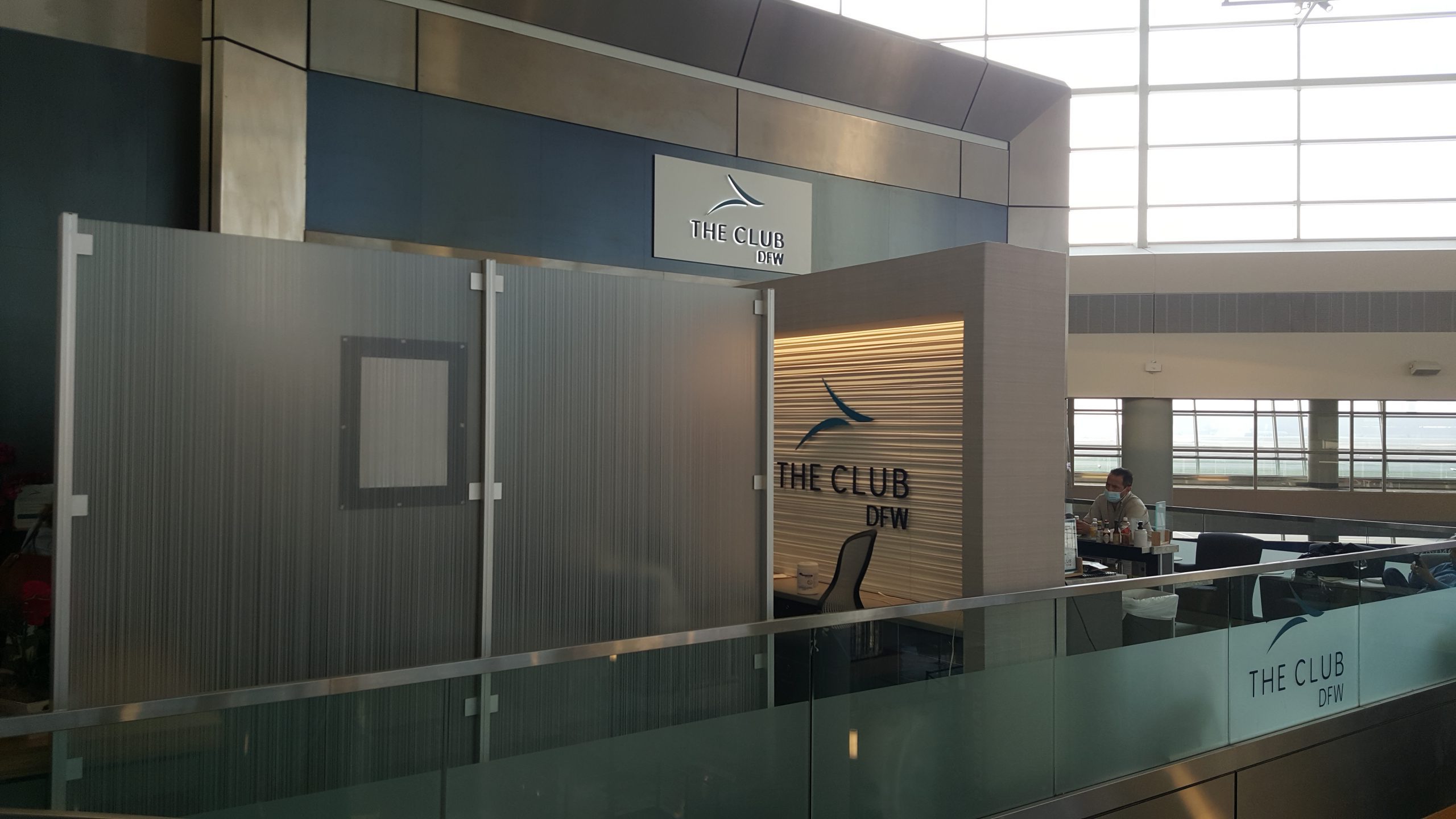 Getting vaccinated
On Saturday morning, we made our way to a Tom Thumb grocery store in the Dallas suburbs.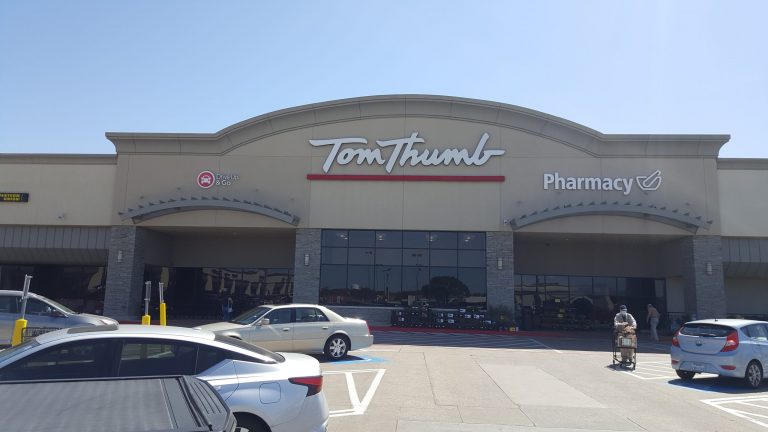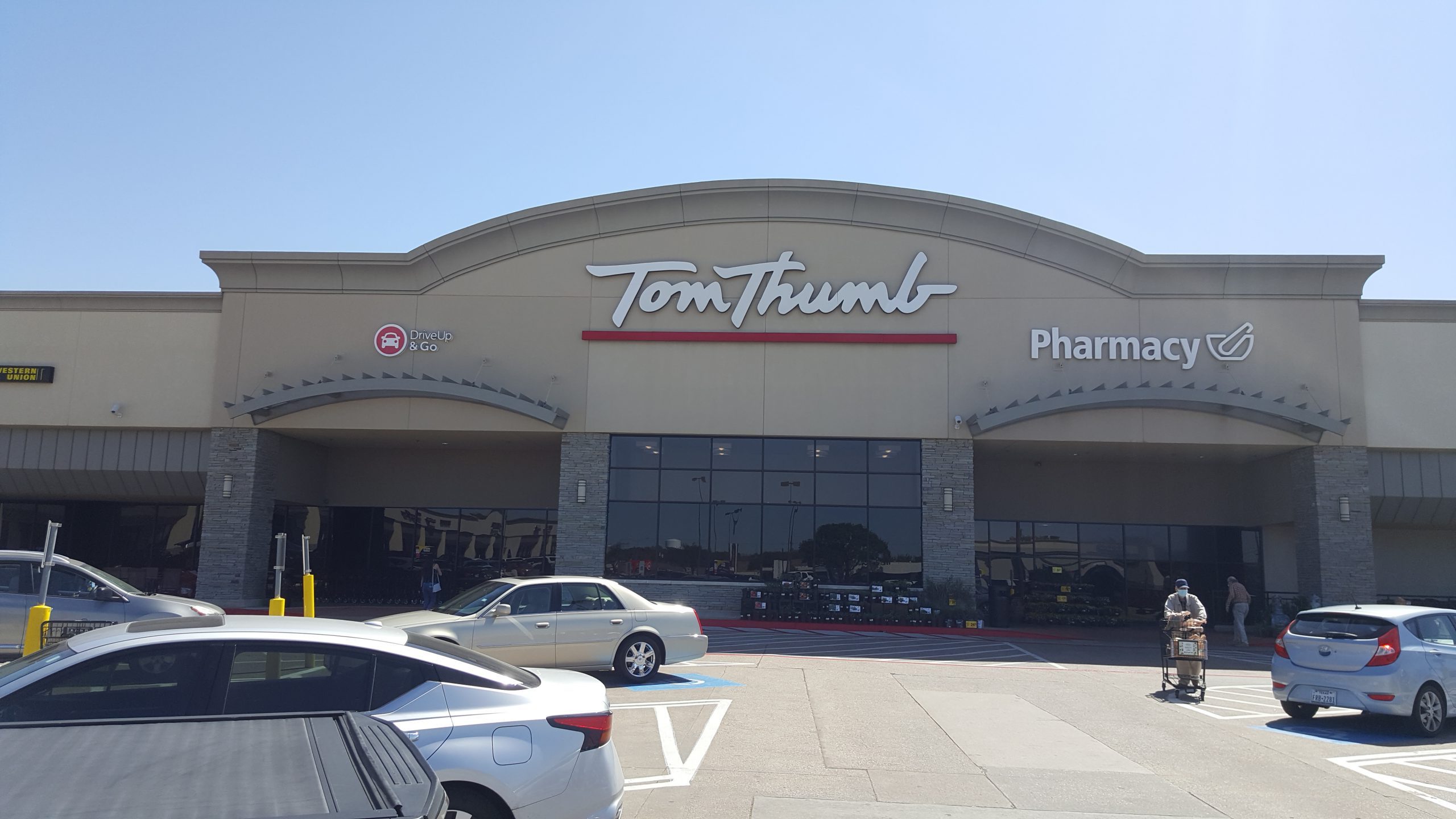 We were expecting some kind of special setup, a vaccination section with somewhat of a lineup, or at least a few other people…
It was just a regular grocery store pharmacy, and there was no one and no indications whatsoever.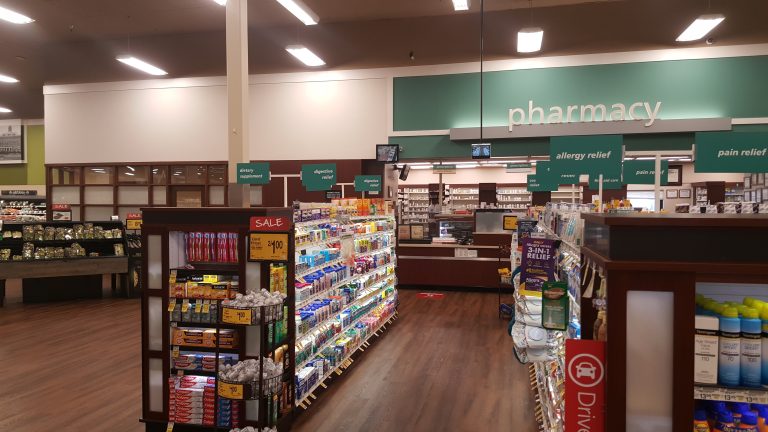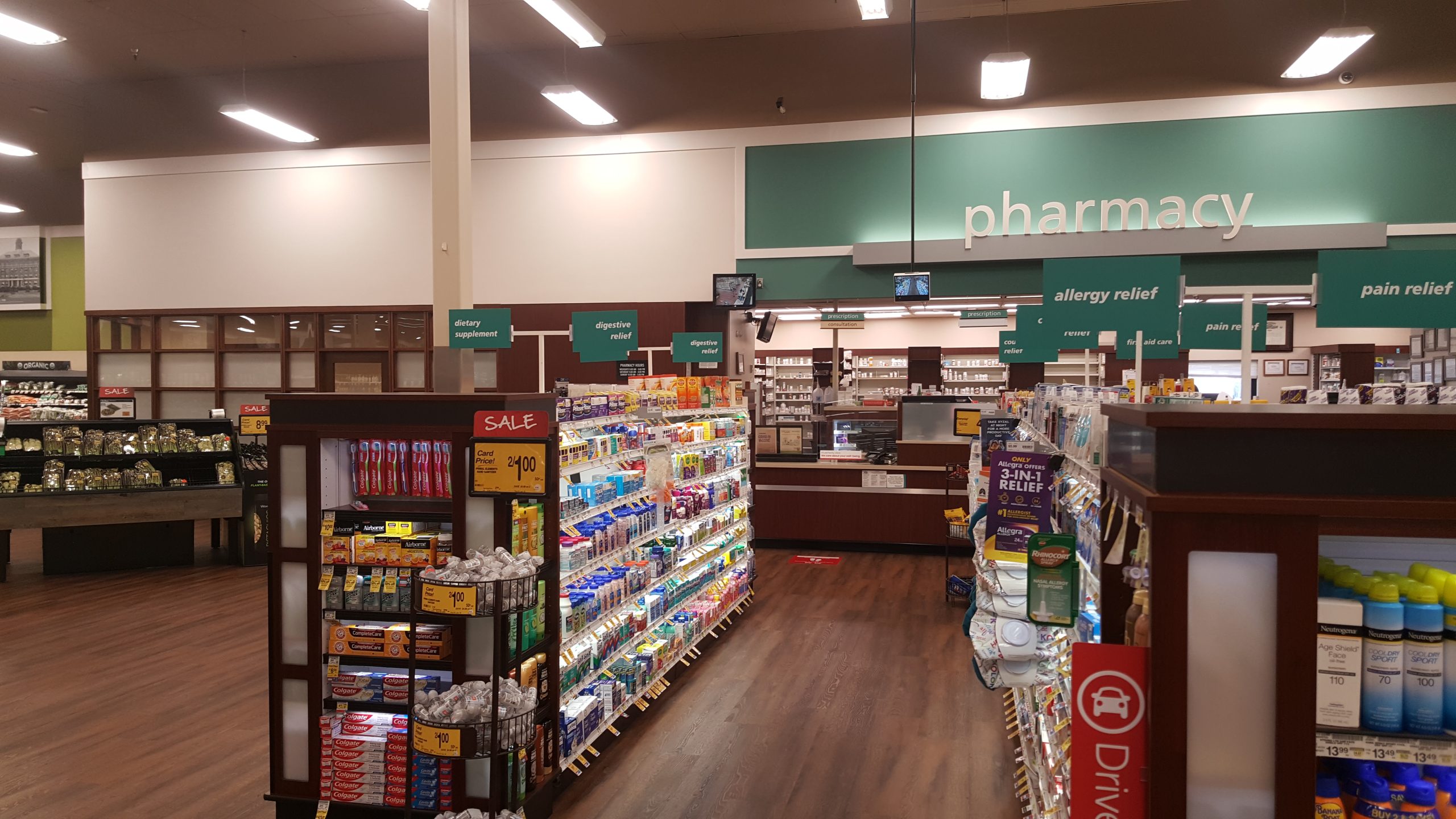 All we saw was a pile of flyers on the counter.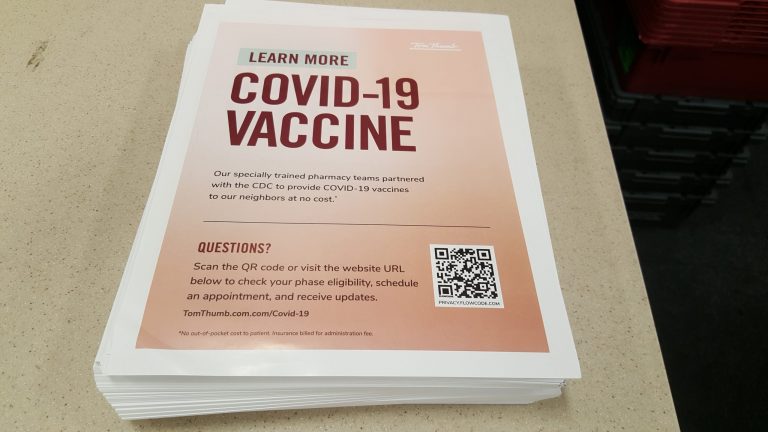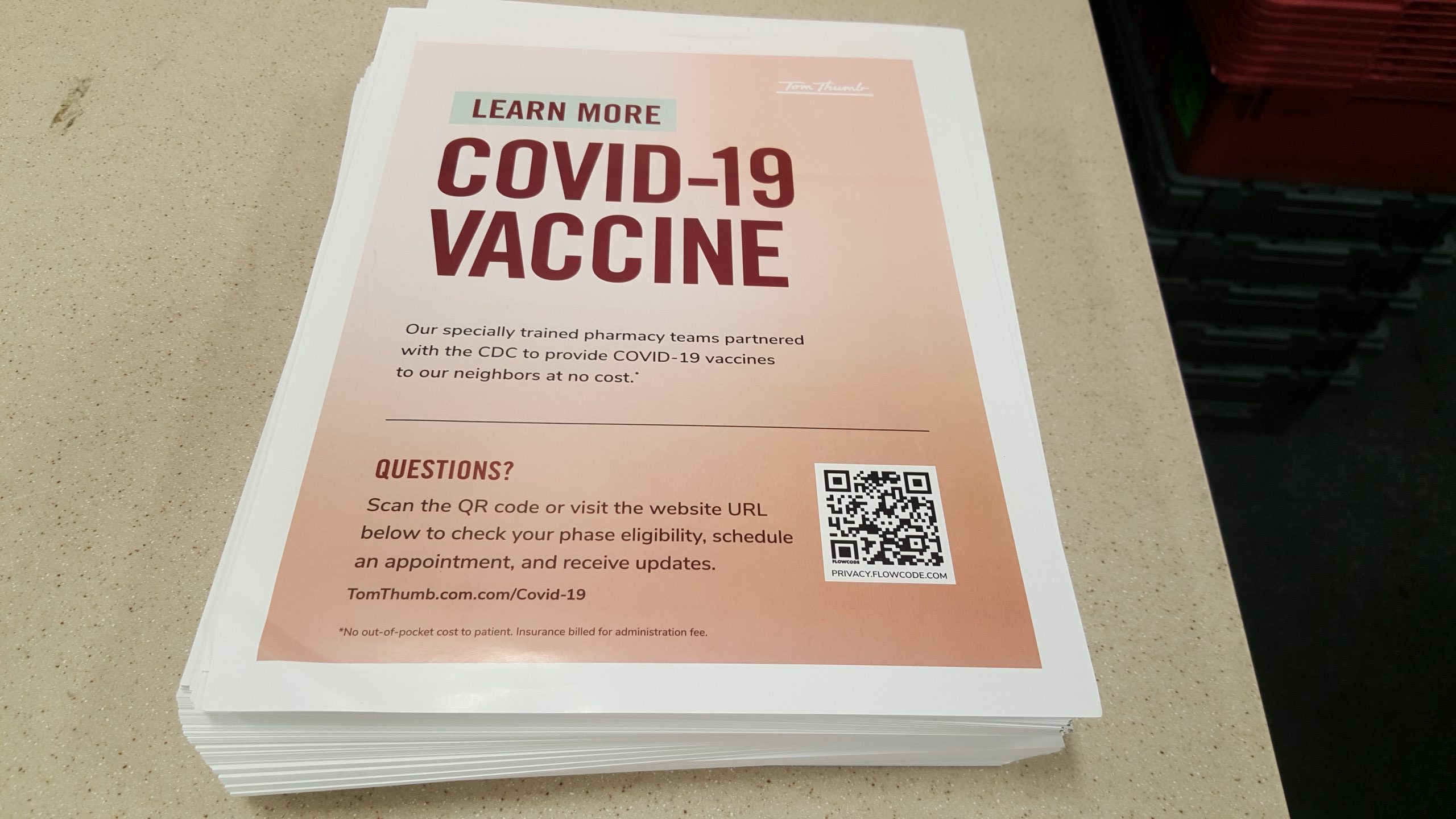 We got there about an hour before our scheduled appointment in hopes of avoiding any wait, but it was just not what we expected at all.
The pharmacist welcomed us and told us we were the first appointments of the day (at 11:30) and that they only had 20 per day, so he could give us our shot right away (well, after 15 minutes so he could get everything ready, which he would've done before our appointment).
We handed him our filled-in medical form with our Canadian address (we did put the US hotel address when booking the appointment online though). He checked and confirmed what we had verified before, which is that there is no residency requirement for the free vaccine.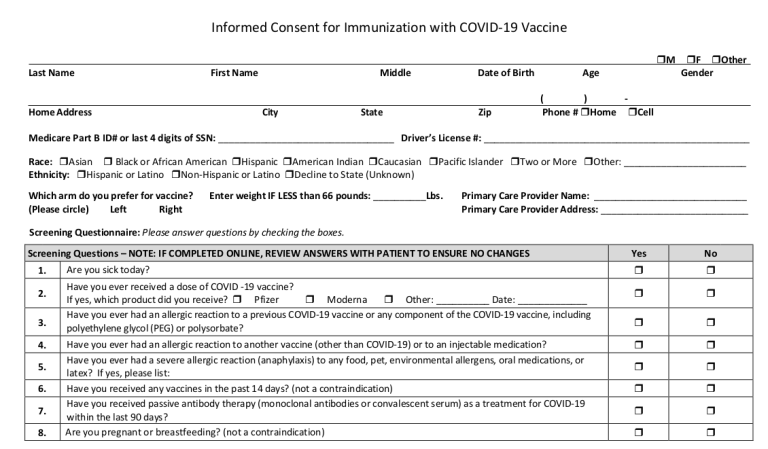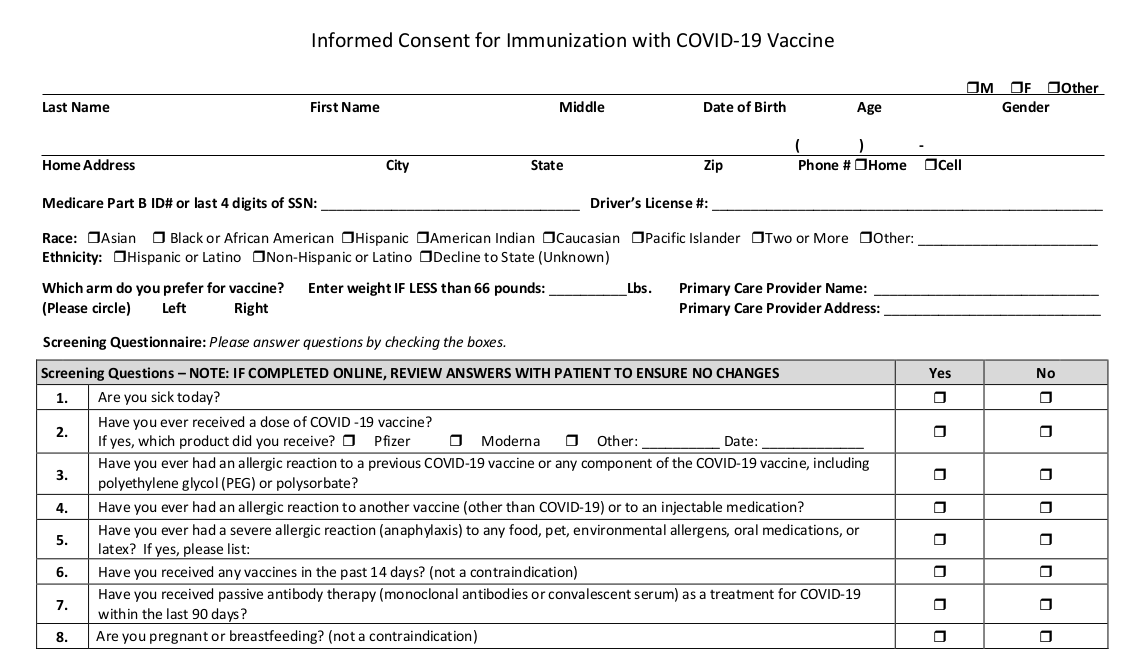 We followed him into a small room and he gave us both the shot, and that was it.
We got our CDC Vaccination Record Card (which is really what we cared about the most, to make future international travel simpler).
He also gave us a 10% discount on our groceries to thank us for choosing their store for our vaccination!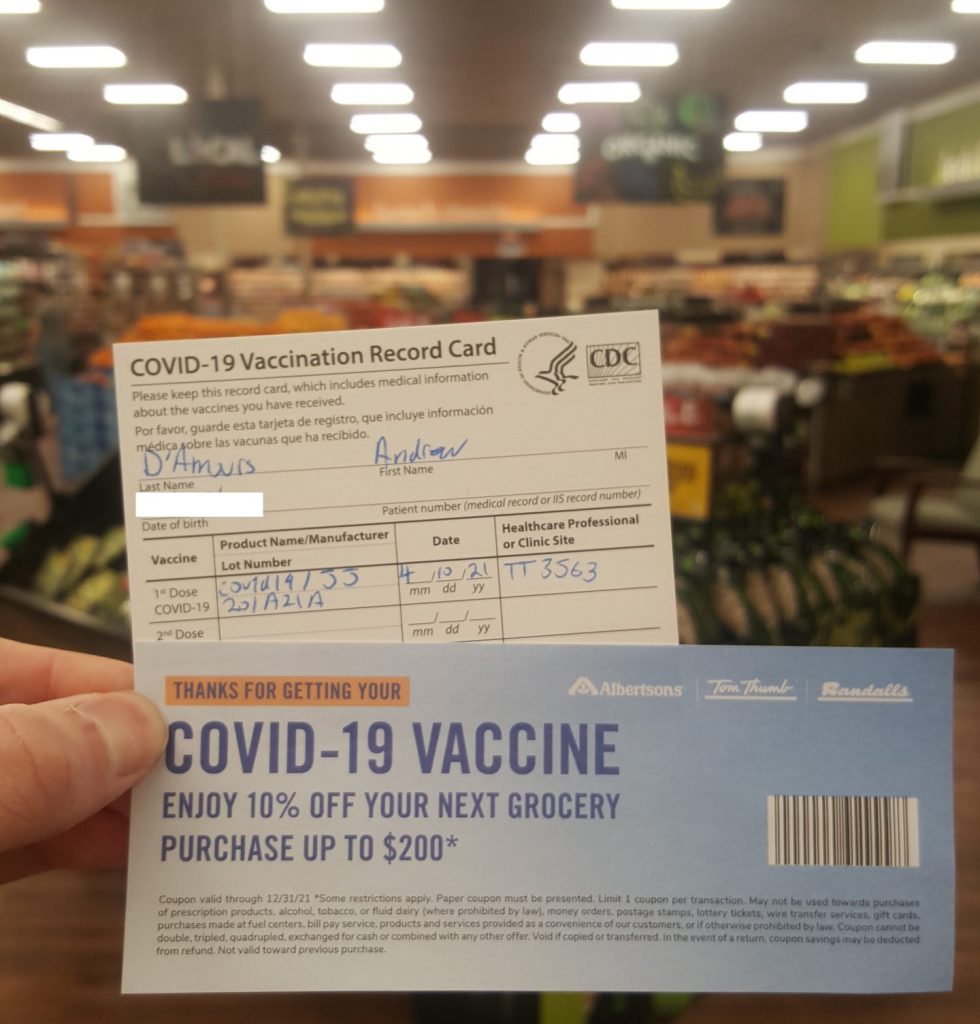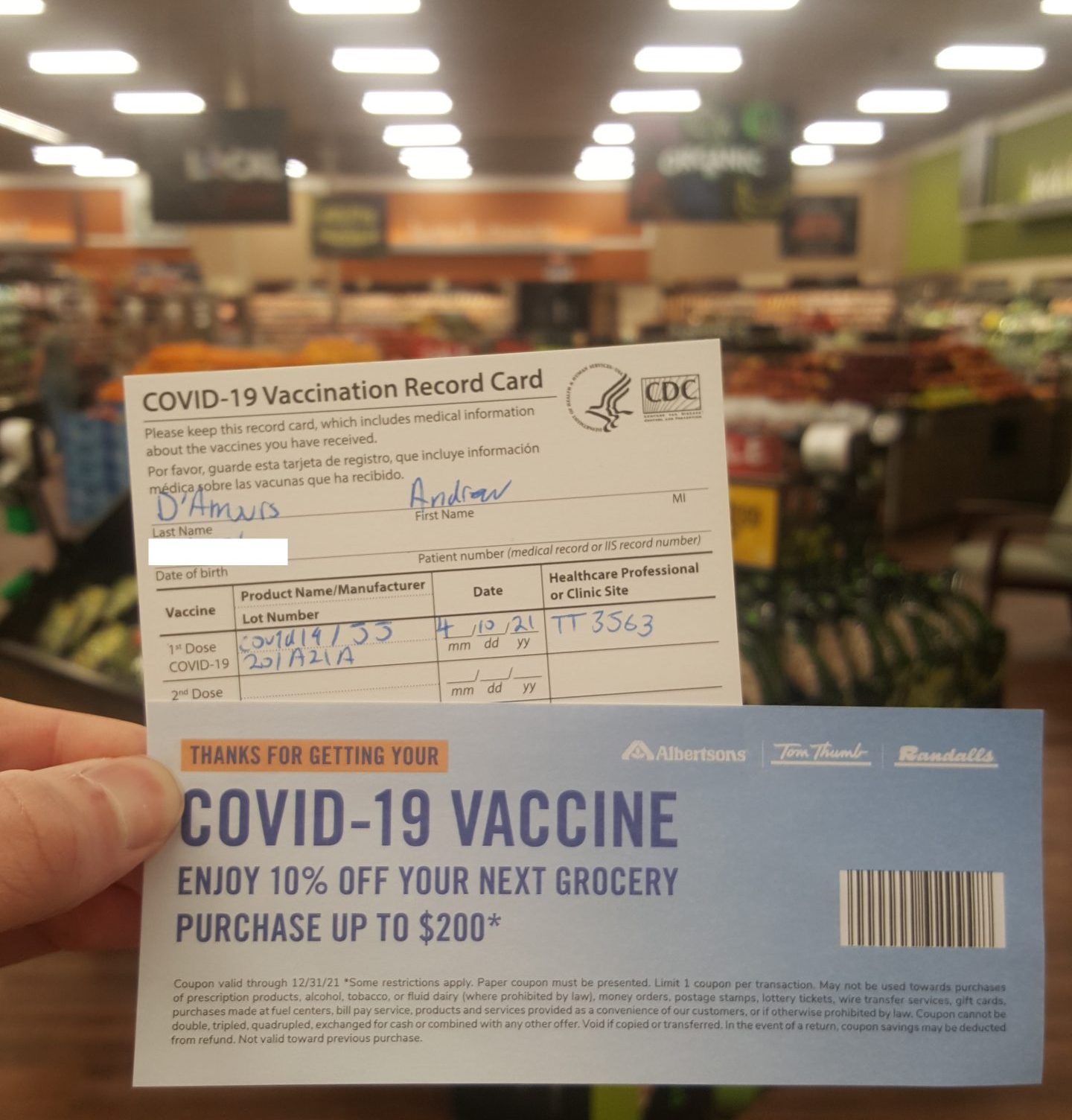 He explained the possible normal side effects and kept us in the waiting room for 15 minutes to make sure we were okay. And since we were both fine, we were then on our way.
The whole process was done in barely over half an hour, and that's really because we arrived too early (before he had time to prepare what he would have prepared before our appointment).
After getting vaccinated
Saturday went by and we both had no side effects.
Kevin was the most at-risk to have some, since apparently having been infected with COVID-19 makes them more likely. He did have some soreness and flu-like symptoms during the night and didn't sleep very well, but nothing dramatic.
I do have a small headache this morning, which may or may not be related (apparently 55% experience this after the Johnson & Johnson vaccine) but it is really very very minor for me.
Coming back to Canada
We will be staying in Texas for a while for a work retreat in the warm weather and to visit a bit (our roadtrip to Oklahoma will allow me to be just 3 states short of having visited all 50).
We'll share more details in coming posts, including the process to return to Canada since it has changed a lot since the many new travel measures were implemented.
And we will keep being careful because it is supposed to take 2 weeks to be considered fully vaccinated, and one thing is for sure: Texas is 100% reopened.
It's the first time since the pandemic that we visit a place where physical distancing is not always maintained since here, so many vulnerable people are vaccinated.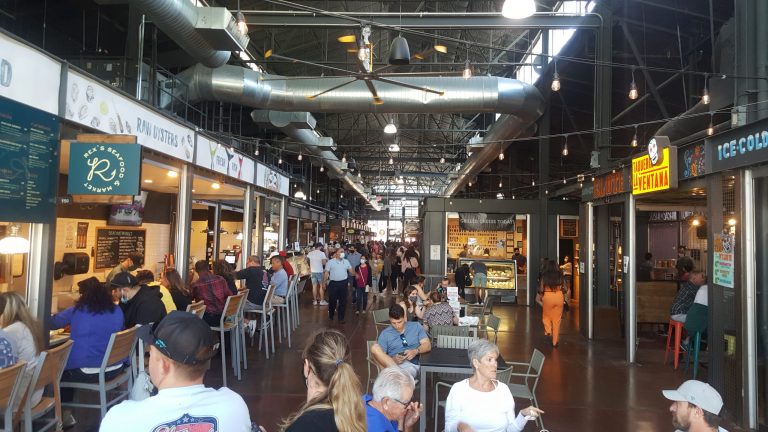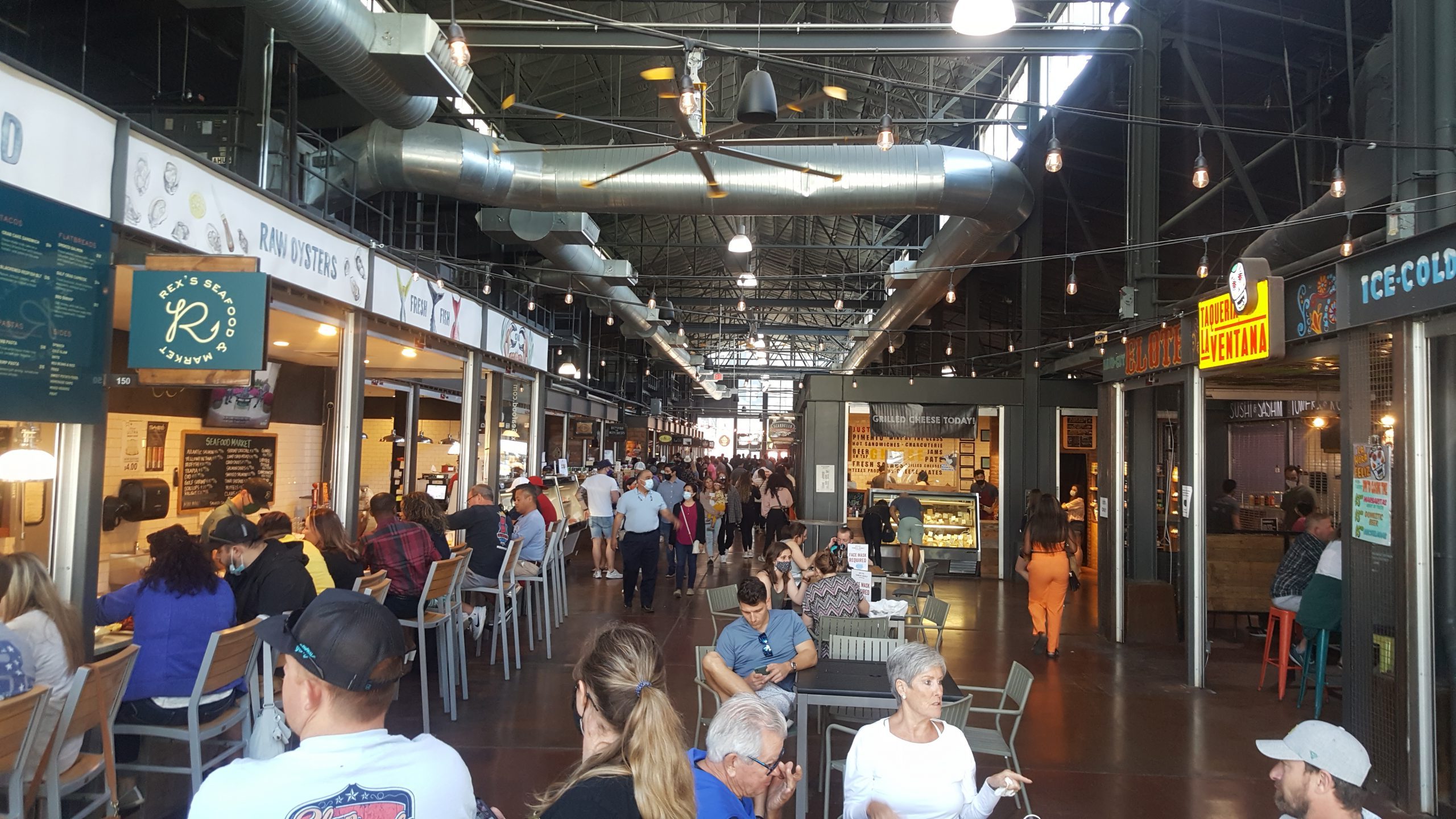 Want to get more content to travel for less whenever you are ready?
Summary
Here is an overview of our first impressions of our first-ever medical tourism experience. We'll have a lot more details soon, including about how to enter Canada without having to quarantine in a hotel.
What would you like to know about getting vaccinated in the US? Tell us in the comments below.
Explore awesome destinations: travel inspiration
Learn pro tricks: travel tips
Discover free travel: travel rewards
Featured image: Flytrippers cofounders getting vaccinated (photo credit: Flytrippers)

Advertiser Disclosure: In the interest of transparency, Flytrippers may receive a commission on links featured in this post, at no cost to you. Thank you for using our links to support us for free, we appreciate it! You allow us to keep finding the best travel deals for free and to keep offering interesting content for free. Since we care deeply about our mission to help travelers and our reputation and credibility prevail over everything, we will NEVER recommend a product or service that we do not believe in or that we do not use ourselves, and we will never give any third-party any control whatsoever on our content. For more information on our advertiser disclosure, click here.
Share this post to help us help more people travel more for less: