The Government of Canada is not aware of any COVID-19 cases attributed to passenger-to-passenger transmission on flights to or from Canada. None. Zero. This obviously doesn't mean everyone should hop on a plane without taking any precautions or that there is no risk, but the true risk of flying is almost certainly lower than what many think it is.
We believe this little-known fact is worth knowing… to at least put the risk into perspective. There are a lot of things that are counter-intuitive in the world of travel, and this statistic is certainly one of them.
So let's get into the topic of COVID-19 transmission on planes in Canada.
First, let's mention that obviously our map is deliberately not a very optimal way to illustrate this data… the point was to really emphasize these numbers that are somewhat surprising to many.
Here's the full-size version that you can share to reassure your travel buddies: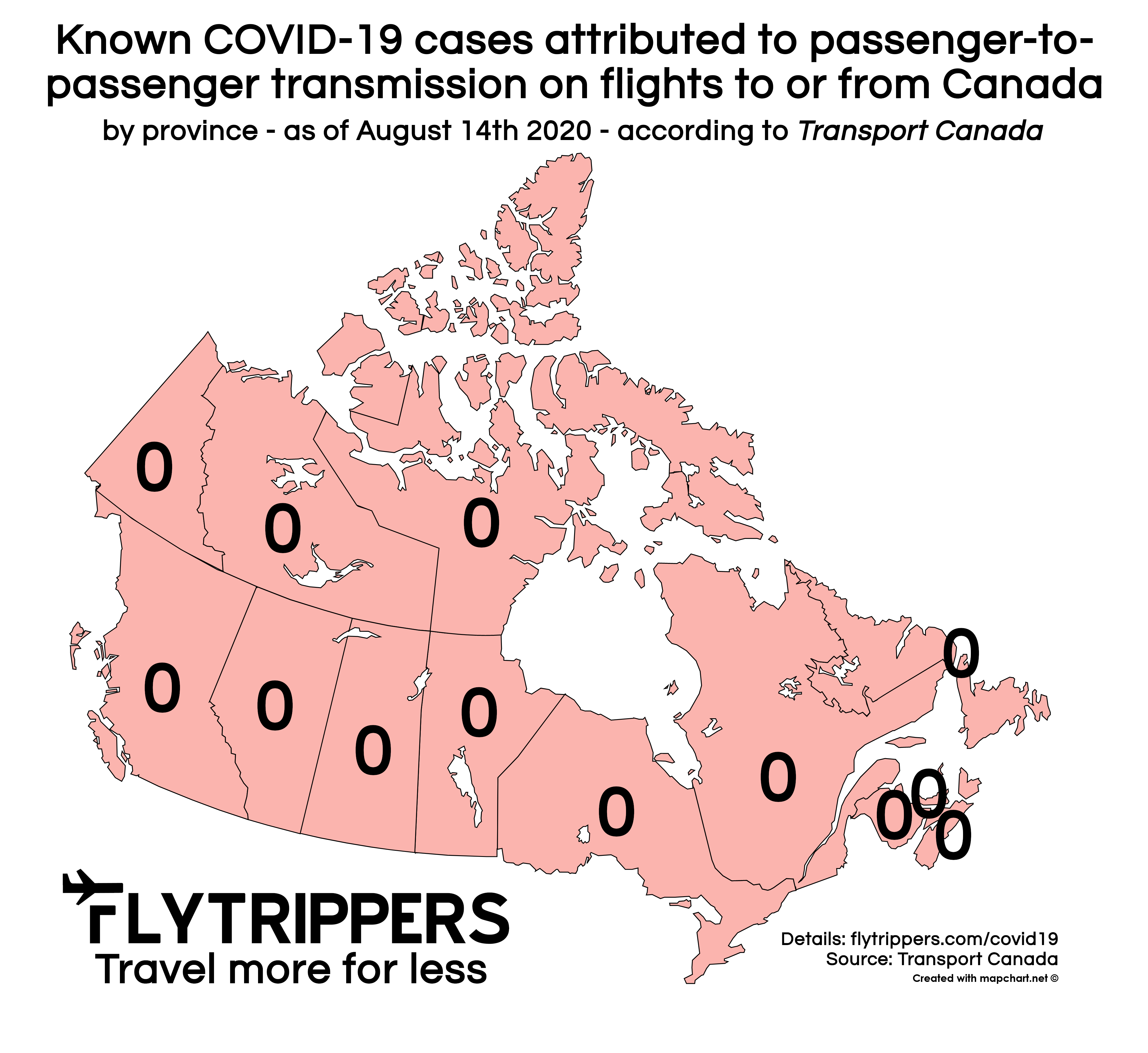 This means that none of the 125,000 COVID-19 cases in Canada can be attributed to taking a plane.
They can be attributed to everyday activities in the vast majority of cases, but also to travel of course—just not on the plane itself.
The source
So now let's look at the source.
We are not speculating or anything like that. Here is the exact quote from a Transport Canada press release last week:
To date, the Government of Canada is not aware of any cases attributed to passenger-to-passenger transmission on a flight to or from Canada.
You can read the full press release here.
The Minister also qualified the risk of being infected by the coronavirus on a plane as "infinitesimally small" based on the available science. We don't like subjective descriptions like "infinitesimally small", but the zero figure on the other hand is a very objective and a precise data point.
What those numbers mean
Now, some might argue that our governments' tracing protocols aren't perfect, and that may very well be true. No one would describe the risk as being nonexistent: it's not.
But the fact remains that despite the dozens of flights in Canada confirmed to have carried infected passengers, there still hasn't been a single confirmed case of anyone being infected by another passenger.
Despite being nearly 6 months into the pandemic, and despite the fact that there are hundreds of flights still operating every single day to, from, or within Canada.
To be clear: we are definitely not saying everyone should travel. Quite the contrary. We keep repeating that safe and responsible travel is now possible, but it should only be considered if it makes sense in your particular situation. For many, it's not yet time to travel.
It is not a decision to take lightly at all. And traveling is only for those who are willing to take the necessary precautions, obviously.
In fact, we've published a very useful guide with 15 factors to consider if you want to decide to travel. One of those factors is the risk associated with flying, of course.
It is not zero. But it is definitely not as high as many seem to think it is either.
Why flying is safe
We mentioned this when we told you why we are personally comfortable flying (we took an 8-hour flight to Europe and I will have flown at least 10 times once our current trip to Greece and Turkey is over), but a Texas Medical Association study comparing the risk levels of various activities found that going on an airplane was at the same level as eating inside at a restaurant or going to a hair salon.
The main reason is that contrary to the very widespread (yet very wrong) myth, the air quality on airplanes is excellent. It's better than the air quality in buildings on the ground.
Airlines and airports have also implemented many measures to make flying as safe as possible (mandatory masks, temperature checks, limited movements onboard, touchless processes, thorough disinfection, etc.) and you can read our impressions of taking the plane or being in airports.
That's actually the purpose of that government press release that confirmed the absence of plane-related COVID-19 cases: to officialize Canada's Flight Plan, a series of measures to ensure safe air travel now that many countries around the world are lifting their entry restrictions.
Here is another quote from Transport Canada that is interesting, just to reiterate a few other airplane features that make transmission a very minimal risk:
Modern passenger aircraft also offer a unique environment with design characteristics that reduce the risk of viral transmission. The air is exchanged at a high rate, with HEPA filtration in most large commercial aircraft. Further, the potential spread of the virus between rows is reduced by the high seatbacks and the fact that almost all passengers are seated in the same direction.
A recent study (and the best quote)
While other studies since the beginning of the pandemic point in the same direction, other ones, including that predate this current novel coronavirus have shown some transmission…. but that was when no one was wearing a mask (and even then, it was considered a very low risk).
We're not experts on the topic, but for those of you who are interested, MIT researchers are experts and a recent study on the topic was published as well.
Arnold Barnett, the researcher in question, puts the overall risk into perspective (emphasis mine):
Risk levels (for a two hour flight) are comparable to those arising from two hours of everyday activities during the pandemic.
This quote from the MIT website summarizes the entire point we're trying to make pretty well:
While there are risks associated with flying, it may be safer than you think.
Researchers estimated that the odds of being infected by the coronavirus on a plane were 1 in 4,300 (for comparison, lifetime odds of dying from a car accident are 1 in 106 in the US… and odds of dying from choking on food are 1 in 2,618).
So yes, those coronavirus odds are for flights in the US… where they have literally the highest amount of infected people in the world.
The risks are therefore even lower for flights outside the US, like in Canada. The 1 in 4,300 odds are also based on the assumption that planes are 100% full.
For you to be infected on a plane, so many things would have to happen:
someone infected has to be asymptomatic to avoid detection
that person has to be on your plane specifically
that person has to be seated in very close proximity to you (within ≈ 2 rows)
that person's mask and your mask must fail simultaneously for some reason
That said, of course, there is physical proximity inside an airplane. It's not 100% safe. I would probably not fly myself if I was a lot older.
So one last time: it's definitely not a zero-risk situation.
But the risks are low enough for some travelers to definitely be comfortable flying… and Flytrippers will be here to help you do so safely, whenever you are ready.
There are great pro tips on minimizing your risk when traveling, which is exactly why we're traveling right now ourselves so we can better advise you about this new reality. For example, choosing a window seat is proven to reduce your already-low risk of being infected on a plane.
Want to get all our content about how to start traveling again?
Summary
Not a single COVID-19 cases can be attributed to passenger-to-passenger transmission in all of Canada, since the beginning of the pandemic. Flying is not risk-free, but nothing you do is during a pandemic. The key takeaway is that it might be a lot less risky than you think, especially if you are careful and take the appropriate precautions.
What do you think about the risk of flying? Tell us in the comments below.
Explore awesome destinations: travel inspiration
Learn pro tricks: travel tips
Discover free travel: travel rewards
Featured image: our full IST-ADB flight last week (photo credit: Andrew, Flytrippers co-founder)
Advertiser Disclosure: In the interest of transparency, Flytrippers may receive a commission on links featured in this post, at no cost to you. Thank you for using our links to support us for free, we appreciate it! You allow us to keep finding the best travel deals for free and to keep offering interesting content for free. Since we care deeply about our mission to help travelers and our reputation and credibility prevail over everything, we will NEVER recommend a product or service that we do not believe in or that we do not use ourselves, and we will never give any third-party any control whatsoever on our content. For more information on our advertiser disclosure, click here.
Share this post to help us help more people travel more for less: