Like many countries, the US allows the use of a positive test result — instead of a negative one — to enter the country by air (no test is required to enter by land). However, they also require a letter of recovery if you do that. And we've received many questions about that letter, as the US is statistically the #1 destination for Canadians.
So here are your 3 options if you've had COVID-19 in the past and want to travel to the US, including of course how to easily get your letter of recovery.
(The short version is that it's through Summit Health Travel Clinics if you don't want the details and the alternatives)

Basics of the letter required by the United States
If you've read our ultimate guide on how to travel to the United States, you know that unlike Canada (which only requires proof of a positive test result from 10 to 180 days prior), the US also requires a letter from a medical professional confirming that you've recovered (and the test must be dated within the last 90 days, with no minimum delay).
We can't say it enough, as this is one of the most important things to understand about traveling during the pandemic, and the concept itself is pretty simple: EACH COUNTRY MAKES ITS OWN RULES. They are all different. You absolutely have to understand that.
We'll soon publish an awesome new section with all the resources you need to travel during a pandemic, and we'll clearly explain the basics. Sign up for our free newsletter to be the first to get access.
3 options to travel to the United States if you've had COVID-19
If you have proof of a valid test done within 90 days of entering the US, you have 3 options:
Pay for a letter of recovery from a private clinic

Ask your family doctor for a letter of recovery

Use a negative test
The first 2 options work if you absolutely want to use a positive result, but don't forget about the 3rd one either.
Maybe some of you haven't read our article on the basics of COVID-19 tests for travel and think that you can just show a self-administered test result — and that countries will magically believe that it's really you who got tested and that everything is in order — but no.
Although the rules of each country are different, there's one thing that's consistent and universal for all countries: formal proof and documentation are always required for a test to be valid. An unsupervised self-administered test never works (but a supervised self-test works fine for many countries, like Canada and the USA).
So here are the details of your 3 options.
Option 1: Pay for a letter of recovery from a private clinic
Flytrippers recommends Summit Health Travel Clinics, Canadian travel health clinics that can produce this letter of recovery online without you having to physically go anywhere.
It costs $75 (taxes included) and you'll receive your letter in 2 business days if you have indeed recovered.
Their health care professionals will make this determination based on the information you provide by filling out a short medical form online.
Essentially, here's what's required:
You have been fever-free 24 hours (without the use of fever-reducing medication)

You do not have COVID-19 symptoms OR existing symptoms have been improving for at least 24 hours

You have completed your government-mandated isolation period
And of course, a valid positive test is required. Again, unsupervised self-administered home tests are useless.
Summit Health Travel Clinics will provide you with the letter that's needed to accompany your positive test result because the US absolutely requires both documents if you don't have a negative test.

Since Summit Health Travel Clinics are licensed healthcare providers, the letter is valid for travel to the US (for other destinations, always check the entry rules of each country: most don't require a letter, so don't pay for nothing).
I can't test Summit Health Travel Clinics out for you (even though I always love to test everything), since my 25 COVID-19 tests have always been negative even when I did get COVID-19 recently, but I'll show you how it works step by step below. It's very easy.
Option 2: Ask your family doctor for a letter of recovery
Flytrippers' mission is — literally — to help you travel more for less, so we have to at least mention the free option if you want to save money.
However, some doctor associations in Canada (for example the Collège des médecins du Québec) issued a recommendation to the public not to request such a letter, and a recommendation to its members not to provide it.
(For educational purposes and to explain how pandemic travel works, I will mention that their notice is a bit misleading in saying that "airlines" require a letter: airlines have NO requirements for travel, despite what everyone seems to think. They only enforce the various countries' requirements, it's really that simple. Airlines don't require a vaccine, nor a test, or a letter… They only require it if the country requires it. The only exception is Etihad, a UAE-based airline, which requires a test for all passengers.)
So it's up to you if you want to try it anyway (if you're comfortable bothering the receptionist for it), but some of our readers have shared that they got the letter just like that, for free – even in Québec.
Maybe that was before the Collège des médecins got involved… But remember, this is also only a recommendation. I'll take this opportunity to point out another concept about travel rules.
The point of recommendations is that they give everyone the choice to decide for themselves. Maybe some doctors don't follow the recommendation, just like millions of Canadians didn't follow the government's recommendation to avoid travel (which just ended with February 28's changes) because it was just a recommendation. Just like some countries in the European Union are not following the EU recommendations on imposing travel restrictions.
In short, it's important to understand the distinction between rules and recommendations. Since the beginning, Flytrippers has been repeatedly saying to always follow all the rules.
Option 3: Use a negative test
Finally, this option is still worth considering.
The US accepts rapid antigen tests (as does Canada since February 28 by the way) and this type of test is less accurate and less sensitive.
So, maybe you will test negative even if you've had COVID-19 recently. It's definitely not guaranteed that you'll still test positive later on.
Rapid antigen tests are available for $17 at Costco in some provinces, for $40 in others, or for $45 virtually from anywhere with our promo code.
All these options are less expensive than the letter of recovery.
But before you pay for your negative test, you can simply take a self-administered test given for free by the government. It's exactly the same type of test that labs or clinics will use (but a self-administered test is not valid for travel since there's no official documentation).
So if you self-administer the test correctly and it comes back negative, you know that the official rapid antigen test you'll take to enter the US will most likely be negative as well.
And this test will cost less than the letter of recovery!
If your self-administered home test is still positive, then you know you really need the letter of recovery.
However, if you plan to travel to the US several times within 90 days of your positive test, the letter of recovery is clearly the best option, since you'll be able to reuse it and save more money by avoiding multiple tests.
How to request the letter, step by step
So if you go to Summit Health Travel Clinics' website, you'll see that you need to fill out some personal information.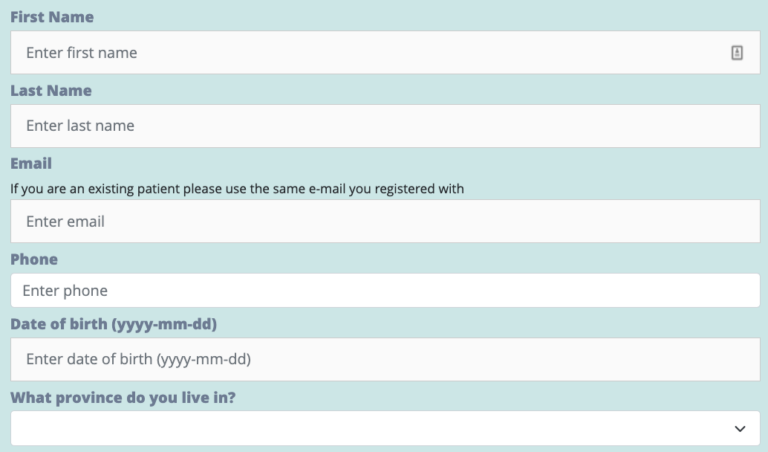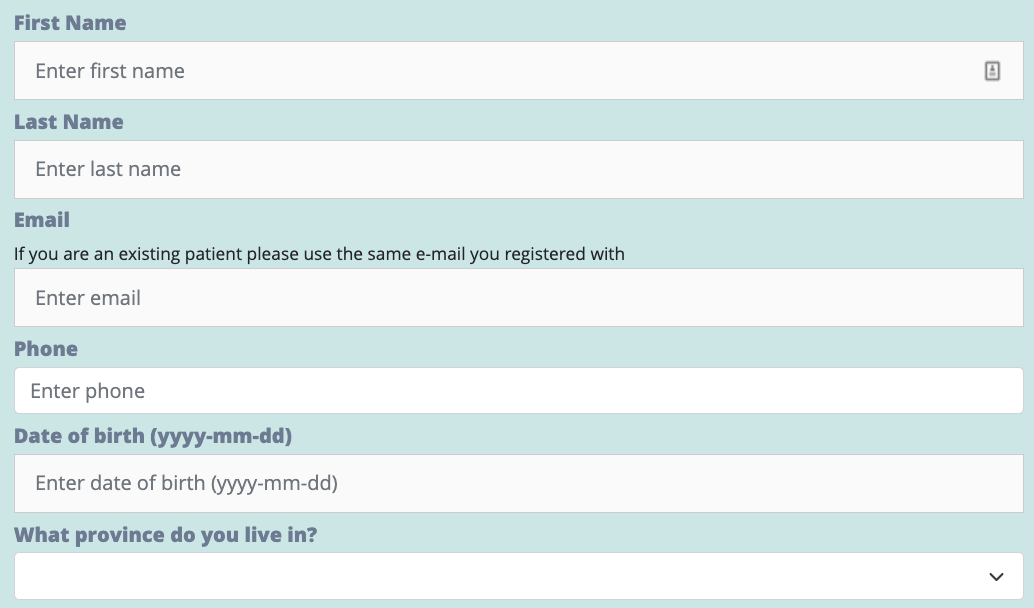 Then there are questions about the positive test and your symptoms.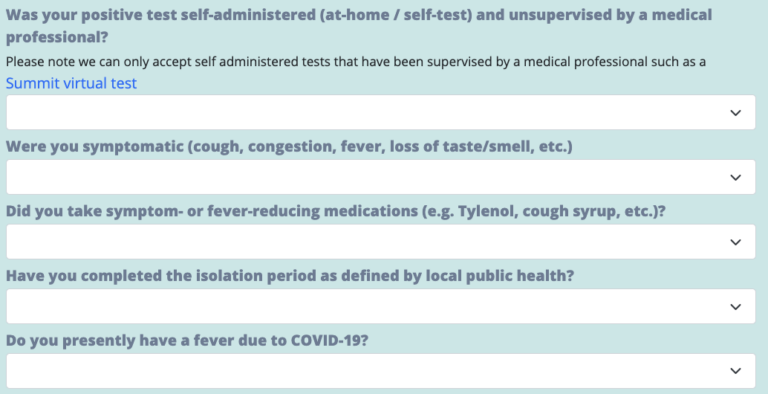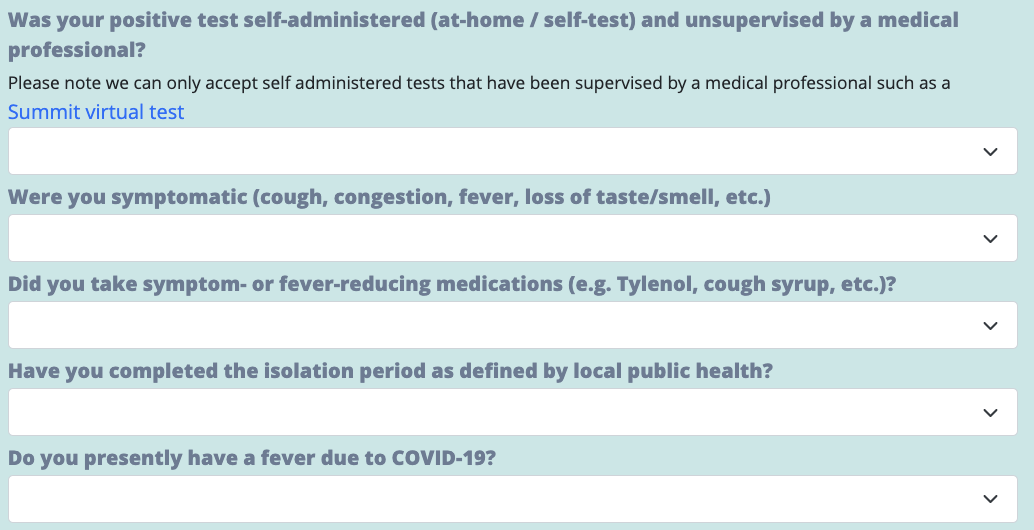 After, you have to upload your positive test result. A picture of a paper result is enough if you don't have a digital version.


Your personal information appears on the test result. As a general tip: when you fill out an online form, you can easily see if the site is secure by looking at the address bar at the top: if it says "https://" like on their website (or the Flytrippers website), it's secure; if it just says "http://", it's not.


Finally, you need to pay the $75 by credit card.


The "clinic" category is not included in any credit card multiplier earn rate, so use the card that has the best base earn rate (such as the Marriott Bonvoy American Express Card, which gives you 2 points per dollar everywhere instead of just 1 — it's the card all Canadian travelers MUST have, and an increased welcome bonus was just launched Wednesday for a limited time).
Want to get all coronavirus updates for Canadian travelers?
Summary
If you've had COVID-19 in the past and have valid proof, you can travel to the United States without doing another test. Your options are to get a letter of recovery from a private clinic like the Summit Health Travel Clinics or from your family doctor. But you can also use a negative test as it can be cheaper.
What would you like to know about the letter of recovery? Tell us in the comments below.
See the deals we spot: Cheap flights
Explore awesome destinations: Travel inspiration
Learn pro tricks: Travel tips
Discover free travel: Travel rewards
Featured image: Gulf Breeze, Florida (photo credit: Aaron Burden)
Advertiser Disclosure: In the interest of transparency, Flytrippers may receive a commission on links featured in this post, at no cost to you. Thank you for using our links to support us for free, we appreciate it! You allow us to keep finding the best travel deals for free and to keep offering interesting content for free. Since we care deeply about our mission to help travelers and our reputation and credibility prevail over everything, we will NEVER recommend a product or service that we do not believe in or that we do not use ourselves, and we will never give any third-party any control whatsoever on our content. For more information on our advertiser disclosure, click here.
Share this post to help us help more people travel more for less: