This post was sponsored by Amex Bank of Canada. The views, opinions, Mile calculation and valuation, and any info on Air Miles expressed on this site, however, are our own. American Express is not responsible for maintaining or monitoring the accuracy of the information on this website.
---
The AIR MILES® Reward Program can provide great value to Canadian travelers, and American Express has two interesting Credit Cards that earn AIR MILES® Reward Miles.
A program that has been well-known for a long time in Canada, the AIR MILES® Reward Program can be a great tool to travel more.
American Express offers two Credit Cards that will help you earn many AIR MILES®:
The first is a Card for all travelers with a great Welcome Bonus offer and the second is a higher-end Card with more travel benefits.
Here is an overview of both products.
American Express® AIR MILES®* Platinum Credit Card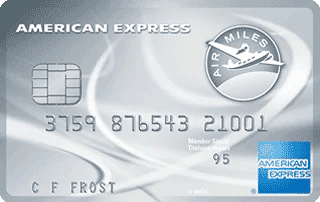 The name might make you think this is an ultra-premium product like my favorite, The Platinum Card® by American Express, but it is, in fact, a very accessible Card.
Miles Earned
You can earn many Miles with this Card. We'll show you an overview of the math.
First, the Card's fee of $120 is more than offset by a great welcome bonus offer of 2,000 AIR MILES Bonus Miles, which you'll receive after a $1,500 minimum spend in the first three months, which is easy to reach with our tips.
Of course, this is in addition to the regular earn rates. I'll talk about the earn rates below, but this Card offers a good category bonus on foods & drinks and also gas & transit.
So with the Welcome Bonus alone, if you spend your $1,500 in the bonus categories, the value of the welcome bonus alone is very interesting, a total of 2,300 AIR MILES:
2,000 AIR MILES Bonus Miles Welcome Bonus
300 AIR MILES regular earn rate on bonus categories
Flytrippers values 2,300 AIR MILES at ≈ $276 (≈ 12¢ per mile), and therefore the net value of the Welcome Bonus alone is ≈ $156 based on our Flytrippers valuation.
The regular earn rates are as follows:
1 Mile per $5 in bonus categories (≈ 2.2%)

eligible food and drinks in Canada (including stand-alone grocery stores, restaurants, coffee shops)
eligible gas and transit in Canada (including local commuter transportation, ridesharing services and taxis in Canada
(up to $30,000 annually)
1 Mile per $10 everywhere else (≈ 1.1%)
If you can only each the $1,500 with a mix of spend in bonus categories and non-bonused categories, you can still earn a good amount of Miles (2,150 at the very minimum if you spend zero in bonus categories, which is practically impossible).
What You Can Do With Your AIR MILES
The way to get the most value with AIR MILES is through travel, like all rewards programs (Dream Miles not Cash Miles).
As a variable-value points currency, how much value you get from them depends entirely on how you use them.
In general, the best uses will be for short-haul flights that have expensive cash prices, like last-minute flights. Traveling during off-peak season also costs you fewer Miles.
As mentioned, you'll have 2,300 AIR MILES, and you can easily earn more with your regular spend.
That represents almost 2 roundtrip tickets to short-haul destinations (1,400 AIR MILES each), like Ontario and Quebec to New York or Washington (or Alberta and BC to Seattle and Portland).
Those flights often retail for $400 roundtrip if you aren't flexible. Deducting the $200 in taxes you will have to pay, you still save $200 with just 1,400 AIR MILES.
That's a value of over 14¢ per mile, which is 33% higher than by using you AIR MILES as Cash Miles, and even about 20% higher than our conservative Flytrippers Valuation of 12¢ per mile. That means the Welcome Bonus alone would be worth a net of ≈ $202 instead of ≈ $156.
Car rentals can also give you great value, and not many points program can help with that travel expense. The lowest value travel redemption would be vacation packages, but even that is so much better than using AIR MILES for merchandise in terms of value.
You can soon read our detailed articles about the Best AIR MILES Uses and How To Maximize The Value Of AIR MILES.
Annual Travel Redemption Benefit
A great benefit of the American Express® AIR MILES® Platinum Credit Card is that once per calendar year, you will get what is essentially a 25% discount on one redemption.
Yes, when you book your first flight or vacation package by using your Dream Miles with the AIR MILES Reward Program, you will get back 25% of the net number of Miles used (as AIR MILES Bonus Miles, up to a maximum of 750 Bonus Miles), which is an excellent deal that increases the value of this Card significantly.
So with that same 2,300 AIR MILES you would get from the Welcome Bonus alone, considering you get 25% back, it would be worth ≈ $225 instead of our Flytrippers valuation of ≈ $156, or ≈ $402 based on the above example of an optimal use, the more realistic savings compared to paying for the flight in cash.
If you were to use this benefit twice in your first year of Card membership (once in 2020, once in 2021), that value would increase even more!
Other Benefits
The American Express® AIR MILES® Platinum Credit Card also includes insurance coverage for car rental theft and damage, but no medical insurance, flight delay or trip cancellation insurance.
It offers retail protections like Purchase Protection® Plan and Buyer's Assurance® Protection Plan.
As is the case for most AMEX Cards, you'll get American Express InvitesTM: Front Of The Line® Advance Access and Special Offers and Experiences TM.
But there's also Insider AccessTM, designed for American Express® AIR MILES® Cardmembers, which sends hundreds of contest winners to see their favourite artists live in concert, and other special offers.
American Express® AIR MILES®* Reserve Credit Card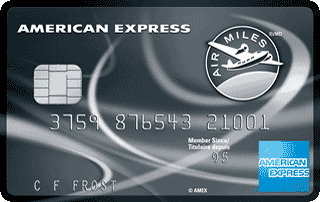 This is the premium AIR MILES Card for frequent travelers. Here's how the American Express AIR MILES®* Reserve Credit Card is different from the American Express® AIR MILES®* Platinum Credit Card we just looked at.
Lounge Access And Priority Security
This is a benefit that I personally love (as someone who has been taking advantage of lounge access for the past 3 years).
The American Express® AIR MILES® Reserve Credit Card comes with a complimentary Priority PassTM membership that gives you access to over 1,200 independent airport lounges around the world.
You will get 4 complimentary annual lounge passes. I've been to over a hundred of these lounges and they are great. It makes traveling a lot more comfortable.
Another valuable premium benefit is getting access to the Toronto Pearson Priority Security Lane, especially if you live in Toronto. But even for others like me who just go once a year or so, or transit through the airport on connections, it is a nice way to bypass long queues.
Companion Flight Benefit
This is a very valuable benefit: once a year, you get a free Companion Flight, which means you only pay for one ticket with your AIR MILES and you get two.
The benefit covers flights up to 1,700 Miles, which isn't too restrictive since, as we said, those short-haul off-peak roundtrips for 1,400 Miles are often the best use of your AIR MILES anyway.
You'll still have to pay taxes on the second ticket, but it's a sizeable saving. It's like doubling the value of your Miles. And if you want to use it on a longer flight that requires more Miles, the Companion Flight will reduce the price by 1,700 Miles and you can pay the difference.
Exclusive Travel Benefits
AIR MILES®* FlexFlyTM is exclusive to American Express® AIR MILES® Reserve Cardmembers and allows you to redeem you AIR MILES for more flights. You get additional airlines and destinations, departure times, and seats that are not available within the regular AIR MILES Flight Program.
You can also redeem your AIR MILES for taxes and fees, although this often gives you less value for your Miles. But having the option to do so is exclusive to the American Express® AIR MILES® Reserve Card. You can also redeem for Business Class Seats.
You'll also get Automatic OnyxTM status, the top-tier AIR MILES elite level. This normally requires earning 6,000 AIR MILES in a year. This status gives you certain discounts when redeeming your AIR MILES as well as other elite benefits.
The American Express® AIR MILES® Reserve Credit Card is the only Card that waives the AIR MILES flight administration fee.
Other Benefits
The American Express® AIR MILES® Reserve Credit Card offers the full suite of insurance coverage, with medical travel insurance, flight delay and baggage delay insurance, car rental theft and damage insurance, lost or stolen baggage insurance, but no trip cancellation insurance.
It also offers the same retail protections as the American Express® AIR MILES® Platinum Credit Card.
Miles Earned
These premium travel benefits mean your earn rates are lower and it's a bit harder to unlock the full value of the Welcome Bonus. Nevertheless, you can earn many Miles with this Card.
First, the minimum spend to unlock the Welcome Bonus is higher, at $3,000 during the first 3 months. That will give you 2,400 AIR MILES.
The regular earn rate on that $3,000 will get you an extra 300 AIR MILES, for a total of 2,700 AIR MILES, which Flytrippers values at $324. However, the annual fee on this Card is befitting a premium Card, at $299.
You'll earn a flat 1 Mile per $10 spent at eligible AIR MILES®* Partners (excluding purchases made at airmilesshops.ca), as well as at other eligible stand-alone grocery stores, gas stations, and drugstores in Canada. Outside of those category bonuses, you'll earn 1 Mile per $15 everywhere else.
Summary
If you want to maximize your AIR MILES rewards, these two cards from American Express are for you. You'll be on your way to an extra trip before you know it.
Featured image: New York City (Credit: Marc Kargel)

Advertiser Disclosure: Flytrippers receives a commission on links featured in this blog post. We appreciate it if you use them, especially given it never costs you anything more to do so, and we thank you for supporting the site and making it possible for us to keep finding the best travel deals and content for you. In the interest of transparency, know that we will NEVER recommend a product or service we do not believe in or that we do not use ourselves, as our reputation and credibility is worth far more than any commission. This principle is an essential and non-negotiable part of all our partnerships: we will never give any third-party any control whatsoever on our content. For more information on our advertiser disclosure, click here.