Scotia Passport™ Visa Infinite*
An excellent card to use abroad with no foreign transaction fees (and with 6 lounge passes)
Scotia Passport Visa Infinite
Offer Summary
6 free airport lounge passes

No Foreign Transaction Fees

Easy-to-use Fixed-Value Points

Excellent insurance coverage

Good earn rate on everyday purchases

Minimum income of $60,000 required

Minimum spend of $1,000 to reach

Certain conditions apply*
Start getting travel rewards with the Scotia Passport Card now
via Scotia secure application
Get our best Scotia Passport tips
Subscribe to receive our free travel rewards newsletter with strategies, guides, and more.
This content was not sponsored. The views and opinions expressed on this page are purely our own.
All offers described on the Flytrippers website are subject to the financial institutions' latest terms and conditions that can be found on their website.
Offers from financial institutions change quickly; it is your responsibility to ensure the accuracy of these offers on their website when applying for a card. Flytrippers will not accept any responsibility for the accuracy of the offers or the result of your actions.
Financial institutions are not responsible for updating or ensuring the accuracy of the information on Flytrippers' website. All the information was independently collected by Flytrippers and not provided by financial institutions.
Some links on this page are affiliate links that may allow Flytrippers to earn a commission. Thank you for using our links and encouraging us at no additional cost to you.
Flytrippers' website does not contain all available credit card offers or all available credit card companies on the market. Flytrippers never shares an offer if it is not considered advantageous for certain travelers, at its sole discretion.
No author on Flytrippers' website is a financial advisor, a financial planner, a legal professional or a tax professional and no author on Flytrippers' website can in any way be considered as such.
All articles and pages on Flytrippers' website are merely personal opinions of a general nature and are for informational purposes only and should not be considered as advice for specific situations. It is your responsibility to perform your own personal research to make sure that Travel Hacking is appropriate for your own situation.
The opinions expressed on Flytrippers' website are those of the authors only and have not been provided, approved, endorsed or ratified by any third party mentioned on the site.
You can learn more about our terms of use here.
Before you start travel hacking, you should read the important rules to know about travel hacking credit cards and the travel hacking introduction.
Here's a card that was long-awaited in Canada, finally a card that is great to use when traveling. The Scotia Passport Visa Infinite is the only one in Canada that doesn't charge a 2.5% foreign transaction fee and gives you free travel as a signup bonus. You also get 6 airport lounge passes.
As a reminder, we now have a section on travel hacking because if you are like us and you like to travel cheap (thanks to the curated cheap flights we spot for you on our deals page, which is Flytrippers' main focus), then you should also like to travel for free. That is what travel hacking is all about.
Let's be clear: this card doesn't offer the best signup bonus, and travel hacking is all about signup bonuses. However, in addition to the $121 of free travel, you get a couple of very interesting (and unique) perks, and this is a special offer available only via this link.
If you are getting started in the world of travel hacking, you can also check out one of the best offers in Canada, the American Express Gold that offers you $375 worth of Aeroplan Miles for $150. You can check out all the worthwhile offers, updated monthly, on our ranking of the best travel hacking credit cards in Canada.
This card, the Scotia Passport Visa Infinite (not to be confused with the Scotia Passport non-Infinite, with a golden trim, that is definitely not a good offer), is interesting for those who travel a lot. Very interesting in fact, because of the two unique perks I mentioned already: no foreign transaction fees and 6 lounge passes.
Let's go over the details but first, it's important to note that the Scotia Passport Visa Infinite is only available to those with an annual income of over $60,000 (or household income of $100,000). If that's not your case, the best signup bonuses currently available are the Scotia Gold AMEX or the American Express Gold (or even the American Express Cobalt if you spend a lot every month).
Finally, the other card with no foreign transaction fee, the Rogers Platinum Mastercard, has no perks whatsoever, and no signup bonus. Don't miss our tips on how to deal with foreign currency when traveling (coming soon), signup to our free travel newsletter to get all our content.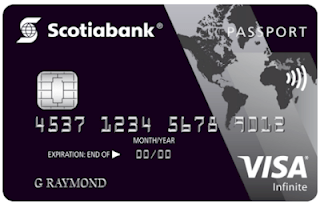 A One-Of-A-Kind Card
As mentioned, about 99% of credit cards in Canada charge you a 2.5% conversion fee on all your purchases in foreign currency (on top of the exchange rate of course). Add up every purchase you make while abroad (and whatever you buy online that is likely billed in US dollars), and you might be spending a couple of hundred dollars in useless fees every year.
So this brings me to a common myth about travel hacking : a lot of people think that when we mention the best travel hacking credit cards, we mean the best cards to use when traveling. It has nothing to do with that. The best travel hacking credit cards are the ones that give you the highest amount of free travel, that's what travel hacking is all about.
But this card really is one that is great to use when traveling. If you spend a lot in foreign currency, you should definitely consider this card to save 2.5% on all your purchases (and even if you do pay 2.5%, be sure to always decline if a merchant offers you the choice to pay in Canadian dollars when abroad).
Already convinced? Click here to signup for the card.
Airport Lounge Access
I had never been in an airport lounge before January 2017, but now I am completely addicted and couldn't travel without them. It's a really great way to splurge a little, especially if you travel a lot.
I already shared an article with lots of photos to show you what it's like in airport lounges, but in a nutshell you should know that it gives you free food, free drinks, a calm environment, premium WiFi and sometimes even showers and other cool perks like private rooms and massages.
Lounges are just an amazing way to MAGA (Make Airports Great Again). This card gives you 6 lounge passes for free. After those 6, you can purchase more at the special membership rate of $27US per visit, which is about half the regular price.
It's not as amazing as the unlimited access that our American Express Platinum card gives us, but it's still pretty good! The Platinum card is really only for those who travel a whole lot. It's almost free for the first two years but the signup bonus is once-in-a-lifetime, so you should make sure you get that one only if you'll really take advantage of the unlimited lounges by traveling a lot. This Scotia Passport Visa Infinite is a great option to try lounges with 6 free passes.
Already convinced? Click here to signup for the card.
Insurance Benefits
This is by no means unique to the Scotia Passport, but rather all good travel hacking cards, but I have to mention it since far too many people still don't know about how useful these free insurance benefits are.
If you travel, it makes absolutely no sense to not have at least one credit card with great insurance coverage like this one (or any other that has the "Great insurance" mention in our article about the best current credit card offers in Canada)
I'll be sharing a detailed article about these various travel insurance benefits, but here is a quick overview of the many useful perks that come with good travel hacking credit cards like this one.
First of all, you'll get $500 for hotels and meals every time your flight is delayed for over 4 hours (as someone who loves free stuff, this one is my favorite and I always hope my flights are delayed now, true story). So don't rely on airlines, they usually don't owe you a thing. And that makes sense, most delays in Canada are weather-related… airlines don't control the weather, why would they have to pay for your hotel, that just doesn't make any sense.
You'll also get free medical coverage for trips under 25 days (one of the most generous lengths). If you go on a trip without medical insurance, that is truly irresponsible honestly. A very minor incident could cost you thousands of dollars in many countries (our southern neighbor included), so don't mess around. You can read more in our article about travel insurance.
You'll also get coverage for your rental cars, which means you will always be able to decline the expensive coverage rental agencies try to charge you, at least in certain countries. And only if your personal insurance policy covers you, responsibility-wise (you should always check with your insurer). This can easily save you hundreds of dollars.
Finally, you'll also get trip cancellation insurance in case you need to change your plans for one of the covered reasons (because flights are never refundable, and that's normal). You get hotel burglary insurance and lost baggage insurance. And it's not really travel related, but you'll also get price drop protection and extended warranties, as is the case with most good credit cards.
So all these insurance benefits are included with the card, completely free. It's one of the best reasons to start travel hacking (apart from the hundreds of dollars in free travel of course).
Already convinced? Click here to signup for the card.
How To Use The Signup Bonus
The signup bonus is 25,000 Scotia Points, which are worth $250 according to our valuations (1.0 ¢ / point). It's quite simple, because it's a very straightforward program: no estimation and no complexity, because it's basically a travel credit. These Points have a fixed value, as opposed to airline miles or hotel points, so no need to know how to maximize the Scotia Points, you simply get $250 off any travel purchase, so it's very flexible.
So you simply book a flight or a hotel with your card and you apply your Points to pay for the purchase. This type of Points means you can't get outsized value, but in exchange it's really simple.
So you get that $250 credit (in fact it's $260 because you'll earn an extra $10 credit by reaching the minimum spend of $1,000 in the first 3 months (more on that in the next section),
So $260, less the $139 annual fee, that's $121 of free travel.
So overall, you get $121 of free travel, 6 airport lounge passes and you won't ever pay another cent in foreign transaction fees!
Already convinced? Click here to signup for the card.
Unlocking The Signup Bonus
To get the signup bonus, all you need to do is spend $1,000 on your card in the first 3 months (as is almost always the case with good signup bonuses). Then you can put the card in a sock drawer if you want and cancel it after 11 months, the bonus is yours.
We have many tips on how to reach that amount (meeting the minimum spend as we say in the world of travel hacking). Stay tuned for a blog post about that, but $1,000 in 3 months should be pretty easy to do.
The Scotia Passport Visa Infinite is great for those who travel a lot : get $121 of free travel, 6 airport lounge passes and never pay foreign transaction fees again!
Help us spread the word about our flight deals and travel tips by sharing this article and most importantly bookmark Flytrippers so we can help you navigate the world of low-cost travel!
Advertiser Disclosure: Flytrippers receives a commission on links featured in this blog post. We appreciate if you use them, especially given it never costs you anything more to do so, and we thank you for supporting the site and making it possible for us to keep finding the best travel deals and content for you. In the interest of transparency, know that we will NEVER recommend a product or service we do not believe in or that we do not use ourselves, as our reputation and credibility is worth far more than any commission. This principle is an essential and non-negotiable part of all our partnerships: we will never give any third-party any control whatsoever on our content. For more information on our advertiser disclosure, click here.
Travel Hacking Disclaimer: Flytrippers does not give financial advice. You should ensure travel hacking fits your personal situation and obtain professional advice if you so desire. Flytrippers may receive a commission for referrals, however our policy is to only recommend products or services we really believe in (and have ourselves). To read more on our disclaimer, click here.