Debbie D. is a guest-blogger at Flytrippers. Subscribe to her blog and follow on Instagram, Twitter and Facebook. See bio at the bottom of this page.
---
Have you ever seen ancient, massive structures, seemingly suspended in mid-air? The Metéora, (literally "middle of the sky" or "in the heavens above"), is a formation of large monolithic pillars and hills which dominate the Greek landscape, approx. 400 km. (~250 miles) north of Athens.
Located there, is one of the largest networks of Eastern Orthodox monasteries in Greece, a UNESCO World Heritage site.
I had yearned to visit Greece since childhood. Imagine my joy when it became a reality! Check out Flytrippers' cheap flight deals page to make your travel dreams come true.
Metéora
Metéora was our last stop on a four-day "Classical Greece" bus tour. Lesser-known than other historical sites, possibly due to its location, it was pleasant to have fewer people crowding into our camera shots.
At the foot of Metéora sits the town of Kalambaka (aka Kalabaka or Kalampaka), dating back to medieval times when it was a Byzantine fortress.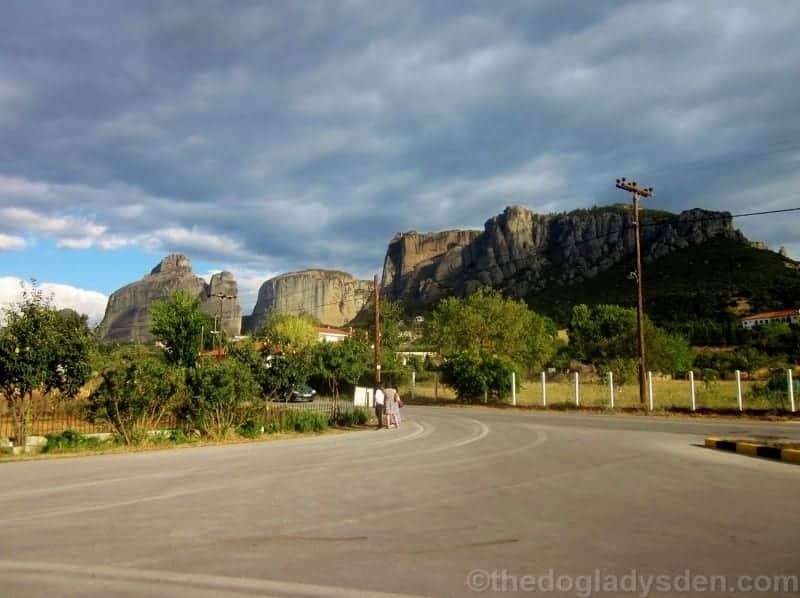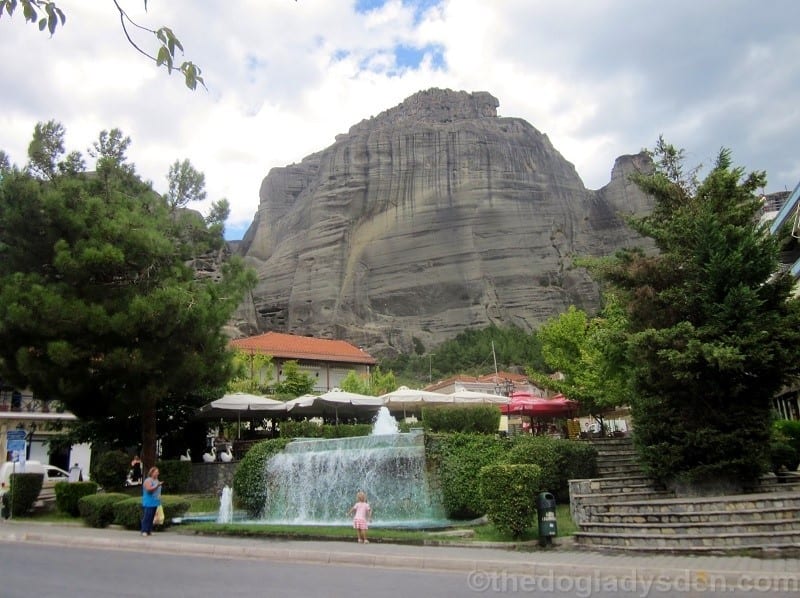 In the 9th century AD, the first people to inhabit Metéora since the Neolithic Era were ascetic hermit monks. They lived in hollows and fissures in the rock towers, some as high as 550 m (1800 ft) above the plain.
This great height, combined with the sheerness of the cliff walls, kept away all but the most determined visitors. At the end of the 14th century, Turkish raiders threatened the Byzantine Empire's 800-year reign over northern Greece.
The monks, seeking a retreat from the expanding foreign occupation, found the inaccessible rock pillars of Metéora to be an ideal refuge. More than 20 monasteries were built, beginning in the 14th century. Six remain today: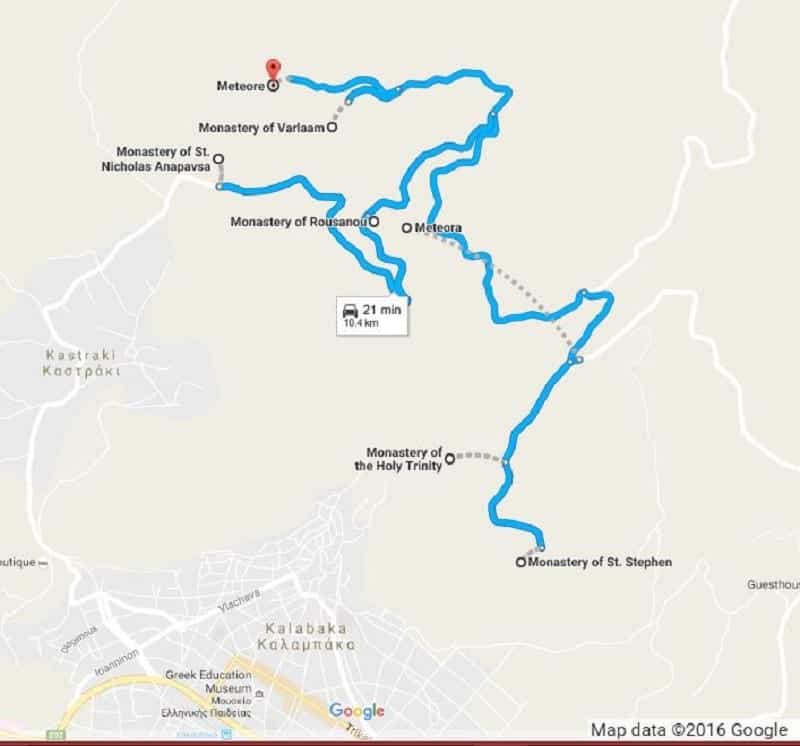 1) Monastery of St. Stephen
The St. Stephen Monastery was founded around 1400 and is the most accessible. Instead of steps, you cross a small bridge to reach the entrance.
As a consequence of this easier access, it was damaged and abandoned during World War II. In the Greek Civil War that followed, further desecration occurred, when communist rebels destroyed many of the frescos.
In 1961, several nuns took possession of the monastery facilities and began restoring it, adding new frescos by modern artists.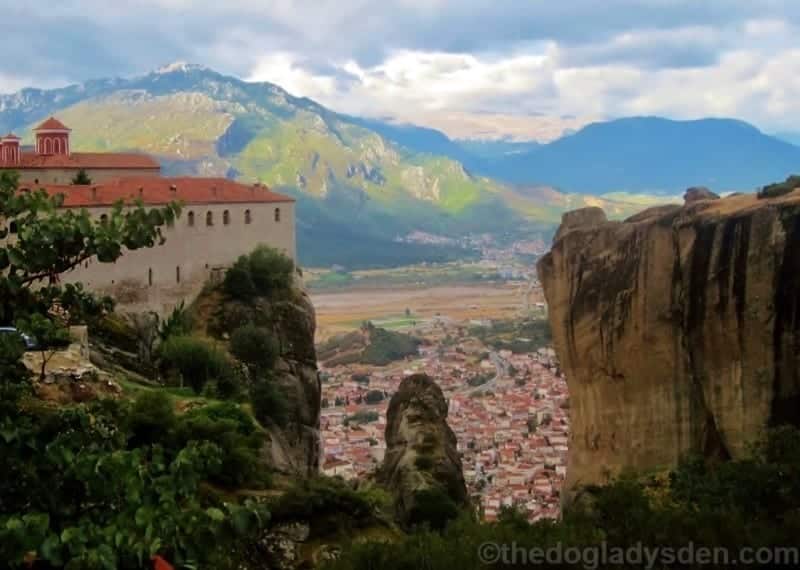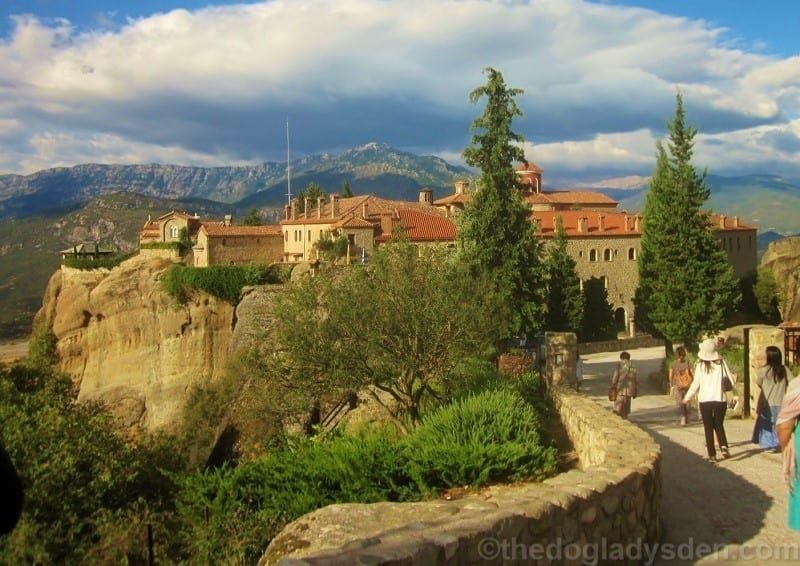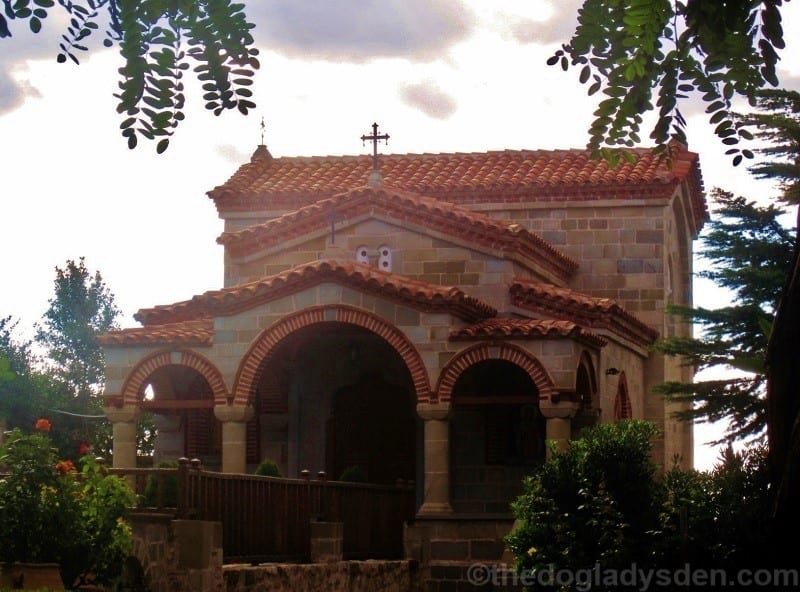 2) Monastery of the Holy Trinity
The Holy Trinity Monastery is situated at the top of a rocky precipice over 400 m (1300 ft) high and is one of the oldest monasteries still existing at Meteora.
James Bond fans might recognize it from the 1981 movie "For Your Eyes Only." The main cathedral was constructed in the 15th century and decorated with frescoes in 1741.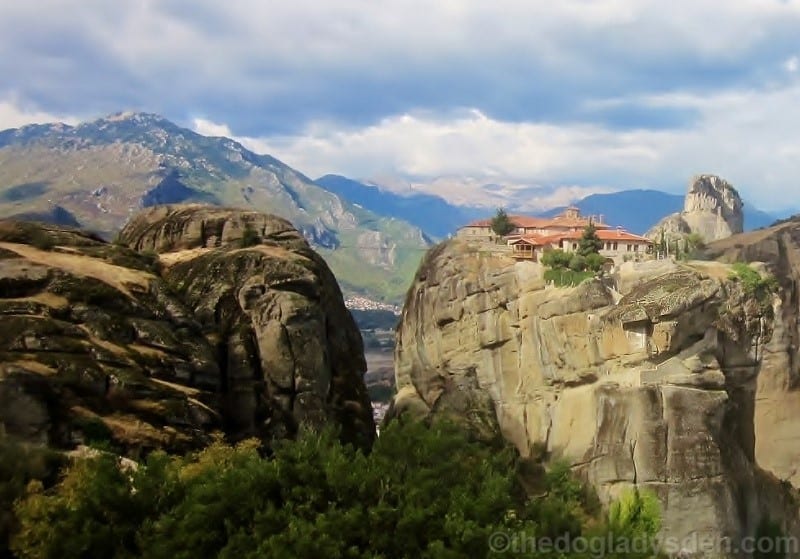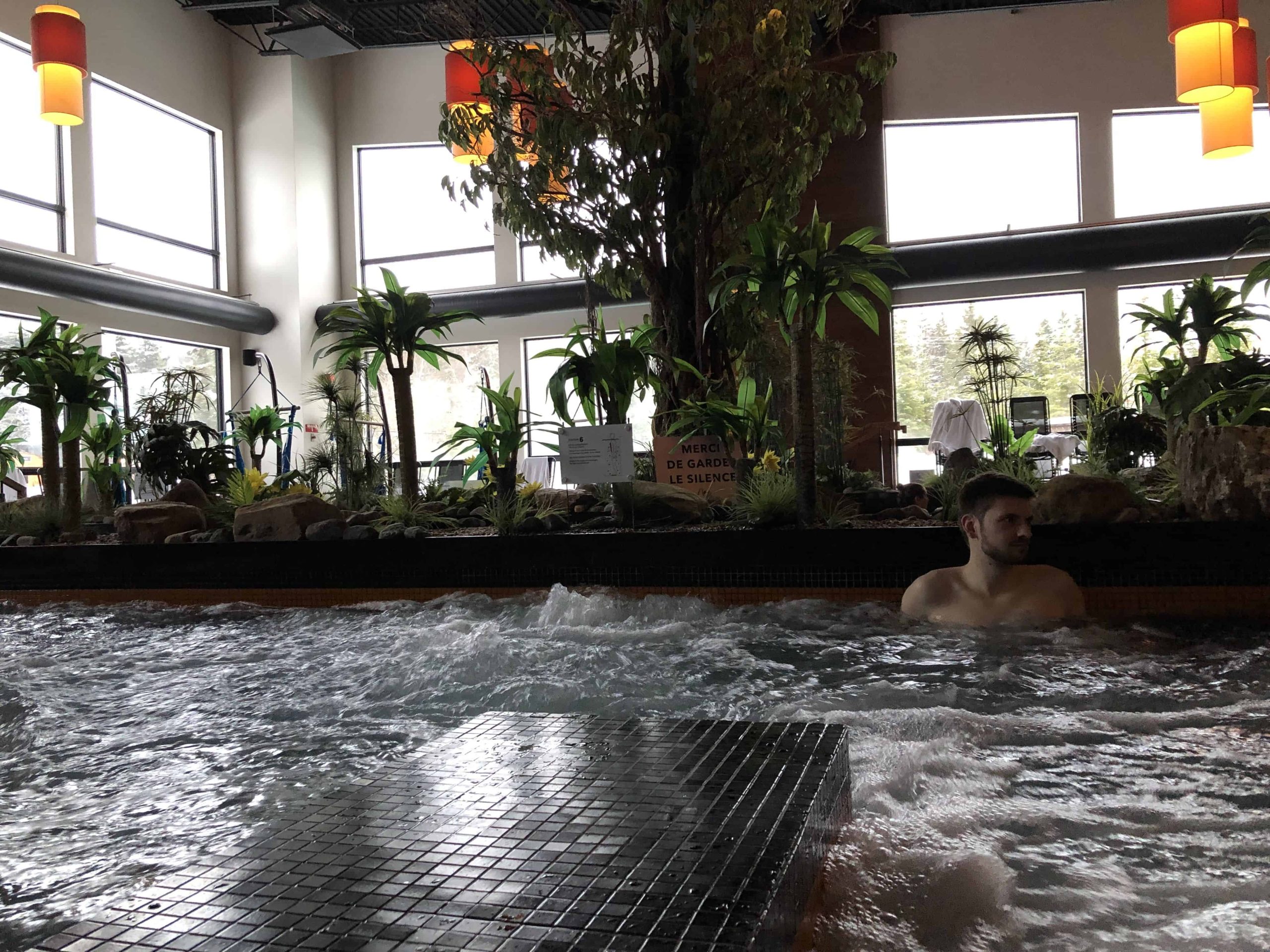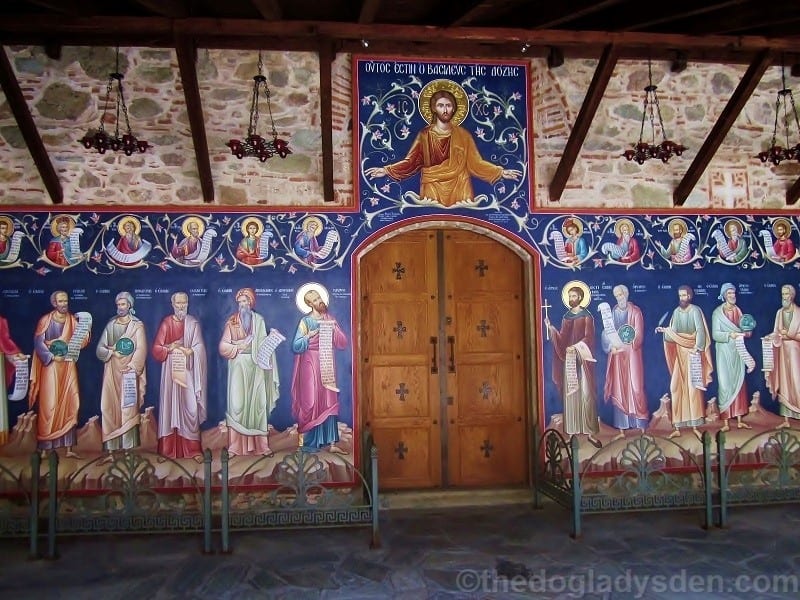 3) & 4) Monasteries of Rousanou and St. Nicholas
The Monastery of Rousanou was founded in the middle of the 16th century and decorated in 1560. Today it is a flourishing nunnery with 13 nuns in residence (as of 2015).
The Monastery of St. Nicholas, built in the 16th century, has a small church, decorated by the noted Cretan painter Theophanis Strelitzas in 1527. There was one monk in residence in 2015.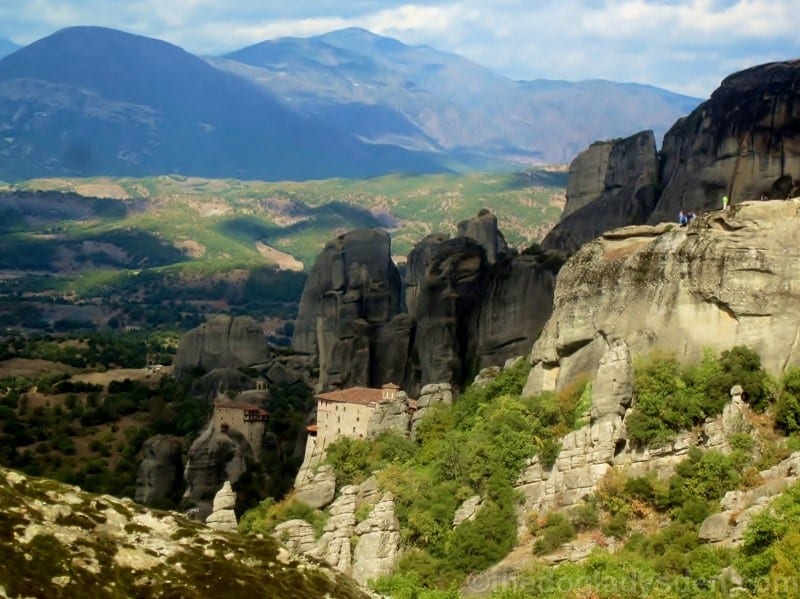 5) Monastery of Varlaam
The Monastery of Varlaam (named after the first monk to settle there) is the second largest monastery in the Metéora complex, and in 2015 had the most monks (seven).
It was built in 1541 and embellished in 1548. A museum occupies the old Refractory. This monastery is only accessible by climbing 195 steps. We took a pass but did venture up to the last one.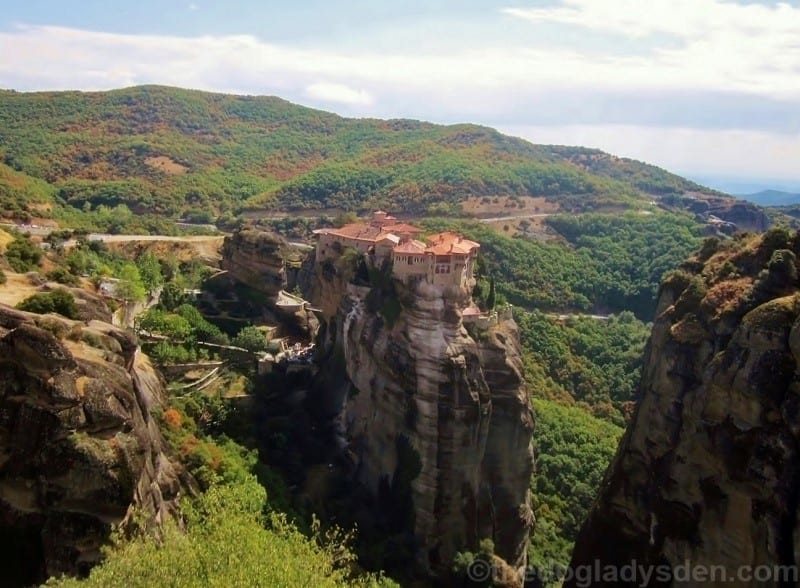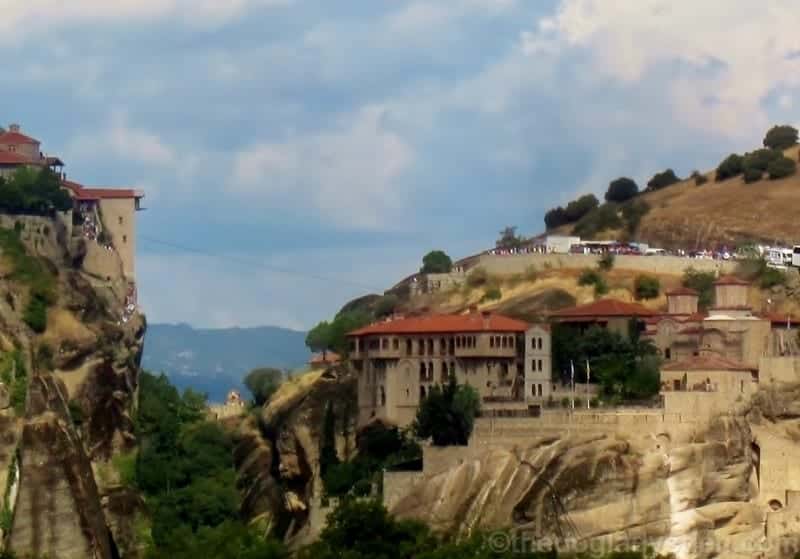 6) Monastery of Great Méteoran
The Monastery of Great Metéoran is the largest, although in 2015 there were only three monks in residence. It was erected in the mid-14th century, undergoing restoration and embellishment projects in 1483 and 1552.
One building serves as the main museum for tourists. Our old, arthritic selves managed the steep climb up 320 stairs to get there. Thankfully, there was a rest stop halfway up!
This slideshow requires JavaScript.
Summary
If you enjoy exploring sites steeped in history, viewing exquisite art and architecture along with breathtaking landscapes, I would highly recommend a trip to Greece, including Metéora. There are many companies offering bus tours from Athens that visit such incredible places as Epidaurus, Mycenae, Olympia, Delphi, and Metéora. I plan on sharing more of these travelogues (and others) with you in the coming months.
What's on your bucket list?
Help us spread the word about our flight deals and travel tips by sharing this article and most importantly bookmark Flytrippers so we can help you navigate the world of low-cost travel!
Cover image: view of St. Stephens Monastery and Kalambaka (photo credit: Debbie D., guest-blogger)
Advertiser Disclosure: Flytrippers may receive a commission on links featured in this blog post. We appreciate if you use them, especially given it never costs you anything more to do so, and we thank you for supporting the site and making it possible for us to keep providing the best travel deals and content for you. In the interest of transparency, know that we will NEVER recommend a product or service we do not believe in or that we do not use ourselves, as our reputation and credibility is worth far more than any commission. This principle is an essential and non-negotiable part of all our partnerships: we will never give any third-party any control whatsoever on our content. For more information on our advertiser disclosure, click here.
Share this post to help us help more people travel more for less: