Vanessa is a guest-blogger at Flytrippers. Follow her on Instagram and see her bio at the bottom of this post.
---
The Causeway Coast Way is a 52-kilometre trail along the Causeway Coast in Northern Ireland. It goes through fishing villages, castles ruins, and some famous sites like the Giant's Causeway and Carrick-A-Rede Bridge. It is a great hike for those who want to tackle their first long-distance trail, which is exactly why I decided to do it.
I always wanted to hike a long-distance trail. I've been dreaming about the Appalachian Trail for years, but I never felt like I was ready to undertake such a journey. This is probably why I became slightly obsessed with the Causeway Coast Way, an easy long-distance trail great for beginner hikers like me.
When I saw a cheap flight deal to Dublin on Flytrippers' cheap flight deals page, I booked it without hesitation and started preparing my first multi-day hike.
After a flight to Dublin, a bus ride to Belfast and another one to Ballycastle, there I was, on the beautiful Causeway Coast, alone with my backpack and my hiking boots. With no other plans than spending the next three days hiking to Portstewart, 52 kilometres away.
I don't think I ever felt that excited in my life.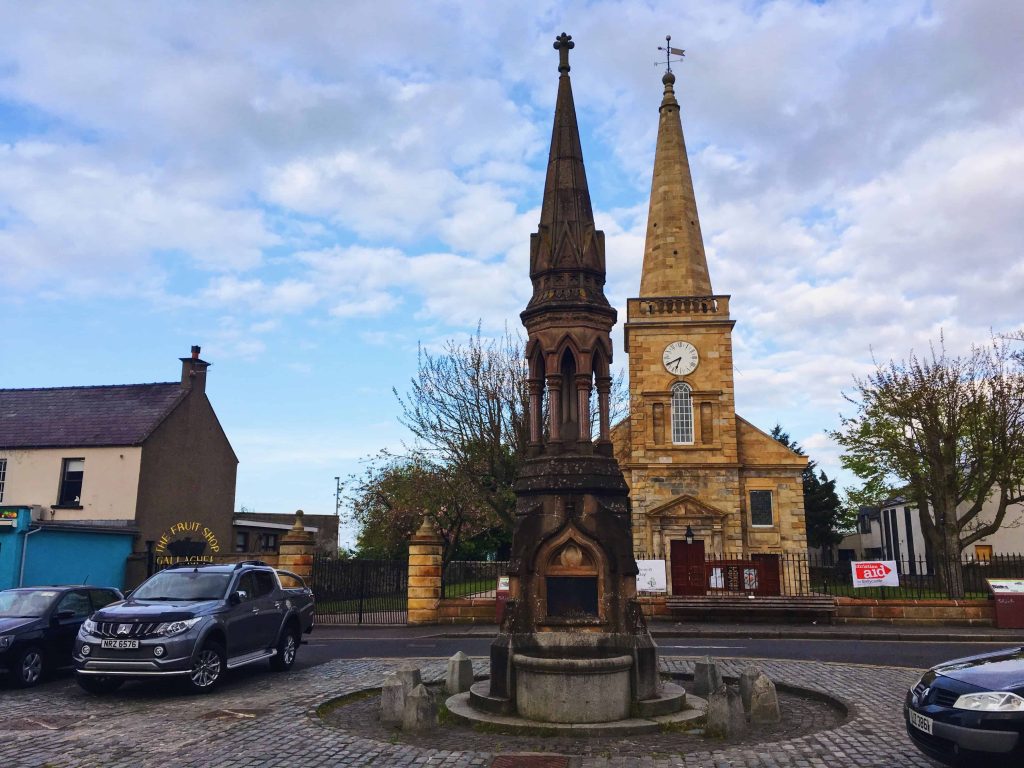 Day 1 – Ballycastle to Ballintoy
In Belfast, someone told me that the portion of the trail between Ballycastle and Ballintoy was boring and that I should just skip it completely and take the bus instead. But that's cheating, right? Besides, the weather was lovely, so what could be better than walking on a quiet road in the middle of the Irish countryside?
First observation of the day: the trail was not clearly way-marked. There were some signs here and there, but I often had to look at my map to make sure I was going in the right direction.
Halfway through my day's itinerary, I took a detour to see Kinbane Castle. The path to this castle is not part of the Causeway Coast Way and added 3 kilometres to my hike, but I wanted to see the old ruins. And I did not regret it. Built around 1547 by a Scottish chief, the castle is perched on a cliff overlooking the sea. And I was completely alone on the site.
You've read that right: I was alone on the site of a 16th century castle. It felt completely surreal.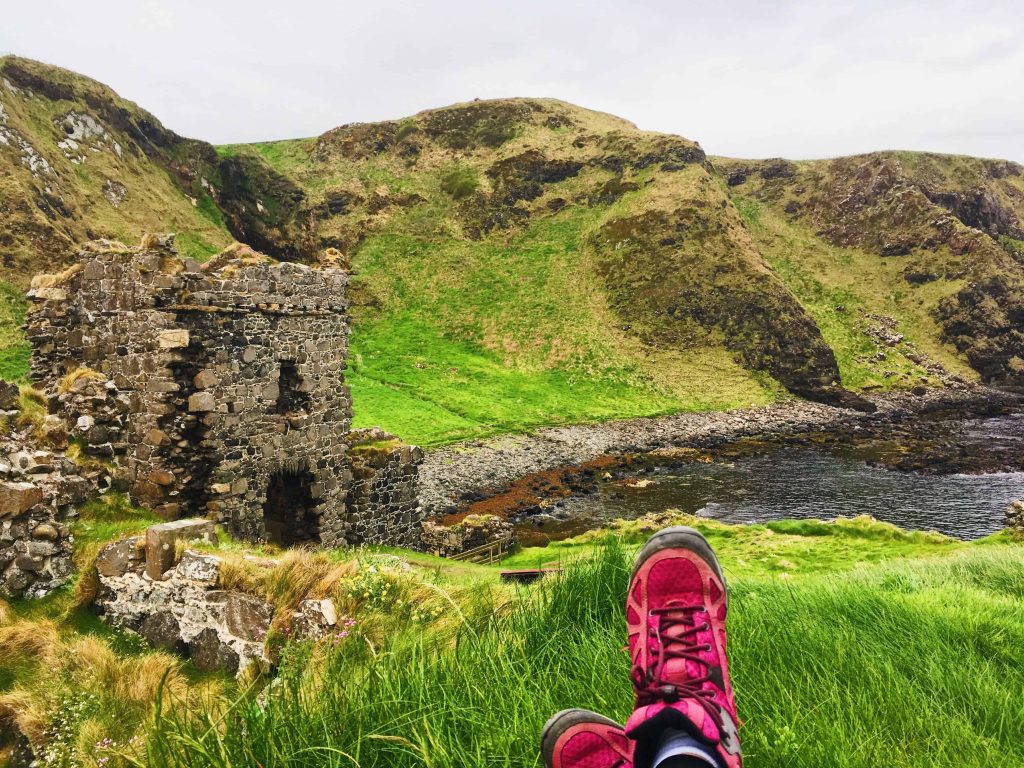 But I soon got back to reality as it started to rain, and I still had a few kilometres to hike before reaching my Bed & Breakfast in Ballintoy. It rained so hard that it only took a few minutes and I was completely drenched from head to toe. And shivering. Meh.
I arrived at the famous Carrick-A-Rede Rope Bridge and was disappointed to realize that there were several tourist buses there. I wasn't alone anymore. I still did like all the other tourists and crossed the bridge, trying not to look down as I walked over the 100-foot precipice in rather strong winds.
It finally stopped raining by the time I arrived at my B&B in Ballintoy, but at that point, even my boots that were supposed to be waterproof were soaked with water.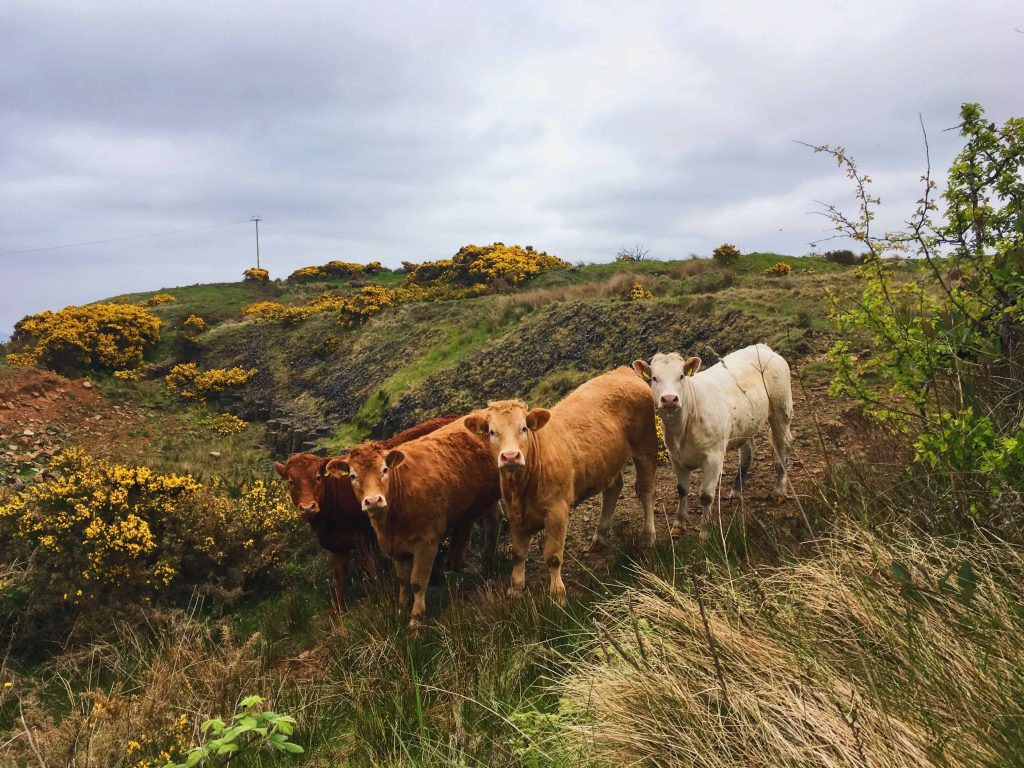 Day 2 – Ballintoy to the Giant's Causeway
The sky cleared up overnight, which I think finally allowed me to truly appreciate the beauty of the scenery as I started my second day of hiking. The blue sky, the green fields, the white buildings, and the emerald sea almost made me feel as if I was walking into a postcard.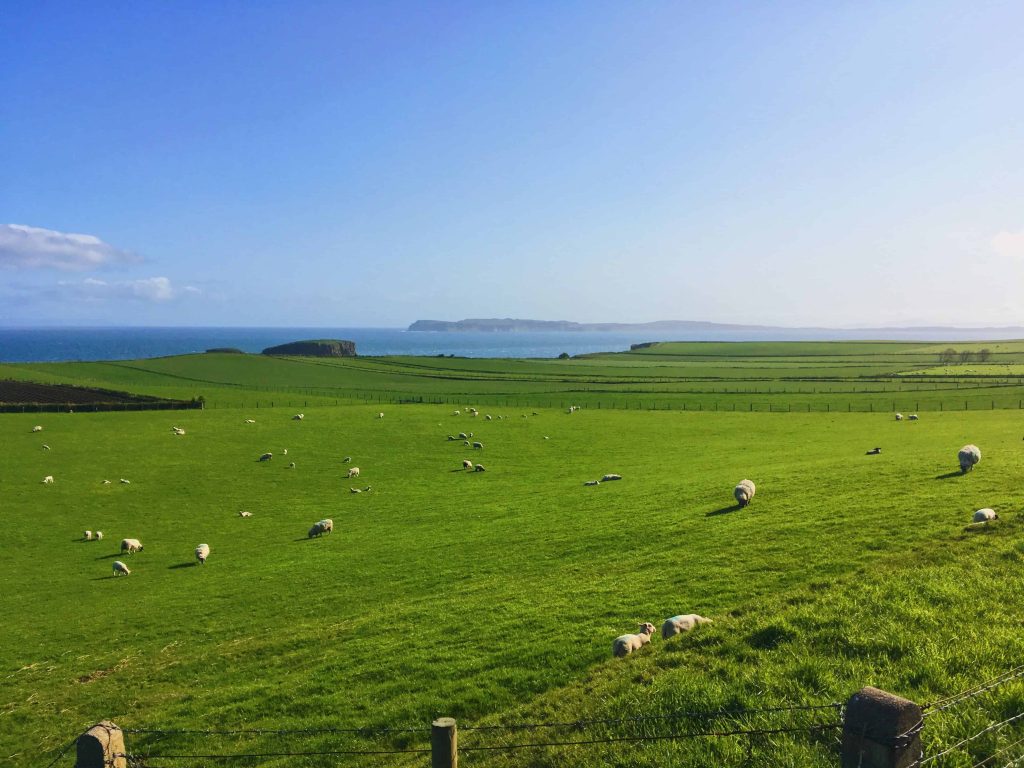 And unlike the previous day, I was now following a real trail along the sea. And from my first kilometres from the harbour of Ballintoy, I knew that this portion of the trail would be spectacular.
From Ballintoy (which is the filming location for the Iron Islands in Game of Thrones), the Causeway Coast Way follows the coast to White Park Bay Beach. A portion of the path along the cliff is inaccessible at high tide, but I was prepared and inquired about the tide schedule before leaving in the morning, so I had no problem accessing the long beach, which I followed for almost 3 kilometers.
After, the trail becomes a bit steeper. It runs along the cliffs, up and down promontories and even passes under a rocky arch. It also passes through a few fields of sheep and offers spectacular views of the coastline and its particular rock formations. I felt like each view from the trail was breathtaking.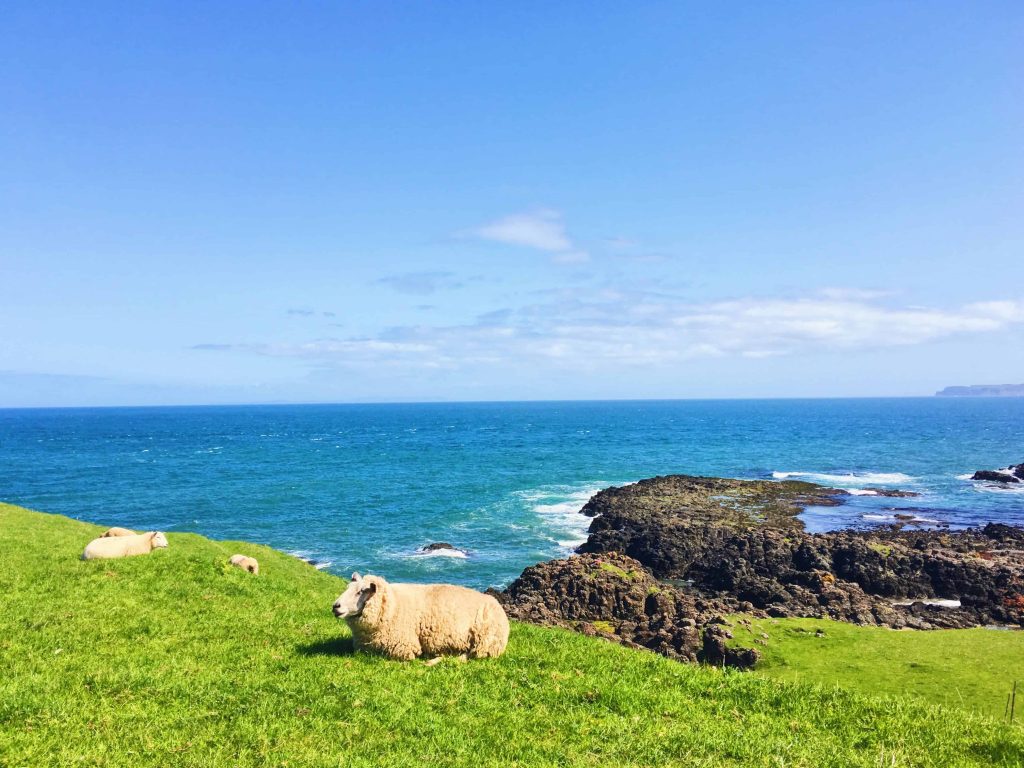 I eventually knew that I was approaching the Giant's Causeway because hikers were more numerous. The path followed the crest of the cliff (which at its highest point reached 100 meters high) and as it was a clear day, I could see, in the distance, the mountains of Scotland.
My legs were pretty tired by the time I reached the site of the Giant's Causeway. I started noticing here and there the large basalt columns that give the site that particular aspect that has earned it recognition as a UNESCO Heritage Site.
I probably could have spent more time on this unique site, but there were too many tourists to my liking, and at that point all I wanted to do was resting my legs at the Bed & Breakfast and enjoy a glass of good Irish cider.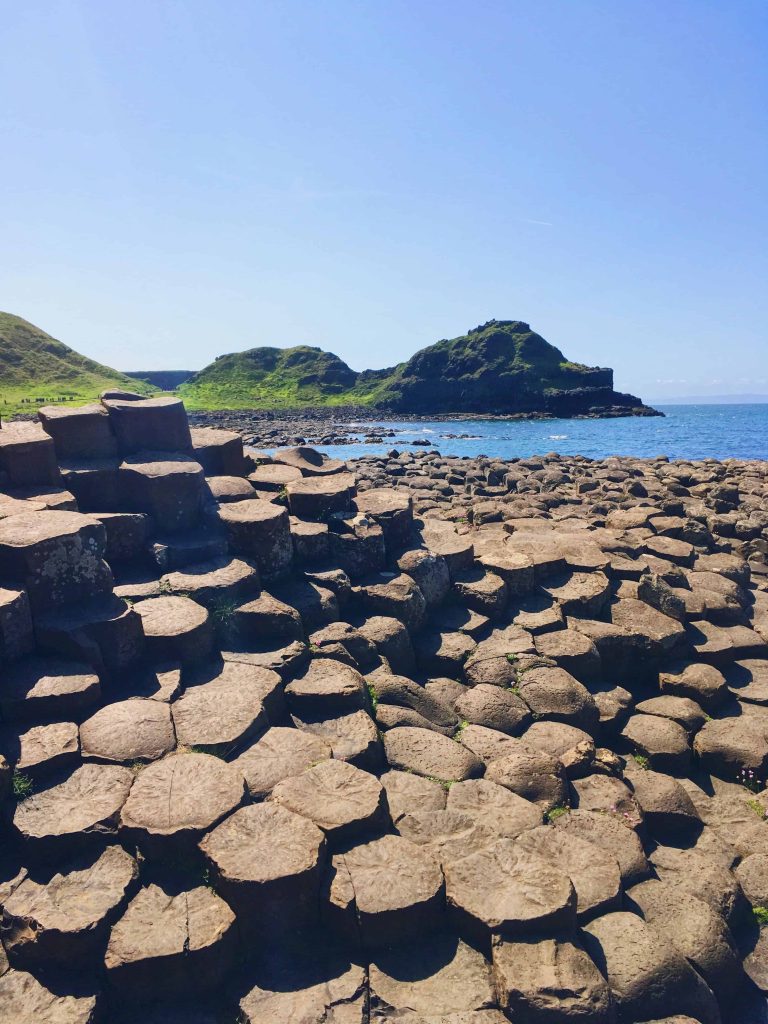 Day 3 – The Giant's Causeway to Portstewart
My legs and feet were still sore when I started my third day of hiking. But it was a nice day once again, and I thought I could take it easy and slowly hike the last 25 kilometres of the Causeway Coast Way.
After a last look at the Giant's Causeway, I continued following the coast heading west. The cliffs eventually gave way to sand dunes and beaches. And as the weather was nice (and warm) there were many walkers on the trail.
I arrived at Portballintrae, the first village on my itinerary of the day. And there, at the convenience store where I bought a coffee, I learned that a motorcycle race was taking place in the area on that day, which would mean that many roads would be closed. Which could affect my capacity to reach Portstewart and the end of the trail.
So I decided to quickened my pace a little and not lose too much time along the way.
I made a quick stop at Dunluce Castle (which were probably the most picturesque ruins on the trail), and I eventually arrived at the long Portrush Beach. My legs were really throbbing at that point, and with the heat I would have liked to just lie down on the beach and rest, but I absolutely wanted to get to Portrush before the closure of the road.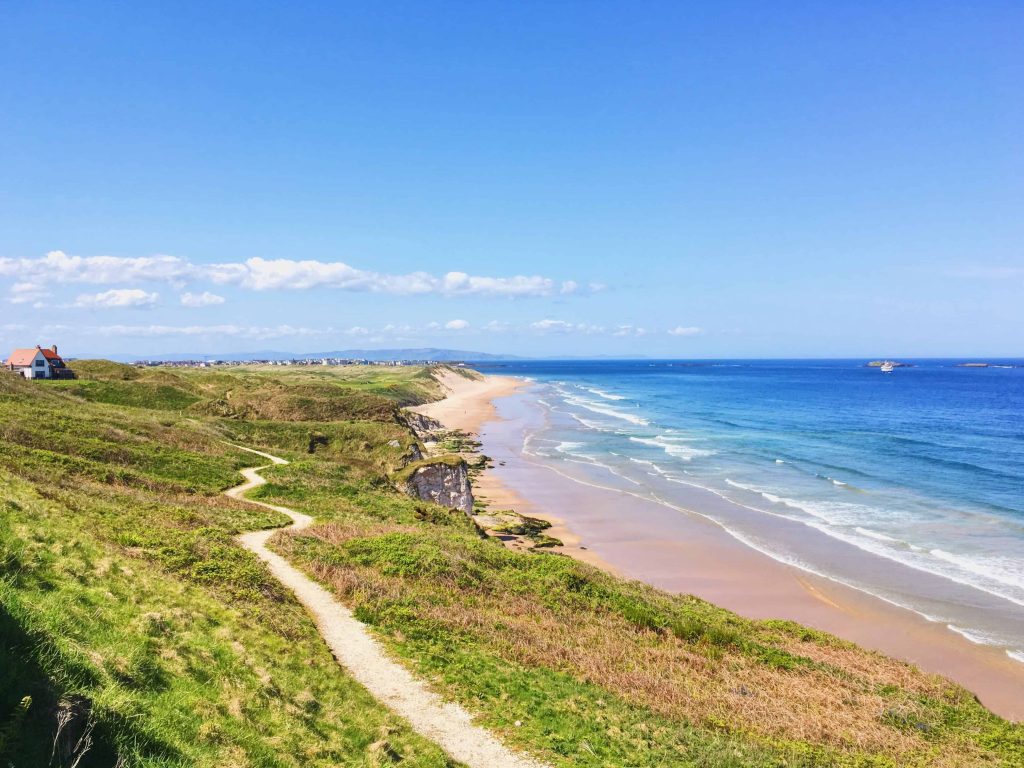 As I approached the town, I could feel that I was also approaching the race site. There were many, many people, the engines of motorcycles could be heard everywhere in the city and the air smelled like diesel. I went through Portrush as quickly as possible and I had to snuck between some barriers to reach my path which was a few meters away. In the end, I was lucky because the race started a few minutes later.
After that, I had less than ten kilometres left before reaching Portstewart, the end of the Causeway Coast Way. But the sound of the motorcycles, the loud music and the BBC helicopter that was flying overhead spoiled the serenity of the landscape. At this point, I was really looking forward to the end of the trail.
I eventually reached Portstewart Strand, the official end of the trail. I had a sunburn, my feet, legs and back were aching, but my head was filled with the incredible views I had along the way.
Maybe I'm ready for the Appalachian Trail now?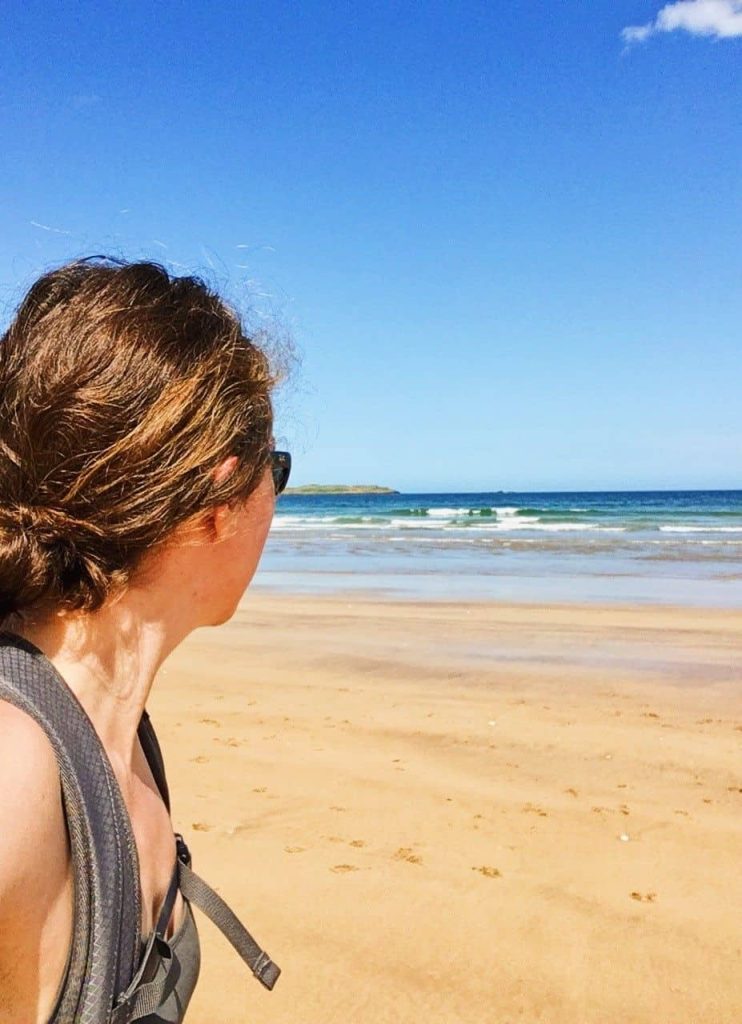 Some tips if you want to hike the Causeway Coast Way
Get a map of the trail. Although it's hard getting lost as you mainly follow the sea, the trail is poorly way-marked.
Book your accommodation in advance. The Causeway Coast can get pretty busy in the summer, so it's better to make sure you have a place to stay. There are also some camping options.
Bring a rain jacket. It's Ireland. It rains.
Bring sunscreen. Because yes, it's possible to get a sunburn in Northern Ireland.
You don't need to pay any entrance fees to access the Giant's Causeway site if you arrive by the Causeway Coast Way (so you actually save a few pounds!)
You do need to pay an entrance fee to Carrick-A-Rede bridge. But it's worth it (unless you are afraid of heights and are not sure you can cross the rope bridge).
If you have some free time in Ballycastle, use the opportunity to jump on a ferry and go visit Rathlin Island (you might see seals and PUFFINS!)
Summary
The Causeway Coast Way is a great option for anyone who wants to experience a short multiday hike that isn't too physically challenging. It also is one of the best ways to explore the beautiful Causeway Coast of Northern Ireland.
Have you ever visited Northern Ireland? What did you enjoy the most? If not, do you want to go?
Help us spread the word about our flight deals and travel tips by sharing this article and most importantly bookmark Flytrippers so we can help you navigate the world of low-cost travel!
Cover image: Giants Causeway (photo credit: Vanessa, guest-blogger)
Advertiser Disclosure: Flytrippers receives a commission on links featured in this blog post. We appreciate if you use them, especially given it never costs you anything more to do so, and we thank you for supporting the site and making it possible for us to keep finding the best travel deals and content for you. In the interest of transparency, know that we will NEVER recommend a product or service we do not believe in or that we do not use ourselves, as our reputation and credibility is worth far more than any commission. This principle is an essential and non-negotiable part of all our partnerships: we will never give any third party any control whatsoever on our content. For more information on our advertiser disclosure, click here.
Share this post to help us help more people travel more for less: