You may have seen the news in the media in the last few days: The CDC, the US federal public health agency, has changed its recommendation for Canada for unvaccinated travelers… you know, the ones who aren't even allowed to enter Canada anyway.
Here's yet another example of why it's important to understand the basics of travel rules… and also to not look only at the catchy headlines.
What you need to know
The CDC has changed the advisory level for Canada from level 2 ("moderate risk") to level 3 ("high risk") and has therefore changed its recommendation for unvaccinated Americans not to travel to Canada.
But unvaccinated Americans aren't even allowed to enter Canada anyway, so headlines like "The US recommends not to travel to Canada" are a bit misleading.
For US travelers who are allowed to enter Canada, it's just not true that the US government recommends against travel to Canada. The recommendation has simply not changed for 100% of Americans who are allowed to enter for leisure travel.
Useful for travelers to know.
1. Entry restrictions take precedence over everything else
Obviously, recommendations do not change the rules of entry.
Canada decides who can enter Canada, just as the United States has decided that you cannot enter the United States by land (even though you can enter by air and even though vaccinated Americans are allowed to enter Canada since August 9).
In short, you have to understand that no matter what a third party says, it doesn't change the rules of entry, which are the only thing you have to look at if you want to travel. We explain it all in our ultimate guide on how to travel during the pandemic.
Many people have a hard time understanding that nothing else matters. Even if the Canadian government would give you a magic vaccine passport and tell you it's safe to travel to Japan, Japan's entry rules do not allow Canadians to enter. Entry rules are all you need to look at.
One last example: Many people don't understand that just because there are flights to a country, that doesn't mean you can travel there. Montreal-Paris flights literally never stopped during the pandemic. French citizens are still not allowed to enter Canada and for a very long time, Canadian citizens were not allowed to enter France either (now we can).
Who cares if there are flights or not… only entry rules matter. That's the only thing to look at, it's really that simple to plan a trip now!
2. Recommendations are not binding
A recommendation, like the CDC's recommendations, doesn't change anything concretely.
It's like our own government having a recommendation to avoid all non-essential travel. It's just a recommendation. It's not binding or anything like that. It's an important thing to understand.
If an unvaccinated American wants to travel where the CDC says not to go (and the country lets them in — which Canada does not do), they can. Just as Canadians have always been able to travel where they wanted (if the country let us in) since the pandemic began.
3. The Canadian government is making travel riskier
This is a good time to point out that the CDC is helping its population. Government recommendations are meant to help travelers choose the safest destinations.
Something our Canadian government does not do at all by not publishing COVID-19 alert levels for other countries, and therefore it undeniably contributes to making travel more dangerous.
If they would do their job and rank countries in order of risk, the many Canadians who travel could at least choose the least risky countries for COVID-19.
(Nearly 100,000 people flew in Canada just yesterday — it's so easy now that Canada's entry rules have been so loosened — this is actually the first day that the number of passengers in Canada has exceeded 50% of pre-pandemic numbers.)
But the government would rather do nothing and not help.
The fact is that Canadians travel. That is the reality.
The government has implicitly encouraged it by removing the quarantine upon return. Knowing that Canadians are traveling, why not do what most serious countries do and provide travelers with a nice handy list of risk levels by country to help them stay safe?
Odd comparison (even though the underlying principle is similar), but we make supervised injection facilities available to people who use drugs even if the drugs are not legal… the logic being that they are going to use them regardless, so we might as well help them do it safely.
Health comes first.
Some people will say that travel can be a drug, but it's really not the same thing. But unlike drugs, travel IS allowed and has always been allowed.
So why not help travelers travel safely… they're going to travel regardless, might as well direct them to the countries where the risk is lower, right?
In the meantime, Canadians must rely on the help of other serious countries who are committed to helping their citizens: the US CDC has a list, the Government of the United Kingdom has a list, the Government of France too, etc.
Reminder of the rules for traveling to the United States
We have made a guide to explain how Canadians can travel to the United States.
And for those who haven't seen it, here's our infographic that explains the entry restrictions between Canada and the US (there are also entry requirements; that's another thing — restrictions are about whether or not you're allowed in).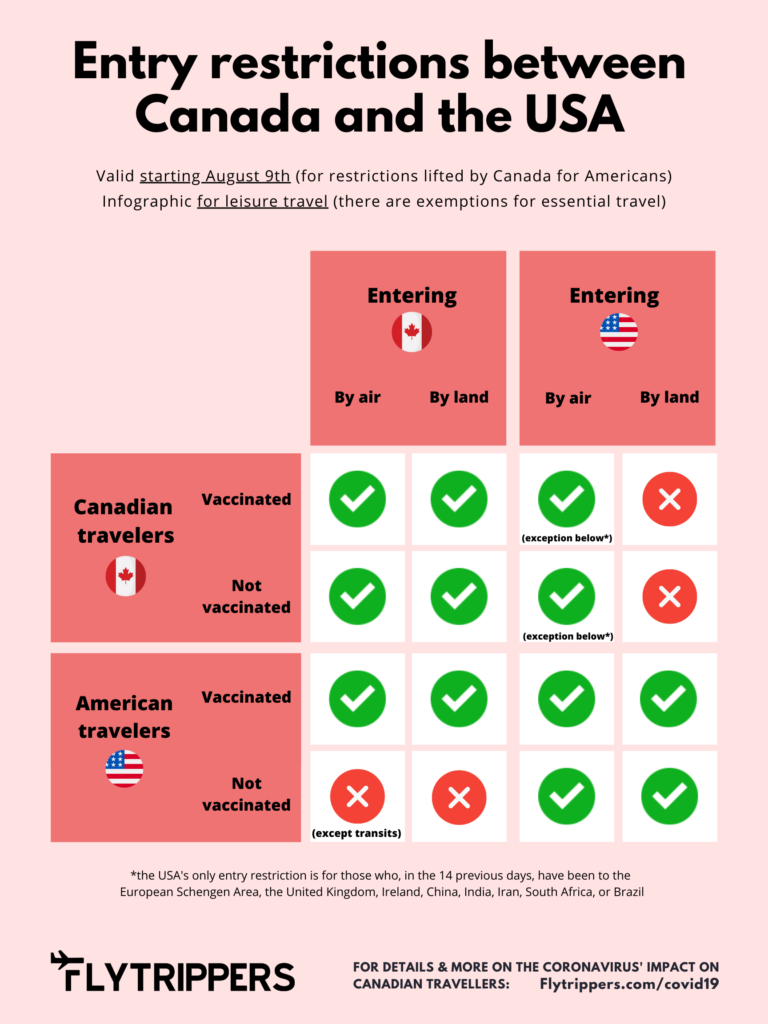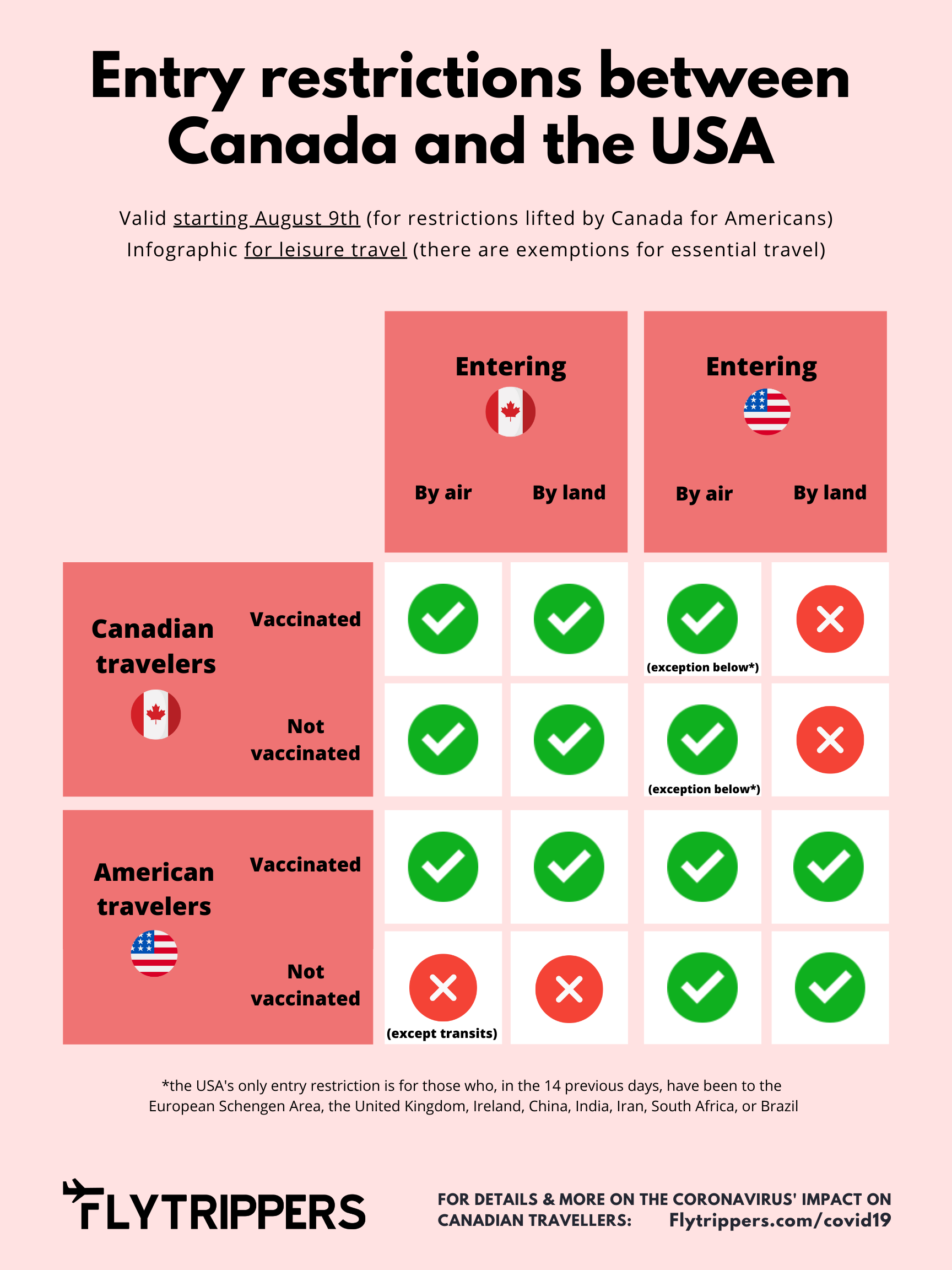 Want to get more content to learn how to restart traveling?
Summary
Yes, the US CDC has changed its alert level for Canada, that would be a fair headline. To say that it no longer recommends coming to Canada is not really quite right. Vaccinated Americans are the only ones who can enter and the recommendation for them has not changed at all.
What would you like to know about travel rules? Tell us in the comments below.
See the deals we spot: Cheap flights
Explore awesome destinations: Travel inspiration
Learn pro tricks: Travel tips
Discover free travel: Travel rewards
Featured image: Ottawa (photo credit: Jason Hafso)

Advertiser Disclosure: In the interest of transparency, Flytrippers may receive a commission on links featured in this post, at no cost to you. Thank you for using our links to support us for free, we appreciate it! You allow us to keep finding the best travel deals for free and to keep offering interesting content for free. Since we care deeply about our mission to help travelers and our reputation and credibility prevail over everything, we will NEVER recommend a product or service that we do not believe in or that we do not use ourselves, and we will never give any third-party any control whatsoever on our content. For more information on our advertiser disclosure, click here.
Share this post to help us help more people travel more for less: