The Canadian government introduced the new official "Canadian" vaccine passport for travel. To be clear from the start, since this is one of the many topics that confuse many travelers, this vaccine passport does not change any travel rules whatsoever.
Here are the details.
Basics of the "Canadian" vaccine passport
The travel vaccine passport is an official document that just documents your vaccination status. In fact, its official name is: "COVID-19 Proof of Vaccination".
But it's a new one.
It looks like this: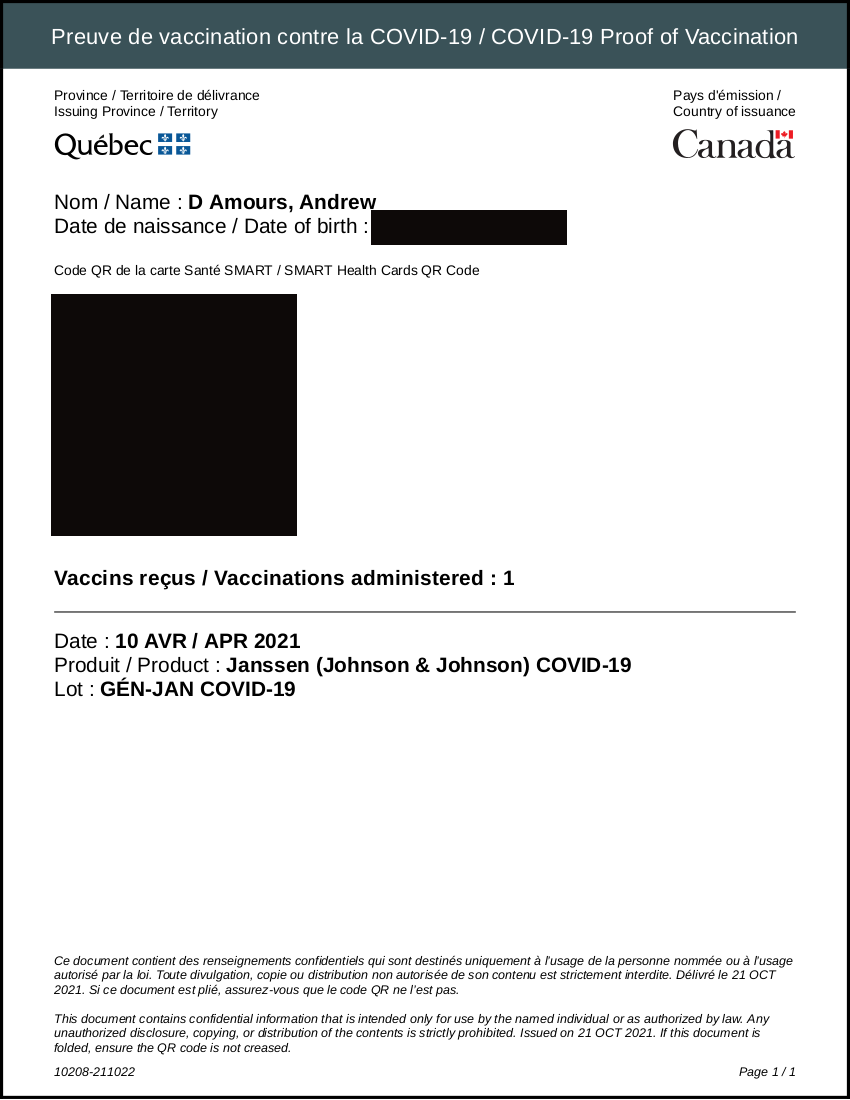 As you can see, it has the Government of Canada logo on it… but it also has the Province of Québec logo (in my case). It will use the same template for each province and territory.
It also has a Smart Health type QR code, which is an international standard.
The vaccine passport was developed with Canada's "support", but it is in fact a new provincial vaccine passport for travel, not really a Canadian vaccine passport.
Even though it is issued by the provinces, it is separate from the application you may already have to enter restaurants and other places; it is an entirely different document.
Getting the vaccine passport for travel
It's very easy to download, it took me 2 minutes.
Here is the link to get the vaccine passport, which is now available in all provinces and territories:
What you need to know
First, because it's so important and because not everyone has read Flytrippers' ultimate guide to pandemic travel, I'll remind you that there are only 3 steps to plan any trip:
Follow the rules to board a plane in a Canadian airport

Follow the entry rules of the places you are going to
Follow the entry rules of Canada for your return
Simple.
Now, the Canadian vaccine passport:
Does NOT change the rules to board a plane
Does NOT change the entry rules to enter other countries
Does NOT change the entry rules to enter Canada
Okay. That's the basics.
There are 179 countries that are already open to fully vaccinated Canadians.
There are 0 (zero) countries that required this vaccine passport to enter. There are still 0 (zero) today.
It doesn't change anything.
What is the purpose of the vaccine passport for travel
So what is the purpose of the vaccine passport?
It is used to possibly facilitate the logistics of international travel (or even within provinces, as they can all make their own rules like countries). It serves as documentation to prove to other countries that you are vaccinated.
Instead of each province having its own document and the vast majority of countries in the world seeing this and having no idea what "Manitoba" is, it just looks more serious with the name of a country.
(No offense Manitobans; it's true for all provinces, people abroad don't know provinces… as you probably don't know the name of the Indian state of Uttar Pradesh, even though it has 200 million inhabitants.)
Canada's vaccine passport is used to show a harmonized digital proof instead of having to show a paper proof as if it was 2002… provided of course that the country you are going to accepts digital proofs (which is obviously not guaranteed at all).
Having a Canadian vaccine passport does not guarantee that any country will consider you fully vaccinated (each one has its own definition) or let you in (some are closed to fully vaccinated Canadians).
In short, it doesn't change the most important thing to understand about pandemic travel rules: Each country makes its own rules (and that's normal… Canadians would be very outraged if another country decided our rules for us; it's the same everywhere).
So you still have to read the entry rules for each country, because there is absolutely nothing harmonized or standardized internationally.
At least for the moment. It will come. Governments are not known for their speed or efficiency of course. They just had 18 months to prepare this vaccination proof after all.
Many travelers seem so stressed about how to prove they are vaccinated, for nothing honestly. It's just a technicality, in almost every country at least.
What you need to look at is if you are considered fully vaccinated by the country. If you are, then it's usually not difficult to prove it. Either they accept paper or digital. It'll be written when you'll check the rules, which you have to do anyway…
You just have to know how to read the rules on the official sources.
Now, in most of the countries where you are allowed to enter, you will be able to show this new vaccine passport. Even easier than before.
But the vaccine passport does not change any rule.
Want to get all coronavirus updates for travelers?
Summary
The "Canadian" vaccine passport for travel, which is actually a provincial vaccine passport using a standardized template across the country, is now ready in all provinces and territories.
What would you like to know about the new vaccine passport? Tell us in the comments below.
See the deals we spot: Cheap flights
Explore awesome destinations: Travel inspiration
Learn pro tricks: Travel tips
Discover free travel: Travel rewards
Featured image: Traveler (photo credit: Rendy Novantino)
Advertiser Disclosure: In the interest of transparency, Flytrippers may receive a commission on links featured in this post, at no cost to you. Thank you for using our links to support us for free, we appreciate it! You allow us to keep finding the best travel deals for free and to keep offering interesting content for free. Since we care deeply about our mission to help travelers and our reputation and credibility prevail over everything, we will NEVER recommend a product or service that we do not believe in or that we do not use ourselves, and we will never give any third-party any control whatsoever on our content. For more information on our advertiser disclosure, click here.
Share this post to help us help more people travel more for less: