While many have started traveling within Canada… many others are wondering what it's like to fly during the coronavirus pandemic. So here's our first experience in over 4 months, flying to Greece nonstop on Air Canada.
Compared to Europe, where the epidemiological situation is similar and where many people have restarted to travel safely and responsibly, for a number of reasons I won't get into today, travel has been slower to recover in Canada.
So we are currently on a 3-week trip to Greece and Turkey to show you what it's like to travel in this new reality (as a reminder, there are important notes about why not everyone should travel and why we are ready personally).

The first of many posts is about our flights: I know many want a glimpse at what it's like to get on a plane these days… and it was an experience we were pleasantly surprised with.

A brief caveat
This should be obvious but… taking only a few flights is definitely not representative of the entire situation, just like one negative flight on any airline (out of the thousands they operate every year) is definitely not 100% representative in normal times either. It works both ways.
But I'll also talk about the two very short domestic flights I took the week before, for more data points.
It's still a very small sample size, but we've shared reviews in the past, and in some ways sharing our own experience should be more useful now than ever.
We have a total of 10 flights during this trip so we'll share more as we go along and get a better sense of the situation in general. We'll share videos with our impressions of the flight experience as well.
Why we're very comfortable with flying
You can skip directly to the flight review if you prefer, but I'd like to talk about how "safe" flying is right now, which is obviously a hotly-debated topic.
It will depend on everyone's comfort level, but we'll share some facts and our own personal opinion (and we'll have more pro tips on flying in a separate post, since just like with everything else, we all need to take our own precautions).
But as you can tell from the fact we took a 9-hour flight to one of the furthest points in Europe and the fact we'll fly a total of 10 times during the trip, given all the many measures that have been implemented by airlines, we definitely feel very comfortable flying, based on our own personal situations.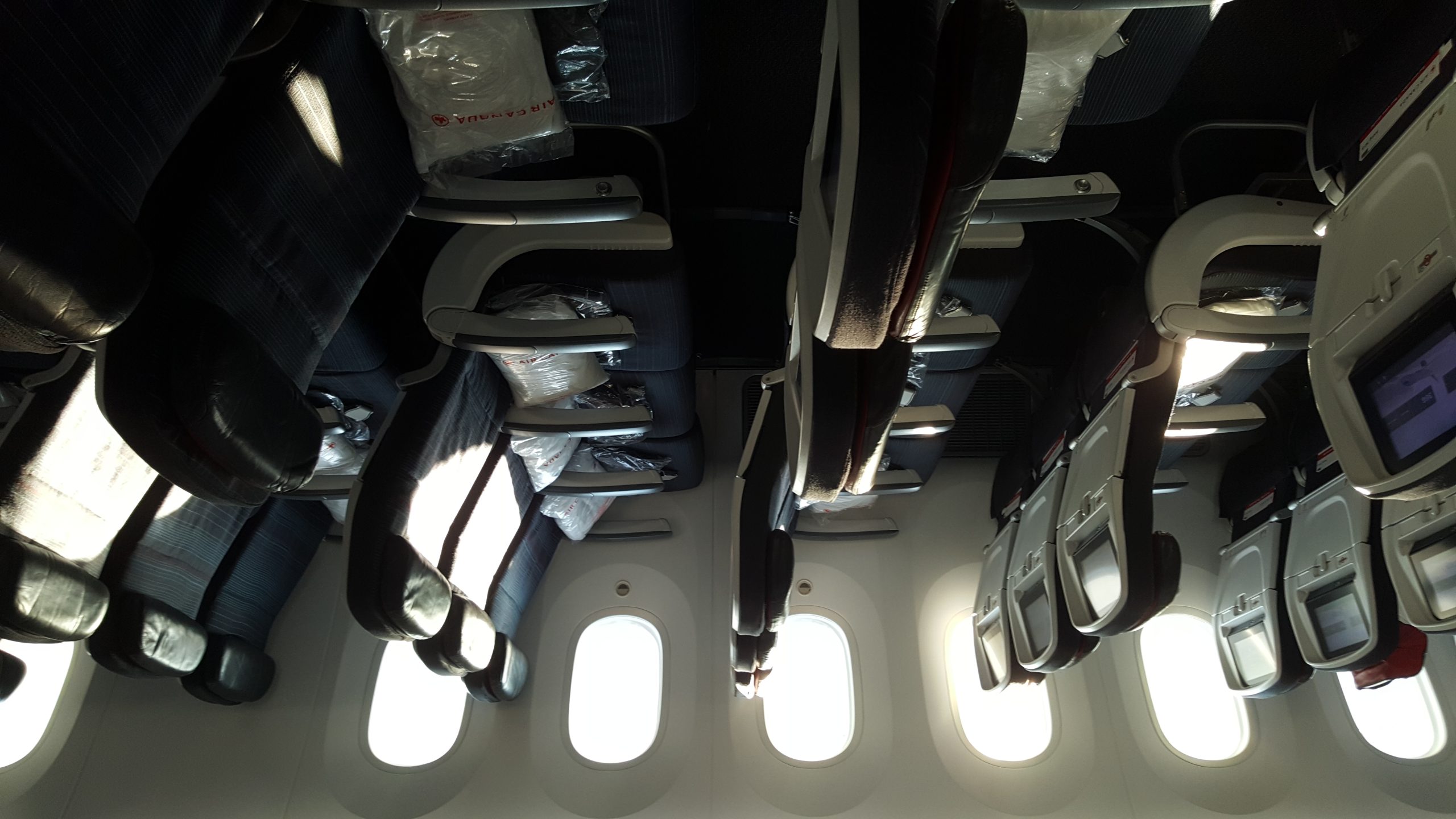 We flew on Air Canada, one of the airlines that have definitely taken this seriously from the start. They rolled out a thorough program called CleanCare+ which notably includes a very complete disinfecting of surfaces on the plane.
As you'll see in this post, I personally was very impressed and reassured by those 4 Air Canada flights I took in the span of a week, whether it was the long one or the short ones on smaller planes too.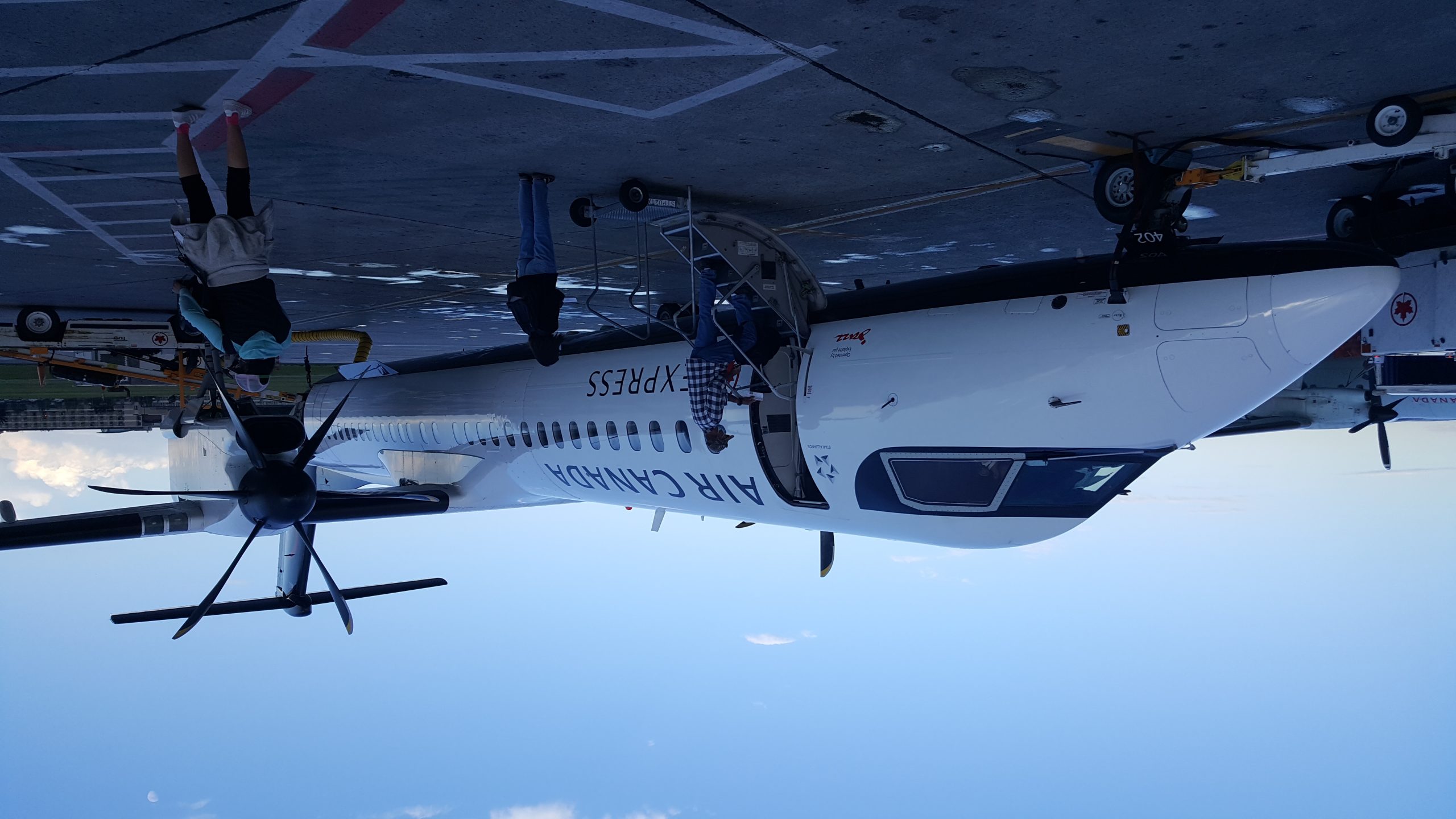 By the way, I've included a section below where I highlight some of the international routes Air Canada is currently operating in case you are interested. Even if I'm probably more comfortable with flying than most (being so passionate about aviation), I sure appreciated that my first long-haul flight was nonstop (from Montreal to Athens).
Finally, I do want to mention that one thing that isn't debatable is that air quality on planes is actually excellent, contrary to the very widespread (yet very wrong) myth. The air quality is actually better than inside buildings on the ground, thanks to HEPA filters that capture 99.9% of airborne particles.
Of course, one thing that is true though is that physical distancing is not possible on a plane. That is why masks are mandatory for the entire trip, and why they ask to limit movements in the cabin, two measures that greatly reduce the risk of transmission (I'll tell you if people abided by these).
So to finish this off, if you are visual, this Forbes article has an interesting infographic by the Texas Medical Association that shows the relative risk of traveling by plane compared to many other activities: flying is at the same level as eating inside at a restaurant or going to a hair salon (I would suppose this is heavily influenced by the air quality facts being what they are).
Our flight to Greece
This is the most important part for many of you: on the plane itself. I'll talk about the airport experience in a separate post, including the boarding process.
What has changed about flying
Honestly, the flight experience was not that different from before. Certainly not unpleasant enough to want to avoid it and deprive ourselves of traveling, in our opinion.
A reader who commented on our first impressions post yesterday mentioned that she just returned from a trip and even got the impression that in a way everyone in airplanes, airports, and customs was possibly nicer and more considerate than before, and it's true that we felt it was very very positive too.
In short, here's what has changed while flying:
masks during the whole flight
a CleanCare+ kit provided
reduced onboard service (meals)
movements onboard limited
That's pretty much it.
We absolutely had a favorable experience. This obviously changes nothing to the fact that you should consider these 15 factors when deciding to go on any trip, but it certainly is encouraging.
Don't worry, we won't be shy to tell you what's negative throughout this trip. Quite the contrary, we are often too blunt and sometimes some of you get a bit mad because we tell you the hard-to-hear truths about everything related to travel.
That won't ever change, we'll say it like it really is.
Flight details
The Montreal (YUL) – Athens (ATH) route (AC804) on August 6th was operated by a Boeing 787-8 (C-GHPQ for AvGeeks).
It is one of the renowned Dreamliners that was one of the most innovative aircraft in recent history, and one of my favorites to fly. They have many features to make the flight more comfortable and even reduce jetlag.
The flight was blocked at 8 hours and 50 minutes in this direction (from 7:20 PM to 11:10 AM) but we left 2 minutes late and arrived 36 minutes early.

Cleanliness and hygiene
Once on the plane, everything looked spotless, for real. In a way, it's just like with hotels: it's probably cleaner now than it ever was.
Air Canada has increased the allocated time for their turnarounds (the time between flights) for its disinfection process, in which they clean every high-touch area before every flight. They also do a deeper clean every night and even use an electrostatic machine to spray disinfectant.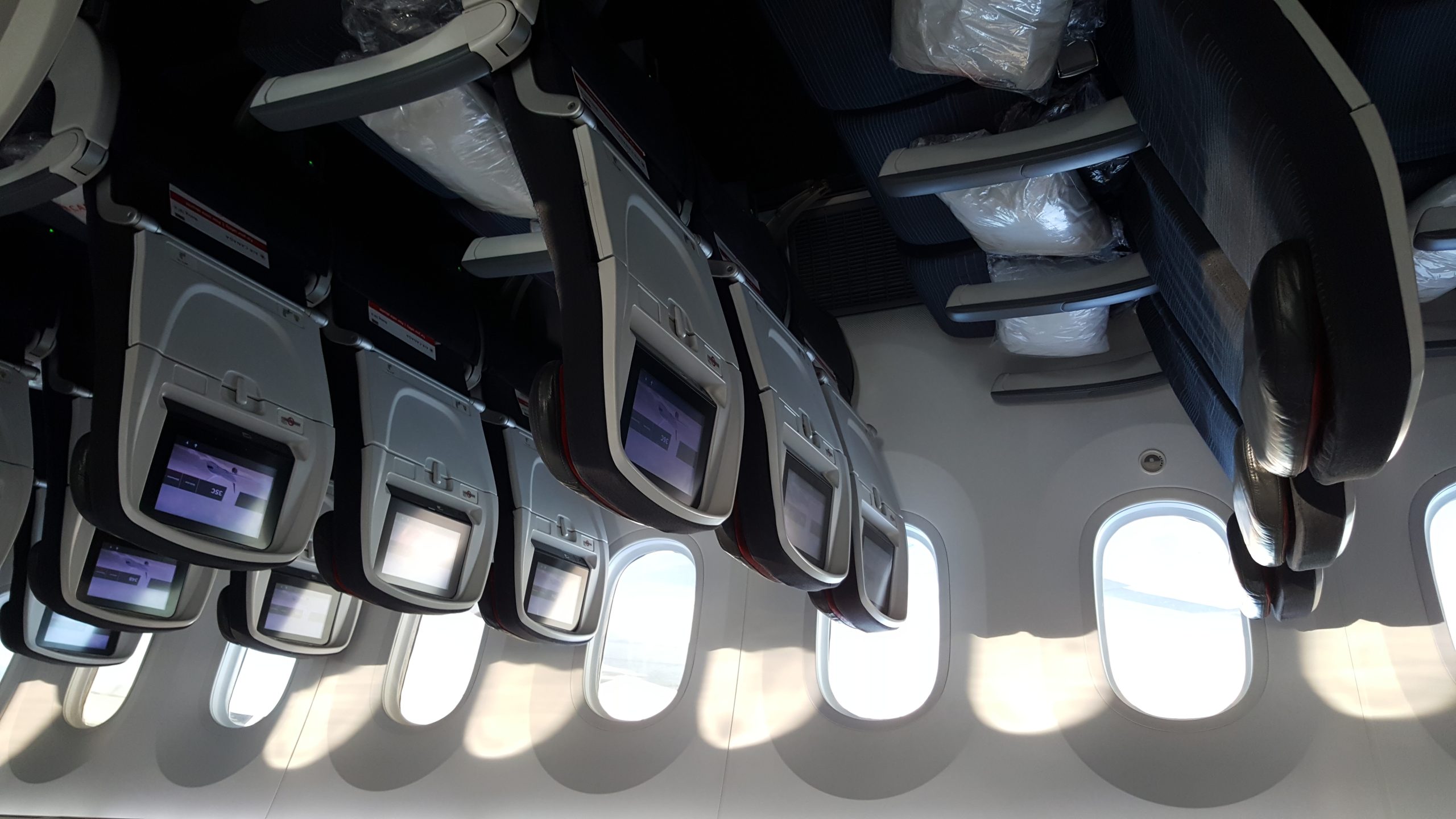 According to their site, they clean:
seatbelt buckles
seat controls
armrests
light and ventilation controls
tray tables
screens
windows and shades
headrests
overhead bins
overhead bin handles
walls
ceilings
So I took a look at all those spots and everything was indeed clean, except the window shades since Dreamliners don't have those. And I forgot to look inside the overhead bins, my apologies (but I really couldn't care less than the backpack I put anywhere and everywhere is not absolutely clean).
They also provide wipes if you want to use them on the surfaces yourself.
It's part of the CleanCare+ kit that every passenger gets on every flight. Wipes are also available in the lavatories (and you get more wipes in the meal box, see below).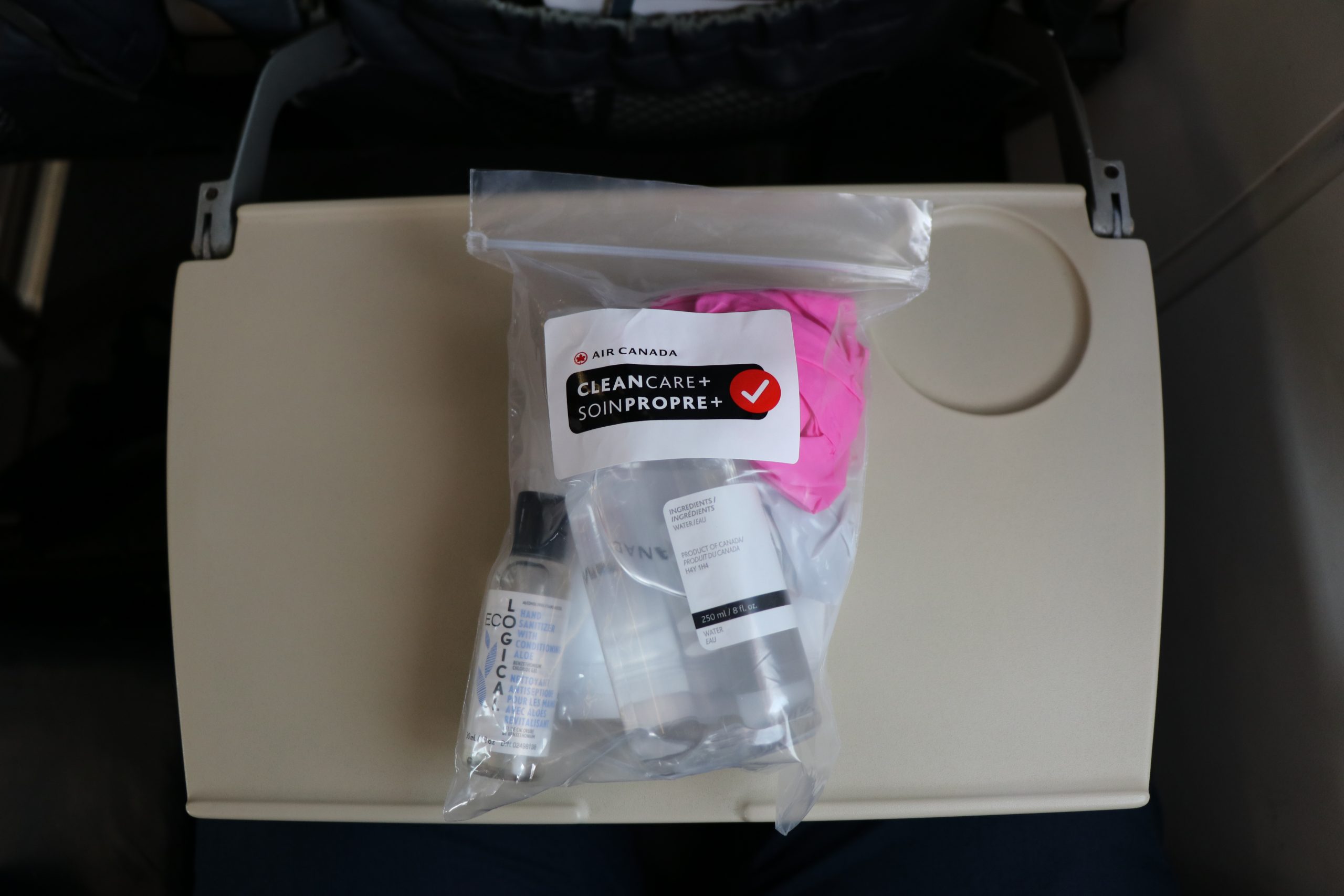 The CleanCare+ kit is part of the many many measures that most major airlines have implemented to make flying safe in collaboration with hygiene and health experts.
Here is a photo of everything it contains: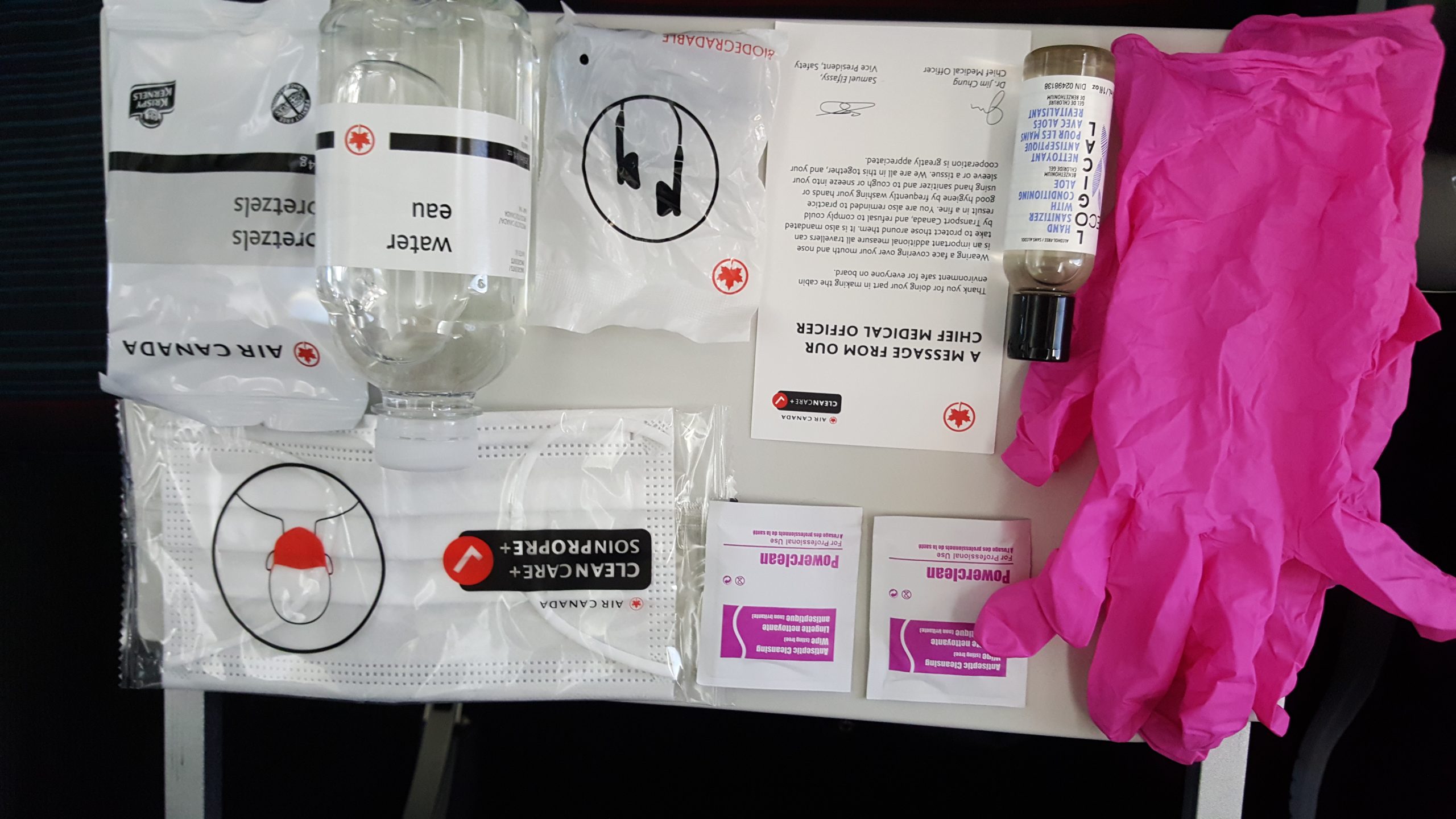 Apart from the useful hand sanitizer, cleansing wipes, gloves, and disposable face covering (mask), there was a small bag of pretzels, a water bottle, and headphones.
These kits are pre-packaged to limit the interactions and contact points during the flight. Also, the in-flight magazines have been removed (since they can't really be cleaned).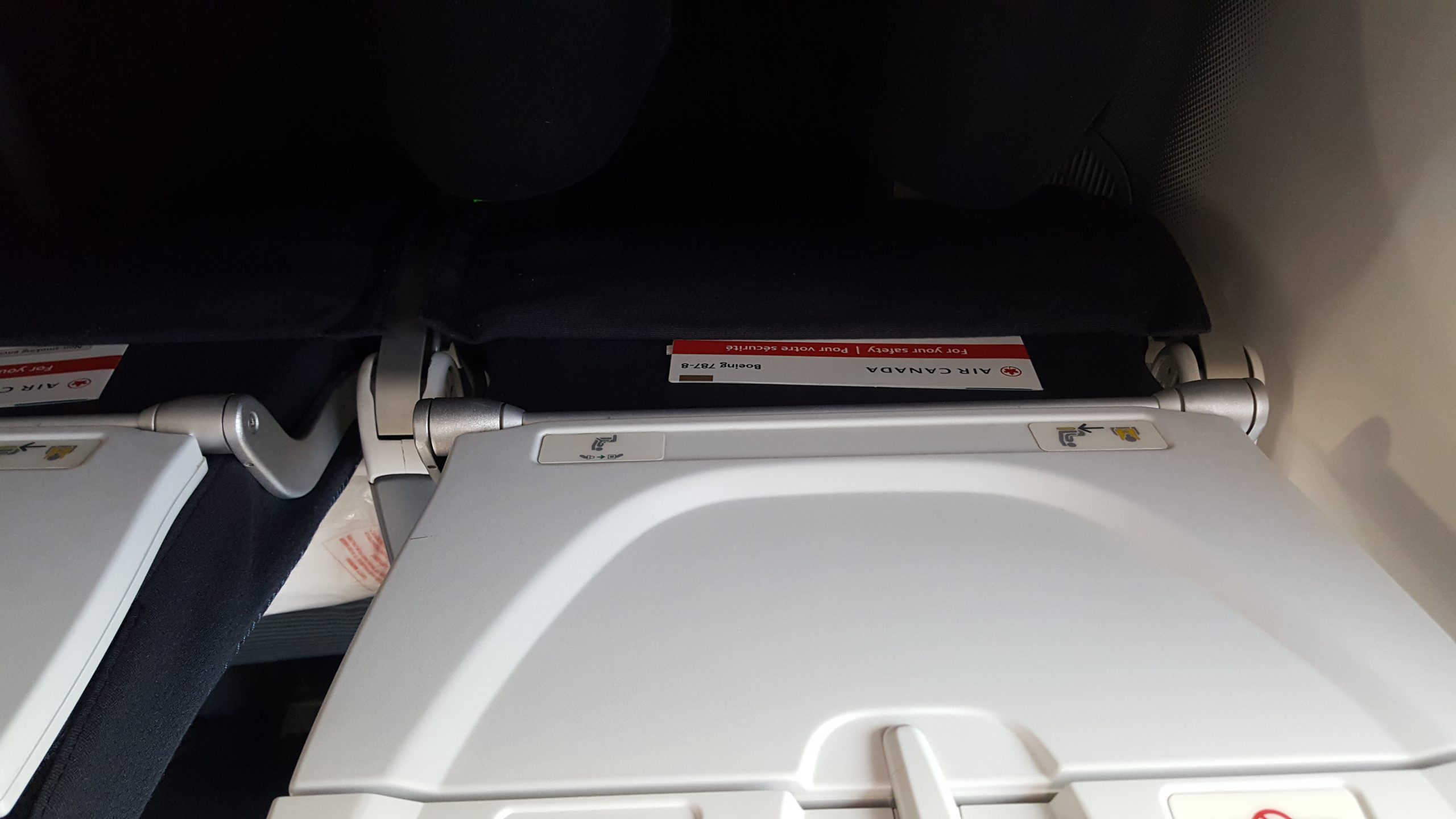 Service
I had a very recent reference point since I took long-haul Air Canada flights from Montreal to Rome in September (that was one of our crazy deals, because it also included Rome-Johannesburg flights… and all of that cost me only $552 roundtrip!!!).
Obviously, Air Canada is known for the high-quality of its meal offering on long-haul flights. That recent experience had indeed been great.
So the fact they have to limit services due to the coronavirus pandemic necessarily lowered their standards, but Air Canada has recently developed pre-packaged cold meal boxes in collaboration with renowned chefs to at least minimize the negative change.
There are no meal options, there is just one menu item per flight. In fact, Air Canada's website has a useful tool to check precisely which meal will be served on your flight a week early if you input your flight number, which is pretty neat.
We got a menu by Jerome Ferrer, of Europea fame.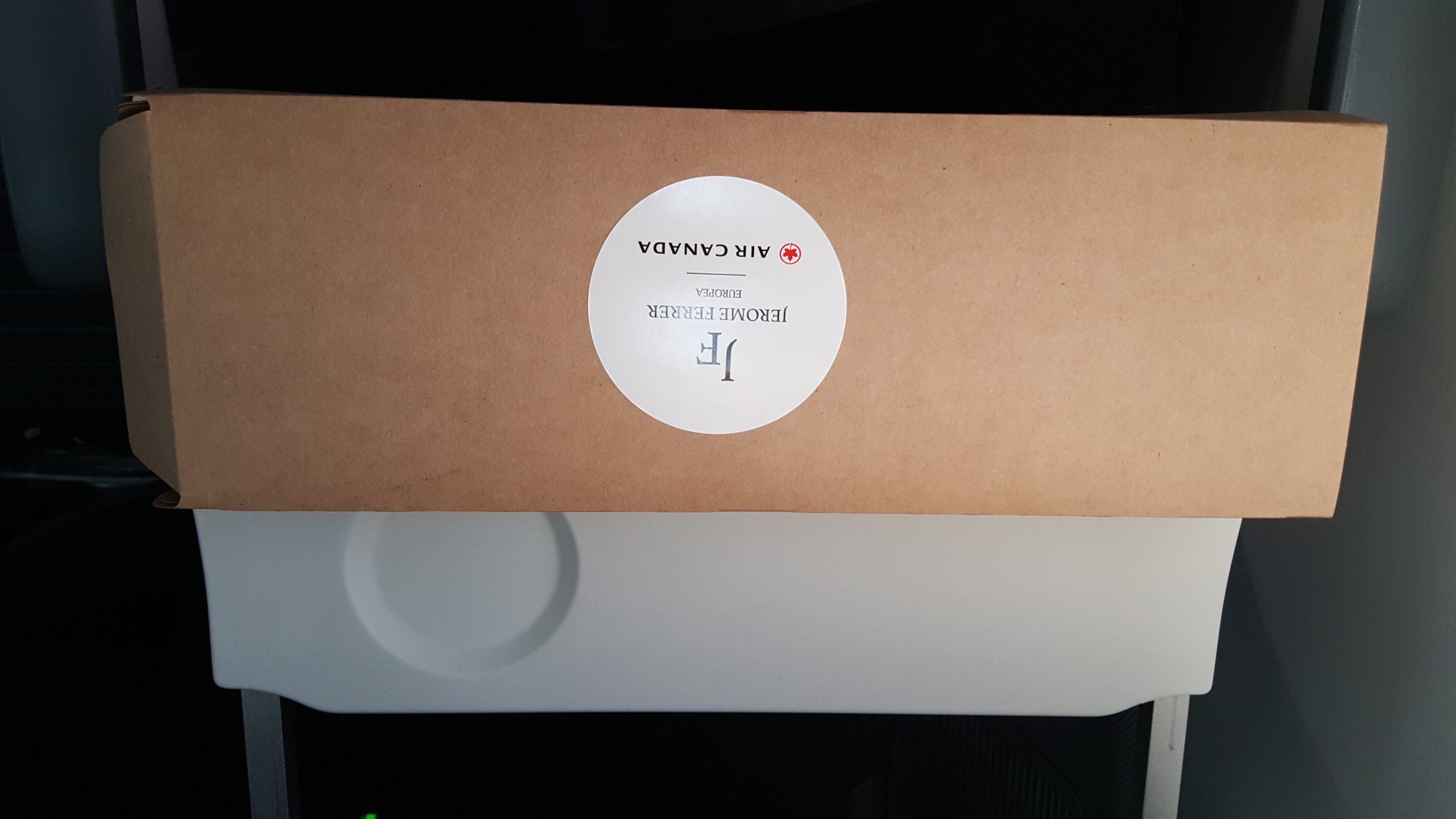 Our meal was a parmesan eggplant, with kale and mango salad, bread, and a chocolate brownie.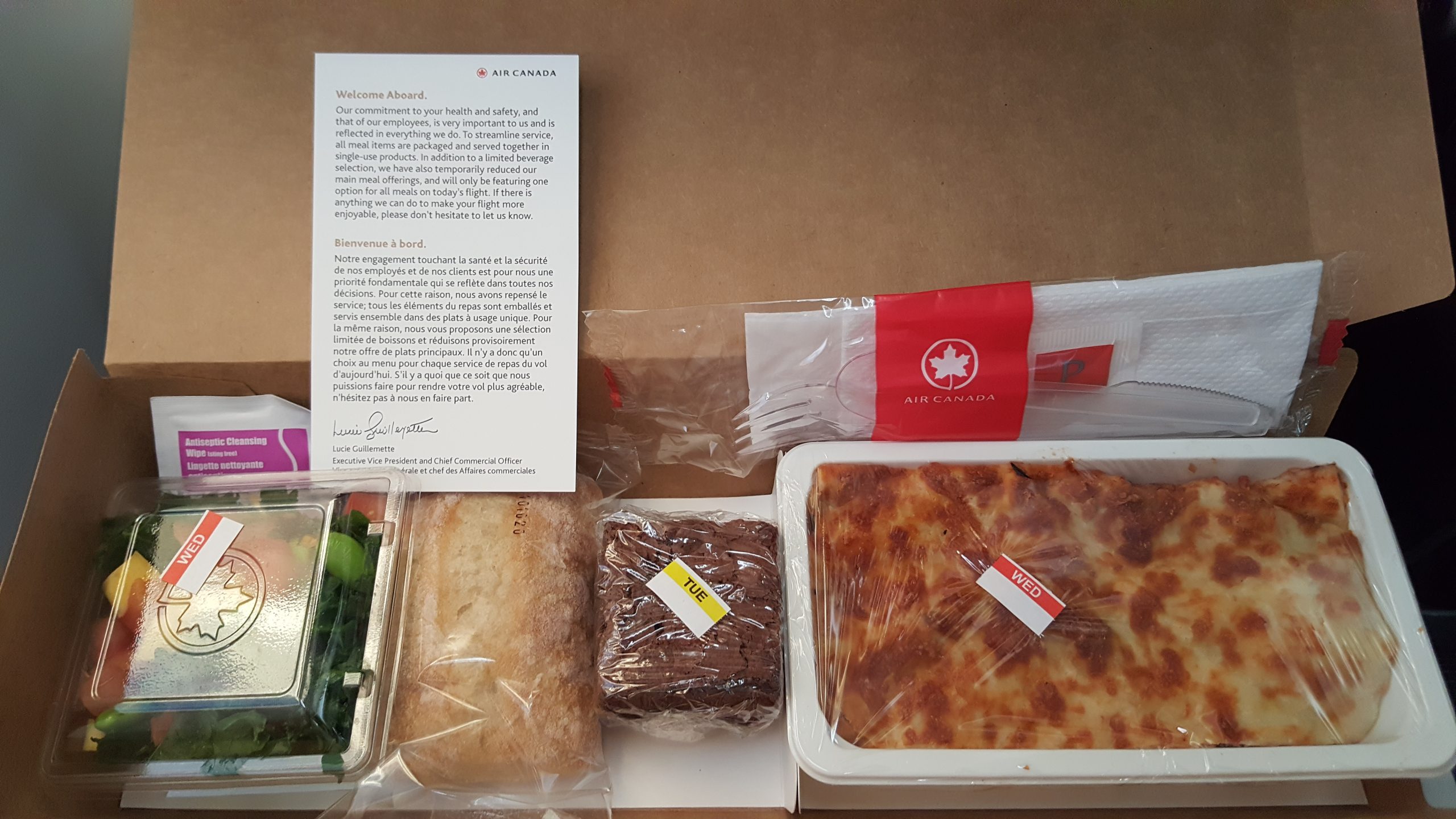 I am not personally a fan of anything cold in life, so I don't really consider myself a reference to judge how good it was haha!
Finally, before landing, another box was provided with a croissant and yogurt.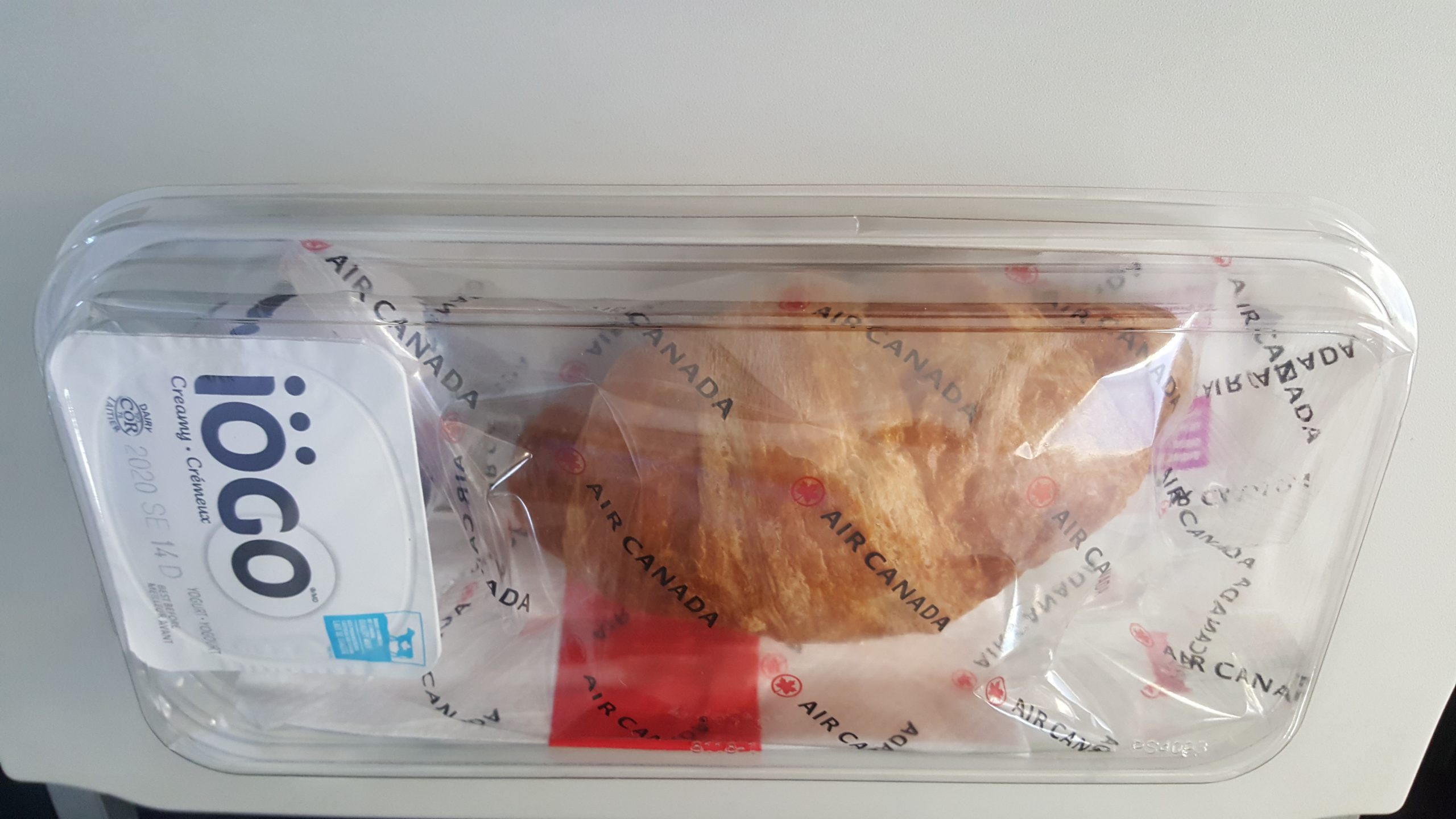 Beverages were offered only during meal service, once again to limit contacts. Available options were also more limited than usual. And there was no other snack than the pretzels in the kit for the same reasons. Which isn't the end of the world.
One thing to know is that they ask that you wait until your entire row has been served before removing your mask to eat.
In terms of other amenities, a pillow and a blanket were provided on every seat, and they were both wrapped and sealed.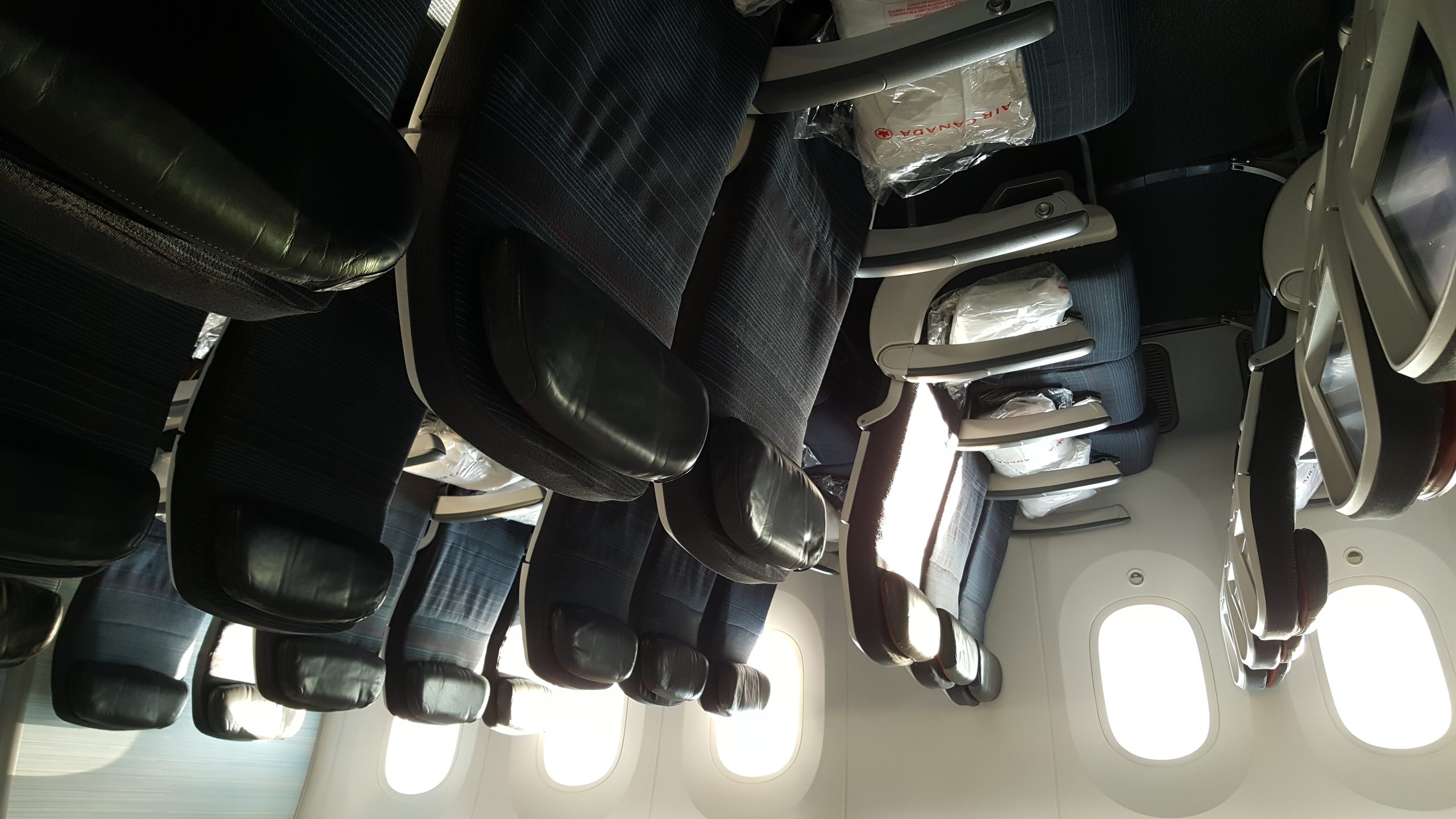 Masks
Let's not get into the political and social debate about masks. Here's one fact: wearing a mask means starting to travel faster.
Because no mask = no flight.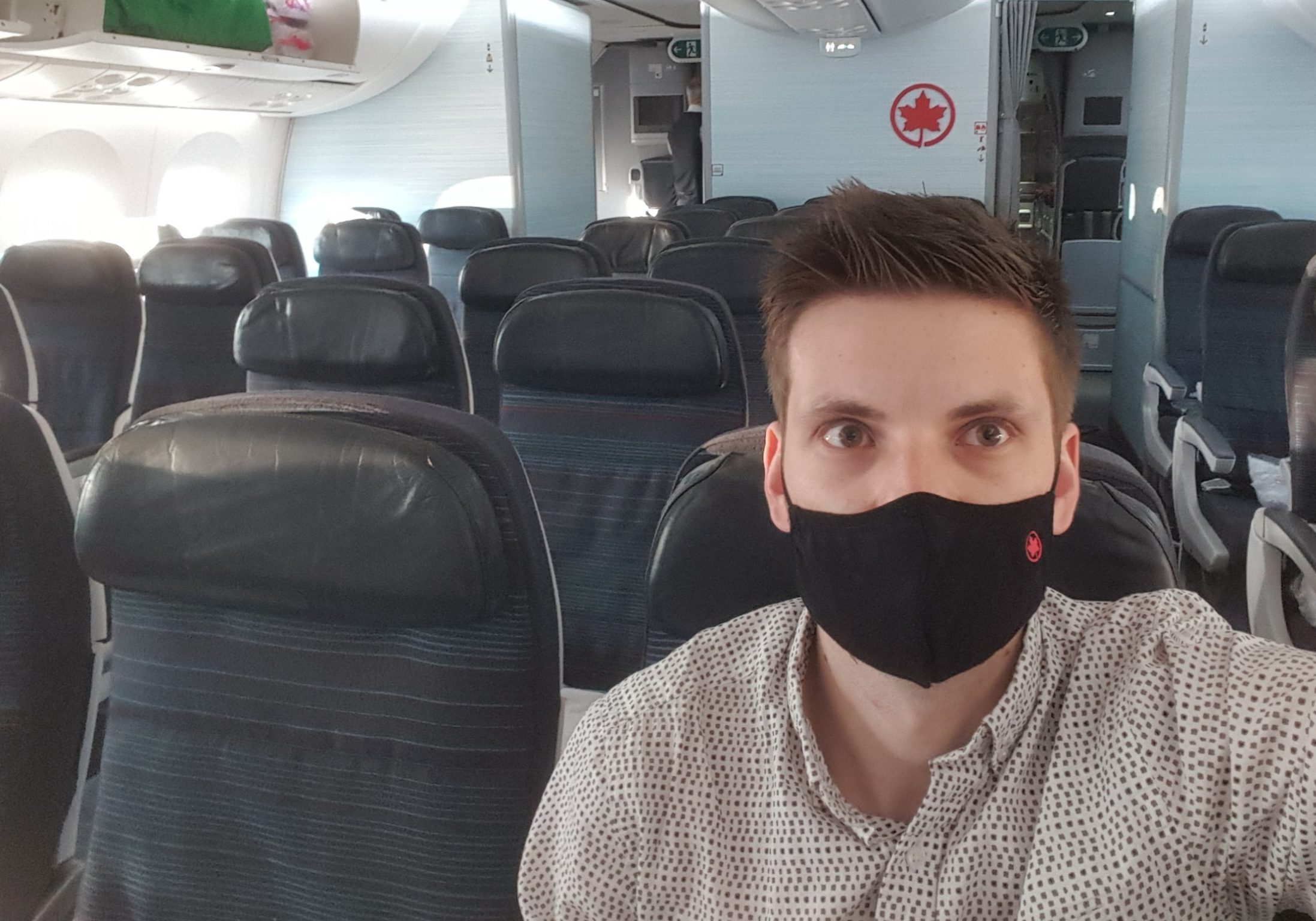 Since the beginning, most experts agree that masks protect others when distancing is not possible, like on a plane. That's why many airlines have made masks mandatory, and in Canada, it's a federal rule anyway.
Everyone was wearing it on the plane, there never was any issues. It was 100% followed from what we saw.
Flight attendants all wore one, obviously. Many of them even had a full PPE kit when distributing meals.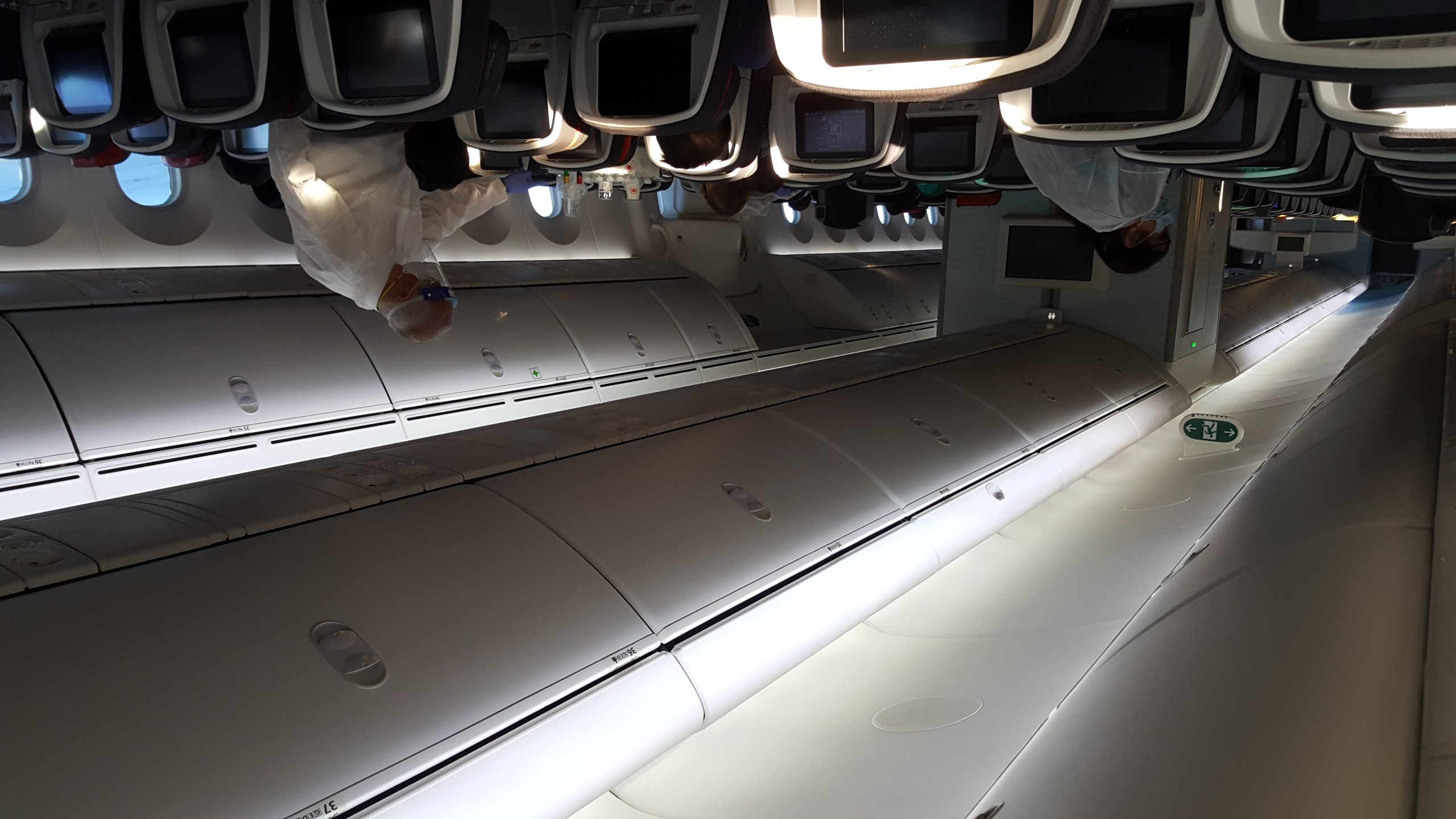 Do I find it enjoyable to wear a mask? Of course not. Is it worth it to be in Greece instead of in Canada? For me it sure is.
Everyone has their own opinion about whether they want to wear one for hours, that's fine. In fact, even the body's reaction to wearing a mask and comfort level is different for everyone too.
But this is a post about our own impressions, so…
Personally, I was pleasantly surprised by the fact that I had no issues at all with wearing one for over 13 hours straight when counting the time at the airport before and the train ride after. Absolutely no inconvenience, even if I had almost never worn one in my life. That obviously makes me pretty happy.
Kevin found a little bit less pleasant and was glad to remove it, but he is also adamant that it is worth it to be able to restart traveling. We'll obviously cover everything about mask-wearing at our destinations too.
Movements
It's obviously not forbidden to go to the lavatories, it's just simply suggested to avoid unnecessary movements in the cabin. It's hard to evaluate, but it's true that the recommendation seemed to be followed as there was less back-and-forth going on.
There is also a rule that you cannot form a line to go to the lavatories, so if this is an issue for you, I recommend choosing a seat near the lavatories to be able to get priority access.
If you don't care, do like us and choose a seat far from the lavatories to avoid having people near you (we'll have a detailed post with seat selection tips).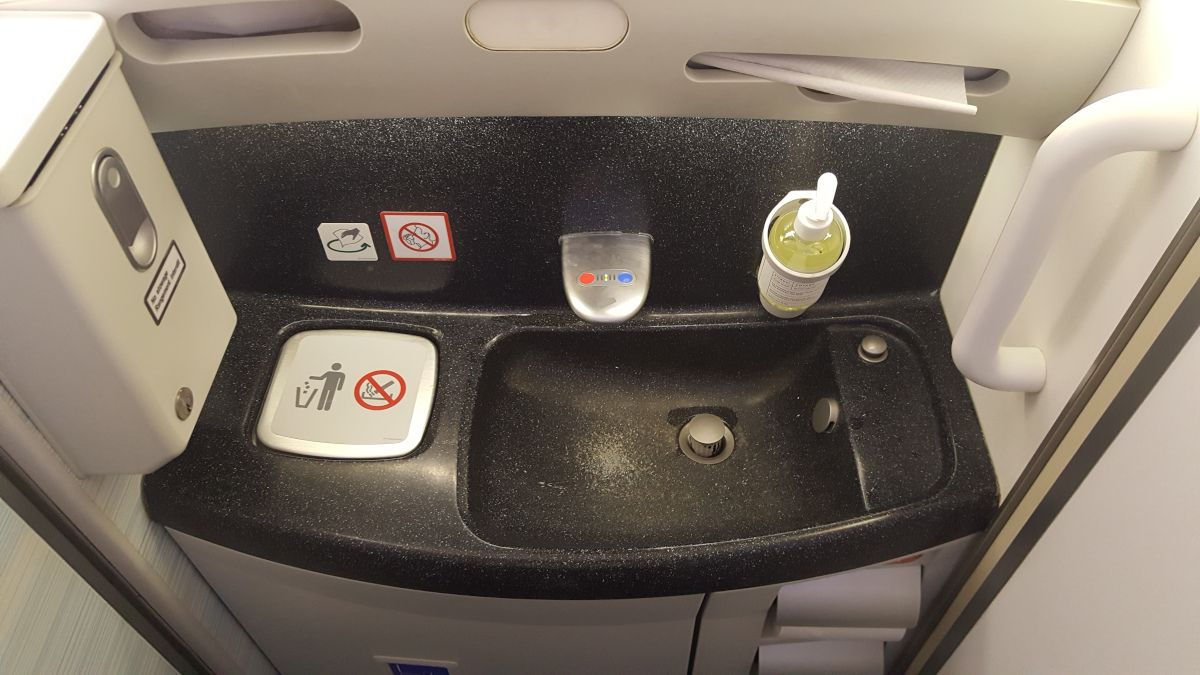 Apart from the wipes provided, I didn't notice anything different in the lavatories compared to before, at least compared to the times before the pandemic when lavatories were clean. Because it was clean when I went during the flight.
Distancing
A question we got often is whether or not the flight was full. In our case, it wasn't.
But I do want to be very clear that you have to be okay with the fact that it might be full, as no seats are blocked. For us, it's definitely not appealing to have to pay 50% more to have a blocked middle seat, because that's the reality that it would involve.
Blocked middle seats are more of a PR measure than a safety measure (even airline executives say so). Even with an empty middle seat, the person across from it is still way under 2 meters away. As are the ones in front and in back of course. Hence the masks.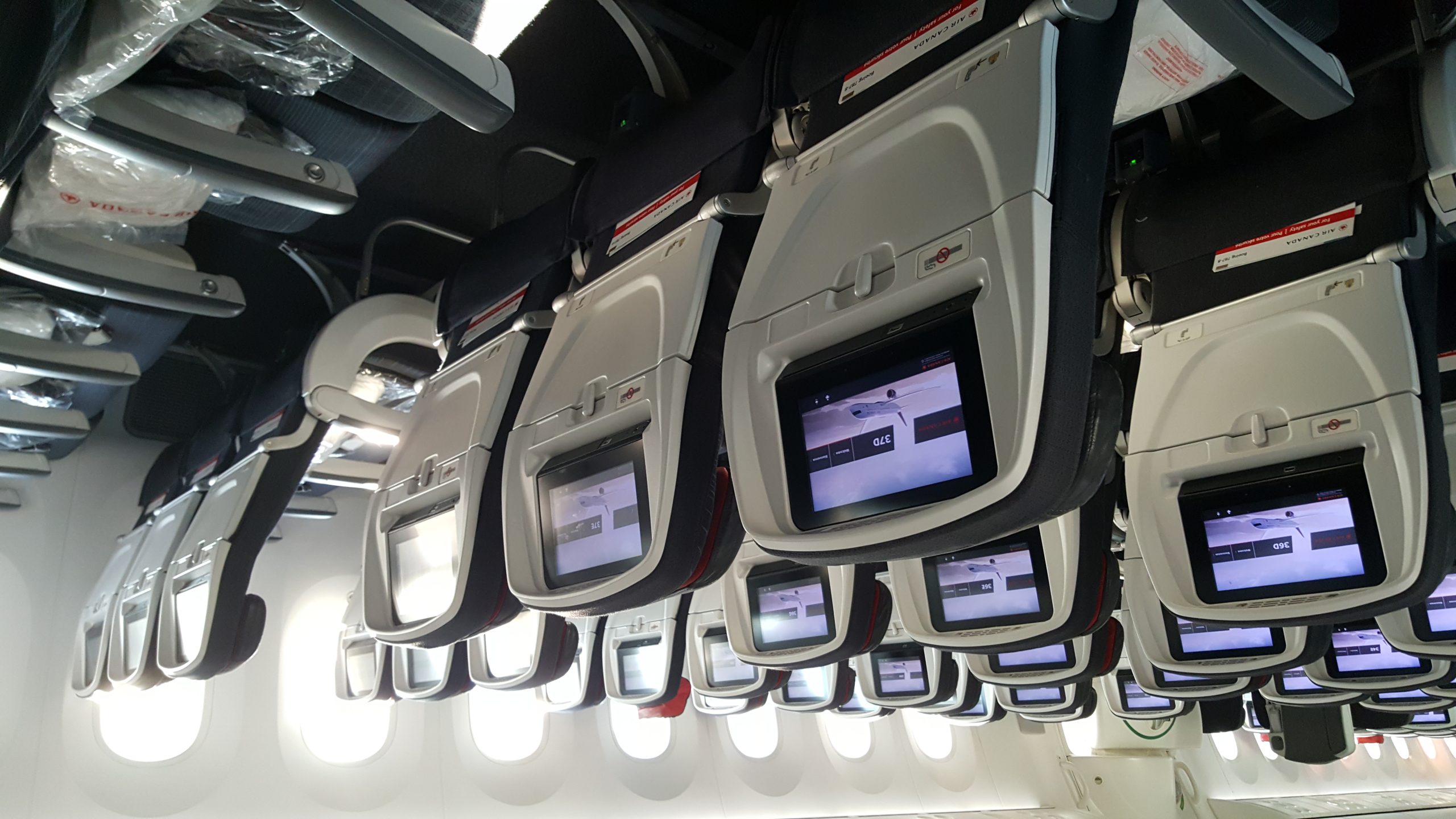 The good news is that Air Canada has a pretty interesting feature.
If your flight is fairly full, you'll get an email like this one that warns you and gives you the option of changing to another flight within 3 days completely free if you don't want to be on a full plane.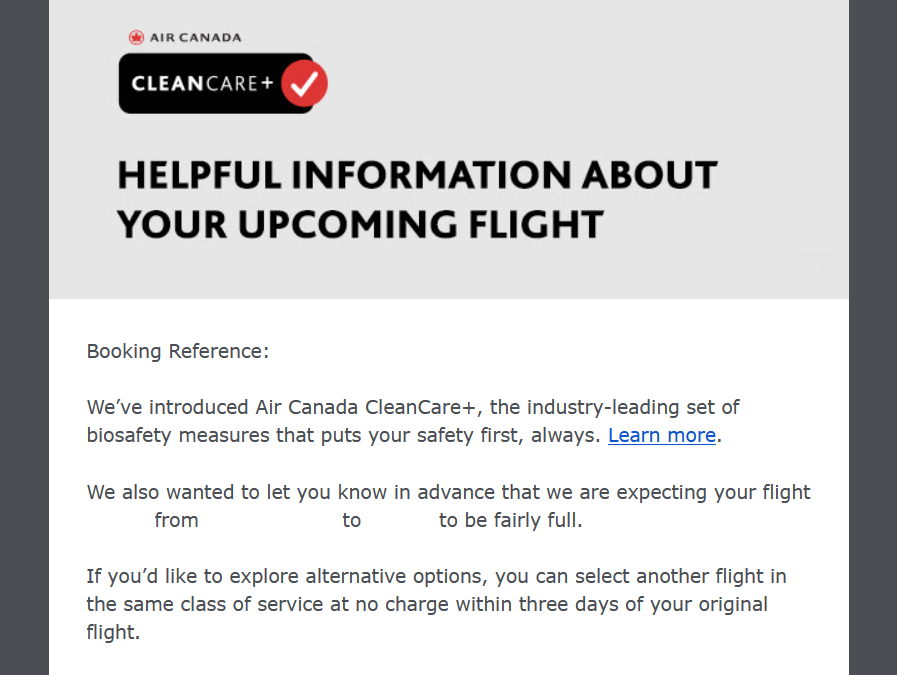 It's no guarantee that the next ones won't be as full, but it at least gives you a chance that they might. It's unclear whether that 3-day window can be extended if they are all full though.
So our Montreal-Athens flight was less than half full, giving us each a full row since we chose seats at the very back of the plane (pro tip: those usually fill up last).
Of course, having no one next to us is more enjoyable but I just want to make sure you accept that it is not guaranteed at all. Fewer people are flying, but there are fewer flights too.
As a matter of fact, our Athens-Toronto return flight looks a lot fuller when I selected our seats in advance (one of the many benefits of travel rewards points as I took advantage of the Aeroplan elite status promo we told you about… that status also allows me to board first to take pictures of empty planes).
Everything else
Everything else about the flight experience was pretty standard. We both thought there were a lot more similarities with pre-pandemic flights that there were differences.
Admittedly, I am someone who is not very change-averse at all and I'm pretty easygoing. But still, I thought it was really not that inconvenient or unpleasant.
My flights within Canada
Before the Montreal-Athens flight, we had a connecting flight from Quebec City (YQB) to Montreal. And as mentioned, I had two Air Canada flights the previous week (which were also a Quebec City-Montreal roundtrip).
So I had 3 other flights to experience how flying is during the pandemic, even though they were obviously extremely short.
The good news is that all 3 were just as positive.
They were all on Air Canada Express regional jets and those planes were also very clean.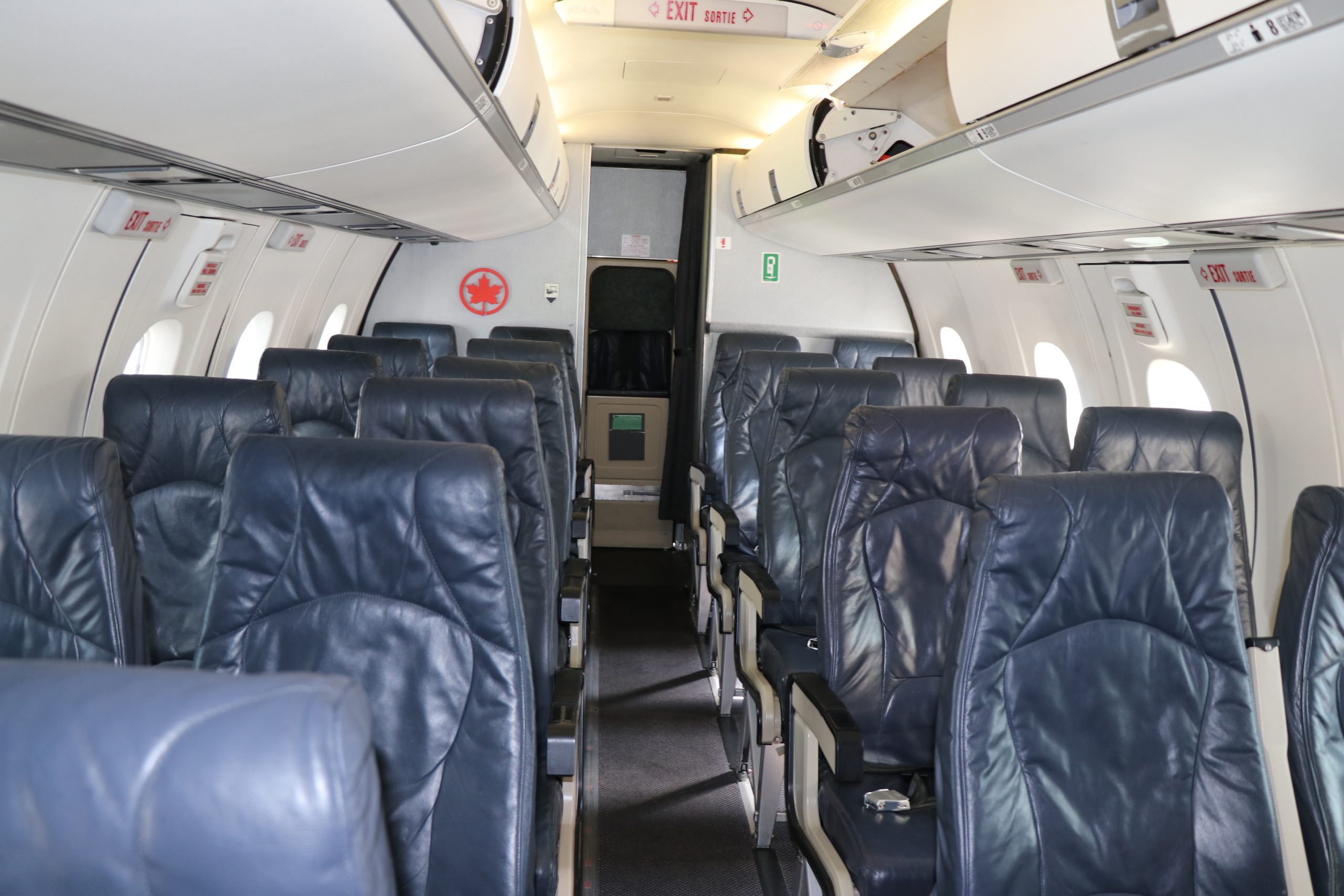 The mask rule was followed by everyone.
I had two flights on a DHC-8-300 with 50 seats. On the first, there were only 15 of us, so it was very easy to maintain distancing, and the second was about half empty.
On the other one, a Q400 with 74 seats, I didn't count but as you can see from this picture, it was a bit fuller.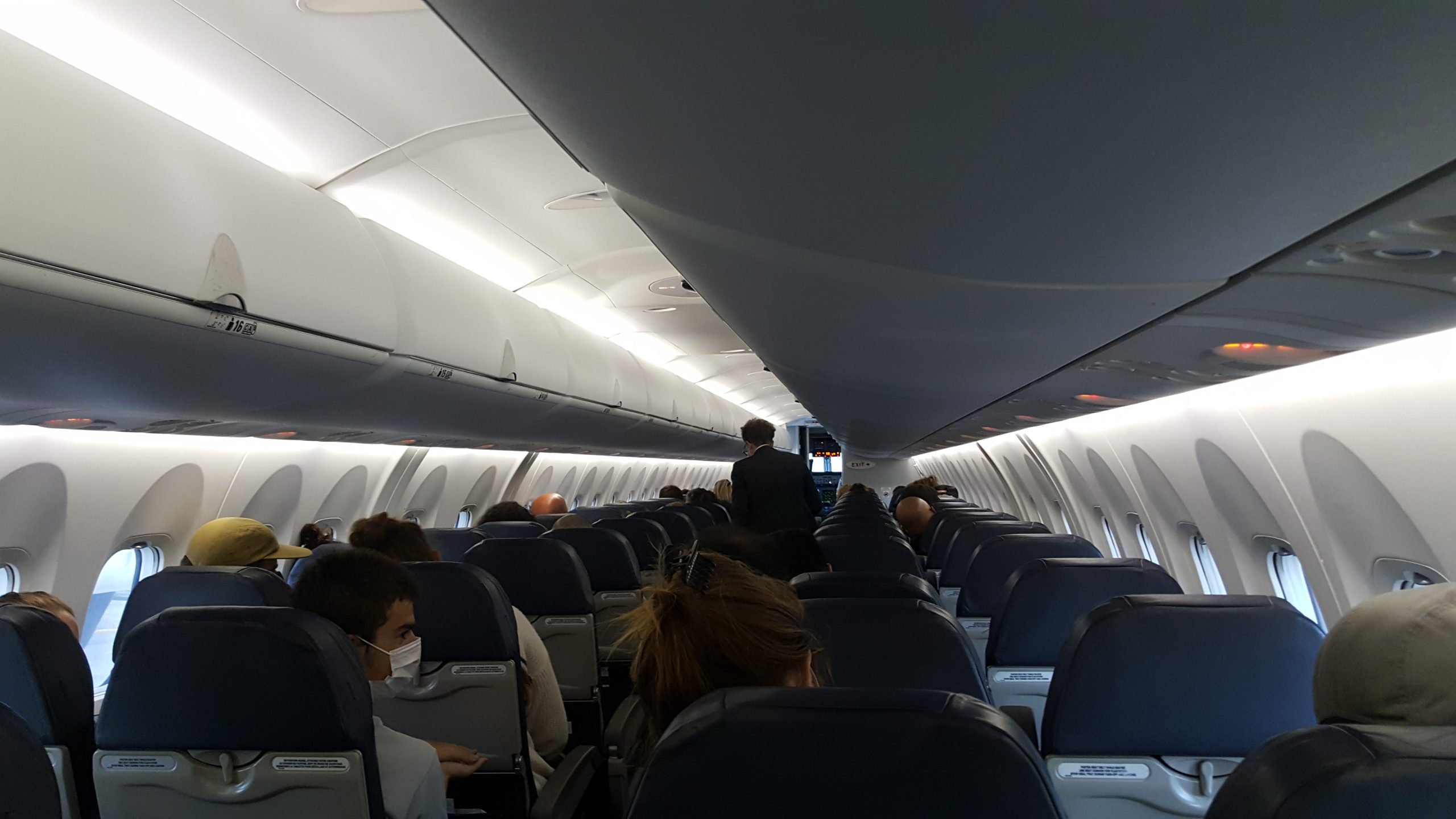 But the seat next to me was still empty, and with everyone wearing masks all along, I personally didn't worry at all.
On these short flights, there is no onboard service, apart from getting that same CleanCare+ kit (and in some cases, it was already at my seat when I got in).
As you can imagine, it wasn't the end of the world in this case since it was extremely short anyway (even before the coronavirus, sometimes only water was offered on this route anyway).
There was no pillow or blanket and I didn't use the lavatories. But everything else was the same as the long-haul flight.
So in short, I would have even less of a problem with flying short distances. I have nothing negative to say about any of the 3 flights.
Where you can go now on nonstop Air Canada flights
Finally, to tease our upcoming guide to the destinations that are open for Canadians without conditions, I want to add a side note for those who've thoroughly considered every factor and are looking to fly soon.
While many of you might be comfortable getting on a plane (even for a long-haul flight), a 10-flight itinerary like ours might be too much. Some of you will probably want to at least limit the number of stops to spend less time on the plane and in airports.
Being Canada's flag carrier, it goes without saying that Air Canada has by far the most nonstop destinations from most Canadian cities.
You can obviously fly to pretty much all Canadian destinations currently, but I figured I'd list you a few of the appealing nonstop international routes (NOT an exhaustive list) that are currently being operated by Air Canada (or will be starting in September).
From Montreal (YUL)
Athens (ATH): Greece is open to Canadians
Paris (CDG): France is open to Canadians
Geneva (GVA): Switzerland is open to Canadians
Frankfurt (FRA): Germany is open to Canadians
From Toronto (YYZ)
Athens (ATH): Greece is open to Canadians
Paris (CDG): France is open to Canadians
Zurich (ZRH): Switzerland is open to Canadians
Frankfurt (FRA): Germany is open to Canadians
Munich (MUC): Germany is open to Canadians
From Calgary (YYC)
Frankfurt (FRA): Germany is open to Canadians
Want to follow along as we travel to Greece and Turkey?
Summary
The travel experience was certainly different, but flying was far from inconvenient or unpleasant. We're personally very comfortable with the idea of flying thanks to all the measures put into place… and by taking our own precautions of course.
What would you like to know about flying during the pandemic? Tell us in the comments below.
Explore awesome destinations: travel inspiration
Learn pro tricks: travel tips
Discover free travel: travel rewards
Featured image: our Air Canada flight (photo credit: Andrew, Flytrippers co-founder)
Advertiser Disclosure: This flight was sponsored by Air Canada. In the interest of transparency, Flytrippers may receive a commission on links featured in this post, at no cost to you. Thank you for using our links to support us for free, we appreciate it! You allow us to keep finding the best travel deals for free and to keep offering interesting content for free. Since we care deeply about our mission to help travelers and our reputation and credibility prevail over everything, we will NEVER recommend a product or service that we do not believe in or that we do not use ourselves, and we will never give any third-party any control whatsoever on our content. For more information on our advertiser disclosure, click here.
Share this post to help us help more people travel more for less: