Canada has some of the strictest international travel restrictions in the world and most of these are theoretically due to expire relatively soon, this month in fact. The bad news is that they have are often extended as is… but let's still look at these different measures that have many travelers confused.
"Travel restrictions" is a broad wording that doesn't really have a standard definition. It is used by many to describe any government measure that relates to international travel.
It means a lot of different things to a lot of people, which partly explains why many are wrong about what each of the 4 main measures we have in Canada means (and why many believe that they are all restrictions when 2 of them aren't even really restrictions).
I'll briefly explain each of the 4 and most importantly tell you what we know about when they'll end or change (and why they should).
4 main travel restriction measures in Canada
Here is an infographic to summarize the 4 measures that the Canadian government has implemented regarding international travel.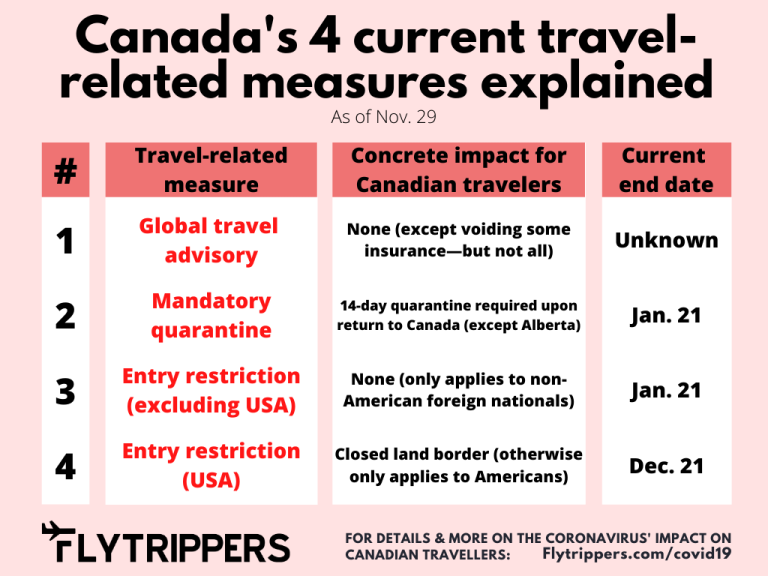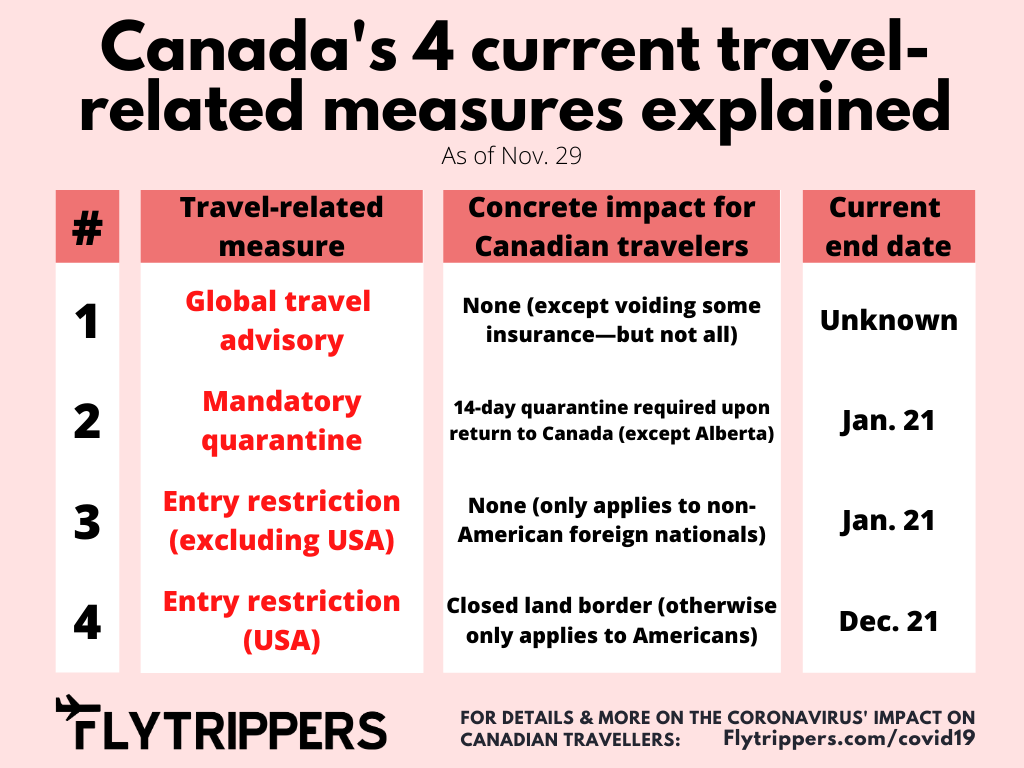 1. Travel advisory
What is the impact of the travel advisory
This is not even a restriction per se, as it does not prevent you from traveling in any way. The only actual restriction for us Canadians is the entry restriction imposed by other countries, if any (that's why we traveled to Greece and Turkey this summer).
The advisory is a recommendation but it has absolutely no impact other than voiding some insurance coverage (but not to worry: 3 insurers now include COVID-19 in their medical travel insurance coverage for Canadians). It doesn't mean everyone should travel (you should consider every factor to decide whether it makes sense for you) but the fact is that you are 100% allowed.
What is the current known end date for the travel advisory
This is unknown, as unlike the 3 other measures, the advisory has been issued indefinitely. Since it is not a law or anything like that, it does not require a formal expiry date.
See below for details on the future outlook.
2. Mandatory quarantine
What is the impact of the mandatory quarantine
It means you can travel internationally, but you'll have to self-isolate for 14 days upon returning to Canada (no matter where you arrive from). We just flew back to Canada Thursday night ourselves, so we'll soon share what it was like to re-enter the country in a detailed post.
Again to be clear, just because Canada requires this doesn't mean other countries ask you to quarantine on arrival: many don't. There was no such requirement for us in Greece and Turkey on this trip, so it's easy for your only quarantine to be the one upon return to Canada.
The great news is that a pilot project in Alberta has replaced the 14-day quarantine with tests (only 2-3 days of quarantine, as long as you stay in Alberta for 14 days).
What is the current known end date for the mandatory quarantine
This was just extended to January 21st. As you'll see below, we're not particularly optimistic that it will be lifted even then… but there is a good sign at least with the Alberta pilot project.
3. Entry restriction (excluding USA)
What is the impact of the entry restriction (excluding USA)
Border closures are also called entry restrictions. First, this is completely irrelevant for us Canadians as we've always been allowed to enter Canada and always will be (but we'll explain why it should still matter to you in the section below).
Basically, all non-Canadians are currently banned from entering the country. But this entry restriction applies to foreigners from every single country except the USA.
Not many people know that the measures for Americans and non-Americans are completely separate, with different expiry dates. That also leads to a lot of misinformation. Even CBC recently used a picture of a land border crossing to illustrate the extension of the border closure… a closure that doesn't even apply to the land border.
Anyway, this measure is pretty straightforward, apart from some exceptions for family reunification and essential travel.
What is the current known end date for the entry restriction (excluding USA)
This measure was also extended to January 21st, and this one is somewhat more likely to be at least partially lifted (although it is far from a sure thing).
4. Entry restriction (USA)
What is the impact of the entry restriction (USA)
It's the same thing as the previous restriction, except that it is for Americans only. For mostly political reasons, back in March our borders were first closed to everyone except Americans.
(Yes, they had a special exception to keep entering: however, now it would be surprising if they get that preferential treatment to enter before others are allowed to.)
So since then, the restriction remains separate for our Southern neighbors. It's worth mentioning that it is not a reciprocal restriction: while the land border is closed, there is no entry restriction for Canadians wanting to go to the US by plane. Again: it doesn't mean it's a good idea, but the fact remains that it is 100% allowed, despite what many people believe.
This entry restriction also includes the land border closure in both directions.
What is the current known end date for the entry restriction (USA)
This restriction expires on December 21st but is by far the most likely of the 4 measures to be extended once again.
When these travel restrictions will end
Let's first say that it is nearly impossible to predict what the government will do. Nobody knows. Even they don't: the situation changes very quickly and they always decide just before a measure is due to expire.
But here's a bit of context to give you an idea, even though we'll obviously have to wait and see for the actual decision. Sign up for our free newsletter to be the first to get updates on the situation.
1. Travel advisory
Again, since this measure has no tangible impact whatsoever, it doesn't really matter whether it is lifted or not. But let's take a look anyway.
The United States and the United Kingdom are the 2 main global references often used in terms of travel advisories, and both of them have made the logical decision to end their blanket across-the-board advisory to avoid all travel.
Instead, they decided that their advisories would do what advisories are supposed to do: help travelers assess varying levels of risks between different destinations. In other words, they've lifted their "avoid all travel" advisory for the safest countries, to help their citizens know which countries are the safest.
But our government says that going to Iceland (118 active coronavirus cases) is the same risk as going to the US (2,500,000 active coronavirus cases). That makes literally zero sense. I'd even argue it is more harmful than helpful, because the average traveler now has no guidance in choosing the safest destinations since they're all graded the same.
Another way the advisory is harmful is that it voids most medical travel insurance coverage (that's actually the only tangible impact). Thankfully, 3 travel insurers now include COVID-19 medical coverage for Canadian travelers despite the advisory.
Anyway, it is likely that this advisory will be lifted for a few safer countries at some point. But this does not mean the quarantine requirement for the same destination will also be lifted, sadly.
2. Mandatory quarantine
This is the most important one for most travelers, without a doubt. So this is the one we'll look at more closely.
We've gotten a ton of feedback since we published our guide with the factors to consider to decide whether to travel or not and it was overwhelmingly positive, as many travelers are ready to travel… but they simply can't afford to travel internationally when there is a mandatory quarantine.
Again, I am 100% comfortable saying that a quarantine requirement for all countries, regardless of their current epidemiological situation, is stupid and unsustainable. It obviously made sense in March, when everything was unknown, but not anymore.
It is the opposite of evidence-based, science-based, and data-based decision-making. There's no analysis: it's just a quarantine for everyone.
How can it be justified to require a mandatory quarantine when arriving from a country that has a lower (or even a similar) infection rate than we have here in Canada? Shouldn't we then ask everyone who travels within their own province to quarantine as well?
It makes no sense. But that certainly does not mean it will be lifted.
We're definitely not saying it should be lifted for all countries, of course not. But why wouldn't it be lifted for safe countries that have taken the coronavirus seriously and have the situation under control as much as we do (or even more under control, as many do)?
The logical approach would be one like the UK: if you are arriving from a destination on the list of safe countries, there is no quarantine required. If you want to go to other countries where the situation is not going as well, then yes you'll have to quarantine upon return. And they adjust that list of countries as needed.
That's rational. A targeted approach.
The only good sign is that this government has finally started showing signs of being open to at least considering alternatives like airport testing, which is encouraging. Oh, and in June the extension was for two extra months: since then, they've only extended it by one month at a time.
Now the question is… will it be lifted on November 30th? It's not impossible, but keep in mind this is about politics as much as it is about health and safety. And the government honestly has not given any indication that they are anywhere near ready to lift the mandatory quarantine any time soon (quite the contrary). Even for safe countries.
What is not encouraging at all is how slow and passive our government has been with something as simple as temperature checks. Many countries in the world have been doing testing for months, but can we expand the Alberta pilot without it taking 3 months? I'm not optimistic (at all).
So… we'll have to see if during the month of November the government is proactive and evaluates which countries could be included on a safe list for December or if they actually do something about the Alberta pilot project. That would be the best-case scenario. Travel starting in December could then be quarantine-less for the safest destinations or for those willing to be tested.
But it is also very possible that the government decides to keep requiring a quarantine for every single destination for much longer, even if it doesn't make sense. It would be a lot simpler for them than having to work towards making a list of safe countries or taking action for tests. A lot simpler than having to put in some effort and work.
3. Entry restriction (excluding USA)
If you have friends from other countries who want to come to Canada, you're probably hoping that this will be lifted soon.
But even as Canadians, the reason why this entry restriction matters to us—even if it doesn't apply to us—is simple: reciprocity.
Many countries have already reopened to Canadians, but many others are likely waiting for us to let their citizens in before letting us in.
While some argue that this restriction could be lifted across the board by simply requiring those who come in to quarantine for 14 days (or even get tested on arrival), at the very least those who are in safe countries should be allowed in with those protocols in place. It poses a very minimal risk to us if they quarantine anyway.
Then again, such a restrictive condition isn't likely to help our ailing tourism industry, so at some point, we'll likely open without quarantine for those from safe countries: when that happens, our own quarantine upon return will also be a thing of the past of course.
4. Entry restriction (USA)
While Canadians are allowed to enter the US by plane, Americans cannot enter Canada by any means, except to transit through our airports (which is another thing not many people know is allowed).
Given how the situation is playing out south of the border, this restriction seems unlikely to change any time soon. Although again, if Americans were to be allowed in with a mandatory quarantine, the real risk would objectively be pretty minimal.
But like the rest of these measures, this isn't really all about health and safety: it's also very political as I said. Many have speculated that our government fears Trump's response if we were to open to other nationalities before we open to Americans.
Maybe something will change after the election due to take place on November 3rd (unrelated trivia side note that always surprises people: the US election is on the Tuesday after the first Monday of November, not the first Tuesday of November as many believe).
Anyway, then again… the President's term only ends in January 2021. So we'll have to see how our government manages that when deciding to reopen our own borders to non-Canadians… if they even do that at all.
Want to get all our content about how to start traveling again, whenever that will be for you?
Summary
Those are the 4 main measures that the Canadian government has implemented regarding international travel. We weren't particularly optimistic about any of them being lifted when they were due to expire in late August and late September, and it's now confirmed that they won't be. Let's hope for a more logical country-by-country approach come November 30th.
When do you think these measures will end? Tell us in the comments below.
Explore awesome destinations: travel inspiration
Learn pro tricks: travel tips
Discover free travel: travel rewards
Featured image: empty airport terminal (photo credit: Md Mahdi)
Advertiser Disclosure: In the interest of transparency, Flytrippers may receive a commission on links featured in this post, at no cost to you. Thank you for using our links to support us for free, we appreciate it! You allow us to keep finding the best travel deals for free and to keep offering interesting content for free. Since we care deeply about our mission to help travelers and our reputation and credibility prevail over everything, we will NEVER recommend a product or service that we do not believe in or that we do not use ourselves, and we will never give any third-party any control whatsoever on our content. For more information on our advertiser disclosure, click here.
Post published on August 29th; updated on October 31st.
Share this post to help us help more people travel more for less: