Every single Canadian who wants to travel internationally now has the option to do so with no quarantine at all upon return. Since July 5th, you can avoid the 14-day quarantine… if you are fully vaccinated… but thankfully there's a simple way to do that if you feel your forced travel break has been long enough.
As Flytrippers told you recently, Canada is finally loosening its travel restrictions, as recommended by a thorough report from the government's own scientific experts many weeks ago.
(Although the experts recommended removing many more restrictions, and the government keeps saying they follow the science…)
But it's better than nothing, for sure. And now the new rules are in effect.
Here are all the details… and most importantly how you can travel right away in case you are tempted by a summer escape to one of the 134 countries/territories Canadians can travel to already—no matter your current vaccination status.
Changes to Canada's travel rules
Keep in mind that many other restrictions will be lifted and modified in the coming weeks, as the government itself said. In other words, the restrictions should be loosened even more as summer progresses.
Still… this news is so amazing! A lot of you told us you were waiting for the quarantine to end to leave…
First, here is an infographic if you are more of the visual type.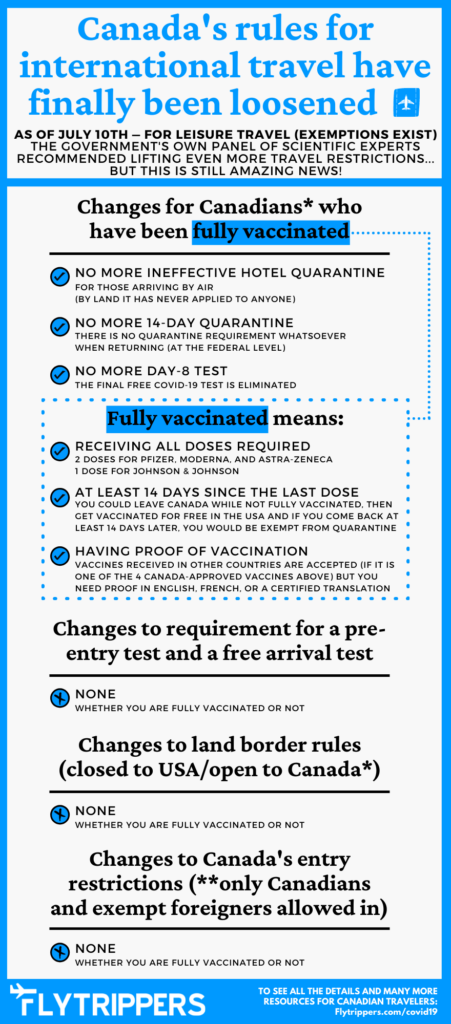 Let's start with the highlights, and many more details can be found at the end of this post.
Here is exactly what is changing:
Here are the basics of the first rule changes announced:
In effect since July 5th
For Canadians (and others who are already allowed to enter Canada)
Must be fully vaccinated (4 Health Canada-approved vaccines)
A vaccination certificate from any country is accepted (EN, FR, or translated)
A previous infection and 1 dose of a 2-dose vaccine is not accepted yet
See note for children below
For clarity, this new rule changes absolutely nothing about:
Who is allowed to enter Canada (even if fully vaccinated)
The land border rules (but it could reopen in mid-August, at least if vaccinated)
The pre-entry testing requirement (still required even if fully vaccinated)
The free arrival test in Canada
The need for a suitable place for quarantine (in case of a positive result)
Anything at all for those who are not fully vaccinated (even with one dose)
Here is another infographic that summarizes the new rules.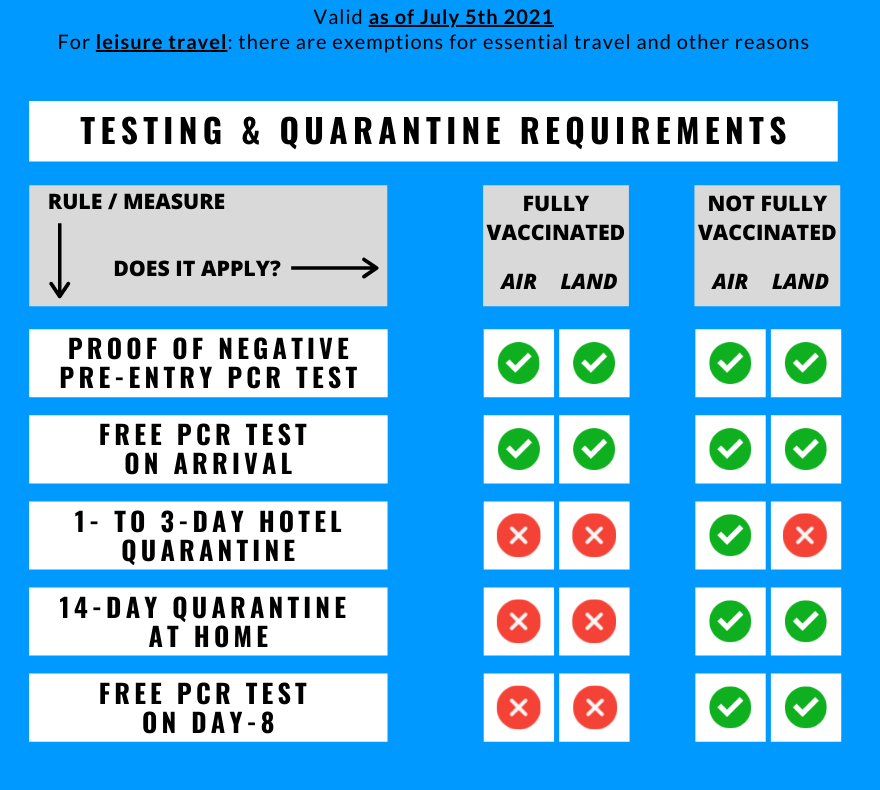 A note for families with kids under 18:
Children under 18 with fully vaccinated parents don't have to go to a hotel
But children have to quarantine at home for 14 days (if not fully vaccinated)
Parents can leave home and do not need to quarantine
The rule for children is disappointing, especially since many countries (and even the Yukon Territory here in Canada) have exempt children from all quarantine if the parents are vaccinated.
For those who have kids over 12 eligible for the vaccine, the tip for instant free vaccination below is even more appealing now…
And maybe kids under 12 are okay with a 14-day quarantine in exchange for going on an epic trip, who knows.
If you want more detailed information about each of those points, you can find it in the section at the end of this post where I explain each concept and element even more thoroughly for your convenience.
And we'll soon share a Q&A video here, in case you want more info. In the meantime, here is the one we did after the initial announcement (with the info the government gave then, some of which being superseded by the info on this page since).
But now… let's look at your concrete travel options, which is arguably and understandably the thing many travelers care about the most.
(How can we blame you? Traveling is pretty damn awesome!)
Your amazing new travel options
At first glance, most Canadians are not eligible yet… which is obviously not surprising at all since facts don't lie, as much as some would like them to be different.
As we shared after the initial announcement on June 9th, in terms of fully vaccinated population, Canada ranked:
26th out of the 27 "high-income" countries
6th out of the 7-member G7
32nd out of the 37-member OECD
94th out of the ≈ 200 countries/territories globally
(In terms of total doses, Canada ranked 38th for vaccines administered per capita: all figures are official statistics by Our World in Data.)
Maybe you want to wait for your vaccination here, but maybe after 15+ months of this forced travel break, you want to leave ASAP! That makes sense if you are a passionate traveler.
Great news: there is a way! And it's easy too.
You can leave tomorrow morning and head to one of the 120 countries/territories Canadians can travel to.
In fact, you can leave:
Right away if you're not vaccinated at all
On the 21st day after your first dose, if you've had one
All you need is… a cheap flight to the US of A.
(As low as $150 one-way in June from major Canadian cities. Or just 10,000 points, if you are into the wonderful world of travel rewards and are amongst the Flytrippers readers who earned over half a million dollars in welcome bonuses alone with the credit card deals we've recommended.)
The very next day… you're free 😉
The best way to travel right away
It is extremely easy and convenient to get vaccinated in the USA for free, as we experienced ourselves in early April. And now dozens of states have removed their residency requirement too, so there are a lot of options!
If you don't want to do this, at least follow our tips we've been telling you for months:
Schedule your time off from work as late as possible in the summer if you can
Most importantly, keep your options open by not booking anything non-refundable in Canada
But I know many of you have told us about how much you miss traveling and want to travel as soon as possible. Depending on your age group, it would be way too long to wait here compared to how simple it is over there.
This is not for everyone, but it sure is an option to carefully consider based on your own personal situation. And as the resource for Canadian travelers, we help you do so with our ultimate guide to getting vaccinated in the US for free as a Canadian.
It's worth noting that there are rumors that US President Biden might unilaterally reopen the US land border soon, which would make US vaccination even simpler and cheaper… but this is far from official, confirmed… or even likely according to others…
If you do use the information we provide to make an educated decision and get vaccinated in the USA, there is a huge and immediate upside…
Considering each of your 3 travel options
Getting vaccinated in the USA will give you 3 amazing travel options with no more quarantine upon return:
Go get vaccinated in the USA and just travel there
Go get vaccinated in the USA and go from there to another country the very next day
Go get vaccinated in the USA, return immediately via the land border for no hotel quarantine, and then go somewhere else whenever you want
The only requirement for no quarantine in Canada, of course, is to return at least 14 days after your vaccination, to be considered fully vaccinated, and therefore be exempt from the quarantine.
And for the 3rd option, to be clear, even if you are not yet fully vaccinated, you are allowed to leave your 14-day quarantine to go somewhere else right away… but only if you are not experiencing any COVID-19 symptoms (yes, you can leave by plane during your quarantine…those are the government's rules, even if their website says the opposite—Flytrippers got an official confirmation).
Traveling somewhere other than the USA has the main benefit of being more of a culture shock and a lot cheaper too, at least for most countries.
Flytrippers will be here to help you make up for the lost trips with the flight deals we spot and many tips to travel more for less!
Subscribe to our free email newsletter to get all our content in your inbox (and no spam, ever).
Details of the rule changes
Here are a few important things to know about each of the concepts if you want to understand the rule changes perfectly.
Only for Canadians and those who are already allowed to enter Canada
All foreigners are banned from entering Canada, and this does not change yet. Even if they are fully vaccinated with the exact same vaccines we have here.
Not sure what the science part of that is… Either vaccines work or they don't…
In short, only those who are already allowed to enter Canada are eligible for this exemption at this time.
Fully vaccinated
For clarity, just getting the required number of doses is not sufficient.
You are only considered fully vaccinated 14 days after the second dose (for Pfizer, Moderna, and AstraZeneca) or 14 days after the single dose (for Johnson & Johnson). Our ultimate guide to getting vaccinated in the US for free as a Canadian has a section about the different types of vaccines if you are interested.
Any vaccine not approved for use in Canada will not be recognized as a vaccine that exempts the traveler from the quarantine rules. So if you've gotten the Sinopharm, Sinovac, Cansino, Vector, Bharat, Sputnik/Gamalaya, or any other vaccine in other countries, you won't be exempt.
Showing proof of vaccination
A certificate of vaccination from any country will be accepted (as long as it's one of those 4 vaccines of course). You can show the certificate's paper version or a digital version and it has to be uploaded to the ArriveCAN app (that is already required to enter anyway).
The proof of vaccination must be in English or French (or have a certified translation if not).
July start date
The exact date these rule changes will take effect is July 5th, at 00:01 AM Eastern.
The date when the further changes will be announced has not been provided yet. So much for providing predictability, the absolute minimum the industry and citizens have asked for…
We'll let you know as soon as we know more (subscribe to our free newsletter).
Children
As mentioned, children traveling with fully vaccinated travelers will be exempt from the hotel quarantine but will not be exempt from the 14-day quarantine yet. At least, parents will be allowed to leave the home during the kids' quarantine.
We had hoped Canada would use Yukon as an example, as the Territory had their own 14-day quarantine. They removed it from vaccinated travelers already, and children under 12 (so those who can't get vaccinated) do not have to quarantine if traveling with fully vaccinated parents.
New quarantine process
Not much more to say about the actual newly-announced rules, as it's pretty straightforward.
If you are eligible, you would be exempt from the factually ineffective hotel quarantine program no matter whether you arrive by air or by land. You would be exempt from the mandatory 14-day quarantine.
At first, the government announced that travelers would need to quarantine in a suitable place of quarantine while awaiting the results of the free arrival test… but that has been scrapped in the time between the initial announcement and the launch.
To be very cleary: there is absolutely NO quarantine if you are fully vaccinated, not even for a day.
Entry restrictions for non-Canadians
A lot of people have a hard time understanding travel restrictions, but the basic gist of it is that Canadians have always been allowed to enter Canada.
Canada's entry restrictions are for foreigners, and these rules are not changing at all yet. Even if the foreigner is fully vaccinated. In other words, who is allowed to enter Canada is not changing in any way in early July.
Land border rules
This changes absolutely nothing to the fact that the land border is closed for outbound traffic and open to Canadians returning to Canada. That is due to expire on July 21st.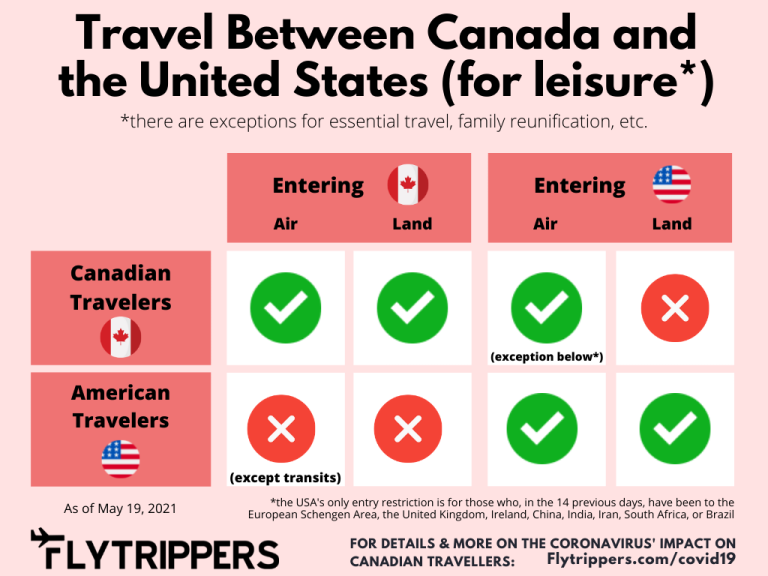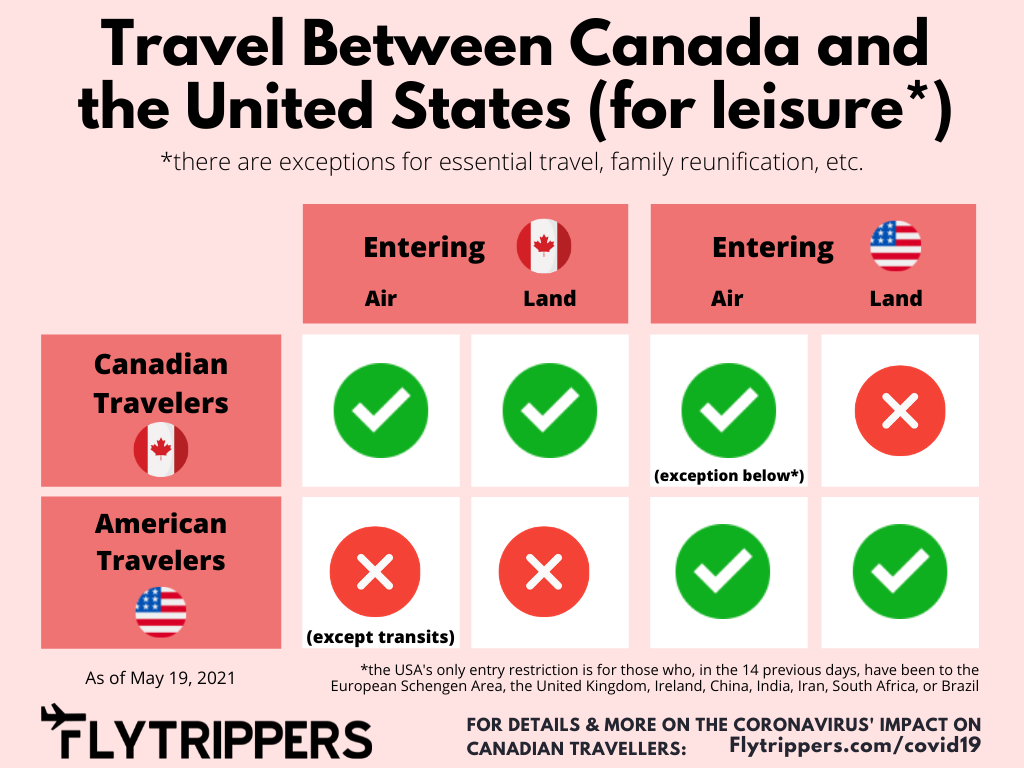 Rumors of President Biden unilaterally removing all USA restrictions and reopening the land border in July have been heating up significantly recently… that may be what forced Trudeau's hand, who knows.
As mentioned in the previous section, that would make getting a vaccine so much easier, since New York State, Vermont, New Hampshire, and Maine just removed their residency requirements for free shots and are just a short drive away for many of you.
That means 9 out of the 11 US states that have a land border with Canada now will vaccinate you for free, with Michigan, Minnesota, Idaho, North Dakota, and Alaska already being on the list (Washington and Montana are the lone holdouts, although Montana seems to have different rules county-by-county).
Pre-entry testing requirement
Since January, everyone needs to show proof of negative molecular test to board a flight to Canada. This is not changing yet, even if you are fully vaccinated.
Just a very useful side note: if you are traveling to the USA, stop paying $200+ for COVID-19 tests!!! There are free NAATs at many Walgreens pharmacies, with no residency requirement. These are accepted to enter Canada and you get results a lot faster than with PCR tests.
I got mine in just 1 hour last week after returning from my trip to Uzbekistan via the land border! Just be careful: Walgreens calls them RAPID ID NOW tests, so make sure not to mistake these for rapid antigen tests. Antigen is not accepted to enter Canada, it has to be molecular (which NAATs and PCRs both are).
You can read my detailed post about free COVID-19 tests in the USA if you are interested.
For those who are not fully vaccinated
It is very simple: if you are not fully vaccinated, none of Canada's many rules for international travel change at all.
If you have just one dose of a two-dose vaccine, or if your final dose was received less than 14 days prior to your entry into Canada, the rules are exactly the same as they are now for you.
Want to get all coronavirus updates for Canadian travelers?
Summary
The 14-day mandatory quarantine requirement can now be avoided: Canada no longer has a quarantine requirement at all anymore for fully vaccinated Canadian travelers.
What would you like to know about traveling this summer? Tell us in the comments below.
Explore awesome destinations: travel inspiration
Learn pro tricks: travel tips
Discover free travel: travel rewards
Featured image: Santorini, Greece (photo credit: Jonathan Gallegos)
Advertiser Disclosure: In the interest of transparency, Flytrippers may receive a commission on links featured in this post, at no cost to you. Thank you for using our links to support us for free, we appreciate it! You allow us to keep finding the best travel deals for free and to keep offering interesting content for free. Since we care deeply about our mission to help travelers and our reputation and credibility prevail over everything, we will NEVER recommend a product or service that we do not believe in or that we do not use ourselves, and we will never give any third-party any control whatsoever on our content. For more information on our advertiser disclosure, click here.
Share this post to help us help more people travel more for less: