CIBC Aventura® Gold Visa* Card
Beta version of card page. Sign up to get updated guide soon.
Great card for airport lounge passes and travel flexibility: points can be used for flights, hotels, car rentals, and more.
in travel rewards after after $3,000 in 4 months
Welcome bonus:
20 000 pts (≈ $250)†
Bonus after spending $3,000 in 4 months:
20 000 pts (≈ $250)†
Points earned on the $3,000 minimum spend:
3 750 pts (≈ $47)†
Annual fee:
$139 (first year annual fee rebated)†
Welcome bonus value: $547
additional US$50 credit for
NEXUS
membership (not included in our Flytrippers Valuation)
Minimum income requirement of $15,000†
†Conditions Apply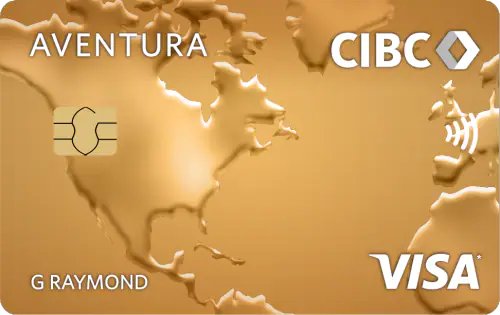 Apply for the Visa Infinite version instead if you have an annual income of $60,000 (personal) or $100,000 (household)
Welcome Offer: Join and get over $1,250 in value including a first year annual fee rebate!†  
Here's how You can get over $1,250 in value 
• Get a total of up to 40,000 Aventura Points (up to $850 in travel value†):
• 20,000 Aventura Points when you make your first purchase† 
• 20,000 Aventura Points when you spend $3,000 or more in the first 4 monthly statement periods†
• Get a one-time annual fee rebate ($139) for you (the primary cardholder) and up to three authorized users ($50 each): over $189 value.†
• Elevate your airport experience with 4 complimentary visits at 1,200+ lounges globally through Visa Airport Companion Program: over $190 in value.†
• Plus, get a NEXUS◊ Application Fee rebate†: A $50 value†
Plus, enjoy extra valuable travel benefits.
• Travel when it's right for you – your Aventura Points don't expire†
• Redeem your Aventura Points for more than travel with our Shop With Points/Pay with Points features†
• Travel local – Aventura Points can be redeemed for more than just flights – use your points for hotels and car rentals for a weekend getaway
2 points for every $1 spent on travel purchased through the CIBC Rewards Centre†
1.5 points for every $1 spent at eligible gas stations, EV charging, grocery stores and drug stores†
1 point for every $1 spent on all other purchases†
Save on gas with CIBC and Journie Rewards
Link and use your CIBC Aventura Gold Visa Card with Journie Rewards to automatically save up to 10 cents per litre† at participating Pioneer, Fas Gas, Ultramar and Chevron gas stations.†
This is a digital-exclusive offer.† 
To be eligible for this offer:
1) this offer must have been directly communicated to you from CIBC or from a partner/affiliate; and 
2) you must apply for the eligible card through the link provided in the CIBC or partner/affiliate communication to you.†
This offer is reserved for you. Please do not forward it to anyone else. If you have opened, transferred or cancelled another eligible card within the last 12 months, we may approve your application, but you may not receive this offer.†
†Conditions Apply
Annual fee:
$139 (first year annual fee rebated)†
Optional additional card fee:
$50 (up to 3)
Annual Interest Rate (purchases):
20.99%†
Annual Interest Rate (balance transfer):
22.99%†, 21.99%† (for Quebec residents)
Annual Interest Rate (cash advance):
22.99%†, 21.99%† (for Quebec residents)
Start getting travel rewards with the CIBC Aventura Gold Visa Card now
via CIBC secure application
Get our best Aventura tips
Subscribe to receive our free travel rewards newsletter with strategies, guides, and more.
This content is not sponsored. Some links on this page may be affiliate links that allow Flytrippers to earn a commission at absolutely no cost to you. Thank you for using our links. You help us keep all our content free for everyone. You help us fulfill our mission of helping Canadians travel more for less.
Our reputation and credibility prevail over everything, so we will NEVER recommend a product or service that we do not believe in and/or that we do not use ourselves. We will never give any third party any control whatsoever over our content.
The views and opinions expressed on this page are purely our own. They have not been provided, approved, endorsed, or ratified by any third party mentioned on the site. Redemption values evoked are also Flytrippers' own and solely based on our own points valuation estimates as described. 
Financial institutions are not responsible for updating or ensuring the accuracy of the information on Flytrippers' website. All the information was independently collected by Flytrippers and not provided by financial institutions.
All offers described on the Flytrippers website are subject to the financial institutions' latest terms and conditions found on their website. No efforts are spared to ensure this page is up to date but offers from financial institutions change quickly. It is your responsibility to ensure the accuracy of these offers on their website. Flytrippers will not accept any responsibility for the accuracy of the offers or the result of your actions. Click on the provided links to proceed to the product website for full details and current product information.
Flytrippers' website does not contain all available credit card offers or all available credit card products on the market. Flytrippers never shares an offer if it is not considered advantageous for certain travelers, at its sole discretion.
No author on Flytrippers' website is a financial advisor, a financial planner, a legal professional, or a tax professional. No author on Flytrippers' website can in any way be considered as such.
All articles and pages on Flytrippers' website are merely personal opinions of a general nature and are for informational purposes only and should not be considered as advice for specific situations. It is your responsibility to perform your own personal research to ensure that travel rewards are appropriate for your own situation.
You can learn more about our terms of use here.