Having a NEXUS card is definitely one of the best tricks travel pros use. And honestly, there are very few situations where it would make sense NOT to be a NEXUS member. Savvy travelers love to skip lines and save time… especially when it's this easy.
Here is the first part of this guide (the second part will be on how to use your NEXUS card very soon now that new applicants are allowed again since April 2022, after a long pandemic pause).
Basics of the NEXUS card
The NEXUS card is a membership card for low-risk, pre-approved trusted travelers.
It allows you to skip many lines and get priority access to save a lot of time when traveling.
The NEXUS card is offered jointly by:
The Canadian Government (Canada Border Services Agency)
The U.S. Government (U.S. Customs and Border Protection)
It works:
At security checkpoints in airports in Canada AND the USA
At customs in airports in Canada AND the USA
At land border crossings between Canada and the United States
This is absolutely wonderful. We are talking about HUGE time savings.
Both on departure (it allows you to spend more time in airport lounges or to just get to the airport later) and on arrival (it allows you to explore your destination faster or get home faster).
For example, when leaving on a trip, at the security checkpoint you will pass through almost instantly (in 16 Canadian airports), regardless of your destination. If you go to the United States, you will also pass through American customs almost instantly.
On your way back, you will pass through Canadian customs almost instantly (no matter if you are arriving from the US or not). If you leave from an American airport, you also get TSA Pre-Check privileges which are even better than those at Canadian security checkpoints.
This is all thanks to express priority lines for NEXUS card holders.
Same thing by car in both directions (at all major border crossings); almost no wait! Thanks to dedicated lanes for NEXUS card holders only.
It's so great to pass in front of everyone waiting in the normal line, both by air and by land. You'll really get used to it!!!
My girlfriend and I have had NEXUS cards for many years and we will obviously keep renewing our membership.
How to get a NEXUS card
Here's what you need to know to get a NEXUS card.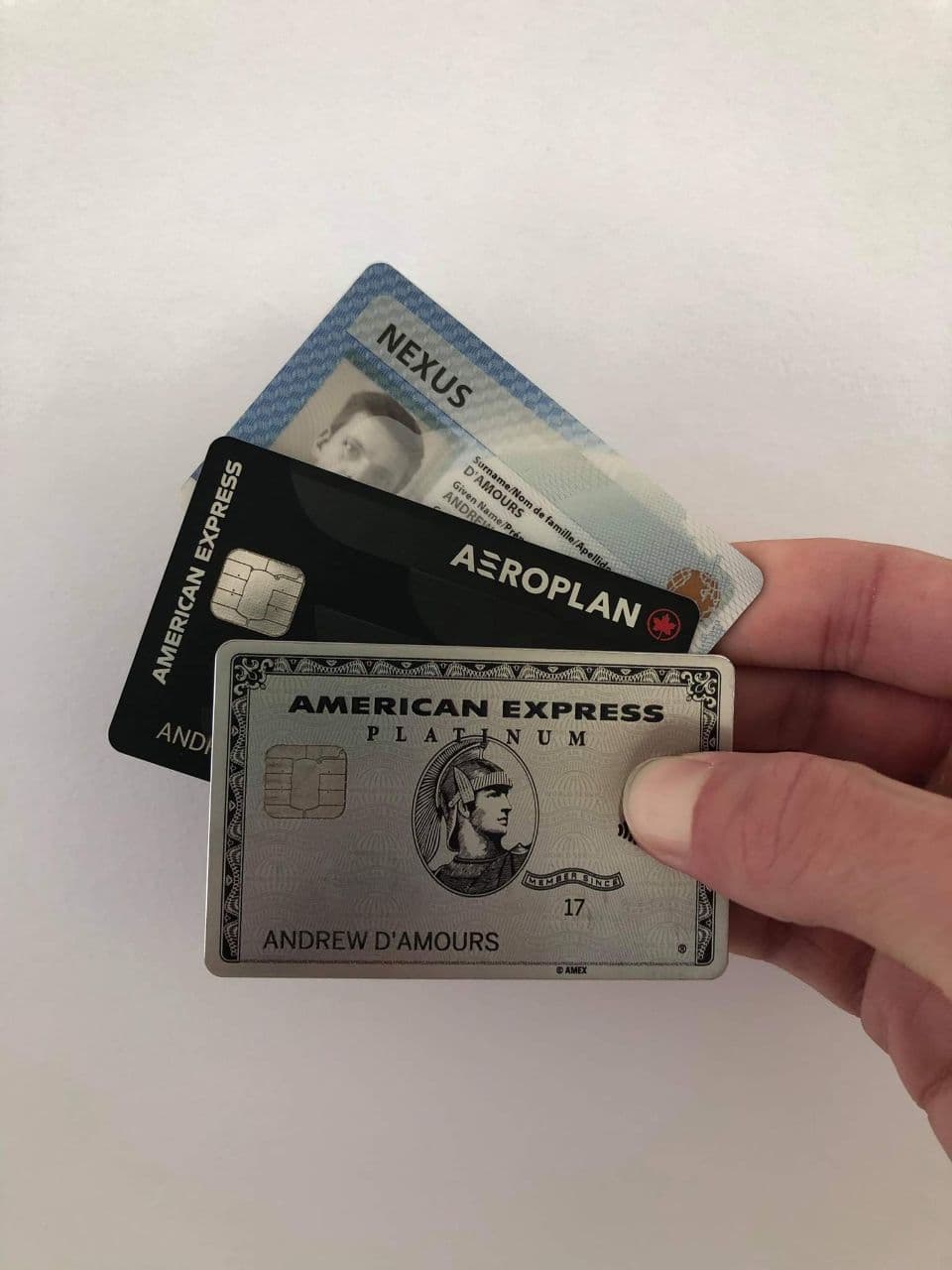 Cost of the NEXUS card
First of all, there are now 3 American Express credit cards that have a NEXUS credit as a benefit: In other words, you charge the NEXUS fees to your card and Amex will credit you, so it's completely free (or almost free with the non-premium card).
Warning: That's in addition to getting hundreds of dollars in welcome bonuses with these cards of course (this NEXUS credit is NOT included in our Flytrippers Valuation of the welcome bonus; it's really in addition to the rewards).
Best credit cards with
NEXUS credit
WELCOME BONUS
( VALUATION)
NEXUS
credit

Bonus: spend $6k in 3 mos.

C$100 credit
and unlimited

Bonus: spend $3k in 3 mos.

C$100
and limited

Bonus: spend $3k in 3 mos.

C$50
and 4 lounge

Terms and conditions apply. Flytrippers editorial opinion only. Financial institutions are not responsible for maintaining the content on this site. Please click "See More" to see most up-to-date information.
Best credit cards with
NEXUS credit
Platinum Card® from American Express

Card:

Bonus: spend $6k in 3 mos.

WELCOME BONUS

≈

Welcome bonus: $1190

Card Fee: $699

NEXUS credit: C$100 credit and unlimited
lounge access
American Express® Aeroplan®* Reserve Card

Card:

Bonus: spend $3k in 3 mos.

WELCOME BONUS

≈

Welcome bonus: $656

Card Fee: $599

NEXUS credit: C$100 and limited
AC lounge access
American Express® Gold Rewards Card

Card:

Bonus: spend $3k in 3 mos.

WELCOME BONUS

≈

Welcome bonus: $768

Card Fee: $250

NEXUS credit: C$50 and 4 lounge
passes (in Canada)
Terms and conditions apply. Flytrippers editorial opinion only. Financial institutions are not responsible for maintaining the content on this site. Please click "See More" to see most up-to-date information.
Otherwise, honestly, the price is so low that I can't imagine anyone would really stop themselves from getting a NEXUS card because of the price. It just seems unthinkable to me.
The cost of this awesome luxury is only US$50 for 5 years (C$63).
That works out to an absurdly low price of C$13 per year. Even if you only travel once a year, saving that much time can make that $13 worth it.
The fee is for the application and is non-refundable. So if you are not accepted into the program, you still have to pay. You have to pay online, by credit card only (which you should obviously always do for everything anyway to earn travel rewards).
With the $100 NEXUS credit the 2 premium cards offer, you can charge the NEXUS fee for 2 people and have only a small amount left to pay (the NEXUS credit you get can be used for other travelers' NEXUS fee, not just for the credit card holder only).
Process of getting a NEXUS card
The price should certainly not be a barrier, but perhaps if you really don't travel that much, the time saved with NEXUS is not as worthwhile because there is some time you need to invest to:
Complete the NEXUS card application
Go to an in-person interview
In fact, in my opinion, yes it is worth it anyway, because you can schedule the interview whenever you want and you can certainly find the time to go do that. Unlike the time saved in the airport when you have a very limited time to travel…
I think it's much better to invest some time outside of your trips to save time during your trips (that's always the key to travel for less and travel better, actually: planning and preparing your trips well).
Also, not everyone can have the NEXUS card.
As I said, it's a "trusted traveler" program so there is a thorough assessment, by Canada and the United States separately. They call it an extensive background and risk check. And the in-person interview is mandatory.
So in practical terms, here's how to get a NEXUS card:
You have to apply online
If you are conditionally approved, you will have to go for the interview
You can (normally) do the interview directly at major Canadian airports or at many land border crossings.
Due to the pandemic the government's response to the pandemic, the interviews had been paused for a long time. They've now restarted in early April 2022, but only in the US. Many Canadians live close to the land border, but if you realy want to do the NEXUS interview in a Canadian airport you'll have to be a little bit more patient.
Eligibility for a NEXUS card
Here are the 4 conditions listed to be accepted for a NEXUS card:
Be eligible to enter Canada or the United States under applicable immigration laws
Provide accurate and complete information on the application
Not be in violation of any customs, immigration, or agricultural laws
Meet all other program eligibility requirements
They also say you may not be eligible if:
You have been convicted of a felony offense without a pardon
You have a criminal history, including arrests and pardons
In short, for the majority of Canadians, acceptance is almost guaranteed.
And the NEXUS card is not just for Canadian citizens. Permanent residents of Canada are also eligible, however, you must have lived in Canada for at least 3 years in that case.
In terms of required documents, it's pretty simple: You need proof of citizenship and residency.
Interview for the NEXUS card
Of course, filling out the online application is pretty simple. All you have to do is answer the questions asked.
Many wonder about the second part, the interview to get the NEXUS card.
In my case, I went to the Champlain (NY) land border crossing with my girlfriend. We were able to do the interview together at the same time. I found it to be pretty informal. Like any customs experience, I guess it depends on which customs officer you run into.
I didn't feel like it was an interrogation or anything like that. Which makes sense, since you are already conditionally approved for a NEXUS card when you're at the point of going in for the interview.
The nice customs officer rather:
Revalidated all our information
Asked a few more questions
Took our fingerprints
Took a photo of our irises
Took a photo of our faces
But most importantly, he thoroughly explained how the program works.
It took less than an hour total for the both of us. It was really very simple.
The NEXUS card for families
Just to be clear, each traveler must apply for their own NEXUS card; there are no family accounts, shared privileges, or anything like that.
However, there are no fees for NEXUS card applications for minors (under 18).
Of course, only NEXUS card holders can use the priority lines at airports (both at security and customs), so if accompanying persons do not have their own NEXUS card, they will have to go to the regular line (except at security in US airports, where your travel buddies might get the same privileges; see the upcoming section on how to use NEXUS).
By land, you cannot use the NEXUS lane if someone in the car with you is not a NEXUS member, regardless of their age. It's very serious offence if you do this and you could lose your NEXUS card privileges.
In short, it's simple: these are lines and lanes for NEXUS card holders, not "NEXUS card holders and companions".
Other benefits of the NEXUS card
Another benefit is that you can travel to the US without needing your passport, by instead using your NEXUS card which is considered the equivalent of a passport by both countries.
Finally, for those who travel between the 2 countries by boat, NEXUS allows you to save time there too.
Activation of your NEXUS card
Once you are approved, you simply need to create an online account on the U.S. government website to activate your NEXUS card.
Example of a NEXUS card
For those who are curious, the NEXUS card is exactly the same size as a standard driver's license.
It comes in a special little RFID-blocking sleeve (which is surprisingly resistant; it has survived many years of my lack of finesse or carefulness across 60+ countries in those 4 years since I've had it).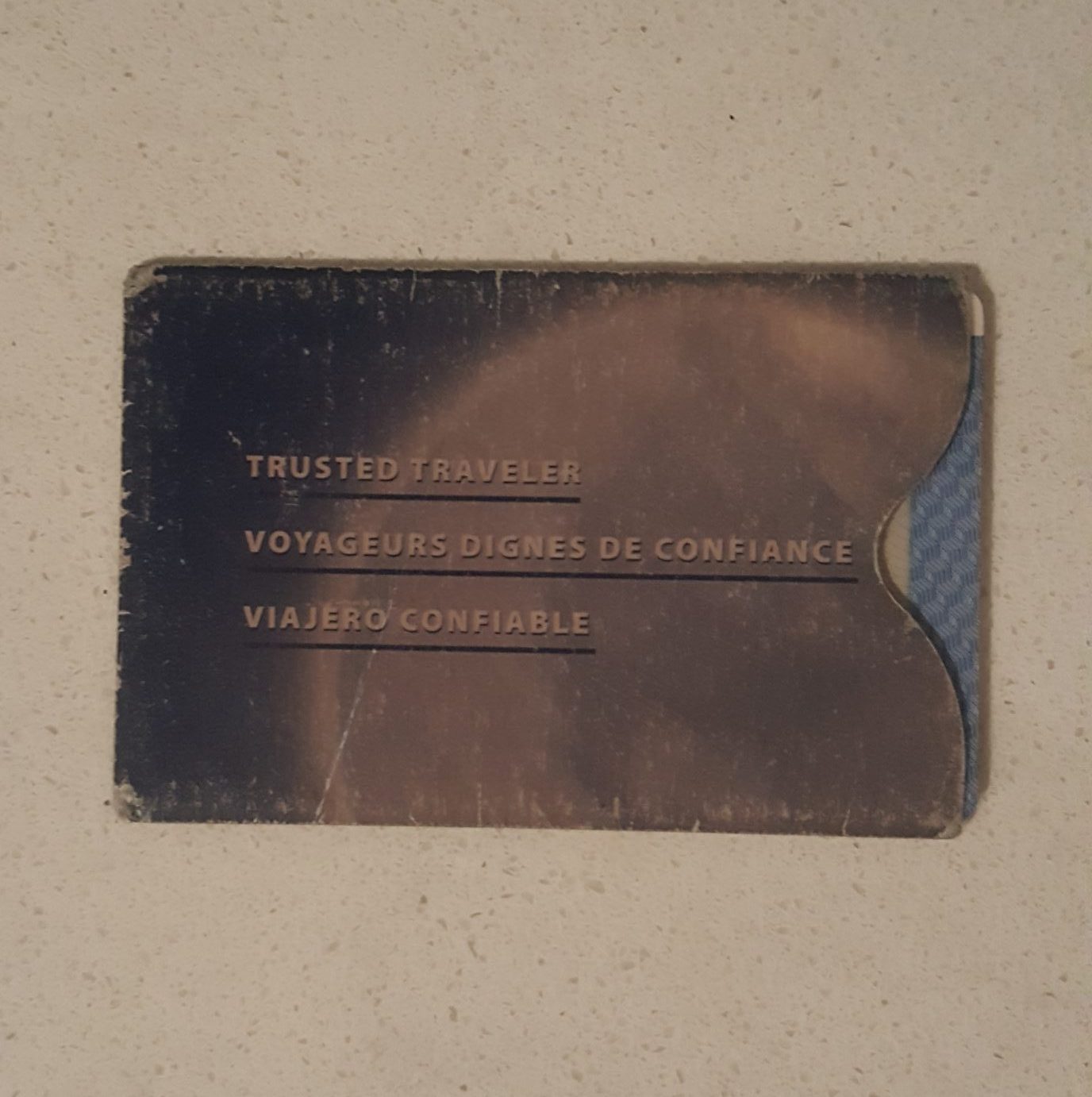 The whole thing weighs only 7 grams total. That's much less than a premium metal credit card like The Platinum Card from American Express (18 grams), so it's easy to keep in your wallet while traveling to the US.
Here's what the NEXUS card looks like, with some of my private information redacted of course.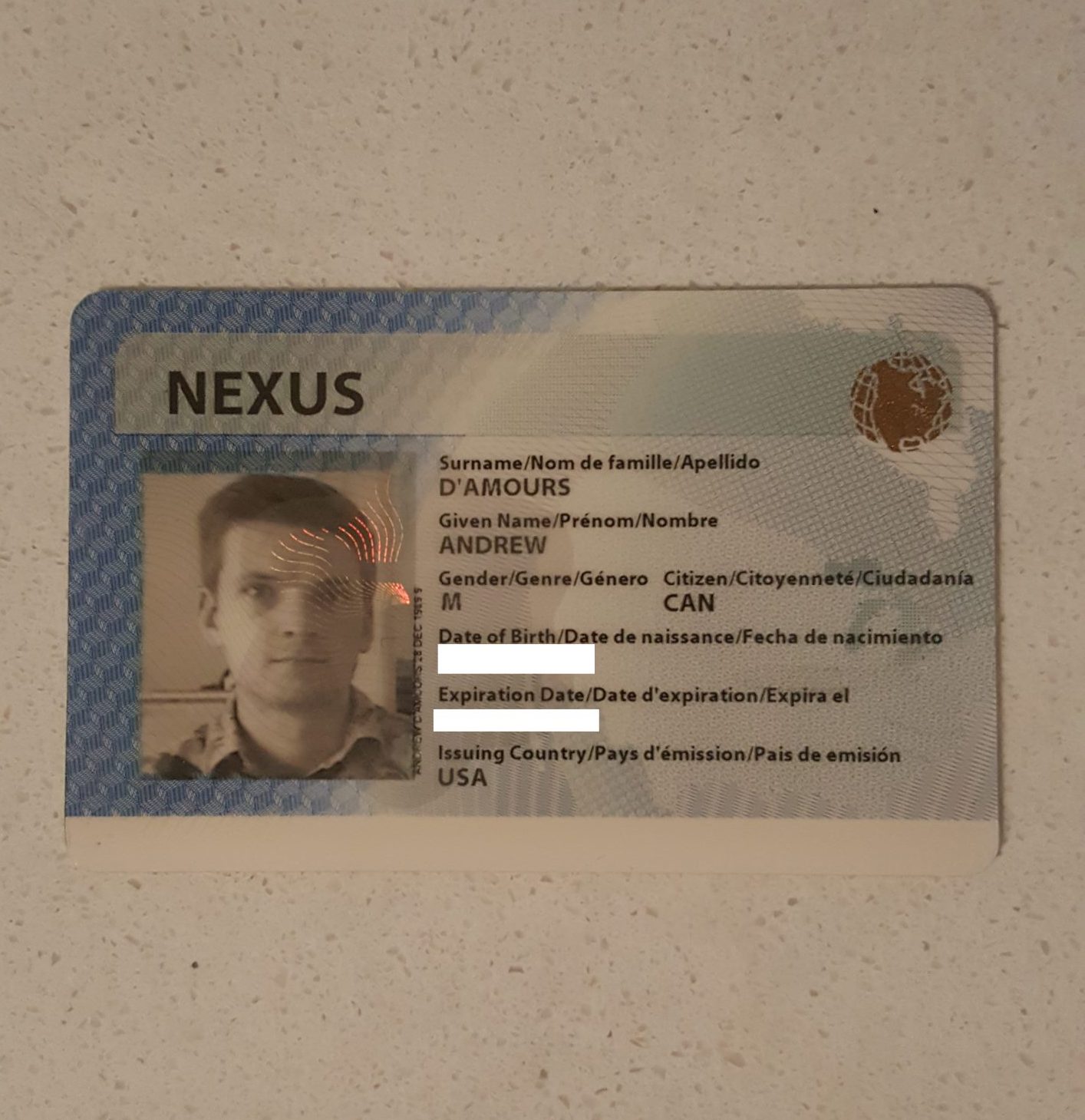 How to use the NEXUS card
Come back soon for the 2nd part of this guide.
Want to get more content to discover awesome destinations?
Summary
The NEXUS card is absolutely great for travelers, at least those who want to save time when traveling. With credit cards that offer it for free or even with the regular very low price, it is clearly worth it.
What would you like to know about the NEXUS card? Tell us in the comments below.
See the deals we spot: Cheap flights
Explore awesome destinations: Travel inspiration
Learn pro tricks: Travel tips
Discover free travel: Travel rewards
Featured image: Chicago O'Hare airport (photo credit: Gary Meulemans)
Advertiser Disclosure: In the interest of transparency, Flytrippers may receive a commission on links featured in this post, at no cost to you. Thank you for using our links to support us for free, we appreciate it! You allow us to keep finding the best travel deals for free and to keep offering interesting content for free. Since we care deeply about our mission to help travelers and our reputation and credibility prevail over everything, we will NEVER recommend a product or service that we do not believe in or that we do not use ourselves, and we will never give any third-party any control whatsoever on our content. For more information on our advertiser disclosure, click here.
Share this post to help us help more people travel more for less: