If you didn't want to go to the land border for your NEXUS interview, the reopening dates for NEXUS centers in Canada was just announced today, and appointments are now available (with a new caveat).
Book quickly

if you want to get the most choice of dates.

By the way, it's the SAME as when we spot cheap flight deals; you have to hurry… the best dates go fast (I re-explained a few plane ticket basics in our guide to the AirAsia sale with $13 flights Friday).

If you don't know about NEXUS, the best program for Canadian travelers — or that you don't know you can get paid up to ≈ $845 to get it for free as a savvy traveler — I'll let you read our summary of the NEXUS program or alternatively our complete guide with all the details about NEXUS.

Here are the details of the long-awaited reopening of NEXUS centers in Canada.
NEXUS centers reopen in Canada
This afternoon, the government finally announced the reopening dates for NEXUS centers at the 8 Canadian airports that offered it before the pandemic.
It's obviously the 8 airports that have U.S. pre-clearance as it's a bi-national program.
It's to do the NEXUS interviews, for those who have already applied online and already received their NEXUS conditional approval of course.
(For example, those who were approved in 2 days recently even though others have been waiting for 1 year, because the governments are not even able to do something simple like process the applications in the order received…)
The reopening of the NEXUS centers in Canada will help a lot to get through the backlog. Moreover, their press release (and a previous one) confirms some interesting data on this delay about NEXUS cards:
From October 2022 to January 25, 2023 (approximately 4 months)

Quantity processed: 200,000 applications
Net reduction in backlog: 100,000 applications

From January 25 to March 20 (about 2 months; half the time)

Quantity processed: 100,000 applications (half)
Net reduction in backlog: 30,000 applications (not half)
So the net reduction in the total backlog actually slowed down in the last 2 months.
Even though in today's press release, they congratulate themselves and make it seem like they have been successful (by purposely omitting data from the previous release). But well, we've seen during the pandemic how many people blindly trust everything a government says, sadly.
So anyway, it's really going to be good to have NEXUS reopen in Canada to reduce wait times.
Reopening dates for NEXUS centers in Canada
Here are the reopening dates according to the airport:
March 27

Halifax (YHZ)
Winnipeg (YWG)

April 3
April 12

Calgary (YYC)
Edmonton (YEG)

April 17
April 24

Ottawa (YOW)
Toronto (YYZ)
Appointments are also now open on the NEXUS portal (TTP), so don't wait too long. But be careful, it may still be better to use the option that has been available for months and is still available: doing the interview at the land border (which is not much longer of a trip, depending on where you live).
The thing is, the NEXUS interview process in Canadian airports has completely changed compared to before the pandemic, so there is a bit of a caveat for some travelers: you need a flight to the USA.
So before booking an appointment, read below to understand the entire new procedure in the airports and its rather significant drawback compared to the land border.
Before that, here's a sample of the schedule of appointments available in Montreal as of the first day, April 17.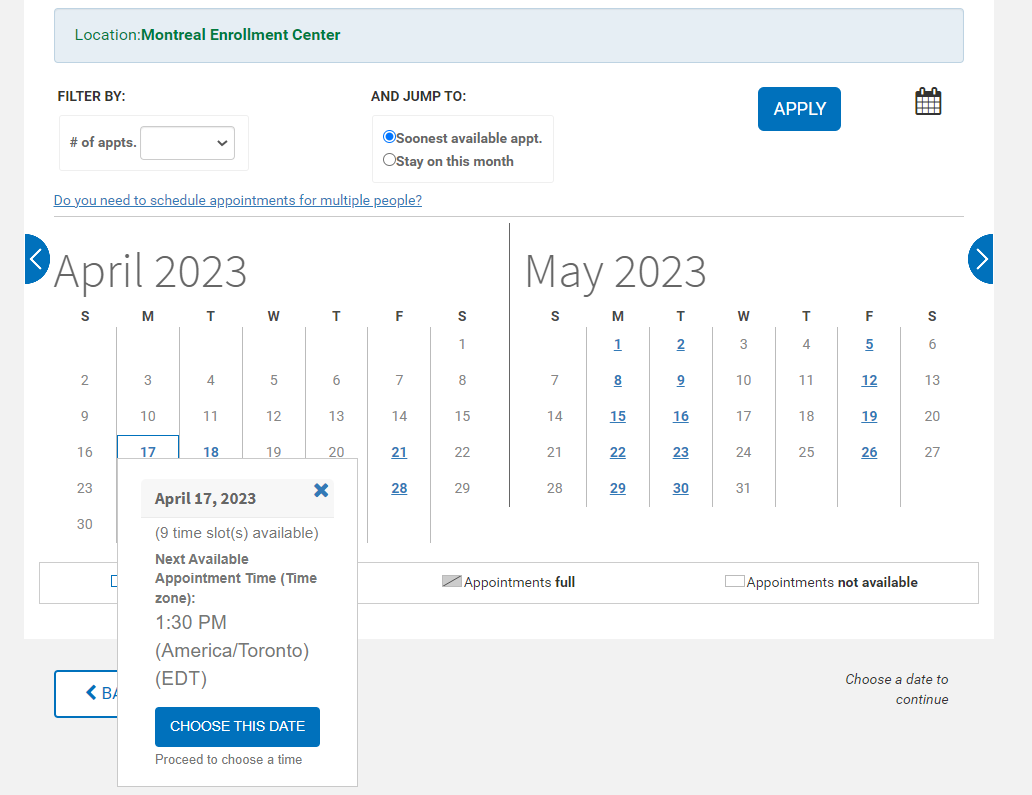 As you can see, in some airports, it seems to be just open on Mondays, Tuesdays, and Fridays: that's more government service efficiency… very convenient for taxpayers who finance the service, just 3 days out of 7!
Once all of our savvy readers will have jumped on these, go back to check often, it's that simple! To catch a cancelation and get an appointment way faster than travelers who don't put in the effort or just don't know the pro tips!
And you'll soon be able to use our tip from months ago: follow the Twitter bots for your airport.
(You should really download our free ebook with 100+ travel pro tricks because there is so much more you might not know that will make your travels so much more affordable/enjoyable!)
The 3 options to do the NEXUS interview
When we say "the NEXUS interview," it has always been the 2 NEXUS interviews: one with the Canadian customs officers and one with the American customs officers. But they were always done together before, in the same place (in the same room to be more specific).
So before I explain, I just want to remind you of the 3 options to do the interview for your NEXUS card:
Separate interviews at 8 Canadian airports
Joint interviews at 14 land border crossings
Separate interviews at 2 land border crossings
Separate interviews at Canadian airports
The new process in airports is very peculiar: you will have to do the 2 interviews separately.
More specifically, you will have to do the USA interview in the pre-cleared customs section. So you will have to have cleared USA customs, which is obviously only possible if you have a plane ticket for a direct Canada–USA flight.
(It's because of the politicians' bickering over guns — Canada doesn't want American customs officials to have guns outside their preclearance area; it's just okay for them to have guns across the imaginary line in the airport!)
So I personally believe that for many, the land border continues to be the best option.
Because the new process means that you will HAVE TO fly from Canada to the USA to complete the entire process and get your NEXUS card.
(Actually, there may be a pro trick to circumvent this obligation, but I'm not sure it would work, and it would certainly be triply frowned upon — I'll keep that for a separate post soon if you're interested as it's also related to something that went viral this week!)
Those who want a NEXUS card primarily to avoid the wait at Canadian airport security checkpoints and customs (a benefit that applies no matter the destination and not just if you're traveling to the USA) may not travel to the United States that often and may not want to take a flight to the USA just for that.
And even if you travel to the USA sometimes, maybe you want to take advantage of the awesome benefits of your NEXUS card for other trips you may have planned before your next trip to the USA.
And maybe you don't want to have to arrive very early before a flight (arriving super close to your boarding time is one of the best benefits of your NEXUS card, after all). Especially without knowing how long doing the interviews will take. Or how long you'll be waiting before the USA interview, since there are no appointments for that one.
(In most Canadian airports, you can access airport lounges for free to wait comfortably on the domestic and international side, but apart from Toronto, Vancouver, Edmonton, and Calgary, they are harder to access for USA departures — only the premium Aeroplan cards like the American Express Aeroplan Reserve Card and the TD Aeroplan Visa Infinite Privilege Card give access to lounges on the USA side!)
And maybe you'll have to do a connection in a Canadian hub before your flight to the USA because flights can be much cheaper when you do a connection. So you will need a long layover to do the interview in the pre-cleared area during the connection (higher risk of missing your flight).
In short, the new process at Canadian airports is definitely less convenient than before and perhaps less convenient than at the land border for many travelers.
So, I will summarize the rules and steps if you decide to do the separate interviews at Canadian airports:
You make an appointment for the Canadian interview at an airport
You do the American interview before a flight from Canada to the USA

You must be in the section after the American pre-clearance
You don't have to make an appointment for this one
You have to give yourself more time before your flight
You can do it the same day as the 1st one if you have a flight
You can see the operating hours on the U.S. CBP website

You can do the 2 interviews completely separately

You can do them on different dates
You can do them in different airports

You have to do the 2 interviews at the same type of customs though

You can't do 1 at the land border and 1 at the airport
I repeat: if you do your Canadian interview at an airport, you will never be able to get NEXUS until you do the American interview before a CANADA–USA flight.
You do still have 5 years to do the interview, but the goal is to be able to take advantage of the NEXUS card as soon as possible!
Joint interviews at 14 land border crossings
The fact that so many people really think they can't get an appointment right now is another one of so many examples of how important it is to be well-informed in the travel world.
(Some media outlets even wrote that NEXUS applications were not possible, which is obviously completely false! Again, as with many things related to travel during the pandemic, we can see that they are not experts on everything!)
Flytrippers' other co-founder just got an appointment for his NEXUS interview in 3 days in December because he simply followed the 2 tips Flytrippers has been sharing with you for months. Lots of our readers did too.
(Sign up for our free newsletter if you want an easy way to get all our updates, including the one should come very soon about the COVID-19 entry requirements that the USA unfortunately still has!)
He'll be sharing his detailed NEXUS interview experience this week if you want to know what it's like.
So it's worth considering this option too if you'd rather avoid the inconvenience of the new airport interview process. It's perhaps more convenient to go to the land border; that's where I went 6 years ago, even when the centers in Canada were open and even before the new process.
So the 4 advantages of going to the land border are:
Have more time slots (especially since it is reopening in Canada)
Avoid going to the island of Montreal when you don't live on the island of Montreal
Avoid having to wait to take a Canada–USA flight (new)
Avoid having to arrive too early for that flight (new)
At 14 of the land border crossings, the interview is done jointly as it was when I did it 6 years ago.
More availability should be found at land border crossings soon, now that many will choose the airport options.
Appointments at the land border must be made on the same NEXUS portal (TTP), and there are Twitter bots for a few of those too.
Here are the 14 border crossings, from East to West:
St. Stephen, NB/Calais, ME
Belleville, NB/Houlton, ME
Stanstead, QC/ Derby Line, VT
St-Bernard-de-Lacolle, QC/Champlain, NY
Johnstown, ON/Ogdensburg, NY
Niagara Falls, ON/Niagara Falls, NY
Windsor, ON/Detroit, MI
Sarnia, ON/Port Huron, MI
Sault Ste. Marie, ON/Sault Ste. Marie, MI
Fort Frances, ON/International Falls, MN
Sprague, MB/Warroad, MN
Emerson, MB/Pembina, ND
Coutts, AB/Sweet Grass, MT
Surrey, BC/Blaine, WA
Recently, new NEXUS centers have opened in New Brunswick (Houlton, ME) and Ontario (Ogdensburg, NY); the others already existed. You can see the links for the 14 border crossings with NEXUS centers (under the "United States" tab).
Separate interviews at 2 land border crossings
This is only relevant if you live in Ontario, but at the Fort Erie and Landsdowne border crossings, the process is a bit different.
It's not really major: the only thing is that you have to do the 2 interviews separately on each side of the land border. A little less convenient (there is a bridge to cross), but not that complicated either.
Want to get more content on NEXUS?
Summary
The NEXUS centers in Canada are finally reopening, so that gives you more options to do your NEXUS interviews without having to go to the land border. However, the new process requires a Canada–USA flight, so the land border may still be the best option.
What would you like to know about the reopening of NEXUS in Canada? Tell us in the comments below.
See the deals we spot: Cheap flights
Explore awesome destinations: Travel inspiration
Learn pro tricks: Travel tips
Discover free travel: Travel rewards
Featured image: NEXUS Center in Montreal's airport (photo credit: Andrew D'Amours/Flytrippers)
Share this post to help us help more people travel more for less: