Joining the NEXUS program is one of the best travel pro tricks — and one that most travelers simply don't even know about, sadly. While it's always worth applying even with the normal wait, I had to share this story about a Flytrippers reader who just got approved for NEXUS in less than 2 days!
At the end of this post, I will also address the illogical comment we get every week about the length of the application process to join the NEXUS program. Short version: the faster you apply, the faster you'll get NEXUS… it makes no sense to wait!
But first, let's talk about a Flytrippers reader's incredible experience applying for NEXUS in late January, one that I still almost can't believe myself honestly.
(Sign up for our free newsletter to get part 2 of our NEXUS guide soon, along with Flytrippers' other co-founder's experience doing his NEXUS interview in December and my experience renewing NEXUS in January!)
NEXUS application backlog
A Flytrippers reader reached out to share that getting approval for a first-ever NEXUS application took less than 2 days.
That is simply incredible. The current wait time was literally months!
But it's true that recently, the American and Canadian governments announced their efforts to get through the backlog caused by the pandemic the governments' responses to the pandemic.
This includes reopening NEXUS centers in Canada soon, instead of you having to go to the U.S. land border as Flytrippers' co-founder Kevin did in December (although even I went there 6 years ago as it's often more convenient anyway).
You can read our January post about that NEXUS announcement for all the details (including the basics of the NEXUS program in text or video format if you don't know them yet and my actual experience using NEXUS on my last trip to give you examples).
But if you had told me that anyone would ever get approved for NEXUS in less than 2 days, I frankly would never have believed you.
It's the government we're talking about. Not exactly known for their speed and efficiency (there's a 2-year delay for air passenger compensation complaints, there was the whole passport debacle, etc.), to put it mildly.
Not to mention NEXUS is a "trusted traveler program" that requires multiple background checks. Heck, even way before the pandemic, over 5 years ago, my own application took a few months if I remember correctly!
The length of the process is obviously more than worth it to avoid almost all wait lines in Canadian and American airports… but it's even better if it's quick of course.
That said, to be completely honest, I think there was a glitch in their system.
It almost has to be that. Per the government itself, there's a backlog of 100,000 applications. Most of them have been waiting for months. You might be part of them.
Yet this reader applied on January 23 and got approved on January 24.
Come to think of it, maybe it's very fitting that the government would not be able to do something very basic and simple and logical like processing the applications in the order they were received…
More details about the 2-day approval for NEXUS
Naturally, I politely asked our reader for proof.
Not because I didn't believe the person (although I was pretty shocked that it was this fast). But rather because I knew if I wrote the post without proof, so many people simply wouldn't believe us!
Because there have been long delays that have been well publicized and well mediatized. Since applications reopened after the pandemic, most people have needed to wait at least a few weeks for approval, or months! Those travelers in particular would not believe it took our reader just 2 days!
So here's a screenshot of that reader's NEXUS dashboard, where you can see in the right column, the payment date, which means the date of the NEXUS application: January 23rd.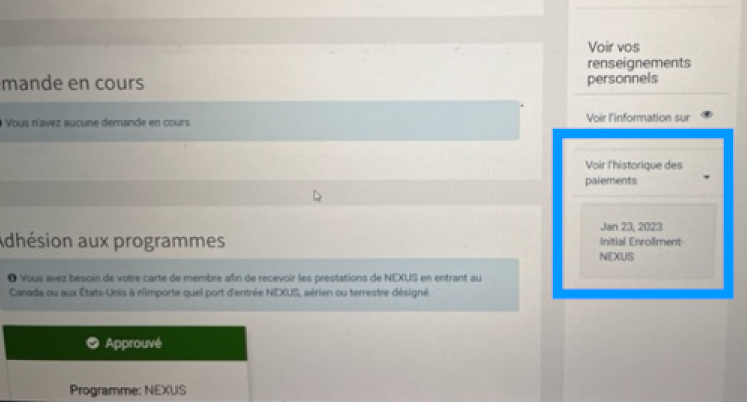 Then, if you look at the top, you can see the NEXUS approval came through on January 24.
Less than 48 hours for approval after applying! The reader said even the customs agent at the interview couldn't believe it!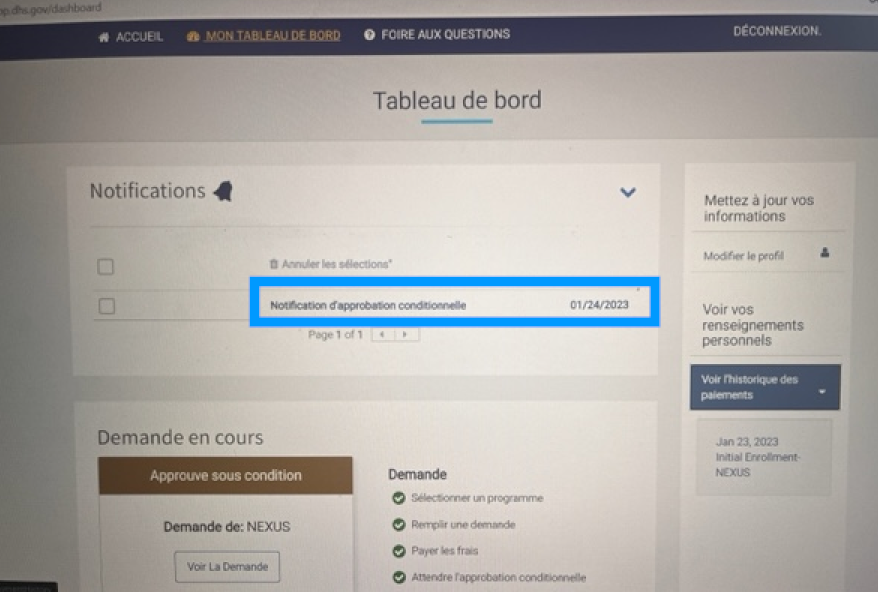 This has to be some sort of world record in terms of applying for NEXUS for the first time and getting approval. So is this a blip? It's quite possible that they completely messed up the processing order. Whatever it is, that reader is definitely very lucky.
Or maybe they're just really fast at approving people who apply right now to try and get some positive PR and give the impression the whole thing is efficient. Who knows!
If so, it's a great opportunity for you to finally get NEXUS, especially with the great welcome bonus offers worth hundreds of dollars on many of the cards that give you a NEXUS membership for free!
We're doing a live video about the best deals of the month tomorrow night at 9 PM (Eastern).
That said, I would still manage my expectations and not necessarily expect that every approval now takes just 2 days. Again, it has to be a glitch. Until we get more testimonials from readers (that are very recent), that's what I'd assume.
And just to finish our reader's entire story, as a savvy Flytrippers reader, the person knew about our tip about how to get an appointment really fast.
That part is not that surprising. Everyone who has followed us knows you can find an appointment very quickly if you're flexible and put in the time to find them, just like Flytrippers' other co-founder Kevin did in December (he got his appointment in 3 days).
Our reader used our tip about the Twitter bot and found an appointment just one week later.
And so all in all, in about 1 week, that traveler applied to NEXUS, got approved, did the interview, and got final approval. Which again is absolutely mind-boggling in terms of speed!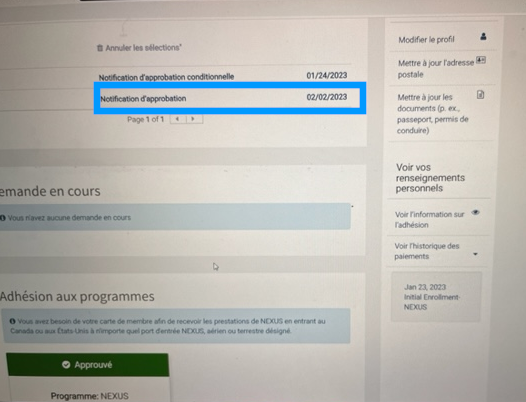 Comment about the length of the NEXUS process
I feel like this is a good learning opportunity to maybe change some travelers' perspectives, given how many comments we saw that are similar to this one (and another variant):
"The process is too long, I won't get NEXUS!"
Frankly, that's not really logical.
They're reopening fully now! The sooner you apply, the sooner you get approved. And the sooner you'll be able to take advantage of the amazing benefits. If you had applied a year ago, you'd have it by now (or at the very least you would be very close to getting it).
The same will be true a year from now, or 6 months from now.
The government doesn't pay us to promote their program, we couldn't care less if you prefer to wait in line like everyone else instead of being a savvy traveler who bypasses the whole wait.
(In fact, it would be even better for us, as there would be fewer of us in the NEXUS lanes 😂)
But we want to help travelers, it's literally our mission here at Flytrippers!
And there really isn't anything comparable to how much time NEXUS saves you when traveling and how amazing it is to bypass everyone else!
And the process might still be a bit long, but regardless: the faster you apply, the faster you'll get it. You might not get it for a few months, but if you don't apply, you're guaranteed not to get it ever. Not particularly wise.
It's the same for travel rewards, as so many people miss out on great deals (like the 2 new record-high TD offers right now for example) because it's too late to use the rewards for their next trip…
"The process is too long, I won't get free travel!"
I say this respectfully, just as a learning opportunity again: that's really not very wise.
Guess what happens for their next trip after that. They didn't take the points, so they once again can't use them for that trip either. Because they didn't plan ahead again!
Take action and be prepared. Planning and preparation is really the key to traveling for less (it's one of the top 7 most important tips in our free ebook with 100+ travel tips)!
Or in the case of NEXUS specifically, planning and preparation is the key to traveling so much more efficiently.
NEXUS content coming soon
As mentioned, in addition to the 1st part of our NEXUS program guide already published, we have more NEXUS content coming soon:
Kevin's experience doing his 1st NEXUS interview in December
My experience renewing NEXUS in January
Our NEXUS guide (2nd part)

Logistics of using NEXUS at airport security
Logistics of using NEXUS at customs
And more!
Want to receive all the travel tricks, including on NEXUS?
Summary
Joining the NEXUS program is obviously well worth the wait, no matter the length of the process. But if our reader's experience is an indication of the governments having finally turned a corner regarding the backlog, it will be much faster now. It could also just have been a glitch, a very lucky one.
What would you like to know about the NEXUS program? Tell us in the comments below.
See the deals we spot: Cheap flights
Explore awesome destinations: Travel inspiration
Learn pro tricks: Travel tips
Discover free travel: Travel rewards
Featured image: Sunset in Utah (photo credit: James Lee)
Share this post to help us help more people travel more for less: