For most people, weekends mean heading off on a short trip or just relaxing, so you ideally don't have to waste your precious few weeks off from work just doing nothing, instead of actually traveling and discovering things and places. But some people who maybe haven't traveled as much sometimes don't know that weekend days aren't the same in every country.
Yes, there can be different weekend days depending on where you are, it's not always Saturday-Sunday. I'm sometimes surprised by how many people don't know this and I sure love to share knowledge!
Weekend dates are a minor detail, but it's important to think about that when planning your detailed itinerary in a country (especially if you want to avoid weekend crowds or make sure something will be open, for example).
(Speaking of planning trips and sharing knowledge, don't miss our brand-new free webinar on all things travel, with 50+ tips on how to prepare and book your trip, how to save money, and how to be a better traveler!)
So here are the different weekend days for each country according to the data we were able to find quickly.
Map of the different weekend days in every country
First, here's the map of the different weekend days in every country.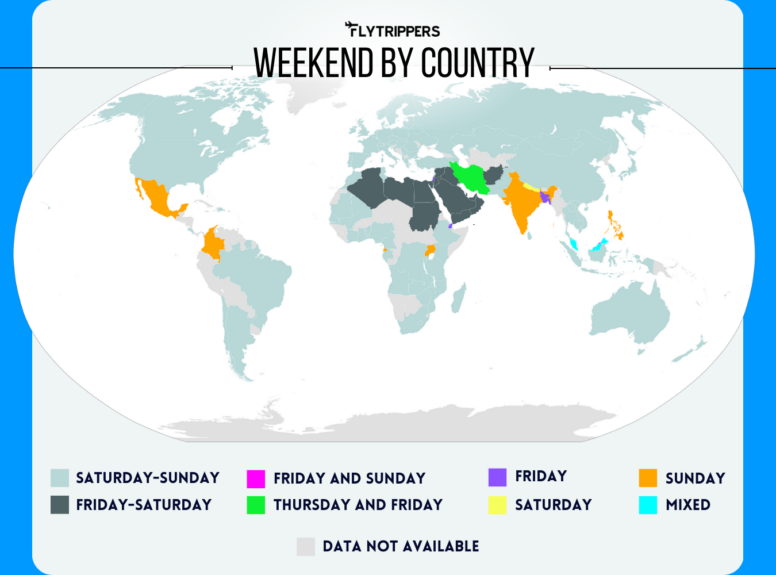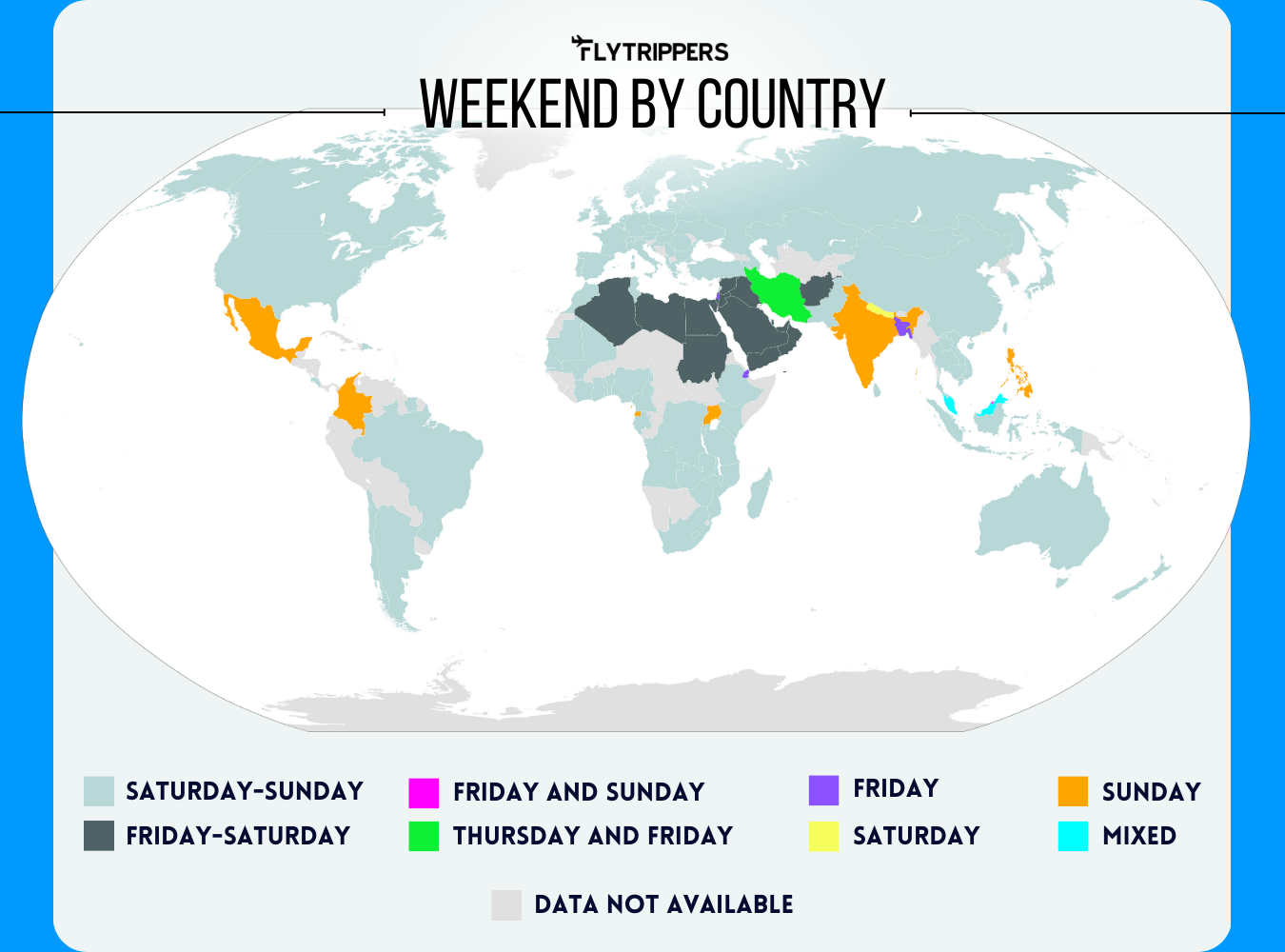 To be clear, lots of countries with different weekend days may have customs that vary in different places. Anywhere that attracts lots of tourists will usually have a kind of weekend on Saturday and Sunday in these areas, even if the rest of the country has different days.
But let's still take a look at the official weekend days.
Details of the different weekend days by country
Here's a quick breakdown.
Countries with Saturday-Sunday weekend days
The Saturday-Sunday weekend developed because in Christianity, Sunday is a religious day of rest. So of course, a vast majority of countries use the "traditional" weekend days.
We won't list them all, since there are so many. That's why you might have thought this was the only one that existed.
But just because we do things one way doesn't mean everyone else does. And you know that already, since discovering other cultures' different ways of life is the best part of traveling!
So just keep in mind that it also applies to something that's often taken for granted: what the weekend days are.
Countries with Friday-Saturday weekend days
This is the most common alternative. In many Islamic countries, Friday afternoon prayers are very important. As such, Friday-Saturday weekends are standard in many Islamic and Jewish countries, including:
Algeria
Afghanistan
Bahrain
Bangladesh
Egypt
Israel
Iraq
Jordan
Kuwait
Libya
Malaysia (some states)
Maldives
Oman
Palestine (depending on the area)
Qatar
Saudi Arabia
Sudan
Syria
Yemen
Many countries are looking to change to a Saturday-Sunday weekend though. It's thought it will be a big boost to do business with the US, Canada, Europe, and other economic powerhouses.
Tunisia used to have a Friday-Saturday weekend but changed to the more common Saturday-Sunday weekend days in 2021. Be careful though, many businesses still close for Friday afternoon prayers, as is likely the case in other Muslim-majority areas that use Saturday-Sunday as their "official" weekend days.
The Middle East is one of my favorite regions of the world, so expect more content on those destinations and our own trips soon now that we have our new writer Emily to help us out with other posts!
In Malaysia, another one of my favorite places, most of the country (including Kuala Lumpur) has Saturday and Sunday as weekend dates. But in a few states, including Kedah, Kelantan, and Terengganu, Friday-Saturday are the official weekend days.
Countries with Thursday-Friday weekend days
Thursday-Friday weekends used to be common in predominantly Muslim-majority countries, but Yemen became the last country to switch from a Thursday-Friday weekend to a Friday-Saturday weekend.
Other countries such as Somalia and Lebanon also recently made the switch.
Countries with Friday-Sunday weekend days
Perhaps the most unusual weekend days are in the country of Brunei Darussalam, which really shakes it up with Fridays and Sundays off to help break up the working week (which fits with Brunei being quite an unusual oil-rich kingdom in Southeast Asia of all places).
Kevin, Flytrippers' other co-founder, and I got to Brunei on a Sunday, and it was eerily quiet, so maybe splitting the weekend isn't such a good idea after all — or maybe it was just quiet because of Sharia law, who knows.
(It was so calm that we decided to grab an early bus to return to our Miri Marriott Resort & Spa full-service, 5-star hotel — one of many in Malaysia that cost only ≈ 30,000 to 50,000 points for 5 nights — as our setup to get work done was much better on the seafront!)
Countries with just 1 weekend day
Weirdly, some countries officially have just 1 weekend day. To be clear, that doesn't mean that everyone necessarily works 6 days a week either. But it's worth knowing if you plan on going to these places.
There seem to be just 2 countries that celebrate the weekend exclusively on Fridays:
And just 1 country with Saturdays as their only weekend day:
Although in Mauritania, while Friday-Saturdays are the official weekend days, most workers only have a free Saturday.
Finally, many people in some countries have a 6-day work week with just Sunday as their weekend day:
Mexico
Colombia
India
Philippines
Countries with no data on weekend days
Some countries sadly don't publish official weekend days, and we don't think it's important enough to spend more time digging deeper, but if you know which weekend days they use, please do let us know in the comments.
Want to know more about different destinations around the world?
Summary
Depending on where you're going in the world, you can't just assume that weekend days are the same in every country. We've mapped it all out for you if you're curious to know when the weekend is celebrated around the world.
What would you like to know about the different weekend days in every country? Tell us in the comments below.
See the deals we spot: Cheap flights
Explore awesome destinations: Travel inspiration
Learn pro tricks: Travel tips
Discover free travel: Travel rewards
Featured image: Map of weekend dates of each country (image credit: Flytrippers)
Share this post to help us help more people travel more for less: