As promised, we'll share a lot of packing tips soon, but spoiler alert: it won't include a list of ≈ 30 "essentials" like some ridiculous lists have, of course. Since it's your last chance for Christmas gifts, I thought it could be good to share the only 6 travel items that are truly essential.
We have 100+ pro tips we'll share in the free ebook we're preparing for those who attended our webinar (you can get it too after them by reserving your copy; and you can join our next webinar).
Almost all of them are tricks for your trip planning or for during your trip, but one very basic tip for traveling more is to spend less money on useless stuff. It's worth remembering this as we are in the peak overconsumption season.
Keep your money for travel. It's not rocket science: if traveling more is what you want, make it a priority to travel more.
And you certainly don't need 30+ things to travel. But you do need these 6 essentials in our expert traveler's opinion (and I shared 4 more items that aren't essentials per se but that I personally take with me when I travel, along with a few other specific bonuses).
6 travel items that are truly essential
A lot of so-called experts will share a long list of travel "essentials," and that is complicit in making people believe a very wrong myth, the one about needing to bring a checked bag.
You don't, and you shouldn't. Pro fliers always fly with carry-ons only. More affordable but also much more enjoyable. As I said, we'll have a detailed guide about that soon, but in a few words, it's not complicated: just bring less stuff! Of course, we'll help you do so with practical tips.
But the first one is to stop believing there are so many "must-have" travel items: just get these 6 and you'll be all set!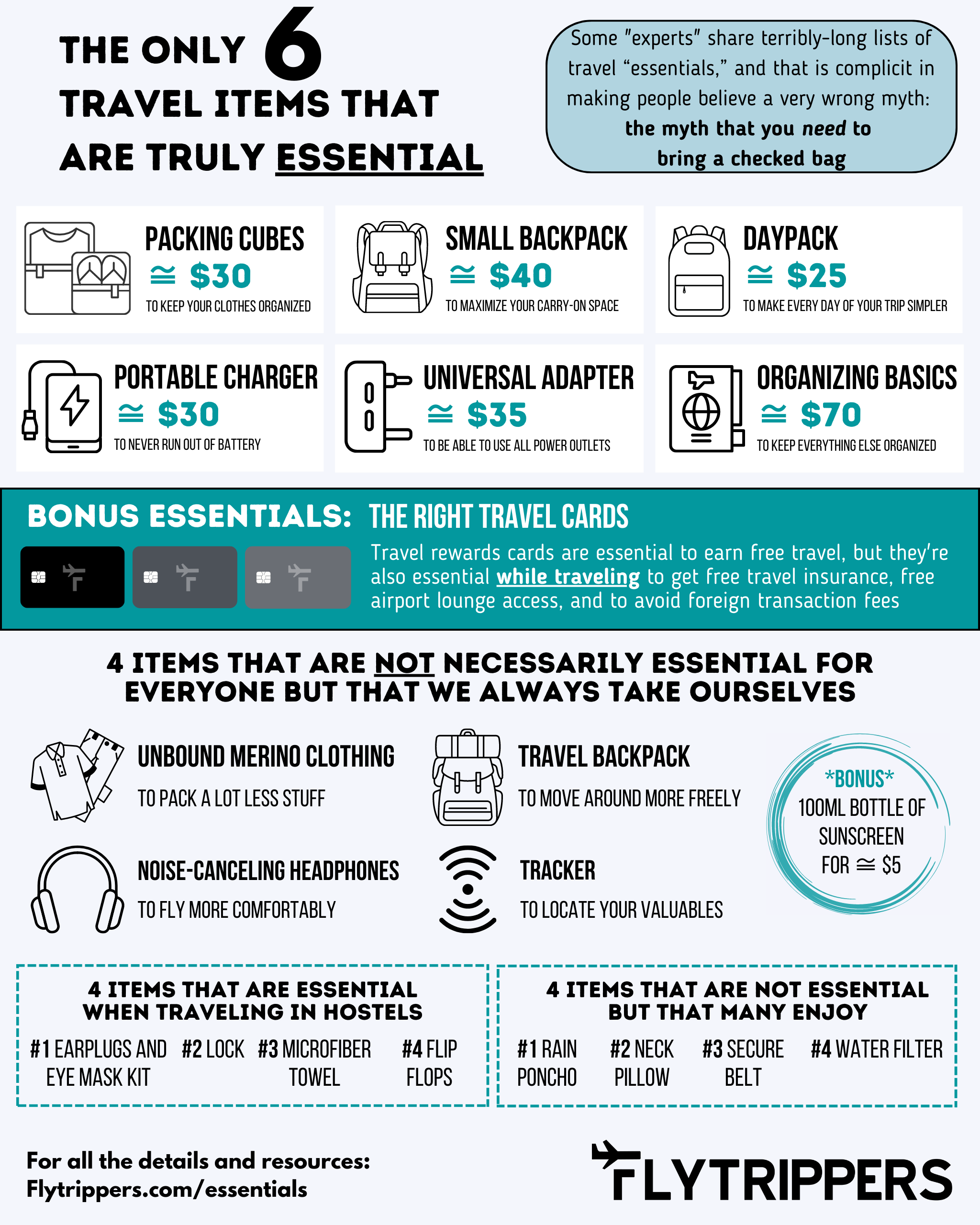 1. Packing cubes
Packing cubes are essential to keep your stuff organized. Absolutely a must-have. You'll never go back to not using these. It's one of the best packing tips (along with "stop bringing too much useless stuff", of course).
Whether you get our favorite travel backpack (so much better than traveling with a suitcase; see the non-essentials section below) or a carry-on suitcase, you should definitely use packing cubes either way.
The Amazon Basics packing cubes are literally the ones I have myself, and they're great.
I used to have the pack with multiple sizes, but now I prefer having 4 cubes of the regular size, as I've perfected my traveling light process over the last 5 years visiting 60+ countries without ever bringing a checked bag.
As a teaser for the packing tips post, here's how I organize all of my clothes for any trip, even month-long ones:
One cube has my underwear
One cube has my shorts and pants
One cube has my shirts
One cube has my workout clothes, socks, and whatever extra tops/bottoms depending on that specific trip's needs
That's all you need in terms of clothing, 4 little packing cubes (especially if you get #1 in the additional, almost essential items below). If it doesn't fit in there and on you, you're bringing too much stuff. It's not that hard once you try it!
And obviously, very basic, but I always wear the bulkiest items on me for the plane, to keep the carry-on smaller! A hoodie and long pants.
My girlfriend manages just fine too, it's not just a guy thing by the way. Women pro fliers also travel with carry-ons only.
2. Small backpack
This small backpack, or any similar one really, is essential to help you be a savvy traveler who doesn't bring checked bags.
As a reminder, you're allowed 2 carry-ons on planes (with almost every airline):
1 full-size carry-on (backpack or suitcase that goes in overhead bins)
1 "personal item" (small bag that fits under the seat in front of you)
For women, you should use a small backpack and put your purse in it (a smaller purse if you want more space), instead of using your purse as your personal item and not maximizing your carry-on space allocation at all.
With all that space in 2 bags, it's very easy to travel light, especially with this Targus backpack which is the one I have and love. It has separate compartments and makes it so much easier to stay organized.
But any small backpack is fine if you want to save money because that Targus one is a bit more expensive (I'm glad my former consulting firm let me keep it 😆).
Some travelers don't want to have to carry 2 bags and make everything fit in just the full-size carry-on (and I've certainly done that often myself, it's absolutely doable).
But you probably need a small backpack if you're not used to traveling light, as you might not be able to fit everything in your full-size carry-on. Even I prefer to bring 2 bags now; it's simpler (I hold the smaller one in my hands or put it on in front).
A lot more packing tips are coming soon, as I said.
3. Daypack
A daypack is essential to make it easy to organize what you need to take with you when you leave for the day, for every day of the trip. This brand is precisely the one I have, and the bag is pretty durable.
The reason you need this in addition to the small backpack is that you want your 2nd carry-on to be a bit larger than this daypack, to maximize your space on the plane.
But you might not want to carry an actual backpack every day since it's a little bulkier, and this small daypack is more than enough for your daily use. That's what I do now at least.
This small daypack is extremely lightweight and is perfect for just bringing a few things when you're out exploring. And it's foldable into a small pouch, so it doesn't take up much room when you're not using it: it easily fits into your small backpack. It's also waterproof.
There's a larger version if you prefer, but at that point, you'd better use it as your 2nd carry-on to replace the small backpack entirely (that's the exact one Kevin, Flytrippers' other co-founder, uses as he travels the world full-time with just 1 carry-on and that daypack; no other small backpack).
4. Portable charger
A portable charger is essential to always stay connected, both for convenience and safety.
(As long as you don't make one of the most common mistakes, which is using your Canadian telecom provider's scam of a roaming plan; more details about that coming soon too!)
This portable charger is more than enough to give your phone an entirely full charge, and it's so cheap that it's not worth depriving yourself of it. This other model is actually worth more but is on sale for a limited time if you prefer. They're all pretty similar.
I even carry 2 portable chargers honestly, just because they take up almost no space (though, to be fair, I've literally never needed the 2nd one… so 1 is fine).
5. Universal adapter
This universal adapter is essential to make sure your things keep working. Nothing sexy or fun, but you literally cannot travel internationally without this. And international trips are obviously the best.
This particular universal adapter is the one Kevin has, and I'm a bit jealous because it works really well, with so many outputs.
As soon as my basic cheap one dies, I'll get that one too. But not before, because I keep my money for traveling instead of buying things I don't really absolutely need right away. Really not that complicated to travel more!
6. Other small organizing items
Okay, I'm cheating a little because these are really 3 essentials, but you probably have them already anyway.
A toiletry bag, an electronics organizer, and a passport holder: these are 3 minor organizing items I always bring to make my backpacks more neatly sorted.
Bonus: The right credit cards
Definitely an essential, as long as you pay everything in full on time, always.
Sure, getting the right credit cards means getting hundreds of dollars in free travel first and foremost. That's why our readers have now earned close to 2 million dollars in free travel thanks to our deals.
But apart from helping you travel more thanks to the rewards you get with their huge welcome bonuses, they are also essential during your trip.
Because they also have great benefits:
Almost all good cards have great travel insurance, from medical to flight delay, to car rental damage
Many cards offer free airport lounge access to make airport time a lot more fun
Some cards have no foreign transaction fees to save 2.5% on everything you buy on a trip
We'll have a lot more info on these 3 great features and benefits, so sign up for our free rewards-specific newsletter to get a ton of valuable content to get started. You should definitely attend our free webinar for beginners, too.
4 travel items that are close to essential
If everything is essential, nothing is essential. So I wanted the essentials to really only include the ones that really are for absolutely everyone.
Now here's a 2nd category of travel items that are still very useful for most travelers, but not absolutely essential. I personally always travel with all 4 of these.
1. Unbound Merino clothing
Unbound Merino clothing is amazing. It's designed to be worn for weeks without being washed, and I was admittedly very skeptical myself, but it really works. I have a few shirts, and they never smell. They're really comfy too.
They're expensive, but we do have a promo code for 10% off (enter code FLYTRIPPERS10 at check-out) at least.
I genuinely think they're worth it to save space, and I literally never spend a lot of money on clothing.
Without having these shirts, I was still able to travel with carry-ons only for years, so you can certainly do without. But the Unbound Merino clothing just makes it much easier to travel light.
2. Noise-canceling headphones
Bose QuietComfort 45 headphones are the gold standard of noise-canceling headphones for frequent fliers, but there are plenty of other cheaper brands too.
I usually don't spend a lot of money on electronics and things like that, and to be honest, I probably wouldn't have paid for these, but my girlfriend gave them to me for Christmas.
They certainly are absolutely amazing at making even a noisy airplane cabin super quiet. I can't recommend them enough, really. Especially as a big music fan, the sound quality is also top-notch.
It may not be ideal to have to save space for this item for just a few hours of flying, but since I work when I travel (whether in hotel lobbies, hostel common areas, busy cafés, etc.), I do use them enough to justify it personally.
3. Travel backpack
A men's travel backpack or women's travel backpack is a lot more convenient than a carry-on suitcase. Infinitely more convenient. I always travel with my backpack.
And it makes moving around so much cheaper too, as you can walk a lot more with this than you could with a rolling suitcase, for example.
I use a 50L one that's very similar to the Decathlon one that's highly rated and priced very competitively. But we'll have more content about this important item in the coming weeks.
4. Tracker
A Tile tracker (or an Apple AirTag) sure isn't an essential item, but I now use one to put in my small backpack with all my valuable stuff (laptop, headphones, passport, etc.) just in case.
With the current discount, it's cheap enough. I think it can be worth it for some travelers who are either like me and tend to temporarily misplace their things, or for those who are worried about theft, for example.
And i you, unfortunately, bring too much stuff and have a checked bag, it's definitely a wise investment, given how often bags get lost.
Bonus: 100mL bottle of sunscreen
Again, at Flytrippers, we love to give you more for your money, so we love to add bonuses to lists.
When traveling to hot climates, I always bring a 100 mL bottle of sunscreen from Walmart for just $4.47. It's not available to order online for some reason, but you can grab it at your local store.
Many people are pretty needlessly worried about the 100 mL rule for liquids. I'll talk more about this in our packing guide, but you're allowed to bring a 1L bag full of them, per person.
Shampoo, toothpaste, mouthwash, or whatever else you need can usually easily be purchased wherever you're going.
It'll either be the same price as at home. Or even cheaper if you wisely choose the cheapest countries to travel to, to save on everything and travel more.
The one main exception for every traveler is sunscreen. Especially in developing countries, locals just don't seem to buy sunscreen much, so the sunscreen is only for travelers. Which means it's usually very overpriced.
You can avoid that by keeping 1 of your ≈ 10 liquid slots for that Walmart store-brand sunscreen that is very affordable.
To tease the rest of the packing strategy, never buy any travel-sized product, as these are terribly overpriced. Get empty containers and do it yourself, because like anything in travel, doing it yourself is always cheaper (you can also get some cheaper empty containers at Dollarama, at least you could last time I bought mine).
4 travel items that are essential if you stay in hostels
When you are in budget travel mode, when traveling solo, hostels are a must. And in some expensive countries, even when not traveling solo. That requires 3 extra essentials.
1. Ear plugs and eye mask
An ear plug and eye mask kit is a must, at least if you are savvy and know that you can't trust people to always be considerate. Some will make a lot of noise or open all the room's lights very late at night or very early in the morning.
2. Lock
A lock is a must-have to keep your valuables safe in your hostel's locker. Some travelers leave their things unattended, but I just don't trust people enough for that at all. I always bring one, and it can be really any model.
3. Microfiber towel
A microfiber towel is useful in most countries where towel rental is not necessarily included in the price. This is the exact one I bought: it dries quickly, and most importantly, it's available in a larger size than most.
4. Flip-flops
Flip-flops (flip flops) are an essential in terms of hygiene in a hostel. Absolutely essential.
4 travel items that aren't essential but that many people love
These are very popular ones that I personally don't travel with, but that many people do love to have.
1. Rain poncho
A rain poncho doesn't take up that much space if you can't stand getting rained on. You can probably find it for cheaper at the dollar store in this case.
2. Neck pillow
A neck pillow will take up a lot of space for just a few hours of usage on the plane, but I can't judge since I bring bulky headphones for basically the same duration. Many rave about the Turtl model, which takes up less space, but it's a lot more expensive. Some are inflatable or fancier too.
3. Secure belt
A secure belt can protect your money and important documents if you're worried about pickpocketing.
4. Water filter
A personal water filter saves you money in countries where the water is not safe to drink, by not having to buy bottled water. It also reduces the amount of plastic you use. Many travelers love this particular filter.
20 websites to find travel items
As a reminder, here's our list of the 20 websites to find travel items.
1. Amazon
Most of these items above are on Amazon because it's our favorite site to find everything in one place for cheap.
2. Decathlon
Sporting goods at ridiculously low prices.
3. SportChek
For more sporting goods that aren't as affordable.
4. Bentley
The luggage and backpack specialists.
5. Best Buy
For electronic items.
6. The Source
Another alternative for electronics.
7. Walmart
For great prices on lots of things.
8. Indigo / Chapters
For travel books mostly, but also accessories.
9. Herschel Supply Co.
A Canadian company with beloved accessories.
10. Hurley
A brand I like.
11. Oakley
Another popular brand.
12. Ray-Ban
An iconic brand.
13. WANDRD
Bags specifically for travelers.
14. Tropicfeel
Accessories and clothing made for travelers.
15. Pakt
For minimalist accessories.
16. NOMATIC
Another brand of accessories for travelers, by travelers.
17. CLIQ
For a folding chair the size of a bottle!
18. Belkin
For phone cases and travel chargers.
19. AliExpress
A site with a ton of varied items.
20. Atmosphere
Another outdoor brand.
Want to receive our best tips to become a savvy traveler?
Summary
You don't need a thousand things to travel… With these 6 travel essentials, you'll make sure you have everything you need and travel light with just your carry-on.
What would you like to know about travel must-haves? Tell us in the comments below.
See the deals we spot: Cheap flights
Explore awesome destinations: Travel inspiration
Learn pro tricks: Travel tips
Discover free travel: Travel rewards
Featured image: Infographic (photo credit: Flytrippers)
Share this post to help us help more people travel more for less: