Bali is an amazing destination that many of us dream of visiting! This tropical paradise in Southeast Asia is on our deal page today and we know how excited you are about this deal!
$648 round trip to fly to Bali, that's a really great deal! Remember that accommodations in those parts of the world are usually really cheap as well!
We are talking about $4/night… so 3 WEEKS in BALI could cost you as little as $732, including flight AND accommodations! And we're talking about well-rated hostels, but if you are traveling as a group, sharing a nice Airbnb could be even cheaper!!! Read on for all the details.
Some people go to cheap all-inclusive resorts for only one week at that price. You can go to BALI in Indonesia. Sure, it doesn't include food, but you can eat pretty well for under $10 a day in Bali, so go explore!
Here's how this works and how you can book this trip of a lifetime.
You like this deal? Please share with your friends with our easy-to-use share buttons, we appreciate it !!!
BALI for only $648 round trip from Toronto
The first step is to book your flight, with today's Toronto-Bali deal, at only $648. At this price, it won't last very long…possibly only a couple of hours, so hurry. Don't worry about accomodations right away, book the flight, the hostels won't get more expensive overnight. The flight might double in price though.
(If you want to receive these great deals and travel tips directly in your inbox, like our 20,000+ other travel enthusiasts already do, you definitely should subscribe to our free newsletter.)
If you are going to the airport by car, don't forget that usually, the most economical way to park is using the Sleep, Park & Fly. They'll keep your car parked for free if you book a night at the hotel before or after your trip.
Accommodations in Bali
If you still have doubts about using hostels, you should know that it's the best way to travel (when traveling solo). If you are traveling as a group, read on. You can also read our article on why we think hostels are great.
You will find a bunch of them for just $4/night in Bali, that makes for a really cheap trip…. and most of them are rated 8.5 / 10 or higher.
Here is an example, $38 for 10 nights ($3.80 / night) :

LINK TO BOOK YOUR HOSTELS (use our Booking.com or Hostelworld tools)
Thank you for using our links, we really appreciate it! You don't have to, but it doesn't cost you a cent more and every time you use our links it helps us continue finding excellent deals for you.
Finally, if you travel in a group, Airbnb is an even more interesting option as you can get a whole apartment to yourselves. If you are a new user, you can even use our promo code to get a free $45 credit.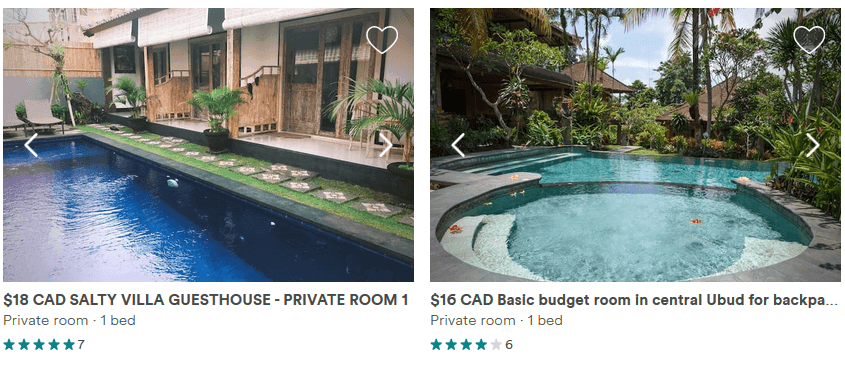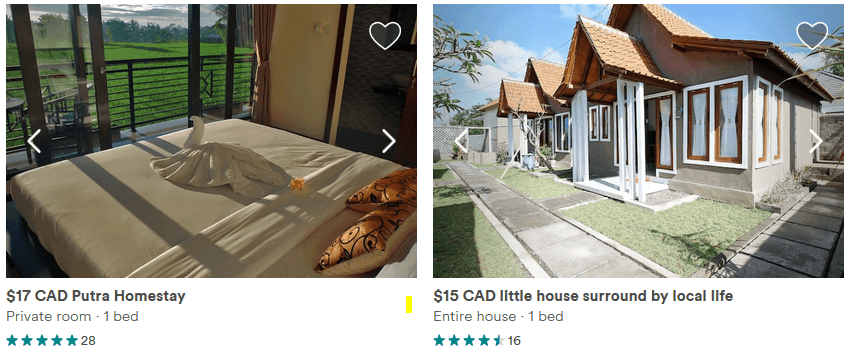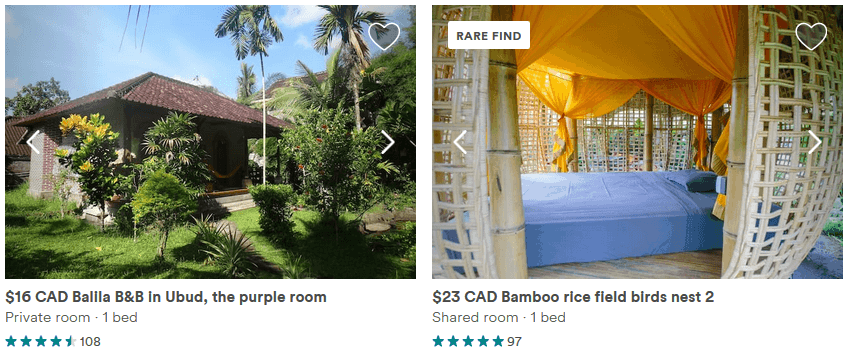 Bottom Line
You can fly to Bali today for $648, and for only $732 if you include accommodations for 3 WEEKS… now that's cheap!
Ever been to Bali? Southeast Asia? Tell us about it!
Help us spread the word about our flight deals and travel tips by sharing this article and most importantly bookmark Flytrippers so we can help you navigate the world of low-cost travel!
Advertiser Disclosure: Flytrippers receives a commission on links featured in this blog post. We appreciate if you use them, especially given it never costs you anything more to do so, and we thank you for supporting the site and making it possible for us to keep finding the best travel deals and content for you. In the interest of transparency, know that we will NEVER recommend a product or service we do not believe in or that we do not use ourselves, as our reputation and credibility is worth far more than any commission. This principle is an essential and non-negotiable part of all our partnerships: we will never give any third-party any control whatsoever on our content. For more information on our advertiser disclosure, click here.
Share this post to help us help more people travel more for less: